User Characterization: Ordinary travel – by bike or car or plane -doesn't prevent you from taking many of the lenses we have recommended here. But there's one kind of travel which places serious demands on the weight of your equipment. Hiking for many days, taking your accomodation and food on your back. Or even (In the style that many European outdoor photography enthusiasts may be used to) walking through mountains going from refuge to refuge.
This is a kind of travel that takes you to amazing landscapes that you can't access any other way. But also, every gram of lens is a millilitre of water you can't carry, or a gram of food you can't have. Travelling light through the land, keeping pack weight down, is by far the best way to do this. Outdoors people will spend a fortune to reduce the weight of their knife by ten grams, their tent by fifty grams and so on. Because we know it all adds up, and when it adds up it means less food or a less enjoyable and slower experience.
For some this means that it's a little compact camera that goes with them on wilderness adventure. But what to take if we still want to do top notch serious landscape photography with our A7 series camera?
This is the second part of a series on the best landscape lenses for the Sony a7/a9 series in which we explore sets of landscape lenses for different user types.
Part 1: "Only the best is good enough"
Part 2: The light traveler and hiker
Part 3: The poor student 
Part 4: The casual landscape photographer 
Wide
Top picks: Zeiss Batis 2.8/18mm  or Zeiss Loxia 2.8/21
Both of these lenses are lighter than any zoom covering the range, and both offer state of the art IQ. I suspect that any differences between them in sharpness and contrast you see on the web is partly down to slight sample variation. You should choose whichever focal length works best for you. If you think that the pluses and minuses of the focal lengths cancels out, then the Batis is at 330g a good 70 grams lighter, which for our purposes is a good enough reason to take it: it costs a lot to save 70g at the margins by buying fancy light hiking gear! On the other hand the Loxia has nicer sunstars, and offers a more satisfying manual focus experience.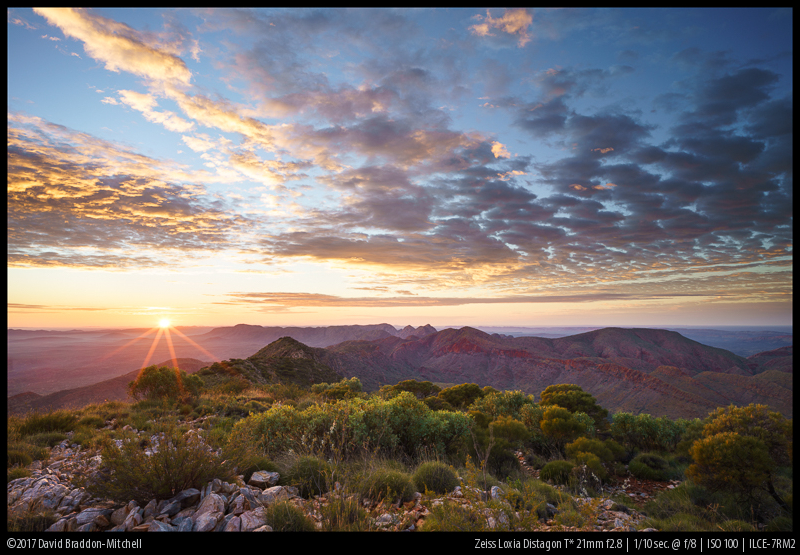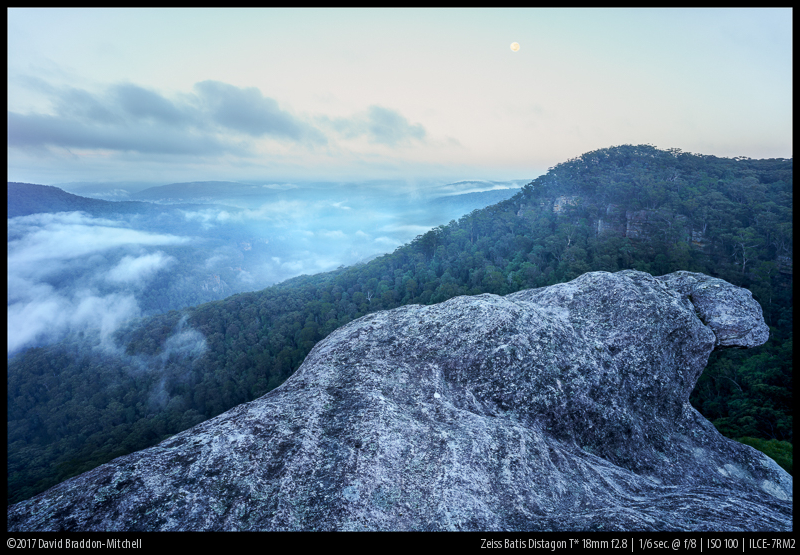 Midrange
By midrange here I mean 35-60 or so. We are weight limited, so we can only take one lens in this range. Wonderful lenses like the CV 2/65 are ruled out here because of weight. As are any of the really fast lenses. So there are two questions to ask. Will I be taking macro shots? (perhaps your hike goes through areas of botanical interest) Do I prefer a wider or narrower midrange lens?
If you are going to be taking macro, then the FE 2.8/50 Macro is the hikers friend. There are lots of reasons not to love this lens for your no compromise kit. The AF is slow, the MF experience is OK for FBW but not a joy, it feels like what it is: an inexpensive modern lens.
But: it's a very sharp and flare resistant macro, and it's really surprisingly good at infinity—much more so than any classic short macro. So it's two lenses in one: your macro lens and your midrange landscape lens. And……it's only 236g!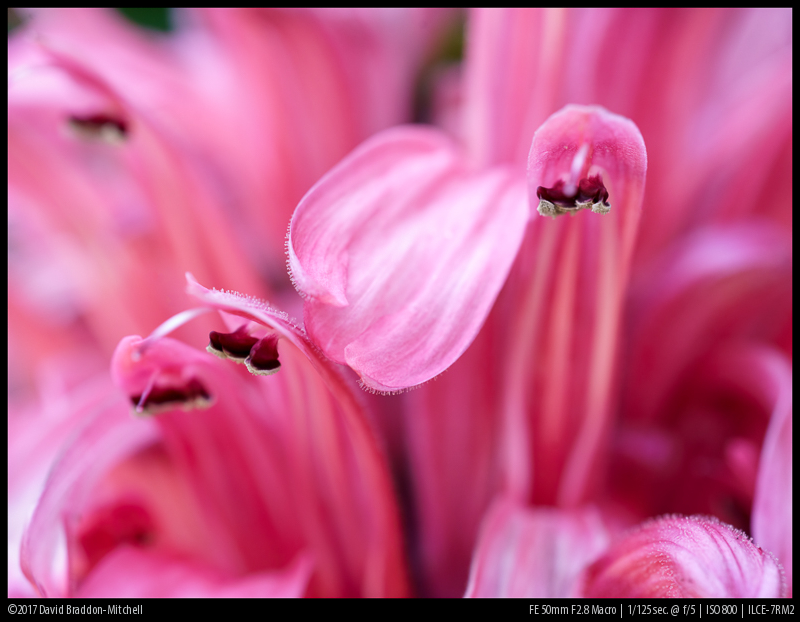 If you aren't taking any macro shots, then the focal length question is open. If you choose 35mm, then I think it's either the FE 2.8/35 or the Zeiss Loxia 2/35.
The FE is the lightweight purist's choice at only 120g.  A good copy is very sharp. If you are prepared to carry literally twice the weight at 320g, the Loxia is my preference for it's snappier contrast against the light, and lovely sunstars—the two areas where the FE has limitations. And while the CV 35 others like is likely a better all round 35, for landscape I think there's a touch more contrast with the Loxia.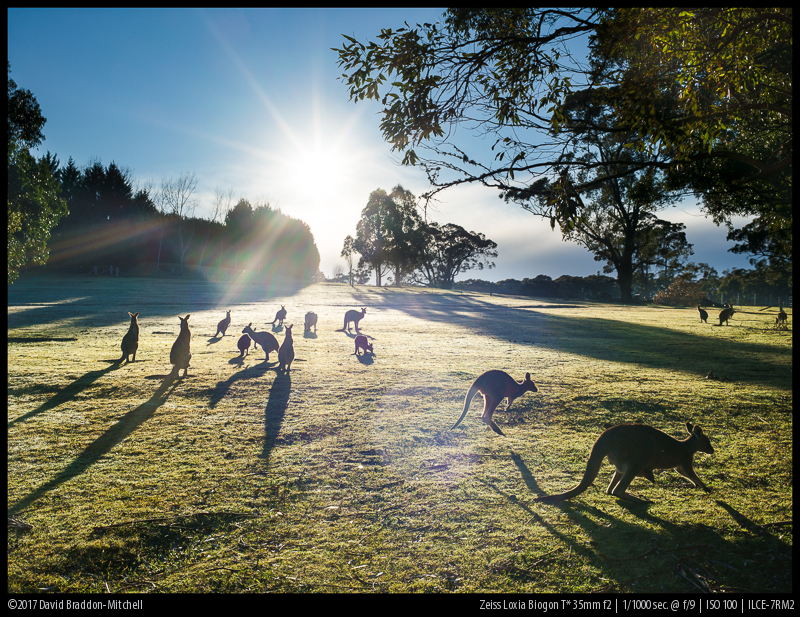 If you prefer a longer midrange lens, a classic 'standard' and don't need macro my choice is the Loxia 2/50. It's half the weight of the CV 2/65 at 320g; and while the CV is notably better at wide apertures, stopped down for landscape purposes it's in the same class and has the same nice sunstars.
Tele
One top pick here: Zeiss ZM 4/85. It's not quite the amazing lens that the Loxia 85 is, but from f5.6 you aren't likely to see a difference in a landscape print on your wall. It's superbly sharp, nicely contrasty, has attractive 10 point sunstars and best of all for our purposes: 310g! Plus a bit for your adapter…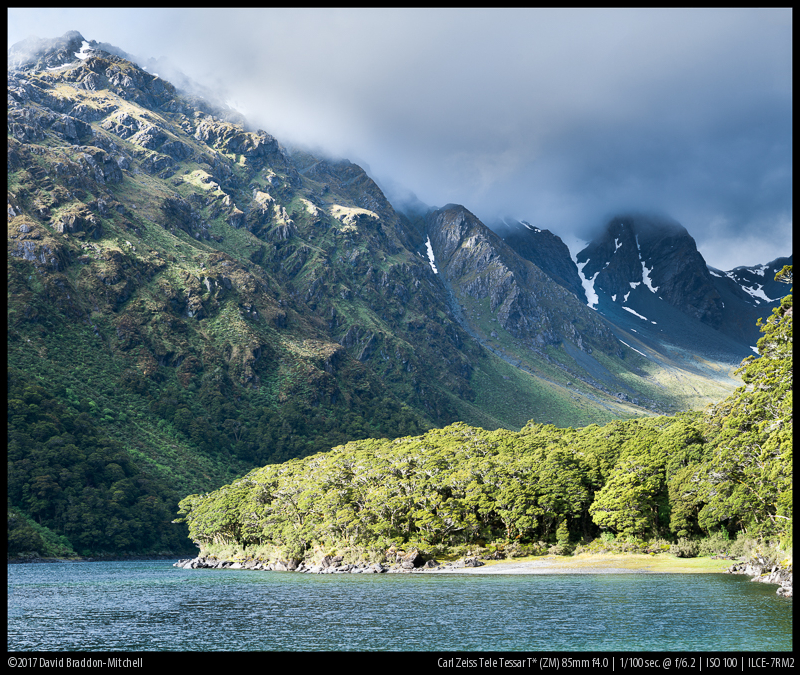 Other Articles
The following two tabs change content below.
David Braddon-Mitchell
David Braddon-Mitchell is a keen landscape and environmental portrait photographer. In the last decade of film he was a darkroom practitioner and worked with Olympus OM SLRs and various medium format cameras. He switched to Canon DSLRs when digital imaging improved, and made a move to Sony bodies as soon as the A7 series was born. He enjoys using a mixture of legacy manual lenses, modern manual lenses, and E mount AF lenses.
Latest posts by David Braddon-Mitchell (see all)