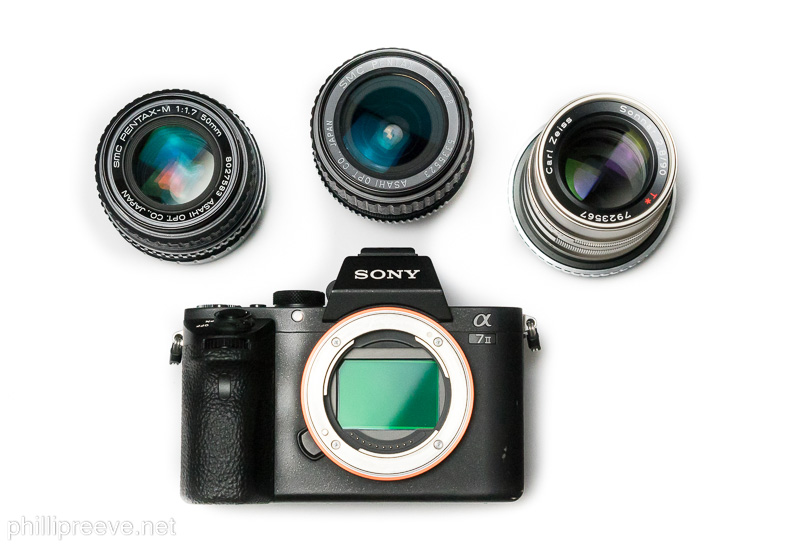 User Characterization: You are a Sony a7 series user enthusiastic about landscape photography but you work on a very limited budget. You look for lenses with a great bang for the buck ratio and good characteristics for landscape photography.
In this post I give you my top picks and a few alternatives for affordable landscape lenses. These where my criteria for this list:
Very good across the frame sharpness at smaller apertures like f/8 or f/11.
High contrast and good flare resistance.
Lenses should be less than $200.
I see manual focus lenses as preferable for landscape photography.
I would like to have nice sunstars but at this budget this is quite difficult if not impossible.
Small size is a bonus.
This is the fourth part of a series on the best landscape lenses for the Sony a7/a9 series in which we explore sets of landscape lenses for different user types.
Part 1: "Only the best is good enough"
Part 2: The light traveler and hiker
Part 3: The casual landscape photographer 
All links marked with * are affiliate links. If you buy a lens through them we will earn a small commission on your purchase without any additional cost to you.
Wide
Top pick: Pentax K 3.5/28 | 261 g + adapter | $80-120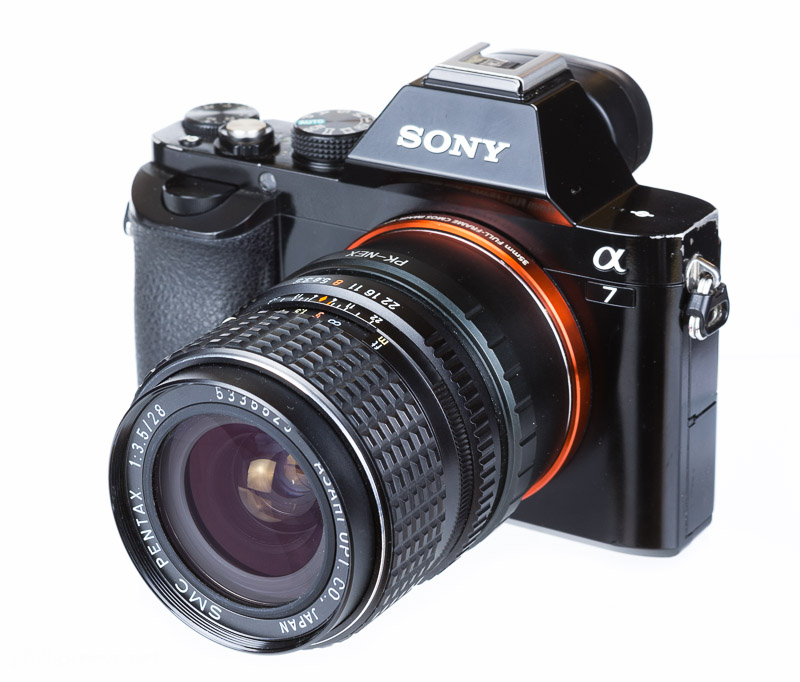 The very affordable Pentax is as sharp as good modern lenses at f/8 or f/11 and it maintains high contrast with good flare resistance which is rare for a legacy wide angle lens. Stopped down to f/14 it even draws a pleasant sunstar. But of course there is a catch: the Pentax is pretty rare and not easy to find. The best alternative I see is the more expensive Zeiss Distagon 2.8/28 which isn't better but more easily available.
Check availability on ebay.com* | ebay.de* | KEH* | adapter guide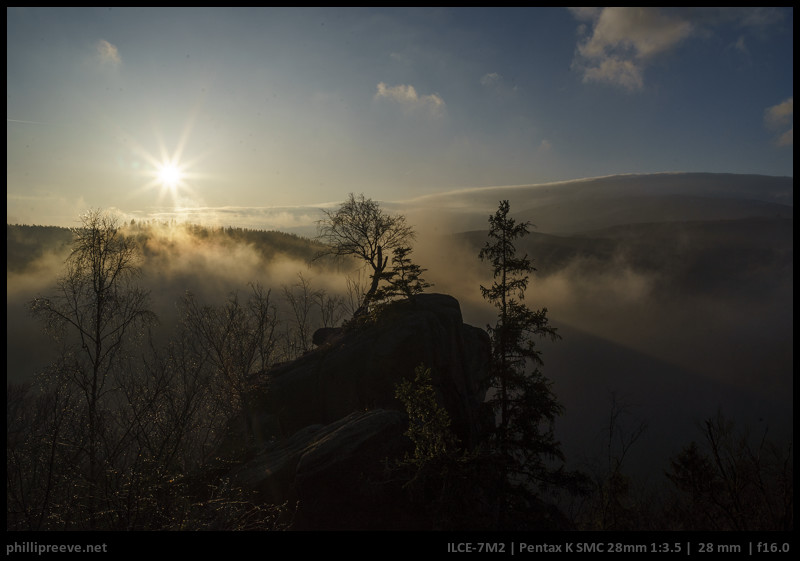 Alternatives
28 mm is not very wide but I think a 28-50-90 lens kit gives you the most versatility. Also with any wider lens you have to live with more serious tradeoffs like lower contrast and flare resistance.
Normal
Top Pick: Pentax M 1.7/50 | 185 g | $30-40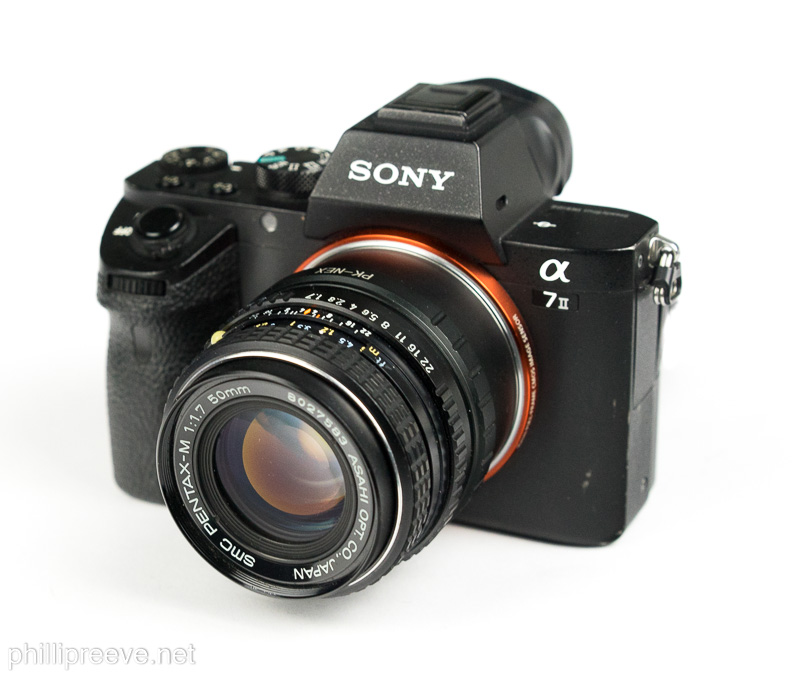 The Pentax is a high contrast lens and veiling flare is controlled remarkably well. Build quality is very good and the Pentax is one of the smaller normal lenses. The only annoying aspect to me is that the focus ring turns the "wrong" way since I am used to Minolta, Canon or Zeiss lenses. Sharpness at typical landscape settings is very good to excellent with acceptable corner softening.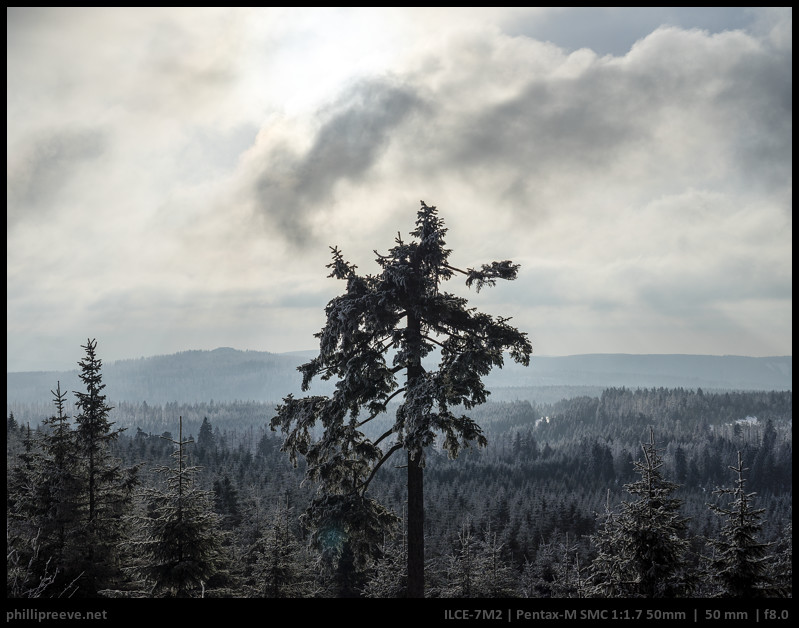 Check availability on ebay.com* | ebay.de* | adapter guide
Alternatives
I think the Pentax hits a sweet spot for landscape photography so I find it hard to recommend an alternative but here are some options.
Zeiss Planar 1.7/50: The significantly more expensive Zeiss is sharper in the corners but the difference isn't significant at f/8. At f/2.8 the difference is more noticeable and the bokeh is also nicer. I prefer the focus ring of the Zeiss but apart from that the smaller Pentax feels more solid and focuses closer (45 cm). Before I got the Pentax the Zeiss offered the best flare resistance of any legacy normal lens I have tested so I was surprised to find that the Pentax controls veiling flare even better in demanding scenarios.
195 g | $120-180 | check at ebay.com*
Minolta MD 2/50: The super cheap Minolta is a little sharper off center, it has no distortion and it is a few grams lighter. Flare resistance is weaker as is the build quality and contrast is a little lower.
150 g | $25 | check at ebay.com*
Canon nFD 1.4/50:  The Canon is a good allround normal lens with decent wide open performance and similar sharpness to the Pentax stopped down. It has 8 aperture blades and it is rather affordable. Flare resistance, contrast and average bokeh are the only real weaknesses I see.
235 g | $40-80 | check at ebay.com*
Sony FE 1.8/50: Sony's cheapest lens is a lot  more expensive than the Pentax but it has higher contrast with similar flare resistance and sharpness stopped down. It is also very light. The biggest drawback is the crude AF-motor but for landscape photography that shouldn't be much of an issue.
186 g | $248 | check at amazon.com*
Minolta MD 3.5/35-70: If you prefer zooms for landscape photography the Minolta might be an interesting option. It is only a little larger and heavier than a prime and above 40 mm the performance is prime like with very good across the frame sharpness. At 35 mm the far corners never get very sharp and contrast is lower.
365 g | $40-70 | check at ebay.com*
Zeiss C/Y 3.4/35-70. The Zeiss has often been called a stack of primes and that is a fair assesment here, especially for landscape photography. Handling of the push-pull zoom seems to be the most significant drawback.
475 g | $3-400 | check at ebay.com*
Tele
Part of surviving on a limited budget is limiting the lenses you use. In my experience a three lens setup with a 24/28 mm, 50 mm and a 90 mm can come a very long way to capture landscapes so that is my suggestion here.
Top Pick: Zeiss Sonnar 2.8/90 | 240 g + adapter | $150-200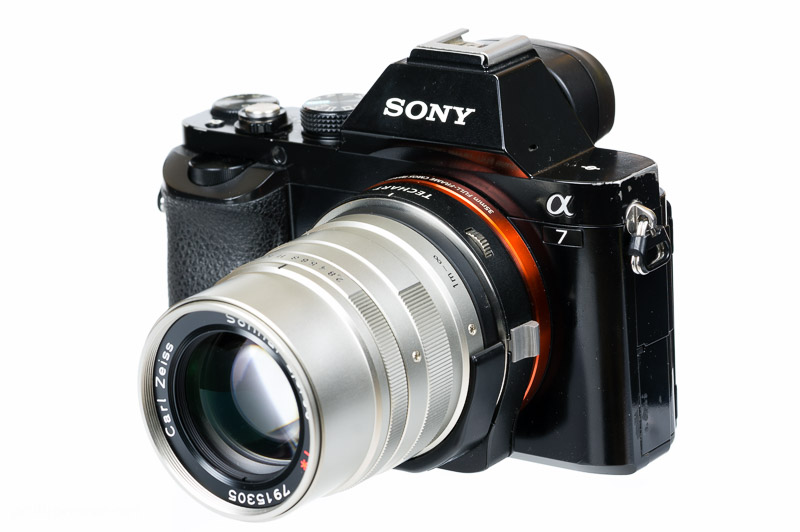 The Zeiss 2.8/90 is pretty much the ideal landscape tele but it has one drawback. Most important features are high contrast and very good sharpness which can be enjoyed from f/2.8. Flare resistance is good and sunstars have 8 points but they are only weakly defined. In this price bracket you won't find a better performance though.  The Zeiss is small and light with very good build quality. So, why is it still affordable? Because of the adapter situation. The Zeiss is an AF lens without a focus helicoid so you need to use an adapter which provides a focusing mechanism. I use a cheap noname adapter which is annoying to focus but precise so while I wouldn't recommend the Zeiss for general purpose photography it is an acceptable trade-off for landscape photography.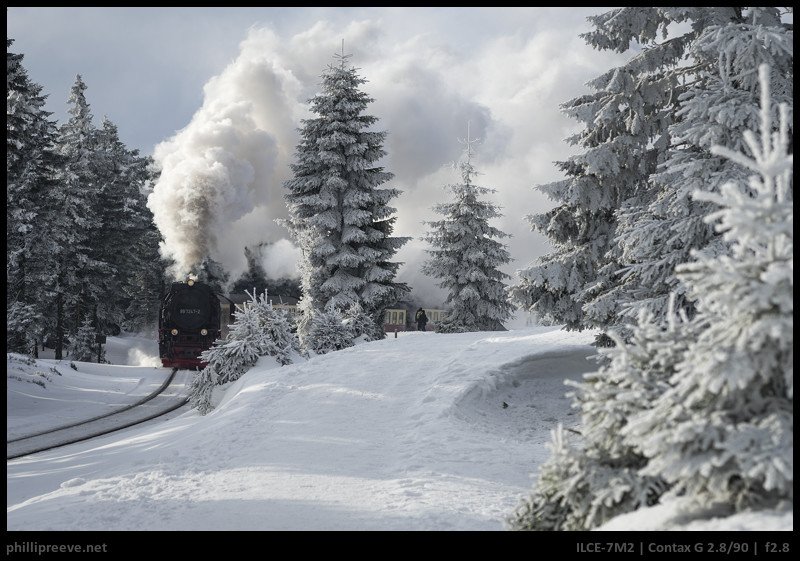 Check availability on ebay.com* | ebay.de*
Alternatives
Other lenses
Canon nFD 4/200 IF: A sharp, light and very affordable 200mm lens. Axial CA is the only real drawback but for landscape photography that shouldn't really matter.
440 g | $10-30 | check at ebay.com*
Canon FD 4/300 L: Not very affordable but a very good performer in a still manageable size.
1060 g | $250-450 | check at ebay.com*
Compared to the other Kits
There is no one best landscape lens. There are only lenses which are the best lens for you specific needs. That's why we created this series which assumes different user profiles and finds the best lenses for them. I think this kit gets the essentials right: For very little money you can expect very good image quality in a wide range of landscape scenarios. You can do serious landscape photography with it and make big prints. But of course there are a few limitations. For under $400 you would expect a few limitations. Our other kits cost many times that.
Compared to our "Only the best is good enough"-Kit you will miss a super-wide-angle lens so you can't create compositions with a strong emphasis of the foreground or astro-landscapes. While you will be fine on a 24 MP Sony a7II the much more expensive lenses get a bit more out of the 42 Mp sensor. Other advantages of the fancy lenses is that some of them have very nice sunstars, even higher contrast and you don't need an adapter for them. Disadvantages of the set is that it is heavier and costs over $5000.
Compared to our The light traveler and hiker-Kit this kit is actually a little lighter but it doesn't go to 21 mm and is less pleasant to handle. Again I see less difference in image quality on 24 MP but on 42 it will be more visible.
Compared to our kit for the casual landscape photographer this kit's main tradeoff is flexibility because that kit includes the very flexible 4/16-35 as well as a few AF lenses with good wide open performance which in this kit only the 2.8/90 offers. I see no real advantage in image quality for that kit and I would prefer the handling of the poor Student's kit.
Some more images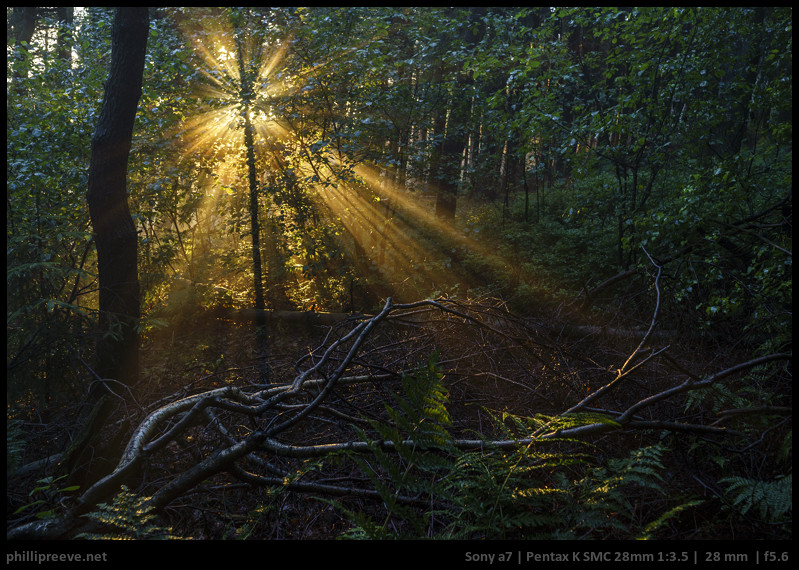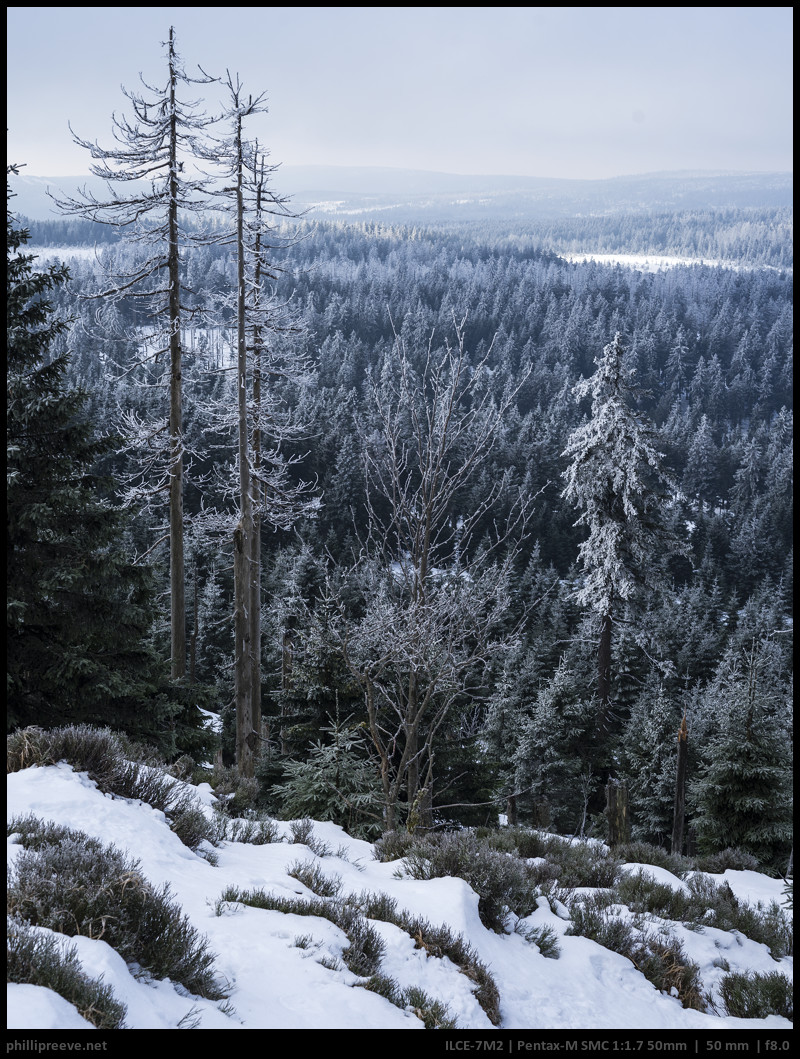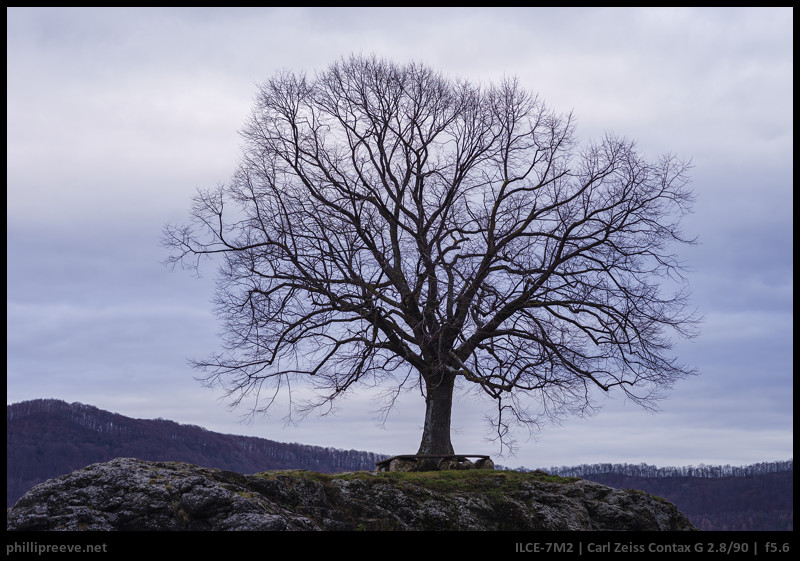 Related Articles
The following two tabs change content below.
I have two hobbies: Photography and photographic gear. Both are related only to a small degree.
Latest posts by Phillip Reeve (see all)