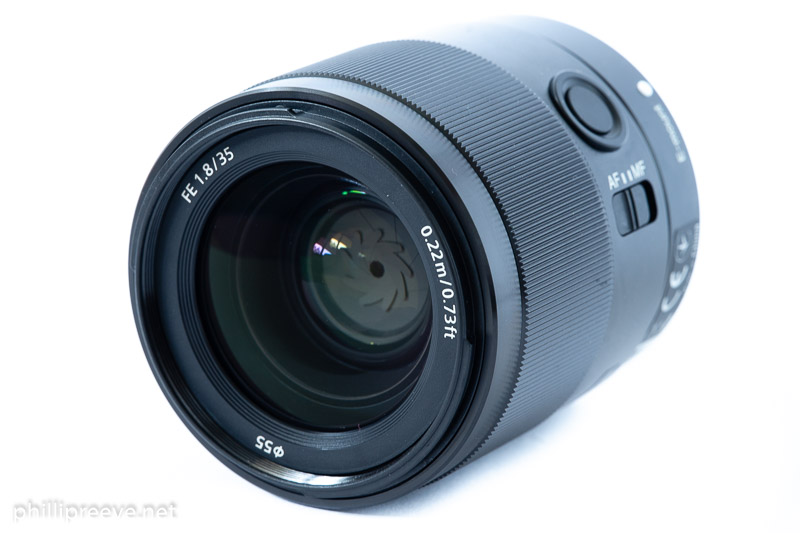 The Sony FE 35mm F1.8 has been one of Sony's most anticipated lenses. So can they live up to the expectations? Read on if you want to know.
Image Samples
Most images in this review can be found in full resolution in my Voigtlander 1.5/75 flickr set.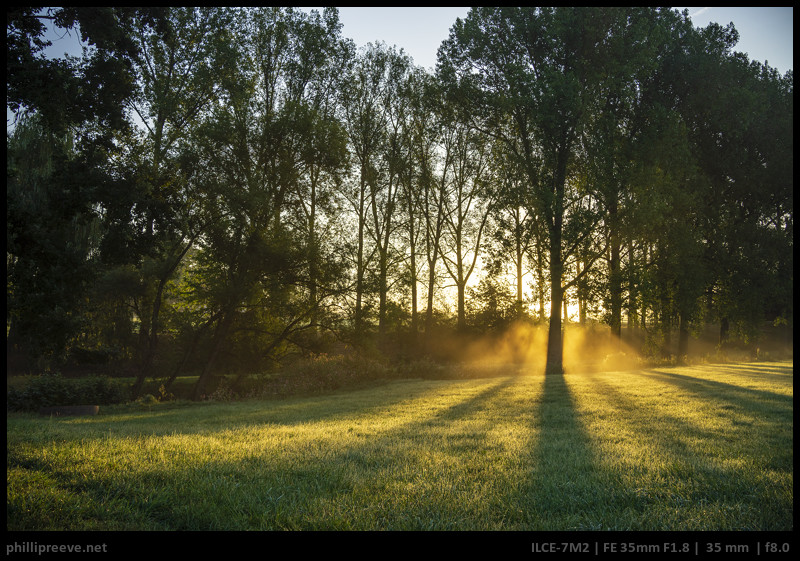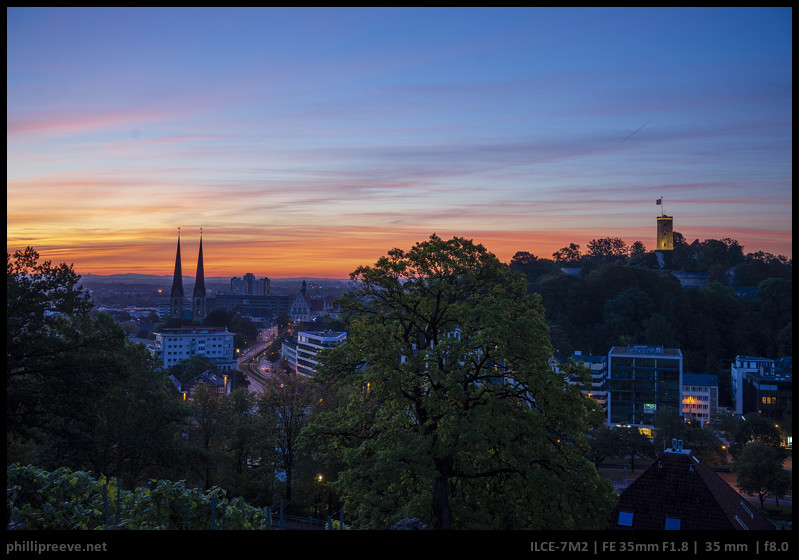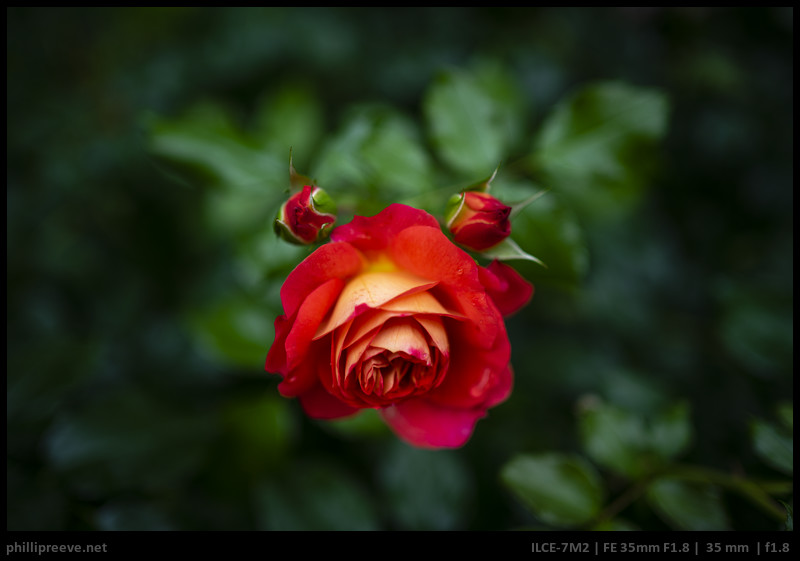 Specifications
| | |
| --- | --- |
| Diameter | 66 mm |
| Length | 73 mm |
| Filter Thread | 55 mm |
| Weight (no hood, no caps) | 280 g |
| Max. Magnification | 0.24 |
| Close Focusing Distance from the sensor | 22 cm |
| Number of aperture blades | 9 |
| Elements/ Groups | 11/9 |
| Mount | E-mount |

The Sony FE 1.8/35 has a recommended price of $749. Check current prices at amazon.com, B&H or ebay.com. In Germany the recommended price is 699 €. Check at amazon.de. If you purchase the lens through one of these affiliate-links I get a small compensation with no additional cost to you. Thanks for the support :).
Disclosure
This copy was loaned to me free of charge from Sony Germany for two weeks. 
Features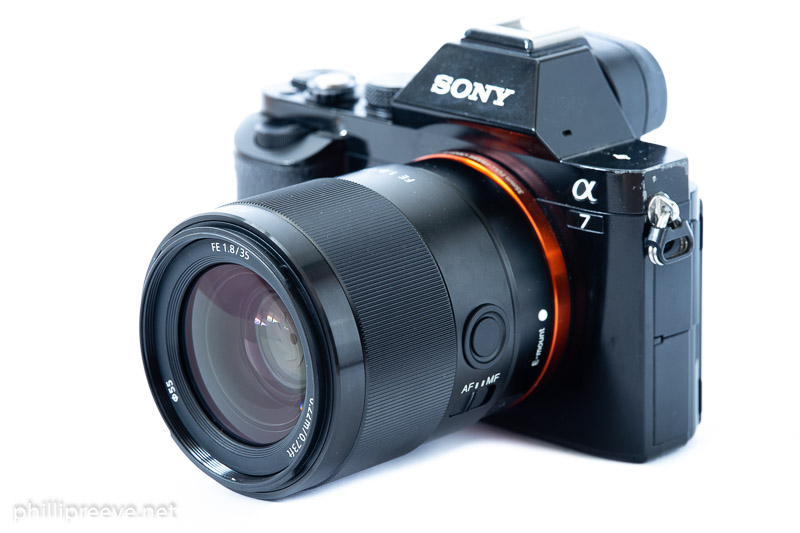 The Sony FE 1.8/35 offers a focus-hold button which can be programmed to useful functions such as eye AF. It also features a AF-MF switch. Another feature is highest magnification of any current 35mm E-mount lens of 1:4.
Build quality
The Sony FE 1.8/35 feels nice thanks to a metal hull and a wide focus ring with
The Voigtlander 75mm F1.5 feels really solid. The lens hull is made from nothing but metal and tolerances are very low. Aall markings are engraved.
There is no gasket around the mount and Voigtlander does not claim any weather resistance.
Of course I can't tell you how durable the lens will be in the long term. All I can do is give you my superficial impression which is very positive in this case.
Bastian once had to get his Voigtlander 1.7/35 repaired which had to be done in Japan and he had to wait many weeks for the repair while repairs from other manufacturers are usually much faster. Stephen from CameraQuest in the US told me that they do most repairs in house and that few lenses have to go to Japan.
Handling
Cosina, the manufacturer of the Voigtlander 1.5/75 VM really knows how to design manual focus lenses and the 1.5/75 is no exception.handling is excellent.
Focus Ring
The focus ring travels around 100 degrees from 70 cm to infinity. I think that is a very reasonable transmission and I had no issues to focus precisely at longer distances but it was also easy to track a moving child. The ring itself is well textured and the resistance is about perfect. As you focus closer the front of the lens after the focus ring extends by about 1 cm.
Aperture ring
The aperture ring situated at the front is a joy to use. It is easy to distinguish from the focus ring because it is elevated and has distinctive, easy to track stops. The aperture ring stops down in half stops to a maximum of f/16.
Hood
The Voigtlander 1.5/75 has a small to medium sized, very light hood which attaches to a separate screw in ring. I like it because it doesn't make the lens much bigger but protects the front well enough that I can put it into my camera bag without a front cap.
The hood is made from metal and I would wish that Voigtlander had rubberized the front because as it is I wouldn't store camera and lens on it like I would with a more solid feeling and rubberized lens hood as found on Sony GM lenses for example.
Size and Weight
At just 280g the Sony FE 1.8/35 is very light weight especially for its speed. It weights less than half as much as the available 1.4/35 E-mount AF-lenses while being just half a stop slower. It is significantly larger and heavier than the tiny 2.8/35 lenses from Sony and Samyang though. On the a7II it felt very well balanced.
Optical performance
These results are based on the use with a Sony Alpha 7II.
Flare Resistance
As always evaluating flare is a complex matter since you can get any lens to look bad if you push it hard enough and a slight change of scenario will affect results a lot.
I would rather the Sony FE 1.8/35 as average. I read quite a few other reviews praising its performance in this regard but those were mostly lab based and I had quite a few images where significant ghosting and veiling flare affected images. In other scenarios it hold up well.
before: unprocessed image | after: processed image with lifted shadows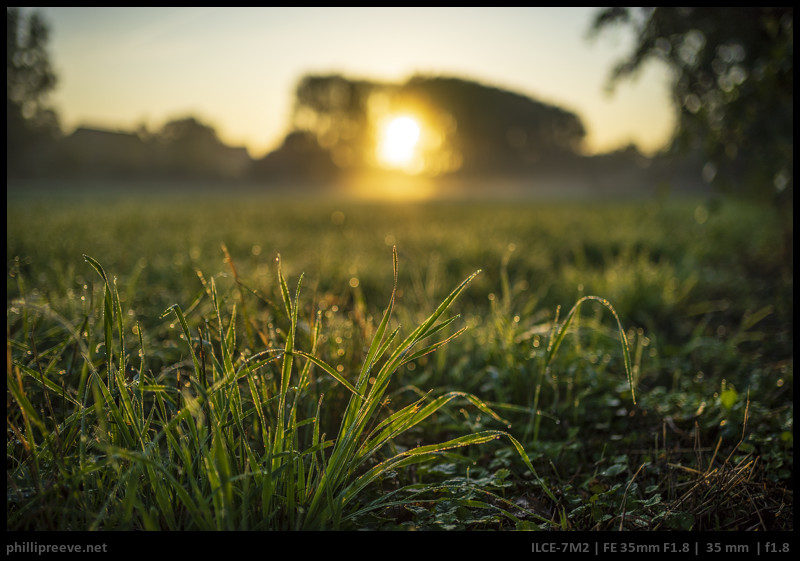 Sunstars
9 rounded aperture blades result in average at best sunstars even stopped down a lot.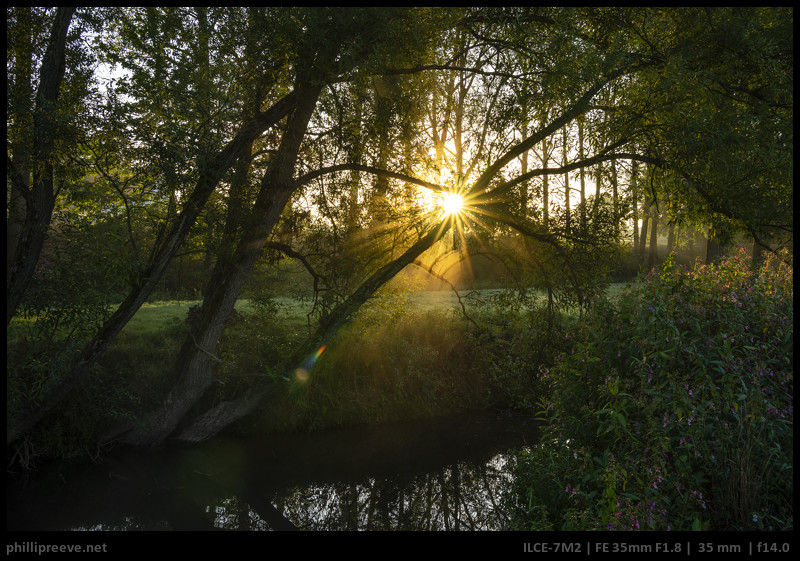 Bokeh
Out of-focus-highlights are rendered neutral with little outlining
Bokeh circles are rather rendered clean with no obvious onion rings. They also stay more or less round as you stop down.
Cat's eyes are visible but they aren't very pronounced.
The transition zone is a bit nervous
In most scenarios you can expect rather smooth bokeh from the Sony FE 1.8/35 but in more difficult scenarios with high contrast background at longer distances bokeh can become somewhat harsh.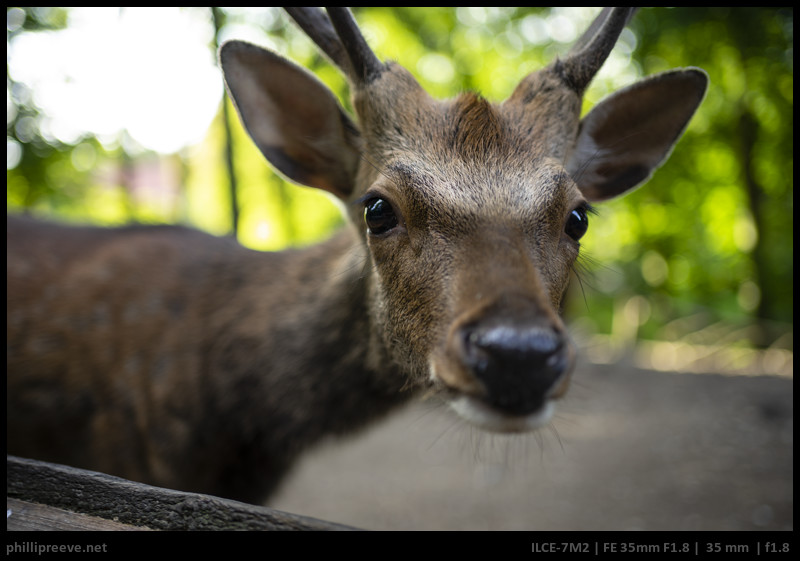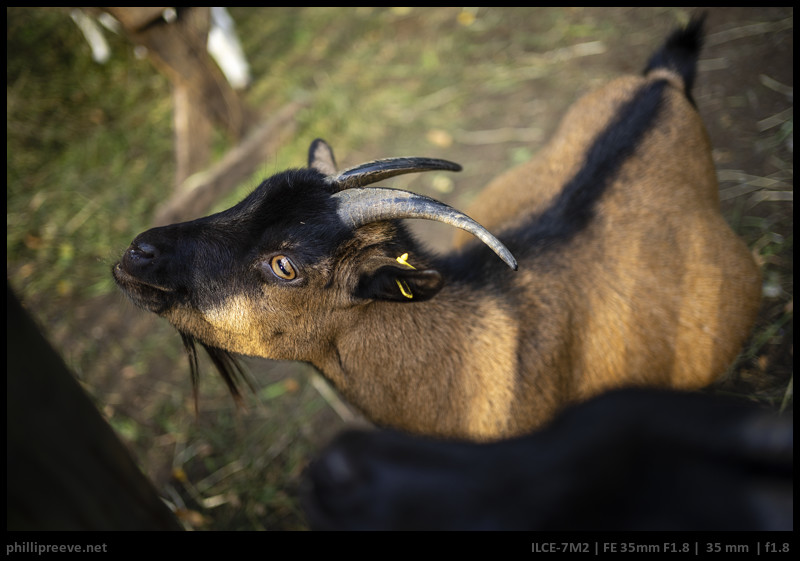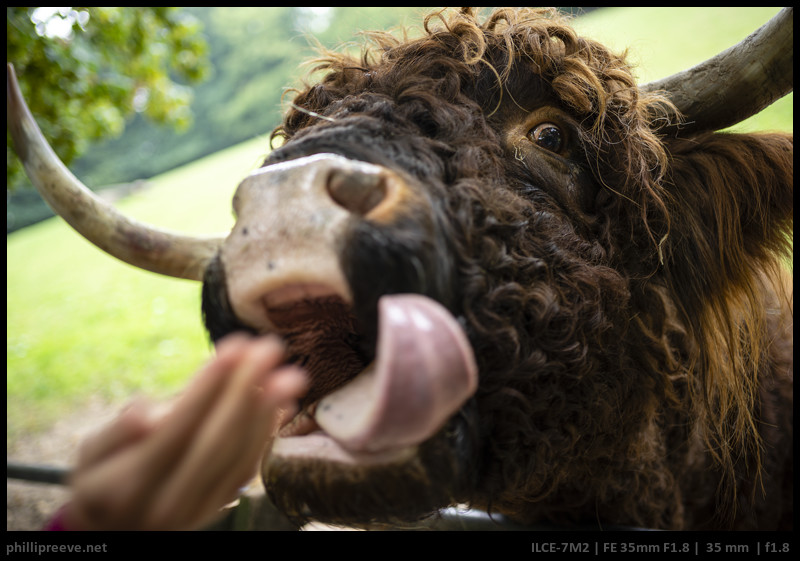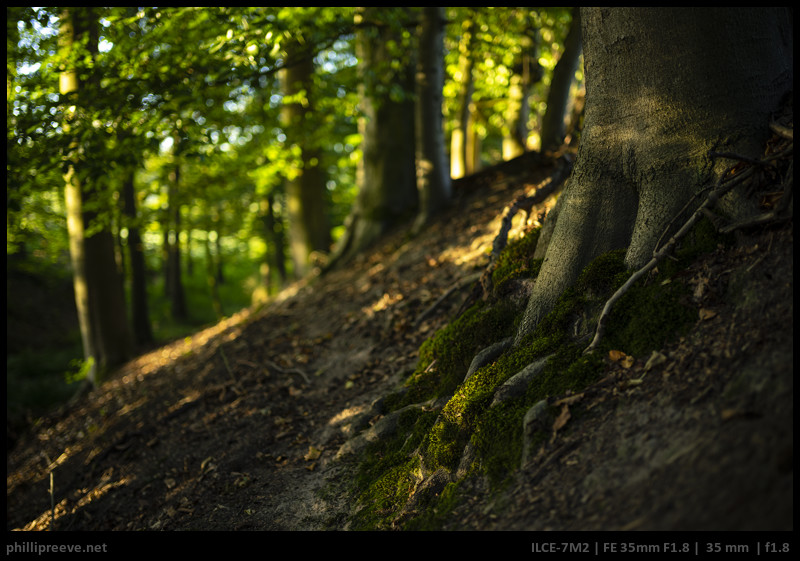 Chromatic Aberrations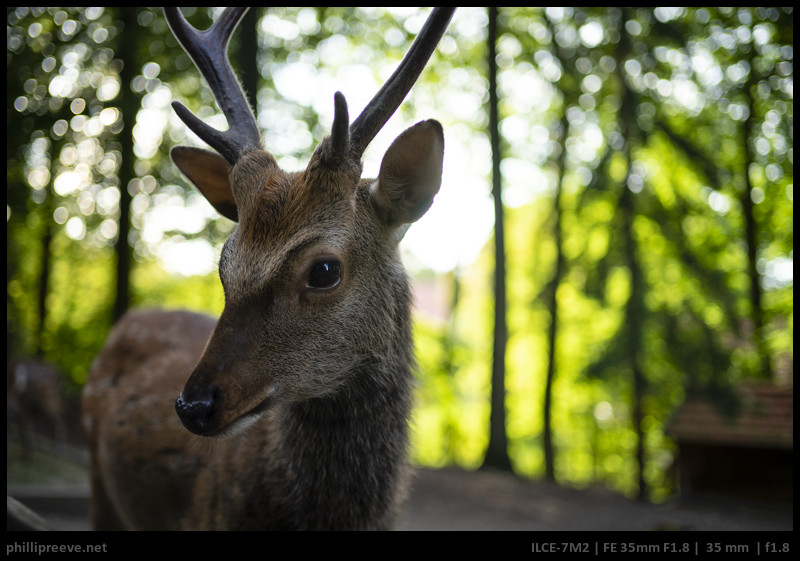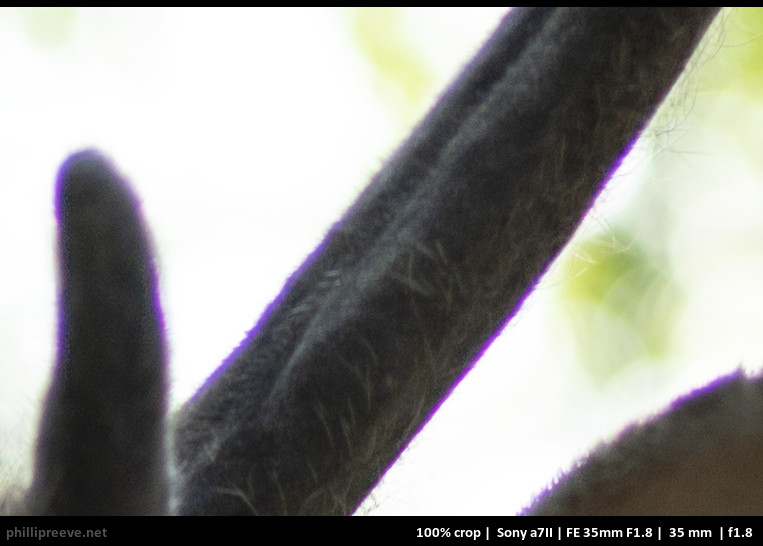 Axial CA isn't well corrected until f/4 and in high contrast scenarios you will se quite bit of color fringing. This is usual for a fast 35mm lens and can be manually corrected to a degree.
Since I use LR correction of lateral CA is corrected by profile and I can't turn the correction off. It isn't corrected that well though and some CA is still visible.
Vignetting
| | |
| --- | --- |
| Aperture | Vignetting |
| f/1.8 | 2.6 EV |
| f/2 | 2.5 EV |
| f/2.8 | 2.4 EV |
| f/4 | 2.3 EV |
| f/5.6 | 2.1 EV |
Vignetting is pretty strong at 2.6 stops wide open which is reduced to 2.1 stops at f/5.6. This high amount of vignetting is one reason why the Sony FE 1.8/35 can be so compact. Because vignetting stays above 2 stops even at f/8 and is abrupt I had quite a few landscape images where I felt I should correct it.

Distortion
Only a small amount of pincushion distortion.
Astro-Performance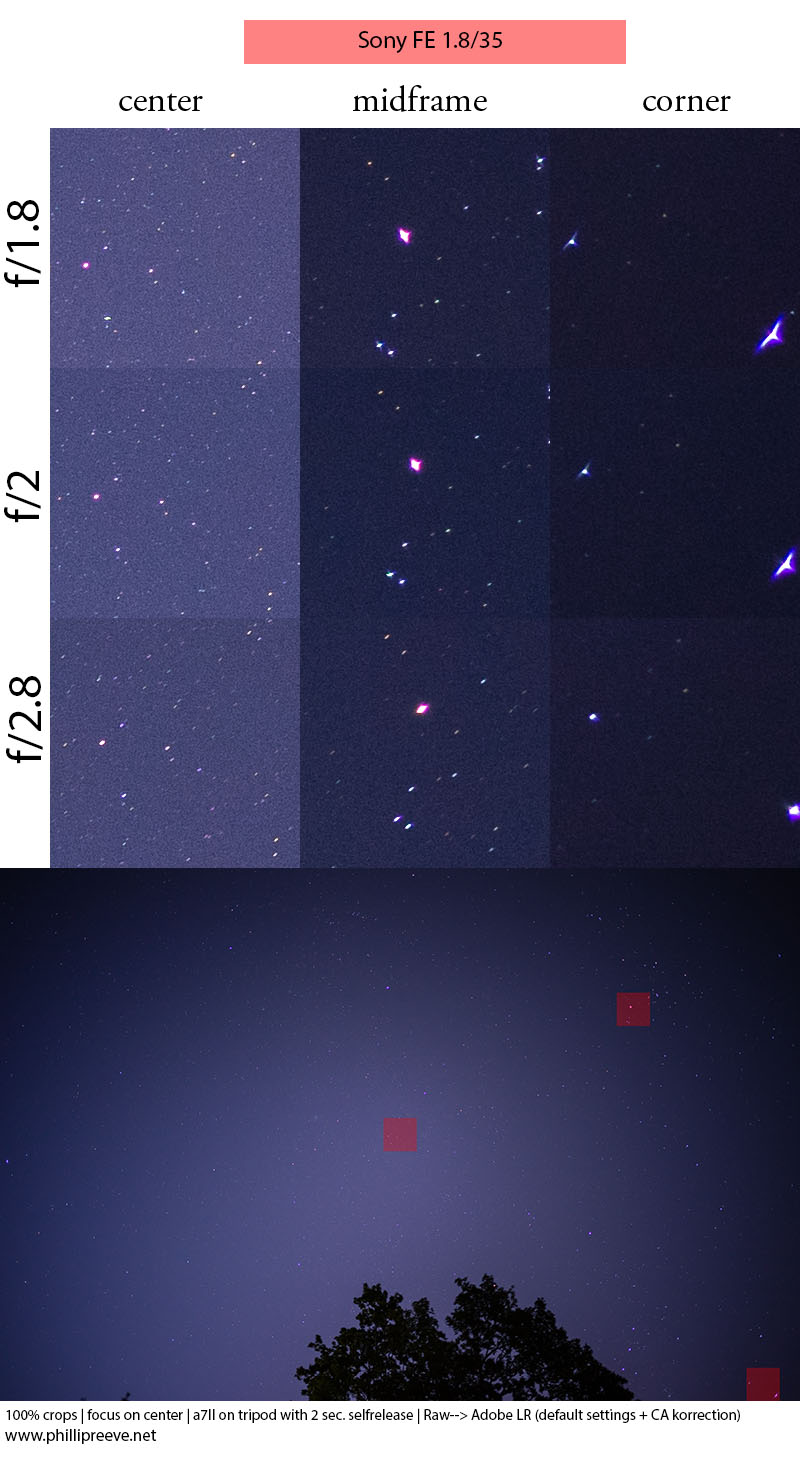 You have to stop the SEL35F18F down to f/2.8 for a decent astro performance and even then you have to accept the high amount of vignetting.
Sharpness
close focusing distance
First I have to compliment Sony for giving the 1.8/35 1:4 magnification. This is the highest magnification among 35mm E-mount lenses. At f/1.8 there is quite a lot of spherical aberration present but by stopping down to f/2.8 this goes away and you can expect crisp results.
infinity

f/1.8: Good in the center. Good outside of it.
f/2: A slight improvement over f/1.8 everywhere.
f/2.8, f/4: Excellent in the center, good to very good outside of it.
f/5.6: A light improvement midframe and in the corners.
f/8: A tad softer in the center.
f/11: Some what softer due to diffraction.
All in all a good performance. You can use f/1.8 with little hesitation for most applications and by f/2.8 you can expect very good results even in the corners. Only the most demanding users will want to look for slightly better performance in the ART 1.2/35.
Alternatives
AF-Lenses
Sigma Art 1.4/35: At the time I finish this review the more than twice as heavy Sigma is actually $50 cheaper than the Sony 1.8/35. Of course you get more blur out of the Sigma and you can expect less vignetting at shared apertures but onion ring bokeh. Apart from these factors optical performance seems to be similar in most aspects. By some reports the Sony is quicker to focus. Unless you really need that half stop or are on a very tight budget the Sony seems to be more appealing to me.
Samyang 1.4/35:
Sony ZA 1.4/35:
Sony ZA 2.8/35:
Manual focus lenses
Conclusion
pros

Size & Weight

Sharpness (mostly)

Bokeh (mostly)

Handling

Low Distortion

Quick AF

average

Price
Astro-performance
Flare Resistance
Manual focus

cons
The Sony Fe 1.8/35 is a very well balanced lens.
The Voigtlander 75mm F1.5 Nokton has been a very enjoyable lens to me because it has the usual qualities I like so much about most  modern Voigtlander lenses: Handling is as good as it gets, it is small, draws very defined sunstars and it handles backlight very well.
Sharpness is a bit of a mixed bag on a Sony though: For very good across the frame sharpness you want to stop down to f/5.6 or even f/8 where you get very good to excellent results. That's hardly a limitation for landscape photography but for some applications it can be a bit limiting. For portraits performance depends a lot on the focusing distance. For tight portraits with a reproduction ratio greater than 1:10 the Voigtlander ist rather soft wide open so you either need to embrace that softer look or stop down to f/2 or f/2.8 depending on the placement of your subject. For longer distance portraits with a reproduction ratio of about 1:25 performance is much better and you can use f/1.5 with little hesitation. Performance on a Leica M seems to be quite a bit better here with no significant field curvature at longer distances and less falloff at wider apertures.
Bokeh is characterized by mostly smooth rendering of out of focus highlights but also a little nervous transition zone and stronger cat's eyes. For close to medium distance portraits you won't find any fault with the bokeh but at longer distances bokeh can become somewhat of a distraction and a GM 1.4/85 would outperform it here.
Other aberrations are hardly noteworthy: Distortion is very well corrected, vignetting is average and CA is corrected slightly above average.
The Voigtlander 75mm F1.5 Nokton manages a too rare balance of excellent handling, small size, speed and generally very good optical performance.  You need to accept a few compromises in the last category to realize the other qualities though. So if you enjoy manual lenses and can integrate a 75mm lens into your kit the Voigtlander gets a clear recommendation from me on M-mount. On a Sony though I would probably wait a few more months to see whether Cosina will also release it in E-mount. But even if they don't the 1.5/75 VM could be an attractive lens for those who value small size, speed and manual focus.
The Sony FE 1.8/35 has a recommended price of $749. Check current prices at amazon.com, B&H or ebay.com. In Germany the recommended price is 699 €. Check at amazon.de. If you purchase the lens through one of these affiliate-links I get a small compensation with no additional cost to you. Thanks for the support :).
More Image Samples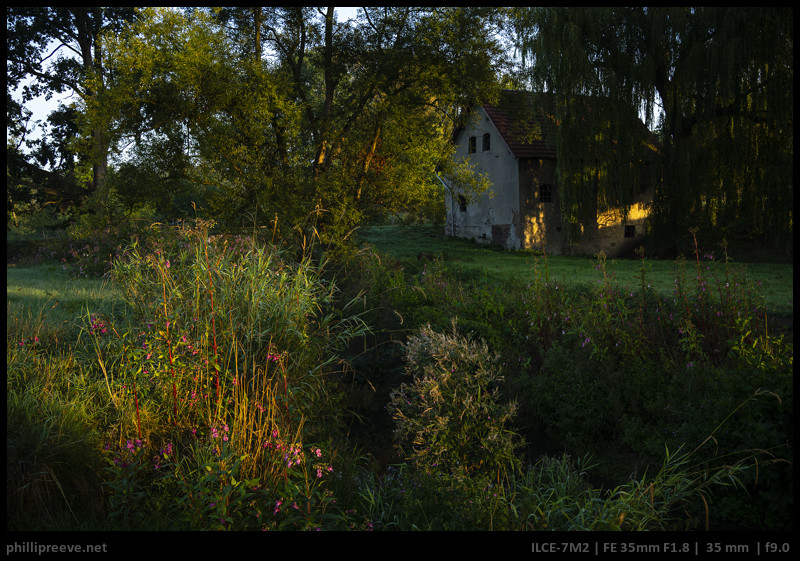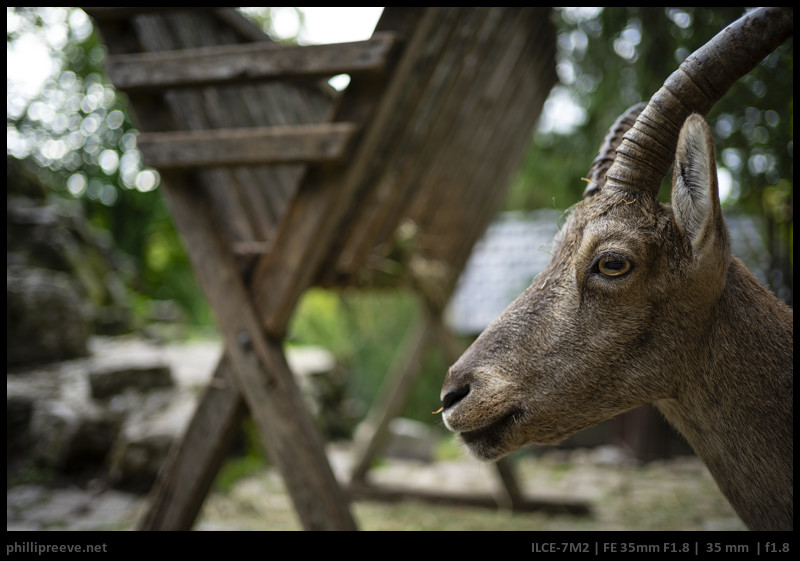 Most images in this review can be found in full resolution in my Voigtlander 1.5/75 flickr set.
Other articles
The following two tabs change content below.
I have two hobbies: Photography and photographic gear. Both are related only to a small degree.
Latest posts by Phillip Reeve (see all)