Cosina just announced the Voigtlander 35mm F2 APO-Lanthar.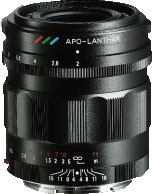 Specifications
| | |
| --- | --- |
| Diameter | 63 mm |
| Length | 67 mm |
| Filter Thread | 49 mm |
| Weight (no hood, no caps) | 352g |
| Max. Magnification | 1:6.4 |
| Close Focusing Distance from the sensor | 0.35 m |
| Number of aperture blades | 12 |
| Elements/ Groups | 11/9 |


Features
Translated by Google Translate
Adopted an apochromat design that makes the on-axis chromatic aberration of RGB, which constitutes the three primary colors of light, as close to zero as possible. A semi-wide-angle lens that doubles as the APO-LANTHAR 50mm F2, a standard lens that pursues ultimate performance. It combines the performance of the best quasi-wide-angle lens in Voigtlander history with the compactness and ease of handling. Main features:
Compatible with Sony E mount. Equipped with electronic contacts, the Exif information of shooting data reflects the usage status of the lens. In addition, since it has a built-in distance encoder, it supports 5-axis camera shake correction on the camera body side. It is also possible to enlarge the viewfinder by operating the focus ring.
Optimized optical design A full-size image circle is secured and an optical design optimized for the Sony E-mount sensor is adopted. High resolution is maintained up to the periphery of the screen, and phenomena such as color cast are suppressed.
apochromatic design to correspond to digital sensors with high pixel current, and thoroughly suppress longitudinal chromatic aberration and lateral chromatic aberration.
ball blur 12 sheets squeezed to enjoy the representation aperture blades not only F2 open F2.8, F5.6, adopted a special shape to be circular even F16. It is possible to draw using "ball blur" such as a point light source.
Manual focus that enables reliable focusing. By adopting an all-metal helicoid unit that has been processed and adjusted with high precision and high-quality grease that produces appropriate torque, focusing with a smooth operation feeling is realized. Allows for delicate focus adjustment.
Aperture click switching mechanism Equipped with an aperture click switching mechanism that can open and close the aperture ring steplessly without generating a click sound. There is no need to worry about picking up the aperture ring operation sound when recording a video.
No surprises here. The 2/35 APO inherits the 2/50 APO's aperture design, CA correction as well as the mechanical construction we have come to appreciate.
Our Expectations
As Voigtlander lenses have been very consistent in the past and Cosina emphasizes the close relationship to their excellent Voigtlander 2/50 APO we have very high expectations for their 35mm lens. We expect class-leading sharpness and correction of axial CA as well as excellent handling. We are especially curious about the bokeh.
It is funny: The field of E-mount 35mm has been crowded by rather mediocre lenses (by current standards at least) for the last 6 years, with the huge Sigma 1.2/35 being the first optically excellent 35mm to arrive in 2019. But then we got the excellent Sigma 2/35 two months ago (David and Phillip have bought one and are very happy with it. Review coming when it is done) and Sony launched the surprisingly compact GM 1.4/35 to a very loud chorus of praise by sometimes more and sometimes less independent reviewers. And we would be very surprised if the Voigtlander wouldn't join the ranks of these excellent lenses, giving those who put emphasis on optical perfection an even harder time to decide.
The following two tabs change content below.
I have two hobbies: Photography and photographic gear. Both are related only to a small degree.
Latest posts by Phillip Reeve (see all)