This is a rather personal comparison of the Sony Alpha 7 and the Alpha 7 ii. I will try to cover as many aspects as possible but my focus will be on those which matter most to me personally, so you won't read much about video but quite abit about manual lenses.
I bought my a7 in November 2013 so I have used it for more than two years and I have used the a7ii for close to two months now.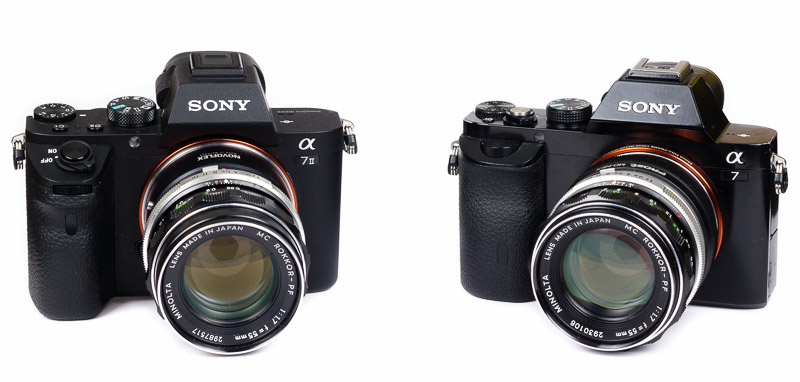 Sony a7 vs a7ii – Summary
The a7ii has an integrated stabilizer
The a7 does suffer from sensor reflections, the a7ii does not
The a7ii has a more ergonomic grip but it is also significantly heavier
The a7ii has mount made of metal, the a7's mount is partially made of plastics which caused some issues.
The a7ii offers improved AF performance, it even works qite well with some adapted Canon EF lenses
The a7ii has a more ergonomic shutter release
The a7ii offers a better video codec
The a7ii is about $600  more expensive
The first impression
Both cameras are very similar and if you are used to the a7 it only takes a very short time to get used to the a7ii. The customization is also easily done, the menue is the same and apart from one additional button the layout hasn't changed. If you want to use manual lenses the additional button is handy for telling the camera which focal length is used.
The a7 has a shiny surface structure while t#s succesor has a more matte design. Personally I prefer the a7 in this aspect because it matches the design of the FE lenses.
Ergonomics
The modified grip is the first thing you will notice. It is not as wide but significantly deeper. The a7's grip is okay but I like the a7ii's grip quite a bit more.
The a7's shutter release was often criticized because it was positioned on top of the camera and because it felt very mushy. It's successor's shutter release is situated on top of the grip and you can feel the two stages more easily.
I prefer the control wheels of the a7, the new wheels of the a7ii are smaller and the clicks less distinctive. The formerly quite inaccessible C2 button has been renamed to C3 and it is much easier to reach.
Some parts of the body which were polycarbonate int the a7 are made from metal in the a7ii. In theory this should make for a stiffer body but I never felt body stiffness was an issue witht the a7. The a7ii feels a little bit nicer but not by much.
The Sony a7ii weights about 599g which is significantly more than the a7 which weights only 474g. For my shorter trips this isn't a problem at all, especially since the a7ii has a nicer grip. But when I want to travel light it is annoying. Low weight is a key argument fro Sony's a7-series and 599g isn't that far off from lighter DSLR's like the Canon 6d (770g) or Nikon D750 (840g).
The mount
The reason why I bought the a7ii was that my a7's mount had become very loose which affected the image quality. Since then the issue was fixed under Sony warranty by Schuhmann in Austria which cost me some shipping but Sony's contractor in Germany Geissler sent several cameras with a loose mount back to their owners claiming that they were in spec and I have had a bad experience with their service .
Chances are that if you buy a a7 your mount will become loose too and most likely Sony won't be much of a help. You can fix the issue by installing a replacement mount from several manufacturers which is not a difficult operation. Be careful to choose a good replacement mount, many users reported issues with their replaced mounts.  The Fotodiox Tough E-mount Signature Edition LT (affiliate link) seems to be the best solution but even that caused issues with the new Loxia 2.8/21. Avoid older versions of the Fotodiox mount!
The Sony a7ii's mount is made of metal and so far I haven't heard about any issues with it. My lenses sit quite firm in it.
Sensor Reflections
I think sensor reflections are the biggest issue of the Sony a7 and I lost a few images because of them.
Sensor reflections in the a7II are reduced a lot and not an issue any more.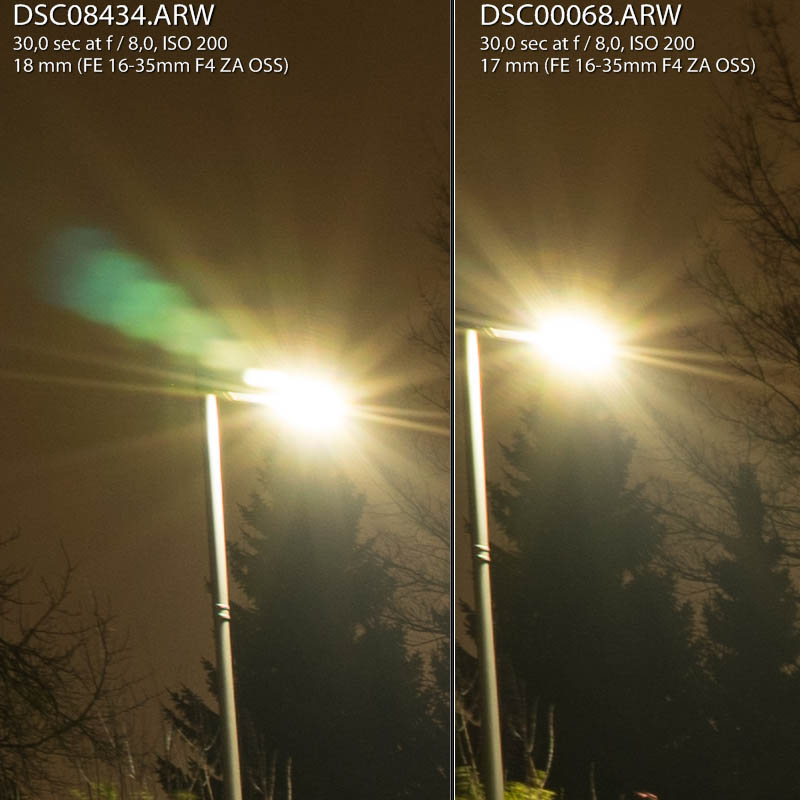 Auto Focus
Disclaimer: I prefer to use manual focus and I haven't used AF that much.
The a7ii is noticeably faster than the a7 but still not among the fastest cameras on the market. When there is sufficient light it focuses fast and precise. As it gets darker the camera focuses slower. Using the FE 2.8/35 I missed quite a few shots of my friends in not that dark Café and I am sure that I wouldn't have missed them with an older Canon 5dII.
Sony missed the chance to improve the AF point selection, it still sucks.
The biggest improvement is that AF with many (certainly not all) adapted Canon EF and Sony A-mount lenses works surprisingly well on the a7II whereas it took seconds or didn't work at all on the a7. Even tracking works in not too demanding situations. You have to research each adapter/lens combination but many users report good results. This source and that one are good starting points to learn what works and what doesn't. Personally i only tried a EF 4/70-200 L on a Commlite Adapter and AF worked well in the 70-140mm range.
Even Contax G lenses work kind of alright like on the a7ii! More on that topic next week.
AF wasn't as good as with native lenses but not too far off. One disadvantage though is that the very handy eye-AF doesn't work with adapted AF lenses.
Image quality
Not much to tell here, I couldn't notice any difference here.
The image stabilizer
The image stabilizer is the most important feature which sets the a7ii from the a7 apart. It enabled me to take some images which wouldn't have been possible without in the same quality.
Operation is easy. If you want to use a manual lens you assign the focal length selection to an easy to reach button, I chose C2, and select the focal length of your lens from a list. Don't forget to change the focal length when you change the lens though. I for example ruined some images taken with the Zeiss 2.8/28 at 1/200sec. because the focal length was still set to 50mm.
The stabilizer compensates a good two stops and I found it very handy in twilight when I would have had to open the aperture or increased ISO with the a7. Two stops isn't that much but it can make the difference between a technically sufficient and and insufficient image.
Another positive effect of the stabilizer is that it stabilizes the preview image which makes handheld focusing of longer lenses like my FD 4/300 L easier.
All in all it is a very useful tool but if you want to use it with manual lenses it slows operation down.
Other aspects
I am no video expert so i will cover that topic only superficially. The a7ii can use the better XAVC S codec and it offers a log profile. I think resolution and moire are still an issue though and neither the a7 nor the a7ii are very popular with video shooters.
The a7ii can save uncompressed raws. They are very large (48MB) and I never thought that raw compression was an issue for me in the a7 so I haven't used uncompressed raws yet. I think this feature matters if you plant to shoot star trails.
Conclusion
The a7ii is certainly the better camera. It overcomes most of the issues the first generation Sony a7 had and adds image stabilization.
Now the central question is: are these features and improvements worth the price difference of about $500?
If you look at the pictures  you usually won't see a difference, the image quality is the same. When the image stabilizer allows you to use a lower ISO value you might see a difference. Two stops are not that much but they can make the difference between a technically sufficient picture and a missed opportunity. The sensor reflections of the a7 can be a major issue for applications like blue hour cityscapes so if you are into chances are that you won't be happy with it. As always: it depends a lot on what you use your camera for. Personally I lost maybe a dozen in many thousand images to them so it was not a major factor for my decision.
Operation has been improved in many aspects. Faster AF  with adapted lenses  increases the range of available AF lenses a lot. The new grip is more pleasant to hold, the shutter release has been improved as well.
Increased weight will be an issue for some, again it depends a lot on your needs.
When making the decision the weak mount of the a7 should be considered as well. It might never be an issue for you but there is a risk that you will have to spend some effort and money on  the issue. You won't have to think about the issue with the a7ii.
Personally I have decided to sell  the a7ii. It wasn't an easy decision and I kept it far longer than I had planned. I am certain that I will miss it but I think it won't miss many pictures with my trusty a7 which I could have captured with the a7ii. The key argument for me is that cameras loose their value very quickly (about 30% per year) and I find it much easier to spend 500€ on a lens which I can sell for 500€ in a year or two than to spent 1300€ on a camera which will sell for 900€ next a year.  But  as a student I have to manage my limited funds more carefully than most.
All in all I would conclude that the a7 has a great price/performance ratio today, especially when it is used with manual lenses. It has some first generation issues, you will notice them from time to time but it is still a very good camera. The a7ii is better in many aspects and it offers an image stabilizer so the higher price is justified if you aren't too tight with the money.
The a7 costs about $1098 at Amazon.com (affiliate link) or about $650-750 used at ebay.com (affiliate link).
The a7ii costs $1698 at Amazon.com (affiliate link) or about $1300 used at ebay.com (affiliate link).
If this article was helpful to you, please consider using one of my affiliate links. I will earn a small commission on your purchase and it won't cost you anything. Thanks!
The following two tabs change content below.
I have two hobbies: Photography and photographic gear. Both are related only to a small degree.
Latest posts by Phillip Reeve (see all)