You are going into the mountains for three nights. This is not a dedicated photography trip, but an adventure with friends or family. You have packed your tent, your sleeping bag, warm clothes, cooking gear and food. Your pack is now pretty heavy, but you say something that astonishes your hiking (or bushwalking as we call it in Australia)  buddies: you are prepared to add 1.5kg of cameras and lenses to that! As they watch incredulously, you put into your pack……what?
We don't know what you would do, but we can tell you what we typically pack.
David's Choice
I would probably take my A7rIII. I could save some grams with an earlier A7 series, but I don't have one. And the latest series – the III series is nicer to use. likely I would add it it:
Zeiss Loxia 21mm 2.8:  Still state of the art for a wide, and it's not so wide as be a special effects lens, yet wide enough for some exaggerated perspective.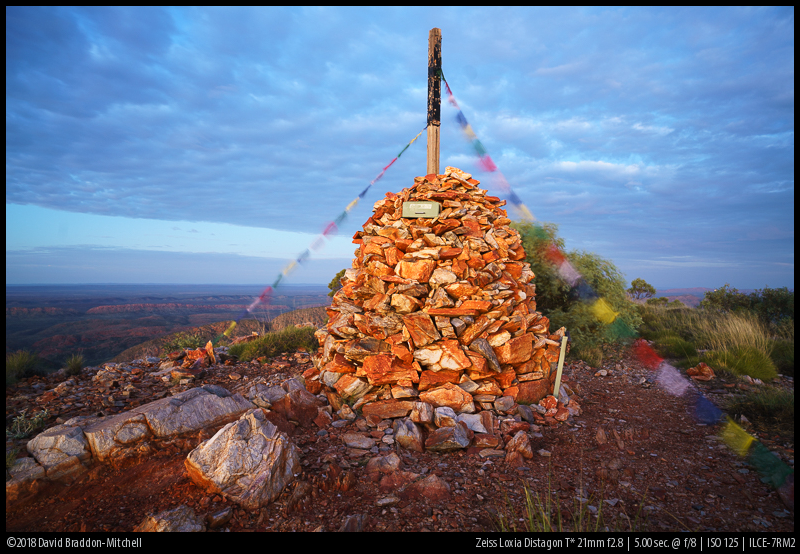 Sony FE 50mm f2.8 Macro: This relatively unsexy lens is unusually light as well as sharp at every distance, and makes a perfectly acceptable infinity landscape lens, a very good macro lens for those alpine flowers, and the eye-AF works well enough for some informal portraits of my hiking buddies in the early days of the trip before they get too self-conscious about being dirty.
Zeiss ZM 85mm f4: It's small, it's super sharp, it has lovely sunstars, it's light. I could save a little weight with the Zeiss G90mm, but I'd lose the sunstars, and I'm not sure it's quite as sharp though it's very good. This little lens is a top choice for almost no compromise optics when you need to pack light and speed is not needed.
What else would I consider: 
A zoom isn't silly. If I had one the new Sony FE 24-105 might make sense, but I'd lose macro, lose 21, lose sunstars at the focal length extremes. I've sometimes hiked with the Zeiss (C/Y) 35-70 f.3.5 or  with the Sony 16-35 f4.
Phillip's Choice
I considered my old a7 for a moment but the display has a defective contact so I can't fully articulate it which is annoying and the FE 4/16-35 is prone to sensor reflections. That leaves the a7II.
The FE 4/16-35 isn't that light and not great against the light but then it is only 120g heavier than a Loxia 2.8/21 and it offers a very handy zoom range, high contrast and very good sharpness so that I am usually very happy with the results.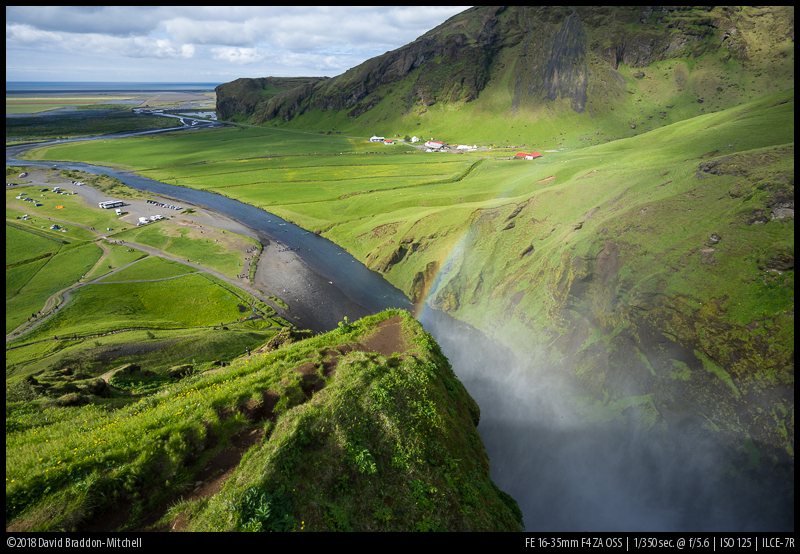 I currently have my G90 modified by a very nice guy who transplants them into a real helicoids. After that it will be an E-mount lens which focuses down to about 60 cm and which weighs only 200g. That is spectacular for a high contrast lens with very good sharpness.
What else would I consider: I considered bringing my FE 2/28 and a Zeiss Planar 1.7/50 or just the Voigtlander 1.7/35 with its great sunstars an excellent flare resistance but I would feels that I would miss out on more dynamic compositions which require a shorter focal length.
Bastian's Choice
I would pack my A7s to free up some weight for additional lenses (50mm 1.5). On top of that it gives me quite a bit more room for scenic available light shots.
Zeiss Loxia 21mm 2.8: Still the best wide angle lens for me and one that never let me down. I can also use it for some astrophotography if necessary.
Voigtlander 50mm 1.5 Nokton: Not the perfect match to higher resolution cameras but quite nice on the A7s. Stopped down to f/8 good enough for landscape and when it gets dark it will really shine in combination with the A7s.
MS-Optics Aporis 135mm 2.4: Just too lightweight to pass on. Gives me a longer lens with great bokeh as well as color correction and contrast up to modern standards. Can also be used as a lens for panoramic shots in case I am missing any other focal length.
What else would I consider: 
If I was on a multi day hike chances are high it would be to do some astrophotography. If that was the case I would pack Laowa 15mm 2.0 Zero-D FE and Voigtlander 35mm 1.7 Ultron + 5m PCX filter.
Jannik's Choice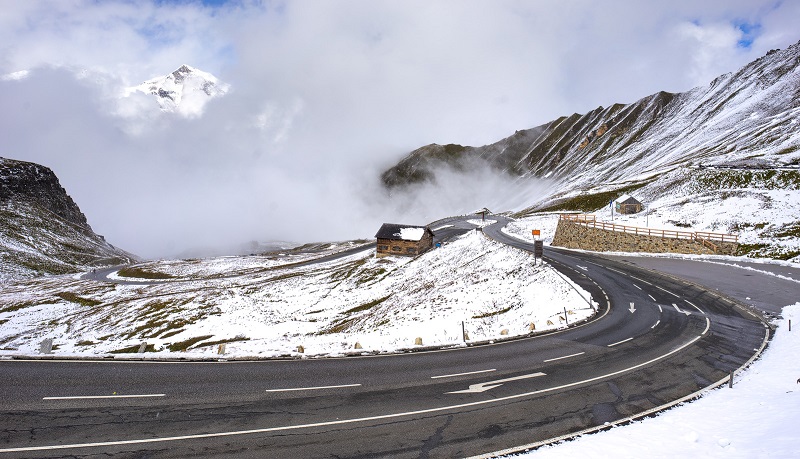 If I'm going into the mountains in the near future, it's with my family. So I want a nice AF lens for photos of them which can also double as a sharp across the field landscape lens. The Sony Zeiss 1.8/55 is ideal for that; relatively light, very sharp, fast AF and nice bokeh. Other than that I'll just take my favorite lens: Like David and Bastian I'll take the Loxia 2.8/21 for it's great performance, compact size, and lovely sunstars. For a body I'll take the A7III – when it arrives!
What else would I consider: 
On the subject of things that haven't arrived, if the new Tamron 2.8/28-75 is as good as they say, that might replace the Sony Zeiss 1.8/55.
And what about camera support?
Your pack now weighs 1.5kg more than everyone else's. David's hiking buddies sometimes do something very generous: they say "We will get the benefit of nice photos of our trip, so if you ask really nicely one of us will take a light camera support given you are carrying all the other gear"
He can't persuade them to carry a heavy tripod, or even a relatively light but serious one like a series 1 gitzo or equivalent with a decent ballhead. Nor would he carry that much additional weight yourself on this trip. What are the alternatives?
David has carried a Sirui t-025x from time to time on these trips. It's a bit annoying: a fiddly head, too many lock rings, and you have to remove the central column for it to be stable. But the result, while not tall, is nonetheless a real tripod and a lot lighter than that series 1 with decent ballhead.
Another possibility is a tabletop tripod. One we like is the Feisol TT-15 Mark2. It's only a couple of hundred grams, and it really is a decently built miniature tripod that actually works. Of course this means you have to find rocks, logs,  cliffs or whatever to place it on. But with a 25mm ballhead like the RSS B-25 you get something a lot lighter even than the Sirui setup, although of course with more restrictions on placement.
Bastian might take one of the above options, or at very least will always take along a little Manfrotto MP3D02.
Phillip has a slightly different perspective: he values the spontaneity and lighter weight of going tripod free, especially on hiking trips. Here's what he says:
"Whenever Bastian, David and Jannik start to geek out on tripods in our team-chat my role is that of a spectator. I am a very reluctant tripod user so I own just one affordable Sirui ET-1004 which I use very rarely. I can handhold my FE 4/16-35 down to 1/2 second which is usually more than long enough and the G90 can be used with very little compromise at f/2.8, so there would be few situations where I would need a tripod."
Jannik also won't be taking a significant tripod hiking (though it might be in the car) at this stage in life: too much family gear to add a tripod! If there is a realistic chance for long exposures on a hiking trip, he would take his light and small Sirui T-005X (the aluminium version of the carbon fiber t-025x discussed above) without the wobbly middle coloumn. Most of his serious photography at the moment is in the studio or on specific location. Hiking trips are for fun!
Conclusion
Of course exactly what you will take on a trip like this depends on many factors. Will you be mainly photographing people against the mountains, or is it a landscape trip? Will your companions give you time to set up a tripod at dawn or dusk, or will it be hand held? Will you have time for dedicated photography before or after the days walking, or is the only time you will have while actually on the move? All these factors, plus of course personal taste, no doubt influence everyones choices. Still, putting together all our recommendations I think you have a great palette of choices from which to select your ideal three day hiking lenses!
If you plan to buy any them, and have enjoyed this article or our reviews of the lenses, you can buy them via the following affiliate links at no extra cost to you, and it'll give us a tiny commission to make it possible to provide this site, which is a labour of love (not in any way our day job).
The following two tabs change content below.
David Braddon-Mitchell
David Braddon-Mitchell is a keen landscape and environmental portrait photographer. In the last decade of film he was a darkroom practitioner and worked with Olympus OM SLRs and various medium format cameras. He switched to Canon DSLRs when digital imaging improved, and made a move to Sony bodies as soon as the A7 series was born. He enjoys using a mixture of legacy manual lenses, modern manual lenses, and E mount AF lenses.
Latest posts by David Braddon-Mitchell (see all)