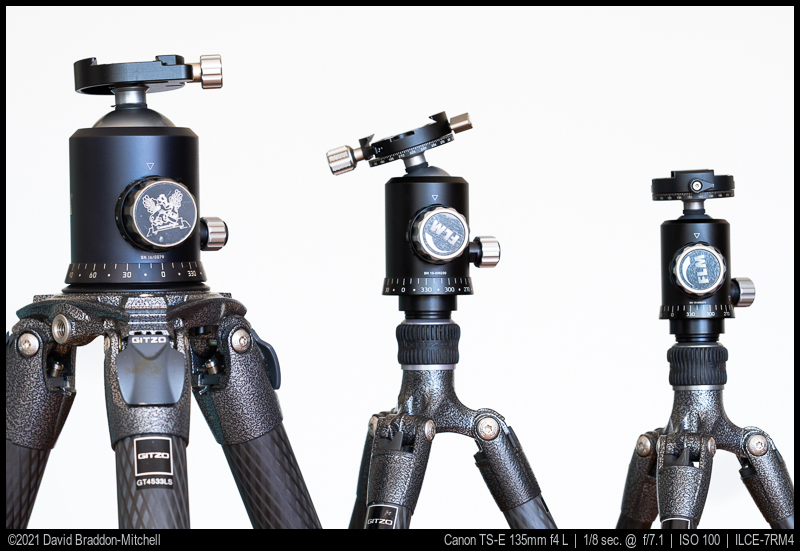 For a few years now I've owned an FLM CB-58FTR ballhead. It sits on my largest series 4 tripod, and I've liked it up to now, and admired it's extraordinary engineering. But I discovered something recently. I didn't know how to use it properly. Not the fancy tilt mechanism that allows you to lock all axes but one, that was fine. Not the fancy switchable indexing on the pan mechanism, I had that down. But the simple act of setting the friction, and locking and unlocking the head.  I had that all wrong. And so did almost everyone on the web. So in the timeless style of first paragraph stings: does this mean that the head is even better than I thought? Spoiler: yes.
What I had wrong.
If you search reviews and articles, you'll find lots of people have a complaint about these FLM ballheads (FLM stands for Film, Light, Metrology). It's that it takes many rotations of the locking knob to lock down the ballhead. I too had this worry. Locked down it was superb; it just didn't move. Unlike any ballhead I've ever used, when you set the position and lock it down IT DOESN'T MOVE AT ALL. This is why I've kept the CB-58 as my main ballhead – there is nothing more annoying when setting up pictures than having  to repeatedly realign the head to get the composition you want – you set the composition, lock the head, and it moves. Repeat. Of course you can guess how much "creep" there will be, and try to aim higher than you need, but this varies depending on the angle of the head and the weight of the lens, so is never reliable. But the FLM didn't do this. And it was well worth the minor hassle of turning the main knob a few rotations to get that.
But after a while I got to wondering: I wan't at all sure that I was able to set the friction on the head (using the unique collar around the main knob) reliably, and this is supposed to be a principal advantage of the head. So I got out the instructions. I found them almost completely incomprehensible. Perhaps the German originals are better, I haven't seen them. But hey, working on this blog I get a lot of exposure to excellent English from native German speakers, and it's always super clear, so unless the owners got their primary school nephew to translate it, I don't think it's a matter of lost in translation.
I read one review from South Africa in which the reviewer was puzzled, and finally got a tutorial from the distributor, after which he was thrilled with the heads. Other, reputable reviewers, said the heads were great but took many rotations to lock – and I discovered that this is a sure sign that someone is not using the mechanism properly.
After reading and re-reading the instructions, and watching some hokey videos by the Canadian distributor, and experimenting I figured out how to set the tension.
Doing that properly also fixed the "many rotations": issue. The ball now locks down with maybe 180 degrees of rotation. And it locks down with absolutely no creep. I was thrilled, and went a bit wild with head purchases.
So; how do you use it?
The proper way to use an FLM head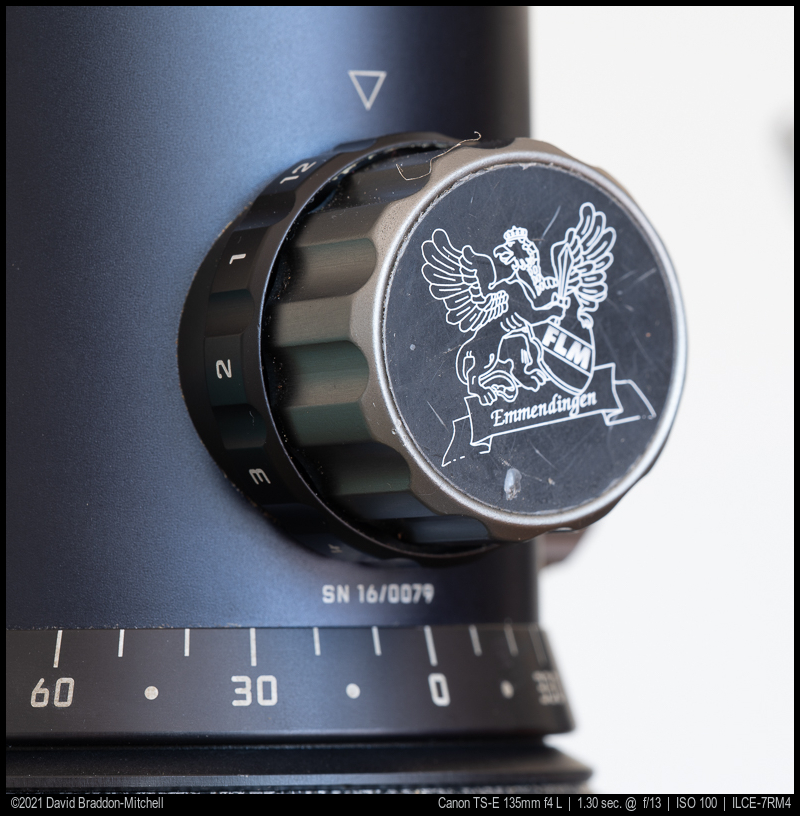 So first my instructions, and then a few comments.
Above is a photo of the main control of the an FLM head. As you can see there is a large silver knob (always the largest knob on an FLM head) and there is a black collar around it with numbers on it.
I'll call the silver knob the Lock Knob, and the black collar the Tension Ring.
Setting up the head.
Put a camera lens combination which is typical weight for your usage (you can set it up for other weights easily too)
First rotate the Lock Knob clockwise a bit. This will free up the Tension Ring.
Then rotate the Tension Ring anticlockwise as far as it will go. This sets the Tension Ring to a neutral position.
Now rotate the Lock Knob anticlockwise as far as it will go. This sets the fiction to minimum. Be careful not to let the camera flop around!
Your head is now in the neutral state, ready to be set up.
Now rotate the Lock Knob clockwise until you have a good friction. A good friction means that the camera and lens will not move on their own due to gravity, but can be moved by you. As much friction as possible compatible with being able to precisely set the position of the head with no sticking is the correct amount.
Now rotate the Tension Ring clockwise as far as it will go. 
Look at the number on the Tension Ring. That's the setting in future for this type of camera and lens.
Here's a short video in case that helps!
Locking the head
Having set up the head, it's time to use it.
If you now  rotate the Lock Knob as far as is will go left, you will be back at your set friction. So long as you leave the Tension Ring untouched this will always be the case. Adjust your composition, and rotate the Lock Knob 180 or maybe 270 degrees to lock down. Job done.
Here's what's counterintuitive: you could rotate the knob further, but the ball won't be usefully tighter. This is because of an awesome gearing mechanism that makes tightening the ball easy and precise. Most other ballheads require a lot of force – you turn the locking know hard until it feels tight. And in some cases that's not tight enough, hence the oversize flaps on some RRS heads that overcome this problem by giving you more leverage. This is one source of the illusion that FLM heads require an annoying amount of rotation to lock. You don't need to go all the way to the Lock Knob feeling tight.  The second source of the illusion is that most people haven't set the friction correctly, or have set it too low. In that case, it really will require many turns to be secure.
And here is another short video!
Changing to a previously recorded tension
To switch from one tension setting to another, unlock the Tension Ring by turning the Lock Knob clockwise, set the number you want on the Collar, and turn the Knob back anticlockwise as far as it will go.
And here is yet another short video:
Some remarks
It may sound fiddly, but once you get the hang of it, it's quick and easy. And much much easier to use than those heads that have the tiny friction wheel inside the knob.
I have now replaced almost all my ballheads with FLM ones.
I won't say much about the tilt and clicked rotation features of the heads since they are well enough explained in the manual.
The one thing I felt I might be losing is to do with panoramas. The pan mechanism on the FLM is, as is usual on ballheads, on the base below the ball. If you are shooting single row panoramas this means you need to either have a levelling base, and level the tripod that way before using the pan mechanism, or else level the tripod by adjusting the legs. I have used the Arca P-0 for a lot of things before, which is an upside down design with the pan mechanism above the ball, not below it. This means you can level with the ball, and then pan freely. But there is an easy solution with the FLM. If you don't have a levelling base on your tripod, install a panning clamp. You can then level with the ball first just like on the Arca-Swiss. Leofoto make a range of much better than most Chinese made clamps with a pan mechanism, and it so happens the knobs match the aesthetics of the FLM perfectly. You can buy the FLM heads without a clamp, so there's no problem (I recommend watching this video about how to remove and install clamps onto an FLM head before you do this; it's by the Canadian distributor).
The heads come in 32mm, 38mm, 43mm, 48mm and 58mm. They also come in a plain F version without the tilt or the click option for the panning, an FT version which adds the function of locking the head in most axes so you can tilt it without affecting anything else, and FTR which adds in addition the clicking pan base. Unless you use a levelling base, there is likely little  need to get the clicking base, as you will me more likely to pan with a panning clamp or pano accessory.
Which size do you want? personally I am a fan of slightly heavier duty heads than needed. A bigger head is easier to operate, and reassuringly solid. So I have the 32mm on series 0, 38mm on series 1, 43mm on series 2/3 (an RRS tripod that is between 2 and 3 sizes) and on my ground tripod,  and a big 58mm on my series 4. But I'm sure this is slight overkill, and you could easily go one size smaller with no ill effect, and put a 32 mm on a series 1 tripod, and so on. The 32mm does not come in the FT (tilt) and FTR (tilt and clicking base) versions because the head is too small to fit the extra knobs, but all the rest do.
Conclusion
good

does not shift after ball locked down. It's the most stable ballhead you can buy.

can set a tension with no movement before locking down

beautiful pieces of solid engineering

lock knob can be turned to securely lock without too much torque applied

average

price, for what it is.
Height: a little higher than some (e.g. RRS) heads which may matter to some in specialised use – e.g with ground tripod for macro.
Installing and removing clamps requires following the instructions closely

not good

Instructions!  You need to read this article.
I've spend an unreasonable amount of cash replacing my Arca-Swiss, Markins, RRS and Photoclam heads with FLM ones. These are all great ballheads, and the fact that I replaced them  tells you how keen I am. So I'm happy. I expect them to be the last heads I buy. And every time I use them there is a pleasure you get when operating precision machinery that is very enjoyable, and for that alone I think I'd be tempted. But the lack of creep – the change in position after you have locked the heads – in all the models is the best I've ever seen. It's also true that as someone with a lot of tripods, there is a real benefit to having all the heads operate the same way! But if and when you get one,  follow my instructions!
If you want to buy one or more then in most countries using our affiliate link to BHPhotoVideo may be the best bet. B&H are very reliable, and ship at remarkably reasonable cost to most countries, and even collect tax and deal with customs for many countries. In Europe you can find a local store that stocks them by looking on FLM's own website.
The following two tabs change content below.
David Braddon-Mitchell is a keen landscape and environmental portrait photographer. In the last decade of film he was a darkroom practitioner and worked with Olympus OM SLRs and various medium format cameras. He switched to Canon DSLRs when digital imaging improved, and made a move to Sony bodies as soon as the A7 series was born. He enjoys using a mixture of legacy manual lenses, modern manual lenses, and E mount AF lenses.
Latest posts by David Braddon-Mitchell (see all)