Introduction
When it comes to tripods mirrorless cameras have different requirements than DSLRs and so you can often get by with a lighter tripod. Unfortunately there are many manufacturers to chose from and even more commercial claims which are often misleading. As I have not only used quite a few myself but also witnessed the joy and frustation people experienced with their tripods during my workshops, I want to share my experiences with you.
Choosing a tripod
There is a huge difference when using cameras with an electronic first curtain shutter (EFC) or cameras with a purely mechanical shutter.
What is an electronic first curtain shutter? Imagine it as a theatrical performance: at the beginning the curtain opens and at the end it closes. With digital sensors it is possible to do this purely electronical: the software tells the sensor "now the exposure begins" (first curtain) and "now it ends" (second curtain).
Mechanical shutters may lead to vibration which can be a problem with the first curtain. With the second this is not that much of a problem, as you are already done with gathering light and you won't see this vibration in the photo anymore.
Every camera from the A7 series except for the first gen A7r has an EFC (which is also activated by default) so the following recommendations assume you are using a camera with EFC, as it means we don't need a tripod as stable as without.
I will only cover tripods and ballheads to be used with lenses up to 200mm as this is the area I can rely on my own experience. With longer lenses the advantages of mirrorless cameras start to diminish and the lens will absolutely govern the tripod choice.
If you don't want to learn about the basics of choosing a tripod or a head for your tripod you can skip most of the article and scroll down to the recommended kits 🙂

Lection 1:

Do not trust advertising claims
The most important thing is: the maximum load capacity nearly every manufacturer gives for it's tripods is absolutely meaningless. There is no standard to measure it, many manufacturers are just giving you the breaking load while a few more honest manufactures will give the maximum load you can comfortably work with (whatever that means). You just can't compare these values between different manufacturers.
What is really important when choosing a tripod is the maximum focal length you want to use. There are only two manufactures I know of (Gitzo and RRS) that will tell you what tripod (class) is suitable for a given maximum focal length.
What are you willing to carry?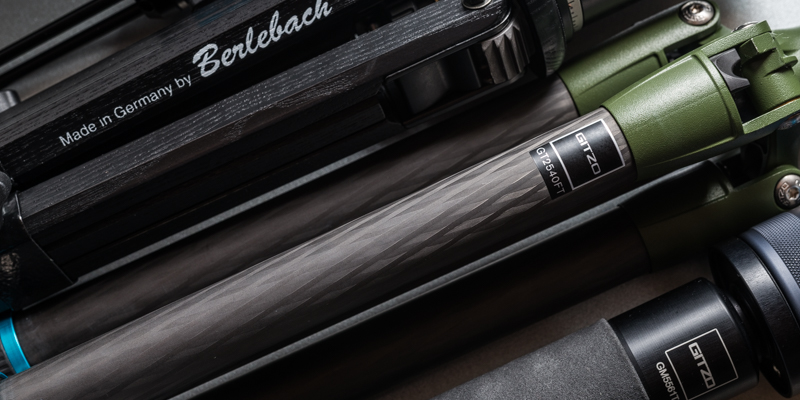 This is the first question you should be asking yourself. If the best tripod you have is the tripod at home because it is too big and heavy to carry around it is completely useless. You should also consider how you want to carry it. Dedicated tripod bags look nice at first sight, but strawling through a city with two bags is something best avoided (I am speaking from my own experience here).
Many shoulder bags only have very poor options for carrying a tripod. You have to take the tripod out of the bag to get to the camera? Bad idea. You have to take the tripod out of the bag each time you want to change lenses? Bad idea.
I am most happy with strapping light tripods to the side of a backpack or using very small tripods (see my recommendations at the end of this article) that can fit into my shoulder bags (or backpack).
Lection 2:

You get what you pay for
Chimping on a tripod is the worst thing you can do with your money. A good tripod will outlive your camera and even your lenses if handled with care. I often get to hear the argument "I don't need an expensive tripod because I am not using it very often". Yeah sure, but because it sucks big time using a junk tripod you will use it even less often than you thought you would and end up not using it at all which will end up in all those noisy handheld nightshots I get to see on flickr every day.
There is a difference between price and value: I could buy a used Gitzo tripod today for 400$ and sell it in 5 years for 350$. I could also buy some "generic professional carbon fiber tripod" for 100$ which is neither stable nor a joy to use and try to sell it in 5 years. Is the company still around? Are there any spare parts available? Does anyone remember Triopo which was "hot" 5 years ago?  Will anyone be willing to give you even 50$ for it?
Lection 3:

All that glitters is not gold
Unfortunately even the reknown companies often also produce junk tripods for the mass market so it is somewhat hard to recommend manufacturers in general but you might want to look what the following have to offer:
Gitzo (no junk at all)
Reallyrightstuff (no junk at all)
Feisol (no junk at all)
Manfrotto (former Bogen in US, also some cheap junk)
Velbon (also some cheap junk, Geo, Sherpa, UT, Ultra, Ultra TR worth a look)
Novoflex (Triopod worth a look)
Choosing a Ballhead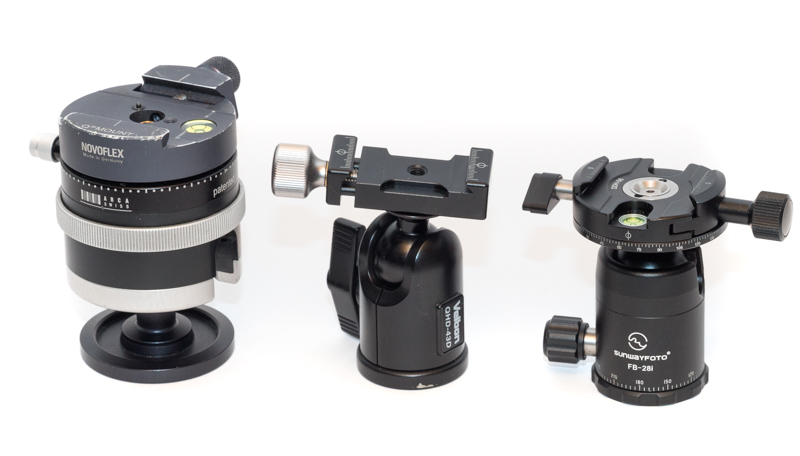 I will only cover ballheads here as I think they are the best allround solution and also the most common type of heads. I am also not covering super telephoto or macro work here, these disciplines have their very own requirements.
I am interested in good build quality, little to no drift when locking the ball and no sag when having the camera locked for a longer period of time. Oh, I have also become quite the fan of aspheric balls which are not perfectly round but have an elliptical shape instead. The benefit here is, the more you tilt the camera the resistance of the ball is increased which counteracts the moment of eccentricity which derives from the load not being directly above the ballhead. This might have sounded a bit technical now, but to make a long story short: after having used a ballhead with an aspheric ball once I never wanted something else again.
Lection 4: Smaller isn't cheaper
A bigger ballhead incorporating a ball with a bigger diameter will always be more stable than a smaller one, all else equal. Another problem is, making a ballhead smaller with the same function set (panorama function, dedicated friction knob etc.) does often not reduce the price substantially. Just take a look at the Novoflex CB3-II*
and it's newer small brother the Novoflex CB2*
and you know what I am talking about (both are very nice ballheads by the way). This might also be the reason some well known manufactures don't even bother offering smaller ball heads (I am thinking of Arca Swiss and Markins here).
* affiliate links
Nevertheless I have tried some light ballheads worth mentioning and want to share my experience with them:
Arca Swiss P0*:

This is one of the best pieces of gear I have ever bought. The rotating panorama plate ist where it belongs (on top) the handling is superb with a ring for locking you can't miss, it is rather lightweight at ~305g (without a quick release system) and has a comparatively big aspherical ball.
You can't go wrong with this one for lenses up to 200mm (even heavier ones), but it is also the biggest and heaviest head I will mention here and also quite expensive. Nevertheless: Heartily recommended.
Velbon QHD-43D*:

When I first saw it my expectations weren't that high but this one proved to be a decent performer with exceptionally low weight (124g without quick release system). There is just one big wing screw but it is easily possible to control the friction with it before locking the ball. Recommended for lenses up to 90mm.
SunwayFoto FB-28i*:

Like the P0 this design also incorporates an aspheric ball and right now this is my preferred choice for using with my Sony cameras as it is quite small and very light (163g) and therefore a great fit for all the traveler tripods with foldable legs. You can control the friction with the big screw knob before locking the ball on this one as well and it works very well. Recommended for lenses up to 135mm.
What I haven't used yet
I got word the smaller RRS heads are also very good but they are very expensive in Germany which is one of the reasons I didn't get a chance to test them yet.
I have yet to use one of the Markins heads, but right now they are all too big for my needs.
I don't yet know what to think of the Sirui products. Some people talk smack about these, others complain about sample variation. The prices have risen recently and I think they are quite ambitious by now. Things like spare parts supply are still a big question mark for me,  so right now I am not really interested in their products. YMMV.
Lection 5: You can't afford to buy cheap
I have used – and seen people use – some low level "no name" and/or generic heads that come with all kinds of "brand"names and I wouldn't waste my money on them. They have often questionable build quality like rubber grips on the screws that come of, significant drift when locking the ball, are unusable with gloves on, get stiff when it is freezing cold, the list goes on and on…
Be smart, don't waste your money on junk. You get what you pay for, this is especially true for tripods and ballheads.
Quick Release Systems
You should definetly think about getting a quick release system and by "a system" I mean an Arca Swiss compatible system which has become pretty much the standard now. You ask why?
You want camera specific L-brackets (which I would recommend): only available for Arca Swiss.
You want to replace your tele lenses' foot with something more stable and compatible to your quick release system: only available for Arca Swiss.
You want small camera plates for your compact and use the same system for your 800mm lens? Only possible with Arca Swiss.
The problem here is: the standard isn't really a standard. Although there is a host of manufactures using it (RRS, Novoflex, Markins, Gitzo (sometimes), Manfrotto (sometimes), Sirui, Sunwayfoto, Kirk, Benro, Mengs, Neewer and many more) not every plate is compatible with every clamp. I recommend quick release clamps with a screw knob as they have much less compatibility issues than the ones with flip locks.
Recommended Kits
There are numerous combinations of tripods, heads and quick release systems that could or could not work for you. I could never possibly cover all of them so I want to show you just some kits instead that worked for me or some of my closest friends. I have first hand personal experience with all of these kits, otherwise I wouldn't recommend them. All of them are Arca Swiss compatible.
All affiliate links are marked with a *.
City trip "in the bag" tripod
Velbon UT 43D II Kit*
(includes QHD-43D head) + Neewer 25mm*

Folded length: 26.5 cm
Maximum height: 154 cm (including ballhead)
Weight: 1085g
This is my preferred choice for city trips as this tripod easily fits in my backpack and even some shoulder bags. I don't like walking through a city with a big tripod on my backpack annoying other people and looking like a mugworthy photographer. On the other hand I don't like taking shots of cityscapes without a tripod and this is where this Velbon comes into play.
The downsides are that it isn't the most stable tripod out there (I recommend spreading the legs a bit for additional stability) and that it can't be disassembled for cleaning, so I wouldn't use it in (sea) water and especially sand.
Still: very usable for lenses up to 90mm (beware of (strong) wind though).
Lightweight outdoor tripod
Manfrotto Befree Carbon*
/ Manfrotto Befree Aluminum*
+ Neewer 25mm*

Folded length: 40.5 cm
Maximum height:  143 cm (including ballhead)
Weight: 1095g (carbon) / 1440g (aluminium)
For the cost of a longer folded length you can get rid of the disadvantages of the aforementioned Velbon at roughly the same weight. The befree can be easily disassembled for cleaning and you can simply order spare parts at manfrottospares.com.
If weight isn't your main concern you might want to settle for the aluminium version which is 345g heavier but also ~100 bucks cheaper. Both versions are usable for lenses up to 135mm.
The luxury travel tripod
Gitzo GT1544T*
/ Gitzo GT1545T*
+ SunwayFoto FB-28i*
+ Sunwayfoto DDH-06 (also available as Kit FB28i-DDH)
Folded length:  43 cm / 43 cm
Maximum height: 149 cm / 161 cm (both including ballhead)
Weight:  1230g / 1300g
In terms of build quality but also stability these are the best travel tripods money can buy. The GT1545T is the latest version with the newest leg locks which are a little shorter than the older ones which results in an increased maximum height. Personally I prefer the locks  of the last generation so I included the GT1544T here as you might get a good deal on these now.
As head I choose the Sunwayfoto FB28i-DDH which is the smallest head I know of which offers an aspheric ball and is also equipped with the smallest panorama plate (Ø 50mm) I know of which even fits between the legs when folded.
Gitzo recommends these tripods for lenses up to 135mm (up to 200mm with reservations (like center column retracted)) and I would second that.
Further Reading
Support Us
Did you find this article useful or just liked reading it? Treat us to a coffee!


via Paypal
The following two tabs change content below.
My name is Bastian and I am your expert here when it comes to ultra wide angle lenses, super fast portrait lenses (ranging from a 50mm f/0.95 to a 200mm f/1.8) and I also have reviewed way too many 35mm lenses. Don't ask me anything about macro or wildlife shooting though.