Venus Optics is a new player in the field of high performance manual lenses. Their new Laowa Smooth Trans Focus 105mm F 2.0(T3.2) has a special apodization element which should give this lens extraordinary bokeh. That's the theory, in this review I will put it to the test.
Sample images
Most images in this review are linked to the full resolution, just click on them. There is also a Laowa STF 105mm F 2.0 flickr album.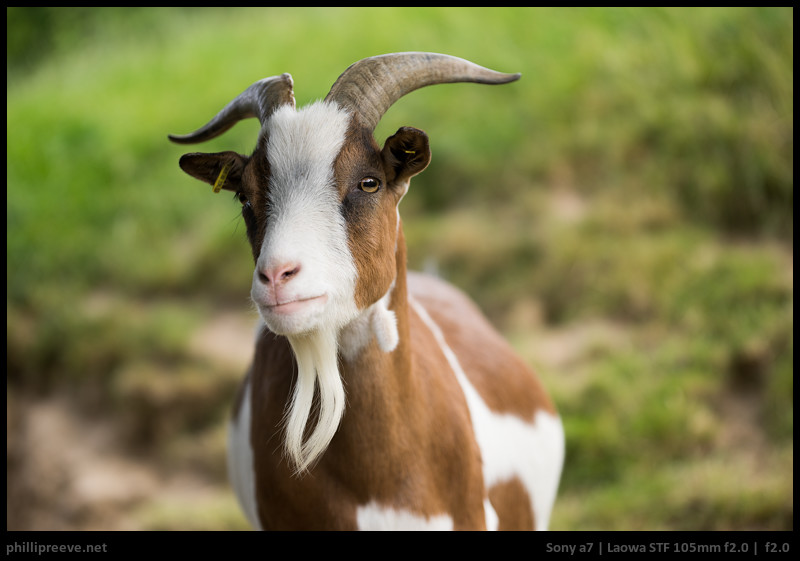 Disclosure
Venus Optics loaned us the lens free of charge for a few weeks.
Specifications
Diameter: 75 mm
Length:  126 mm (E-mount)
Weight: 745g
Filter Thread: 67 mm
Number of Aperture Blades: 13 (f/2 to f/22) / 14 (T3.2 to T/8)
Elements/Groups: 11/8
Close Focusing Distance: 90 cm
Mount: Canon EF, Nikon F, Sony FE
The Laowa 2/105 STF currently (July 2016) sells for $699 at ebay.com (affiliate link). 
Versions
The Laowa Smooth Trans Focus 105mm F2.0 (T3.2) currently comes in EF, Nikon F and Sony FE mount.
What's special about this lens?
The Laowa STF 105mm F2.0 has a special apodization element. This works like a ND filter so you get the depth of field of a f/2 lens but only the light transmission of a f/3.2 lens. Why would one want to put such an element into the lens? Well it makes the bokeh much smoother.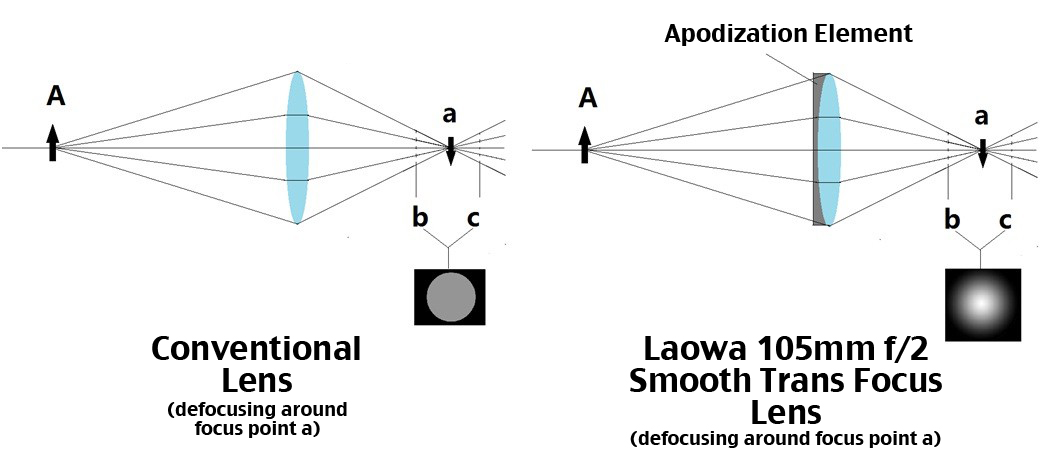 Venus Optics isn't the first company to employ this technique. Minolta introduced the STF 135mm F2.8(T4.5) in 1999 which is today sold by Sony. I compared the Sony and the Laowa in this article.
Build Quality
The STF 2/105 is made from metal and feels very solid. Markings are engraved. There is no play in the focusing or the aperture rings.
I didn't take it apart nor do I own a rentals company so I can't tell you how reliable it actually is.
Size, Weight and Handling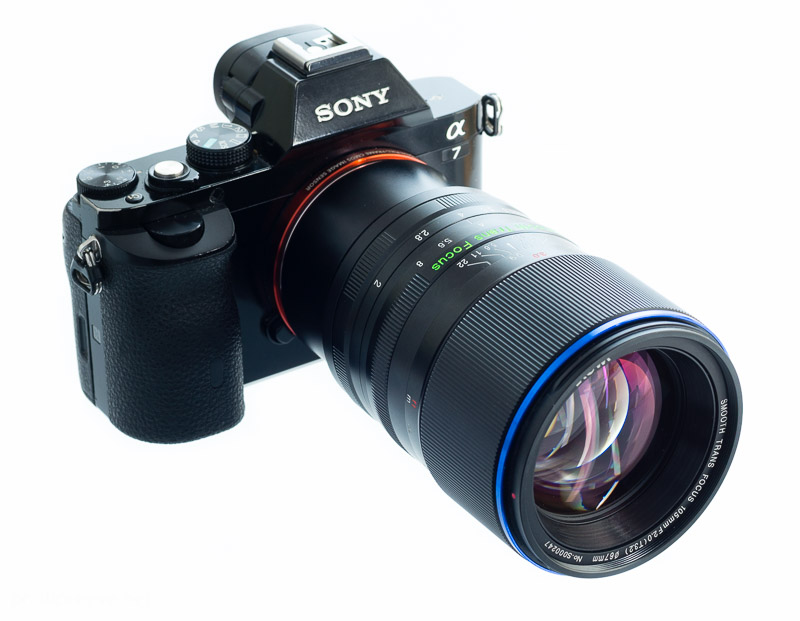 The Laowa is a substantial lens  and I prefer to have my L-bracket attached to the a7 for better handling.  With L-bracket attached handling is good but because of the weight I would think twice about taking it for a longer walk.
The focusing ring is has a pleasant resistance and it travels about 270 degrees from 0.9m to infinity which is quite long and makes precise focusing very easy but also slows focusing down a bit. Compared to the most pleasant to use lenses I would have wished for a tad less resistance and a littler more direct transmission but it is still pleasant to use.
The Laowa actually has two aperture rings. The F-ring has click stops at full apertures and goes from f/2 to f/22. Unusually the distance between the stops get shorter. It is quite long between f/2 and f/2.8, about normal between f/5.6 and f/8 and very short between f/16 and f/22. The T-stop is clickless and goes from f/3.2 to f/8. Both rings affect depth of field and exposure and their effect on bokeh is very similar so as a videographer you will probably use the clickless one and as a photographer the one with clickstops makes more sense.
The Laowa STF 2/105 does not change it's length when it is focused but it is not an internally focusing lens either, the whole optical block travels inside of the lens.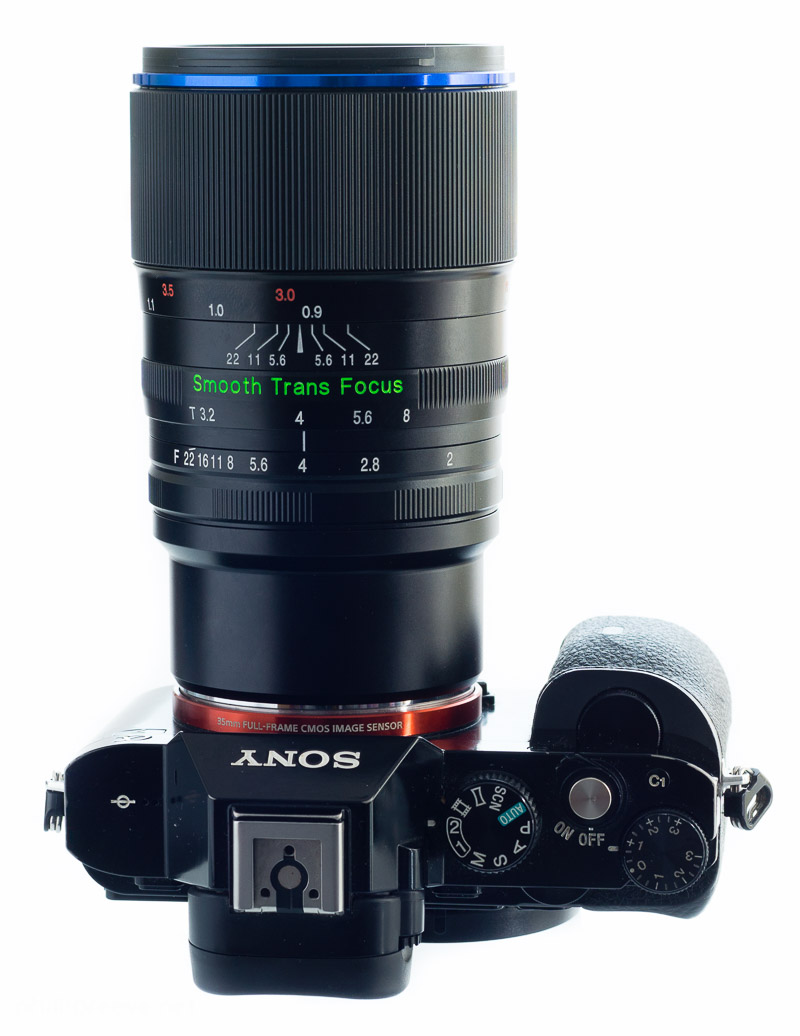 Lens Hood
The original lens hood is made from plastics and feels solid enough but not as premium as the lens itself. Sadly though it isn't very effective at suppressing flare and I often had to shade the front element with my other hand.
Filters
The 67mm filter thread is made from metal.
The front of the lens does not rotate.
Image Quality
Vignetting
At f/2 vignetting is moderate at 1.5 stops, at f/2.8 it is reduced to 0.9 and around 0.6 stops from f/4. This is an average performance for a semi fast lens of this focal lens.
You will also notice that there is a significant color shift from f/2 to f/2.8, WB is the same for all the images.
Flare Resistance
And now we come to the biggest weakness of the Laowa STF 2/105.
Ghosting happens only under the most extrem conditions and then it isn't too strong:
Veiling flare though is a real issue and has cost me quite a few images.
Both images were taken with the lens hood attached but for the second image I shielded the front lens with my hand as well.
Distortion
The lens shows almost zero distortion.
Chromatic Aberrations
Lateral CA is very low but not perfectly corrected.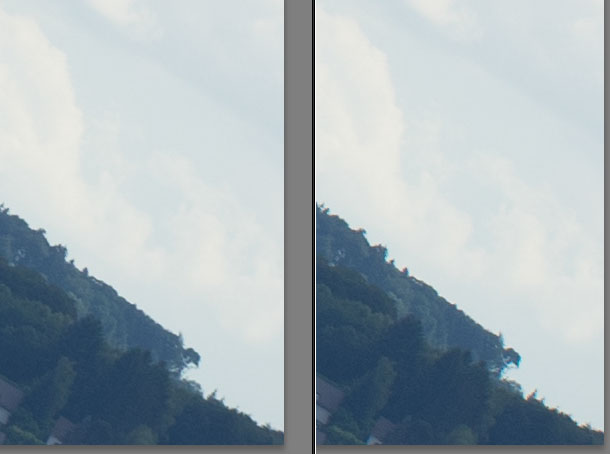 The Laowa STF 2/105 shows exceptional correction of LoCA. Here I compared it with the Zeiss 2/100 Makro Planar: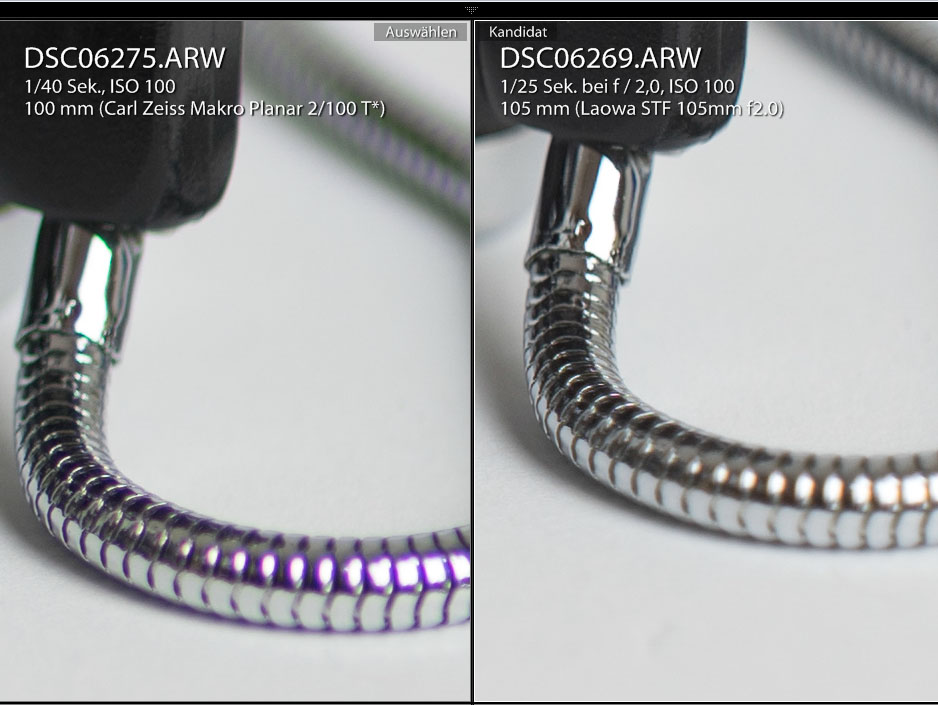 Bokeh
The Laowa's background bokeh is very smooth. Here is a comparison with the Zeiss Makro Planar 2/100 which is known for it's very good bokeh. You will note that the Laowa shows the cat-eye-effect to some degree but it isn't as bad as with the Zeiss MP.
Is it as special as the Bokeh of the Sony STF 2.8/135? No it isn't. The Sony draws highlights without any definition and there is no cat-eye effect:
The bad news is that the Laowa doesn't handle the transition zone nearly as well as the background, it is actually quite rough there with a very visible outlining effect.
The foreground bokeh is very smooth again, maybe a little less so than the background bokeh but still very good.  I don't want to waste more space on it, just check out the many samples I have.
So in most scenarios like portraiture bokeh is really good but there are other scenarios where the bokeh can be quite ruff actually. In general I was very pleased with the Laowa's bokeh.
I would guess that they started with a lens with rather busy bokeh and turned that into a lens with nice (background-)bokeh by adding the apodization element. Minolta's STF 2.8/135 does have smoother bokeh in any scenario with zero vignetting which results in a look the Laowa can't emulate.
 Sunstars
13 aperture blades result in 26-pointed sunstars.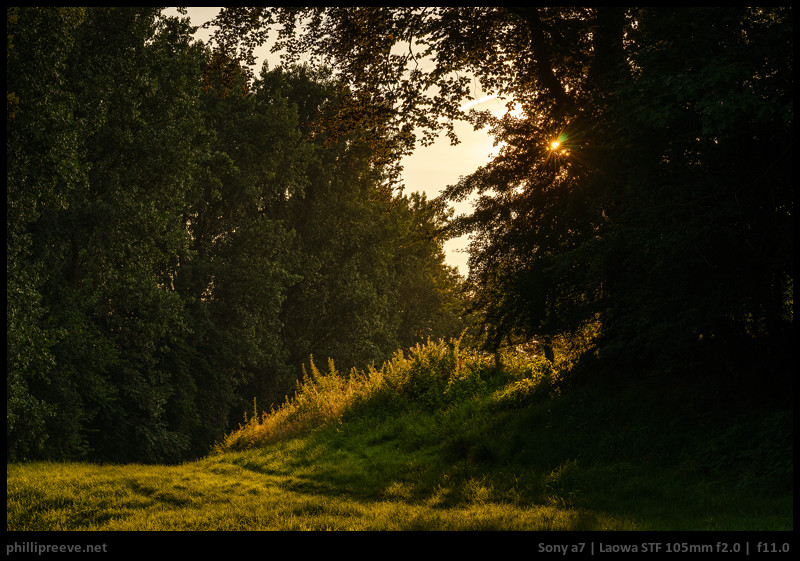 Contrast
If you avoid veiling flare contrast is very high.
 Sharpness
You can find the full resolution test images in the Laowa STF 2/105 flickr set.
f/2: Ver good sharpness in the center, good in the midframe area and corners.
f/2.8: Excellent in the center, good to very good in the rest of the frame.
f/4: Excellent in the center, very good across the frame.
f/5.6: A slight improvement in the corners.
f/8: Ever so slightly softer
For me the most important stops are:
f/2.0: I used this aperture without hesitation for more than 9 in 10 images.
f/5.6 for landscapes an stuff where I need sharpness across the frame.
Close Focus Performance
The Laowa STF 105mm F 2.0 is still quite sharp at it's shortest focusing distance of 0.9m even when set to f/2.
The reproduction ratio is 0.16 which is about average for a 100mm lens.
Alternatives
Sony STF 135mm F 2.8(T4.5): The Sony has truly extraordinary bokeh but it is more expensive, slower and not built as nice plus the focusing isn't very pleasant. Check out my in-depth comparison.
Samyang 2/135:  The Samyang shares the Laowa's excellent correction of axial CA  and very high sharpness but it is a bit bigger and not built as nicely. It is a little cheaper and has a 1.5 stops higher transmission.
Zeiss Makro Planar 2/100: The Zeiss is a little more expensive if you buy used and a lot more expensive if you buy new. The Zeiss is a little sharper than the Laowa (it is in fact the sharpest lens I have ever used), can focus down to a reproduction ratio of 1:2 and while it's flare resistance isn't perfect it is much better than that of the Laowa. Of course you don't lose the 1.5 stops of light with the Zeiss. Advantages of the Laowa are a much better correction of axial CA, a little smoother background bokeh and a better focusing experience.
Minolta MC 2.5/100: Certainly not as sharp but it is an affordable lens with great build quality and superb bokeh.
Conclusion
Pros
+ Excellent correction of axial CA
+ Very sharp from f/2
+ Very good background-bokeh
+ Good Build quality and handling
+ Almost zero distortion
+ Price

o Vignetting
o Size and Weight
Cons
– Very susceptible to flare
– The apodization element reduces the light transmission by 1.5 stops
– Nervous transition bokeh
Overall I am quite impressed by what Venus Optics has achieved with the Laowa STF 2/105. The lens is very sharp  from f/2 and more surprisingly it corrects axial CA really well which is an issue with which many other expensive lenses struggle, the Zeiss Makro Planar 2/100 for example. I am quite surprised that this aspect isn't advertised more, they could have called it an APO lens and it would have deserved that label.
The bokeh is very good, better than that of most of the competition but not as excellent as I would have expected from a lens which's main selling point is the bokeh, especially the nervous transition zone bugs me. So if you look for a lens with good bokeh for portraits don't hesitate to buy the Laowa, but don't expect it to be radically different from what you have known before.
Build quality is very good and sets the Laowa apart from Samyang lenses, nothing to complain about here apart from that the lens is a little heavy and far from small. Handling misses the excellent mark by a little because the focusing ring has a little too long focus throw and the aperture ring works a little different but I am nitpicking here and all in all handling is very good.
The Laowa is very susceptible to veiling flare and I lost a couple of images to this issue which is always annoying. The lens hood isn't very effective and it often makes sense to shield the front of the lens with your hand but this doesn't help in every situation.
All things considered I think the price is very fair. You get a lens which aims at the premium segment and delivers well on this aim in most aspects but you don't pay as much as the competition from Zeiss or Leica would charge for a lens with similar qualities. Of course one has to consider that Venus Optics is a young company which hasn't had the time to prove the longevity of it's products but so far I don't see any issues.
So all in all I was a little underwhelmed by the Laowa's main selling point, the bokeh. This was mostly because I had a very high expectations. I was very positively surprised by the Laowa STF 105mm f/2's excellent correction of axial CA which have bothered me with every other portrait lens I have used so far. The trade-off you have to make for these desirable characteristics is that the Laowa flares very easily and that you lose 1.5 stops of light compared to a conventional lens. You don't need to worry about any of the other aspects like sharpness, build quality etc., here Venus Optics delivers.
The Laowa STF 105mm f/2  currently (July 2016) sells for $699 at ebay.com (affiliate link). 
If this review was helpful to you, please consider using one of my affiliate links. I will earn a small commission on your purchase and it won't cost you anything. Thanks!
Laowa STF 105mm F 2.0 Sample Images
All images are processed in Lightroom from Raw. Many more full resolution samples in my Laowa STF 105mm F2.0 flickr album.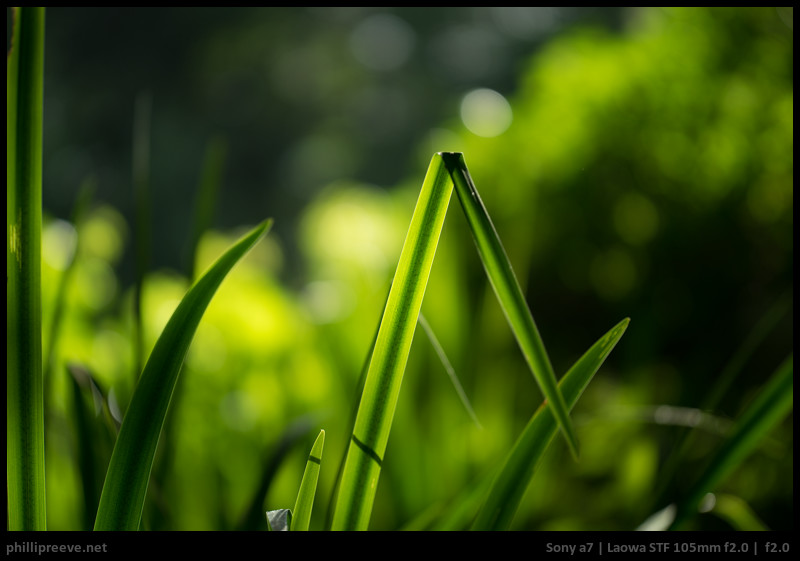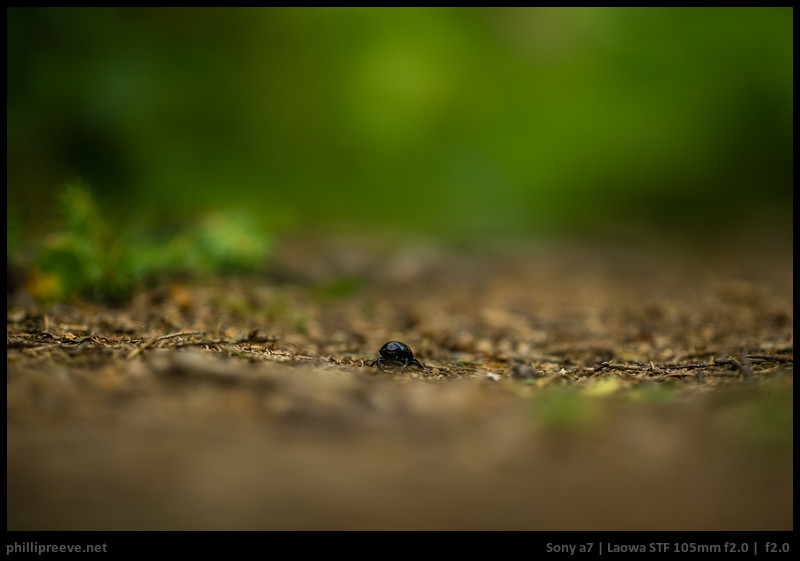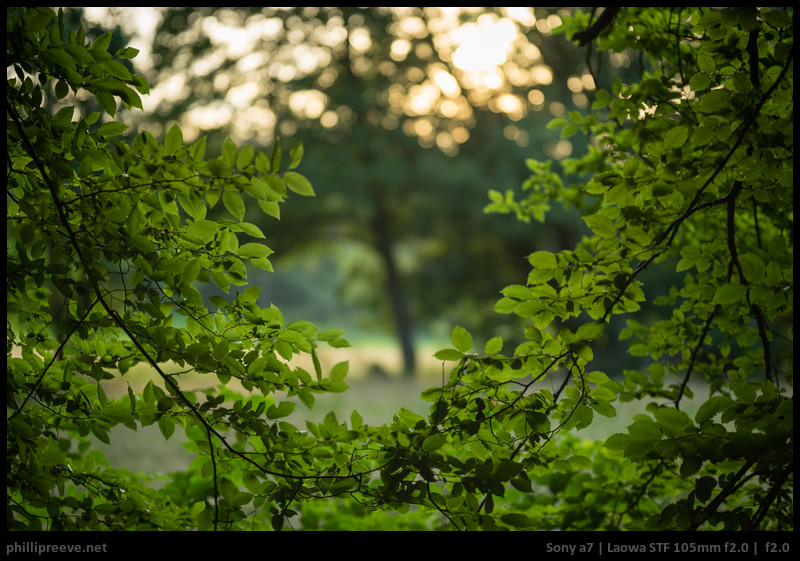 Further Reading
The following two tabs change content below.
I have two hobbies: Photography and photographic gear. Both are related only to a small degree.
Latest posts by Phillip Reeve (see all)