Introduction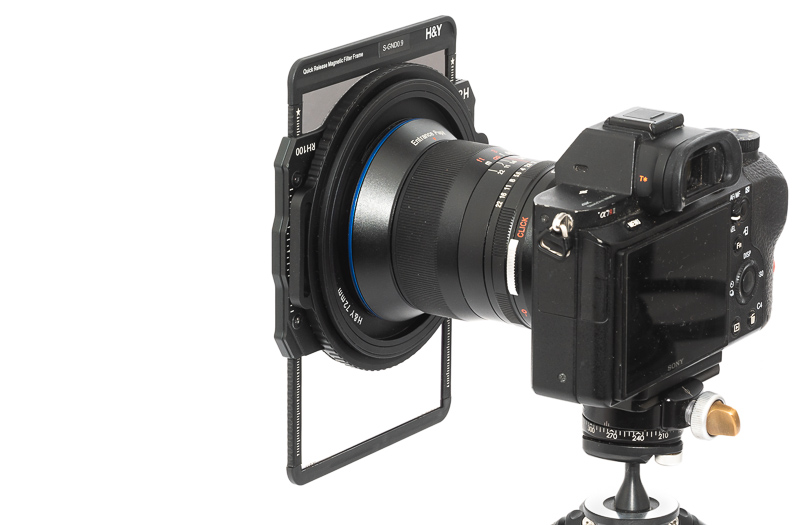 I have previously reviewed the H&Y Revoring (which I bought from Kickstarter back in the day) and already at that time I was thinking: "Combining this ring with a whole filter system would be a good idea, right?"
The engineers at H&Y did exactly that and combined the variable Revoring with their magnetic square filter holder system.
A dream come true for filter users? Let's have a closer look.
Disclosure
Unlike the original Revorings – which I pledged for on Kickstarter – the Revoring Swift System was provided free of charge by H&Y for a duration of 4 weeks.
How does it work?
1st Step: Revoring/Adapter Ring

First you have to attach the Revoring to the lens. The Revorings come in different sizes, I have the one here that fits lenses with a 67mm to 82mm filter thread.
I made a short video showing how the Revoring works for my review of the original Revorings:
The Revorings – due to their mechanics – have a certain kind of thickness to them which increases the risk of encountering additional vignetting with wider lenses. So ls alternative there are also traditional wide angle screw-in adapter rings available.
2nd Step: Bridge Ring/Slot-in Ring
The second part is either the Bridge Ring or the Slot-in Ring. The latter allows you to use a round filter (e.g. polarizer) and as we are used to these days there is an external wheel incorporated to rotate it.
Again, this Slot-in Ring has a notable thickness to it and can easily lead to black corners when using wide angle lenses so as an alternative there is the Bridge Ring available. It doesn't do anything except for being a spacer if you want to use a square filter holder or a lens hood.
2.5th Step: Slot-in Ring+

If you want to use more than one round slot-in filter you can use the Slot-in Ring+, which fits inbetween the steps 2 and 3. It looks almost like the normal Slot-in Ring, so they are also easy to mix up. Adding this to the setup makes the situation even worse for wide angle lenses.
3rd Step: Square Filter Holder/Lens Hood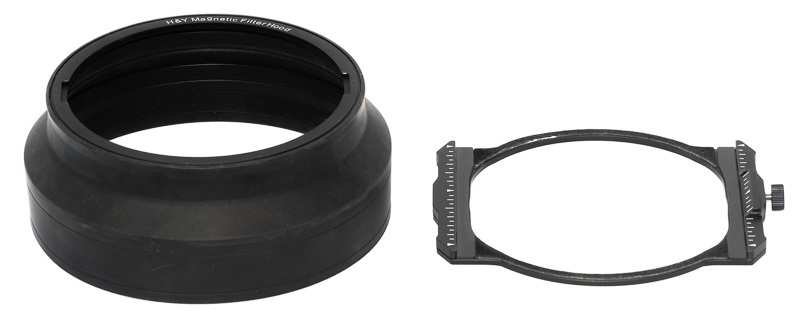 As last step you can add either the magnetic square filter holder or a lens hood which comes either as a round collapsible rubber one or a matte box.
Important remarks
What is kind of important is that you have to stick to the three different steps. You cannot jump the second step and attach just a square filter holder without the Bridge Ring or Slot-in Ring in between.
If you want to attach more than one Slot-in Ring, you need a different – yet very similar – Slot-in Ring+. You also cannot use one of the hoods when you are already using the square filter holder.
This makes using the whole system a bit complicated as you always have to think what you can combine and how. And I also don't understand why the hood cannot be (properly) attached to the square filter holder.
Handling
I already pointed out the one issue I have with the Revoring concept in my Revoring review and it remains the same: you need two hands to remove it. With an ordinary filter (or adapter ring) I can hold the camera with one hand and remove the filter with the other, with the Revoring the camera needs some sort of support to do this (e.g. a tripod or a shoulder strap), otherwise you need to find some place to put your camera down first, which is not always that easy.
On top of that with other systems I sometimes just unscrewed the filter holder together with the adapter ring from the lens (e.g. when putting filter stuff and camera back in the bag when changing the shooting location), here you first have to remove the magnetic stuff before you can access the Revoring to remove it. Even with small fingers I doubt it is possible to grab the Revoring with everything attached.
First Impressions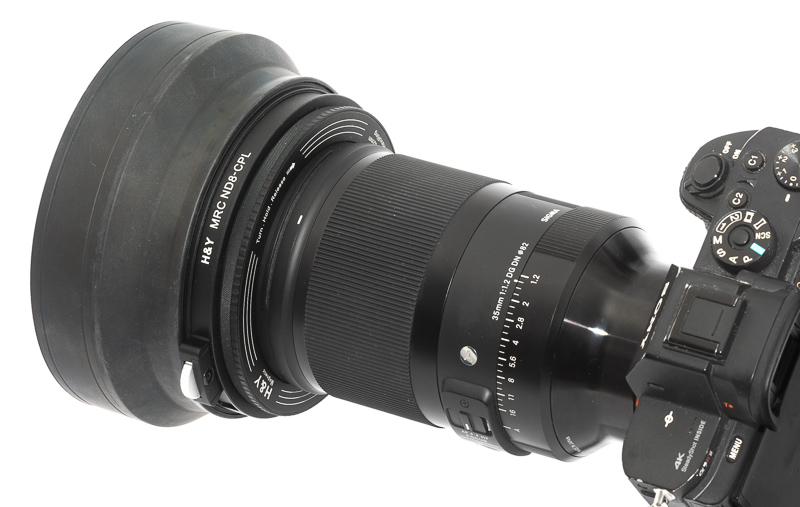 Modularity always comes at a price and usually that is increased bulk. This is one of the reasons the batteries in our phones and notebooks cannot easily be changed anymore.
The mechanics in the Revoring need space, the magnets need space, the insert for the round filters needs space.
The rubber lens hood – when it is collpased – is 3 cm thick and has a diameter of almost 14 cm, meaning it takes up a lot of space in your bag. Filters with magnetic frame – while a bit easier to handle – also take up more space. I don't know about you, but space in my camera bags is always very limited.
Over the past years the design of filter holders has been steadily improved upon to allow for using wider lenses without any additional vignetting – especially by placing a very thin polarizer between square filters and lens – and looking at the bulkiness of this system it feels like taking one or even two steps back compared to some of the competitor's solutions.
At the same time I fail to see real advantages of attaching the filter holder to the adapter ring via magnet. This connection has never been a problem or nuisance with any filter system I have ever used – and there have been a lot.
Keep in mind I am looking at this system from a photographer's perspective, not a videographer's – but the term that comes to my mind first here is "overengineered".
It wants to do everything and there are many possibilites, but in the end I think it is too complex, too bulky and too fiddly a system – for many potential users.
What is good for me is not neccessarily good for you though, so if you are a photographer and this is the kind of filter system you have been looking for, please leave a comment, maybe I have missed something here.
I think the system has primarily been designed with videography in mind and here I see some advantages when you regularly want to use different combinations of the slot-in filters like streak, mist or star filters and you are rarely using (ultra) wide angle lenses anyway.
The Revoring Swift Magnetic System is now available on Kickstarter (affiliate link)
Further Reading
Support Us
Did you find this article useful or just liked reading it? Treat us to a coffee!


via Paypal
The following two tabs change content below.
My name is Bastian and I am your expert here when it comes to ultra wide angle lenses, super fast portrait lenses (ranging from a 50mm f/0.95 to a 200mm f/1.8) and I also have reviewed way too many 35mm lenses. Don't ask me anything about macro or wildlife shooting though.