Introduction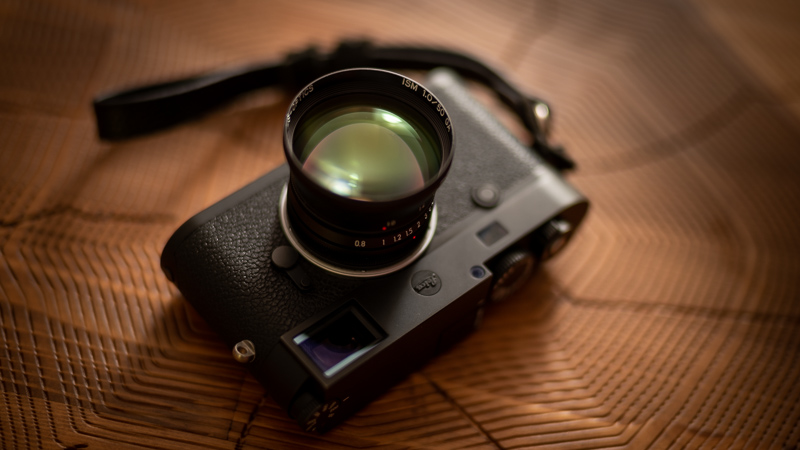 Miyazaki Sadayasu is known for making small and fast 50mm lenses. He started with a 50mm 1.3, followed by the famous 50mm 1.1 Sonnetar, the 50mm 1.5 Prasma and his latest (and fastest) creation is this MS-Optics 50mm 1.0 ISM reviewed here.
Despite the staggering maximum aperture it is smaller and lighter than most of the other 50mm lenses, regardless of speed. But did Miyazaki go too far this time? Let's have a closer look…
Lens is being tested on 42mp Sony A7rII and 24mp Leica M10
Last update: June 2022

This lens is also part of my Comparison of 6 Super Fast 50mm M-mount Lenses together with the Leica 50mm 0.95 Noctilux-M, the Zhong Yi 50mm 0.95 M, the Voigtländer VM 50mm 1.0 Nokton, Mr. Ding 50mm 1.1 and Voigtänder VM 50mm 1.2 Nokton.
Sample Images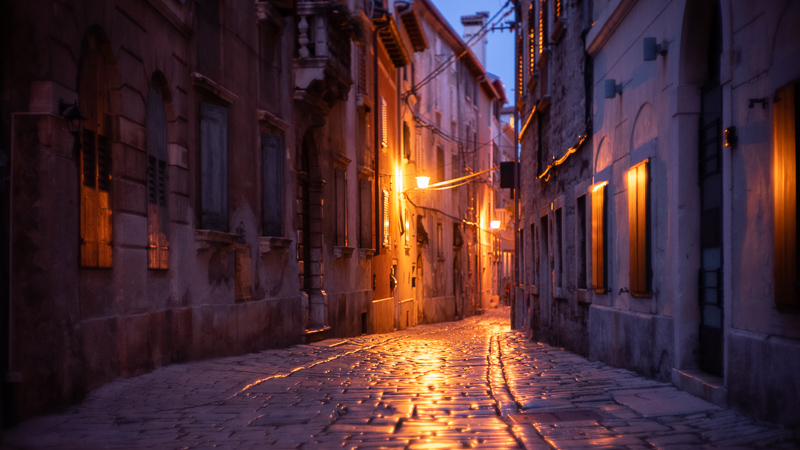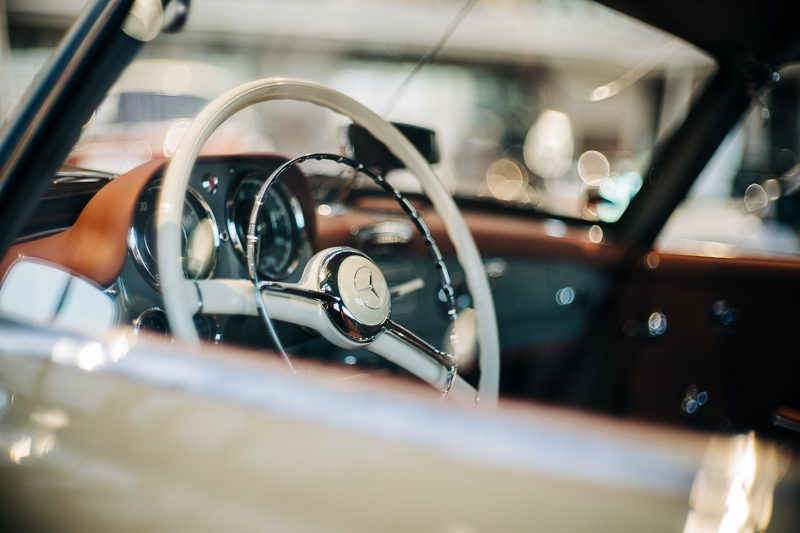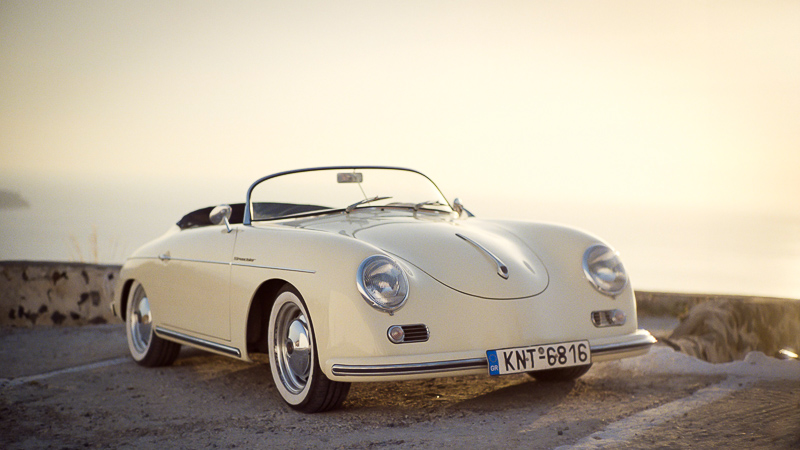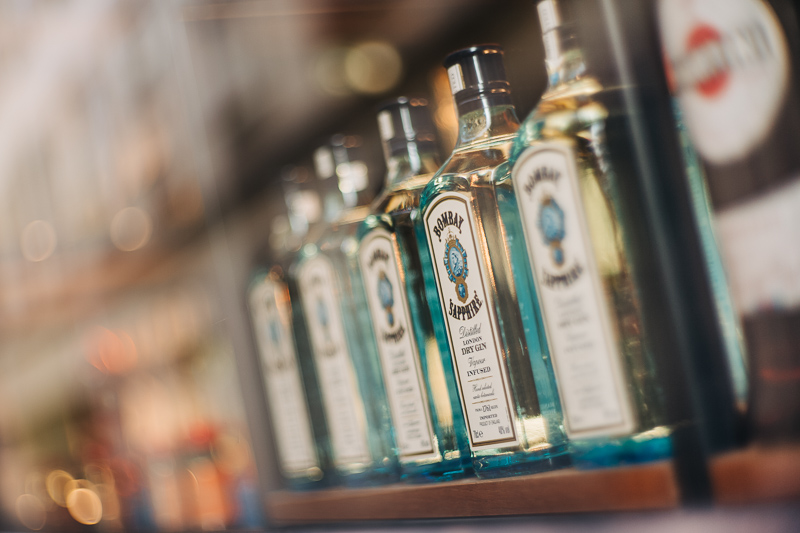 You can find most of the sample images in full resolution here.
Specifications / Version History
Miyazaki made several 50mm lenses, all covered in my Overview: MS-Optics M-mount lenses. I am reviewing the MS-Optics 50mm 1.0 ISM here which has the following specifications:
Diameter: 56mm
Field of view: 45.5° (diagonally)
Length: 40mm
Weight: 172g (measured, without hood)
Filter Diameter: 55mm (reverse) + 67mm (in lens hood)
Number of Aperture Blades: 16 (rounded)
Elements/Groups: 7/5
Close Focusing Distance: 0.7 m (measured)
Maximum Magnification: 1:12 (measured)
Mount: Leica-M
You can find this lens at japanexposures.com or on ebay.com (affiliate link) but don't expect it to be always available. It starts selling for about $1300
Can a 50mm f/1.0 lens really be this small?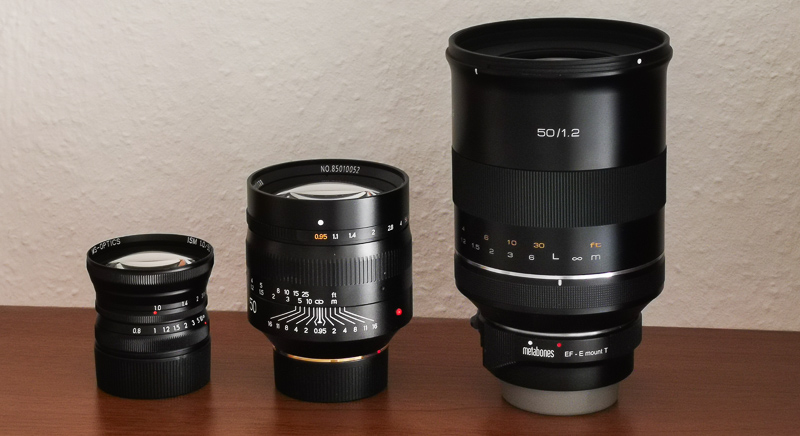 I am pretty sure some of you are asking yourselves this question and I was actually wondering myself, so I had a very close look here. First let me point out that focal length and maximum aperture are subject to rounding, Miyazaki discloses the actual values and this is in fact a 51.5mm f/1.05 lens, which on paper should allow for very similar subject separation as a 50mm f/1.0 lens.
The maximum aperture defines how blurry your background is and if you have out of focus point light sources the diameter of these highlights is proportional to the aperture setting. So if we take two pictures, one at f/1.0 and another one at f/1.4, the diameter of the highlights should change by the factor of 1.4. We will ignore the effect of optical vignetting for the time being – this will be talked about later – and only look at the center of the frame.
Now what we see here: this isn't the case with the MS-Optics 50mm 1.0. In the comparison at 0.8 m above there is hardly a difference in diameter visible between f/1.0 and f/1.4.
Luckily I still had the TTArtisan 50mm 0.95 here, a lens with similar specs (except for size and weight).
Now what we see with this lens are significantly bigger highlights at f/0.95 versus f/1.4. Furthermore we see that at f/1.4 both lenses show a similar amount of blur, so is the MS-Optics 50mm 1.0 ISM merely an ~f/1.4 lens after all?
I started wondering. Did I get ripped off here? Am I overlooking something? So I asked an expert on optical design, Dayong Li, CEO and lens designer of Laowa.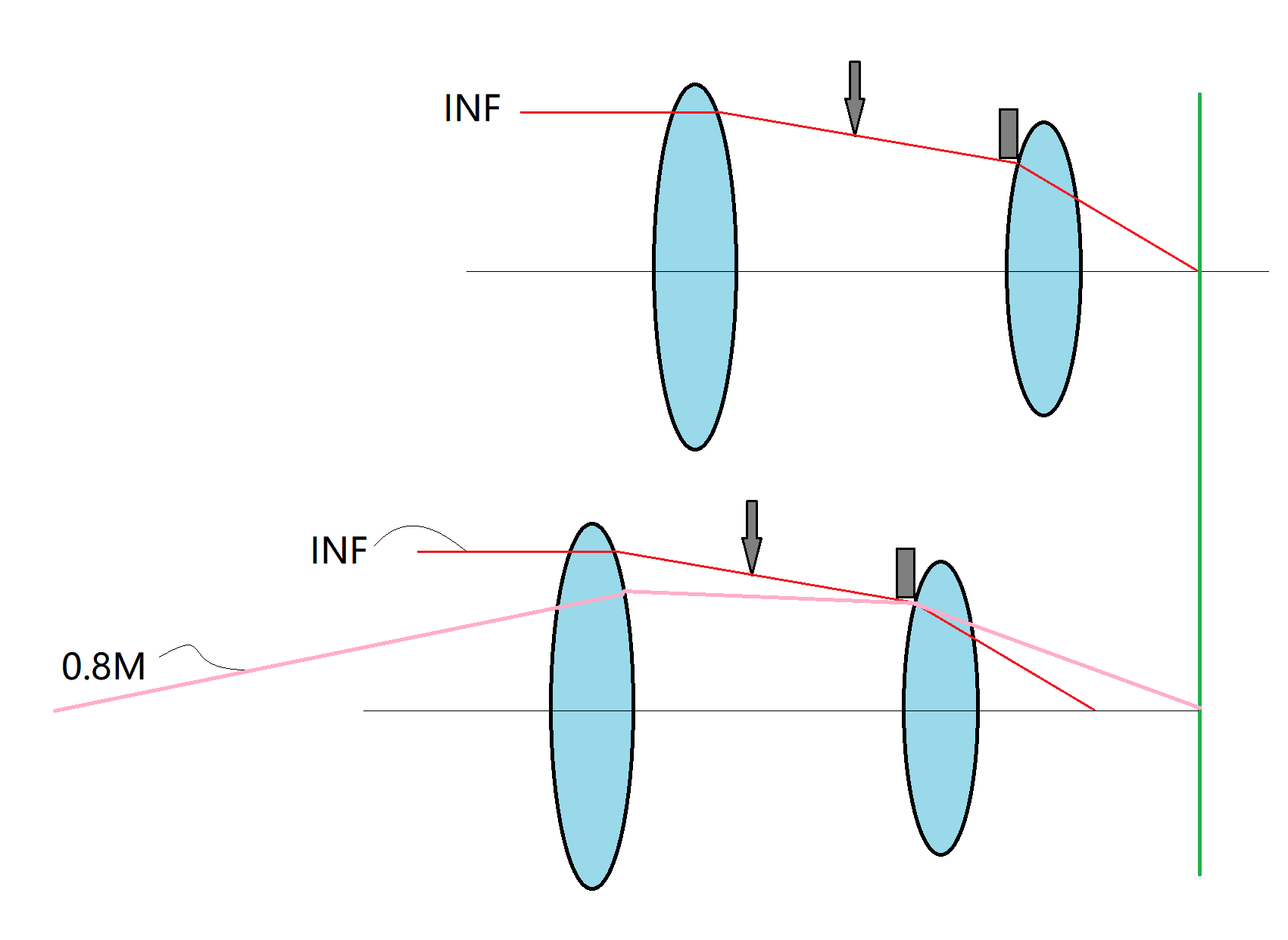 He kindly drew this simple schematic diagram for me. The arrow is where the aperture diaphragm is located. The small grey box is a part of the lens barrel behind the aperture diaphragm.
This 50mm f/1.0 lens is a block focus design, so the whole optical block moves forward on focusing closer.
What we see here now is that at infinity the aperture diaphragm is defining the maximal opening. The whole diameter of the front element is being used, the lens has a maximum aperture of f/1.0.
Now often lenses are calculated for infinity performance. And Miyazaki, designing these lenses by hand and not with the help of a computer, might have overlooked, that on focusing closer not the aperture diaphragm, but some other part of the lens barrel blocks the light and ultimately defines the maximum aperture.
It is also possible that Miyazaki is aware of this and simply took it into account to realize the lens at these dimensions.
Now to prove this theory I came up with another test setup, I focused the lens at infinity and placed a point light source in the foreground.
When we measure and compare the diameter of these light circles, we see that the circle at f/1.0 is about 1.35 times bigger than that at f/1.4. So we calculate: 1.4/1.35 ~ f/1.05.
So yes, at infinity this is actually an f/1.0(5) lens, but at the minimum focus distance it is more of an f/1.3 lens.
So, as lens parameters are usually defined at infinity I can hardly call this a fraud, but nevertheless, other lenses do not show this effect (as has been demonstrated above), so if you are after the maximum amount of blur at closer distances the MS-Optics 50mm 1.0 ISM might not be what you are looking for.
Handling / Build Quality
As usual with MS-Optics there are a few things to point out here, especially when you are only used to the latest first party lenses.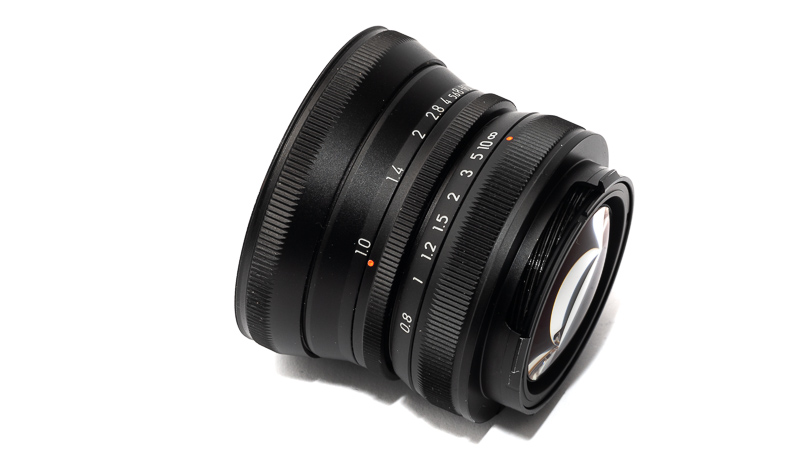 The focus ring travels ~90° from infinity to the minimum focus distance of 0.8 m. The focus ring is actually the whole front barrel (unit focus design), so aperture ring and front element also rotate when adjusting focus. So better first decide what aperture you want to shoot at, set it, and then focus.
The resistance of the focus ring as well as the aperture ring is very nice though.
The aperture ring is also clickless and turns roughly 100° from f/1.0 to f/16.
The lens comes with a metal lens hood that resembles the look of some of Leica's old wide angle lens hoods: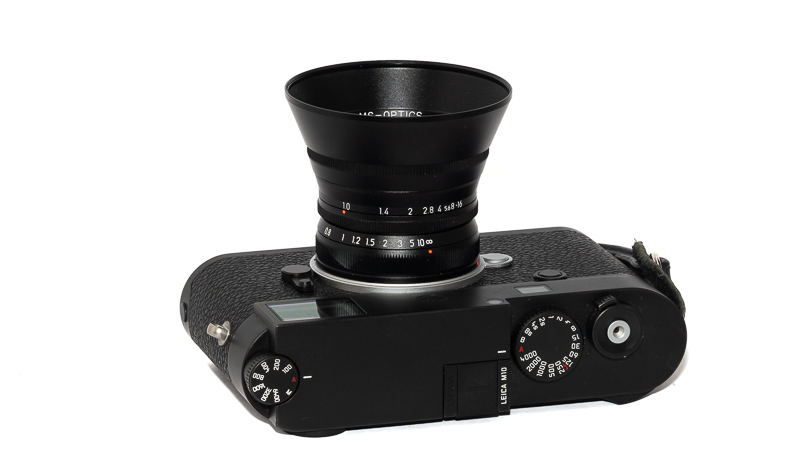 It will also block the rangefinder a fair bit.
Unlike what you usually encounter the filter thread is reversed (male), so you screw on filters the other way round. For ND or UV/Protection filters this makes less of a difference, for polarizers it is a different story though, as the circular ones only work in one direction.
If you want to use a polarizer the better idea is to screw in into the lens hood, where there is an additional 67mm thread: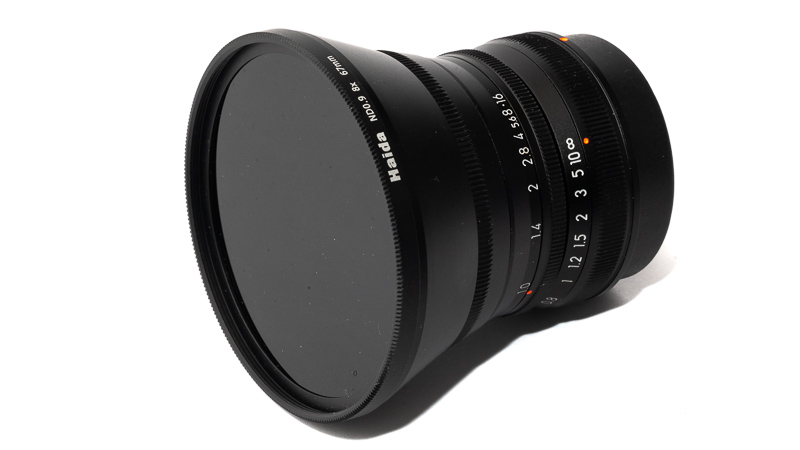 As is the case with all MS-Optics lenses I have used so far on the Leica M10 the 6-bit-code-reader is not fully covered and therefore under bright light the camera will often think you changed the lens and throw you ouf of live view should you be using that. I added a small piece of duct tape which solves the issue.
If you are a bit of a tinkerer it is even possible to adjust the rangefinder coupling yourself.
If you are wondering what the lens looks like on a Sony camera: still small.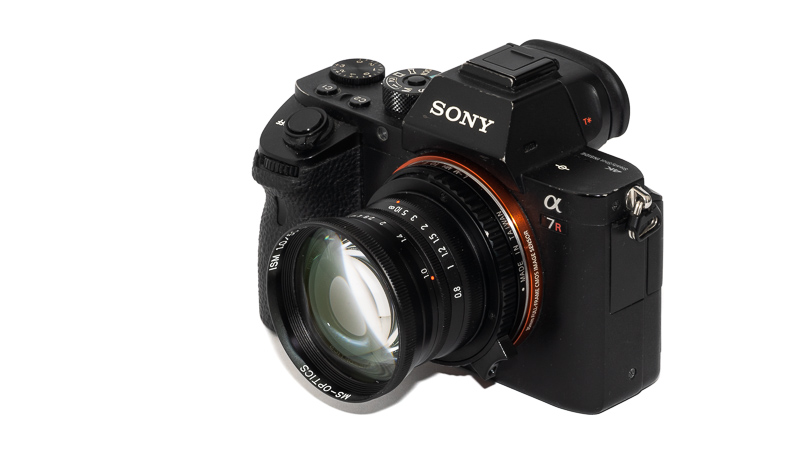 Vignetting
light falloff

Considering the dimensions we were expecting high vignetting, didn't we? At f/1.0 I measure 4.3 EV in the extreme corners, which should be a new negative record, at least for a 50mm lens.
At f/1.4 I still measure 3.6 EV, at f/2.0 it improves to 2.7 EV. At f/4.0 it is the lowest at 2.0 EV. Wait? Should it not improve further on stopping down?
This is what we would expect, but in fact starting at f/5.6 we get pitch black corners. This is only the second time I see this behaviour in a lens (the first time being the dreadful Zenitar 50mm 0.95 E).
If you focus closer this is less of an issue though, as usual with unit focus lenses the outer parts of the frame are being cropped out on focusing closer.
This graph is quite good at visualizing this rather odd behaviour, we see a steady improvement between f/1.0 and f/5.6 but afterwards things go south: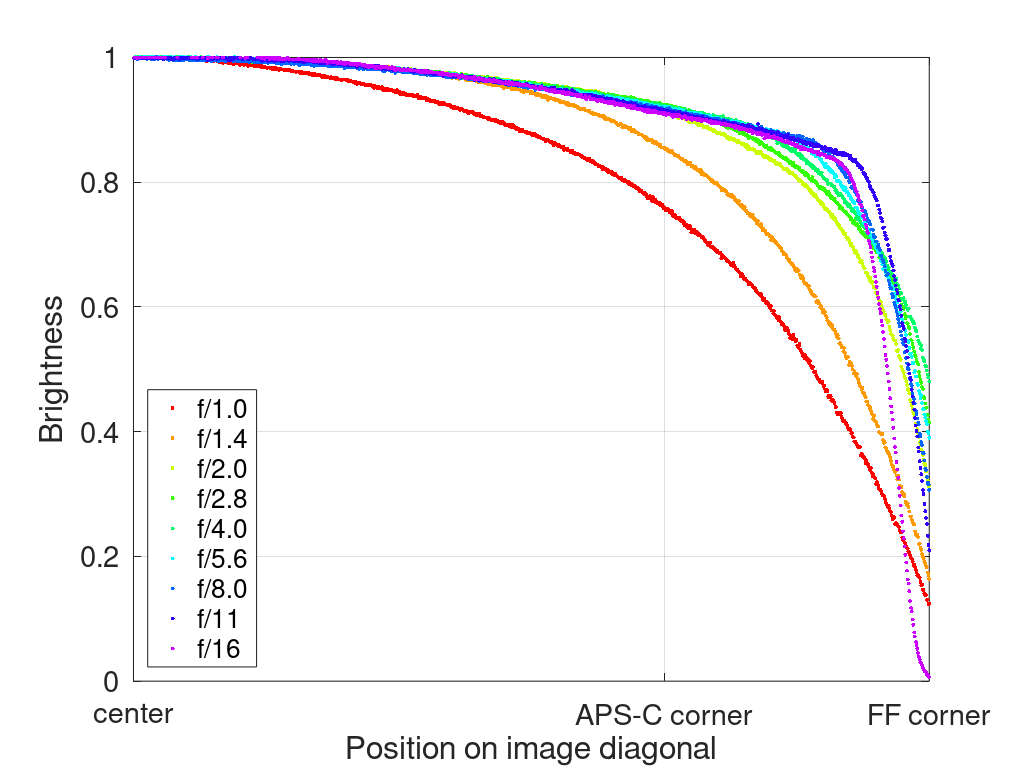 It is recommended to have a look at this article first to get an idea how this brightness graph works.
How bad does it look like focused at infinity in the real word? Well, this bad: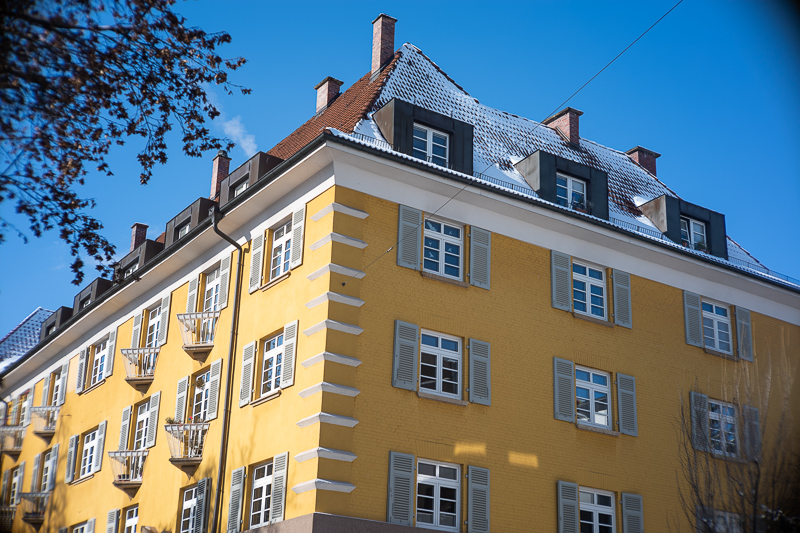 What can cause this behaviour? Maybe some lens designer was rather optimistic when it comes to the diameter of the elements. Technically it is also possible that the aperture diaphragm is not in the right position and/or that correct position changes on stopping down due to focus shift.
optical vignetting
Very fast yet compact lenses usually show a significant amount of optical vignetting. Without going too much into technical details optical vignetting leads to the truncation of light circles towards the borders of the frame.
In the center of the frame almost every lens will render a perfect circle, but only lenses with very low optical vignetting will keep this shape in the corners.
So in the following comparison we move from the center (left) to the extreme corner (right) and see how the shape of the light circle changes.
For comparison's sake I included the TTArtisan 50mm 0.95 here, as it is the most affordable and probably most common f/0.95 lens with M-mount. Generally the amount of optical vignetting is not that different, despite the MS-Optics lens being much smaller. But keep in mind that at these distances the TTArtisan will render noticeably blurrier backgrounds, this isn't obvious from the comparison above as I did not shoot the lenses side-by-side, have a look at this section for reference.
As the MS-Optics lens does not use any aspherical elements we see no onion rings and the 16 rounded aperture blades keep the circles nicely round on stopping down.
I shot the TTArtisan lens at 0.7 m and the MS-Optics lens at 0.8 m. You may get slightly different results at other distances.

Sharpness
MTF-Graphs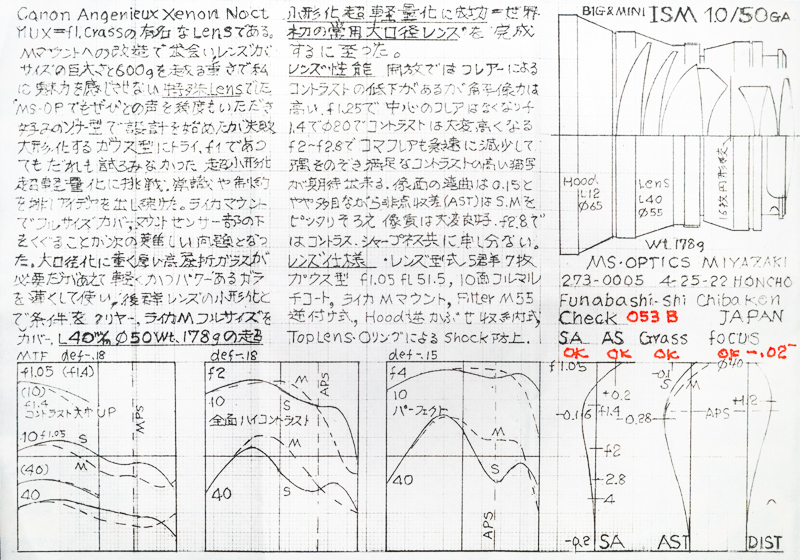 The MS-Optics lenses always come with hand-drawn MTF-graphs which do give a pretty good idea of what to expect.
What we see here is low resolution and contrast at wider apertures as well as high field curvature. Astigmatism is interesting, it is very low at maximum aperture but very high stopped down, because the sagittal resolution increases a lot towards the corners whereas the meridional doesn't. We will investigate in the following sections what that means for us.
Glow / Spherical Aberration
A certain amount of "glow" is often associated with Sonnar designs and also some of the (mostly earlier) Leica lenses. If we were looking for a more technical term it would be undercorrected spherical aberration.
Spherical aberration is the only classic lens aberration that has an effect on the center of the image. It will make your image appear softer and add some additional "glow" to already bright parts of the image.
Despite being a Double Gauss and not a Sonnar design this 50mm f/1.0 lens shows a lot of that glow at f/1.0 at all distances. Generally this is not something many people would want in their architecture or landscape images, yet some people enjoy the softer look for portraits and nature photography.
Me personally? I occassionally enjoy that soft look for intimate portraits, like this one I took with the Zhong Yi 50mm 0.95 E II: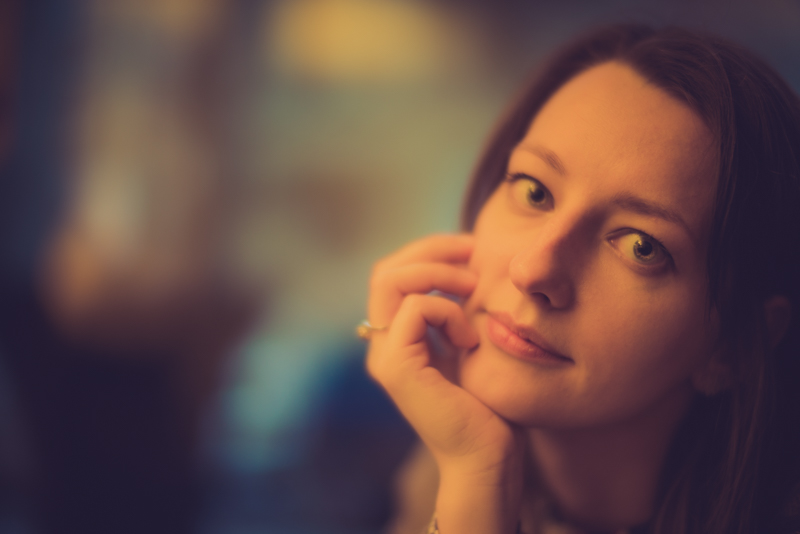 You can find a few image sets shot at f/1.0 and f/1.4 (where most of the glow/spherical aberration is gone) so you can compare the rendering and decide for yourself if this is something you would enjoy or could make use of.
infinity (42mp Sony A7rII)
Wide open we see a lot of glow (spherical aberration) in the center, this improves steadily on stopping down. By f/2.8 the center part shows high resolution and contrast.
The midframe is nothing to write home about on the Sony filter stack. As usual I am showing you the worst part of the frame here. We deal not only with the lens aberrations but also with filter stack induced field curvature here, so even stopped down to f/11 the performance isn't good when focused at the center.
When looking at the corners we do not only see something unusual, but we also see the MTF don't lie. At wider apertures the contrast isn't high, but astigmatism is low so they still look somewhat acceptable. If we stop down the astigmatism increases and the corners look really really bad.
Let us see in the next section how the lens performs on a camera with a thinner filter stack.
infinity (24mp Leica M10)

Performance on the Leica M10 with its thinner filter stack is a little bit better. Stopped down to f/11 the midframe is almost in the same focal plane as the center.
The corners look just as bad as on the Sony camera.
If you are looking for a lens for stopped down infinity shooting – even if it was just occassionally – this is not your lens. Every cheap legacy SLR 50mm 1.8 lens (e.g. the recently reviewed Canon FD 50mm 1.8) will do much better here.
portrait distance (1.4 m)
For portraiture it isn't so important how flat the field is, it is more interesting to see what the sharpness is like when focused at different parts of the frame to take field curvature (and also focus shift) out of the equation, especially when dealing with lenses with a high amount of field curvature like the MS-Optics 50mm 1.0 ISM.

This is what I did here, I refocused for every shot and aperture to get the best possible result at different locations in the frame (center, inner midframe and outer midframe).
Focus distance was roughly 1.4 m and the circle of the dollar bill is more or less the size of a human eye.
100% crops, Leica M10
We see an interesting behaviour here. As is the case at all distances we have a high amount of spherical aberration at maximum aperture, the contrast is low. Yet thanks to the well corrected astigmatism at wider apertures the resolution is not that bad, especially if we compare it to the Zhong Yi 50mm 0.95 M or the TTArtisan 50mm 0.95, which both look worse to me in the outer midframe at maximum aperture, the Zhong Yi lens also in the inner midframe.
close (0.7 m, 1:12)

100% crops from center, Sony A7rII
A minimum focus distance of 0.7 m has become the standard for 50mm M-mount lenses. Of course the lens does not feature a floating elements design and again we have lots of spherical aberration (glow) wide open, so stopping down a bit is not a bad idea if you want crisp images at these distances.
Flare resistance
As always evaluating flare is a complex matter since you can get any lens to look bad if you push it hard enough and a slight change of scenario can affect results a lot.
Still, the MS-Optics 50mm 1.0 ISM is not an overly great performer when it comes to work against bright light. With the sun outside the frame (no matter whether you are using the hood or not) you will very often encounter veiling flare stealing away most of the contrast. At some angles you can also create frame filling ghosts.
For this one I was definitely using the hood and on the screen it looked okay at first sight, but checking it out later on the computer there was again a good amount of veiling flare and/or internal reflections:
If using lens flares as artistic effect in backlit scenarios is something you are into, this lens might be for you though: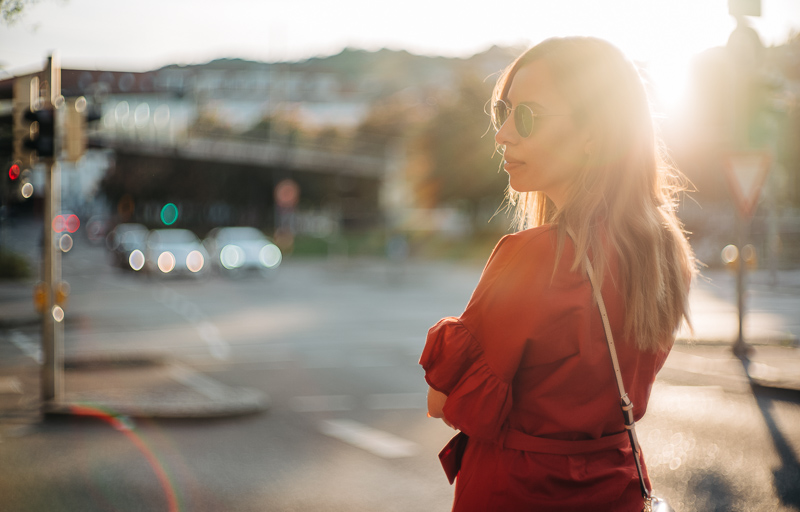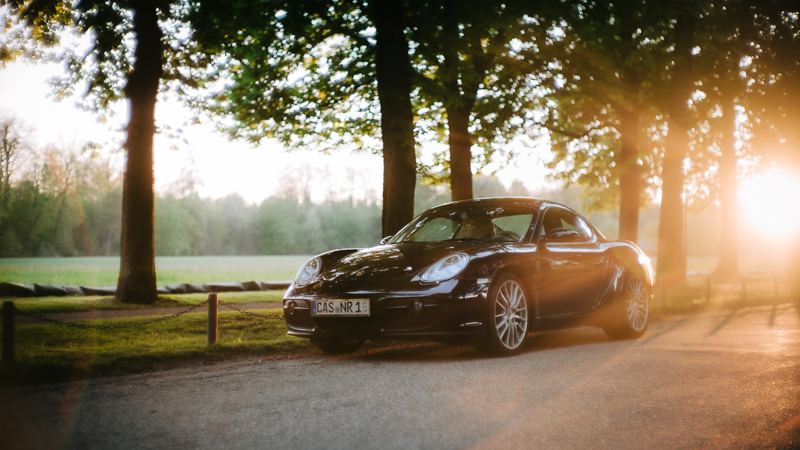 Coma
100% crops from extreme corner, Leica M10
You remember the sharpness infinity section, right? I guess by f/8.0 we mainly see astigmatism and not so much coma anymore, but does it really make a difference what exactly makes the corners look so bad?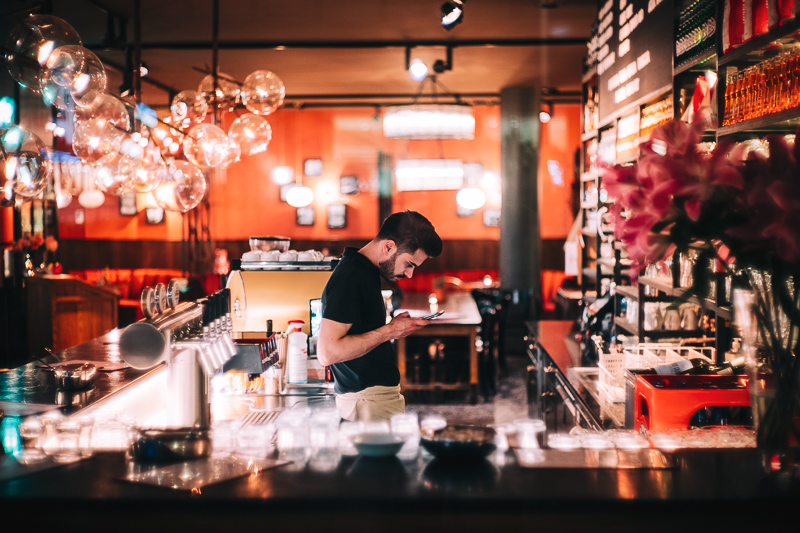 Distortion
Distortion over most parts of the frame is very low, but towards the corners it becomes visible and is also a little wavy. But as you remember the sharpness section I am sure you won't be taking some architecture pictures with this lens.
Sunstars
The MS-Optics 50mm 1.0 ISM is using 16 rounded aperture blades so I wouldn't have been surprised not to see sunstars at all. Nevertheless stopped down and with strong point light sources they really look quite okay, my favorite is the rendering at f/8.0.
If you want to learn more about this topic have a look at this article.
Bokeh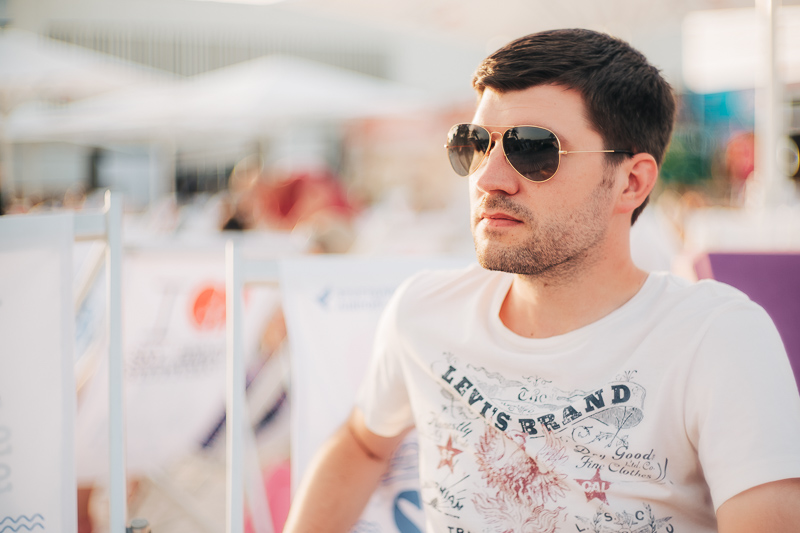 It really boils down to this, doesn't it? You are either interested in this lens because of the small size and weight or the rendering (and rendering often just means the combination of contrast/resolution and bokeh). So this section will be a long one.
Especially at maximum aperture we have to deal with the "overcorrected spherical aberration" type of bokeh that e.g. the Zeiss Loxia/Biogon 35mm 2.0 is famous for. It leads to noticeable outlining of point light sources.
As we see from the following comparisons this outlining disappears over most of the frame on stopping down to f/1.4 (if you want clean light circles in the corners you need to stop down to f/2.0 to f/2.8):
Here are some examples why I didn't enjoy using the MS-Optics 50mm 1.0 ISM too much when set to f/1.0. If you do not chose your backgrounds carefully things can get messy and distracting easily and we also have to deal with the lack of contrast due to spherical aberration: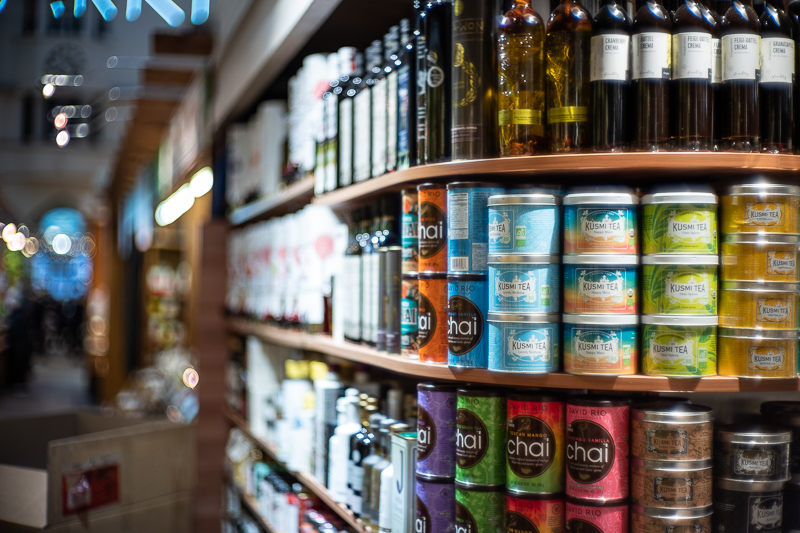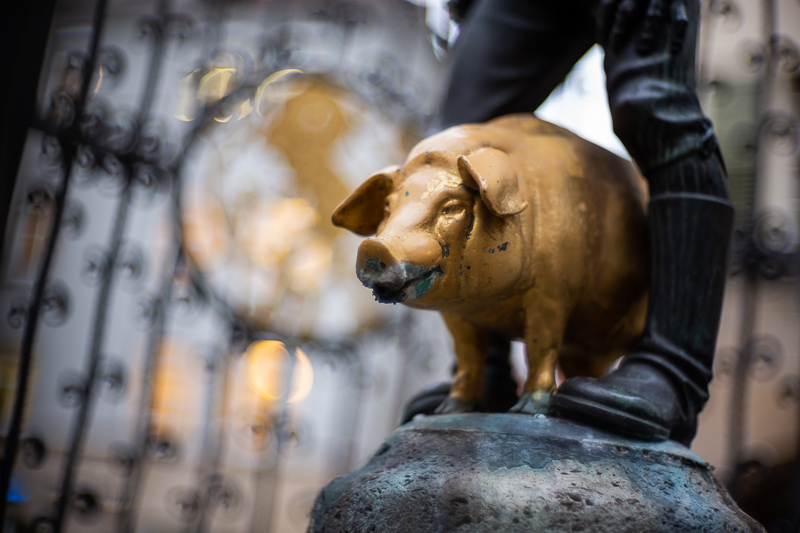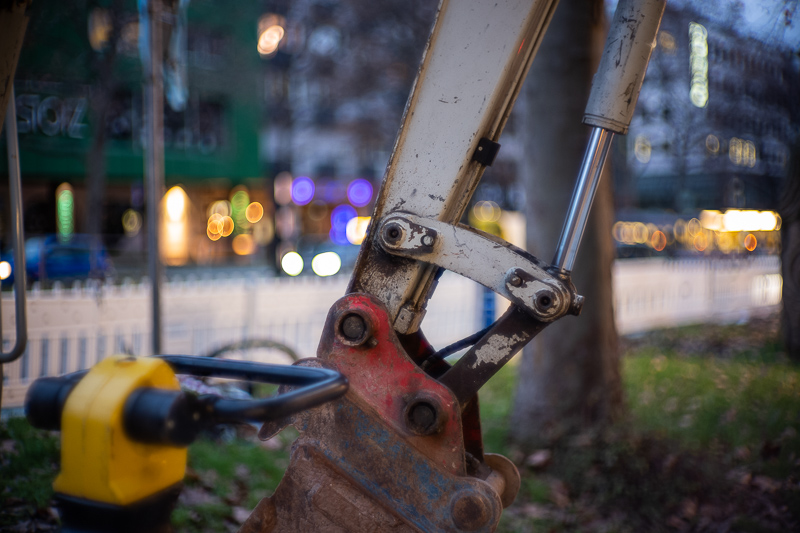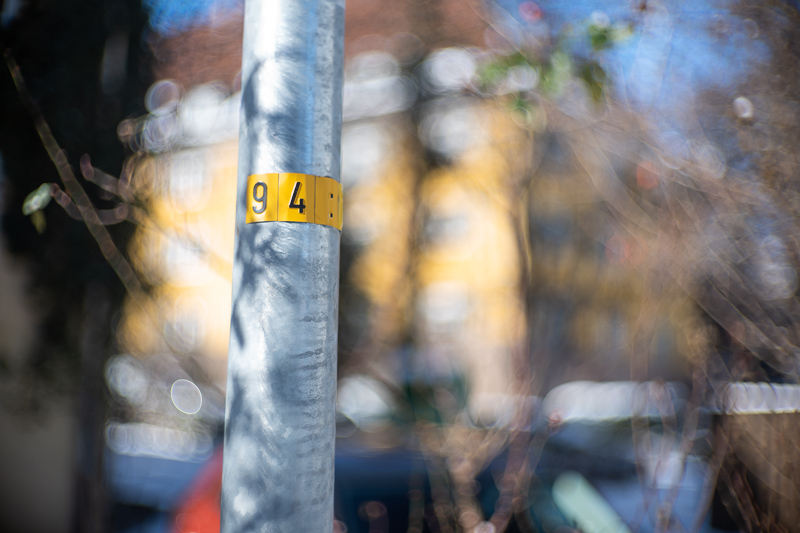 Now that you have seen the bad and the ugly let us have a look at the good. Stopped down to f/1.4 I found the bokeh and also contrast of this lens quite likable. If you wonder, the bokeh is not as smooth as that of the TTArtisan 50mm 1.4 or Voigtlander VM 50mm 1.2 Nokton (which I would rate as the M-mount 50s with the smoothest bokeh rendering).
As usual we will have a look at the bokeh rendering at different distances, starting with close focus scenarios: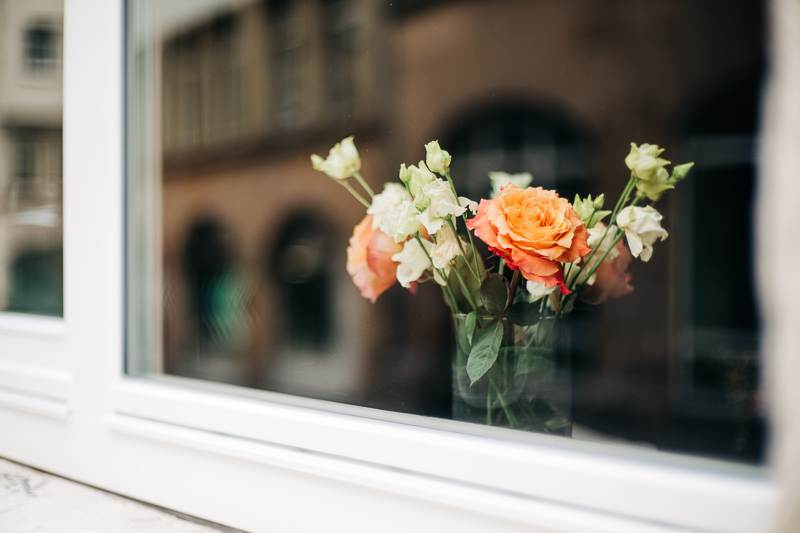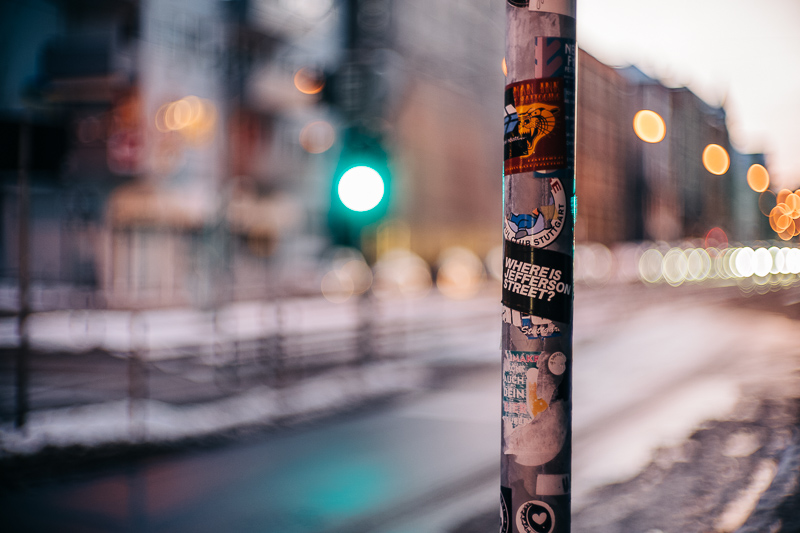 Also when taking pictures at mid distances (1.1 to 1.4m) we can often encounter smooth and undistracting bokeh: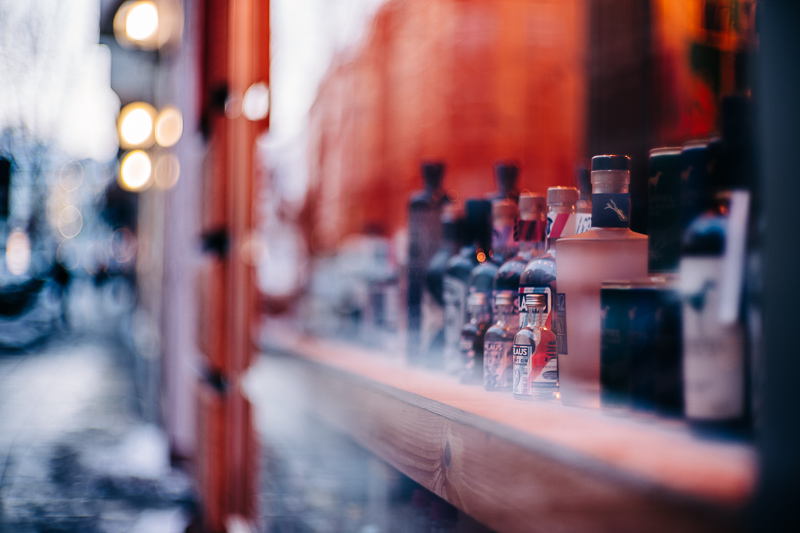 More structured backgrounds can lead to busier rendering towards the corners though: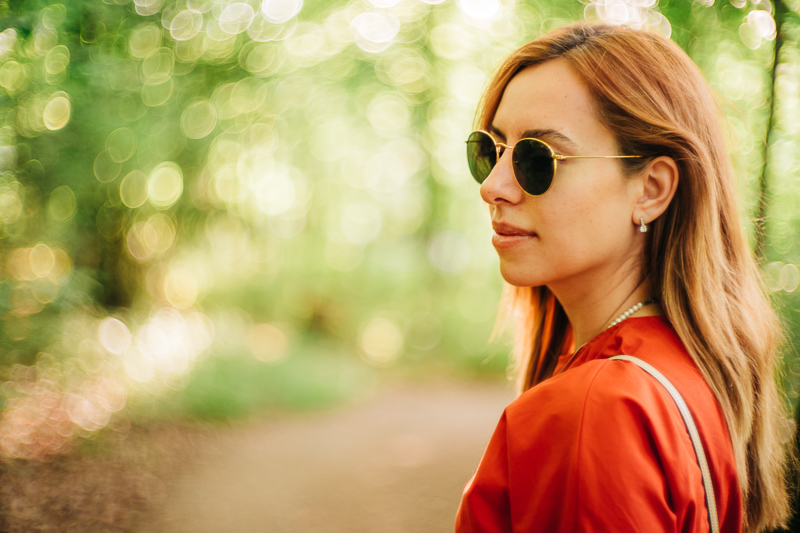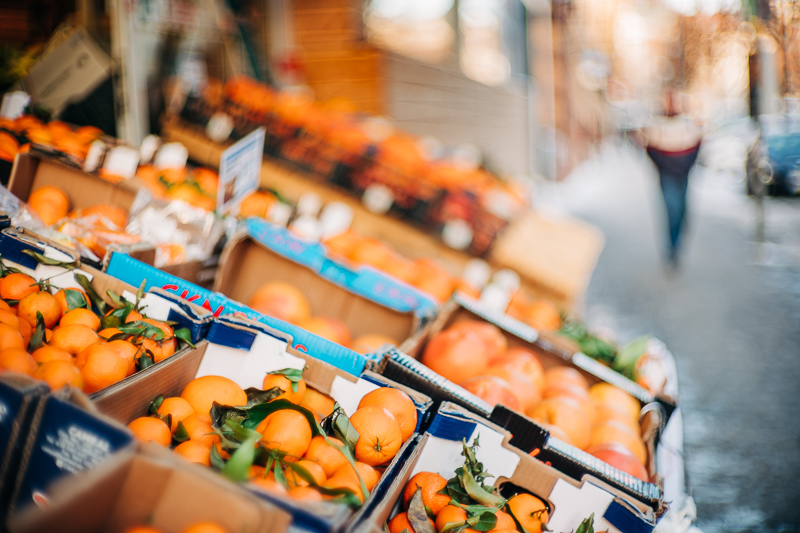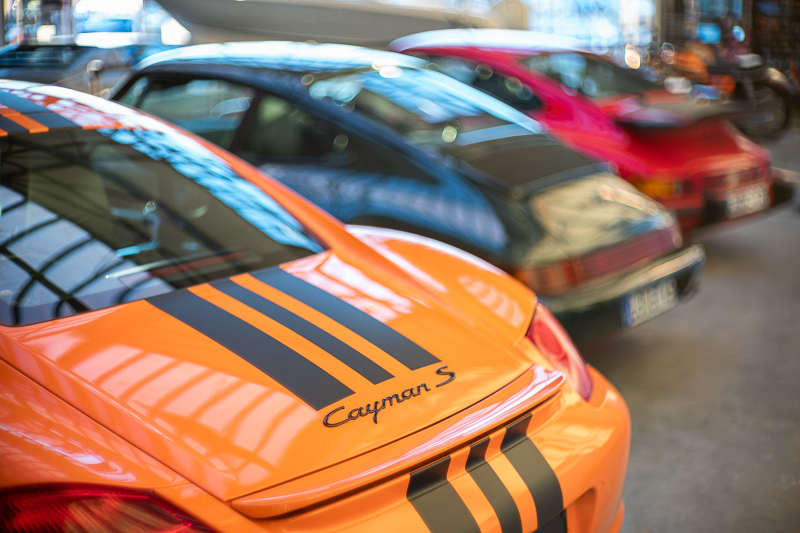 The MS-Optical 50mm 1.1 Sonnetar has a bit of an issue with field curvature at longer focus distances (2-3m) that will make the corners pop into focus even though you actually focused on something much closer. I find this very distracting and luckily here the 50mm 1.0 ISM is doing a much better job, as can be seen from this comparison (focus is on the front of the Lotus, compare the boat and the pictures/screens on the wall in the top right corner):
So bokeh at these distances is one of the areas where I greatly prefer the ISM over the Sonnetar: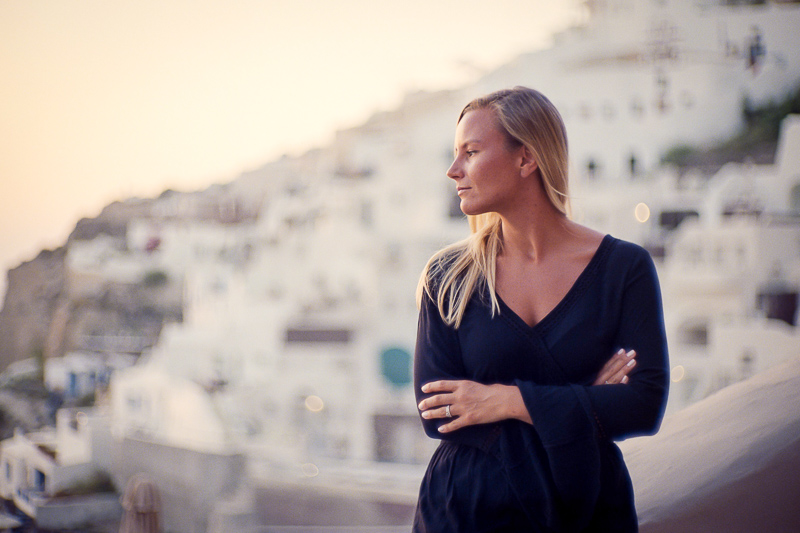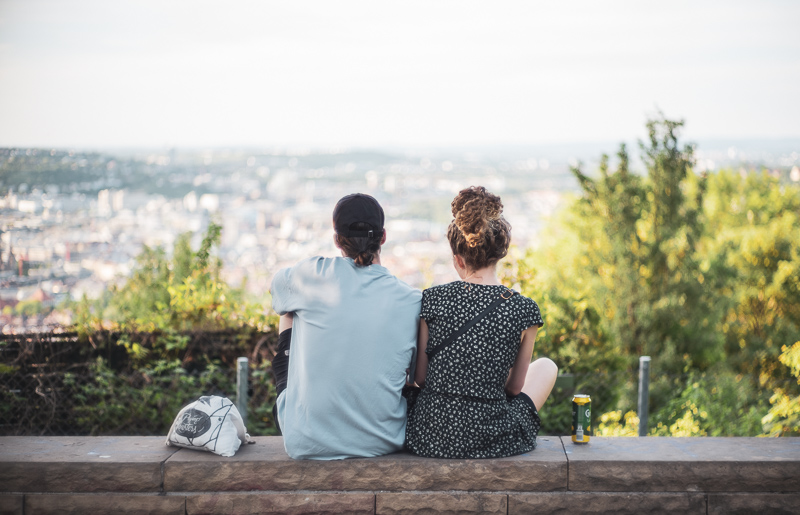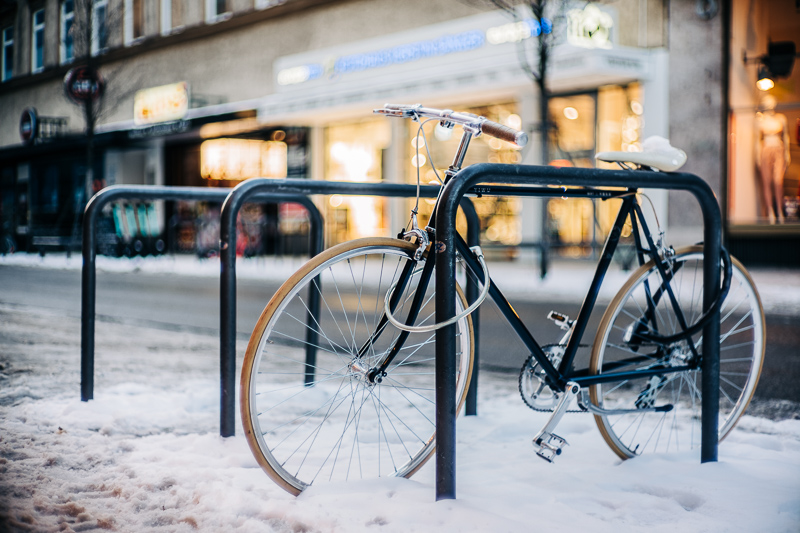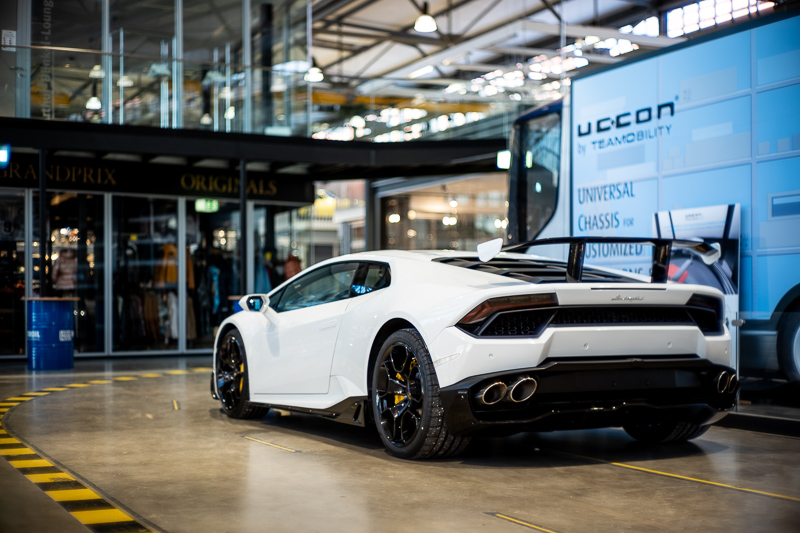 As I always say: use the sample images provided to see if you like the look or not. That is ultimately what is important here.
Chromatic Aberrations
lateral
100% crops from border, A7rII
Lateral CA are quite pronounced, they can mostly be corrected in camera (for Jpegs) or in a raw developer like Lightroom by one click.
longitudinal
The MS-Optics 50mm 1.0 has high spherical aberration at the maximum aperture which masks the longitudinal CA to some degree, so instead we are looking at the f/1.4 shot here where they are more visible. The correction is not that bad actually, clearly better than on the Zhong Yi 50mm 0.95 M or the TTArtisan 50mm 0.95.
Also at longer distances and in a stress test the loCA – while present – are well behaved. Another area where I prefer the ISM over the Sonnetar:
Leica M10 | MS-Optics 50mm 1.0 ISM | f/1.4
Focus shift
50% crops, A7rII
Focus shift is there, but it is minimal. As you will accidentally change the focus when adjusting the aperture anyway this shouldn't be a big deal on cameras with live view.
I do not recommend to rely on the rangefinder when using this lens at wider apertures, if you do anyway you will have to deal with other issues than just the very small focus shift.
Conclusion
Technically flawed? Amazingly small? Overpriced? Unique?
There is a pretty wide range of descriptions that could be used to characterize this lens. Which one you find most fitting will be very subjective and this puts me in an unfortunate spot: no matter what I write, quite a lof of people will be unhappy with it.
So I decided to give you two opinions here. I will tell you why this is the worst fast 50mm lens and also why it is the best.
I will not tell you where I find myself inbetween these two positions, that is up for your imagination this time.
Why the MS-Optics 50mm 1.0 ISM is the worst fast 50mm M-mount lens:
First, at closer distances it is not that fast, as I calculated it is merely an f/1.3 lens. Nothing special. Lenses like the TTArtisan or Zhong Yi 50mm 0.95 yield way blurrier backgrounds at closer distances and by the way: they only cost half as much.
Then we have the high vignetting. New negative record at maximum aperture but this isn't even the worst part, because stopped down the corners are simply pitch black.
Infinity sharpness. When was the last time we saw corners that look this bad at f/11? Every legacy 50mm f/1.8 lens for a few bucks is doing better here! And then we have the high spherical aberration at f/1.0 at all distances. Unusable at maximum aperture.
Why should I deal with a rotating lens barrel in 2021? Even a Jupiter-9 85mm 2.0 from 70 years ago has a more sophisticated mechanical design.
A lens with way too many issues that I cannot recommend to anyone, especially considering its high price tag.
Why the MS-Optics 50mm 1.0 ISM is the best fast 50mm M-mount lens:
Let's be honest here, who wants to carry an all manual 50mm lens that weighs as much as the camera itself? Especially when you are using a Leica camera you want your lenses to be as small and light as possible, don't you? If you do, this lens is without competition, the other new 50mm f/0.95 from TTArtisan and Zhong Yi weigh 4 times as much, the rare (and way more expensive!) Canon 50mm f/0.95 weighs 3 times as much. The Leica Noctilux again 4 times as much. Even the Voigtlander VM 50mm 1.2 Nokton is double the weight.
Black corners stopped down? Rotating lens barrel? People buy this lens because they like the rendering at wide apertures, so who cares about these things!
At maximum aperture the images have a soft glow, perfect for portraiture, and you can always stop down to f/1.4 to get more contrast in your pictures. And infinity corner sharpness at f/11? Who wants to use an f/1.0 lens for that anyway?
MS-Optics lenses are low volume boutique lenses. How many samples will be made of this? More than 100? Probably not. Compared to shelling out 3 grand for a used Canon 50mm 0.95 or 10 grand for a Leica 50mm 0.95 the price seems easily justifiable.
This is the fast 50mm lens you will actually use and not admire in your lens cabinet. Or as Miyazaki put it "the world's first large aperture lens for regular use".
You can find this lens at japanexposures.com or on ebay.com (affiliate link) but don't expect it to be always available. It starts selling for about $1300
Alternatives
Best start with a look at my comparison of six super fast 50mm M-mount lenses including the Leica 50mm 0.95 Noctilux-M, the Zhong Yi 50mm 0.95 M, the Voigtländer VM 50mm 1.0 Nokton, this MS-Optics 50mm 1.0 ISM, Mr. Ding 50mm 1.1 and Voigtänder VM 50mm 1.2 Nokton.
TTArtisan 50mm 0.95 M:
Probably the currently most sold f/0.95 M-mount lens. More than 4 times the weight and much bigger, but also more affordable. Optically not that different from the MS-Optics lens here, corners at infinity also never look great (still better though), smoother (and more at closer distances) bokeh, less SA at some distances, worse flare resistance.
buy from amazon.com/amazon.de, B&H or ebay.com/ebay.de for about $755/860€ (affiliate links)
SLRmagic 50mm 0.95 Hyperprime:
It seems this has only been manufactured for a short time and I don't know much about it. There is a test at opticallimits that might give you an idea.
MS-Optical 50mm 1.1 Sonnetar:
In many of the above sections I already talk about the differences between these two lenses, there will soon be a full review of this lens published as well.
7Artisans 50mm 1.1:
This is a very different lens that migh show even more field curvature, it also shows more nervous bokeh at maximum aperture. Does not fit my taste, but probably the cheapest option to get a new very fast M-mount 50mm lens.
buy from amazon.com | amazon.de | B&H | ebay.com | ebay.de for $349 (affiliate links)
TTArtisan 50mm 1.4:
Even if we don't take into account the low price this is a great lens. Very smooth bokeh and at the same time high contrast and resolution. If we take the low price into account this becomes a real bargain. Too bad it is also 400g heavy.
buy from amazon.com | amazon.de | B&H | ebay.com | ebay.de for $369 (affiliate links)
Further Sample Images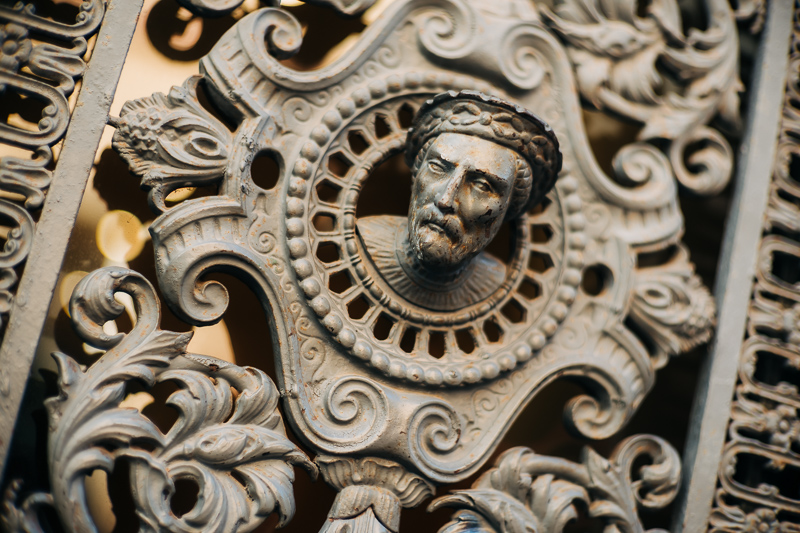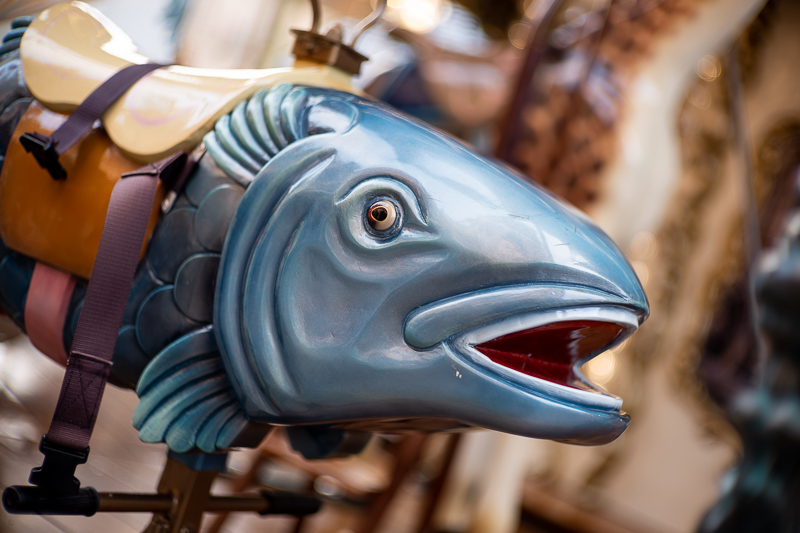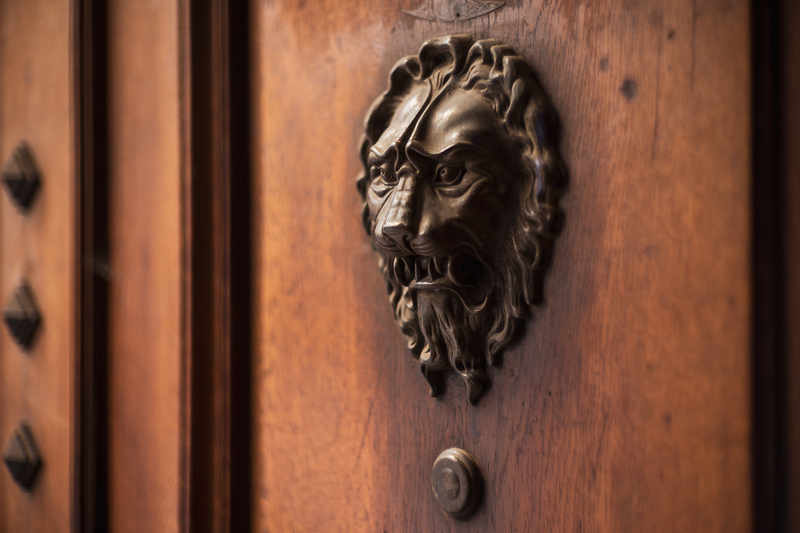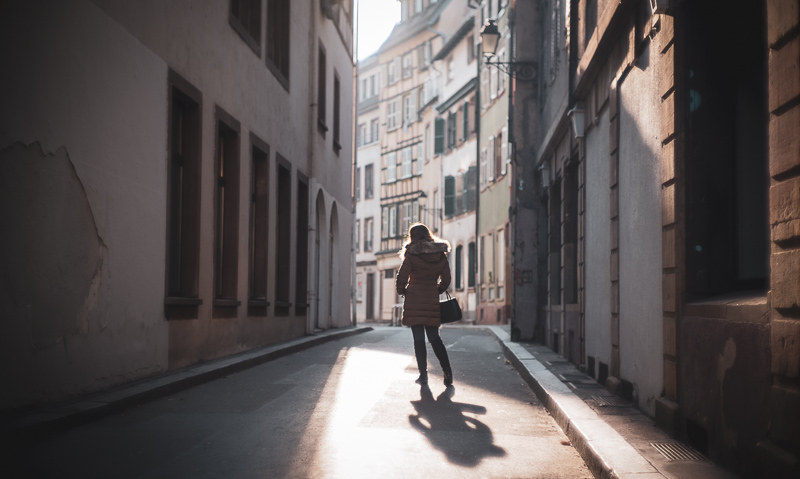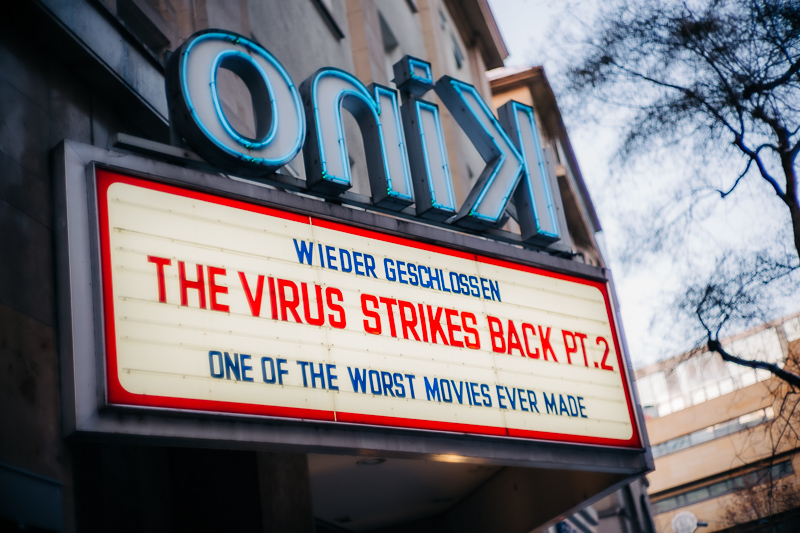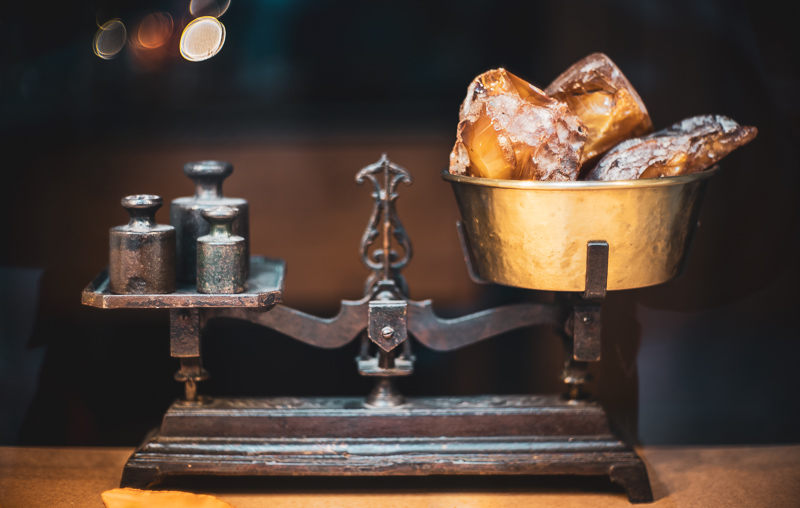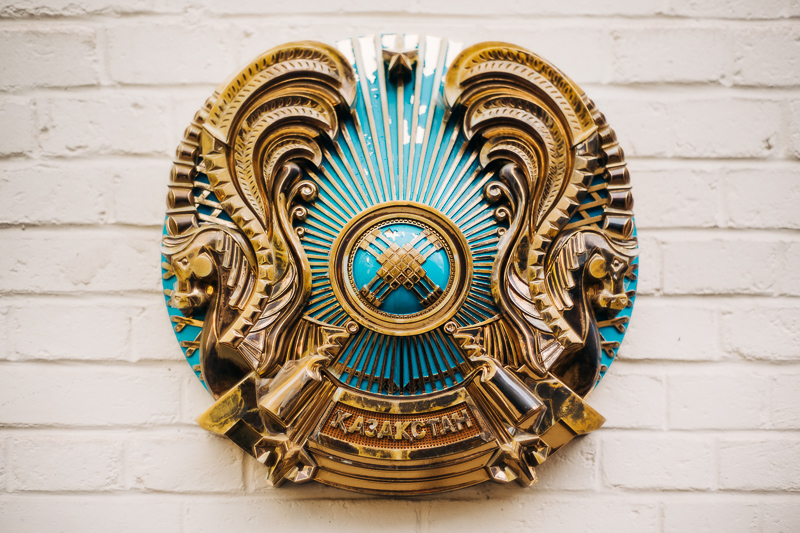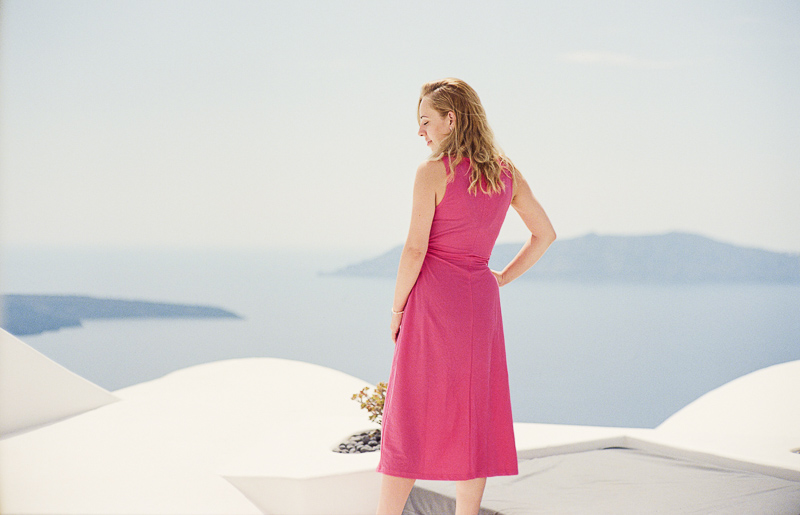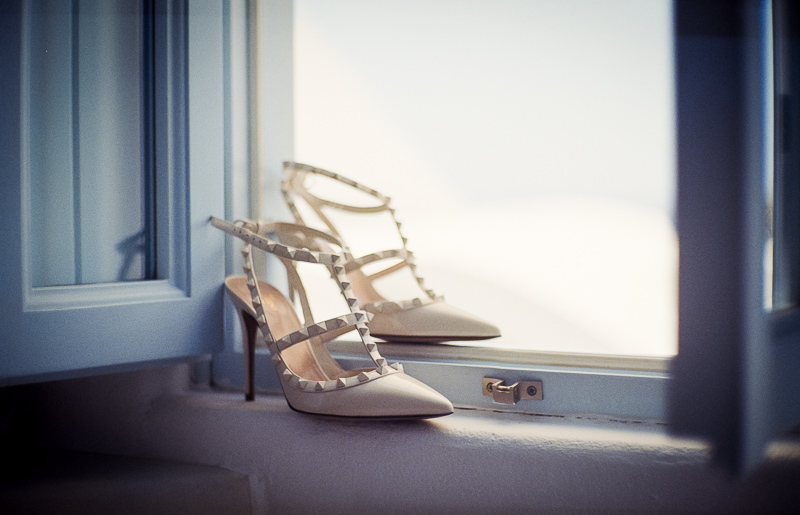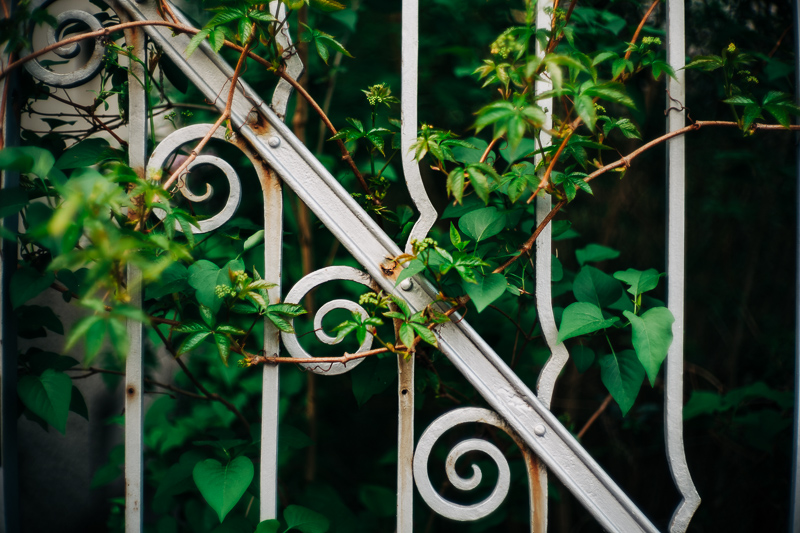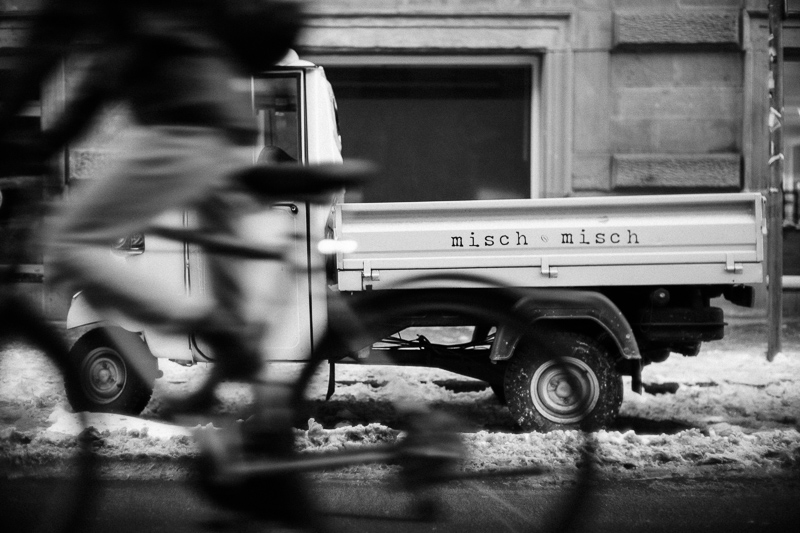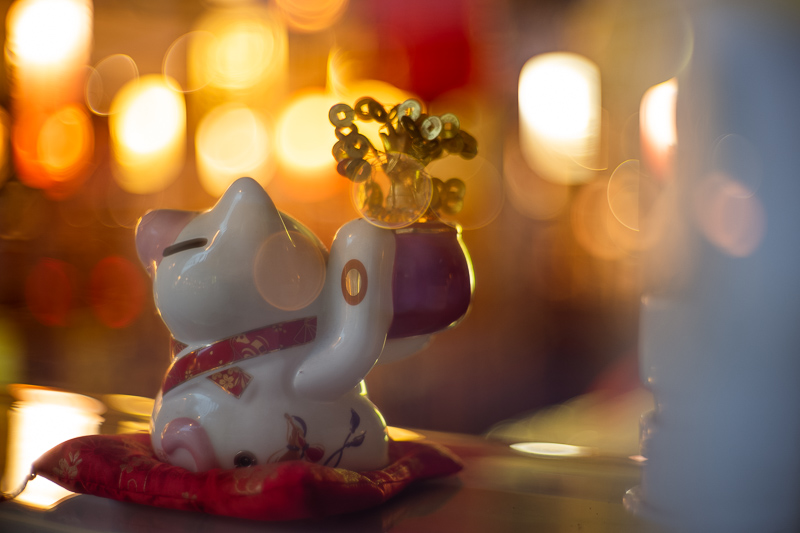 You can find most of the sample images in full resolution here.
Further Reading
Support Us
Did you find this article useful or just liked reading it? Treat us to a coffee!


via Paypal