Introduction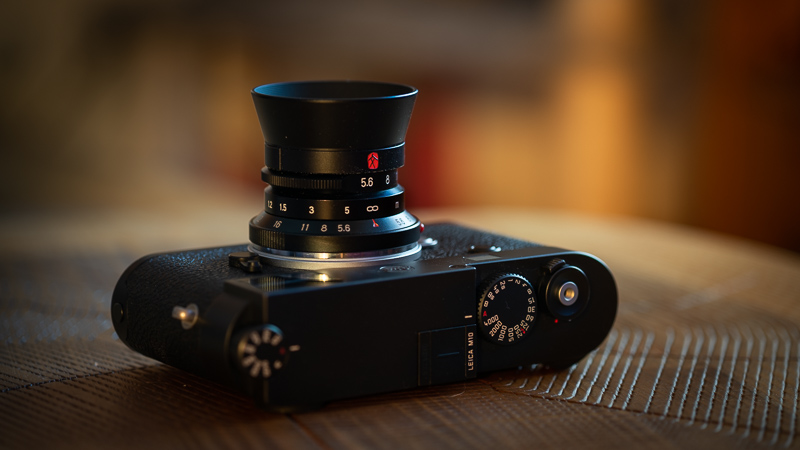 Some lenses really come as a surprise and this 7Artisans 28mm 5.6 is definitely one of those. Not that long after the TTArtisan 28mm 5.6 hit the market we see another lens with the same specs – but a completely different optical and mechanical design. I don't know about you, but I did not see this coming.
So let's find out in this review who offers the better 28mm 5.6 lens.
The lens is being tested on 24mp Leica M10 and 42mp Sony A7rII.
Sample Images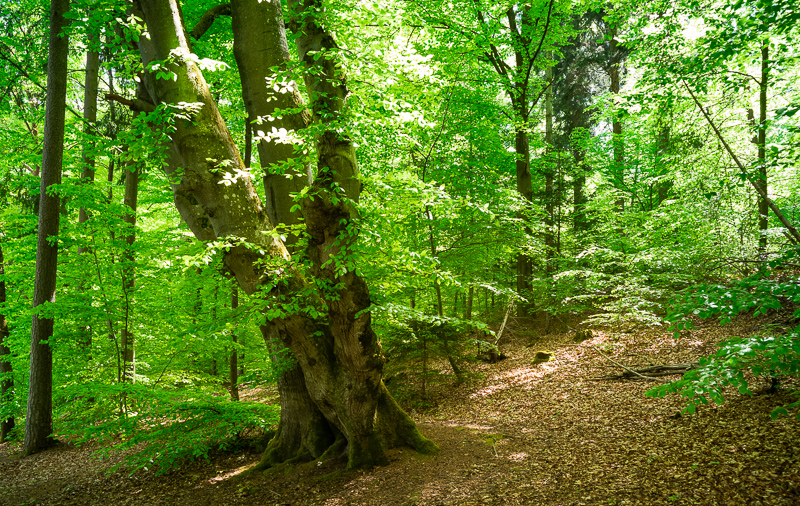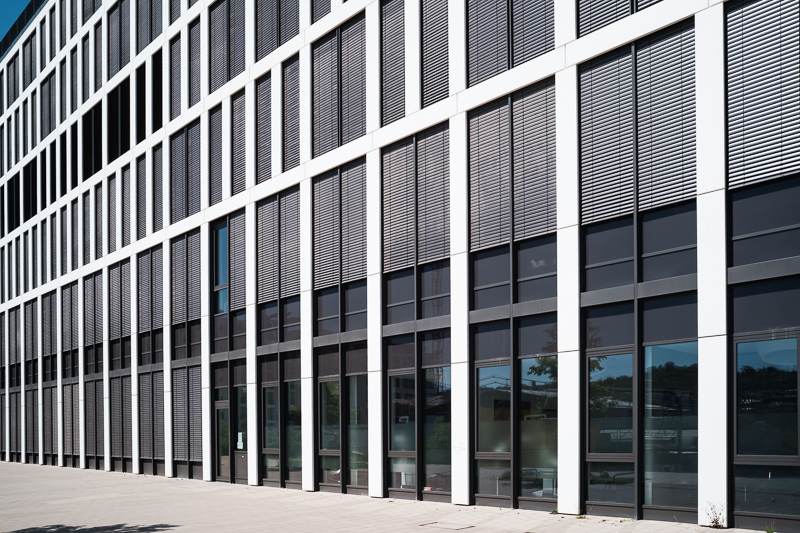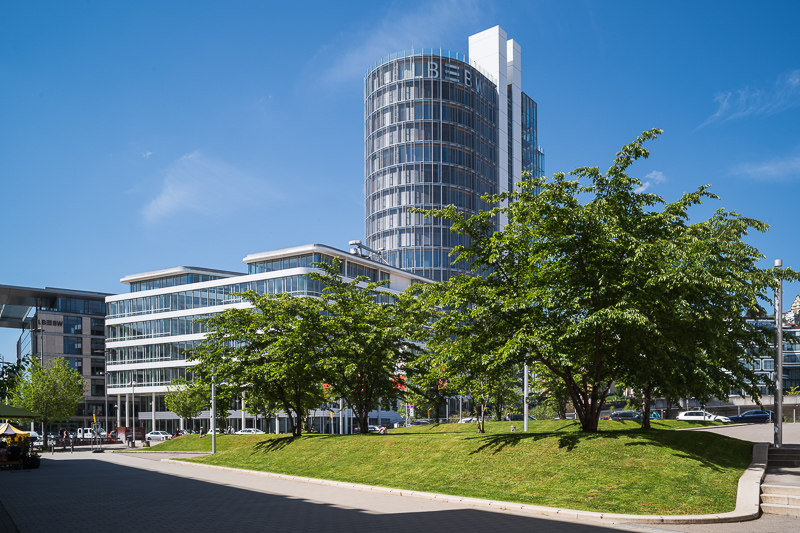 You can find most of the sample images in full resolution here.
Specifications
In terms of mechanical as well as optical design the 7Artisans 28mm 5.6 is a completely different lens compared to the TTArtisan 28mm 5.6. This 7Artisans' full specifications are:
Diameter: 52 mm
Field of view: 75.8° (diagonally)
Length: 36 mm
Weight: 129g (without hood, without caps)
Filter Diameter: 35.5 mm
Number of Aperture Blades: 8 (rounded)
Elements/Groups: 6/4

Close Focusing Distance: 1.0 m
Maximum Magnification: 1:25 (measured)
Mount: Leica M
The lens can already be ordered from ebay.com and B&H (affiliate links) and the price is ~$299
Disclosure
The 7Artisans 28mm 5.6 M was kindly provided free of charge by 7Artisans for reviewing purpose for a duration of 4 weeks.
Handling/Build quality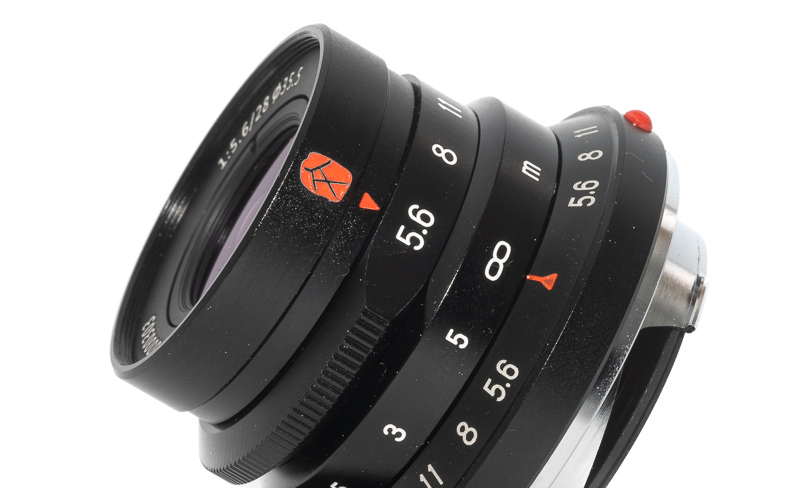 The TTArtisan 28mm 5.6 looked almost exactly like the original Leica 28mm 5.6 Summaron that had been released in 1955, despite featuring a different optical design.
The 7Artisans 28mm 5.6 features a different optical as well as mechanical design. The style of the casing rather reminds me of some of the M39 Voigtländer lenses like the 25mm 4.0 Color-Skopar.
For focusing you need to use the small focus lever. The focus ring itself has a nice resistance and turns about 120° from the minimum focus distance (1.0 m) to infinity. There is not only a hard-stop, there is also an infinity lock like there was on the TTArtisan 28mm 5.6, but the 7Artisans lens has another twist: not only when your lens is set to infinity you first have to push down the button on the lever to be able to change the focus distance, but also to be able to focus at infinity in the first place you have to push it.
Now me personally, I am really not a fan of that infinity lock. I tried to always push down that button while focusing for it not to get in the way.
The aperture ring has full-stop click stops and turns roughly 90° from f/5.6 to f/22.
The lens is rangefinder coupled across the whole distance range and considering its specifications I don't expect any calibration issues. There is one rather embarassing issue though: the lens brings up the 35mm framelines, not the correct 28mm ones.
The outer casing seems to be made completely from metal and all markings on the lens barrel are engraved and filled with paint whereas the markings on the front retention ring look like they are printed.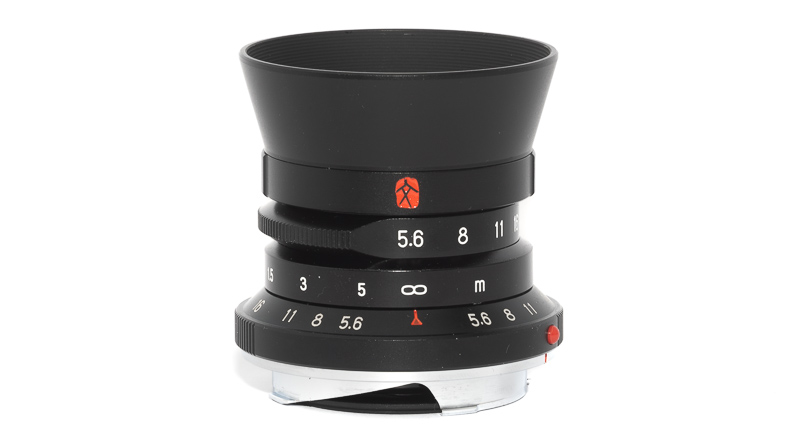 There is a round slip-on lens hood included in the package. It has a small rubber ring on the inside which keeps it in place on the lens barrel. If you push it on the lens too far it touches the aperture ring and there might be the risk of scratches when changing the aperture.

The TTArtisan 28mm 5.6 was a really tiny lens whereas the 7Artisans 28mm 5.6 is not as small and only slightly thinner than the Voigtländer VM 28mm 2.0 Ultron Type I.
The lens also features a rather odd 35.5mm filter thread. I managed to find one manufacturer offering a polarizer in this size, but it is probably easier and cheaper to get a step-up ring to the next normal size.
Vignetting
Light falloff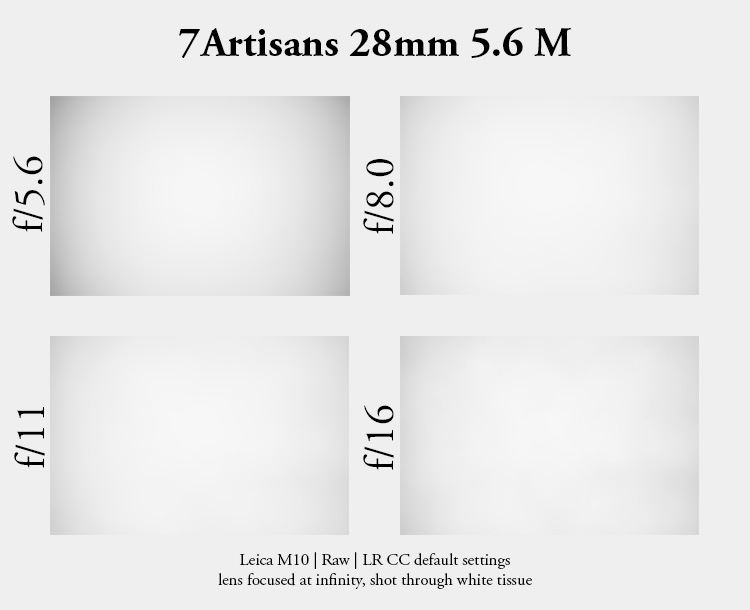 Wide open I measure 2.4 EV corner shading which improves to ~ 1.6 EV at f/8.0 to f/16.
At f/5.6 the performance is very similar – and stopped down slightly better – compared to the TTArtisan 28mm 5.6 M.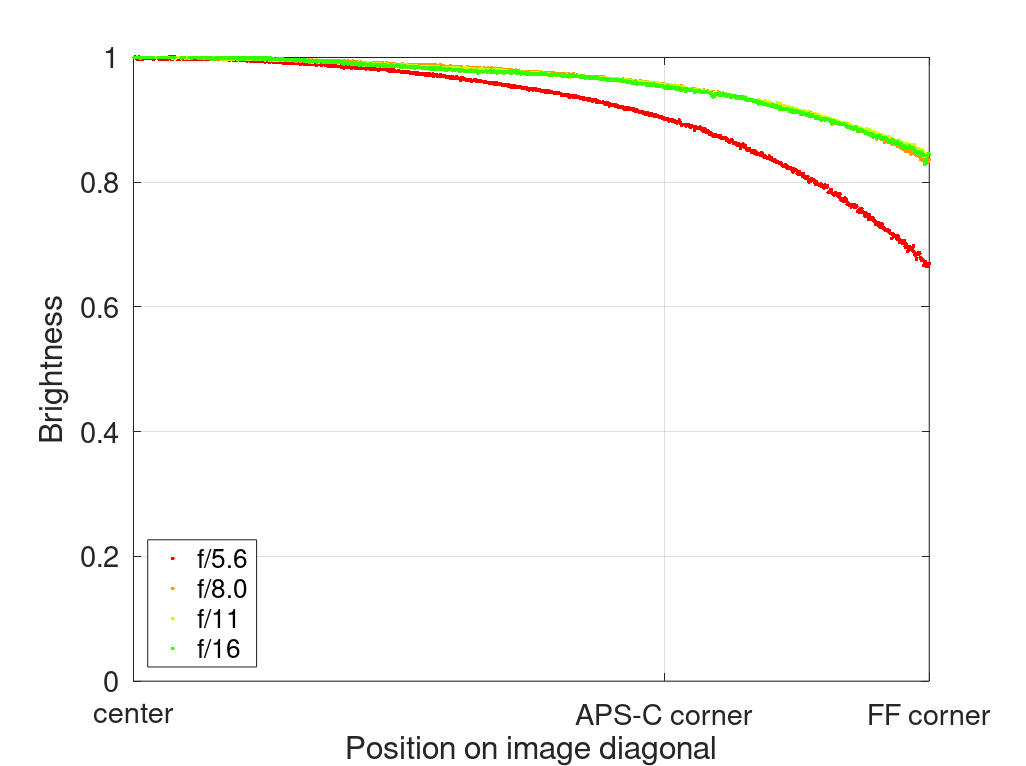 It is recommended to have a look at this article first to get an idea how this brightness graph works.
Color cast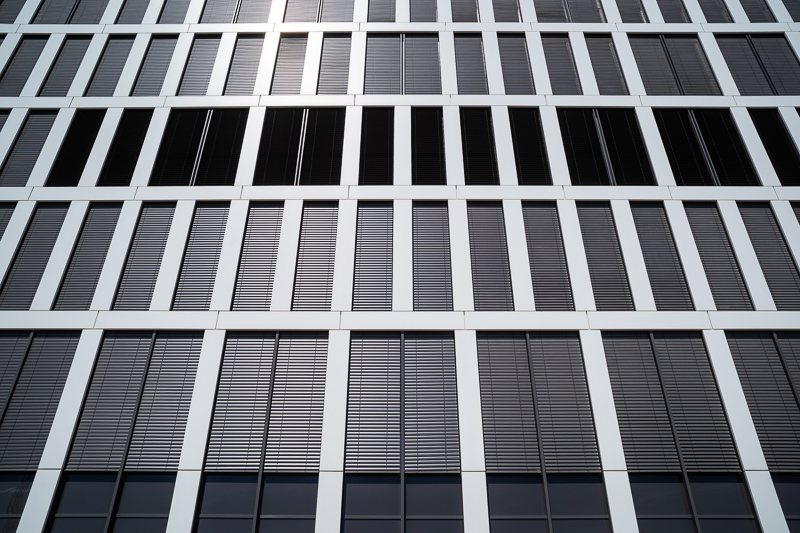 Some wide angle lenses show a bit of a color cast towards the corners, the 7Artisans 28mm 5.6 shows a slight bluish/greenish teint on the Leica M10. Not a big deal, but something that might become visible when taking pictures of overcast skies, snowy landscapes or mostly grey architecture as shown here.
Sharpness
infinity

(42mp Sony A7rII)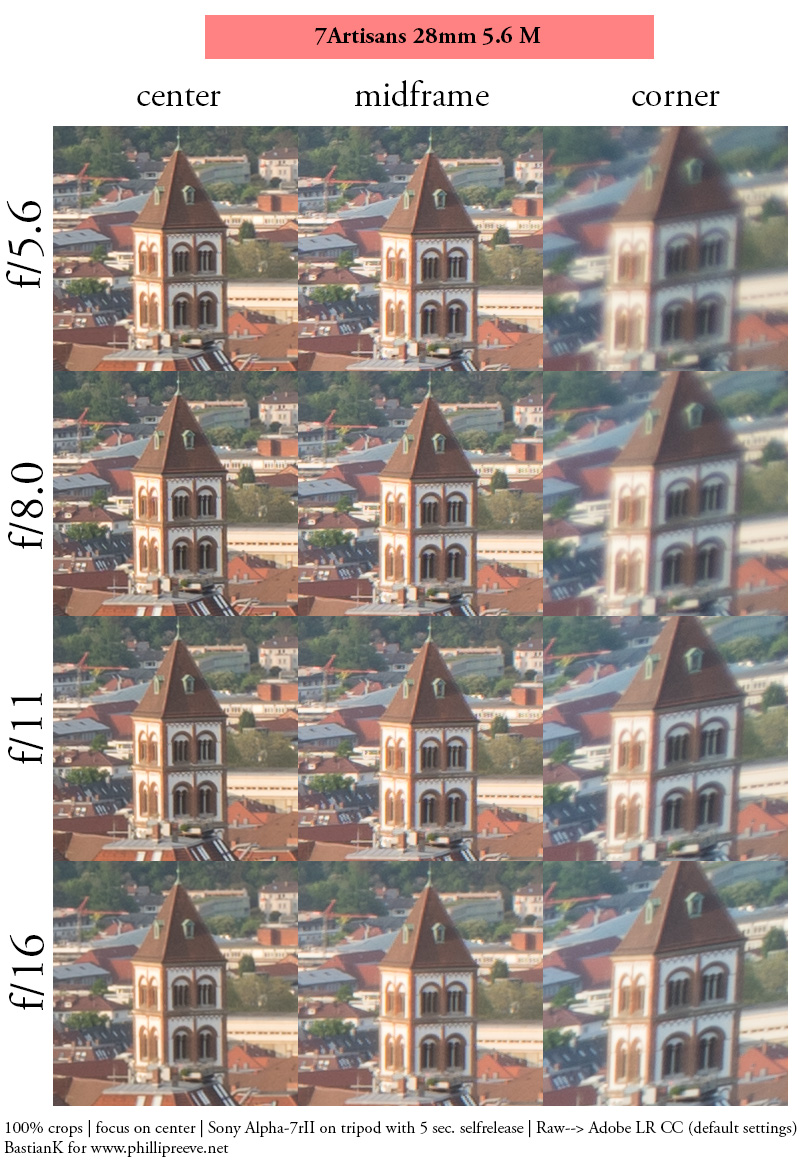 The small M-mount wide angle lenses usually struggle on the Sony cameras and this holds true for the 7Artisans 28mm 5.6 as well. Center and midframe look good from f/5.6, but the corners never reach actually good resolution figures.
On a Sony camera the 7Artisans and the TTArtisan 28mm 5.6 perform very similar.
infinity

(24mp Leica M10)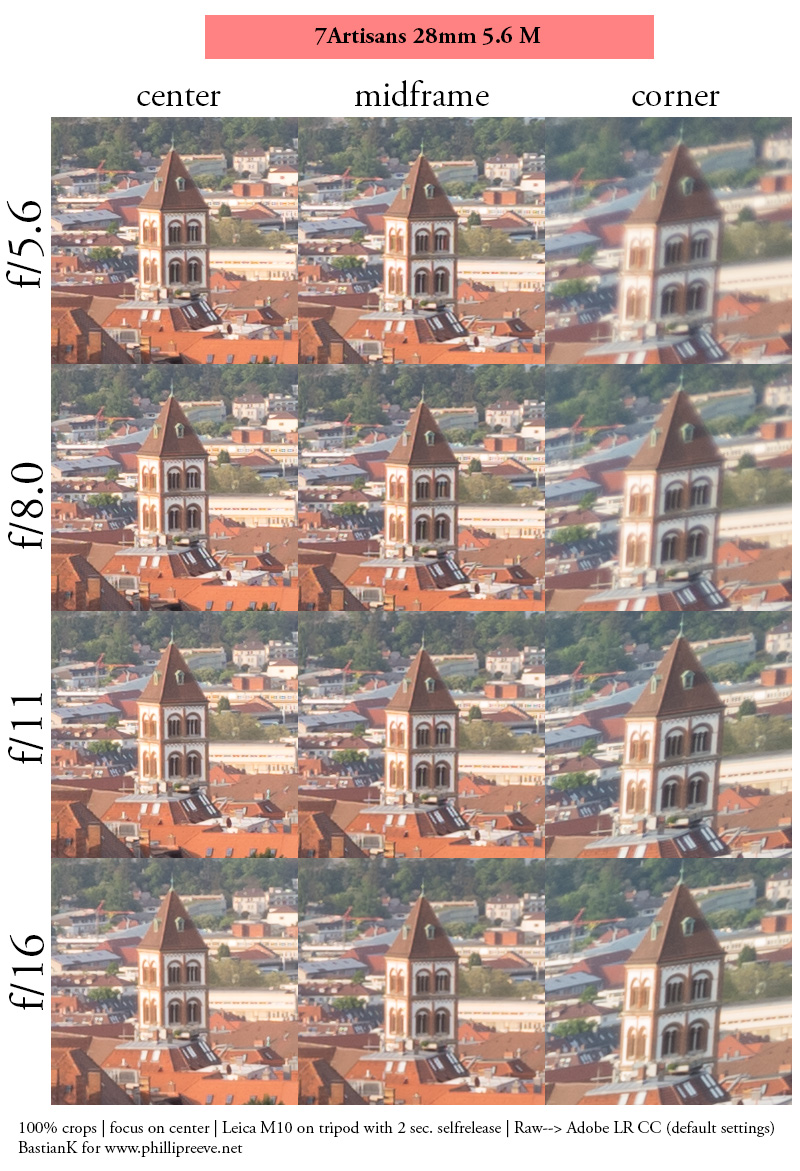 Situation on the Leica M10 is better, but not as much as I would have expected, as the corners still need f/11 to look best.
When comparing the results to those of the TTArtisan 28mm 5.6 I see the TTArtisan lens ahead, as it showed good across frame performance already at f/5.6 when used on a Leica M camera.
Flare resistance
As always evaluating flare is a complex matter since you can get any lens to look bad if you push it hard enough and a slight change of scenario can affect results a lot.
Sun outside frame
With a strong point light source outside the frame the performance is okayish. Ghosts are rare to encounter, but depending on the position of the light source you may encounter a noticeable loss of contrast, as in this scene, where I was also using the hood:
You can see a loss of contrast in the center of the frame and when looking closely also some small artefacts.
Sun inside frame
With the sun inside the frame many things can happen. As with most lenses there is a position with the point light source close to the corner leading to severe flare: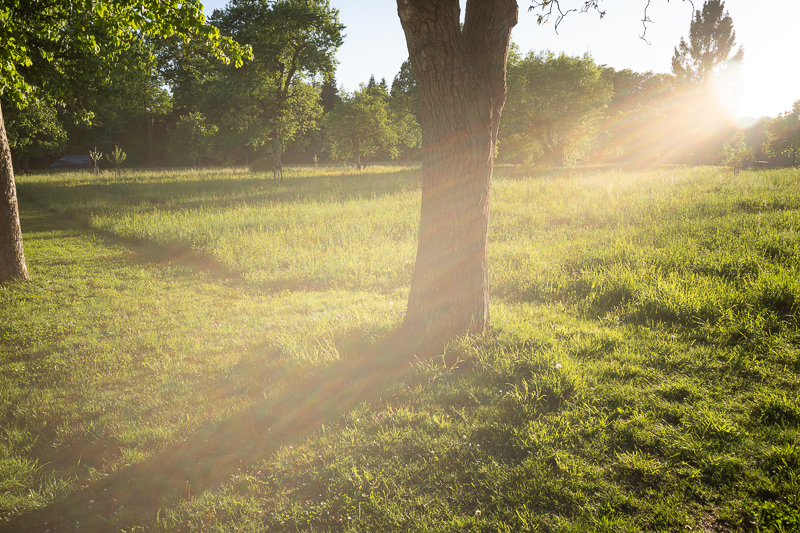 Also some kind of ring flare is present, especially at f/5.6: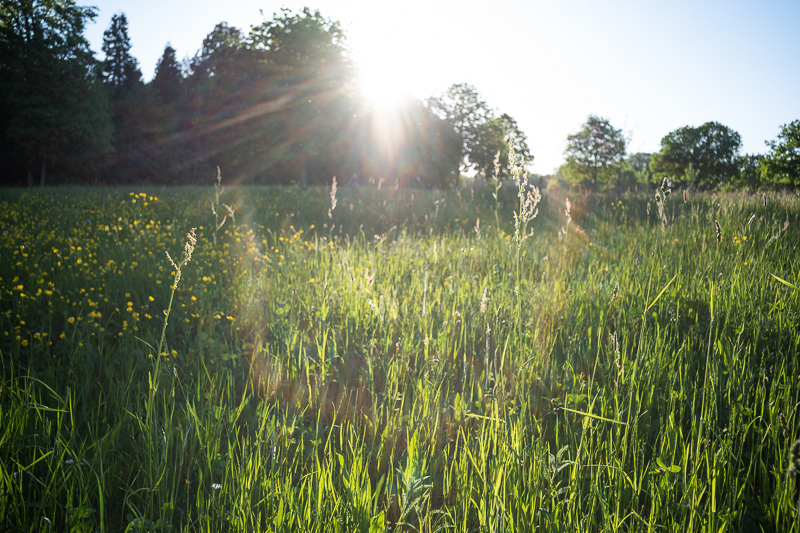 Depending on the position of the light source in the frame you may also be lucky though, but in the end the lens was a bit unpredictable, which is especially bothersome when relying on the rangefinder.

Coma
100% crops from extreme corner, focused on center, M10
Coma is definitely more pronounced than I would expect in a slow and not super small 28mm lens. It is actually a good idea to stop down to f/11 to get rid of most of this aberration.
Distortion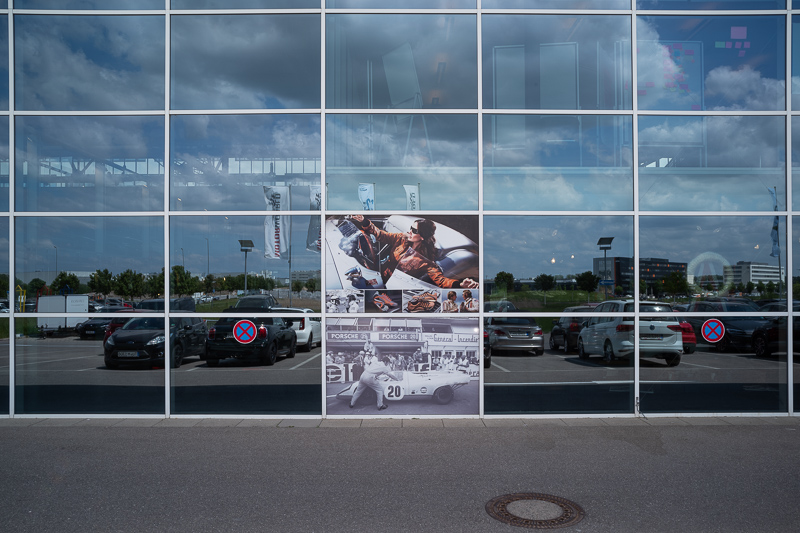 The 7Artisans 28mm 5.6 shows low but wavy distortion. With lots of straight lines running through your picture this can be an issue. There is no correction profile available (yet).
Bokeh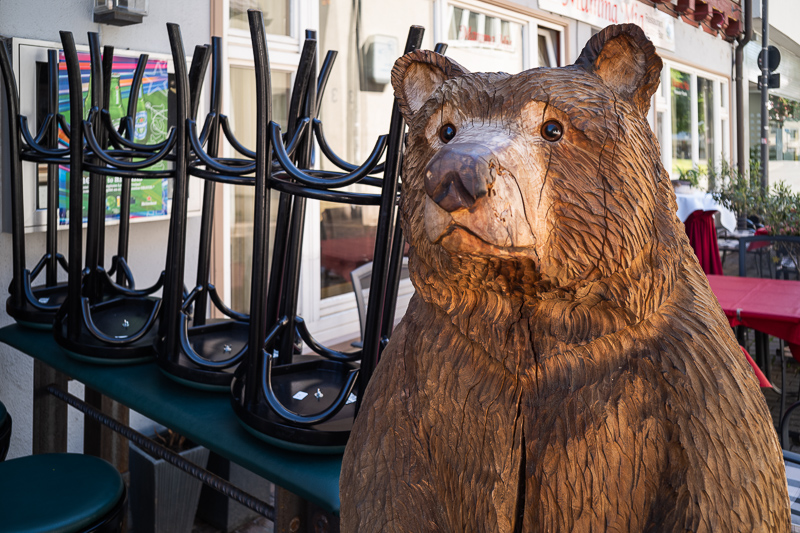 With a 28mm lens, a maxium aperture of f/5.6 and a minimum focus distance of 1.0 m this is not exactly the lens you should be looking at if you are into shallow depth of field photography.
Sunstars
The 7Artisans 28mm 5.6 is using an interesting aperture diaphragm with 8 curved aperture blades. At all the full stops the opening is perfectly round, whereas at inbetween values (without a click stop) you see a ninja-star-like shape.
With the round opening at the full apertures we don't see sunstars, but even at the intermediate values it is very hard to create sunstars at all.
If you want to learn more about this topic have a look at this article.
Chromatic aberration
lateral
The amount of lateral CA is very low, so low that the before/after correction pictures would look exactly the same.
longitudinal
Due to the maximum aperture being f/5.6 you will only very rarely find longitudinal CA in your pictures.
Conclusion
good

weight

sharpness stopped down (M10)

CA correction

average

size
distortion
vignetting
handling (infinity lock)

not good

flare resistance

coma

minimum focus distance 1.0 m

brings up 35mm framelines on Leica M cameras
M-mount users: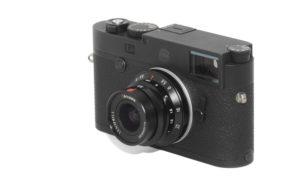 I am a bit puzzled here. When reviewing the TTArtisan 28mm 5.6 I was wishing for a different (modern) mechanical design that is more user friendly instead of just copying Leica's decades old design.
When the first pictures of the 7Artisans 28mm 5.6 surfaced I initally thought this is what we will get: the lens might be bigger, but they improved the minimum focus distance and they got rid of that useless infinity lock, right?
Well, the minimum focus distance is still 1.0 m, the infinity lock is even more annoying and this lens doesn't even bring up the correct 28mm framelines in the rangefinder.
When it comes to the optical qualities the only advantage over the TTArtisan 28mm 5.6 I discovered is slightly less vignetting stopped down, but then the distortion is way harder to correct. In the other categories the lenses perform similar and they are priced the same.
Now if you are in the market for a 28mm f/5.6 lens I think the TTArtisan offers the better package in the end.
But what about you? Do you prefer 7Artisans' offering? If so please tell me in the comment section.
E-mount users: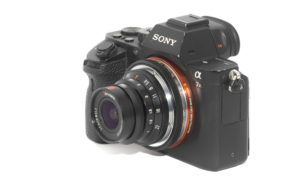 Maybe you prefer manual lenses, but the Sony FE 28mm 2.0 is probably the better choice for you nonetheless.
The lens can already be ordered from ebay.com and B&H (affiliate links) and the price is ~$299
Alternatives
TTArtisan 28mm 5.6 M:
I already compared these two lenses in most categories. Make sure to have a look at both reviews before pulling the trigger to find out which lens is better for your needs.
buy from manufacturer's shop | B&H  for $298 (affiliate links)
Leica 28mm 5.6 Summaron-M:
The original Leica 28mm 5.6 lens from a few decades ago which has been rereleased for a very reasonable price.
buy from amazon.com | ebay.com | ebay.de | B&H new for $2800 (affiliate links)
Voigtlander VM 28mm 2.8 Color-Skopar:
This is the smallest Voigtländer 28mm lens. Despite being two stops faster it is actually smaller than this 7Artisans lens. The Voigtländer lens easily outperforms this TTArtisan lens in every category, but it also costs more than double.
buy from ebay.com | B&H (affiliate links) for $699
7Artisans 35mm 5.6 Wen:
Apart from the different focal length this 7Artisans lens features a more modern casing design and a minimum focus distance of 0.3 m but the aperture is always fixed to f/5.6 and cannot be changed.
buy from amazon.com | ebay.com | ebay.de | B&H new for $138 (affiliate links)

MS-Optics 24mm 2.0 Aporia:
The MS-Optics 24mm 2.0 is much smaller than all the 28mm 5.6 lenses and weighs less than a third, yet it is a whopping 3 stops faster. It is also an exotic/expensive lens with a few notable quirks and certainly not for everyone.
buy from ebay.com for ~$1200 (affiliate links)
Voigtländer VM 28mm 2.0 Ultron:
About 70g heavier but also 3 stops faster. If you need more speed in the most compact form factor possible this is the one you should have a look at. It is noticeably more expensive though.
buy from Robert White (UK) | Cameraquest (US) | B&H | ebay.com | ebay.de for $899 (affiliate links)
Sample Images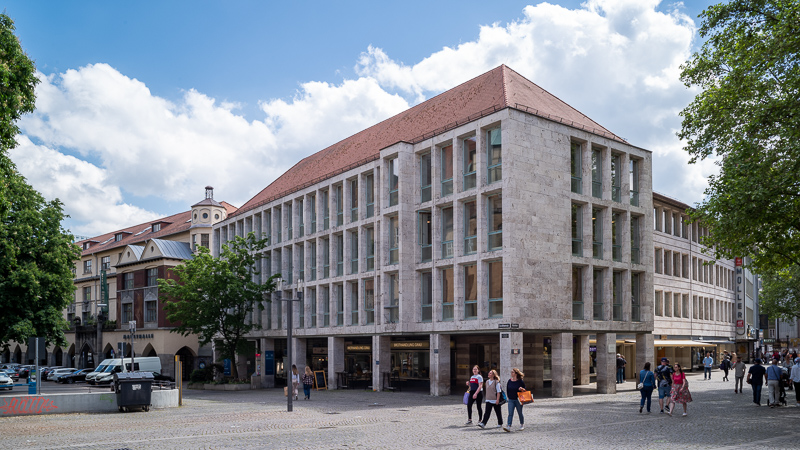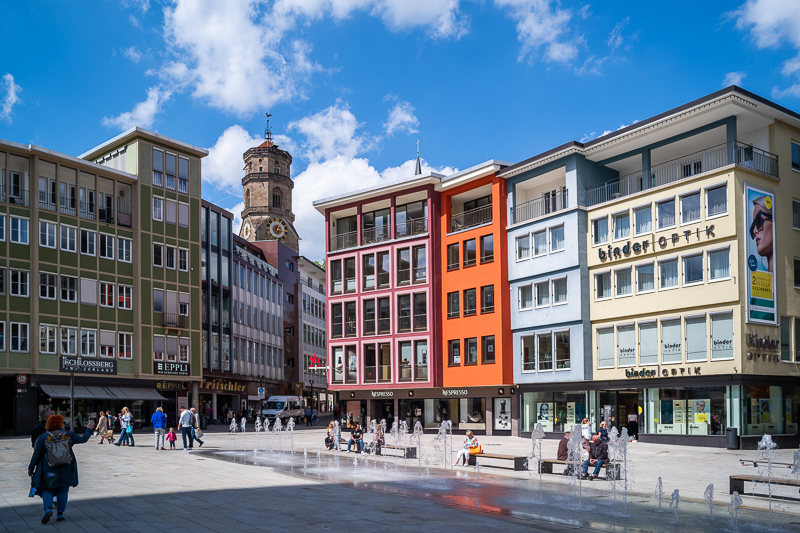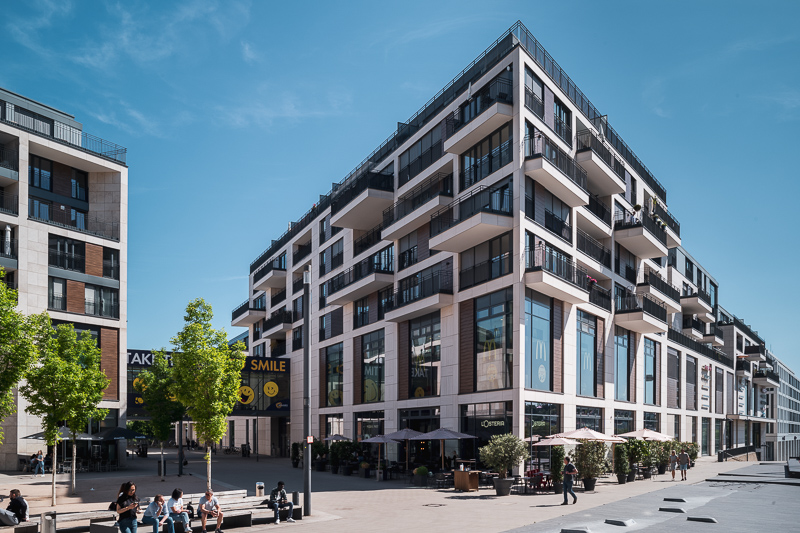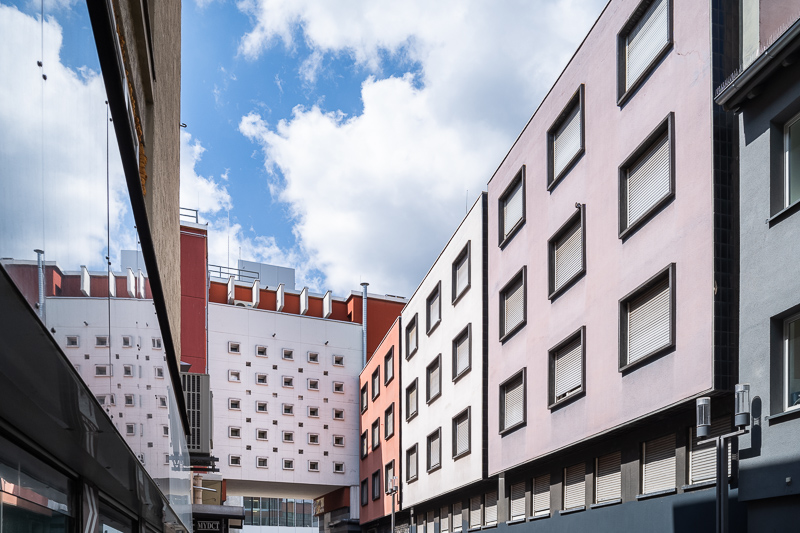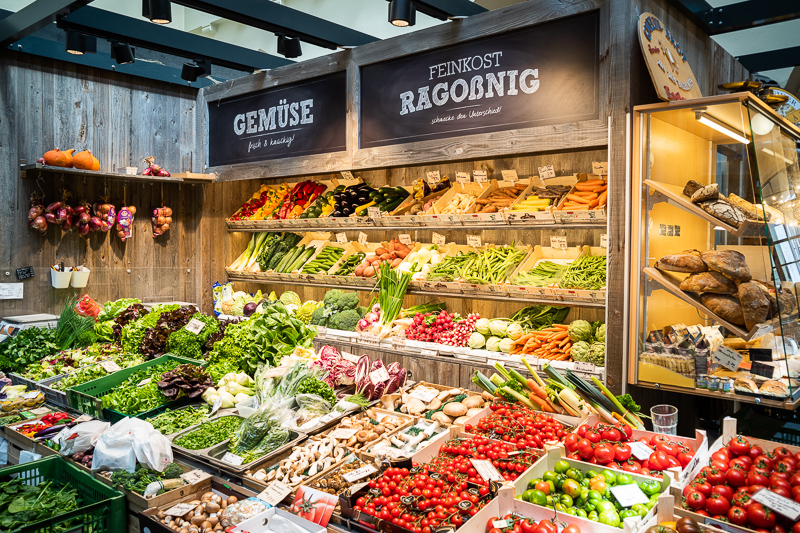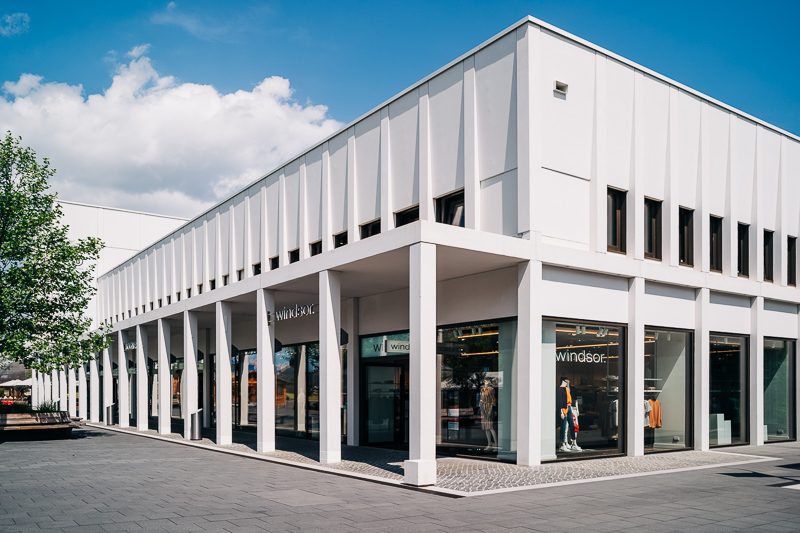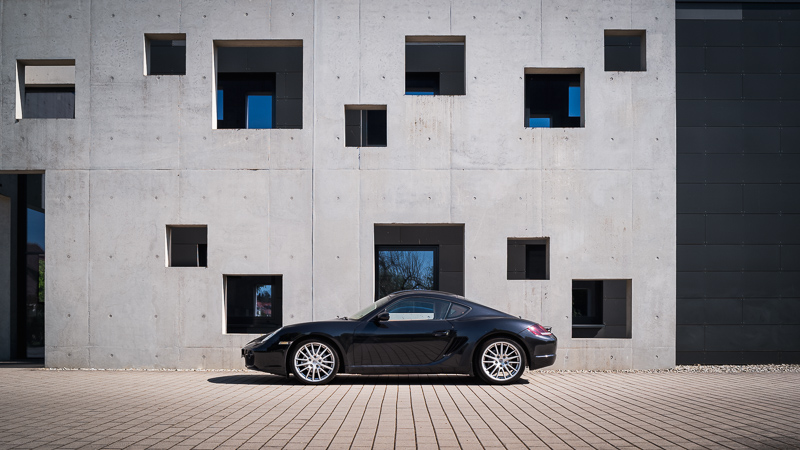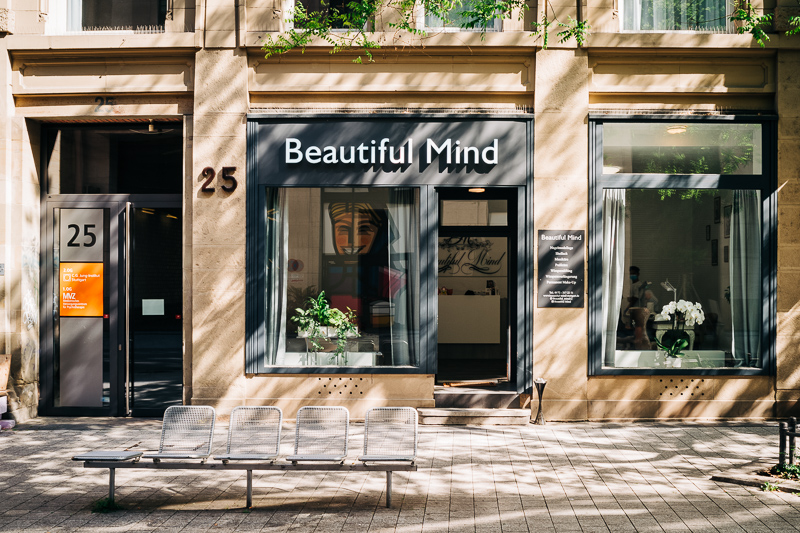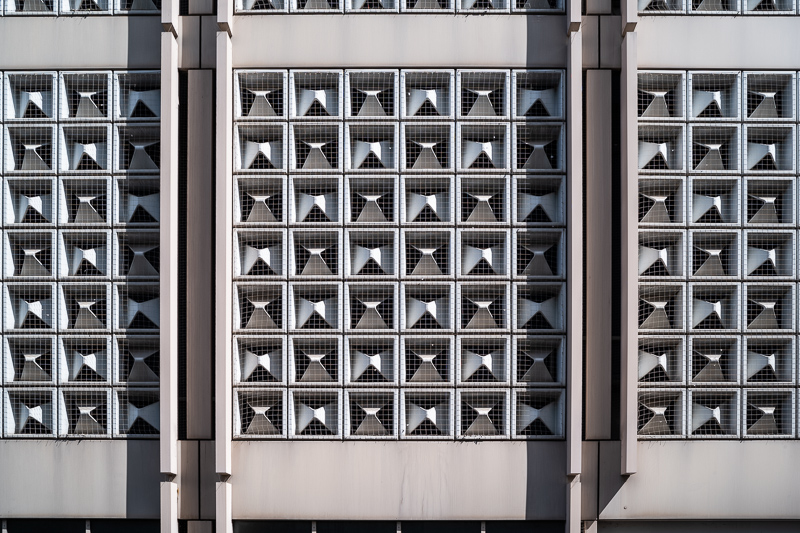 You can find most of the sample images in full resolution here.
Further Reading
Support Us
Did you find this article useful or just liked reading it? Treat us to a coffee!


via Paypal
The following two tabs change content below.
My name is Bastian and I am your expert here when it comes to ultra wide angle lenses, super fast portrait lenses (ranging from a 50mm f/0.95 to a 200mm f/1.8) and I also have reviewed way too many 35mm lenses. Don't ask me anything about macro or wildlife shooting though.