I have owned the Canon FD 2.8/20 for about a year now and I am mostly happy with it's performance. Now I got the chance to test it against the smaller and lighter Minolta MD 20mm 1:2.8. So, how do they compare?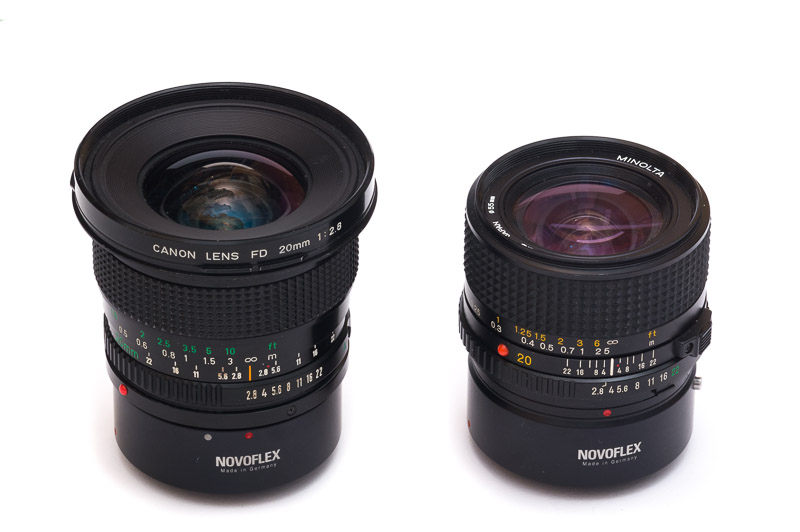 Specifications
| | Canon FD 2.8/20 | Minolta MD 2.8/20 |
| --- | --- | --- |
| Length | 62mm | 44mm |
| Diameter | 78mm | 65mm |
| Weight | 305g | 240g |
| Filter Thread | 72mm | 55mm |
| Aperture Blades | 6 | 6 |
| Short focusing distance | 25cm | 25cm |
The Minolta MD 2.8/20 at  at ebay.de | ebay.de (affiliate links)
The Canon FD 2.8/20 at ebay.de | ebay.com (affiliate links)
Size, Weight and Handling
The Minolta is pretty similar in size and weight to your usual 1.4/50mm lens. The Canon is noticeable bigger and heavier, most notable is the wider diameter.
Both lenses are well balanced on my Alpha 7, the Minolta lens a little better.
The Canon FD 2.8/20 has a much longer focus throw (about 160°) than the Minolta MD 2.8/20 (about 80°) and I the focusing is a bit smoother with it.
The aperture  ring of the Canon  is a bit hard to turn and I prefer the Minolta here. Both stop down in half steps to f/22.
Both lenses are mostly built from metal and feels solid but there are manual lenses which feel a bit nicer.
 Performance
Flare Resistance
Both lenses flare easily but I find the Minolta's flares a bit less obnoxious and it has nicer sun stars.
I don't own a lens hood for either lens so I can't tell you if it would improve the performance.
Distortion
haven't checked yet
Vignetting
At f/2.8 both vignette a lot and you will notice it in almost any shot. By f/8.0 the Canon's vignetting won't be noticeably. The Minolta though shows noticeable vignetting even at f/11. This is the first lens were I ever noticed vignetting at f/8 ot even f/11 in my actual pictures.
 Bokeh
I think the Minolta's bokeh is lousy and the Canons bokeh only bad.
The Canon is a little better but not by much
Sharpness
Minolta MD 20mm 1:2.8 infinity test series (link)
Canon FD 20mm 1:2.8 infinity test series (link)
At infinity both lenses are sharp in the center from f/2.8 with lots of coma and low contrast in the corners. But while the Minolta is really sharp only in the very center the sharp area of the Canon is much larger.
By f/5.6 the Canon shows very good sharpness across 95% of the frame with a very notable drop in the far corners.
The Minolta shows an unusual behavior: While the corners are about as good as those of the Canon the midzones are much less sharp.
At f/11 the Canon is sharp across the frame, only the last few pixels are soft. It also shows a bit of field curvature but in my experience that works in my favour more often than not.
The Minolta though has still very weak midzones while the corners are possibly even a bit bitter than those of the Canon.
Lets have a closer look at those midzones. For this image I focused on a tree about 40m away from the camera. The center and corners are pretty much indistinguishable so I don't show them  but you can click on the image to see them in full resolution.
For the Canon image click here.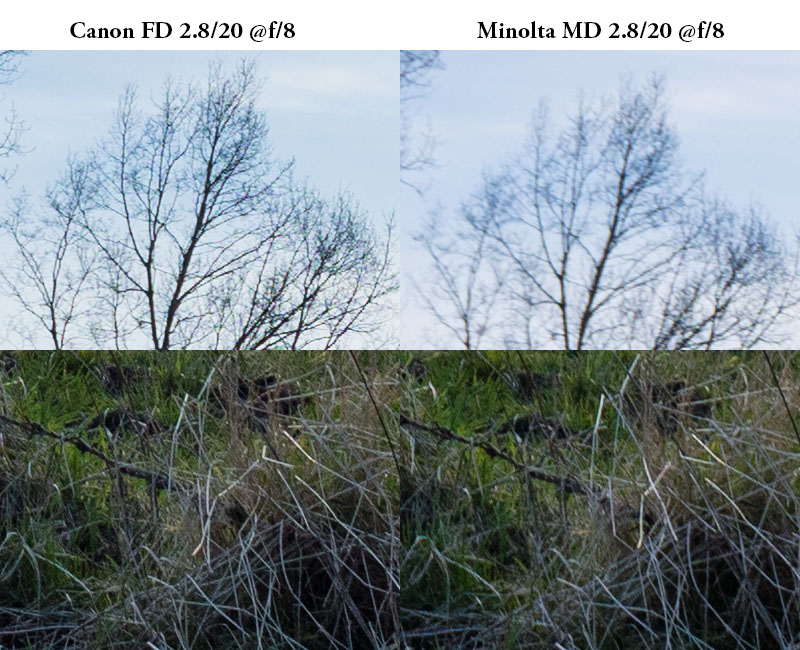 The tree in the distance is quite sharp when we look at the Canon but soft when we look at the Minolta. A detail less than 2m away from the camera shows only a little advantage for the FD 2.8/20. So field curvature plays a role in the Minolta's bad performance.
Other
From time to time I have noticed a hotspot in images with my Canon FD 2.8/20, it was only in a very few images mostly at sunset but it can be a bit annoying.
Conclusion
To be honest: I was quite disappointed by the Minolta. My first impression was quite positive, it is small and light and even the corners were good. But the really bad performance in the midzones makes it hard to recommend.
The Canon isn't perfect either and it is one of the bigger 20mm lenses of it's era but all in all it is a very solid performer and I can recommend it.
The Minolta MD 2.8/20 at  ebay.de | ebay.de (affiliate links)
The Canon FD 2.8/20 at ebay.de | ebay.com (affiliate links)
Alternatives
I have no personal experience with other 20mm lenses but from what I have read online these lenses have a good reputation:
Olympus Zuiko 3.5/21  it is very small and users report good across the frame sharpness at the expense of a little less sharp center.
Voigtländer 3.5/20 It is another very small lens with good performance at f/8 and because it is a modern lens it seems to be very flare resistant. I plan to test one in the future but it is a bit more expensive  than the FD.
Zeiss 2.8/21 a legend of a lens with excellent across the frame sharpness from f/2.8. It is large heavy and expensive though.
Sony FE 4/16-35 unlike the FE 4/24-70 it is a very good performer and it will be sharper than the FD with better flare resistance and OSS. But it is also very expensive and rather large.
Sample Images Minolta MD 20mm 1:2.8
A few more can be found in this set.
Sample Images Canon FD 20mm 1:2.8
Other interesting articles
The following two tabs change content below.
I have two hobbies: Photography and photographic gear. Both are related only to a small degree.
Latest posts by Phillip Reeve (see all)