"Tiny but ABSOLUTE" that's Samyang's claim for their AF 75/1.8 FE lens. One could add that it is one of the cheapest lenses for the system. So what can you expect from a 230g lens for $399? Read on if you want to know.
Samyang AF 75/1.8 FE Review
Most images in this review can be found in full resolution in my Samyang AF 75/1.8 FE flickr set. There you can also browse samples in a very high quality browser.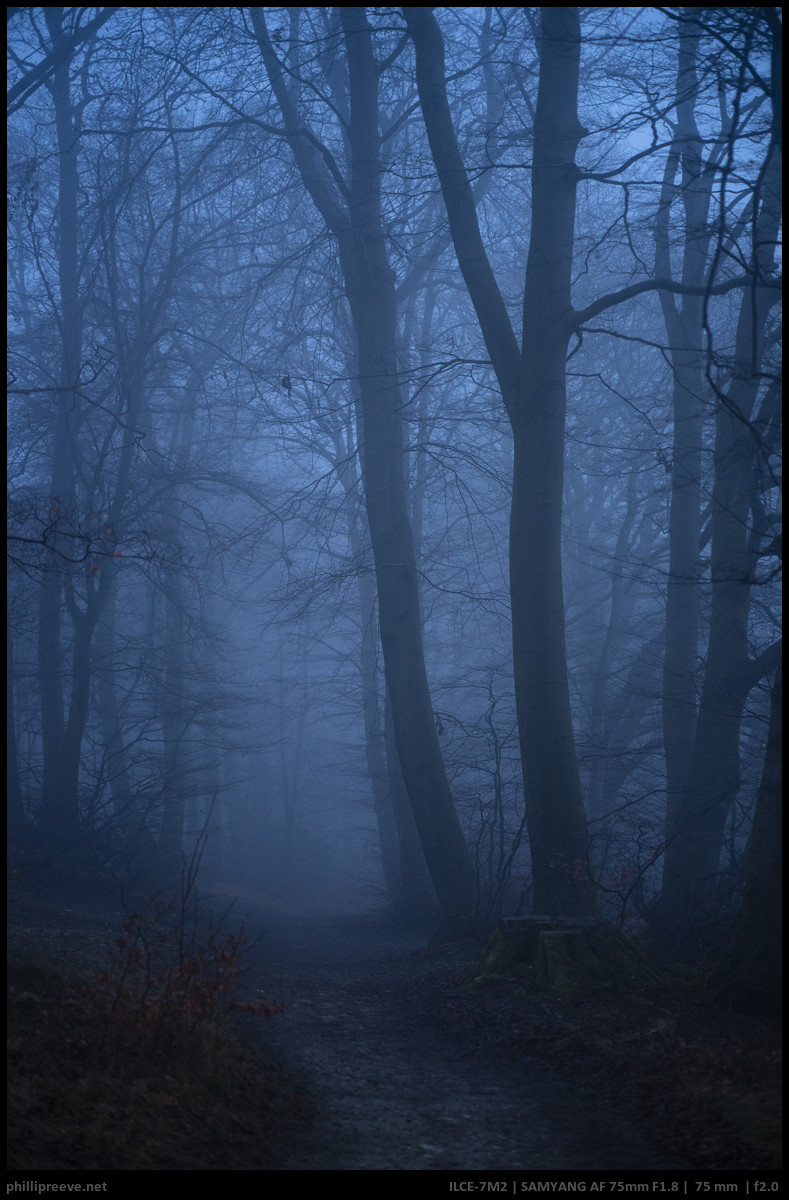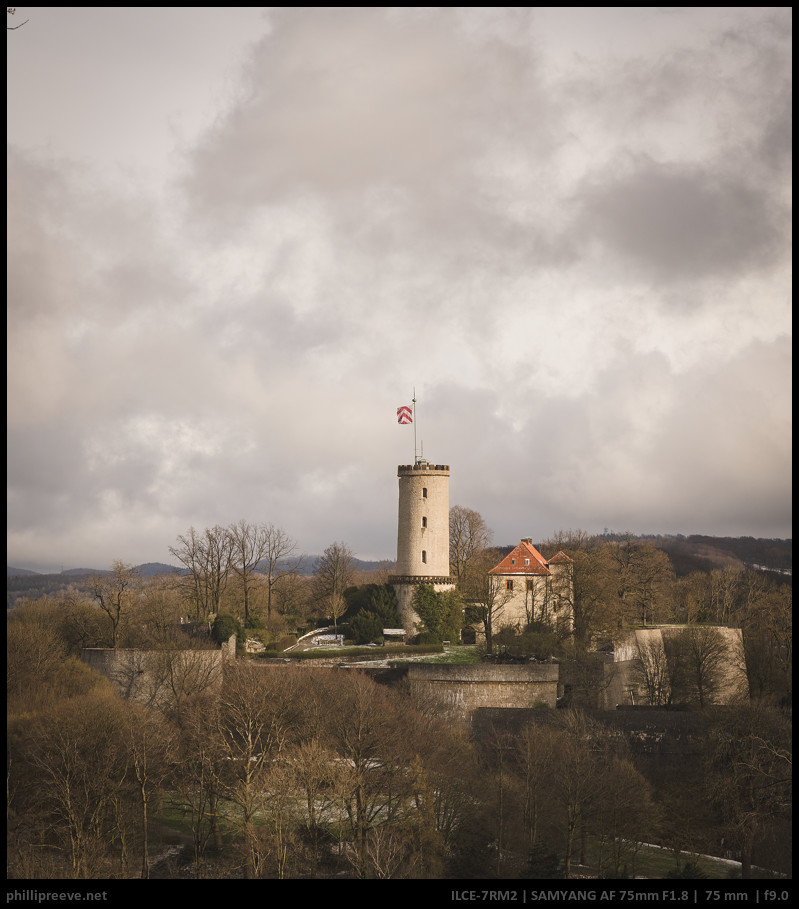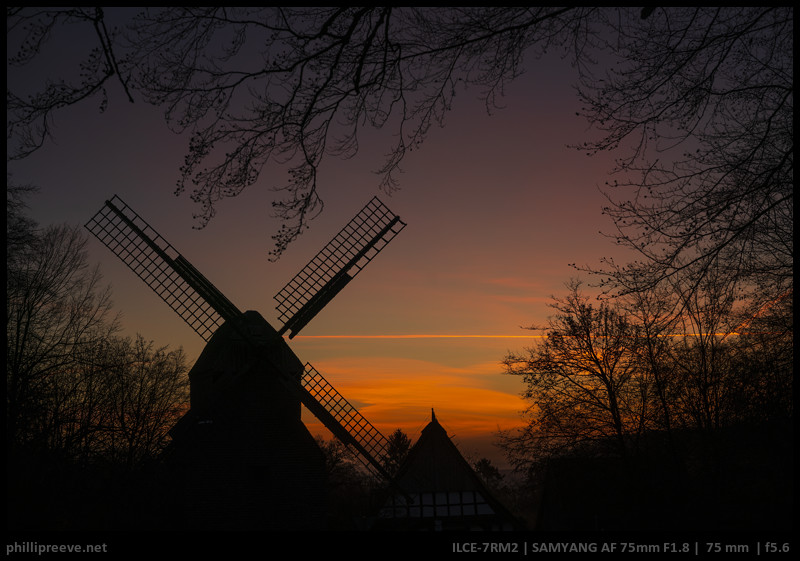 Specifications
| | |
| --- | --- |
| Diameter | 65 mm |
| Length | 74 mm |
| Filter Thread | 58 mm |
| Weight (no hood, no caps) | 230 g |
| Max. Magnification | 0.13 |
| Close Focusing Distance from the sensor | 69 cm |
| Number of aperture blades | 9 |
| Elements/ Groups | 10/9 |
| Mount | E-mount |
The Samyang 75/1.8 has a recommended price of $399. Check current prices at amazon.com, B&H or ebay.com. In Germany the recommended price is 399 €. Check at amazon.de.
If you purchase the lens through one of these affiliate-links I get a small compensation with no additional cost to you. 
Disclosure
I bought this copy used with my own money and used it for several months before writing this review. In fact I had to return my first copy because it was decentered.
Versions
In the US the Samyang 75/1.8 is also sold under under the Rokinon and Bower brands. As far as I am aware the only difference is the name tag.
Features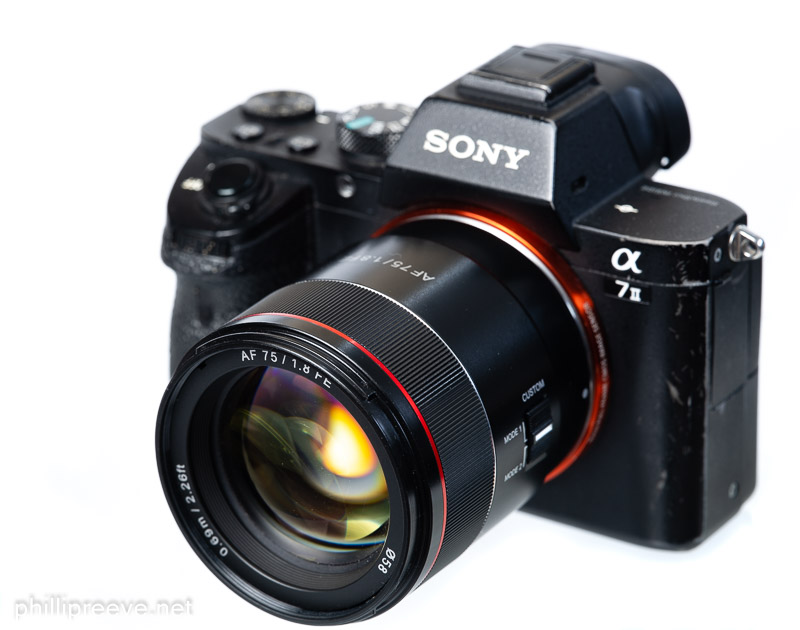 The Samyang AF 75/1.8 FE offers a custom switch you can program with help of the lens station.
You have three options here
Aperture Control: The focusing ring controls the aperture
Normal Control: The lens uses AF
Manual Focus: Switches the lens to MF
So basically it is a AF/MF-Switch which can also be used to switch to aperture control but only if you use AF.

While I have mentioned the lens station I would like to share a few thoughts about it. It costs $60 (affiliate link) and with it you can do several things:
update the firmware
calibrate the AF
program the custom switch
change the sensitivity of the focus ring
In my eyes the lens station is a two edged sword. Samyang has in the past released lenses with firmware which wasn't well tested. Their 1.4/35 for example with firmware version 1 froze my camera several times while shooting a wedding and it had big AF-issues. Only since version 4 of the firmware have these issues been fixed. So to properly use my lens I was forced to buy the lens station to update the firmware. This is certainly an effective cost saving measure and not unheard of in the tech-world. If you let the users do the beta testing you can release earlier and save on testing which is why I would be rather hesitant about buying Samyang lenses right after release. On the other hand I have run the 75/1.8 in Version 1 of the firmware for some time and not noticed any obvious issues.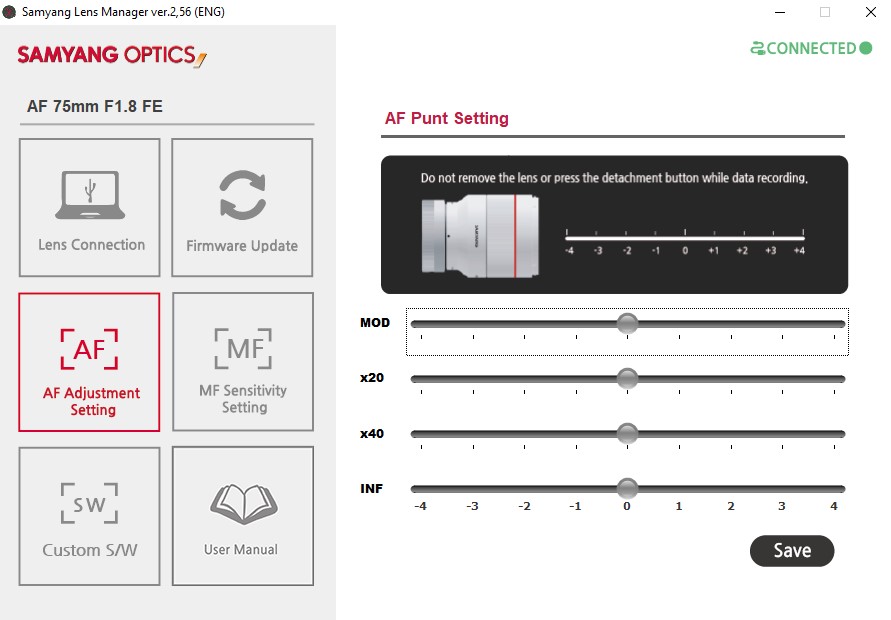 I don't get why one would have to change the AF calibration. One big advantage of mirrorless is that AF-calibration issues have been overcome by all manufacturers.
Programming the custom switch is a nice little feature which I personally have used. I wouldn't have bought a $60 lens station for it but since I already owned it I was happy to use this feature.
The ability to change MF-sensitivity on the other hand is a useful feature in my eyes because for some applications you want a higher sensitivity than for others.
Overall I would have preferred if the firmware could be updated via the camera like it works with other manufacturers but at least you get some features out of the lens station.
Build quality
The Samyang AF 75/1.8 FE feels solid enough but the materials reflect the lower price. The hull ist made from plastics and the wide enough focus ring is a little scratchy with a lower resistance. Markings are only printed on and not engraved.
Samyang does not claim any weather resistance and the 75/1.8 does not have a rubber gasket.
My first copy of the Samang 75mm F1.8 was severely decentered so I had to return it.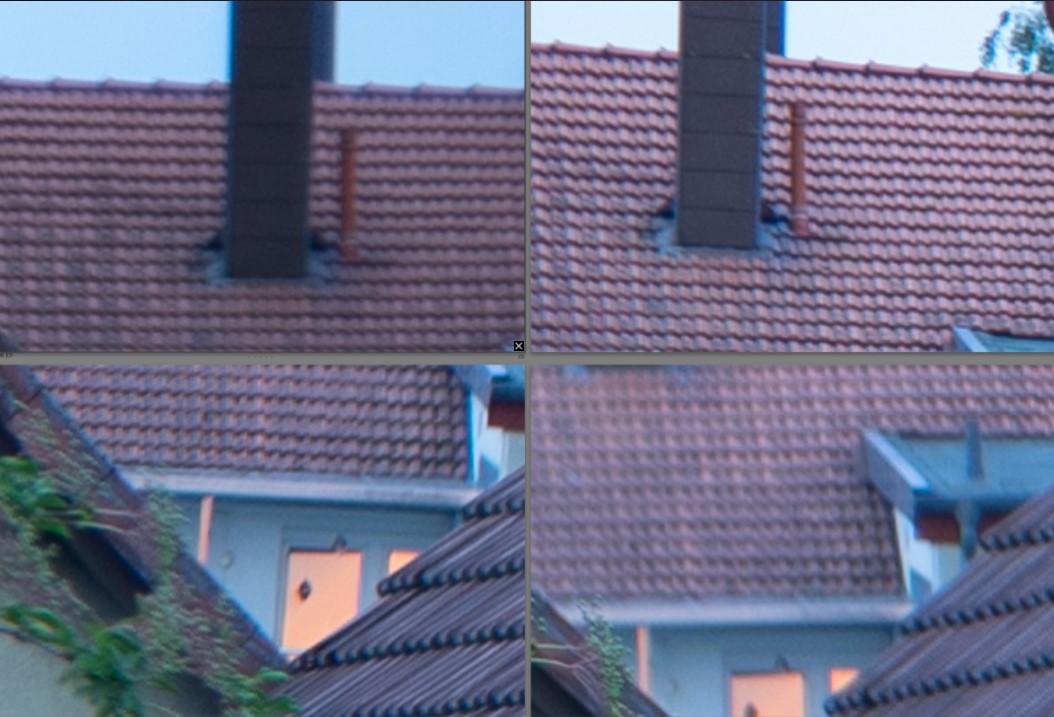 As a team we have had several bad experiences with Samyang lenses which broke for no obvious reason: an experience many other users have had as well, going by forum entries and Amazon reviews. Also we have experienced above average variation with Samyang lenses as documented by lensrentals.com. In our case more than half the Samyang lenses we have tested were decentered. Because of that experience we recommend to only buy a Samyang lens if you feel competent to do a decentering test and have the right to return the lens after testing. Of course lenses from other manufacturers are often decentered or break as well but it seems to be a lot more likely with Samyang lenses. Less strict quality control seems to be another reason why Samyang lenses can be so cheap. The risk should be kept in mind when buying one of their lenses. On the plus side of things the issue is offset in part by generous warranties offered by Samyang in some markets.
Handling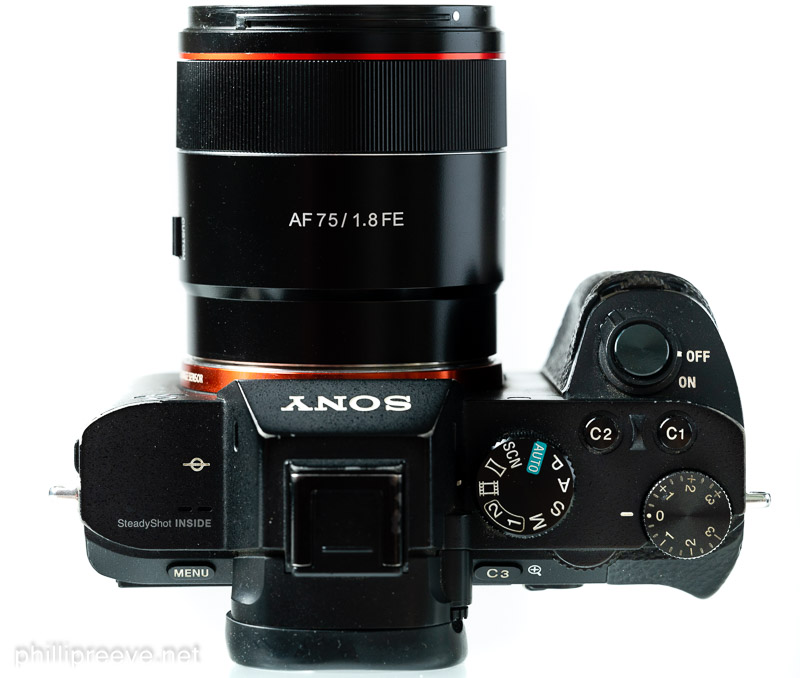 AF
On the a7rII the Samyang AF 75/1.8 FE focuses as quick as the Sony FE 1.8/85. The AF makes a very small noise which might be an issues for video but it is a non-issue for photography. Accuracy and repeatability seemed to be a bit lower than that of the FE 1.8/85 but not by much.
Manual Focus
The focus ring offers a reasonable amount of resistance in my eyes. It isn't linear but close to that. In the slow setting it travels around 360° from 0.69m to infinity, in the normal setting it takes about 270° and in the fast setting it takes about 180°. Personally I prefer the slow setting and MF worked well enough for me. Manual focus with the Samyang 75/1.8 is no joy but it is usable.
Hood
The Samyang 75/1.8's hood is made from plastics, locks safely into place and protects the front of the lens well. Since it can be mounted in reverse and then takes up very little space I can't find any fault with its large volume relative to the small lens.
Size and Weight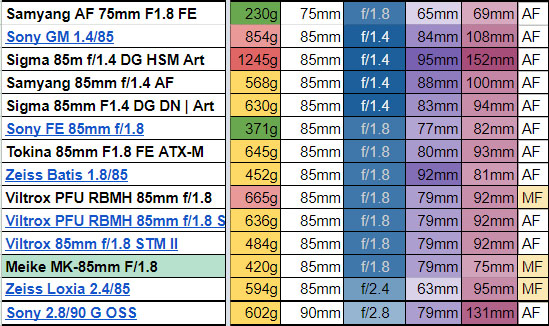 At just 230g the Samyang 75/1.8 is by some margin the lightest and smallest E-mount lens above 55mm.
Optical performance
These results are based on the use with a Sony Alpha 7rII.
Flare Resistance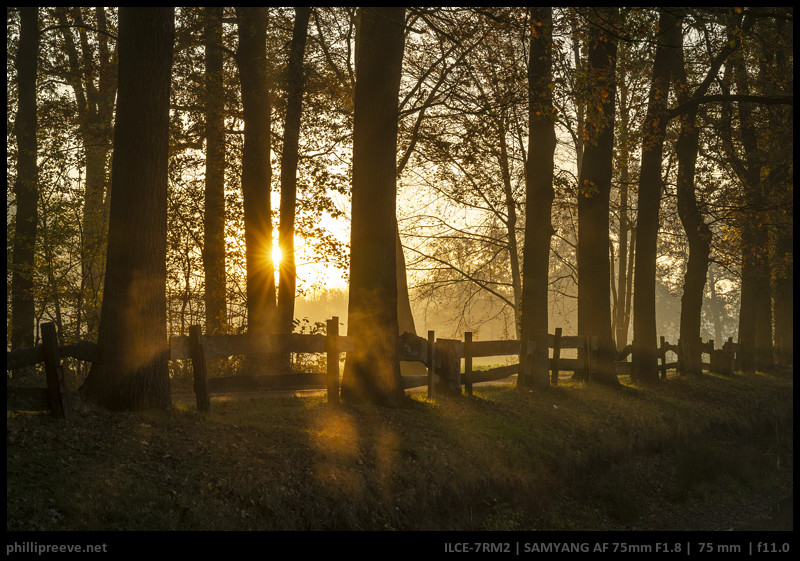 As always evaluating flare is a complex matter since you can get any lens to look bad if you push it hard enough and a slight change of scenario will affect results a lot.
I see some veiling flare and relatively strong veiling flare. I would rate the Samyang AF 75/1.8 FE as below average when compared to other modern fast 75mm/85 lenses. Samyang lenses in general are a bit weaker in flare resistance, probably another cost saving measure as less effecitve coatings will save some money. If you want better flare resistance you will have to invest quite abit more though as the FE 1.8/85 also has a relatively weak flare resistance and only the more expensive Zeiss Batis 1.8/85 or Zeiss Loxia 2.4/85 outperform it.
Sunstars
9 rounded aperture blades result in rather fuzzy 18-pointed sunstars from f/8.
Bokeh
Out of-focus-highlights are rendered neutral with little outlining at shorter distances and some outlining off-center at longer distances.
Bokeh circles show no onion rings. They take the shape of somewaht rounded nonagons from f/5.6.
Cat's eyes are visible but they aren't very pronounced.
The transition zone is a bit nervous.
In most scenarios you can expect rather smooth bokeh from the Samyang AF 75/1.8 FE but in more difficult scenarios with high contrast background at longer distances bokeh can become somewhat harsh. I would rate it a little smoother than the FE 1.8/85 but the big 1.4/85s from Sony, Samyang or Sigma also handle long distance bokeh better.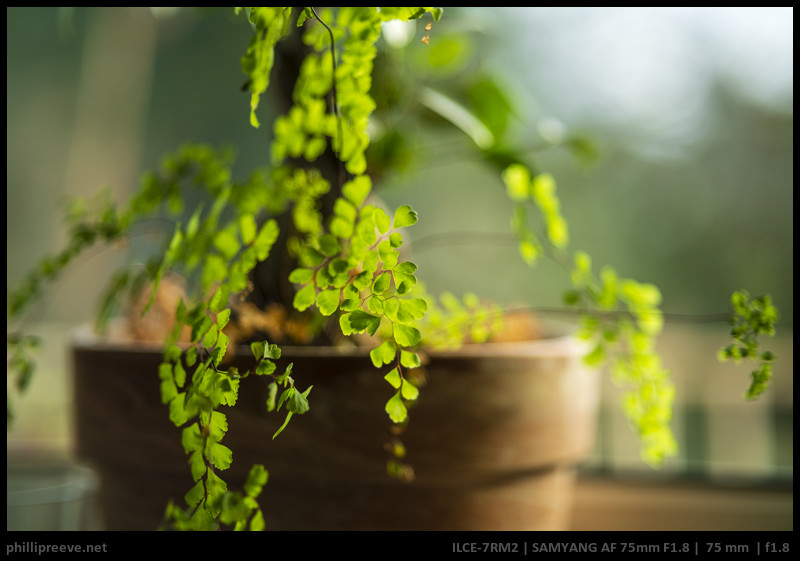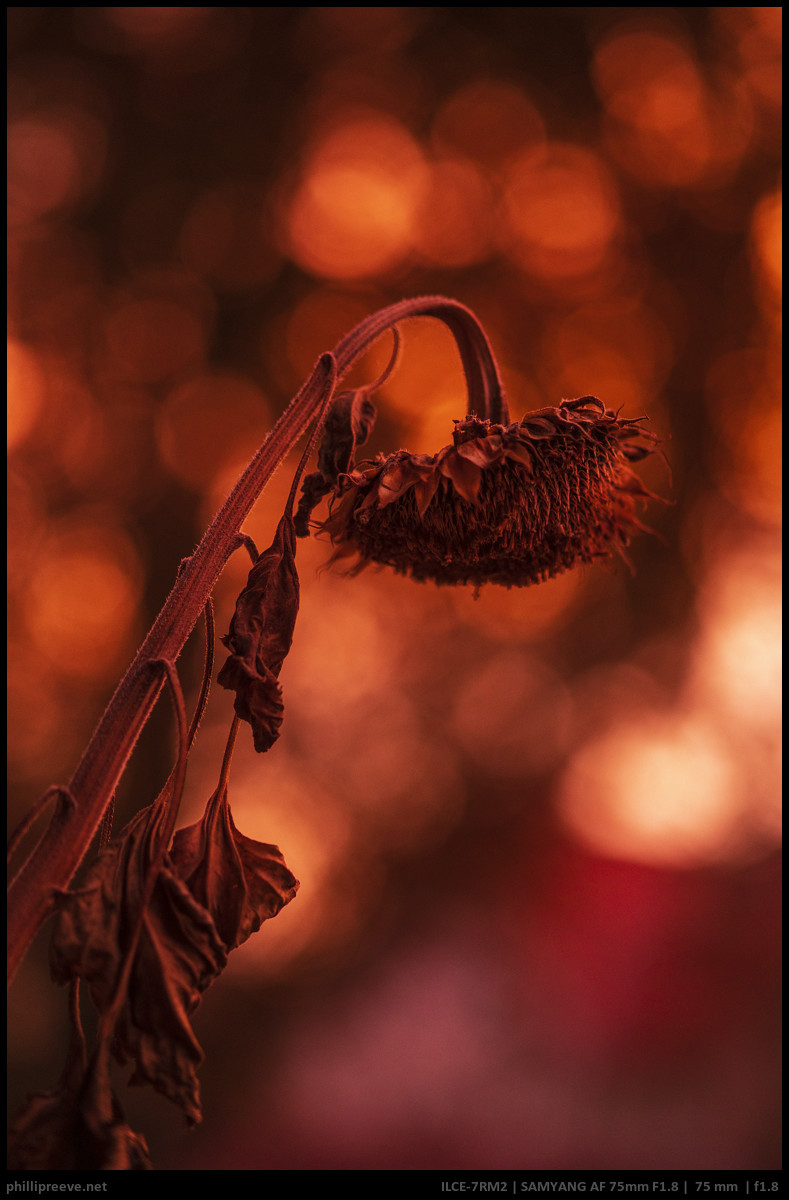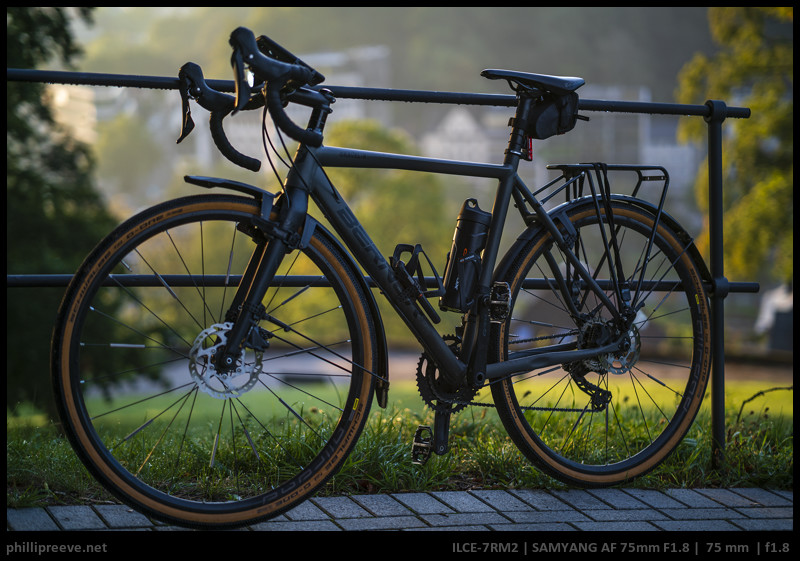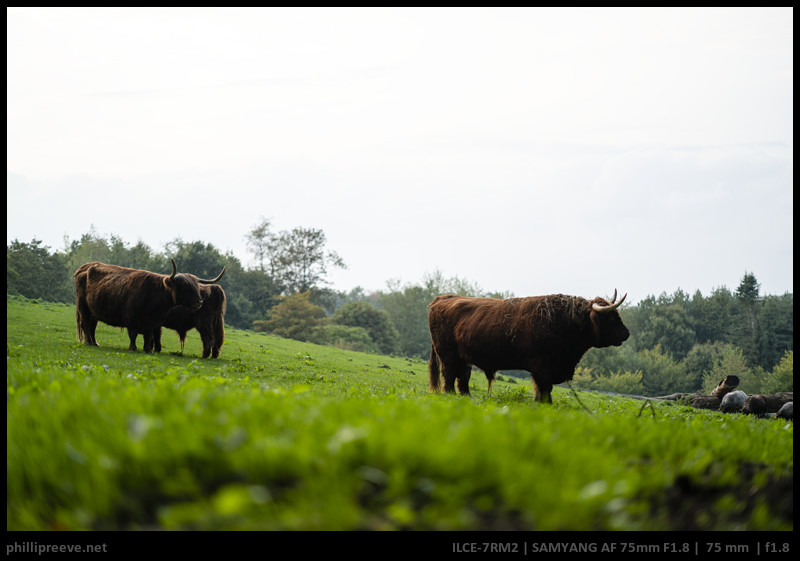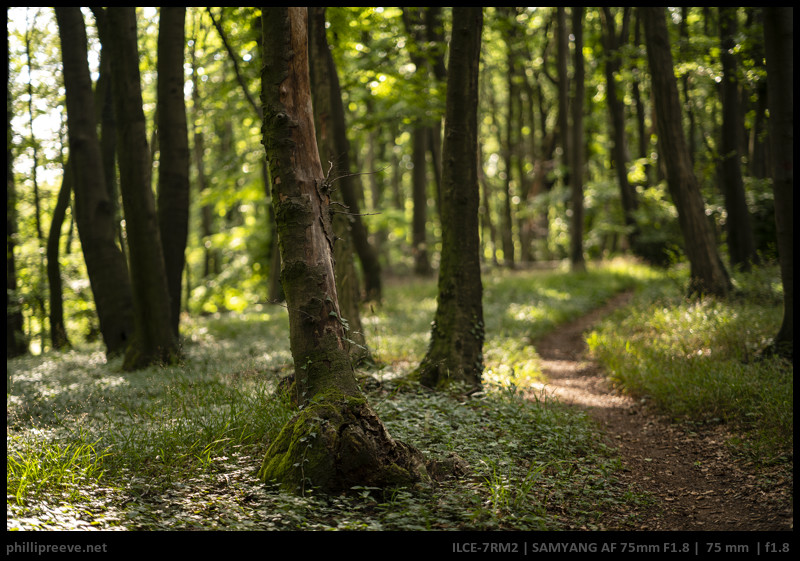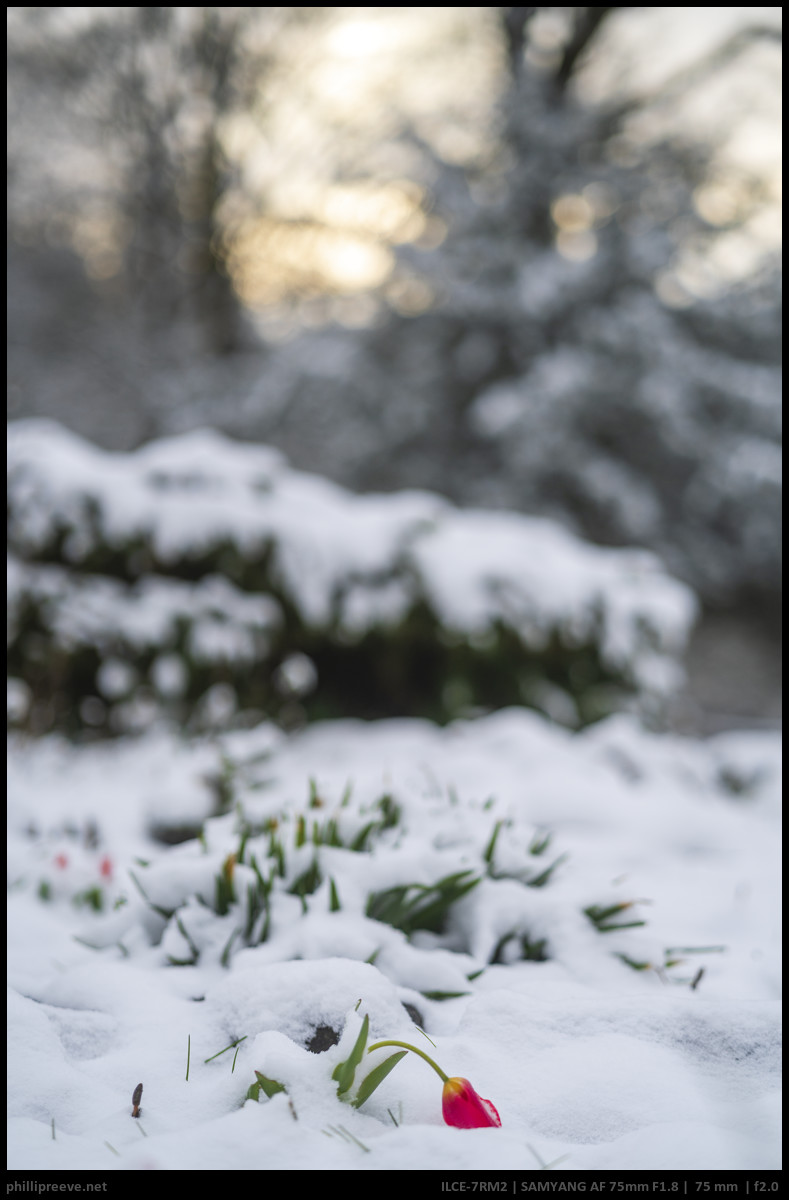 Chromatic Aberrations & Focus Shift
Axial CA is quite well corrected from f/1.8 so you see only minor color fringing. Extrapolating from other fast 85s like the Sony 1.8/85 I would have expected significantly stronger color fringing, so this is a positive surprise. If we look at the construction of the little Samyang 75/1.8 then we see that it is a 10 elements design with 3 ED and 2 high refractive index elements. The Sony 1.8/85 for example only uses one ED element and most classic 85mm lenses don't use a single one.

Since I use LR correction of lateral CA is corrected by profile and I can't turn the correction off. It isn't corrected that well though and some CA is still visible.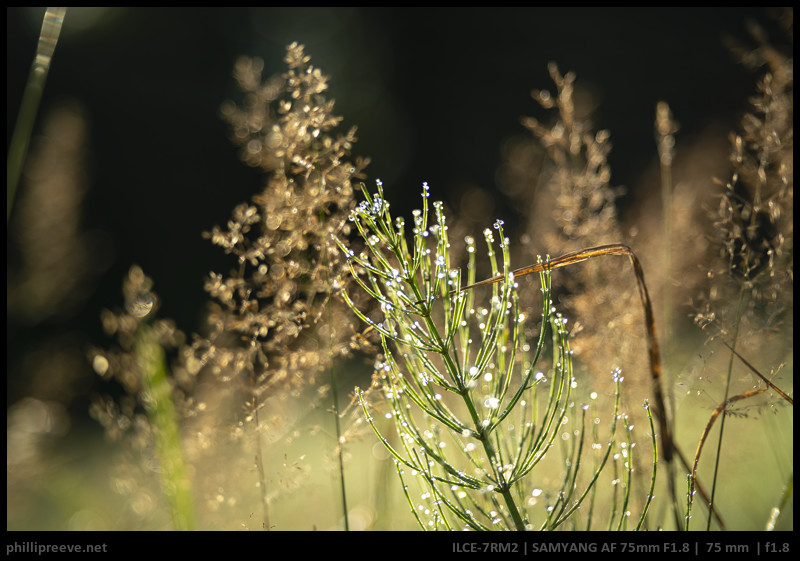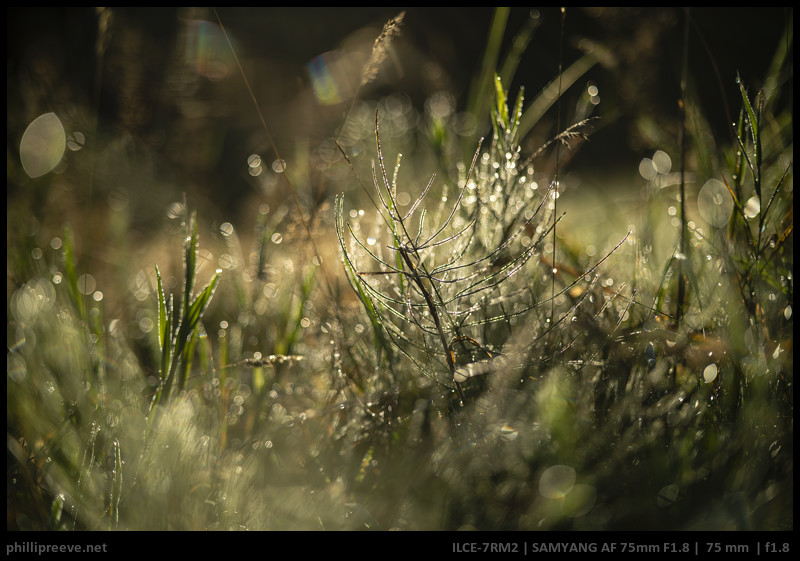 xVignetting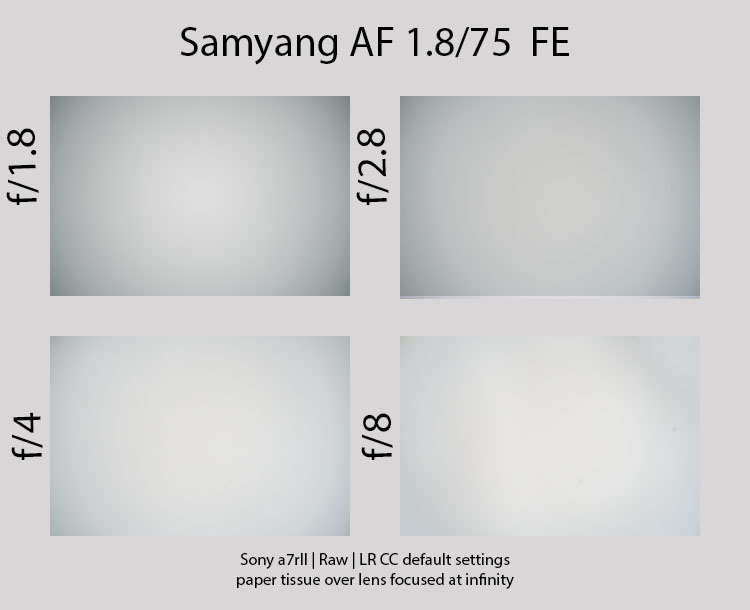 | | |
| --- | --- |
| aperture | vignetting |
| f/1.8 | 1.9 |
| f/2.8 | 1.2 |
| f/4 | 1.0 |
| f/8 | 0.5 |
Vignetting is average for a 85mm lens at 1.9 stops wide open which is reduced to 1 stop at f/4.
Distortion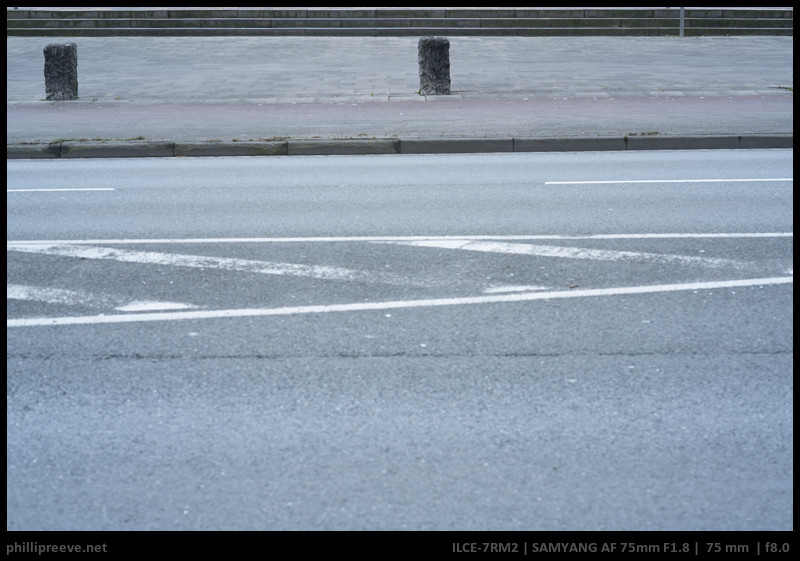 The little Samyang shows a very minor amount of distortion.
Sharpness
infinity
At infinity the Samyang AF 75/1.8 FE is very sharp in the center from wide open but then sharpness quickly drops off as you move towards the corners. By f/2.8 you can get most of the frame to be very sharp but the corners take f/8 to reach very good territory and the extreme corner even benefits from f/11.
Portrait Distance (2.25m)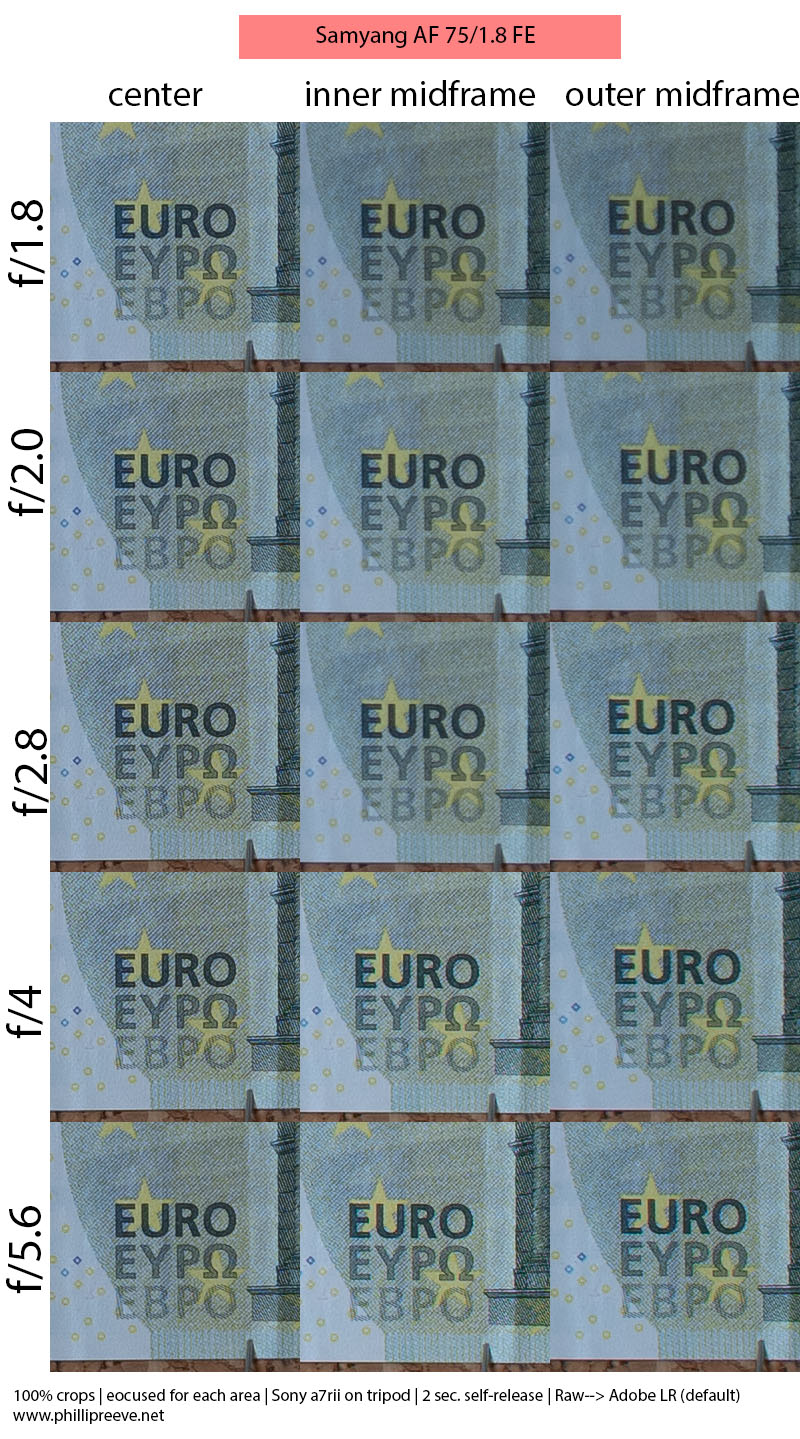 At a little over 2m distance sharpness in the center is excellent and the midframe area is very sharp as well so you can put your subject everywhere in the frame and expect very good results.
Conclusion Sharpness
The Samyang AF 75/1.8 FE isn't a lens where you can shoot at any aperture and never worry about sharpness. For landscapes you should stop down to f/8. For portraits you generally can place your subject everywhere if you are ready to live with good but not excellent results. Overall where it matters the little Samyang delivers a very good performance.
Alternatives
The Samyang 75/1.8 is the only native 75mm prime in the system at the moment which makes it a bit difficult to define alternatives.
Sony FE 1.8/85: The Sony is $200 more expensive when bought new and maybe $150 more expensive when bought used. It is significantly larger and also 140g heavier but it feels a little nicer and you don't have to worry that much about decentering. Optically the Sony has a little sharper edges at wider apertures but it is more CA-prone and has less smooth bokeh. Both have below average flare resistance. Also 85mm fit better into most kits but that depends on your other lenses and some will prefer a 75mm lens.
Yongnuo 85mm F1.8: Priced even cheaper than the Samyang the few reviews I found show decent optical quality for portraits but only ok corners stopped down but there were some reports of AF reliability issues.
Sigma 65mm f/2 DG DN: The nearly twice as heavy Sigma is $300 more expensive but build to much higher standards and it is also sharper off-center and even better corrected for CA.
Voigtlander 75/1.5 VM: The 2.5 times as expensive Voigtlander is a fully manual M-mount lens with build quality of a different league. At least on E-mount I would rate the Samyang as the better portrait lens while the 120g (180g with adapter) heavier Voigtlander is the superior landscape lens.
Samyang 1.4/85: Samyang's other portrait lens is sharper and smoother in bokeh but also larger and more expensive.
Conclusion
pros

Size

Price

Bokeh (mostly)

Distortion

Sharpness (center)

average

Build Qualit
Edge Sharpness at wider apertures (just)
Vignetting

cons

Flare Resistance

Quality Control issues
The Samyang AF 75/1.8 FE is certainly tiny. But is it an absolutely great performer? Of course not, the several times as heavy 1.4/85s are technically better lenses. But especially for its size it is a very capable lens which delivers generally very good optical performance on par with for example the Sony 1.8/85 FE. It is sharp where it matters, CA ist well controlled, bokeh is mostly smooth and flare resistance is the only real issue I could find. Unlike with other Samyang lenses there are also no big handling issues.
Given the low price this performance is remarkable. But of course there are a few trade-offs which come with the low price, namely high copy-to-copy variation as I experienced first hand and a bit lower build quality. Overall though the Samyang AF 75/1.8 balances size, price and performance surprisingly well without any mayor shortcomings. So if you are looking for a small lens which gives you a lot of bang for your buck, then I can recommend the Samyang AF 75/1.8, especially if you can integrate a 75mm lens into your kit. Make sure to test it though before you keep it.
The Samyang 75/1.8 has a recommended price of $399. Check current prices at amazon.com, B&H or ebay.com. In Germany the recommended price is 399 €. Check at amazon.de.
If you purchase the lens through one of these affiliate-links I get a small compensation with no additional cost to you. 
More Image Samples
Most images in this review can be found in full resolution in my Samyang AF 1.8/75 FE flickr set. There you can also browse samples in a very high quality browser.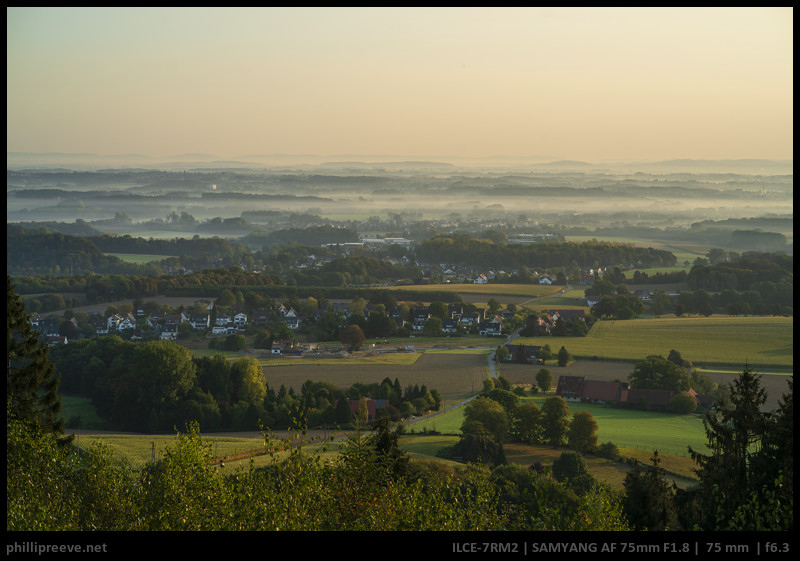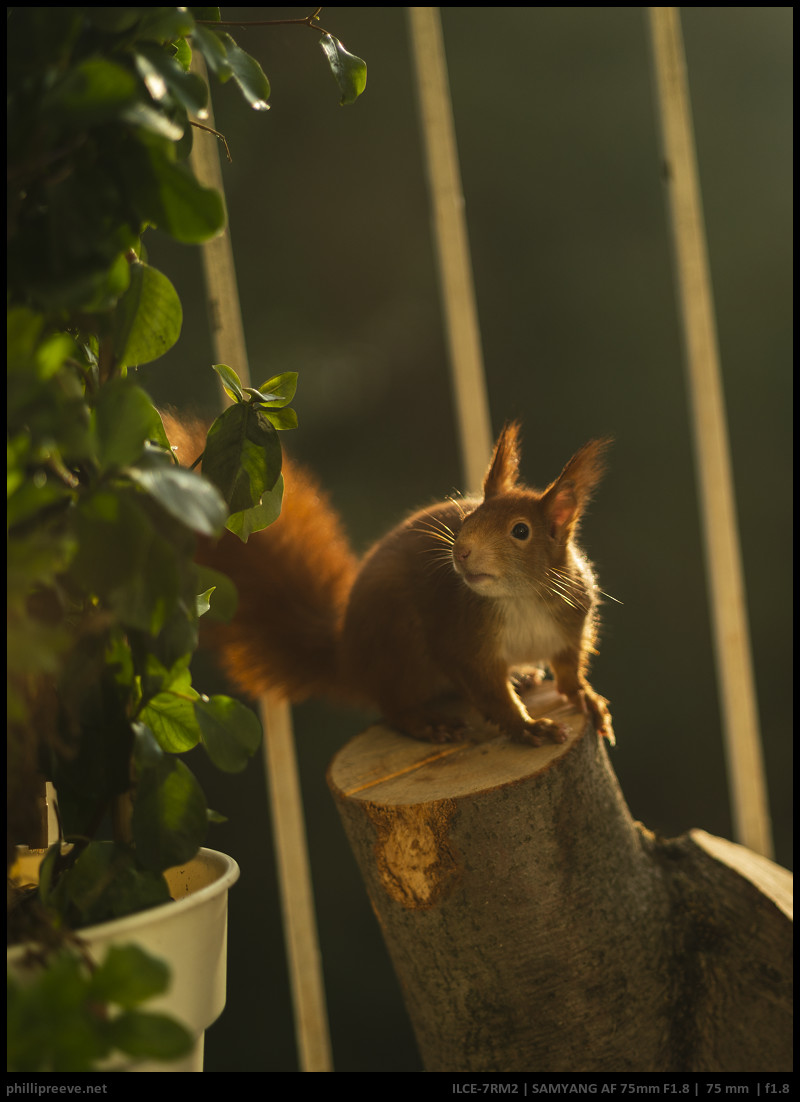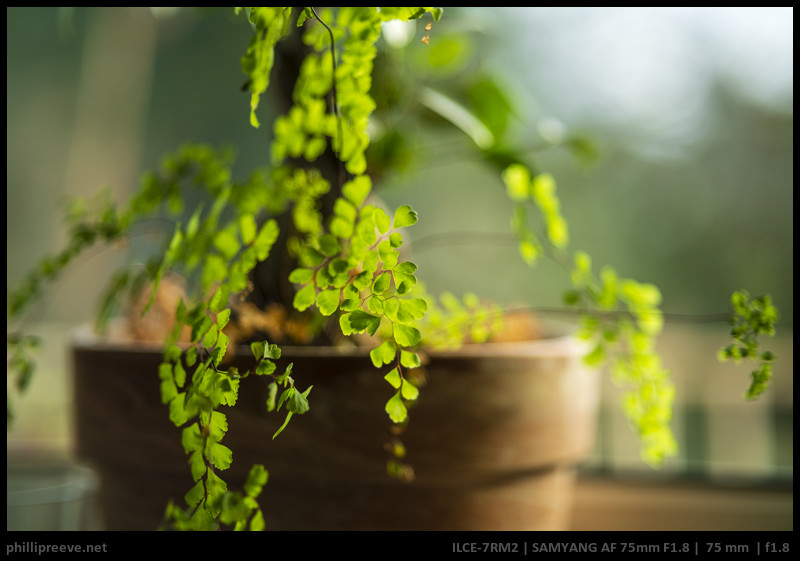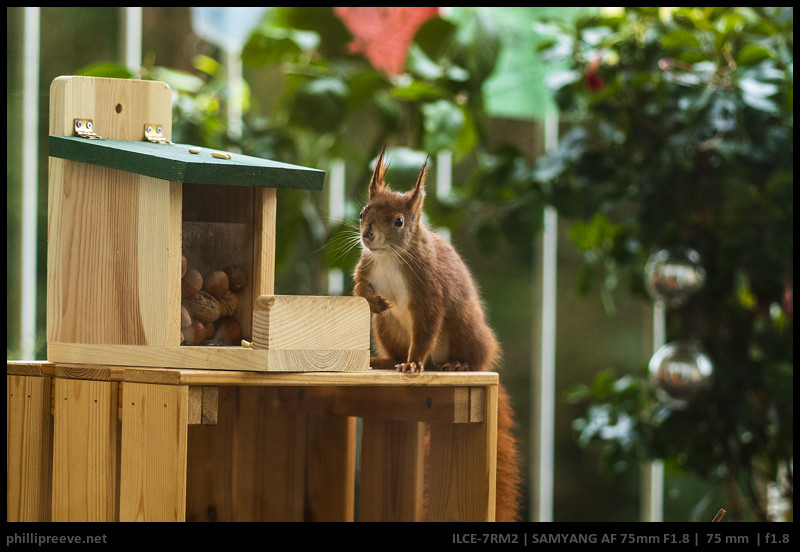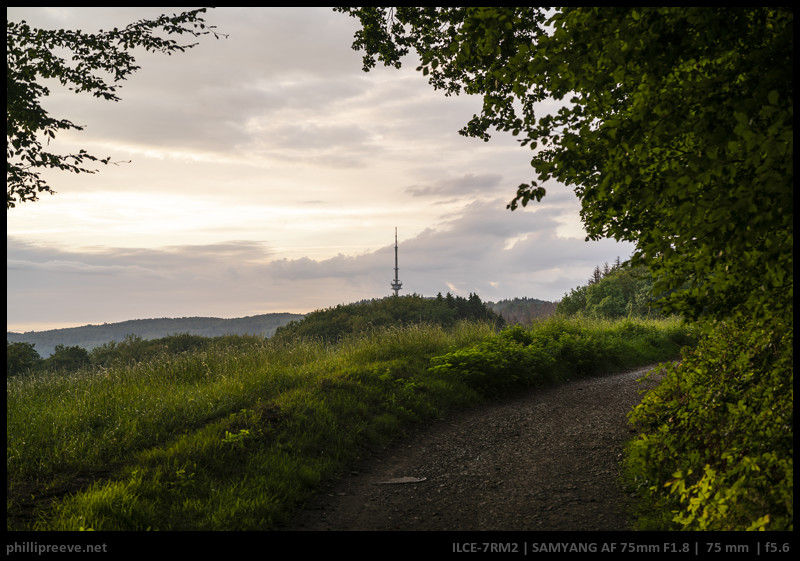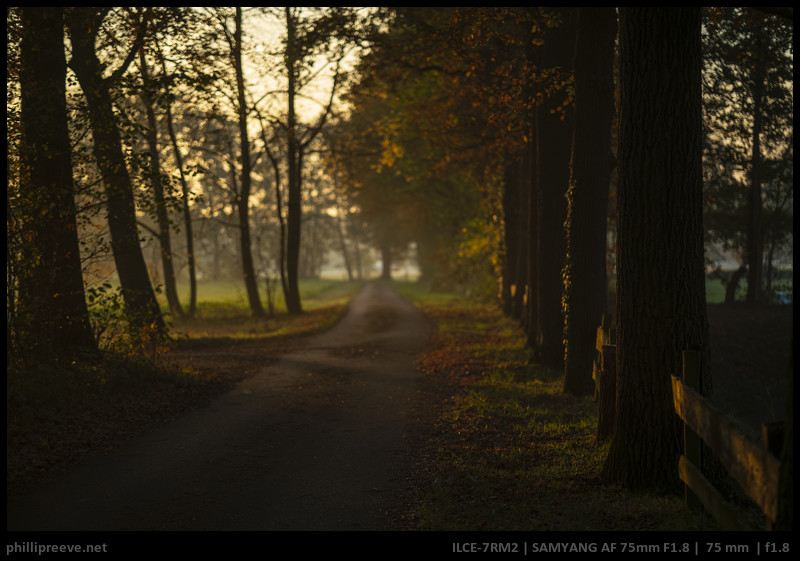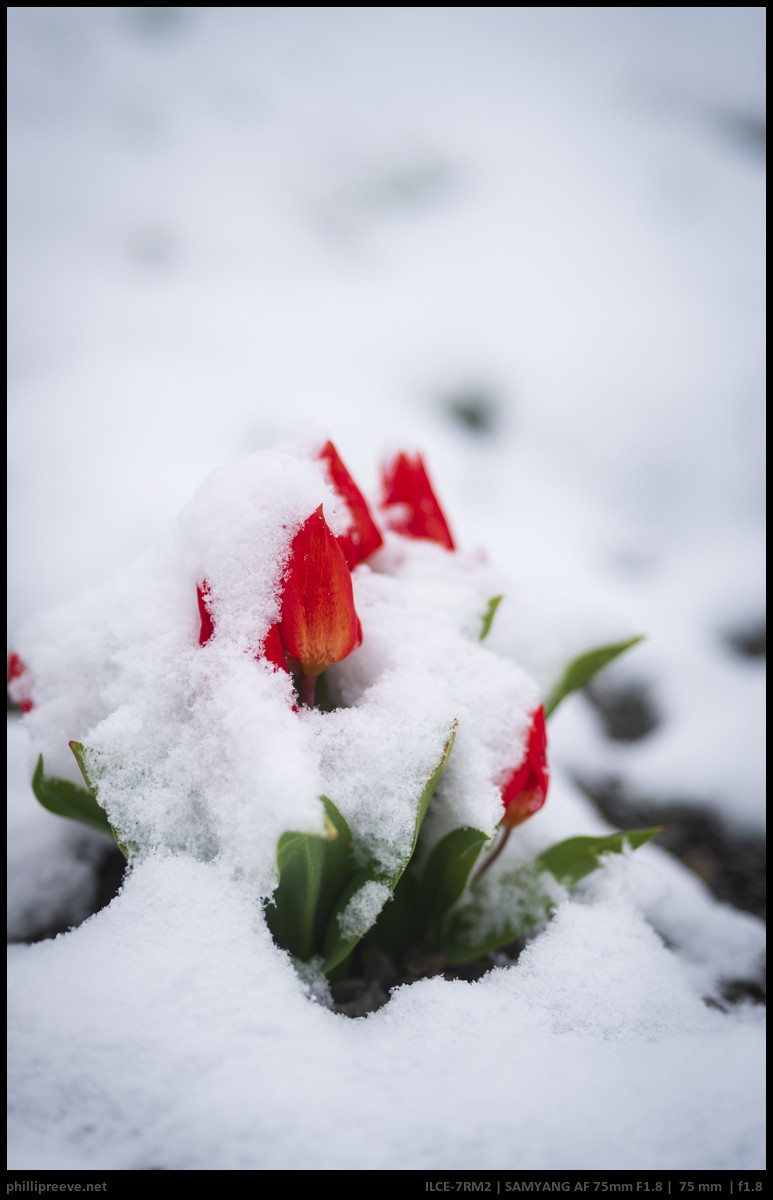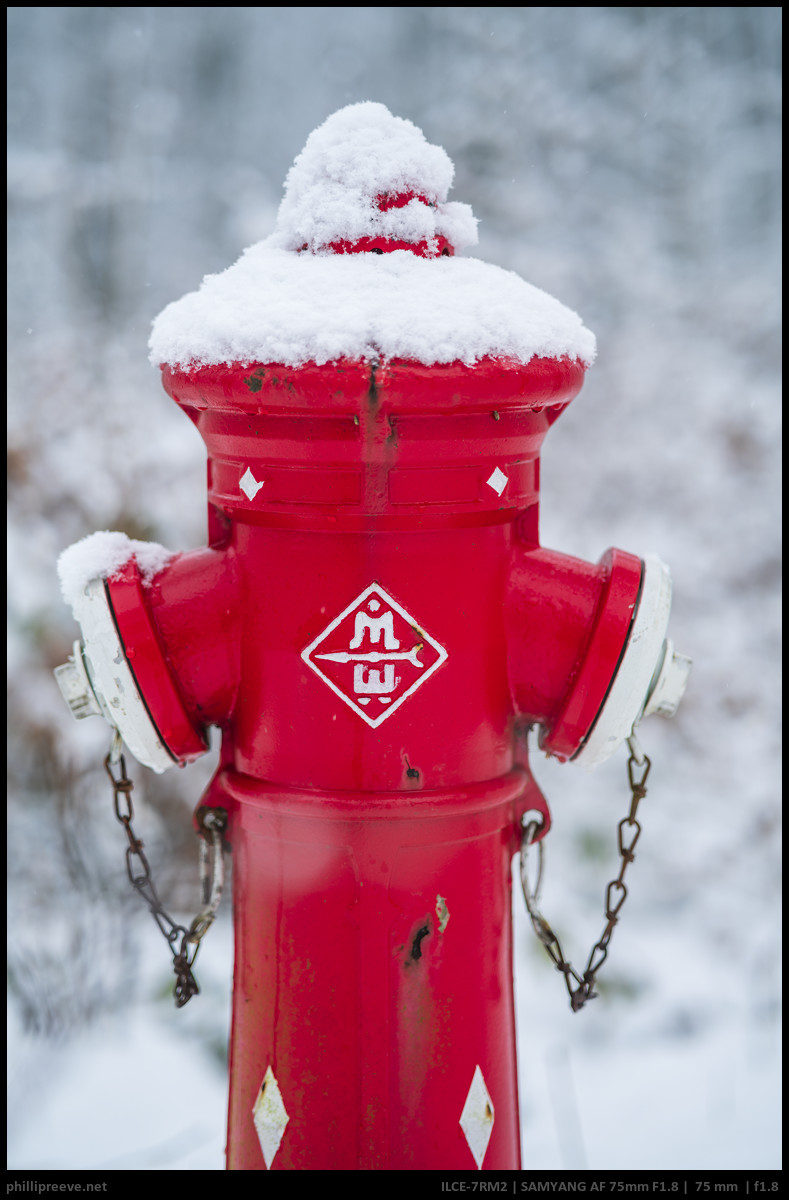 Other articles
The following two tabs change content below.
I have two hobbies: Photography and photographic gear. Both are related only to a small degree.
Latest posts by Phillip Reeve (see all)