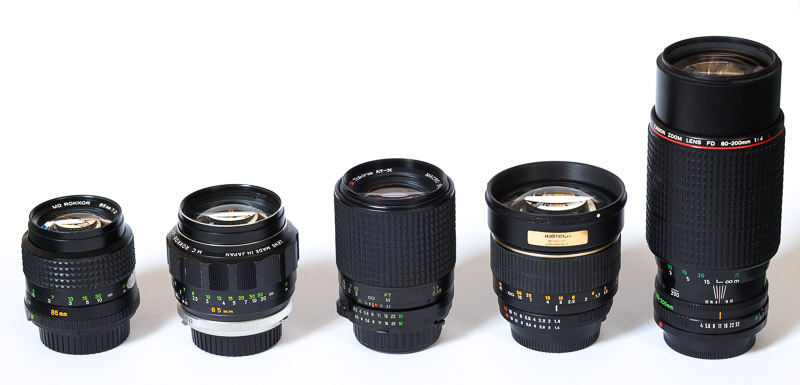 After I published the Minolta List several kind people offered to lent me Minolta lenses so I had a MD 2/85 and MC 1.7/85 plus several of my own lenses and made this test to see where the strengths and weaknesses of each lens are.
All ebay links are affiliate links and it is appreciated if you use them, it helps me to keep this site running.
Bokeh
I also tested foreground bokeh but the differences here were less noticeable The reason might be that my test setup wasn#t very good. You can find  it here.
Sharpness
please click on the images to see them at 100%.
This copy of the MD 2/85 is decentered which invalidates my sharpness test with that lens, at least in the corners.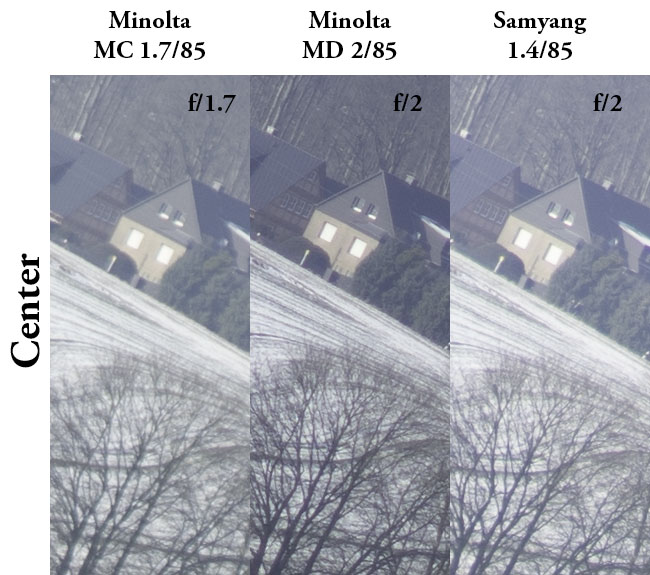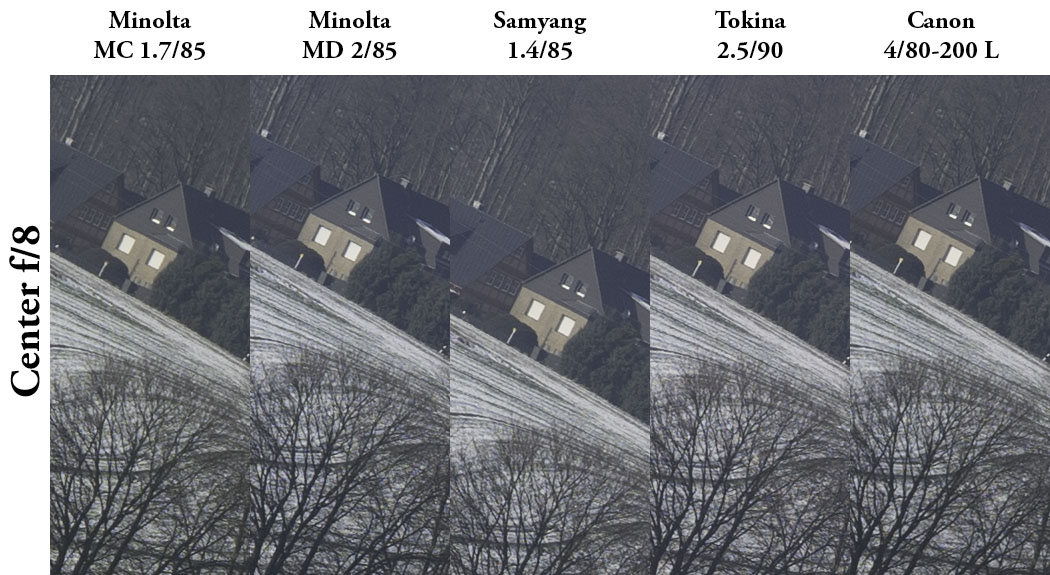 Minolta MC Rokkor 85mm 1:1.7
The lens is built to the highest standards, with a beautifully smooth focusing ring.
At f/1.7 the lens is a bit soft and the lens is outresolved by the 24MP sensor even in the center.  Performance is pretty even across the frame though. Vignetting is quite noticeable and CA is well controlled.
I think the lens is a bit sharper at shorter distances than at infinity.
f/2.8: The softness is mostly gone, contrast and resolution are good in the center and midframe, the corners only improve a little.
f/4: Very good sharpness across most of the frame with good corners. Contrast is noticeably higher than at f/2.8.
f/5.6 and f/8: Very good sharpness across the frame, only the Tokina 2.5/90 is a bit crisper.
Bokeh at f/1.7 is very nice, I think I prefer it over the Samyang even though it is a bit more rough . At f/2.8 you can see hexagonal structures but the are much less defined and better rounded than those of the 2/85.
I think this is a very good portrait lens which is also a capable landscape lens but it is rather heavy and bulky. If I was shooting more portraits I would  consider buying it.
flickr set | full resolution samples | test  | ebay.de
| ebay.com
Minolta MD 85mm 1:2
It is really annoying that the tested copy was decentered because I had high hopes for it because of the test on artaphot.ch.
Even the decentered copy showed  good contrast and resolution  across most of the frame at f/2, noticeably better than the MC 1.7/85 or Samyang 1.4/85. Going by Stephans test a well centered copy should be very sharp across the frame even at f/2.
The lens has busy bokeh at f/2, at f/2.8 it is a bit smoother but the  hexagonal aperture blades are distracting.
The lens is very small and light, not much bigger than you average 1.4/50 lens so it is a great option if you are looking for a small and sharp landscaping lens but I would prefer other lenses for portraits.
flickr set | full resolution samples | test  | ebay.de
| ebay.com
Samyang 85mm 1:1.4
The Samyang delivered a very good performance at f/2 and f/2.8 with the smoothest bokeh and good sharpness but it does not improve as much with stopping down as the other lenses do. So it is great for portraits and good enough for landscapes but other lenses will give sharper results stopped down.
It has 8 rounded aperture blades.
Also to consider is that Samyang lenses are known for their poor reliability and the focusing feel is not as nice as with other lenses because it is a bit uneven and resistance is a bit high. The aperture ring is a bit hard to turn.
I think it is a good buy if you really need the fast aperture, it performs very well at f/1.4 and has super smooth bokeh. Stopped down it lags a bit behind the other lenses.
flickr set | full resolution samples | test  | ebay.de
 | amazon.de | ebay.com
Tokina AT-X Macro 90mm 1:2.5
From f/2.5 the center is excellent, with moderate corner falloff and some PF.
From f/5.6 it is excellent across the frame. Few lenses I know are that sharp across the frame. CA control at longer distances is also the best of all the tested lenses.
I think the bokeh is the best of all the lenses tested here, it shows significantly less fringing than the other lenses. It has gained the nickname Bokina for a reason.
I think it is the best allround lens in this comparison. It is a very capable portrait lens at f/2.5, only the shorter focus throw can be a bit challenging.
Stopped down it is the sharpest lens of all the ones I tested here which is nice for landscapes. Oh and it is also a capable macro lens.
On the downside I would mention the significant weight of more than 500gramms. For my full review click here.
flickr set | full resolution samples | test  | ebay.de
| ebay.com
Canon FD 80-200 1:4 L
I think the Canon shows a remarkable performance for a zoom lens.
From f/4 it is very sharp and contrasty across most of the frame at this focal length. The corners are a bit weaker and not as good as those of the Minolta 1.7/85 but  very similar to the Samyang 85.
I didn't include it in the bokeh test but from experience I can tell you that it performs quite well in this aspect with remarkably little bokeh fringing.
The lens is very versatile, sharp and it has very little bokeh fringing.
flickr set  | test  | ebay.de
| ebay.com
Final Words
Do you think I have missed an important aspect? Just leave me a comment, I am always happy to improve my methods.
The following two tabs change content below.
I have two hobbies: Photography and photographic gear. Both are related only to a small degree.
Latest posts by Phillip Reeve (see all)