Introduction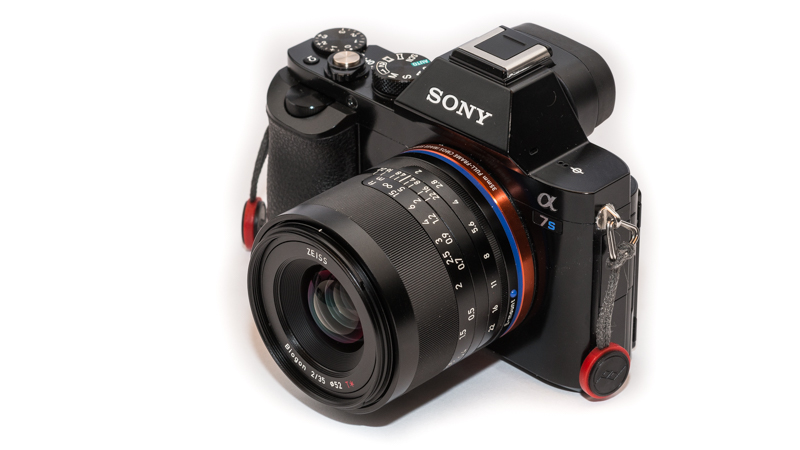 The Zeiss Loxia 35mm 2.0 Biogon is one of Zeiss' manual focus lenses specifially designed for E-mount cameras. The modern design, the aperture "de-click" feature and the transfer of Exif-data sets it apart from adapted lenses. Read on to learn how it fares optically.
Update: conlusion updated (06/05/2016)
Sample Images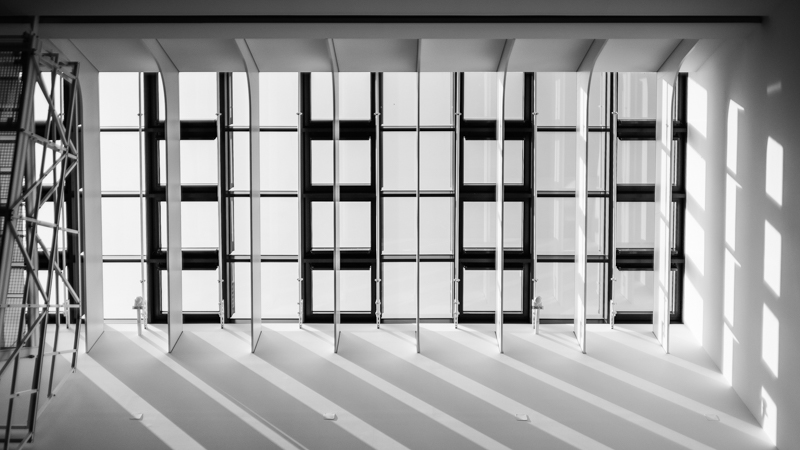 This lens was also featured in my fast 35mm manual focus lenses comparison you might want to have a look at.
Specifications
The Zeiss Loxia 35mm 2.0 has the following specifications:
Diameter: 62.1 mm
Field of view: 63° (diagonally)
Length:  66.0 mm (with caps)
Weight: 340g
Filter Diameter: 52 mm
Number of Aperture Blades: 10 (straight)
Elements/Groups: 9/6
Close Focusing Distance: 0.3 m
Maximum Magnification: 1:5.8
Mount: Sony E
You may also have a look at the official page.
The ZM version has a similar design but has not been optimized for the thick filterstack of the A7 series cameras (see this article). You can take a look at the specifications here on the offical page as well.
The Loxia 35mm 2.0 can be bought for $1300/1150€ at Amazon.com/Amazon.de/B&H/ebay.com
(affiliate links), the Zeiss ZM 35mm 2.0 Biogon is a tad cheaper at $1100/1050€ at Amazon.com
/Amazon.de
(affiliate links)

Disclosure
The Zeiss Loxia 35mm 2.0, alongside the ZM version with Leica-M mount, was kindly provided free of charge by Zeiss Germany for reviewing purpose for a duration of 4 weeks.
Handling / Build Quality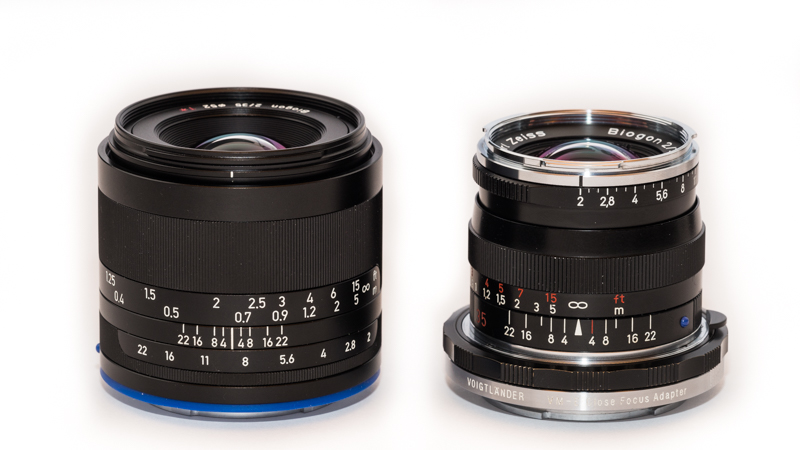 The build quality of the Loxia is very nice and the most part of the lens is made of metal. There is also a blue rubber gasket at the rear of the lens, albeit there is no E-mount camera body with true weather/dust resistance available to date.
The focus ring has just the right resistance and it takes ~180° from infinity to 0.3 m. The aperture ring has third-of-a-stop click-stops and turns about 120° which is a little more than I prefer as it takes quite some time to go from f/2.0 to f/11. One can also "de-click" the aperture ring to make it stepless which I think is mostly interesting for filming purposes.
There are almost no non moving parts to grab to mount or unmount the lens, if this is something that may bother you have a look at the Loxia Lens-Grip from PocketPano.
The included hood is mostly made of metal, but sits not very tight. This may be a problem of this very sample, as I can't assess by how many people this review unit has already been used.
There is also another feature: when turning the focus ring the camera automatically zooms in but to be honest I found this behaviour to be slowing down my shooting (as I prefer to move the box first and then zoom in), so I turned it off in the camera menu.
In the picture above I included the Zeiss ZM T*35 mm 2.0  Biogon  and one can already see how similar the dimensions are and how similar the front lens element looks. Turning the focusing ring from infinity to 0.7 m or the aperture ring from f/2.0 to f/22 both takes about 120° with this M-mount lens.
Vignetting and colorcast
Some of the vignetting is being already corrected within the RAW-files, take a look at our Loxia 21mm 2.8 review, to read more about this. Still, vignetting is better corrected with the Loxia in comparison to the ZM version and about average for a lens with these parameters. I didn't notice any traces of color cast on the edges.
Sharpness
infinity


The sharpness in the center is pretty decent even at f/2.0. The midframe reaches very good resolution at f/4.0 and the corners at f/11. For landscapes and architecture I recommend shooting at f/11. For a modern lens with such a high price tag this is not a very good performance. I included a second shot taken at f/2.0 but this time focused on the corners, to show you the impact of the field curvature: the corner is a little sharper but the center is out of focus now.  I would also like to remind you I am testing with a 12mp A7s here, so the corners may look worse on the 36 or 42mp sensor at 100% magnification.
But I also want to additionally show you a comparison between the Loxia and the ZM version, as the corner performance on the A7 series cameras has indeed been greatly improved here:
comparison 100% crop of corner (A7s, focus on center): Loxia 35mm 2.0@2.0 (before) vs Biogon ZM 35mm 2.0@2.0 (after)
close focus


At the close focus distance and the widest aperture the image is a tad soft (which is the case with many lenses without a floating elements design), from f/2.8 onwards sharpness is excellent.
Flare resistance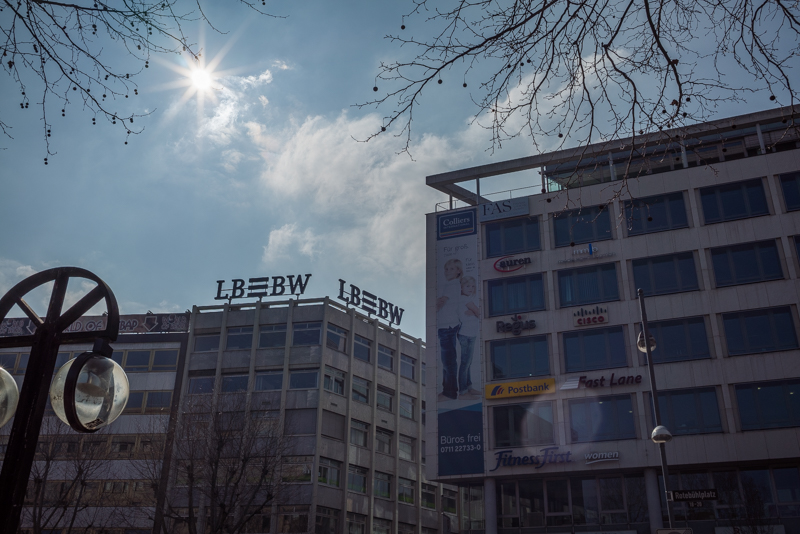 With the sun directly in the frame the photo above is the worst I could produce. Apart from the lens flare there is also some loss of contrast. With the sun outside the frame the hood certainly does a good job, as the following comparison shows:
comparison: no hood (before) vs hood (after)
This is a pretty average performance, better than many older lenses, worse than some of the newer ones.
Coma

The coma correction is pretty bad until stopping down to f/4.0 so I would not recommend using this lens for landscape astrophotography or for nightly cityscapes below f/4.0.
Distortion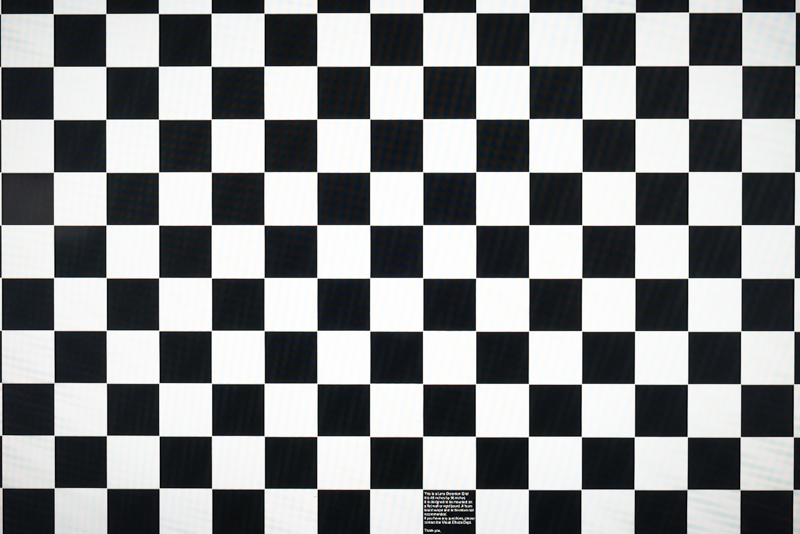 Distortion is actually a non issue with this lens. It also does not seem to be corrected in RAW files, as it simply isn't necessary.
Bokeh
The quality of the bokeh is a mixed bag for me. At close distances (see photo above) the quality is quite good and the cat's eye effect is not too pronounced either, but going further away from the subject, outlinings start to appear and depending on the background it may also look quite busy (see example below).
The outlining is much less pronounced at f/2.8  but keep in mind, because of the straight aperture blades, when stopping down, points of light become 10-sided figures.
Bokeh, f2.0 (before) vs f2.8 (after)

Sunstars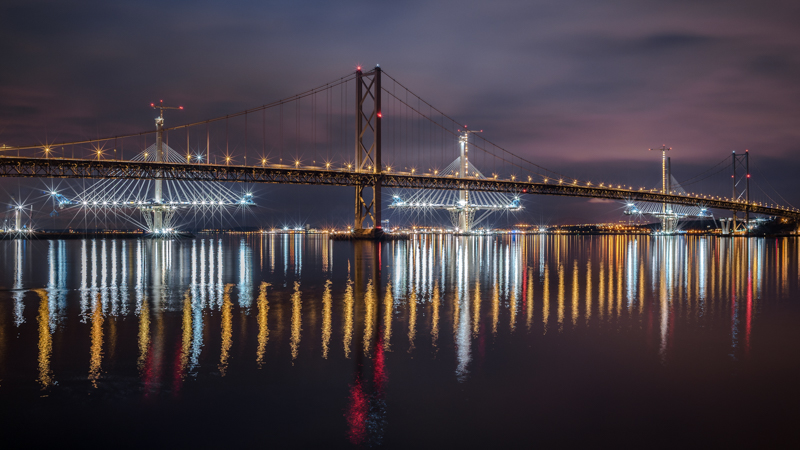 In case you read any of my other reviews you already know I do like 10-pointed sunstars as produced by the 28mm 2.0 Ultron and the 50mm 1.5 Nokton. Luckily all of the Loxias to date also produce these and therefore it was a joy to use this lens for city and nightscapes stopped down.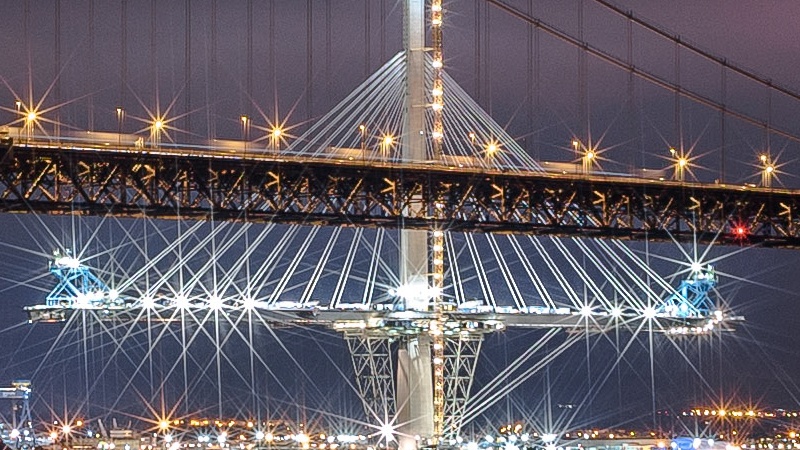 Chromatic aberrations
longitudinal
Depending on the distance between you and your subject the bokeh may show traces of green outlining, apart from that the correction of longitudinal CA is pretty good, as can be seen in the 50% crop above.
lateral
I was really pushing the lens here, but even in the uncorrected image I can hardly spot any CA (this applies to the whole aperture range). This is simply excellent performance here.

Sony A7s | Zeiss Loxia 35 mm 2.0 | f/11 | CA 100% crop before/after extreme corner
Alternatives
Voigtlander Ultron 1.7/35 – I think this is the strongest competitor. It shares the great sunstars and build quality. The bokeh wide open of the Voigtländer has less outlining but much more pronounced cat's eyes. Because of the thick filter stack the Voigtländer has more problems with field curvature but I would stop down both lenses to f/8.0 to f/11 for even sharpness across frame anyway. What you are giving up with the Voigtländer is the option to declick the aperture ring (interesting for filming) and the transfer of Exif data which the Loxia offers, but you also gain a faster maximum aperture and it only costs roughly 2/3rds of the Loxia. .
Sony Zeiss Sonnar 2.8/35 ZA T* FE – Although it may look similar at first sight, this is a completely different lens. It is a little smaller, has autofocus (and a fly-by-wire focusing ring), only 7 aperture blades, distortion is a little higher and because of the incorporation of aspherical elements the bokeh can show onion rings. This lens is not for me, but in case you rely on autofocus this is your cheapest 35 mm option for the A7 cameras right now (albeit I think it is pretty expensive for what it offers).
Sony Zeiss Distagon 1.4/35 ZA T* FE – I haven't laid my hands on one of these yet and I'm not particulary keen on changing that, as I see no point in using these large and heavy lenses on A7 cameras, although I expect much better edge-to-edge sharpness at smaller apertures and better coma correction.
Older manual 35 mm lenses – There are simply too much options here to cover them all but you may start taking a look at our Canon FD 35 mm comparison in case you are looking for a cheaper option.
Conclusion
good

very good center sharpness and contrast already at f/2.0

build quality and handling

correction of longitudinal and lateral CA

distortion


sunstars

average
not good

soft corners at wider apertures (field curvature)

coma correction (below f/4.0)


price
When comparing the Loxia 35mm 2.0 Biogon E directly to the Zeiss ZM T* 35mm 2.0 Biogon there are many similarities: bokeh is pretty much the same as are contrast and sharpness in the center of the frame. The bokeh can be distracting at certain distances and is only smooth near the minimum focus distance and shows some minor outlining at f/2.0 towards the edges. But bokeh is also a very subjective thing, so take a look at the examples and decided for yourself.

The differences appear when taking a look at the corners of the frame: the ZM never gets really sharp in the corners, a problem it shares with many older Biogon designs on the a7 series (the Contax G 21mm and 28mm 2.8 come to mind here), whereas the Loxia has pretty even sharpness across the frame at f/11. Unfortunately the lenses do share some negative aspects as well: the coma is pretty bad until f/4.0 and albeit the consideration of the thick filter stack in the optical formula there is still some field curvature left and so until f/8.0 the extreme corners at infinity don't look particularly good. The build quality on the other hand is top notch and rarely leaves something to be desired.
I really admire the boldness of Zeiss to release a line of manual focus lenses in a time where most people are merely talking about eye-autofocus, image stabilisation, fine tuning focus with USB docks and all the other bells and whistles found in some modern lenses. Keeping the same (small) filter diameter for the whole lineup is also something I really like. In case you read any of my other reviews on this blog you already know I don't like fly by wire focus and I don't care for mediocre corner performance at wider apertures in case a lens has nice bokeh at maximum aperture and is sharp across the whole frame at f/11 and produces nice sunstars which are all boxes that can be ticked here.
But there is one problem I see here: this is a native E-mount lens, it carries the Zeiss brand name and a very high price tag so I would have expected better corner performance at wider apertures and better coma correction. Especially because of the fact that the Zeiss Loxia 21mm 2.8 and the two Batis lenses are such great performers.  Another problem is the strong competition, there are no less than three native 35mm E-mount prime lenses (which all carry a Zeiss tag by the way) you can buy today, alongside a huge number of manual lenses which can be adapted (see the Alternatives section).
Designing a lens always means to compromise and when taking a look at the heritage of this lens – which lies in the film era – you see that the emphasis has shifted from aspects such as low distortion and low lateral chromatic aberrations (which can nowadays easily be corrected in post) towards better corner sharpness and coma correction at wider apertures in completely new designs (I think of the 21 mm 2.8 Loxia or the Sony FE 28 mm 2.0 here for example).
So, who is this lens for? Anyone, who looks for a small yet native 35 mm E-mount lens with great build quality and transfer of Exif information or who is primarily filming and can therefore make use of the "de-click" function of the aperture ring. In case you are looking for great across the frame sharpness at wider apertures or you are planning on using a 35 mm for astro landscape photography this is probably not the right lens for you. I have to admit though, stopped down contrast and sharpness are great, as are the sunstars and this lens yielded me some very nice images within the rather short period of time I had the chance to use it, but personally I think it is overpriced for what if offers.
Update 06/05/16:
Despite some of the technical shortcomings I have bought this lens myself now. In retrospective the photos I have taken with this lens have something about them I really like, I think it is best described as a very punchy micro contrast. Take into account most of my photos are taken stopped down, this was indeed the best (small) 35mm lens for my needs.
The Loxia 35mm 2.0 can be bought for $1300/1150€ at Amazon.com/Amazon.de/B&H/ebay.com
(affiliate links), the Zeiss ZM 35mm 2.0 Biogon is a tad cheaper at $1100/1050€ at Amazon.com
/Amazon.de
(affiliate links)
Sample Images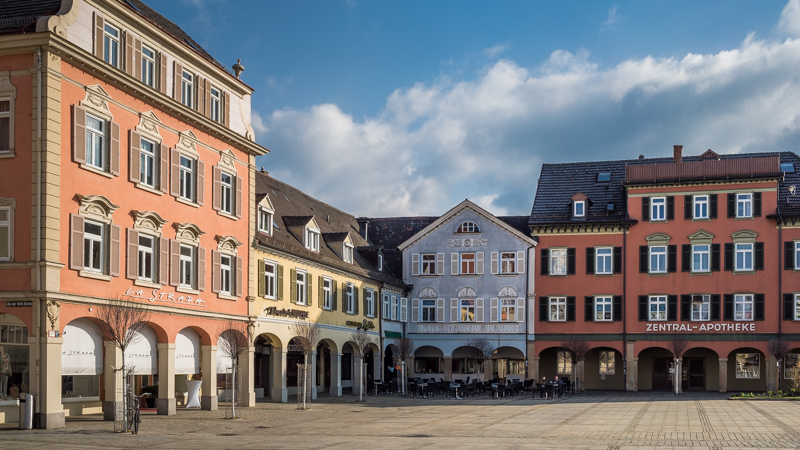 I have set up a flickr album which contains some shots taken with the Zeiss Loxia 35mm 2.0.
Support Us
Did you find this article useful or just liked reading it? Treat us to a coffee!


via Paypal
The following two tabs change content below.
My name is Bastian and I am your expert here when it comes to ultra wide angle lenses, super fast portrait lenses (ranging from a 50mm f/0.95 to a 200mm f/1.8) and I also have reviewed way too many 35mm lenses. Don't ask me anything about macro or wildlife shooting though.