In this review I have a look at this popular manual macro lens from the 80's and test whether it can defend it's reputation as one of the best macro lenses ever in the digital age.
Introduction
The Tokina AT-X 90mm 1:2.5 Macro is a manual focus lens, with a maximal magnification of 1:2. It is well know for it's supposedly great bokeh, it was even nicknamed Bokina because of this.
It was produced in any major mount like Canon FD, Nikon F etc., my copy has a Minolta SR mount.
Their wide range of applications make macro lenses in the 100mm range quite popular, so I will show you in this review if the Tokina AT-X Macro 90 mm 1:2.5 could be a good option for you.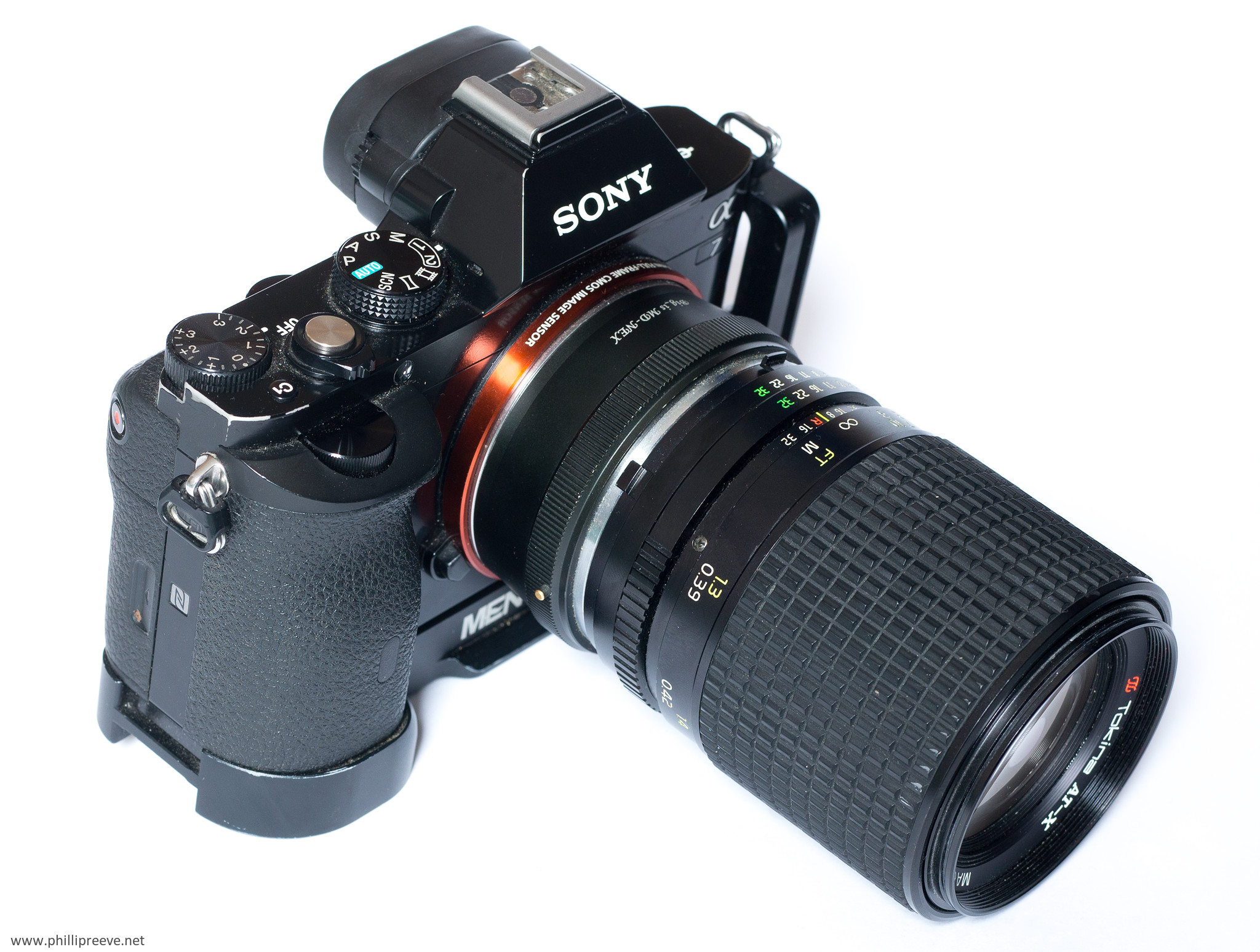 Specifications
Size: (diameter x length):
Filter Thread: 55mm
Weight: 530g
Max. Magnification :  1:2
Close Focusing Distance (from the sensor/from the front of the lens): 38cm /22cm
Number of aperture blades: 8
Elements/ Groups: 8/7
Price:  (Germany August 2014): 150-250€ in Canon FD or Minolta SR mount, up to 400€ in other mounts
 Image Samples in low resolution
You can find many more samples in this flickr set.
Versions
I only know of one version, but the Vivitar 2.5/90 which is older shares the same optical formula but it is a bit bigger and heavier and it has less effective coatings which make it more prone to flares.
Build quality and handling
The housing is completely made of high quality metals with a rubberized focus ring.
The focus ring turns nice an smoothly, I find it easy to focus at all distances (unlike for example the Minolta MD 4/100). It turns in the wrong eh … I mean the Nikon way.
From 39cm to 1m the focusing ring travels about 260 degrees and it takes a further 60 degrees to reach infinity which is good enough for portraits but dedicated portrait lenses have a longer focus throw making it a bit easier to take portraits with them.
The lens is pretty heavy for it's size and I prefer to use it on my a7 with a L-bracket attached.
The aperture ring which is made of metal can be adjusted in half-stops from f/4 to f/32, there is no stop between f/2.5 and f/4.
Macro Extender 
There is a dedicated 1:1 Macro Adapter for this lens which is not simply a spacer but it contains several glass elements for better correction.
Since I don't own one I can't tell you anything about it, it would be interesting to see weather it gives a noticeably better performance  than a cheap 45mm spacer.
Optical performance
These results are based on the use with a Sony Alpha 7.
Vignetting
Vignetting at f/2.5 can be visible under critical circumstances and it is basically gone from f/4.
Distortion
As with almost any macro lens this one is very well corrected for distortion.
Flare Resistance
Strong light sources will especially at the corners of the frame will reduce the contrast noticeably but there won't be any flares.
Bokeh
So far I haven't seen anything but great bokeh from this, see all those examples.
Here is a test image showing great fore- and background performance at f/2.5
There is one issue though and that is a saw-tooth shaped aperture at f/4.
Chromatic Aberrations
The lens can, under certain circumstances, produce significant amounts of purple fringing at f/2.5, stopping down to f/4 reduces it to barely noticeable levels and from f/5.6 onward it is gone.
Sharpness
In short: The lens performs great at any distance
f/2.5
The center is already excellent wide open.
Midframe sharpness is good to very good.
The corners are a little soft
f/4 – f/8
Lens shows excellent sharpness from corner to corner, there is a teeny tiny improvement in the corners when you stop down from f/4 to f/5.6
If you use the lens at it's close focusing distance you will notice a drop in sharpness at f/8 because the effective aperture at this distance is closer to f/11 and diffraction kicks in.
f/11
Sharpness is reduced a little because of diffraction
Links
Compatibility
This lens comes in many different mounts and compatibility differs between mounts.
If you want to use this lens on a mirrorless camera you should choose Minolta SR or Canon FD because they are cheaper.
If you want to use it on a Canon DSLR you will have to buy a copy with Nikon's F, Contax/Yashica or Olympus OM mount because there are adapters for these mounts which will allow you to retain infinity focus.
Alternatives
There are many Macro lenses to choose from. In the 90-105mm range their widest aperture ranges from f/2 to f/4 and
If you want a cheaper lens which does 1:1 natively you could look for a Panagor/Vivitar 2.8/90. Their performance at f/2.8 won't be as good but tey are cheaper and stopped down the differences will be small.
If you want a faster lens your only options are the Olympus Om Zuiko 90mm f/2.0 Macro
(around 700€ used) or the Zeiss Makro-Planar 2/100
 (around 1000€ used, $1700 new). But are great performers but both display significant amounts of color fringing in out-of-focus areas.
Almost any major camera company had a 4/100 macro lens with a maximal reproduction ratio of 1:2. From first hand experience I know the Minolta MD 4/100 which I used before I got the Bokina. Optically it is a good and it is lighter. But the focusing ring is too stiff for my liking and the trow at non-macro distances too short.
Then there is the Leica Apo-Macro-Elmarit-R 1:2,8/100
 for around 1200€ used which is better corrected for color fringing in out-of-focus areas. The same can be said about the Voigtländer APO Macro 2.5/125 which is even more expensive but it does 1:1 without a spacer. For a discussion of the last three lenses see this thread on fredmiranda.com.
Then there are many modern lenses, Canikon both have a stabilized 2.8/100 macro  and as do Tamron and Sigma. The Sigma 2.8/105 OS ist the most interesting in my opinion because when paired with the Sony LA-EA4 will give you great optical performance plus AF and image stabilization.
I think the Tokina is one of the most attractive options because it offers great performance, is fully manual and fast enough to also be used as a portrait lens.
Conclusion
I think of the many lenses I own this lens has impressed me the most and it is my most used lens.
Apart from 3 minor deficits (sawtooth at f/4, purple fringing and average backlight performance) it performs excellent: It is sharp as a razor and the bokeh is excellent.
What I also like a lot is the versatility, I can use it as a macro lens, as a portrait lens and also for landscapes. So when I choose my lenses for the day I usually bring the Bokina with me.
If you are interested in the lens you can support me by using these affiliate links to see if there are any on ebay.com or ebay.de right now. It is appreciated 😉
Images Samples in high resolution
See this flickr set for a few more full resolution images.

it doesn't get any sharper than this
very nice bokeh at longer distances

low levels of color fringing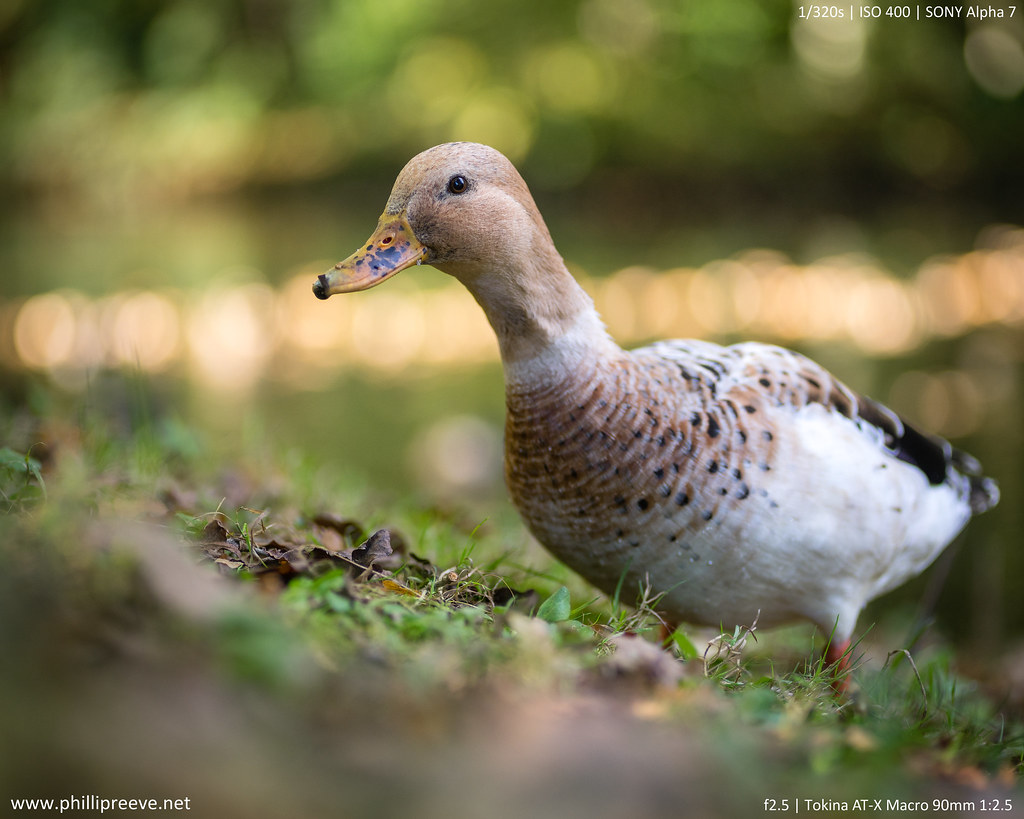 obligatory duck shot
great infinity performance 

at greater reproduction ratios the performance it still very good
Further Reading
If you are interested in manual lenses you might want to check out my Minolta MC 1.2/58 or Canon FD 4/300 L review.
My Novoflex Adapter review might be interesting to you as well.
Finally the How I create Images – Part 2: Working with the Sony a7 is quite popular.
The following two tabs change content below.
I have two hobbies: Photography and photographic gear. Both are related only to a small degree.
Latest posts by Phillip Reeve (see all)