Introduction
I do own a macro lens (Sigma 150mm 2.8) that I use for most of my product shots on this blog, but I rarely take it out for shooting as it is quite bulky and heavy. Nevertheless I like to take a close up shot from time to time so I decided to try out the Kenko and Fotodiox Pro extension tubes, to turn my Loxia 85mm 2.4 into a macro lens.
Sample Images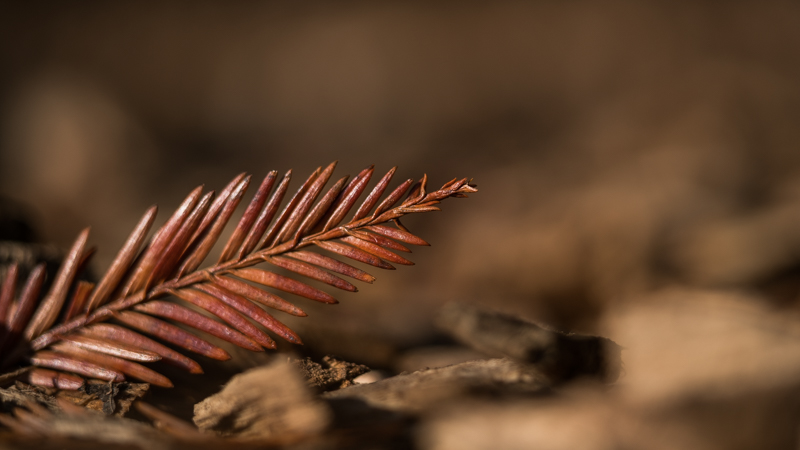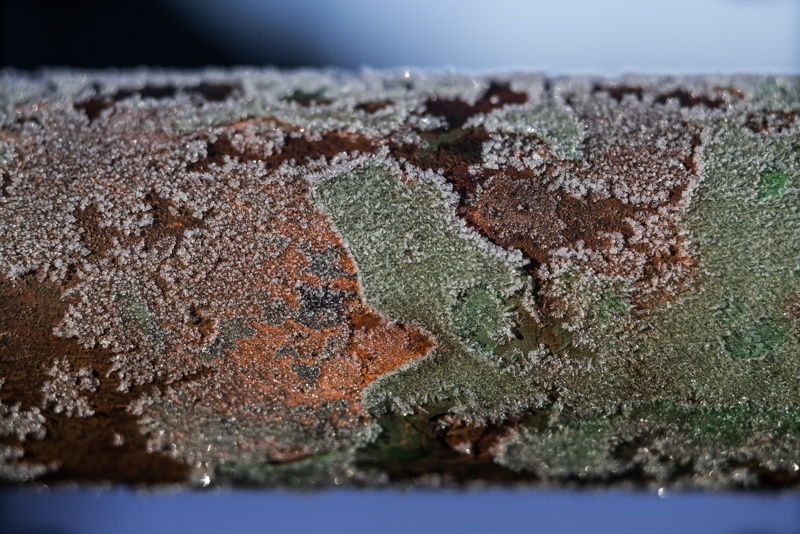 Specifications
Kenko
Weight: 42+64 g
Length: 10+16 mm
Material: metal
Price: 120$/170€ on Amazon.com/B&H/Amazon.de (affiliate links)
Fotodiox Pro
Weight: 25+29 g
Length: 10+16 mm
Material: aluminium
Price: 45$/45€ on Amazon.com/B&H/Amazon.de (affiliate links)
Handling / Build Quality
The Kenko extension tubes feature some felt inside to increase resistance against internal reflections, the Fotodiox tubes are only painted black:

Before: Kenko / After: Fotodiox Pro
The Fotodiox tubes feel very light by comparison, but still rigid enough and actually they have a tigher fit than the Kenko tubes. If you use both Kenko tubes at the same time there is significant radial play in the whole package which did really annoy me. The Fotodiox tubes don't share this issue.
The release buttons are also quite different, as can be seen in this picture: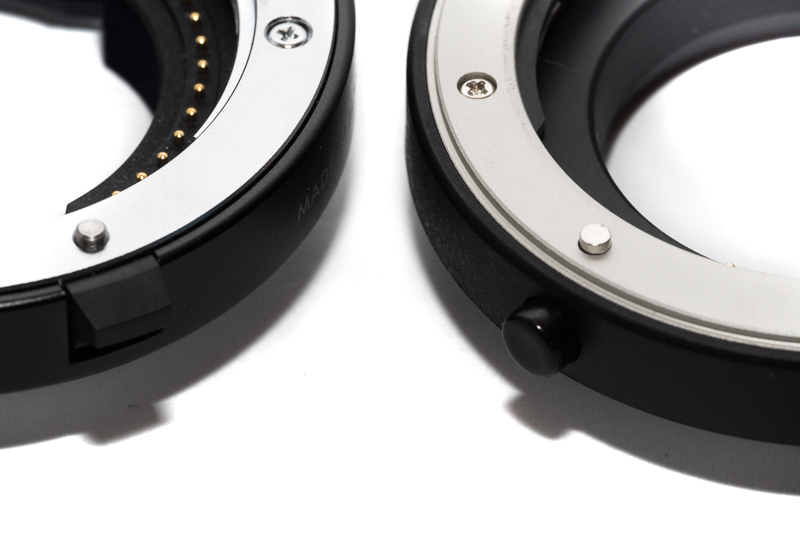 From the outer appearance I prefer the Kenko tubes. The paint job on the Fotodiox tubes is rather sloppy: the writings are not aligned to each other and some of the red paint got spilled as it seems.
How close can you get?
Extension tubes have a higher impact on lenses with shorter focal lengths but the minimum focus distance might be reduced so much on ultrawide lenses, that the lens will shade your subject.
I prepared this table to give you an impression what to expect:
| | | no tube | 10mm tube | 16mm tube | 10+16mm tubes |
| --- | --- | --- | --- | --- | --- |
| | MFD | max. magnification | max. magnification | max. magnification | max. magnification |
| Zeiss Loxia 21mm 2.8 | 25 cm | 1:7.8 | 1:1.7 | 1:1.1 | lens obstructs image |
| Voigtlander VM 35mm 1.7 | 50 cm | 1:10.5 | 1:2.5 | 1:1.8 | 1:1.2 |
| Voigtlander VM 50mm 1.5 | 70 cm | 1:10.8 | 1:3.5 | 1:2.4 | 1:1.7 |
| Zeiss Loxia 85mm 2.4 | 80 cm | 1:8 | 1:3.7 | 1:2.9 | 1:2.1 |
| Voigtlander SL 180mm 4.0 APO-Lanthar | 120 cm | 1:4 | 1:3.3 | 1:2.9 | 1:2.5 |
Quality of the anti reflection measures
As already written above only the Kenko tubes feature some felt on the inside to counter reflections, but does it really make a difference? This depends on the lens in use and where point light sources are situated in the frame.
In this scene the differences are negligible:
Before: Kenko / After: Fotodiox Pro
But with the point light source just barely outside the frame the problems with the Fotodiox Pro tube start to appear:
Before: Kenko / After: Fotodiox Pro
This is the same shot without any extension tubes for your reference: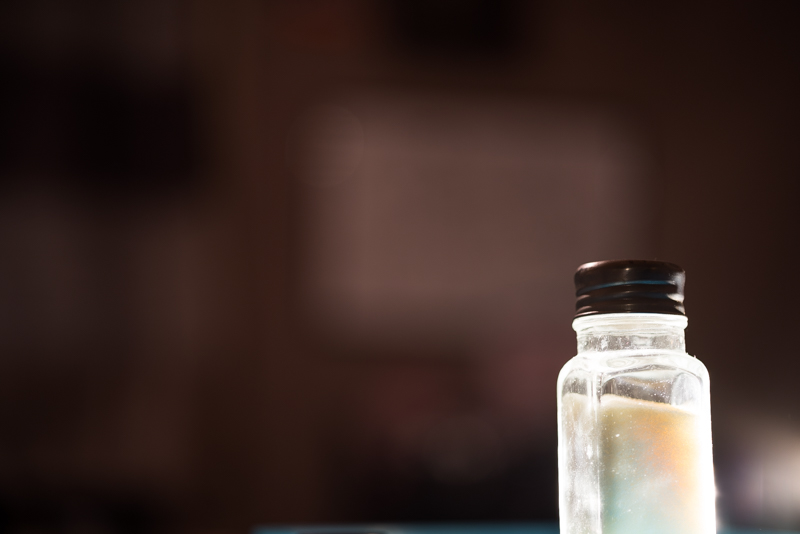 So the felt really can make a difference. To my knowledge the Kenko tubes are the only ones that feature it from factory.
Alternatives
There are many cheaper extension tubes available, but I already lost some of my money by trying to get to work cheap extension tubes with my Nikon DSLRs, so I leapfrogged that step in E-mount land.
As far as I know I tried the two most sophisticated (or expensive) E-mount extension tubes (Sidenote: from the moment I bought the Fotodiox tubes until now the price dropped by almost 50%!) and even they have some issues, for serious work I can only recommend not wasting any time and money with the cheaper tubes.
Conclusion
I am not really happy with either of the tubes I tested. Thing is, I actually need them, so I tried to pick the lesser of two evils. Glare and flare because of internal reflections really put me off and I am not exactly in the mood of trying to flock the tubes myself (if you are check out this article), so the Fotodiox tubes weren't an option anymore after the comparison.
The radial play in the Kenko tubes is absoluetely ridiculous considering the high price tag and some lenses sit rather tight while others don't.
I nevertheless picked the Kenko tubes for myself, as they offered better image quality in the end, but there is certainly room for improvement.
Sample Images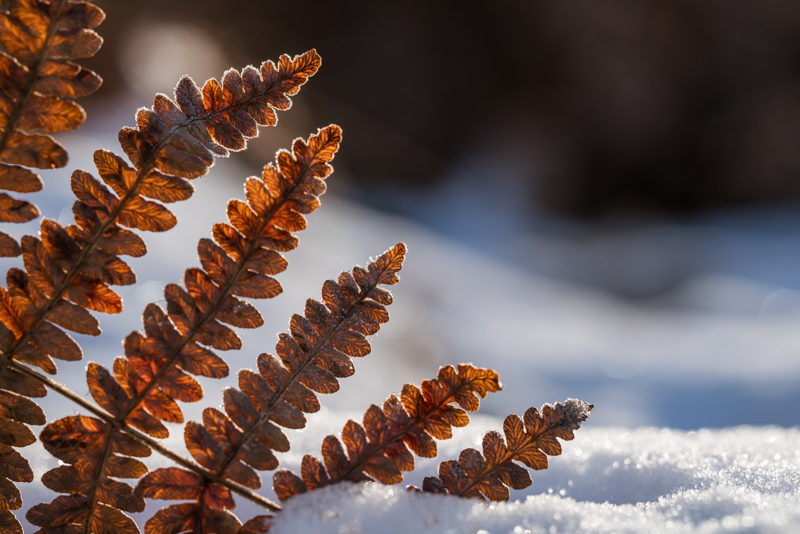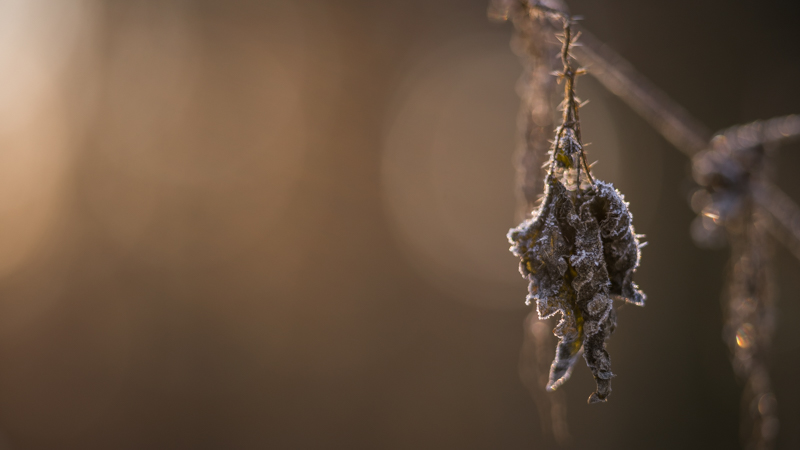 Further Reading
Support Us
Did you find this article useful or just liked reading it? Treat us to a coffee!


via Paypal
The following two tabs change content below.
My name is Bastian and I am your expert here when it comes to ultra wide angle lenses, super fast portrait lenses (ranging from a 50mm f/0.95 to a 200mm f/1.8) and I also have reviewed way too many 35mm lenses. Don't ask me anything about macro or wildlife shooting though.