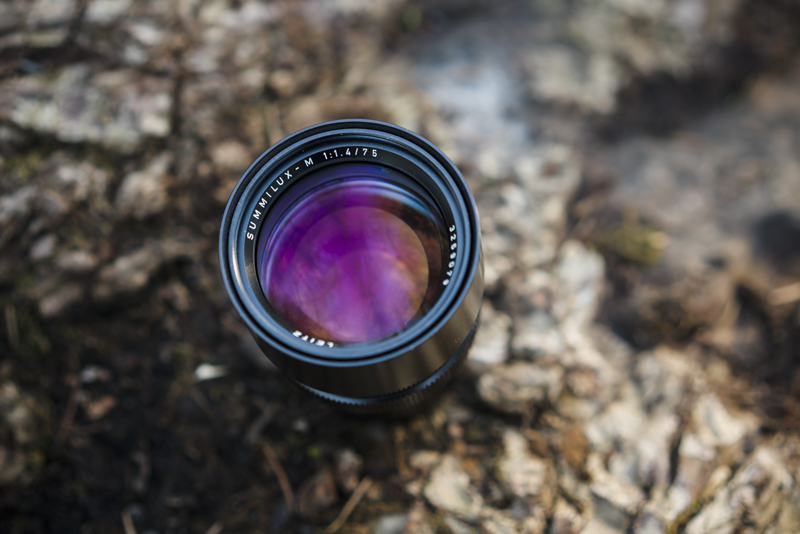 The Leica 75 Summilux (75 Lux) is legendary. It's a compact, fast, short telephoto rangefinder lens designed for portrait and shallow depth-of-field photography. Prices and praise for the 75 Lux haven't lessened over the years, and it's said to be one of Walter Mandler's favorites works. You'll be hard pressed to find a clean copy for under 3.5k. Let's dig deeper.
Click here to see all 75 Lux review photos and others at larger resolution on my flickr album.
Note 1: Throughout the review, FE or Sony 85 means the 85 f1.8, GM 85 refers to the GM 85 f1.4, and the Samyang is the manual focus version unless specified.
Note 2:  For a more extensive look at the finer distinctions between the 75 and 80 Summilux, read this.
Specifications
| | |
| --- | --- |
| Focal Length: | 75mm |
| F-stop: | 1.4-16 |
| Weight: | 600g |
| Aperture Blades: | 10 (unrounded) |
| Hood: | Permanent (retractable) |
| Mount: | Leica M |
| Internal focus: | No |
| Filter Size: | 60mm |
| MFD: | 0.8 (will focus closer) |
| Environmental Sealing: | None |
| Years Produced: | 1980-2007 |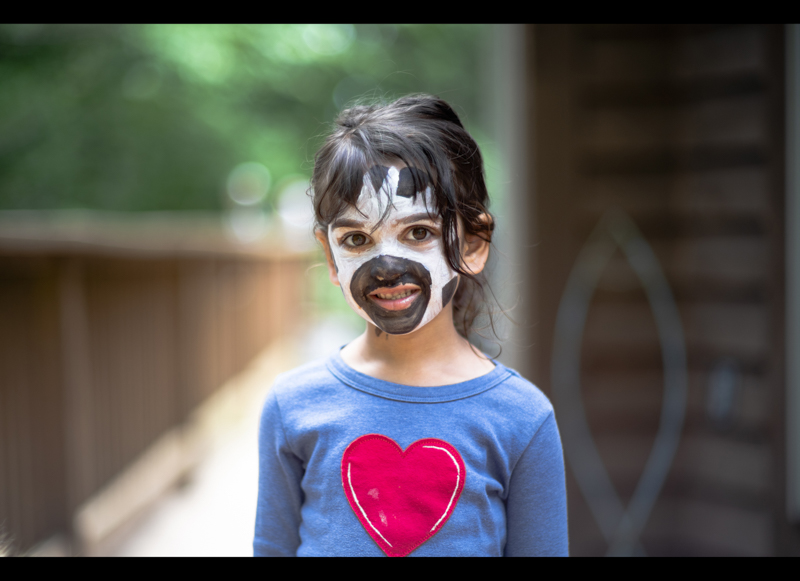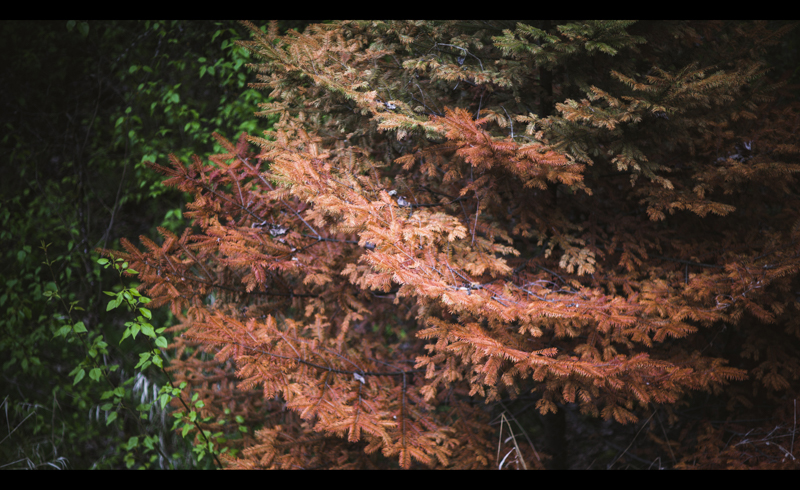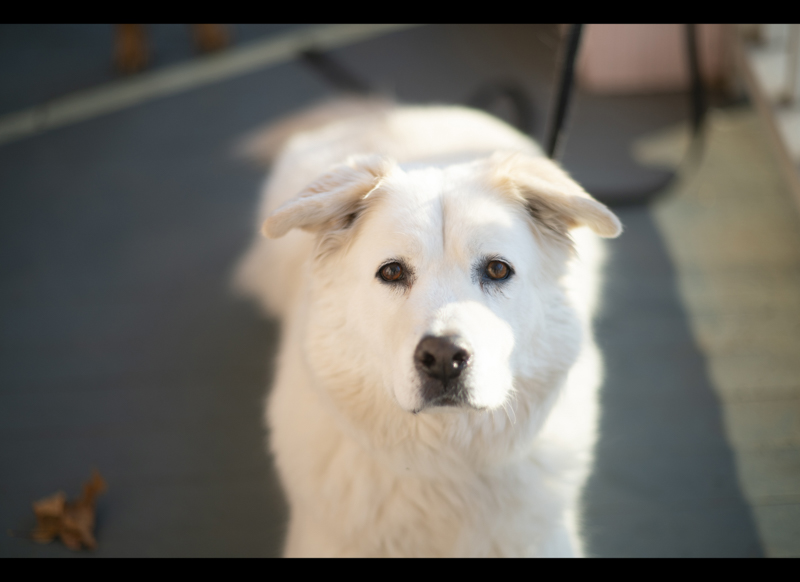 History
You can read more about the somewhat complicated and extended production run (and other intricacies) at this link. The 75 Lux has been out of production for 12 years, and was originally released in 1980. Recently, it has been succeeded by the Leica 75mm f1.25 Noctilux. While there is talk of differences in image quality between 75 Lux production runs, I have seen/know of no official documentation that confirms optical alterations. Given the long production run, it's very possible there were coating tweaks resulting in slightly different levels of contrast, fringing and flare.  The 75 Lux has 3 versions and 1 variant:
Version 1

was produced in Canada, and is distinguished by its smaller size, lighter weight (490g), longer MFD (1 meter) and removable hood. 

Version 2

was produced in Canada, weighs 600 grams, focuses closer than the stated 0.8m (MFD) and features a retractable hood. This is the most common copy, and the one being reviewed.

Version 3

was produced in Germany, looks identical to version 2 but is 40 grahams lighter.

 

MFD and hood are identical to version 2. Version 3 commands a slight premium over the earlier versions.
The lens was also produced in the sister SLR mount, Leica R.

 

This version is called the Summilux R 80mm f1.4. It's predictably larger but less expensive, and offers the same desired rendering signature with an identical opitical formula, though I found my two copies to be slightly less corrected than my 75 Lux. I have confirmed this anecdotally with others who have shot both the 75 and 80 Lux, but have not seen any systematic testing.
Build Quality/Handing
Typical Leica, the 75 Lux is built superbly. The lens is compact but hefty in hand. The focus ring is well-dampened, traveling 180 degrees from infinite to MFD. The aperture ring distinctly rests at half stops. Being a manual focus lens, we get hard stops at MFD and infinite. The hood on my copy has remained tight, and does not creep or extend when it shouldn't. The lens extends about 1.5 inches when focusing to infinite. The 75 Lux is not environmentally sealed in any way. There is focus shift, but with mirrorless cameras you won't have this issue. In short, it's about perfect in terms of build and handling.  
The lens balances well on the a7r2 and a7r3, but I found it a bit front heavy on the original a7 series.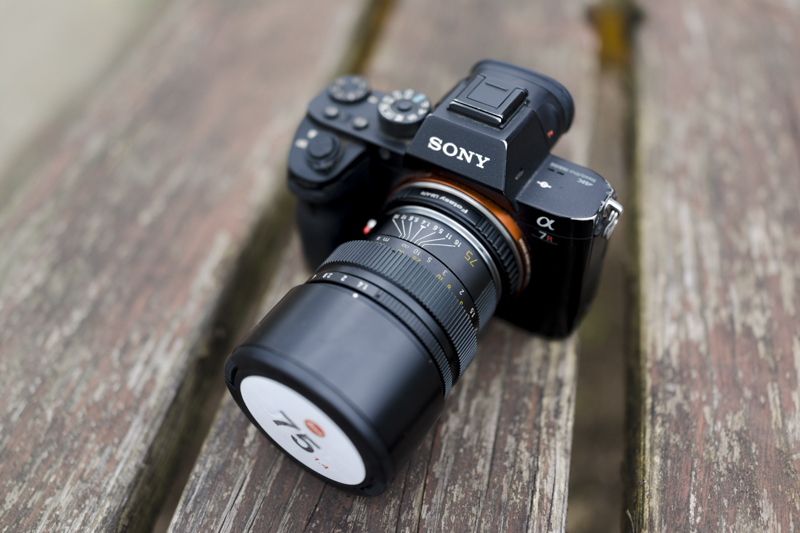 Here is a size comparison with FE 85 1.8.  While they are similar in size, the FE is bulkier but lighter. The Lux also isn't adapter or extended.
Focusing
AF: No autofocus on this lens. 
MF: I would rank this lens as about average to focus precisely. In actual use, the ability to focus accurately and somewhat quickly is extremely important. I can get some shimmering pixels on my A7r2 wide open. I found it even easier to focus on my a7s and much easier on my A73.  Using magnification, the lens is a breeze. I don't use focus peaking as its too inaccurate for critical focus. The focus throw is not overly long at working distance. The focusing experience for general use and portrait shooting is quite pleasant. 
Resolution
Infinity

f1.4: Sharp centrally, but spherical aberrations blanket everything.  Only the central third of the frame is sharp.
f2: Significant bump in sharpness extending to the outer midframe. Center is great, midframe is "good," and corners "ok." Spherical aberrations are significantly lessened, so clarity gets a boost. 
f2.8: Center is razor, mid frame is "very good", extreme corners are "good". Very slight contrast bump.
f4: The center and mid frame are razor sharp, extreme corners are now "very good." 
f5.6: Razor sharp everywhere.
f8: Razor sharp everywhere.
f11: Diffraction begins to slightly reduce effective resolution.
Summary: At f1.4 at infinite it's simply not a landscape lens. At f2 resolution and clarity boost, giving highly usable but not critically sharp images, but the corners are a bit behind. At f2.8 – f11 the performance across the frame is strong with minor differences, but resolution and contrast are biting by f4.  
Notes:  Luckily there is no mid zone dip even though the 75 Lux is not a native e-mount lens.
Near (MFD to 1 Meter)
The Lux 75 doesn't feature an aspheric element and isn't corrected for close distance. However, the 75 Lux unofficially goes down to about 0.6 meters which is desirable, but you'll find increased spherical aberrations wide open at MFD. As at infinite at f2, chromatic and spherical aberrations diminish, sharpness spreads to the outer frame, contrast increases, and bokeh smoothes significantly. I enjoy the short MFD, often preferring to shoot at f2 from MFD to a meter with gorgeous results.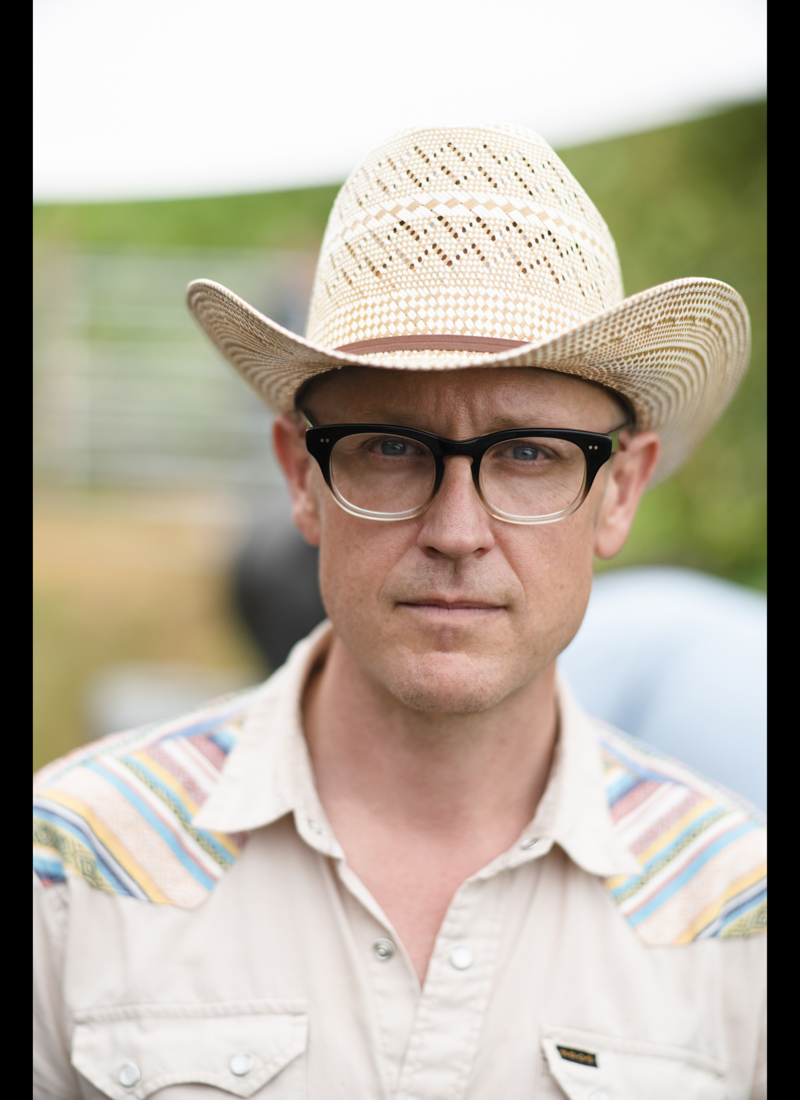 f2 is a great aperture for portraits for the above listed reasons.
Flare Resistance
As you might expect for a fast vintage lens, flare resistance is subpar by today's standards. Flare is a bit complicated to asses, but you can provoke significant ghosting (purple blob artifacts) if you try (and if you don't). 
Strongly Backlit
There is noticeable ghosting and veiling flare reducing contrast throughout the frame. See below:
Stopping down does not entirely alleviate the issues; it only changes the ghosts shapes and increases contrast, though it remains diminished even stopped down. I have not really found the hood to help much, so I don't use it. 
Contra light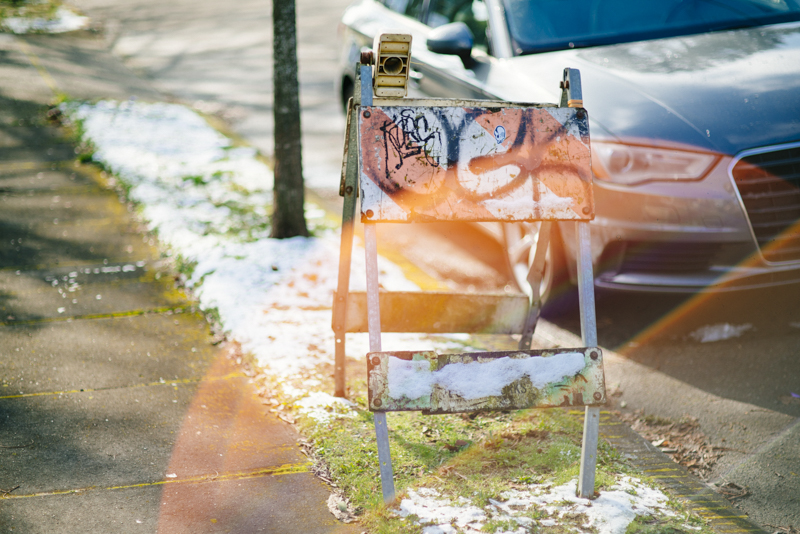 I have found off angle light sources in/just outside the corners of the frame induce rainbow flare like below: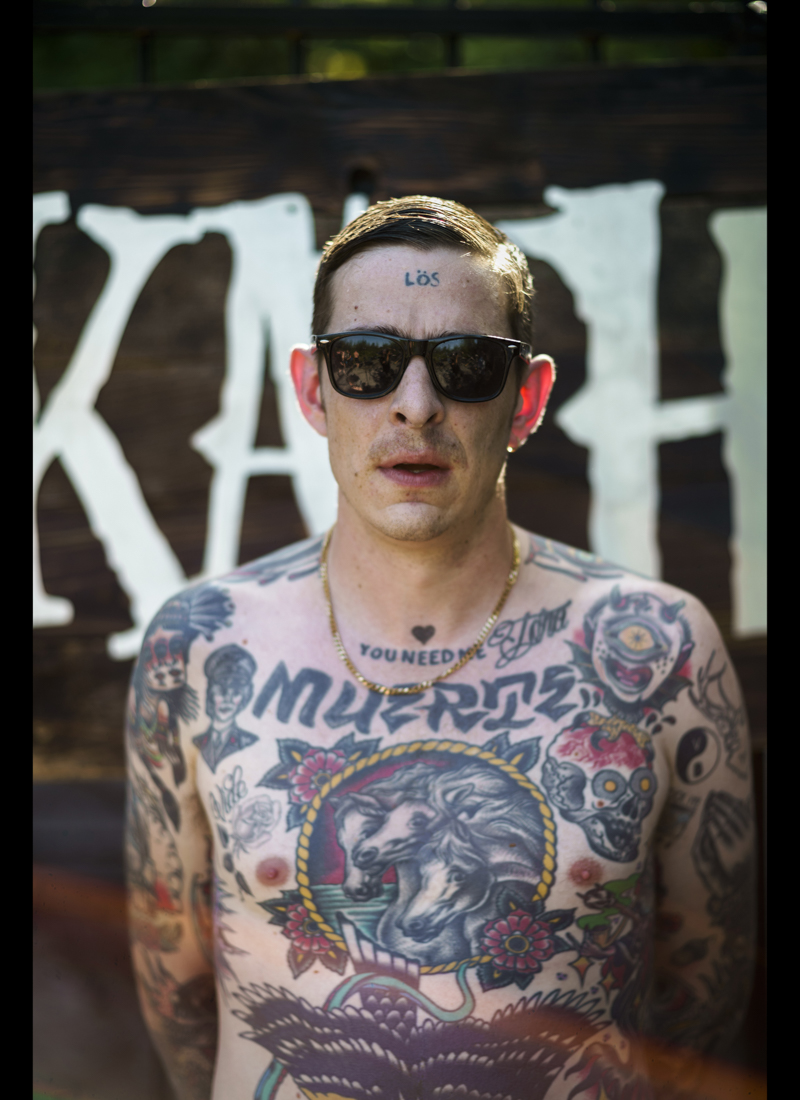 Some may like this flare as contrast is much better than backlit situations like above. I often enjoy and use this to positive effect despite it's a technical weakness. Using the hood or a hand can address the ring flare in most situations.  
Bokeh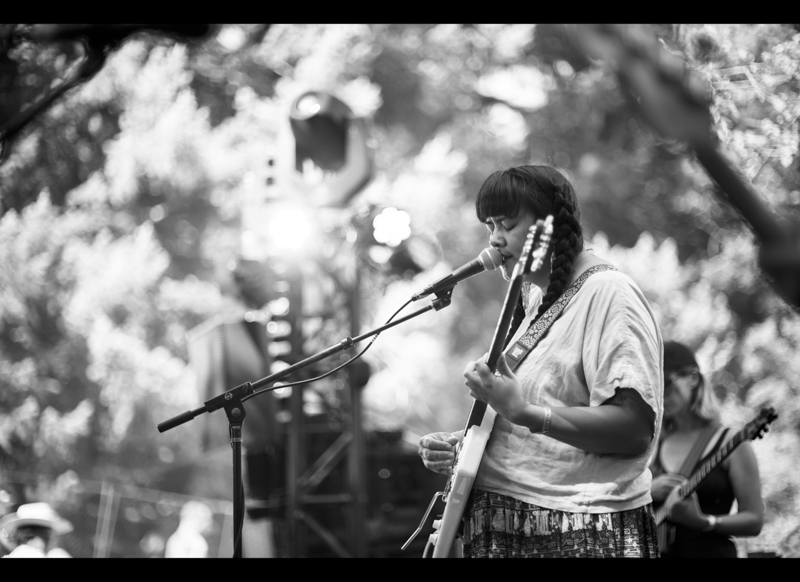 At this focal length and aperture, separation isn't hard to achieve. While bokeh is somewhat a matter of taste, we do have technical aspects to examine.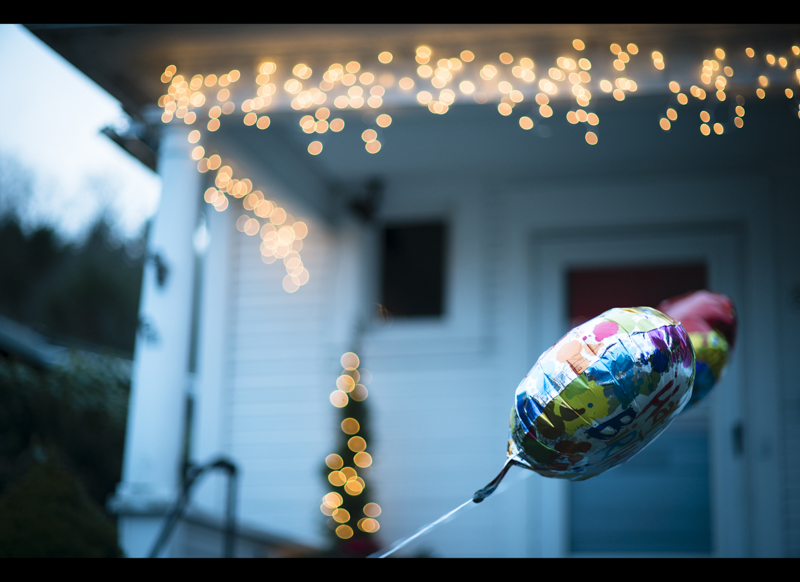 Portrait Distance
Below is a shoot out with the 75 Lux, FE 85 and Samyang 85 (MF) at portrait distance of 2-3 meters. My Samyang has some of the smoothest bokeh and transition of any 85, very comparable with the GM 85, though with slightly more fringing but less contrast (here).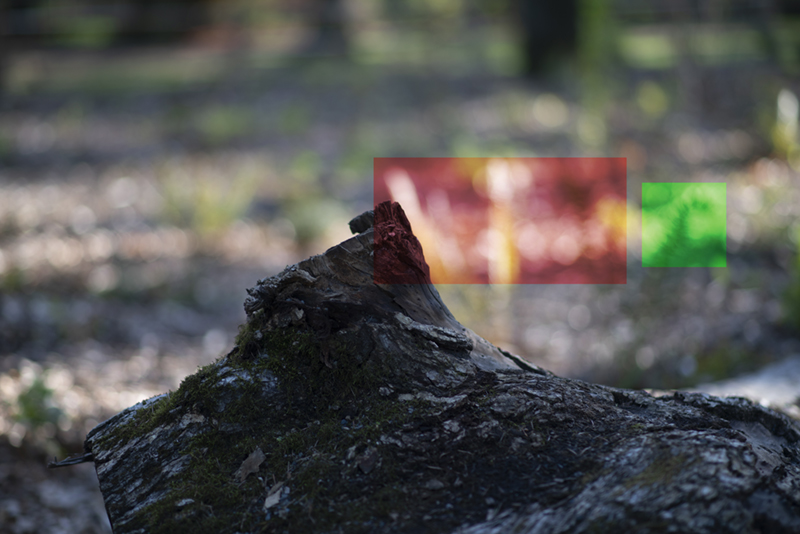 The log is about 8 feet away, and the background is structurally busy with contrast. The bottom half features all 3 portrait lenses, wide open, to show their renderings. Unsurprisingly, the Samyang is ahead with the most abstracted and smoothest bokeh. Wide open, the 75 Lux trails with the busiest rendering–the most lateral CA, harsher contrast and similar cat's eye to the FE 85, and much more than the Samyang.  However, f2 is a sweet spot for the Lux in terms of bokeh–it's essentially identical to the Samyang and smoother than the FE 85. Oddly, at f2.8, it falls behind the other lenses again.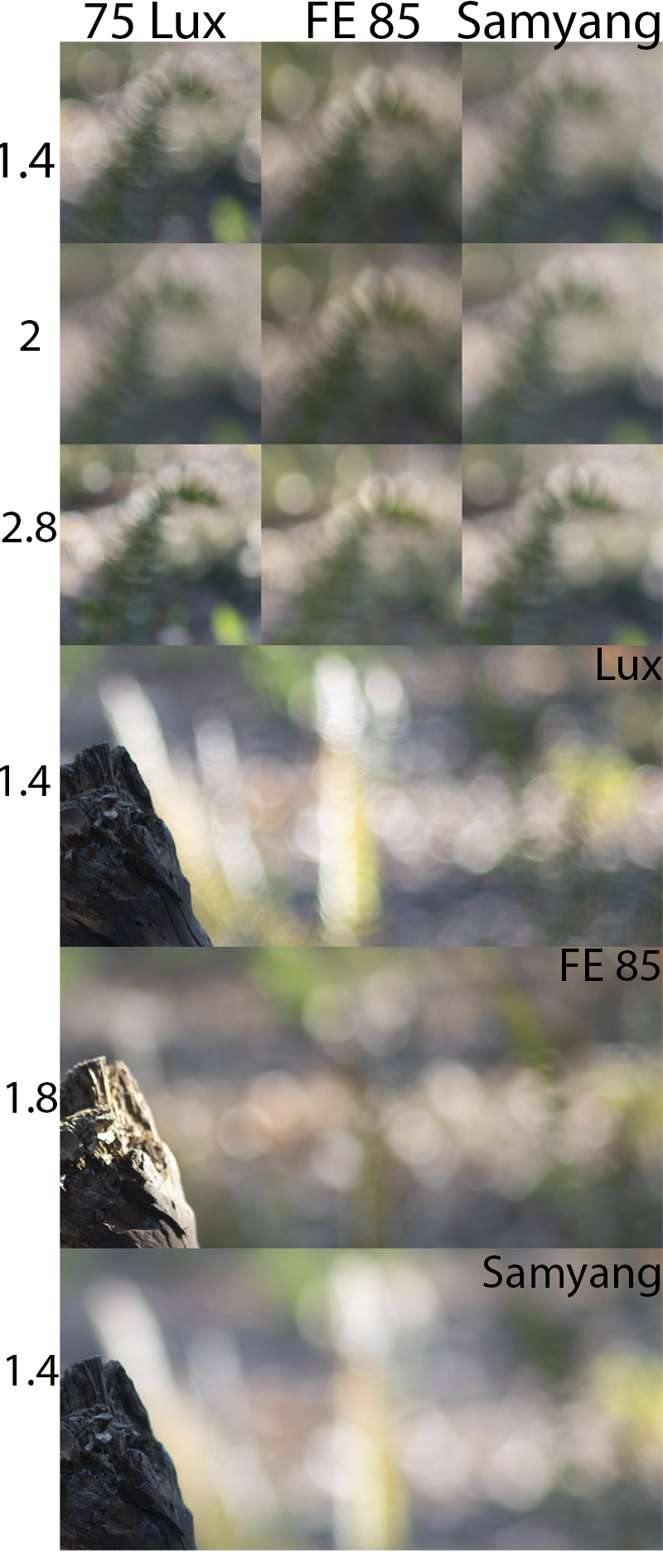 Below is a scene with challenging bokeh. The Lux handles it well by stopping down to the f2 bokeh sweet spot.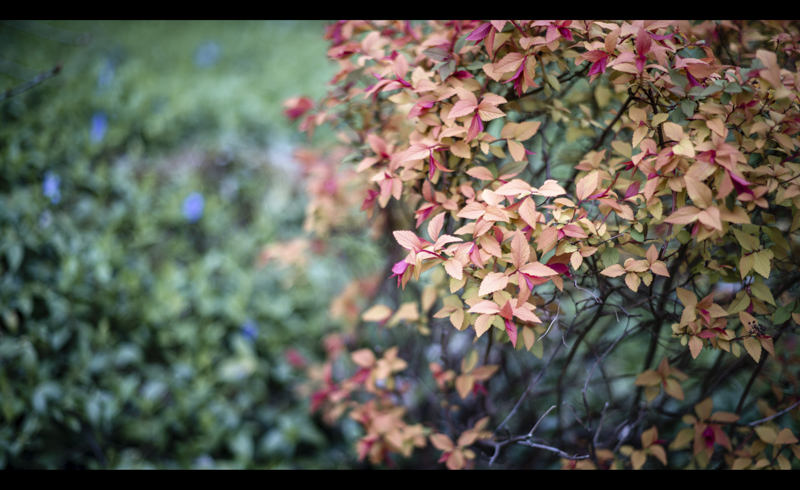 Below are portraits shot at f1.4. While the bokeh is busier, I rarely find it to be distracting. Here are a couple sample portraits:
75 Lux @ f1.4

Lux 75 @ f1.7

Lux 75 @ f2
Transition zone
Here is a real world scene with our non-paid, non-volunteer model shot with both lenses wide open. Note the Samyang's smoother background transition and more abstracted bokeh with less outlining. Interestingly, the Samyang has more nervous foreground transition and purple fringing. 
Note: The white balance has been matched, so the fringing and color differences you see are native to the lenses.  Overall, the Samyang again has the smoother rendering.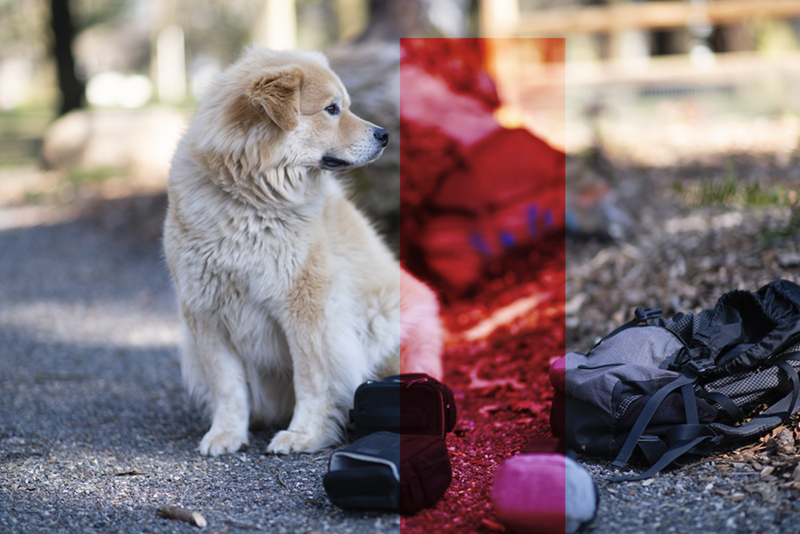 Decagons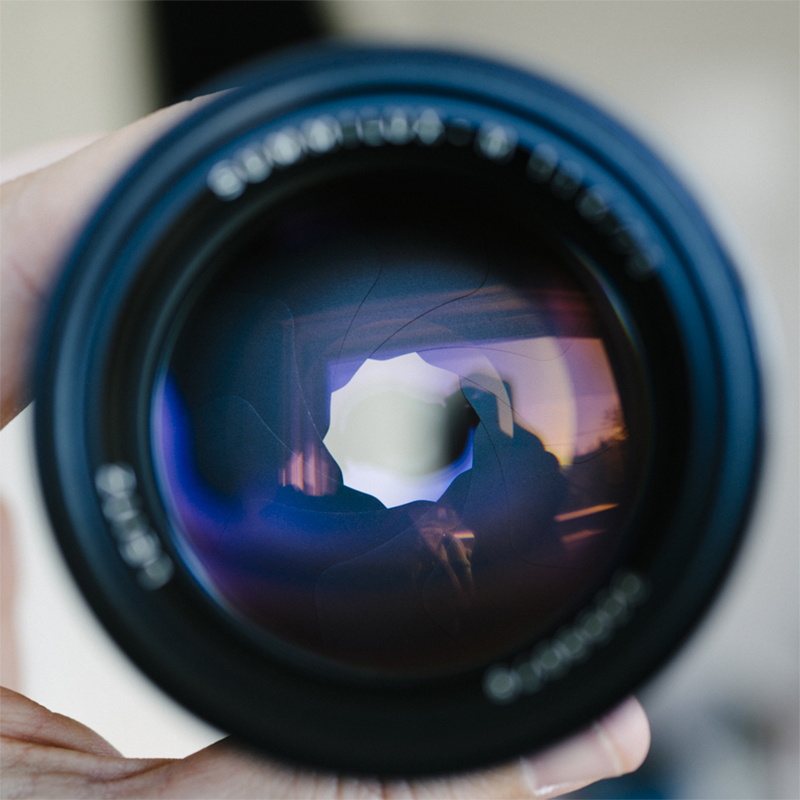 This one is common on older lenses but annoys me nonetheless.  We get 10 aperture blades, but I wish they were rounded. We do get "ninja star" bokeh.
Here's a series showing the behavior as we stop down.
Bokeh balls
No aspheric elements used, so no nasty onions rings.
Cat's Eye
We do get cat's eye bokeh caused by mechanical vignetting, like many portrait lenses. Note the perfectly circular center, and the quickly deteriorating progression into the outer frame. This is higher than other lenses it seems due to the relatively narrow 60mm filter thread.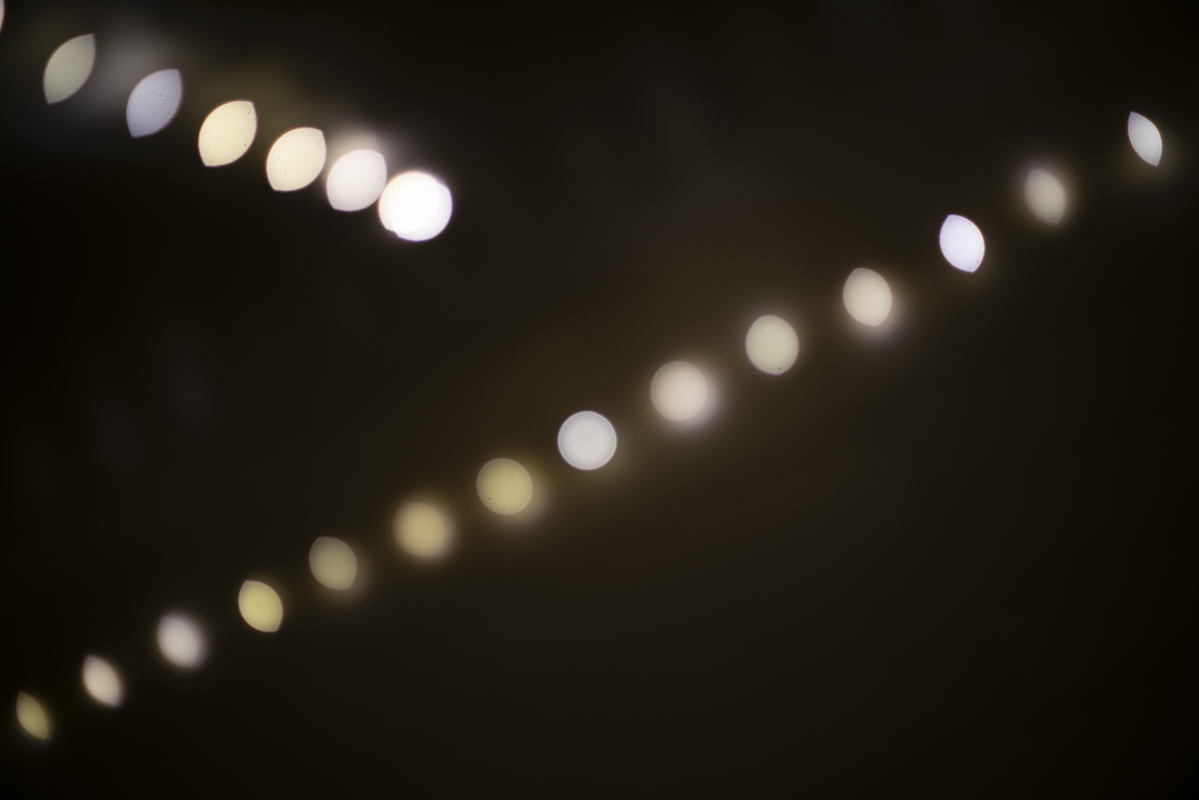 Chromatic Aberrations
We see CA. In my experience, it's on par with similar fast lenses of that era. In highly contrast scenes, you'll want to correct it. At f2, it's minimal in real world shooting, but there are trace amounts even at f4.
Sun Stars
Update coming.
Coma
At f1.4, blobs, at f2 decent, by f4 perfect.
Vignetting
As a fast compact range finder lens, we expect some vignetting. Nothing stands out here specifically. LR provides helpfully provides a profile.
f1.4 – 2.3 stops
f2 – 1.15 stops
f2.8 – 0.95 stops
f4 – 0.8 stops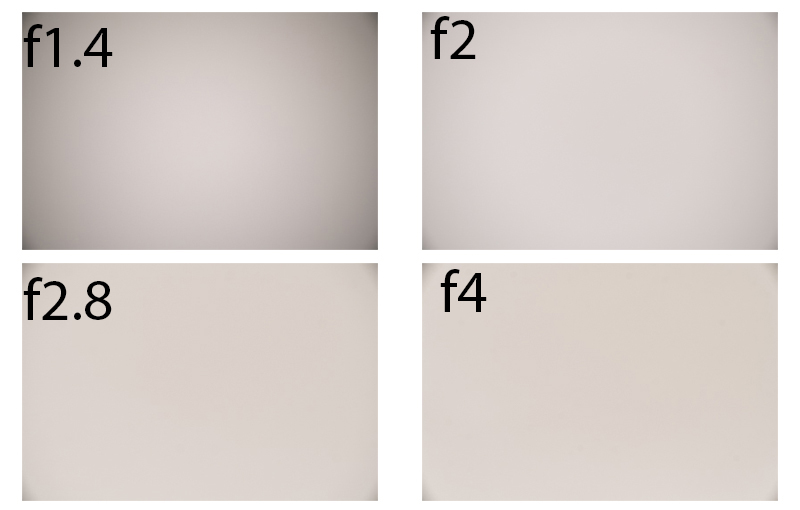 Rendering
Rendering is a most subjective thing, and specifically important for portraits. And portraiture is where the 75 Lux earns its reputation. It's a delicate balance, being composed of technical and subjective aspects. What I choose to look at extensively is color. And it's a bit of a deep dive, so feel free to scroll past to the "Examples" section below.
Color
As they say, color is a language of its own. Some think color should be accurate, others pleasing. If pleasing is the answer, people don't agree on what pleasing is. On that note, I have found the Lux colors to be absolutely spectacular. They are rich and nuanced but gentle. But color is difficult to measure and therefore quantify.
I have found color and contrast to be of enormous importance in real world usage, though I haven't found a test which sufficiently translates the distinctions as they affect images (in my opinion).
Here is an illustrate test I tried. Below is a color wheel from a design book. Shot at 1 meter, cropped to the center of the photo, both lenses wide open, on a tripod, ISO 100, EV 0.0, IBIS off, manual focus, with identical indoor lighting, and 2 second shutter delay. White balance has been equalized precisely.  So was exposure.  And that's the problem.
When I equalize exposure, the Lux is about a half stop brighter than the Sony, meaning saturation will be affected.  Saturation and luminosity are tethered: if you brighten the exposure, colors become more luminous and less saturated. I used the histogram in LR to make sure the red, green and blue values on the white portion just outside the circle calibrate at red = 88%, green = 86% and blue = 86%. This results in nearly identical images:
And this is how it looks when both photos are crudely adjusted for exposure using an identical +0.85 from the Exposure slider in LR, not the histogram values.
You can easily see differences, between sets and lenses. So, I've included values for both. "Equal Histogram Values" measures when the exposure is even, accounting for transmission using histogram values. The "Underexposed" column is for the Sony bumped only the same as the Lux with +0.85 using the slider. This make the Sony relatively underexposed, which is closer to real world shooting (though you might just address this in post). I did this as field usage with the Lux files will deceptively appear lighter and less saturated because the images are brighter. We usually lean on the cameras to meter, not accounting for transmission differences in lenses. If you really even out the exposures, it's quite close.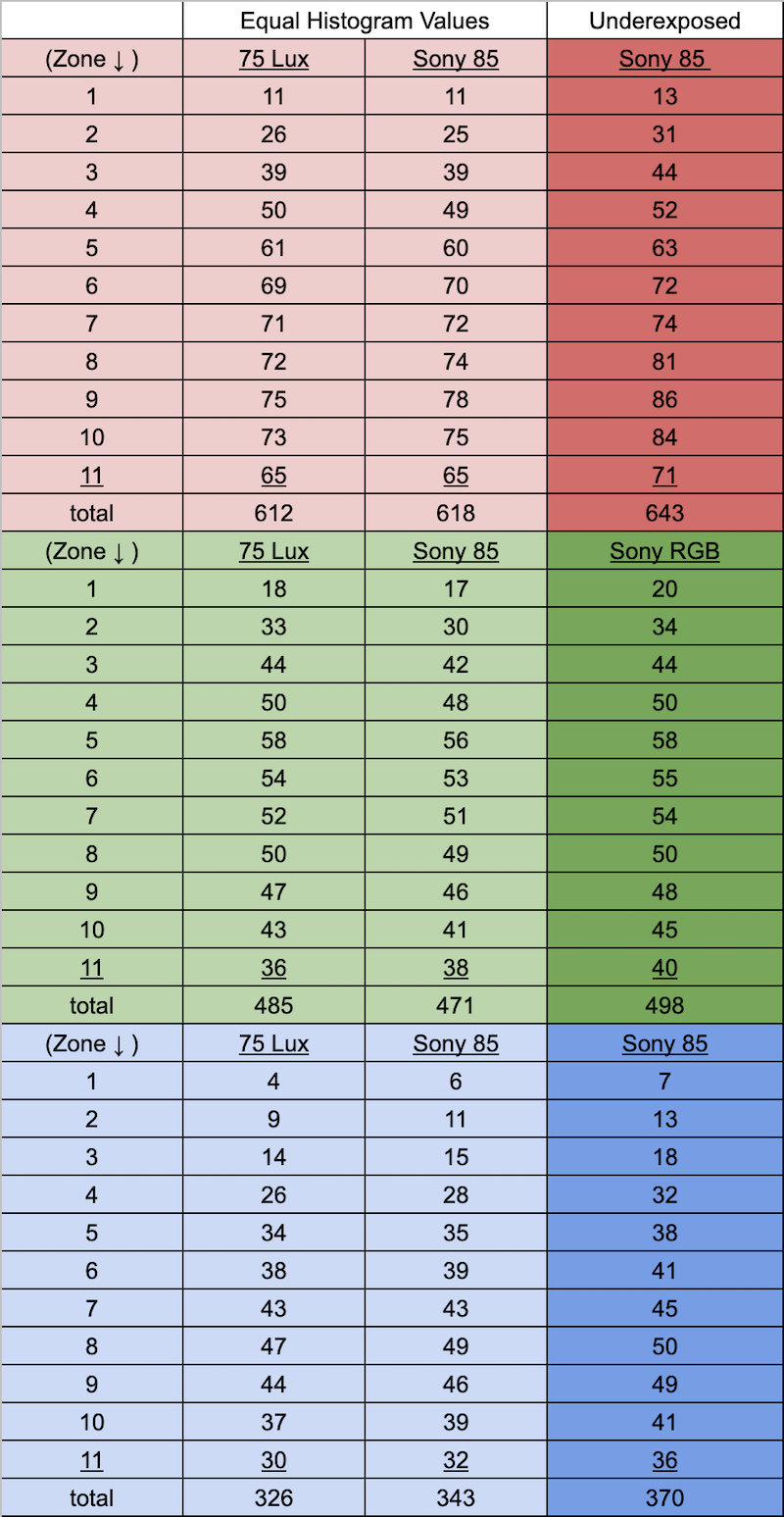 For my own curiosity, I dropped the Lux exposure and watched the saturation levels increase as they did for the Sony.
For my color values, I used the "Color Sampler Tool" in Photoshop. Set to 11×11 area which gave consistent results and set to HSB. HSB gives a simple percentage for saturation–100% is the most saturated, 0% is gray (monochrome). I measured red, green and blue like so (zone 11 was measured as well though now shown here):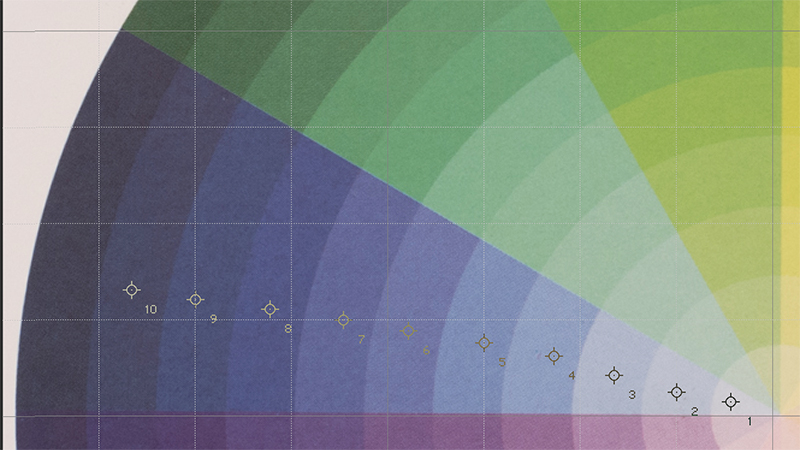 Below are the findings for the Lux 75 and FE 85 simplified. As you see on the first table, the Lux 75 has very similar color saturation to the Sony 85 1.8 when both were shot wide open indoors. And the Sony 85 is known as a contrasty lens. While this may surprise some, it's not surprising to me. The colors from the Lux are known to be vibrant, and that has been my experience.
| | | |
| --- | --- | --- |
| Total Saturation | Lux | Sony |
| R+G+B | 1,423 | 1,432 |
As far as color palate, I was curious. I divided the amount of each color by the aggregate of red, green and blue. So for red on the Lux, 612/1423=43%. I thought shooters might be curious to see the differences. As most Lux users know and is verified, it's a warmer lens, pushing red and green but not blue. I measured hue differences between lenses but did not include it here.  Broadly, the Sony pushes blue more, but less green, and red is closest between the two lenses.
| | | |
| --- | --- | --- |
| Palate | Lux | Sony |
| Red | 43% | 43.20% |
| Green | 34% | 32.90% |
| Blue | 23% | 24% |
Color Summary:
The Lux has a somewhat contradictory reputation as being soft but rich, gentle but vibrant. This test and data speak to this. The Lux colors, even wide open, are saturated, quite similar to the FE 85 indoors. But the Lux blankets finer textural information with spherical aberrations–compare the inside of the squares above. These spherical aberrations make the borders weak, bleeding colors together, giving the Lux it's trademark glowy softness but vibrance. Additionally, I did not get into it, but the the Lux has more slightly luminous for values for red, green, and blue at the same histogram exposure level. Meaning that colors appear saturated, light, and smooth as they flow into and out of each other. This is the magic that many shooters talk about with the Lux as I can best quantify it. While the charts and numbers may (or may not) appear significant, in real world shooting the Lux images have a distinct feel.
Examples
– As indicated, the Lux has saturated luminous colors, but retains less textural information than most current lenses, making for a distinct signature.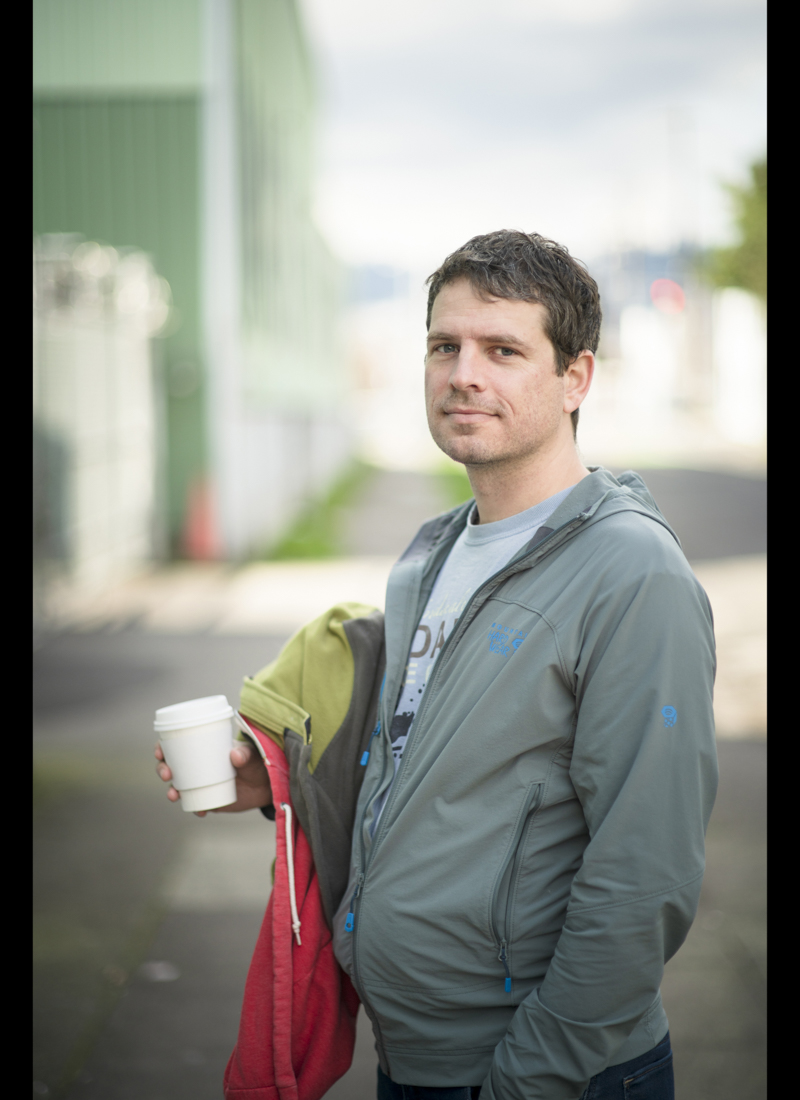 – Focus fall off does not appear especially fast or slow compared to the many other fast 75-100mm teles in my experience.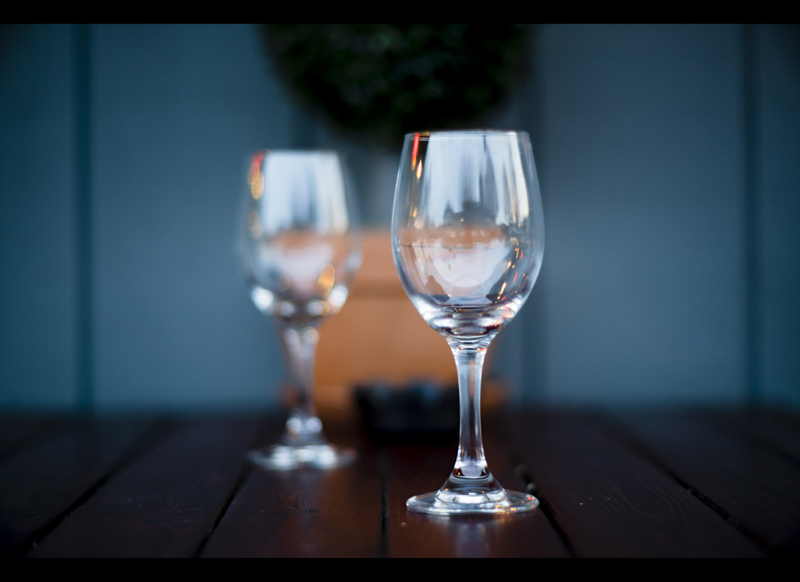 – This type of image is very Lux-like to me with it's rich character but gentle feel and saturated colors.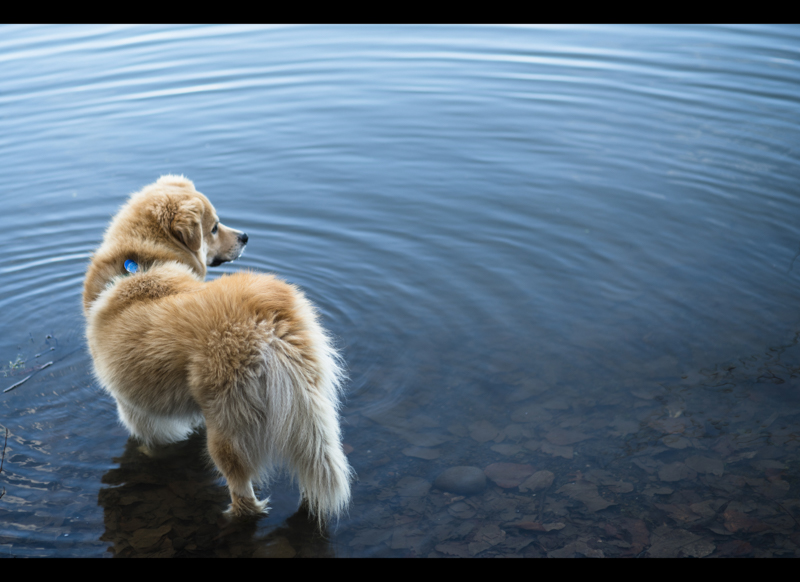 – Images have no specific color cast I can detect, but colors are on the warm side.
– I enjoy this lens for black and white. I find the handing of midtones and highlights delicate.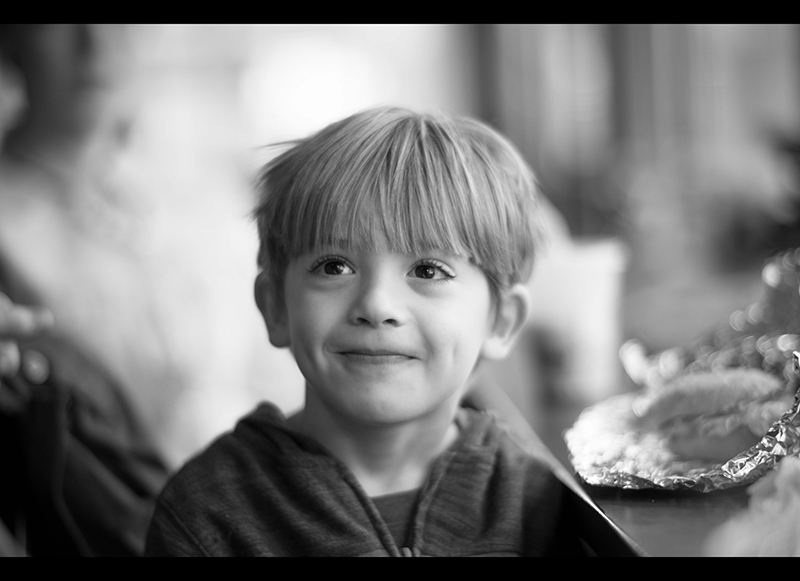 – A portrait at f1.4 with minimal processing.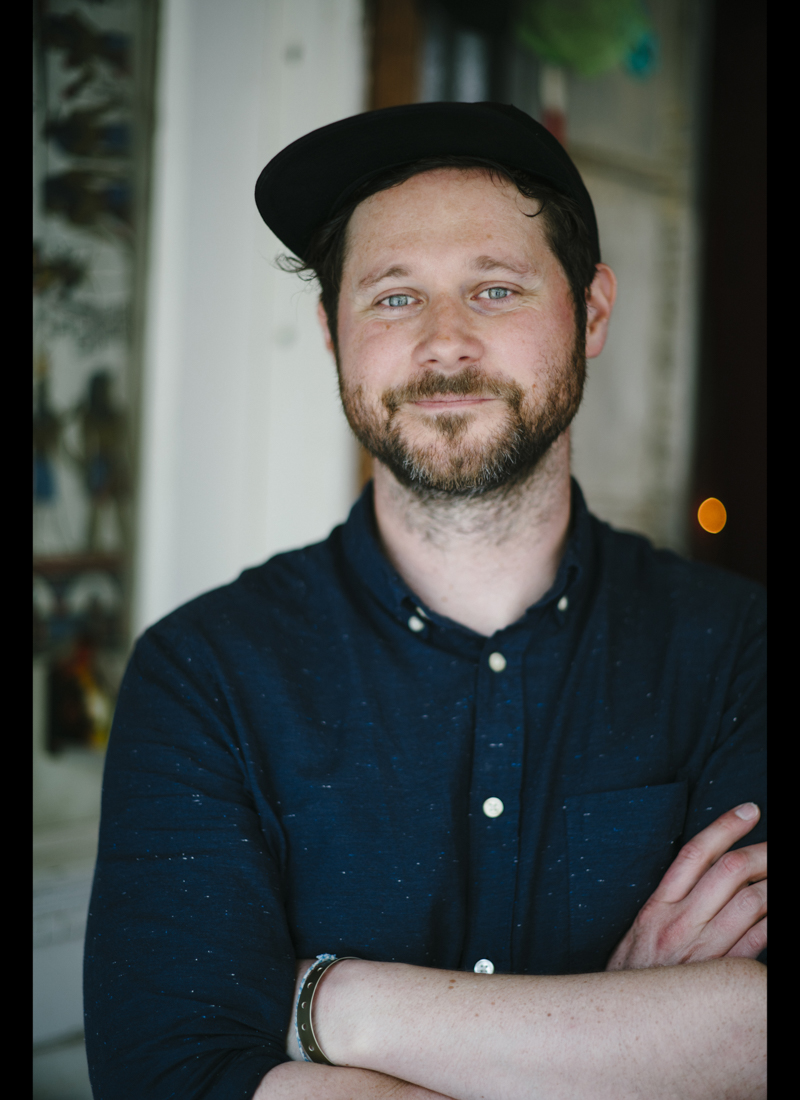 – By f2.8, the imperfections have been corrected but the fantastic color and signature still remains, but the lens has lost its portrait touch.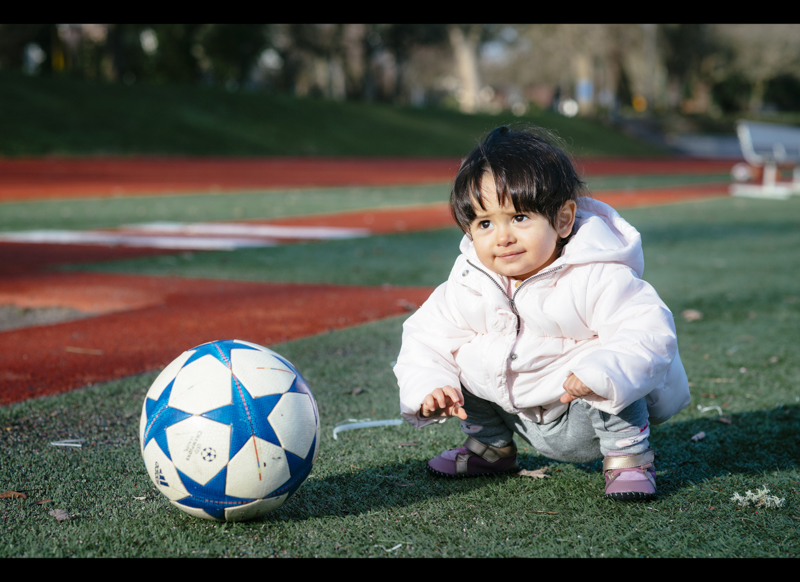 – While most of the photos in this review are near to mid distance photos shot at f1.4 to f2, I have used the Lux for landscapes with great results (just watch the flare!).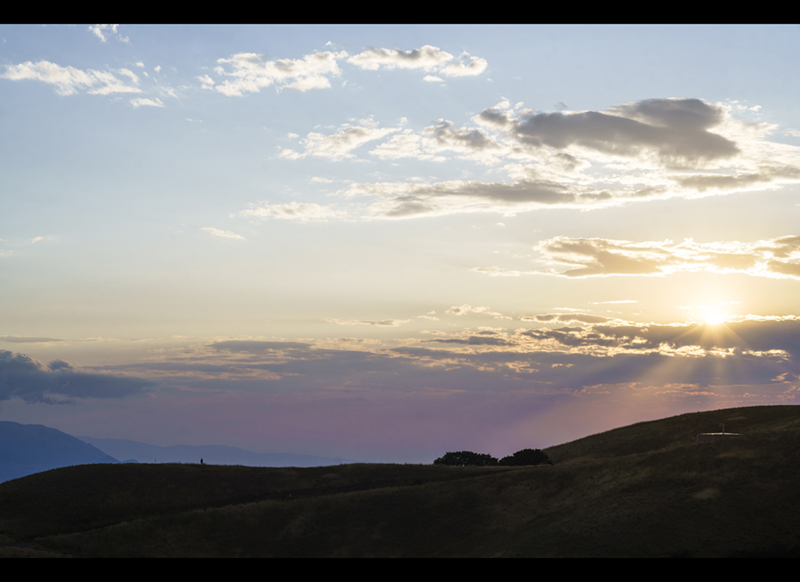 Alternatives
There are numerous options in this range now, with several being released quite recently.  So I'll just touch on some:
Sony GM 85mm f1.4 – Optics are clearly better corrected, and it has AF. Used prices are also cheaper by about 60-70%. GM 85 bokeh is more abstracted with smoother transitions and less outlining. It has better CA control, superior flare resistance, better sharpness globally till peak apertures and impressive mechanical vignetting corrections for suppressing cat's eye. Size and weight are significantly greater, the AF is slow, audible and the MF is fly-by-wire. It's offers a much different look and experience than the Lux. The GM 85 is beloved and with good reason. Review here.
Sony FE 85mm f1.8 – Extremely sharp, better corrected for CA, flare, fast to focus, lighter, less total bokeh capability at f1.8 but smoother bokeh at most comparable apertures, environmentally sealed and many times cheaper with a great performance/value balance. The rendering lacks something to me. It's a fly-by-wire as well, but I like the lens but sold it recently. Review here.
Samyang 85mm f1.4 (AF) – Much cheaper, similar in weight but larger.  Better corrected for CA, mechanical vignetting, higher global and micro contrast, with no onion rings and bittingly sharp though the aperture range with a smoother structural rendering but higher contrast bokeh. I have not shot it, but Fred Miranda know his stuff and he has tested the lens here on this thread.
Leica R 80mm f1.4 Summilux –  It's nearly identical to the 75 Lux, but bigger, needs a bigger adapter, and less expensive (though still runs around $1.8 – 2k for a clean copy). Shooters have purchased this to get the 75 Lux signature at a cheaper price.
MS Optics Sonnar 73mm f1.5 – I own and truly enjoy this unique lens with it's distinctly Sonnar rendering. It's wonderfully tiny and superbly light (196g), being hand made by Japanese boutique lens designer Mr. Miyazaki. The lens offers subdued though pleasing color and contrast, some ring flare, character wide open, and quickly corrects itself at f2 and especially by f2.8. The byproduct of the diminutive size means longer MFD (1 meter), no filter option, worse ergonomics (coupled aperture and focus ring) and I don't like the rubber cap. It's priced much cheaper than the 75 Lux at about $1,300 new.
Voigtlander 75mm f1.5 – See Phillip's take here. The manual focus aspect, build quality, size, focusing extension, focal length and aperture are similar. But for being so similarly spec'ed, the images sure don't look like it as the CV is a modern lens, though one with the dual (1.5 versus f2) character. The CV 75 1.5 has higher contrast, better flare resistance, smoother bokeh and transitions, suffers a mid zone dip (on e-mount), is 250g lighter, offers Voigtlander sunstars, has better CA control and is more affordable. And it comes in 2 colors 🙂
7Artisans 75mm f1.25 – Take a look at Bastian's excellent review here. The 75 f1.25 offers better technical bokeh than the 75 Lux, similar CA correction, a faster aperture at f1.25, better sunstars and far cheaper(!!). It also offers similar coma correction (awful), weight, MFD, FL, great haptics, similar resolution at infinity but seems to have more spherical aberrations wide open at portrait distance and worse vignetting (but it's f1.25). I have not shot the lens, so I can't comment on the colors and contrast. But of the several other 7 Artisan lenses I have owned, I have been disappointed in this area. Essentially, it's technically better than the 75 Lux overall, though similar in many ways, but is much cheaper. So another great option.
Let's wrap up:
| | | |
| --- | --- | --- |
| Good: | Average: | Bad: |
| Build | Focus transitions | No environmental sealing |
| MFD | Vignetting | Mechanical vignetting |
| Rendering | Retractable hood | Coma |
| Ergonomics | Weight | Decagon bokeh |
| Colors | Longitudinal CA | Price |
| No onion rings | | Lateral CA |
Conclusions
After reading this review, you'll come to the same conclusion I have: the 75 Lux is technically inferior and significantly more expensive than nearly every other option. There are areas it shines, but most shooters understandably want a better price-to-performance ratio. Additionally, if you made all the mentioned alternative options the same price, many shooters would still prefer the alternatives for the superior optical performance. And further yet, even at a quarter the price, the 75 Lux is hard to justify on technical grounds given the competition. Therefore, I cannot objectively and reasonably recommend the 75 Lux.
But on a personal note, I have shot many of the respected 75-100mm portrait lenses from multiple systems, from Contarex to Pentax to Milvus. Like Phillip in his Minolta 58 1.2 review, I am unsure how to meaningfully or technically convey why I enjoy this lens so much. The combination of imperfections and subtleties of color and contrast make images that are singular and gorgeous. Especially from apertures f1.4 to f2. Like many, I believe the 75 Lux is the best portrait lens ever made, and it's probably my favorite lens.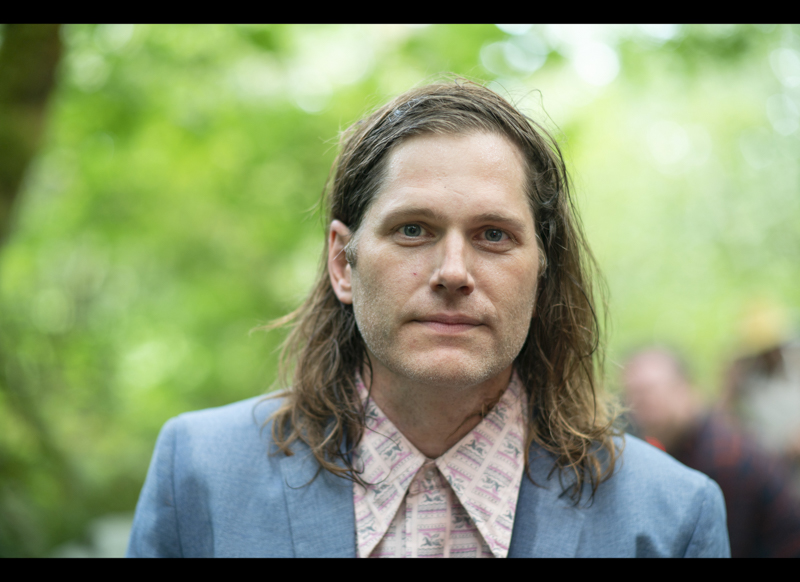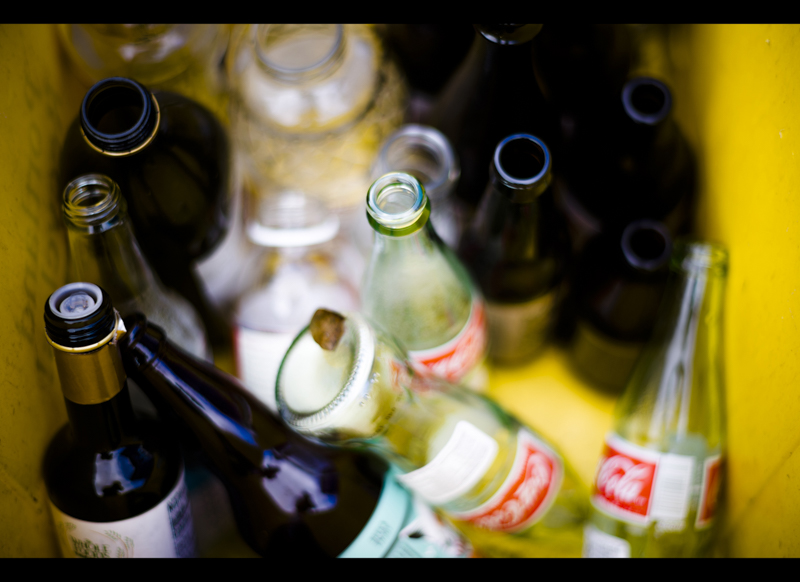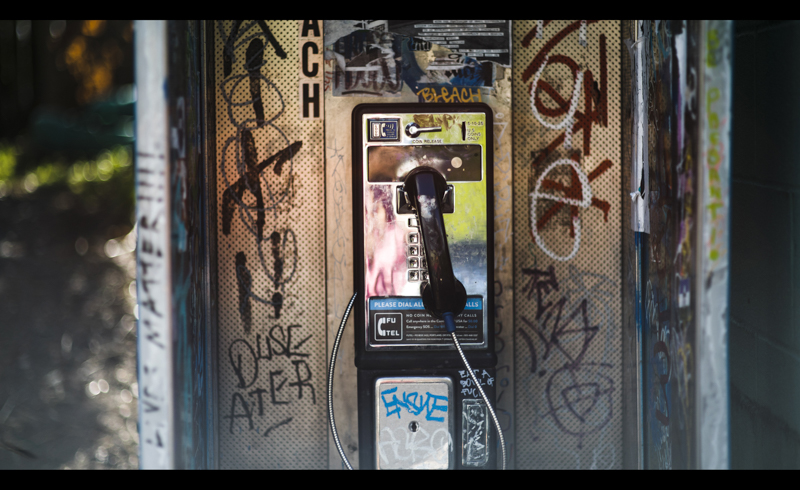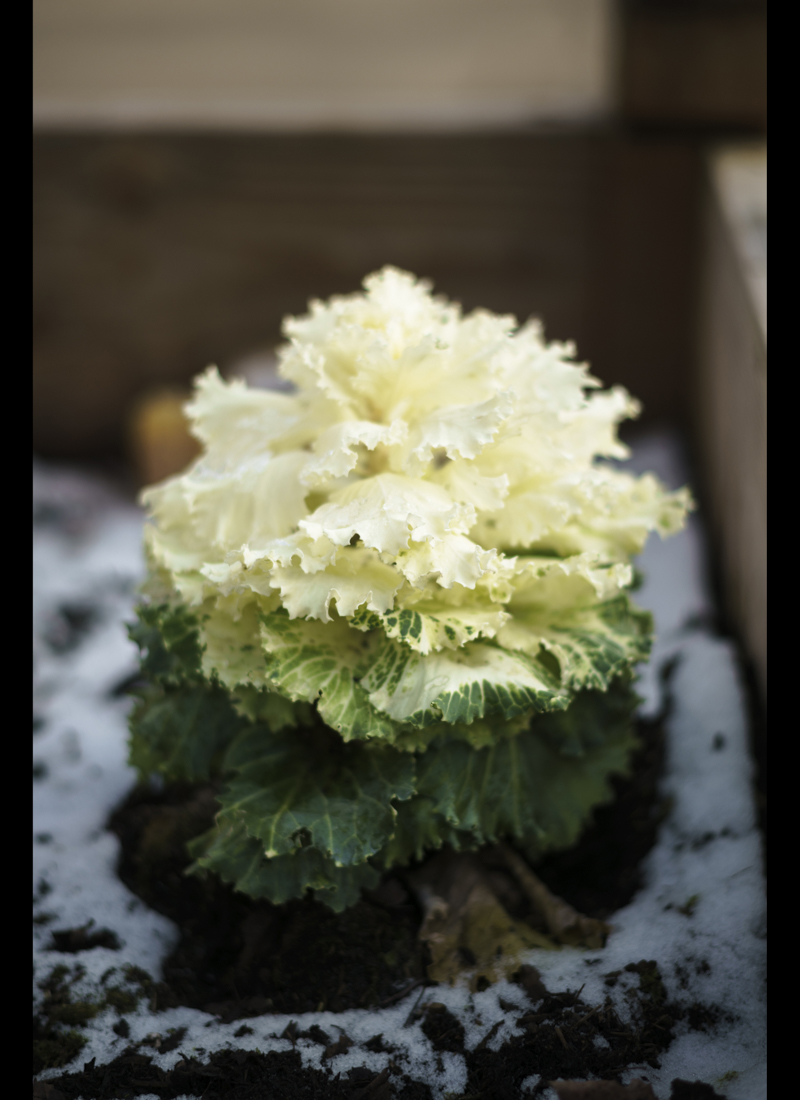 Other Articles
The following two tabs change content below.
Nehemiah lives in Salt Lake City, Utah. He enjoys dog, nature, portraiture, urban, landscape, astro and concert photography.