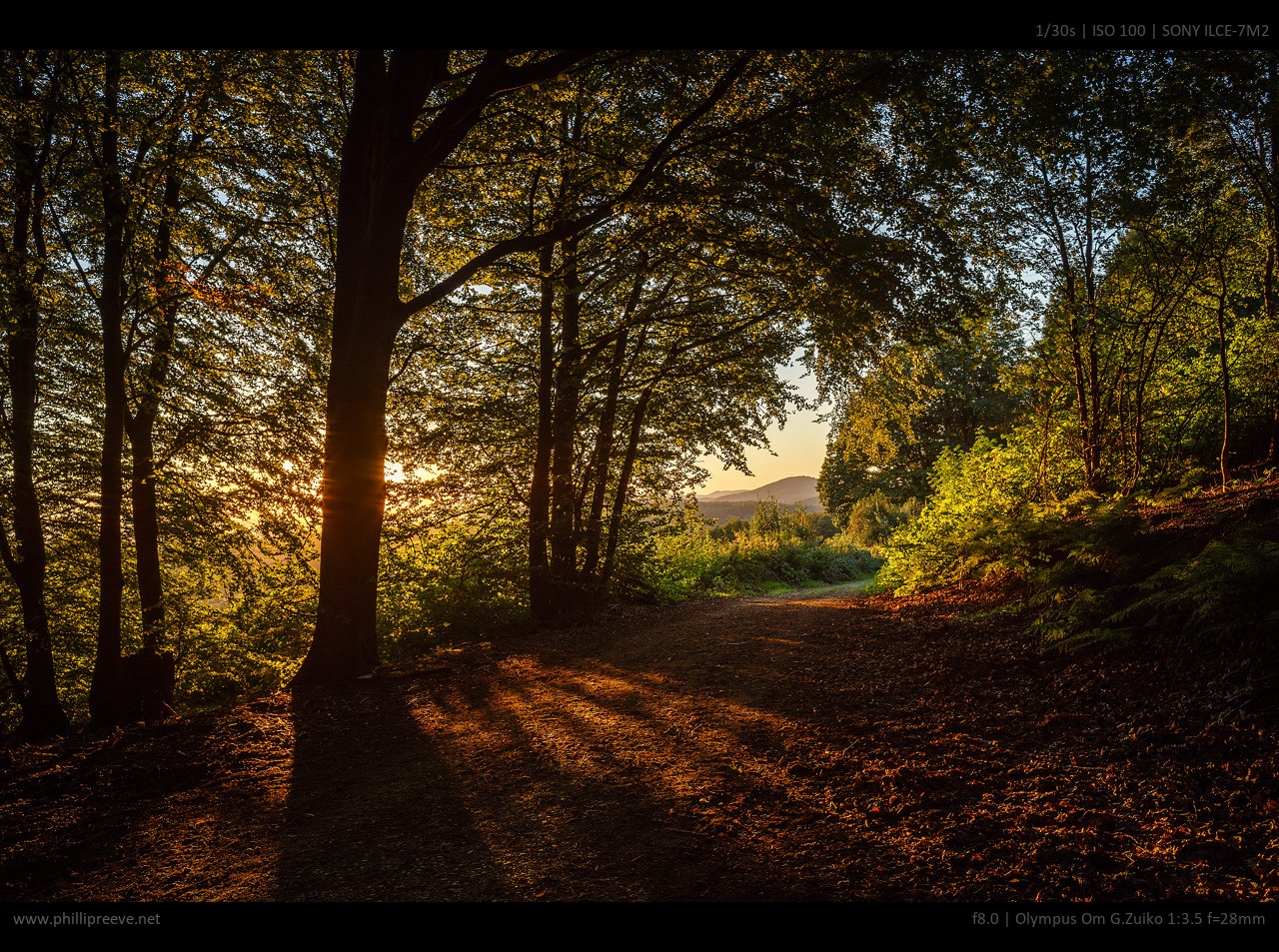 When I took this picture in late August I was working all day on some papers for university, so after many hours behind the desk some sport and photography was well earned.
In the Bag
I packed my small camera bag* with the lightest lenses I could find in my cabinet: a Olympus OM 3.5/28*, Zeiss C/Y 1.7/50* and Olympus OM 2.8/100.* Since I had some strenuous cycling before me I didn't want to carry any unnecessary weight and I knew that I could capture about anything with this little setup. Of course one is always a bit limited by just three lenses. But I think it is a good exercise to be limited and to be out there is much more important than to have the absolutely best gear anyway.
*=Affiliate link
The Scene
I take most of my pictures quite close to home but 90 minutes on my bike gave me a bigger radius of about 25 km so I headed for the uplands which I don't frequent that often. I knew that if the weather had mercy with me I would be able to capture the very last sunlight which I usually can't, because near to home it is always blocked by trees.
What I liked most about the subject is the chain of hills in the distance. Since I arrived at the scene above about 30 minutes before sunset great light was guaranteed but I needed to find a good composition. My approach to composition is mostly intuitive and I first tried to capture the scene with the Planar 1.7/50 but that photograph lacked some depth so I switched to the 28mm which allowed my to frame the hills with an interesting foreground.
You can't see it in the small image presented here but I placed the focus on the foreground of the image and allowed the background to be very slightly out of focus. As usual I used the focus magnification feature of my Sony a7II.
Gear Considerations
Now the Olympus 3.5/28 is as sharp as it is tiny but it has only single coatings which make it very susceptible to flare. My Pentax 3.5/28 or Zeiss 2.8/28 aren't any sharper but they have much more efficient coatings. Because of the lower weight I preferred to take the Olympus though. Therefore I had to shield the sun with a tree but this worked well enough here.
In general I have come to like Olympus OM lenses quite bit recently. It started with the great Olympus OM 100mm 1:2, but I have since bought a few other lenses which are all tiny and very well made. Their optical performance is quite solid and comparable to Minolta SR and Canon FD lenses. Yo can expect quite a few Olympus reviews in the future.
Exposure
This scene brought the dynamic range of my a7II to it's limits so it was very important to get the exposure right. For that I relied on two features of my Sony. First I activated the DRO level 5 function which doesn't affect my raw but it gives me a good idea how far I can push the shadows later. I also activated the Zebra 100+ function which shows overexposed parts of the image. Actually it shows up much too early and the way in which I work around that I turn the exposure wheel down until the zebra doesn't show up and then lift the exposure 1.66 stops from there which is a pretty sure way to keep the highlights from being overexposed.
Postprocessing
Of course the resulting image looked very dark in Lightroom:
But if you own an a7 series camera you know that this isn't an issue, you can easily lift the shadows 5 stops.
I am quite lazy when it comes to post processing and I very rarely spend more than 2 or 3 minutes on a single image. Usually I apply one of 5 profiles I have created for similar scenes, push 2 or 3 sliders and then I am done.
This profile lifts exposure of the whole image by a good two stops and the shadows a lot more. My goal is to keep detail in highlights and shadows but only just so. I also used the camera standard profile which can create some very nice and warm colors but it adds too much saturation which I had to dial down a little.
An that's it. I still like to look at the image because for me it resembles a warm summer evening quite well and I like to remember summer, now that autumn is nearly over here in Germany.
Other Articles
The following two tabs change content below.
I have two hobbies: Photography and photographic gear. Both are related only to a small degree.
Latest posts by Phillip Reeve (see all)