This is a review of the Canon FD 4/300 L, a 35 years old professional tele lens which gives really nice results on todays mirrorless cameras.
Introduction
I think the FD 300mm 1:4 L is a great lens, it's optical performance is close to excellent, it isn't that big nor too expensive and the handling on the Sony Alpha 7 is quite good.
Specifications
Size: (diameter x length): 85mm x 207mm
Filter Thread: no front filter thread but 34mm drop in filters
Weight: 1060g
Close Focusing Distance /max. Magnification : 3m/0.11
Number of aperture blades: 9
Price  (Germany May 2014): In the 350-500€ range for good condition. Canon FD 4/300 L at ebay.com or ebay.de
Versions
According to mir.com there are two versions of the lens, the older one with the old breech lock system and the younger the updated  new FD mounting system, as far as I know both versions are optically the same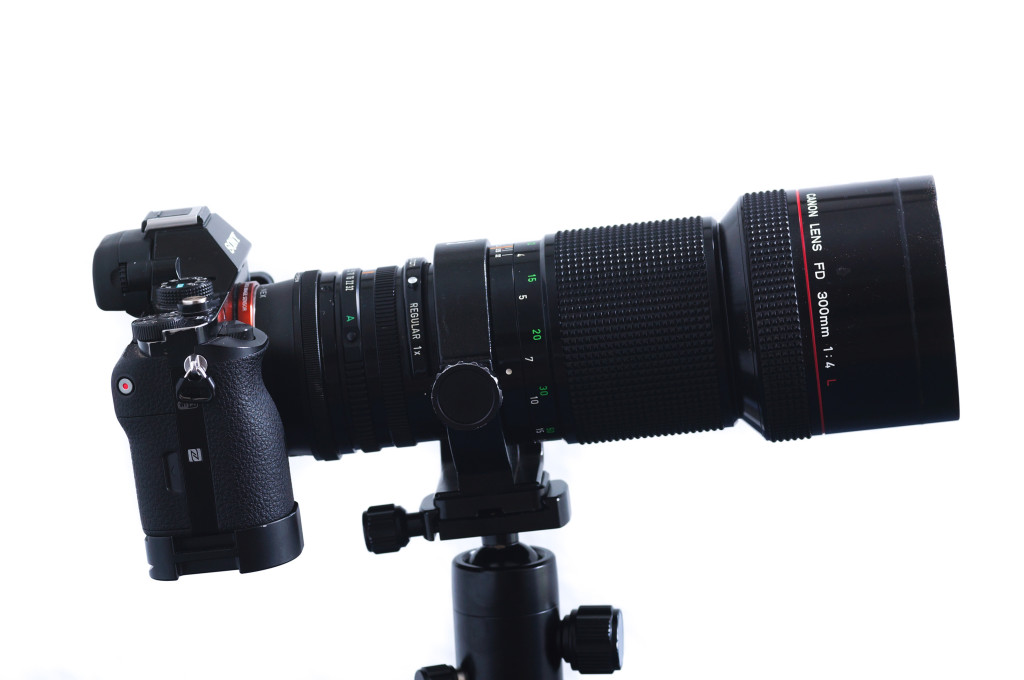 Handling
This lens handles quite well on my Sony Alpha 7.
The focusing is internal, so the lens doesn't extend and it you can focus it with a flick of your little finger which is great for ation shots but it works well for landscape use as well.
The tripod collar is quite big and sturdy, it can be rotated from landscape to portrait orientation and it is detachable.
The lens hood is fixed to the lens and rather small, a larger one would be more effective but would make the lens a lot bigger as well.
I find it easy to use it without support, it weight only a little over 1 kilogram and the weight is well balanced, it get very sharp images at 1/640 sec. when holding it without support.
I prefer to use it on a monopod which makes focusing much easier because it stabilizes the lifeview and also allows me to use about 2 stops slower shutter speeds, I get very good results at 1/160  sec.
Build quality
Not much to tell here, it is as great as you would expect from a professional lens from the 80s.
Optical performance
I tested this lens on a Sony a7.
Vignetting It is quite noticeable at f/4 and basically gone at f/5.6
Distortion didn't check, sorry
Flare Resistance It is rather sensitive to flare, most problematic are light sources just outside the field of view. Shading it with your hand can help.


Bokeh I think it is quite pleasing, there is no outlining of highlight discs

Chromatic Aberrations
at f/4 LoCa can be seen at edges with hard contrast, stopping down to f/5.6 reduces it a lot and it is quite hard to make it show .
LaCa are quite well corrected.
Sharpness
f/4 The lens is sharp from corner to corner at f/4 and I don't hesitate to use it at this aperture.

100% crop:

f/5.6 Contrast and sharpness improve noticeably and reach an excellent level, this is the optimal aperture.

100% crop:


f/8 I think I see a very minor drop in sharpness.
f/11  Diffraction becomes noticeable but sharpness is still very good in absolute terms.
Compatibility
FD lenses can be used on all mirror-less cameras like Sony Alpha, Fuji-X or MicroFourThirds, all you need is an adapter.
I would recommend a Novoflex Adapter (affiliate link), it is expensive but it will fit better than cheap ones from China. The cheap ones are good enough (in fact all the images in this review were made with a $10 adapter) but after I got that Novoflex adapter I can only recommend it.
Because of the rather high register distance of the FD mount there are no adapters for any DSLR camera, but it is possible to swap the mount for a EF mount developed by EDMika, he lists the compatibility status of his adapter and this lens as unknown so I would ask him if he knows if it will work.
Image Samples in high resolution
just click on the image to download it in full resolution at flickr
Conclusion
I really enjoy this lens and carry it with me a lot, I can recommend it to everyone who needs a manual, portable high performance tele lens.
Alternatives
The direct competition in it's time was the Nikon 4.5/300 ED IF, I never used it but from the reports I read aobut it, I think that the Canon is a little bit better.
There is also a Canon FD 4/300 nonL, I haven't used that either but from the reports I read and because of the lack of low dispersion glass I assume that it will be significantly worse.
Then there is the Canon nFD 2.8/300 L which is at least as good but usually twice as expensive and more than twice as heavy.
Support
You found my blog helpful? Please consider use one of these affiliate links when looking for the 4/300 at ebay: Canon FD 4/300 L at ebay.com or ebay.de.
For the right adapter check out our Adapter Guide.
Other Articles
The following two tabs change content below.
I have two hobbies: Photography and photographic gear. Both are related only to a small degree.
Latest posts by Phillip Reeve (see all)