Introduction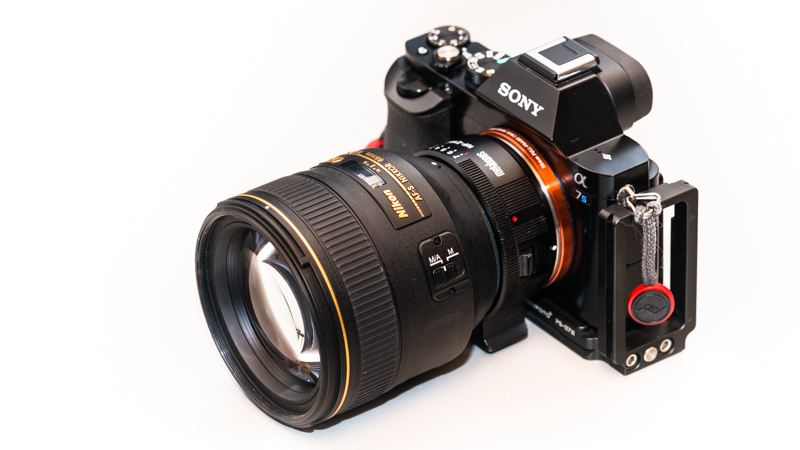 In this short article I will explain how to adapt Nikon G lenses (which do not feature an aperture ring) to Sony A7 series cameras.
Update 05/18/17: thoughts on Rayqual adapter added
What is a Nikon G lens?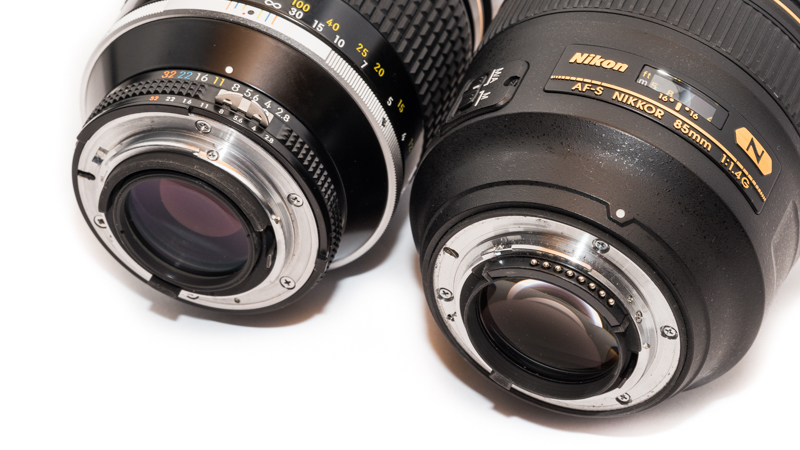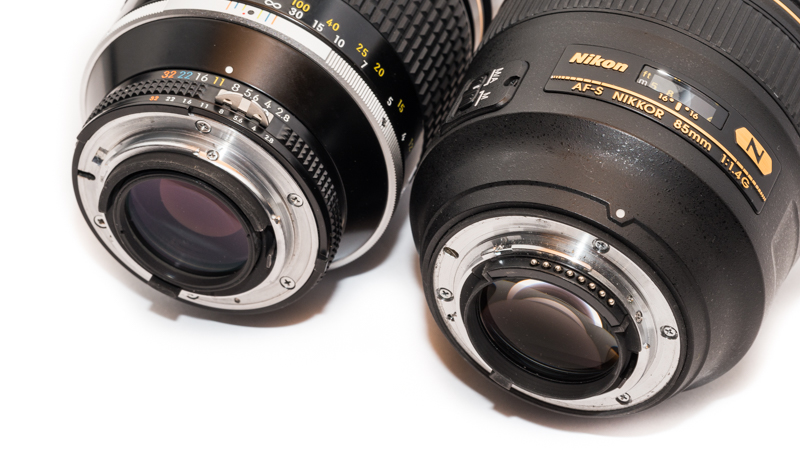 Earlier Nikon lenses (often referred to as "Nikkor") feature an aperture ring and carry prefixes such as Ai, Ai-s, Ai-p, AF and AF-D. Around 2000 Nikon introduced the "G" suffix, which is not really the description of a feature but merely means that there is simply no aperture ring anymore. But until the introduction of the "E" suffix the aperture mechanism was still operated mechanically by a small lever in the camera and therefore it is possible to use these lenses with a completely mechanical adapter. Unfortunately there is quite a degree of variation when it comes down to the usability of these adapters, which is something I will talk about in the next paragraph.
In case you want do adapt one of the newer "E" lenses with electronic aperture control (such as Canon uses on their EF(-S) lenses and Sony on there (F)E lenses) your only option right now is the Commlite CM-ENF-E1 AF-adapter, which can be preordered on ebay.com
(affiliate link). I have not used this adapter yet (it's main selling point is, that it would allow for AF-S lenses to be used with autofocus on newer A7 cameras and aperture control shall work with "G" lenses as well), so I would recommend watching out for some independent reviews before buying/preordering one.
Right now the "E" lenses are rare birds (mainly the Tilt-Shift (PC) lenses and some Super-Telephotos), but also many of newly introduced consumer lenses feature a purely electronic diaphragm, such as the AF-S 300mm 4.0E PF VR, the AF-S 24-70mm 2.8E VR and the AF-S 16-80mm 2.8-4.0E VR, so I expect to see the use of it more often in the future.
As this may prove to be quite difficult to unterstand I prepared the following table for you:

Keep in mind though: as I have not used the commlite AF-adapter yet these informations are merely based on the manufacturer's data.
Differences in adapters
When searching for a Nikon G to Sony E Mount adapter on the likes of Amazon.com
/Amazon.de
* or ebay.com
/ebay.de
* you will notice there are really cheap ones starting at 14$ and more expensive ones for around 150$ (from the US manufacturer Metabones and the German manufacturer Novoflex) and quite a lot in betweeen. I am currently using the Metabones
adapter (which I can recommend) and a Nikon-G to Leica-M adapter by Pixco (which I can not recommend, read on) in combination with the Voigtländer VM-E helicoid adapter and Jannik from our team is using the Novoflex adapter.
* affiliate links
Many cheap adapters are working like this: an outer ring can be rotated and on this ring (inside the adapter) is a small lever which is directly coupled to the aperture mechanism when a lens is mounted. This sounds like a good idea at first but the problem with my Pixco adapter is: turning the adapter's aperture ring just 4° means you traveled all the way from fully open to fully closed . This makes setting the aperture quite an awful experience. To make my own shooting experience a little less awful I painted markings on the adapter for open and fully stopped down, as you can see in the picture below.
With the more expensive Metabones on the other hand, as you can see in the photo above, it takes around 30° from fully open to fully closed which exactly corresponds to the markings on the manual Ai-s lens with it's own aperture ring (for the curious of you: this is achieved by using quite a complex mechanism inside the adapter). The numbers on the the ring are telling you how many stops you have stopped down the lens. So in case you have mounted an f1.4 lens "F" means you are shooting at f1.4 while setting it to "1" means you are shooting at f2.0, "2" means you are shooting at f2.8 and so on.
This makes setting a desired aperture value quite an easy task (the mechanism is clickless by the way).
Update: I now finally got a Rayqual Nikon-G to Sony-E adapter (affiliate link) and this is now the adapter I recommend. Compared to the metabones you unfortunately lose the detachable Arca Swiss plate, but in return you get light baffles to reduce reflections and an aperture ring with click stops!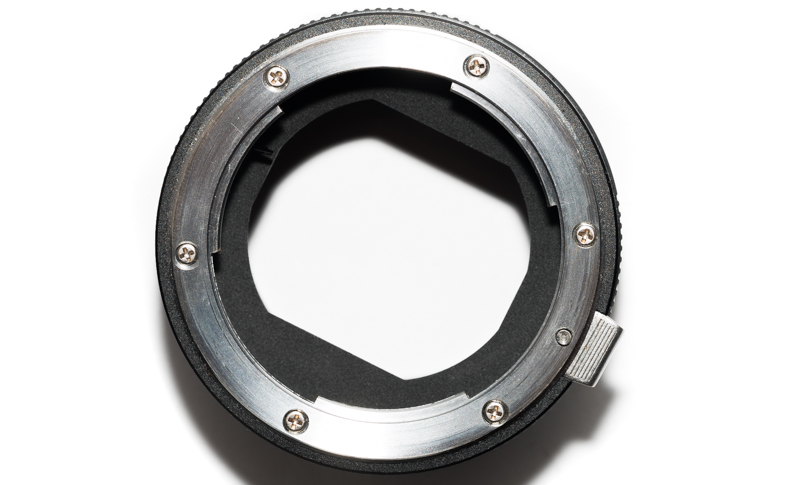 The only real downside: in some countries it is very expensive as there are no distributors and it needs to be shipped directly from Japan.
Conclusion
If you just intend to use old manual Nikon lenses that have their own aperture ring many of the cheap adapters may be up to the task as well. But if you seriously consider using Nikon G lenses without an aperture ring on your A7 series camera it may be worthwhile to invest a little more money for a more sophisticated adapter like the Metabones (you can get one at Amazon.com
/Amazon.de
affiliate links) or Rayqual (Amazon.com affiliate link).
One final word of caution:  don't buy the Pixco adapter I showed in some of the pictures. The biggest problem is neither the short throw of the aperture ring, nor that the "open <-> close" markings are printed in the exact wrong order, but when using it I noticed strange flares in my pictures. After examining the problem I discovered a light leak, which I then had to cover with some black tape, as can be seen in the picture below. This is simply ridiculous.
Further Reading
Support Us
Did you find this article useful or just liked reading it? Treat us to a coffee!


via Paypal
The following two tabs change content below.
My name is Bastian and I am your expert here when it comes to ultra wide angle lenses, super fast portrait lenses (ranging from a 50mm f/0.95 to a 200mm f/1.8) and I also have reviewed way too many 35mm lenses. Don't ask me anything about macro or wildlife shooting though.