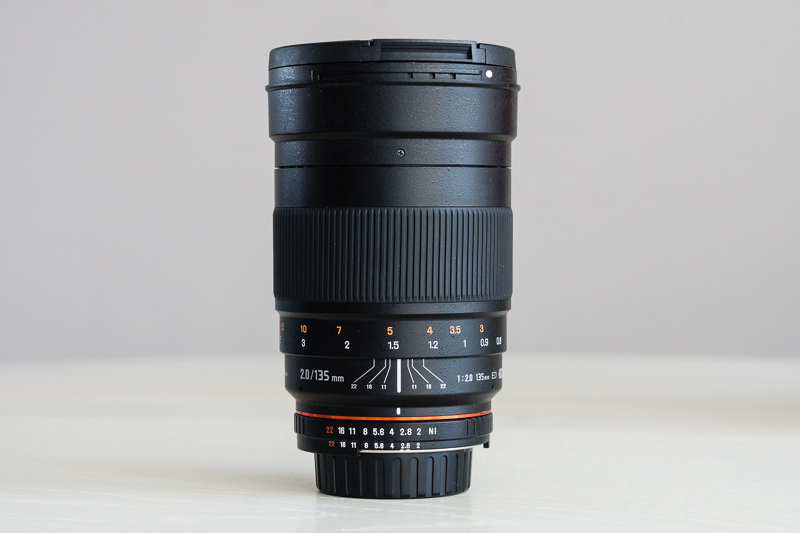 The Korean lens manufacturer Samyang has become popular for affordable and optically good lenses in the last few years. The Samyang 2/135 is one of the latest additions to their lineup. It is on the high end of their price scale – does this reflect in high optical performance?
Sample Images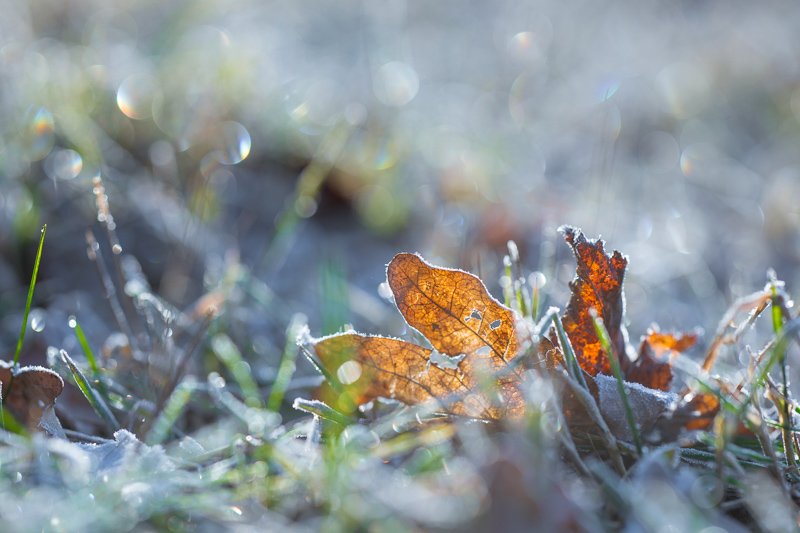 Specifications
Diameter: 82mm
Length:  122mm
Weight: 830g (Nikon Version)
Filter Diameter: 77mm
Number of Aperture Blades: 9 (rounded)
Elements/Groups: 11/7
Close Focusing Distance: 80cm
Maximum reproduction ratio: 1:4
Mounts: Sony (F)E, Sony A, Canon EF, Canon EF-M, Nikon F, MFT, Fuji X, Pentax K, Samsung NX
Versions
The Samyang 2/135 is sold under different brand names like Rokinon, Bower, Walimex Pro, Samyang, Vivitar etc. They look all the same and they are optically the same, they only carry different labels.
There is also a video-version of this lens which can be recognized by the T2.2 labeling instead of the f/2.0. Optically, it is the same but has a geared focus ring. Sometimes and stopless aperture. It can be found even cheaper than the photo version, but the handling compromises are not really worth the saved money in my opinion. Only get this version if you are a videographer.
The Samyang 2/135 usually sells for around $550 Amazon.com (affiliate link)
In Germany you can buy it at Amazon.de as Samyang Version or Walimex Version for around 600€.

So which mount should you buy? If you are a DSLR-shooter, this question is a no-brainer. Just get the version for your mount. If you are mirrorless shooter, it could make more sense to get a DSLR-version and adapt it. The first reason for that is, that DSLR-lenses can be adapted to every mirrorless camera which makes it easier to sell afterwards. The other reason is, that you can  use an adapter with a tripod collar. The lens is very heavy which can cause issues with the plastic/metal-mount of the a7r/a7 so it makes sense to support it.
If you decide to use a version with adapter, make sure to prepare your adapter carefully by flocking it.I have noticed some reduction in contrast when using a bounced flash which was probably caused by internal reflections in the adapter.
Build Quality
The lens barrel is made from high quality plastics. I seems to be pretty scratch resistant and keeps the weight down.
The focus ring is rubberized and very wide. I have owned two different copies of this lens. The focus ring of both lenses turned evenly but with a slight grinding feel to it. I don't like that and I am not sure if this will cause some wear in long-term use.
The aperture ring feels nice and has well defined clicks.
The lens hood feels a little cheap but is very light.
Apart from the the focus ring and the lens hood, everything feels well made and tightly assembled. It feels more solid compared to the Samyang 2.8/14 and the 1.4/85 but not even nearly as nice as top class legacy lenses from Contax, Minolta or Olympus.
Handling
The Handling of the lens is a double edged sword. The focus ring is nicely large and travels 180° which feels perfect for that lens. This makes focusing and tracking of moving subjects very easy.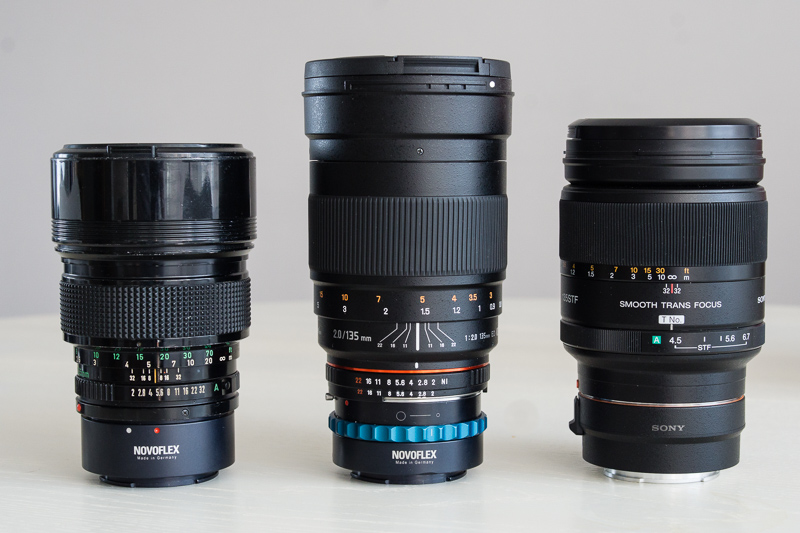 The Samyang 2/135 is by far the largest lens among my 135mm lenses. The Canon nFD 2/135mm on the left side is really small for it's speed. The Sony T4.5/135mm STF is also noticeably smaller but it is a stop slower.
The contrast is high enough for focus peaking at every aperture. I didn't notice any focus shift.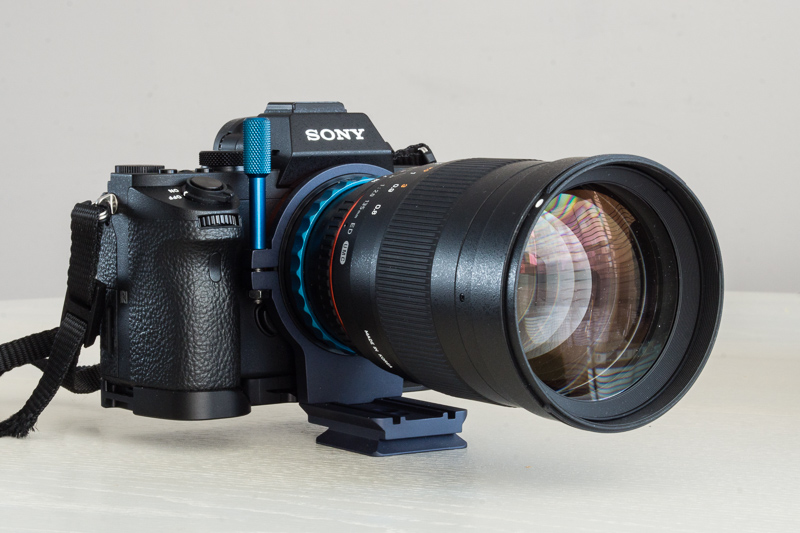 On the negative side, this lens is very large and heavy. I recommend to use a tripod collar for tripod work.
There is some focus breathing. The focal length increases when it comes to close up work.
The grinding feel in the focus ring can be annoying. I got used to it and it got a little better with the time.
The filter thread is 77mm, filters can be pretty expensive if you don't have them yet.
Optical Quality
Sharpness
Infinity: Apart from vignetting, you don't see that much in this aperture series. This lens is ridiculously sharp across the frame from f/2 on. The micro contrast is slightly higher at f/2.8. Diffraction becomes slightly visible at f/8 and more obvious at f/11.

One thing to note is that the color changed from f/2 to f/5.6. The white balance of the camera was tricked by the lens, it was warmer wide open and cooler stopped down. With the same white balance in Lightroom, all images have the same color.
Close-Up
So let's take a look at close-up sharpness. I can't see any significant difference between f/2.0 and f/5.6, maybe f/2.0 is even a tad sharper but this is not worth noting when it comes to performance in the field. You only stop this lens down when you need the depth of field, not to gain sharpness. The excellent close up performance hints that this lens could be turned into a great macro lens when using extension tubes. Even without them, the good maximum reproduction ratio of 1:4 lets you get pretty close to the subject.
Distortion
This lens is virtually distortion-free! There is a little hint of pincushion distortion but its value differs between 0 and -1 in Lightroom, nothing worth to care of.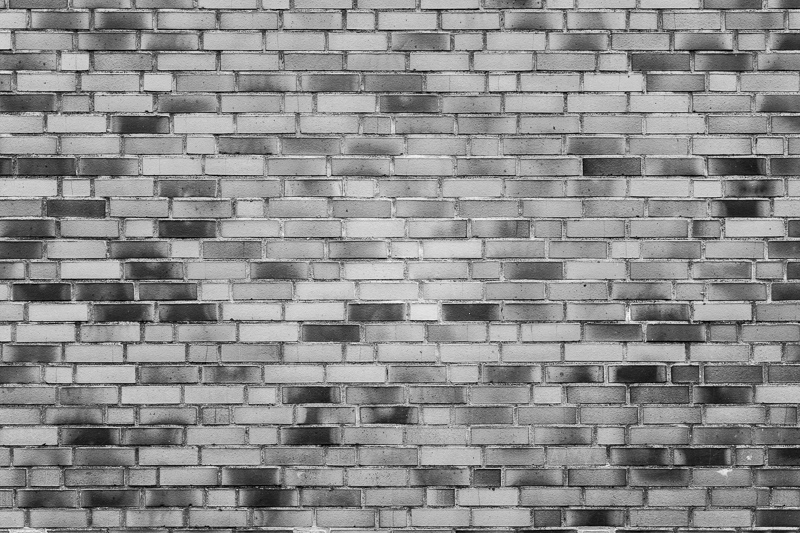 Flare
This lens is able to produce flares when the sun comes into the frame. The sample below shows the most complex scheme of ghosting that I was able to produce.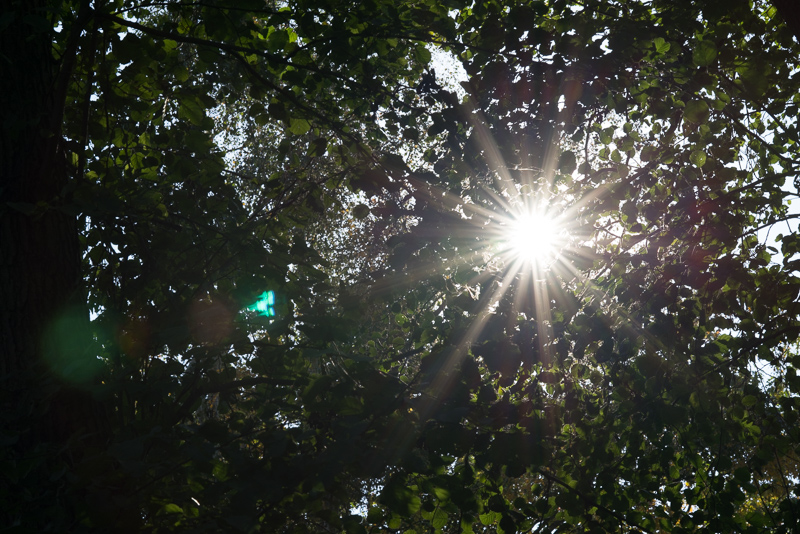 This sample shows some greenish flare. We are not sure if this is veiling flare or sensor-induced.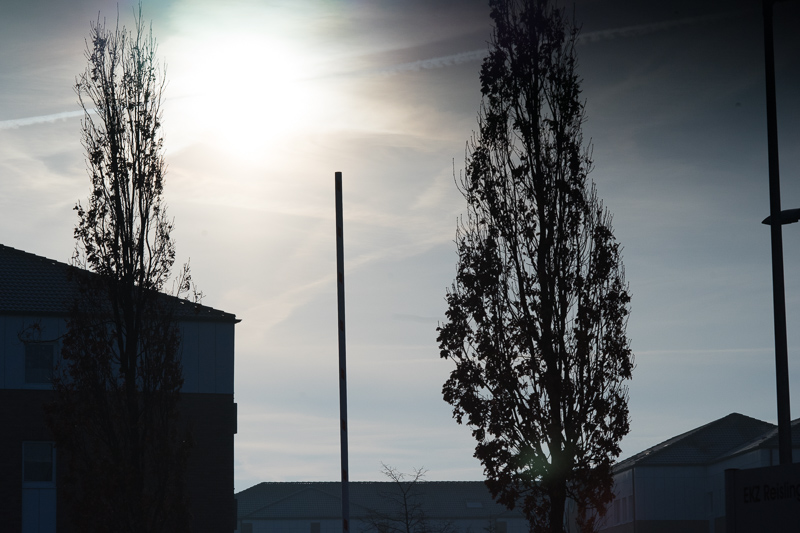 This sample combines the greenish flare with ghosting artifacts:
Finally, a sample where the ghosting was pretty harmful and ruined the landscape shot. Unfortunately, this was the biggest ghosting ball that I found in my shots so far. It nearly looks like a smoke ring.
As you can see, this lens doesn't perform completely flawless in that category. I like that the veiling flare only affects a small area and that the contrast stays very high while shooting against the sun. The amount of ghosting can be disturbing under circumstances.
Vignetting
The maximum amount of Vignetting is 1,67 EV at f/2. That's definitely worth noting although typical for a fast full-frame lens.
The vignetting is reduced when stopped down and virtually gone at f/8.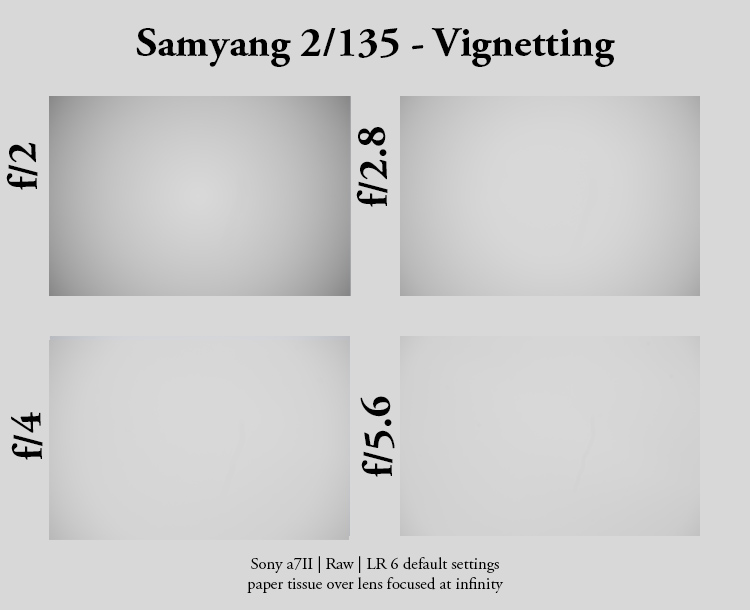 Chromatic Aberrations
A good stress test for bright tele lenses is to point the lens wide open directly into some branches in a high contrast situation. Usually, the lens shows some amount of lateral and longitudinal chromatic aberrations in that case. Look at what happens with the Samyang 2/135 in that situation (100%-crop of the extreme corner!!):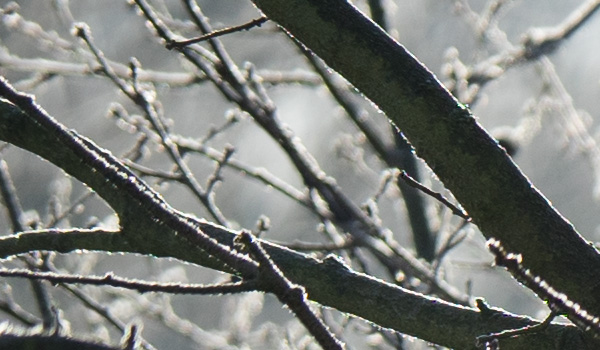 No lateral and only a negligable hint of longitudinal chromatic aberrations to speak of. So let's put the lens into another stress test: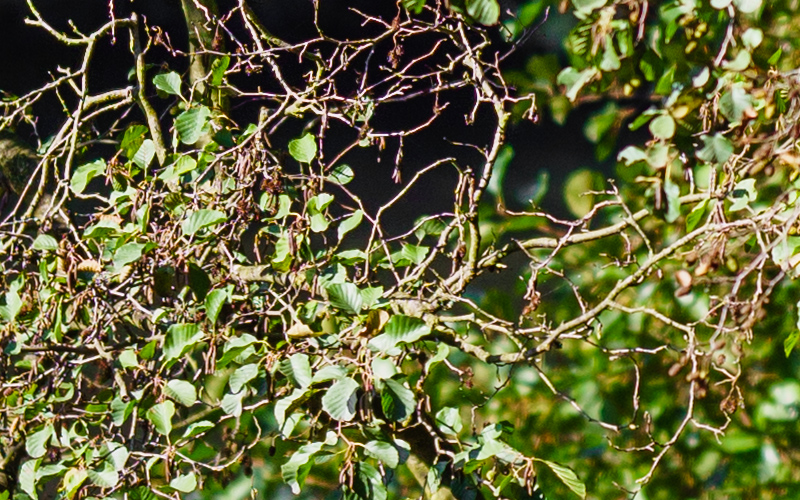 Again, we see a super high-contrast situation wide open with sunlit branches at a distance of ~15m. No noticeable longitudinal or lateral chromatic aberrations, very impressive. Usually, a low until moderate amount of chromatic aberrations can be corrected easily during post-processing. In some situations, it can really ruin images. I was pretty sure that the last image would have been a firework of purple fringing with fine structures, not that easy to correct without loss of information.
This lens would have deserved an APO-mark and I would say it has true APO-qualities.
Bokeh
Since subject isolation is one of the most important reasons to get a 2/135mm-lens, I will analyze this aspect more detailed than with other lenses.
I will show you sample images of several distances, all wide open.
Let's begin with a close-up-shot near minimum focusing distance – In my opinion, the bokeh looks very good here. Smooth highlights, no harsh borders and very clean highligts.
The next sample is at a typical portrait distance, the background is further away. Between the focal plane and the background are a few branches. Again, I really like how the lens draws the bokeh balls. They look very clean and are very clean in terms of rendering and color. Look, how contrasty and sharp the letter is written.
The black swans were shot at a medium distance, the turbulent water in the background shows many little highlighs. I would consider the rendering to be neutral. It doesn't look overly smooth but also not too harsh.
At mid-distances, with many highlights in the background. the bokeh tends to swirl. That's a characteristic, a matter of taste, if you like that behavior.
This shot shows a 100%-crop of the second image in that post. It was taken of frosty branches at slightly longer distance than the bike shot. The situation was extremely contrasty. The branches glitter and show many highlights in the out-of-focus area. This is the first time that I see a slight hint of chromatic aberration in the bokeh highlights. The bokeh balls have hard edges which reminds me a bit of a mirror lens. The overall shot still looks extremely smooth and I think, that this image would have been just purple and green with a "non-APO-class" 2/135mm lens like EF 2/135 L. Nevertheless, the bokeh is not very nice at far distances.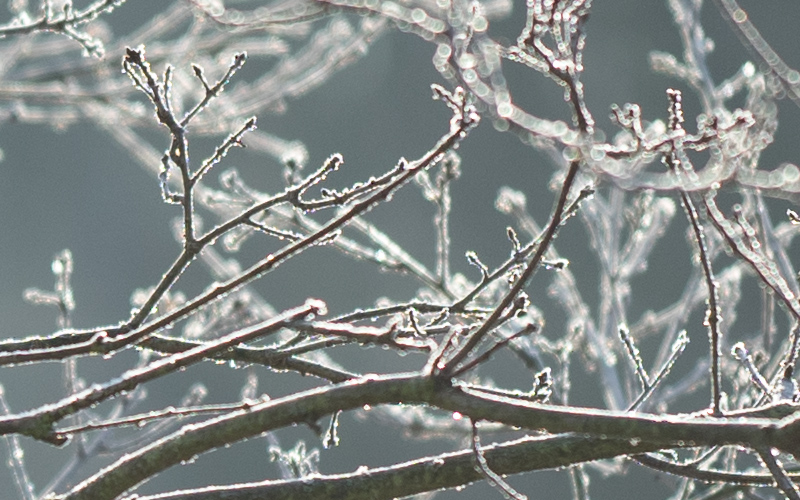 Thanks to 9 slightly rounded aperture blades, the Bokeh at f/5.6 stays pretty round. The edges of the bokeh balls are slightly pronounced but not too distracting. I would not hesitate to stop the lens down if additional depth of field is required.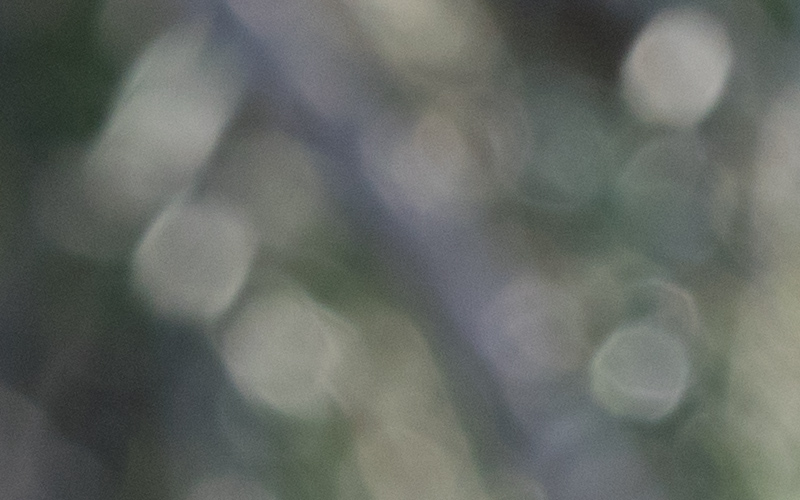 Finally, let's have a look at one more full size sample for the mid-distance bokeh, stopped down to f/8. In my opinion, it looks pretty good and calm down nicely compared to f/2. The bokeh balls stay pretty round.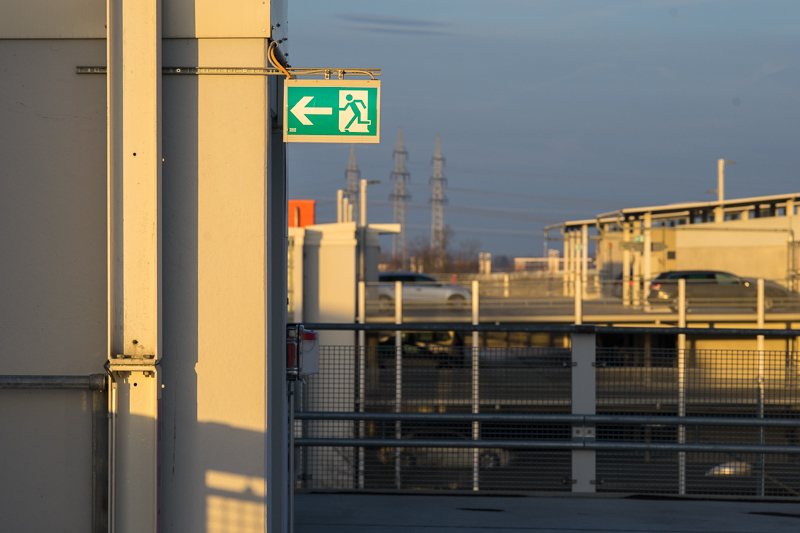 Alternatives
Very fast 135mm lenses are quite rare, but there are some decent alternatives:
Zeiss APO-Sonnar 2/135 (Amazon.com): Performance-wise, both lenses are very close. Both combine outstanding sharpness and APO-qualities, but the Zeiss lens is built to much higher standards and has more effective T*-coatings.
Sony Zeiss Sonnar T* 1.8/135 ZA (review): Same size, even heavier, stellar image quality and autofocus. The latter is only screw-driven and works only with the LA-EA4, the Achilles heel of the lens is the tendency to purple fringing wide open. The Samyang and the Zeiss APO-Sonnar are much better in that regard. The bokeh of the Sony 1.8/135 is smoother at longer distances than the bokeh of the Samyang 2/135.
Canon EF 2/135 L (Amazon.com): A very good lens, but compared to the Samyang 2/135 less sharp wide open and worse correction of chromatic aberrations. Can be used with EF-autofocus-adaptors. If you look for a AF lens in the same price category, you can consider to buy this one used.
Canon nFD 2/135 (review coming this year): Pretty much the same as the EF lens. Probably a tad more prone to purple fringing and less flare resistant. If you are looking for a legacy lens, this is probably the best alternative. If you are lucky, you pay half the price compared to the Samyang.
Canon nFD 2.8/135 (review):  Decent but not stellar performer with excellent price-performance ratio.
Conclusion
good

bitingly sharp at every aperture and distance

amazing correction of chromatic aberrations

Excellent  price/performance ratio

bokeh at close to portrait distance and stopped down

short focusing distance

close to zero distortion

average

contrast + color
build quality
vignetting
flare/ghosting
weight

not good

grinding feel in the focus ring

bokeh at longer distance wide open

size
The Samyang 2/135 is a lens with outstanding qualities. First of all, is has close to perfect correction of chromatic aberrations. Most of the very fast lenses suffer from a high amount  of chromatic aberrations wide open, therefore this is a unique selling point, especially at that price. The sharpness is great at every aperture and distance, I used this lens most of the time at f/2 because it works so well there. Even the corners are very sharp wide open The bokeh is nice in most use cases, especially at close distance. In combination with the nice minumum focus distance and the excellent sharpness wide open, it performs outstanding when it comes to close-up photography with shallow depth of field like shown in the sample images.
All these aspects result in amazing image quality out of the cam without any post processing.
Contrast and color are moderate, especially when using it side by side with a color/contrast monster like the Loxia 2.8/21. The build quality seems to be more solid than with the other Samyang lenses that I have used before but is still nothing to rave about. The vignetting is significant wide open although not distracting. Veiling flare is well controlled but ghosting can be an issue in some situations. The weight is reasonable compared to it's size.
One thing I didn't like was the grinding feel in the focus ring. It got better during the use but still doesn't feel nice in use. The bokeh can be pretty harsh in long-distance combined with high contrast situations. This is the only situation where I can see a small hint of chromatic aberration although I am sure that most other lenses don't perform any better there. The size is enormous, that can be a show-stopper. I would only consider to carry this lens when I am sure to benefit of its brightness (portrait, shallow depth of field word) or of its apochromatic correction.
Considering the price tag and the performance, this lens is extremely cheap for what it offers. The only lens that can seriously compete with it is the Zeiss APO-Sonnar T* 2/135mm which costs around $2.000. Except of that, it outclasses every other 135mm lens when it comes to sharpness across the frame as well as color and distortion correction.
The Samyang 2/135 usually sells for around $550 Amazon.com (affiliate link)
In Germany you can buy it at Amazon.de as Samyang Version or Walimex Version for around 600€.
If this review was helpful to you, please consider to use one of my affiliate links. I will earn a small commission on your purchase and it won't cost you anything. Thanks for reading!
Sample Images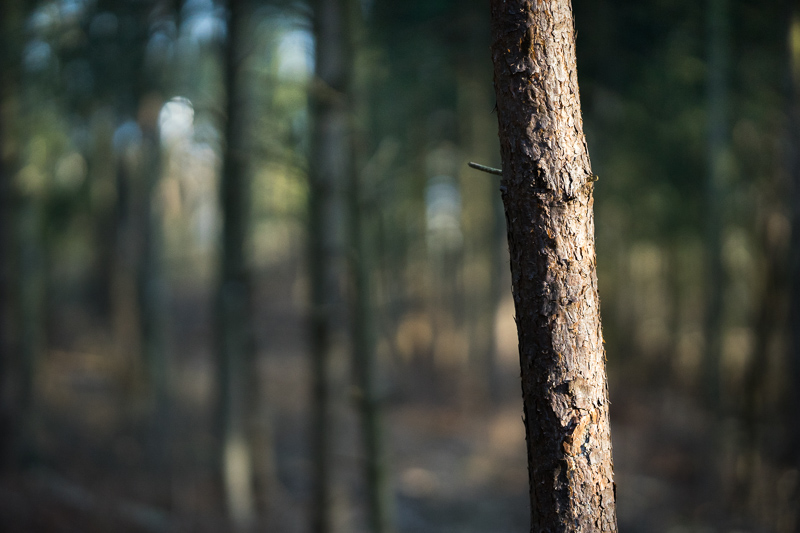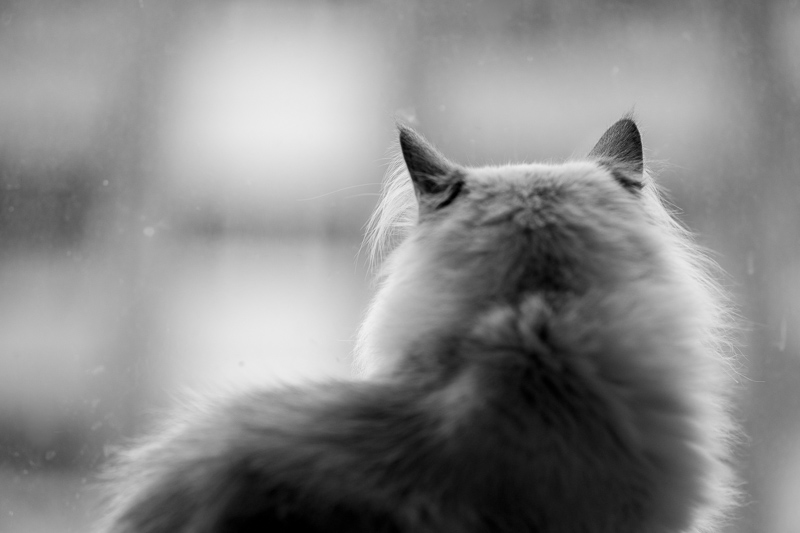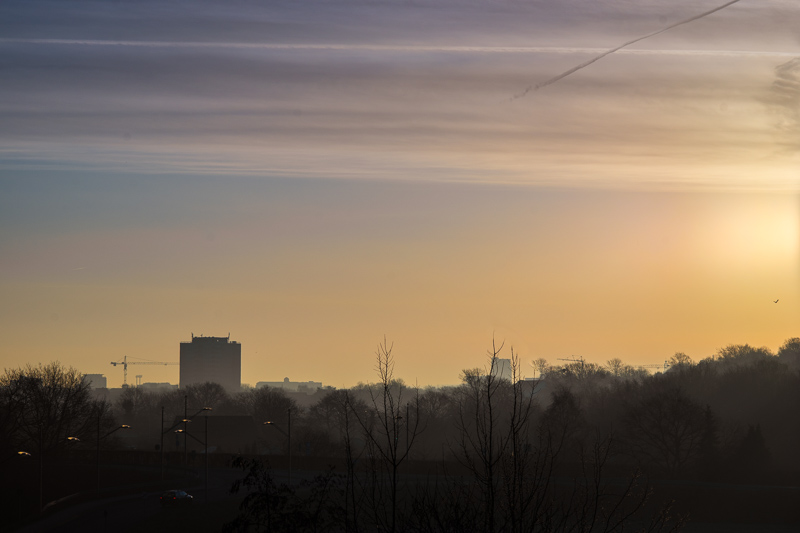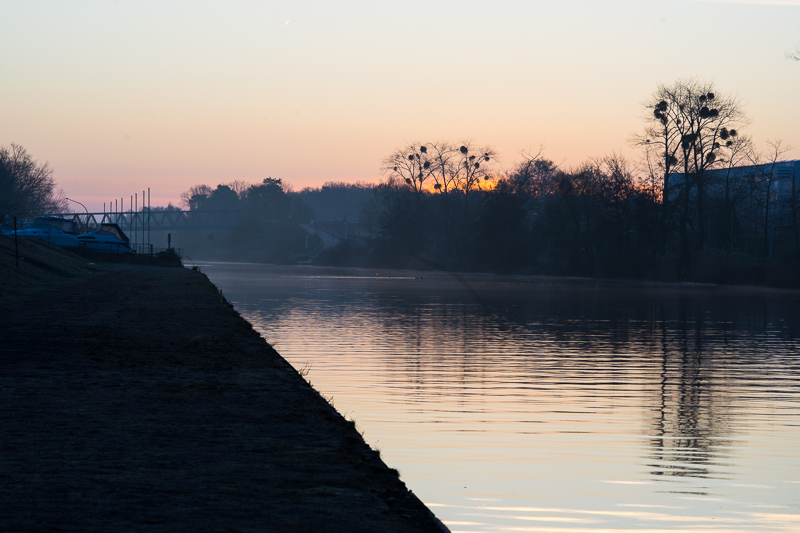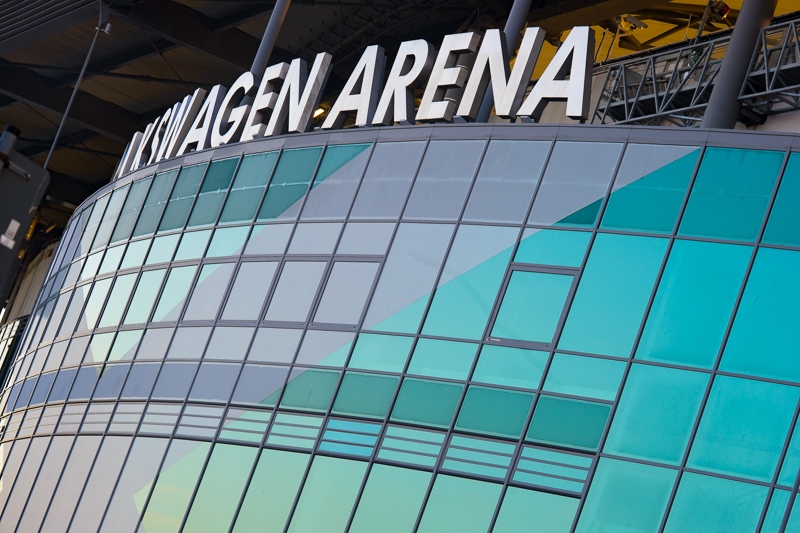 The following two tabs change content below.
Jannik Peters
I am a passionate photographer from northern Germany and I love landscape, architecture, travel, portrait and family photography. I use manual lenses but I also enjoy the comfort of autofocus lenses, therefore both can be found in my bag.
Latest posts by Jannik Peters (see all)