Introduction
This is a review of Nikon's latest fast wideangle lens and how it performs on Sony's A7 series. It may come as quite a surprise, as I usually prefer using (and reviewing) rangefinder lenses on my A7s.
Sample Images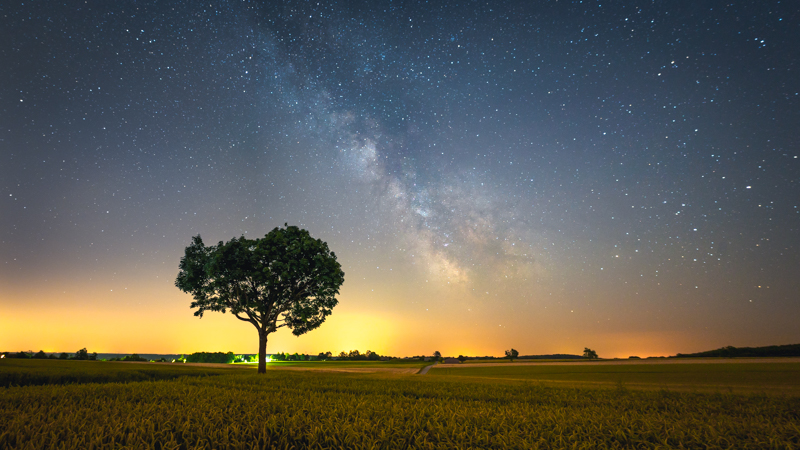 Specifications
Diameter: 80.5 mm
Field of view: 94° (diagonally)
Length:  82.5 mm
Weight: 355g
Filter Diameter: 77 mm
Number of Aperture Blades: 7 (curved)
Elements/Groups: 13/11 (2 ED, 2 aspherical)
Close Focusing Distance: 0.2 m
Maximum Magnification: 1:4.3
Mount: Nikon-G
This lens can be ordered new for $750/650€ on Amazon.com
/Amazon.de/B&H you can also find used ones on ebay.com/ebay.de (affiliate links).

Handling / Build Quality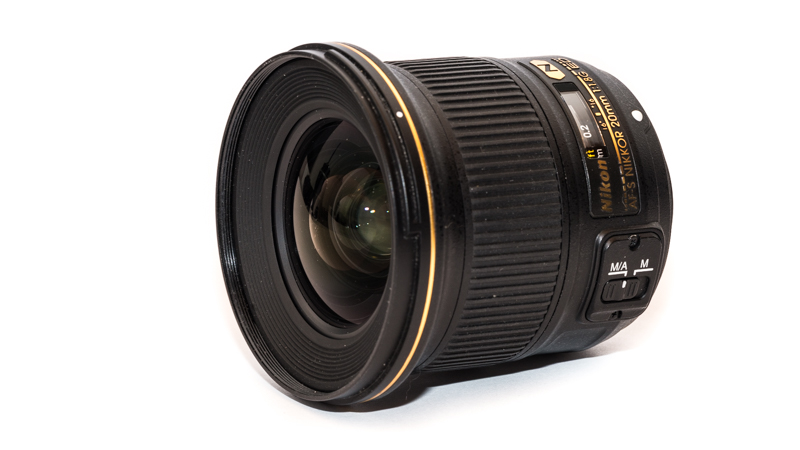 The outer barrel is made from high quality plastics, as are most modern lenses. There are no moving parts on the outside whatsoever (this is a rear focus lens) and it feels pretty solid while still not being particularly heavy. There is one caveat though: the implementation of the manual focus ring is not really great with most AF-S lenses, as there is some slight "slack" between the outer ring and the mechanics on the inside when changing the direction of rotation of the focus ring. This is a common problem that can be found in many recent Nikon AF-S lenses. As this is a 20mm wide angle lens where you rarely have to fine tune focus exactly (in contrary to a macro lens for example) this has never been a problem for me in the field, but it may be for you, so I felt like I should mention it. Turning the focus ring from infinity to 0.2 m takes roughly 45°, which I think is absolutely fine for a 20mm lens.
As this is a "G" lens without an aperture ring you need an adapter that allows for aperture control. Have a look at my last article How to adapt Nikon G lenses to A7 cameras covering this exact topic.
Vignetting

There is visible vignetting at f/1.8 which of course improves on stopping down. There is also a profile for correction embedded in Adobe Lightroom. This is a pretty typical performance for a lens with these parameters.
Sharpness
infinity


The sharpness is already very good at maximum aperture across the whole frame except for the extreme corners.  The corners reach good to very good resolution from  f2.8 and from f4.0 onwards I would call them excellent. If you need very even sharpness across frame I recommend shooting at f4.0 to f11. For handheld shooting, especially at higher ISO, I wouldn't hesitate using it at maximum aperture.
close focus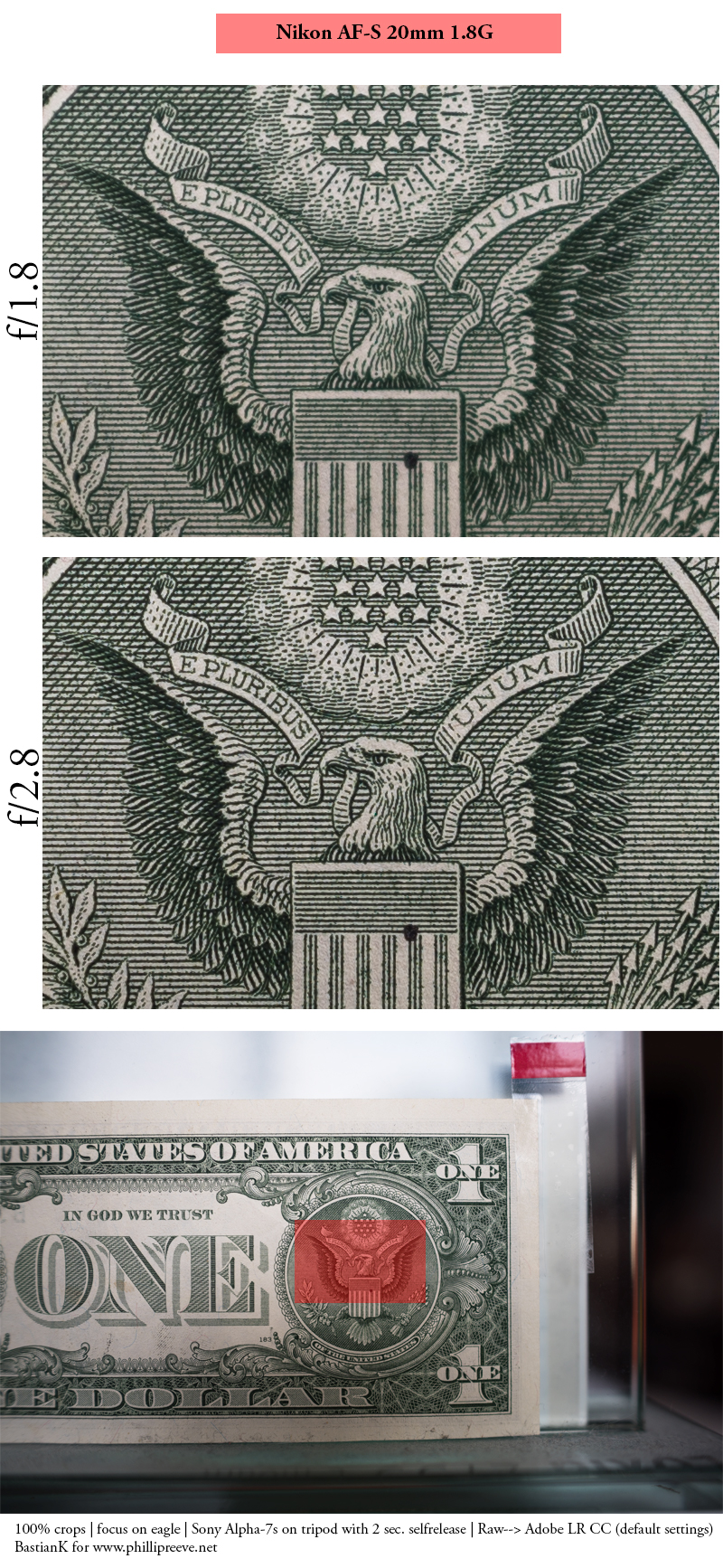 Even at maximum aperture the resolution and contrast at the minimum focus distance are very good. From 2.8 onwards they are both excellent.
Flare resistance
The flare resistance is very good with this lens. The Nano coating helps to prevent loss of contrast in contra light situations, even when shooting directly into the sun. In the picture above you see the worst I could produce (take a look at the lantern and the lower right).
Coma

This is where it gets really interesting. As you may already know I am quite the fan of astro-landscape photography (see my flickr album, to see my astro work :-)) where coma performance is a very important factor.
As can be seen in the pictures above there is visible coma in the corners at f/1.8, but as of today there is no 20mm lens which is as fast and offers better performance (I tried the new Sigma 20mm 1.4 Art whose performance is about the same but which is too big and heavy to comfortably use on A7 cameras, the older Sigma 20mm 1.8 has awful performance, for the fast rangerfinder lenses see the "Alternatives" section). Apart from that, slight coma in the corners of a fast wideangle lens is one of these things people (who often do not have taken even a single astro landscape shot) like to constantly complain about in internet forums, but which is rarely noticed in real world photos.
In my opinion the coma performance is as good as it gets with a 20mm lens with a maximum aperture of f/1.8 and this is one of my two main lenses for astro photography (alongside the Nikon 14-24mm 2.8G). I rarely stop this lens down for astrophotography and mainly use it wide open.
You can find an unedited shot of the milky way in full resolution here.
Distortion
Sony A7s | Nikon AF-S 20mm 1.8G | f/8 | distortion before/after
There is some slight barrel distortion which can easily be corrected with the corresponding Lightroom profile in post, as can be seen in the example above. As this is a rear focus lens the influence of the focus distance is negligible here.
Bokeh
With a 20 mm lens, even if the maximum aperture is 1.8, you have to be pretty close to your subject to see distinct bokeh. But when you do, the quality is actually really good as there are no outlinings and rarely visible onion rings.
Please forgive me for including one shot taken with a D800, but this is simply the best example for what you can do in terms of bokeh with such a wide angle lens:
Sunstars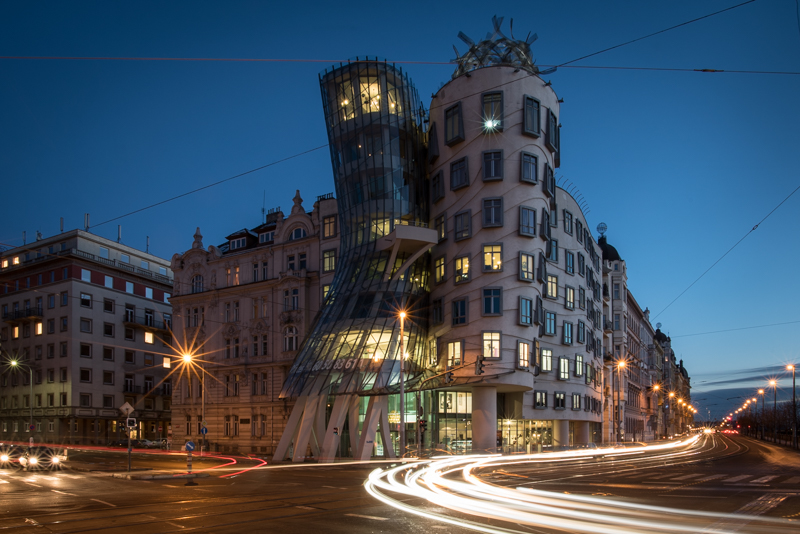 Among Nikon users this lens is pretty famous for it's 14-pointed-sunstars, which are indeed well defined and quite nice. Nonetheless I slightly prefer the sunstars produced by 10 straight blades as can be seen with the 21mm 2.8 Loxia or the 28mm 2.0 Ultron and the 50mm 1.5 Nokton (review following).

Chromatic aberrations
longitudinal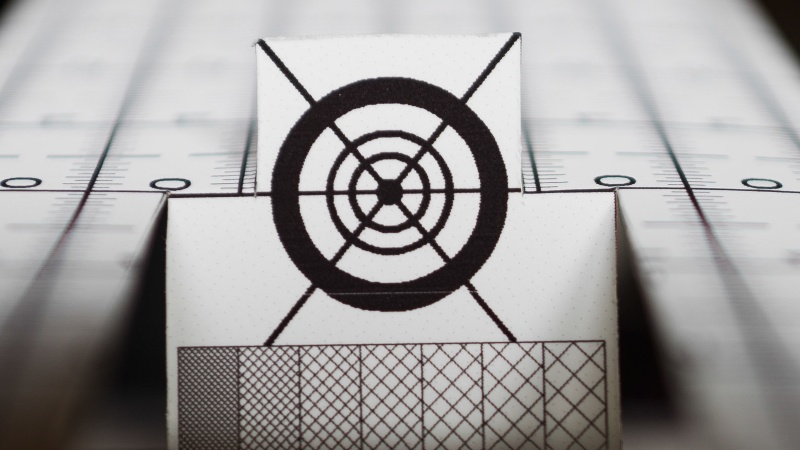 In real world shooting I did not even once notice loCA in a bothersome way in any of my pictures. Even at the minimum focus distance they are rarely visible. This is really great performance for such a fast lens.
lateral
Lateral CAs are pretty much a non issue as well throughout the whole aperture range. Take a look at the example below (100% crop), the CA are so minor, you will probably have a hard time spotting the differences.

Sony A7s | Nikon 20mm 1.8G | f/8 | CA 100% crop before/after corner
Alternatives
The first one that comes to mind is of course the Zeiss Loxia 21mm 2.8. I expect better build quality and – because of the native E-mount – better handling. If I weren't seriously into astro landscape photography I may have bought the Loxia, but as it is I perfer the 4/3 stop advantage of the Nikon lens. When it comes to the optical qualities I don't see them very much apart.
Other fast rangefinder wide angle lenses would be the Voigtländer 21mm 1.8 Ultron and the very expensive Leica Summilux 21mm 1.4. I haven't used either because from what I have seen I can only call their performance regarding coma wide open pretty awful. This does not only apply to the A7 series cameras but also to the digital Leicas, as Ron Scheffler has shown in this blog post (night lit scene with Leica M9 download at the bottom). Because of my shooting envelope (astro landscape) this was a very important factor to consider, YMMV. In terms of weight and also price you don't get an advantage here as well.
There are of couse a bunch of other, mostly older (and considerably cheaper) 20mm lenses, like the Canon FD 20mm 2.8, the Minolta MD 20mm 2.8 and many more but they are not as fast, the corner performance wide open is more than often nothing to write home about and same goes for the coma correction. But in case you don't need f1.8 in a wide angle lens, or in case you are mostly a stopped down shooter, they may be a good and cheaper alternative for you.
Conclusion
good

very good center/midframe sharpness and contrast already at f/1.8 at all distances

excellent sharpness across the whole frame from f/4.0 onwards

bokeh

CA correction (lateral and longitudinal)

flare resistance


sunstars

no field curvature


coma correction

average

price
vignetting
distortion
build quality

not good

slight slack in focusing ring
when changing
direction of rotation

I had a hard time with the ratings above, especially where to put price and coma correction, so let me say a thing or two about these: the Nikon 20mm 1.8G is definetly not a cheap lens, but for what it is, and when taking into account the alternatives, the price is more than justified by the performance in my opinion.  The performance regarding coma at the maximum aperture is not flawless, but it is also better than the average 20mm lens and stopping down to just f/2.8 improves the performance dramatically, so I simply can't fault the lens for this. The only real drawback I came across is the slight slack in the focusing ring when changing the direction of rotation. In case you are mainly used to manual focus lenses made of metal you may also find this lens a bit "plasticky".
So, who is this lens for? Anyone, who looks for a lightweight, high performance wide angle lens, which is not as expensive as the Zeiss Loxia 21mm 2.8, while also being 4/3rds of a stop faster. Apart from convenience and build quality you are not really giving anything up here in comparison. But if you don't need the fast aperture in a wide angle lens (and this may apply to many of you) there are even cheaper alternatives in the 20mm range (see "Alternatives" section).
This lens can be ordered new for $750/650€ on Amazon.com
/Amazon.de/B&H you can also find used ones on ebay.com/ebay.de (affiliate links). And in case you need a decent adapter with aperture control, take a look at this article.
Sample Images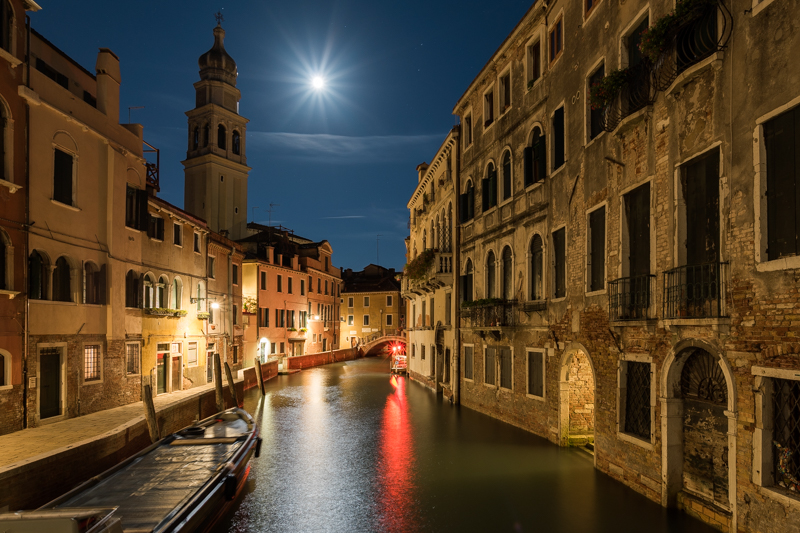 I have set up a flickr album which contains many shots taken with the Nikon AF-S 20mm 1.8G and I will add more pictures to it in the future. Watch out: some shots have been taken with a D800, so take a look at the provided Exif data.
I also wrote a small "first-hands" review for nikonrumors.com, as I was an early adopter of this lens.
Support Us
Did you find this article useful or just liked reading it? Treat us to a coffee!


via Paypal
The following two tabs change content below.
My name is Bastian and I am your expert here when it comes to ultra wide angle lenses, super fast portrait lenses (ranging from a 50mm f/0.95 to a 200mm f/1.8) and I also have reviewed way too many 35mm lenses. Don't ask me anything about macro or wildlife shooting though.