Introduction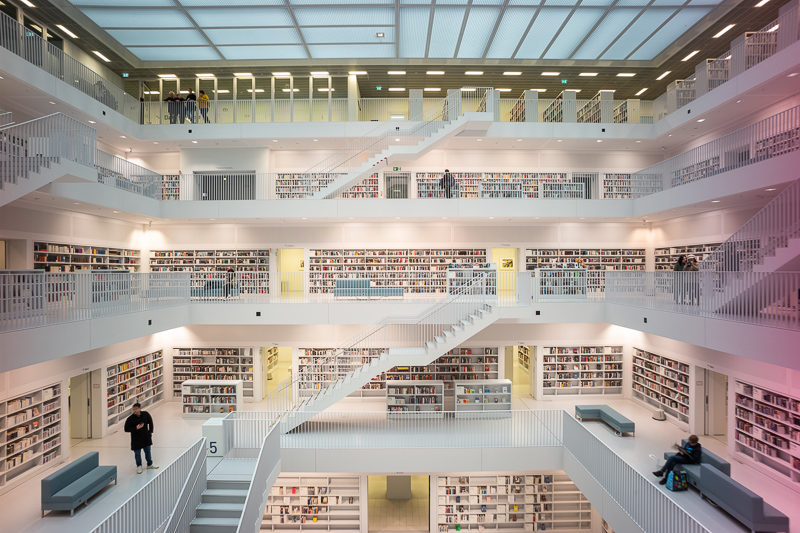 Leica users where the first to discover that their old compact wide angle lenses with the rear element close to the film/sensor plane have some color cast issues on digital cameras. This is an issue that cannot fully be solved by the optical design – at least when following the quest to create compact lenses. But there is something we can do: fix this in post. How to do it? I will show you in this article.
What is color cast?
Some wide angle lenses will create a color cast in the corners and sometimes border regions of the frame when used on digital cameras. This mainly affects compact (rangefinder) wide angle lenses with their rear element very close to the sensor. That short distance between rear element and sensor means that light will hit the sensor at a very shallow angle which creates some problems like additional vignetting and also sometimes a color cast.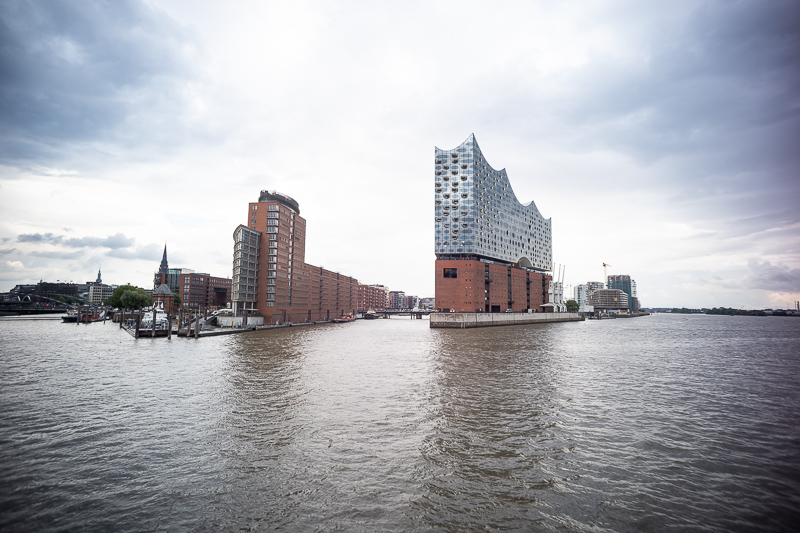 The same lens can show different color cast on different cameras. The later BSI sensor Sony cameras mainly show a slight symmetrical green color cast in the corners. The same lens can show a nasty asymmetrical magenta color cast on the Leica M10 though. The situation can get even worse when using a camera with older sensor technology like a Sony A7r, a Leica M9 or even APS-C cameras like the Sony Nex 7 or Leica M8 – these cameras are generally known to have the most severe issues with color cast.
There is also some good news though: no matter how bad the color cast is, it can be corrected.
Correcting Color Cast in Lightroom
a) Gradients
For lenses that show only a slight color cast this is usually my go to method. The benefits of this method: it works with any kind of image files (all raw files + jpegs) and the correction can be turned into a preset for very easy application
First thing you should do is take a picture of an evenly lit white surface. I was just using a white wall in the house for this. I set the lens to infinity, the camera to base ISO and took a picture. In this picture the color cast should be easily visible, if there is one: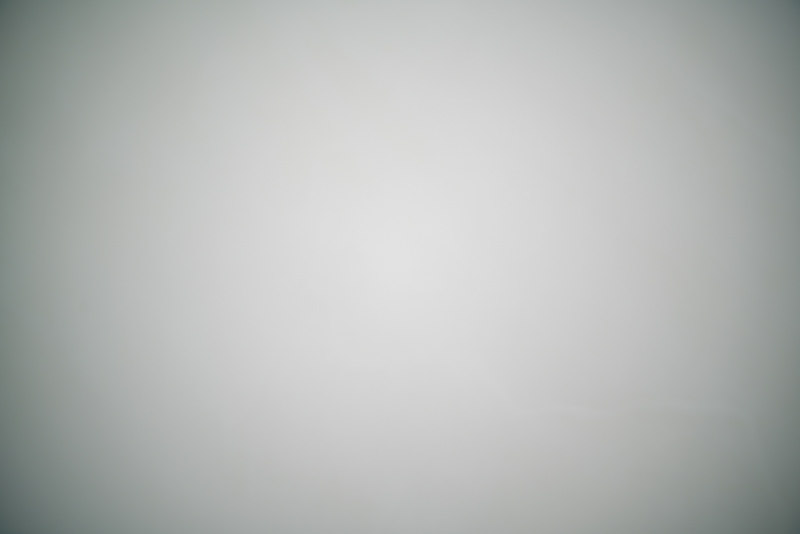 For the following steps in can be helpful to increase saturation and vibrance to 100, as it makes color cast more easily visible. The center of the frame should be neutral grey, even with those two set to 100. If that isn't the case adjust the global white balance first.
Now I start in one corner with one gradient. As the color cast is green I am increasing the teint to neutralize the color cast. The corners are also a bit too blue, so I increased the temperature as well.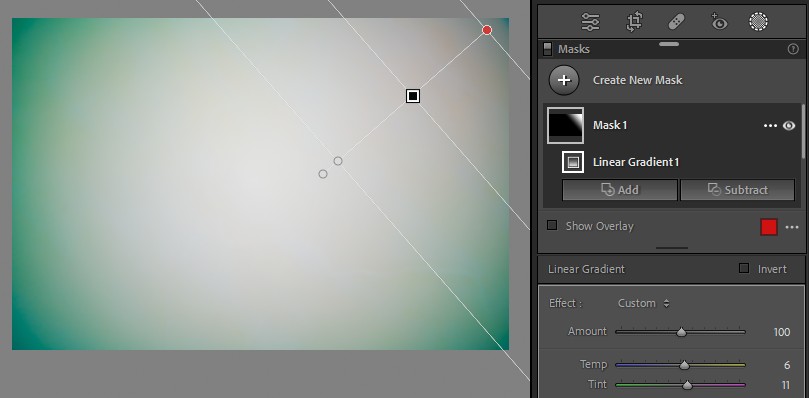 The next step is to copy the mask to all four corners: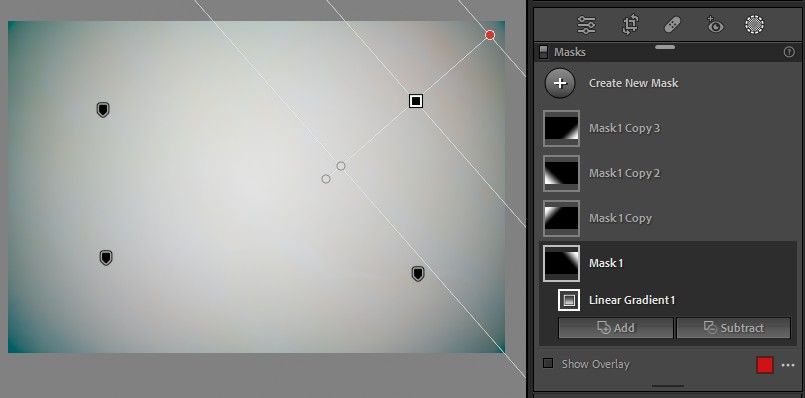 While the situation already improved greatly there is still a slight color cast in the very corners left, so I am adding another set of gradients in the corners, starting with one: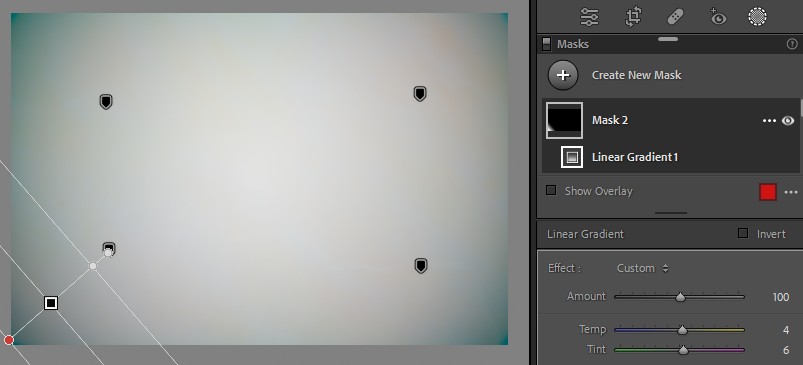 And then copying the mask to the others: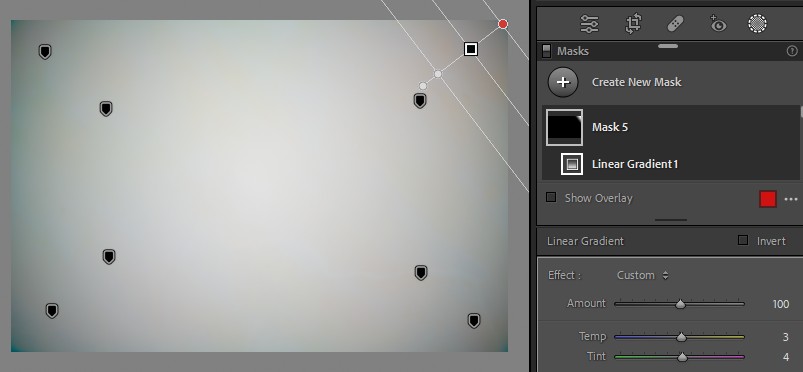 Now that we have done that the correction looks pretty good, also keep in mind vibrance and saturation are still greatly increased. When changing those back to zero all the visible color cast is gone:
You can now copy your masks to some real world pictures and see if the correction works well or if any further adjustments are needed. In this example it looks like it works very well:
When you are happy with the results you can also save your settings (masks) as a preset which makes them very easy to apply to any further pictures.
b) Radial Filters
This method is very similar to the aforementioned one but we are using radial filters instead of gradients. I find radial filters a bit trickier to set up, but you don't have to deal with every corner separately. Obivously radial filters work best with symmetrical color cast like we usually see it on the later Sony cameras.
We will use the Funleader 18mm 8.0 as an example as it creates a very strong green color cast on the Sony cameras.
Also here we need a picture of a white evenly lit surface like described before:
I am again increasing saturation and vibrance to 100 for the color cast issues to be more easily visible:
As the color cast is (mostly) radially symmetrical I set up an inverted radial filter that only affects those corners:
I increased the tint to neutralize the green color cast. I also increased the temperature a little as the corners were more blue than they should be.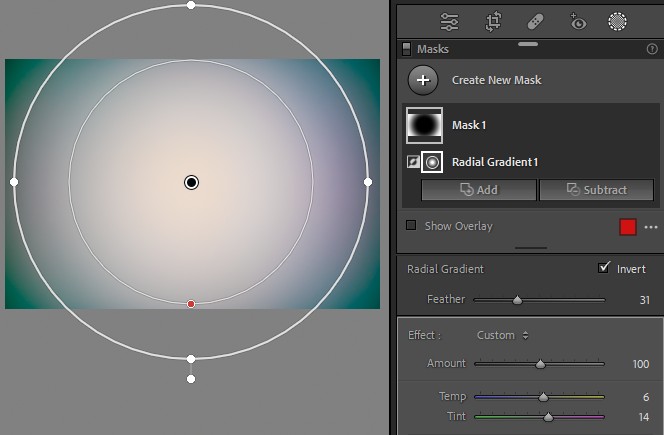 Depending on how bad the color cast is it can be necessary to use more than one such digital filter. Here I used three radial filters of slightly different size with different settings for hue and temperature: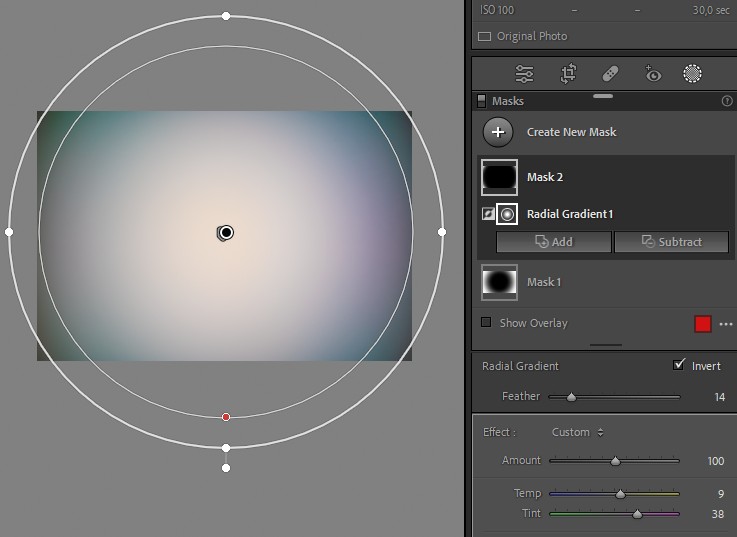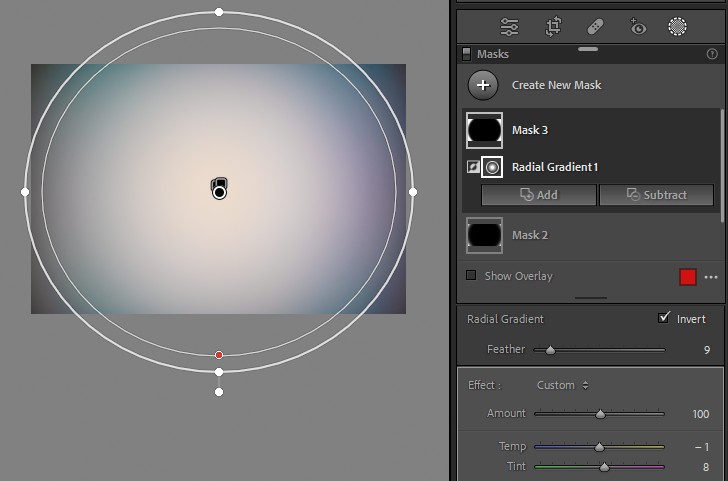 You may think this still looks bad, but remember we greatly increased saturation and vibrance. If we set those to zero again the result looks pretty good:
Keep in mind the correction does not have to be perfect. Even if it only looks like 90% good it should be totally sufficient for most cases. Also keep in mind that I was using a rather severe example here, for most lenses that show a color cast a single radial filter is sufficient.
Again it is a good time to see how the correction works for some real world pictures:
c) Flat Field Correction
Lightroom features a "Flat-Field Correction" that can yield even better results than the aforementioned methods and you also don't have to deal with setting up gradients or radial filters yourself. Unfortunately it comes with two disadvantages: it only works with DNG files and you cannot turn the correction into a preset.
We will again be using the Funleader 18mm 8.0 as an example, but this time when used on the Leica M10 where it creates a horrendous asymmetrical color cast: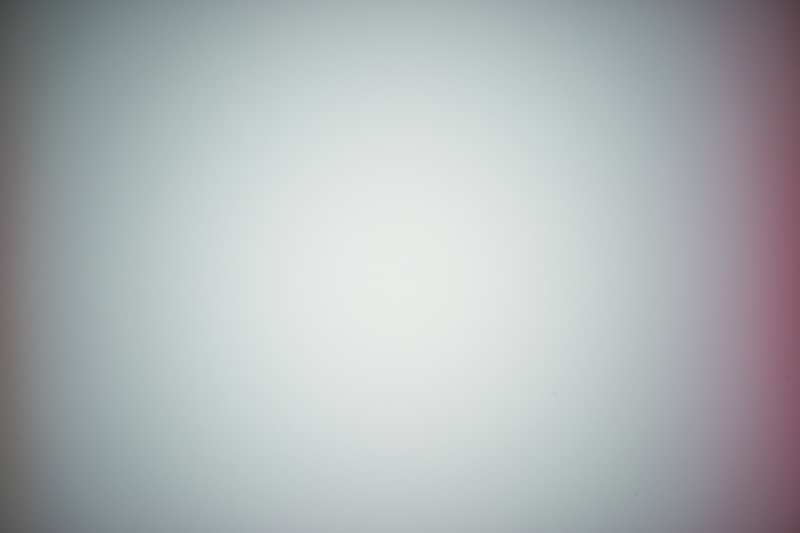 What you also need here is a picture of a white evenly lit surface like a white wall. The lens should be set to infinity, the camera to base ISO. This picture is very important here, as you will always need it to correct others. We will call this the subtraction image.
What you do now is select that subtraction image as well as a picture you want to correct and run the Flat-Field Correction (Library -> Flat-Field Correction). You can even choose to also correct the vignetting if you like (uncheck "Only correct color cast"). I often found the vignetting correction too strong though.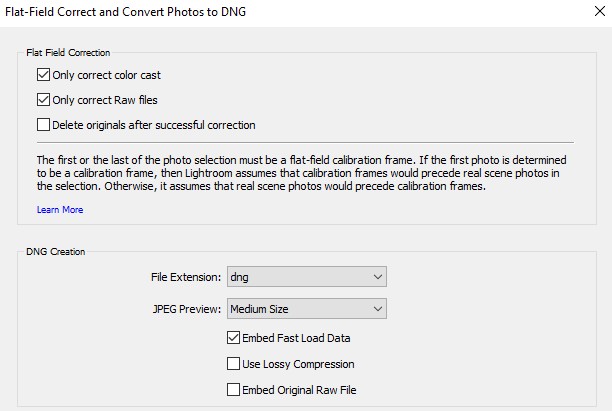 Lightroom will now create a new DNG file with the correction applied. The original DNG file will be removed from the catalogue, you can re-add it manually if you like.
If your subtraction image looks like the one above the correction should yield really good results, I was honestly surprised how well it works:
You can use this method with any kind of digital camera, but you need to convert your raw files to DNGs first. Luckily this is also possible within Lightroom these days, but it does add additional work, so I wish it would also work directly with any kind of raw files.
Conclusion
Color cast issues can make an otherwise well performing lens look unusable, but not all is lost. As I showed you in this article there are several ways to fix this. This allows you to enjoy your legacy rangefinder lenses on digital cameras or to further improve the performance of some of the latest and smallest modern ultra wide angle lenses.
Further Reading
The following two tabs change content below.
My name is Bastian and I am your expert here when it comes to ultra wide angle lenses, super fast portrait lenses (ranging from a 50mm f/0.95 to a 200mm f/1.8) and I also have reviewed way too many 35mm lenses. Don't ask me anything about macro or wildlife shooting though.