Introduction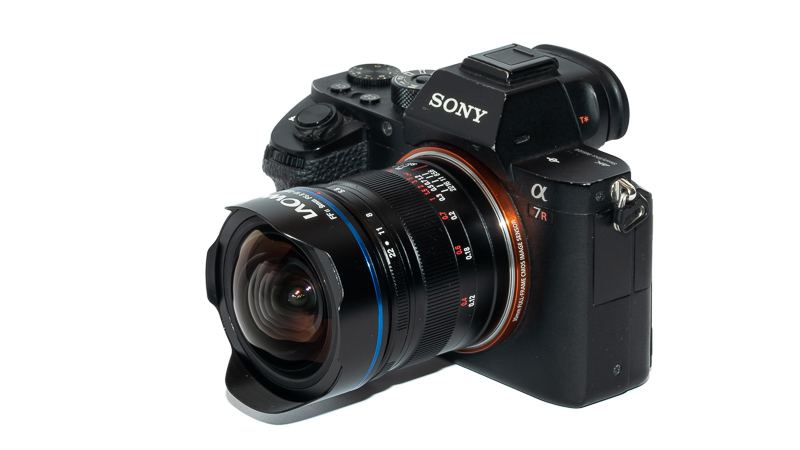 The king is dead, long live the king! After the Voigtlander 10mm 5.6's field of view has been matched by the Samyang 10mm 3.5 XP and the Laowa 10-18mm 4.5-5.6 it has now been surpassed by this Laowa 9mm 5.6 FF-RL. Can a lens be wider and at the same time better? Let us try to find out!
Lens is being tested on 42mp Sony A7rII and 24mp Leica M10
Last Update: January 2023
Sample Images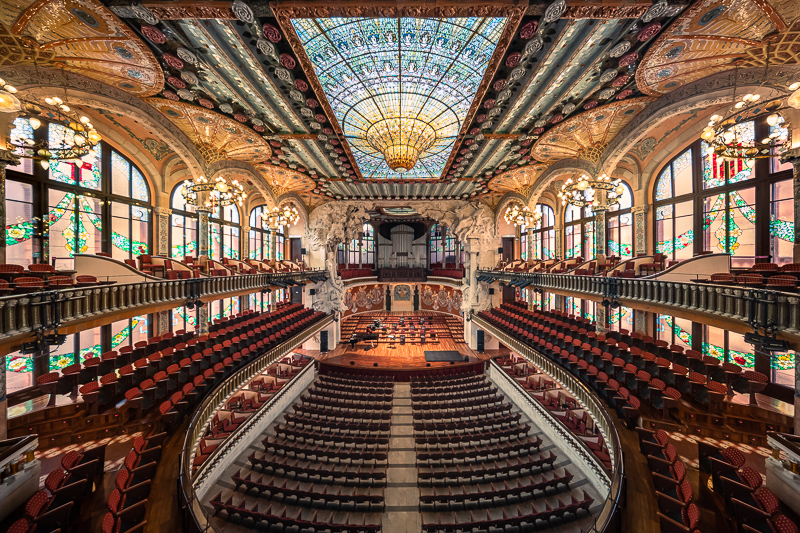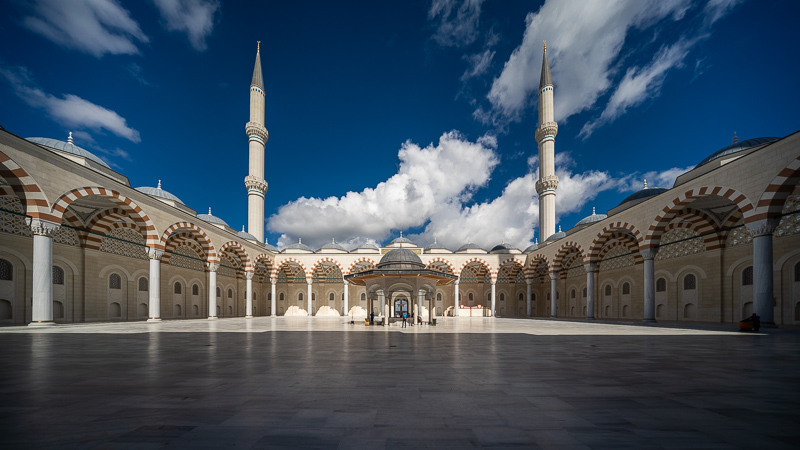 Many of the Sample images in this review can be found in full resolution here.
Disclosure
The Laowa 9mm 5.6 FF-RL was kindly provided free of charge by Venus Optics / Laowa for reviewing purpose for a few weeks. After finishing the review I bought a Leica-M sample and have been using it since.
Specifications / Version History
This is a one of a kind lens, there has not been a 9mm lens before! So far it comes for Sony E-mount, Leica-M mount, L-mount and Nikon Z. I had a look at the E-mount and M-mount versions. These are the specs of the E-mount version:
Diameter: 63 mm
Field of view: 135° (diagonally)
Length: 74 mm
Weight: 373g (without caps)
Filter Diameter: – (100 mm holder will be available)
Number of Aperture Blades: 5 (straight)
Elements/Groups: 14/10
Close Focusing Distance: 0.12 m
Maximum Magnification: 1:4.8
Mount: Sony-E
Because of the different flange focal distance of Leica M cameras the M-mount version is a bit shorter (66 mm) and also a bit lighter (350g) the other specs are the same.
You can already order the lens directly from the manufacturer's homepage, B&H or ebay.com/ebay.de for $699 (M-mount) and $599 (E/Z/L-mount) (affiliate links)

How wide is it?
At the wide end a millimeter makes a big difference, so this Laowa 9mm 5.6 is noticeably wider than the Voigtlander 10mm 5.6, more than the numbers may suggest.
Handling / Build Quality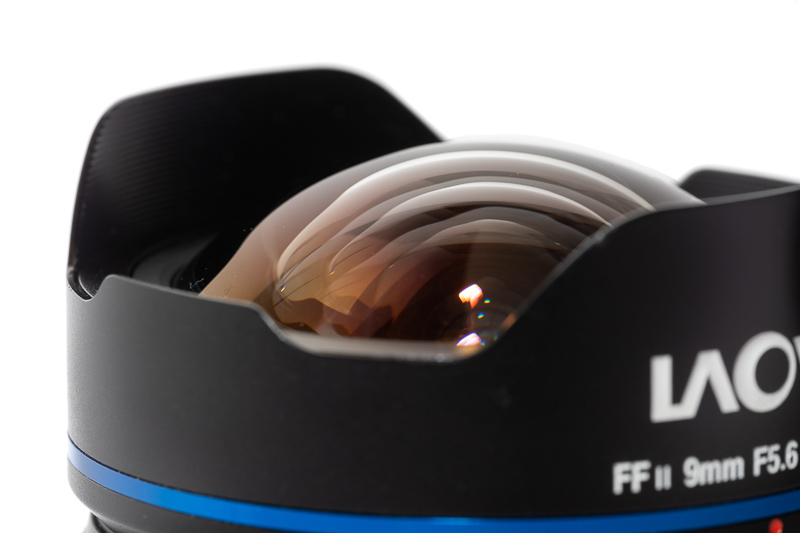 The Laowa lenses always gave the impression of high build quality but I have the feeling they are still trying to improve.
The lens looks and feels like it is an all metal construction, all the markings are engravend and filled with paint and the new laser engraved Laowa logo on the non removable hood looks pretty cool, too.
The focus ring has perfect resistance and travels roughly 100° from the minimum focus distance (0.12 m) to infinity.
The aperture ring has full-stop click stops and travels ~80° from f/5.6 to f/22.
I was a bit surprised that – despite incorporating a very complex floating elements design – the click stops are not equidistant. This won't bother the most of you, but it kinda spoils the whole picture for me.
There is no filter thread but a 100mm filter holder is available directly from Laowa, more on that at the end of this chapter.
E-mount exclusive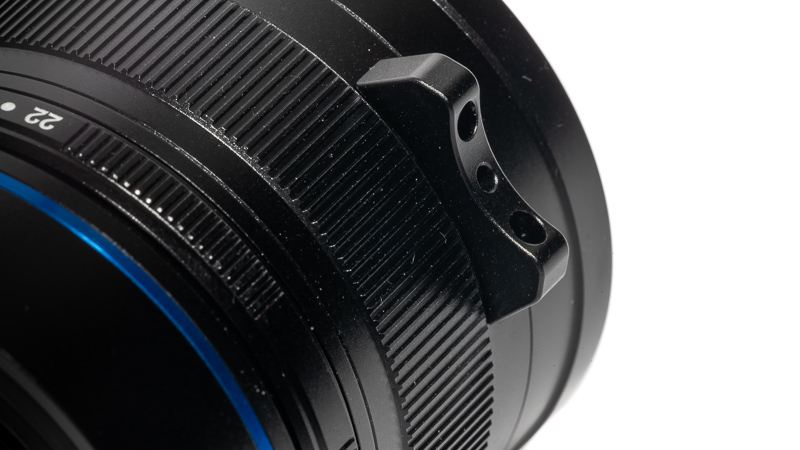 Unlike the M-mount version the E-mount version features a small focus tab, which is kinda interesting, as these are probably more popular among Leica users than Sony users.
The E-mount version does not feature electronic contacts to communicate with your camera.
M-mount exclusive
The M-mount version of this lens is rangefinder coupled between 0.7 m and infinity and there even is a click stop at 0.7 m, so you can feel if you leave that range without taking your eye of the rangefinder (not that the rangefinder is particularly useful when using a 9 mm lens).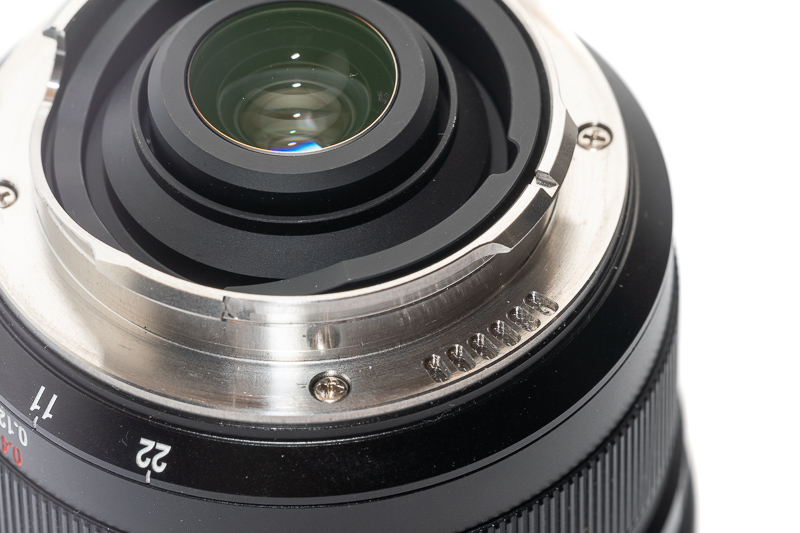 There are also holes included to add 6-bit coding so you can disguise the Laowa 9mm 5.6 as a Leica lens when used on one of the later Leica M-mount cameras.
100mm Filter Holder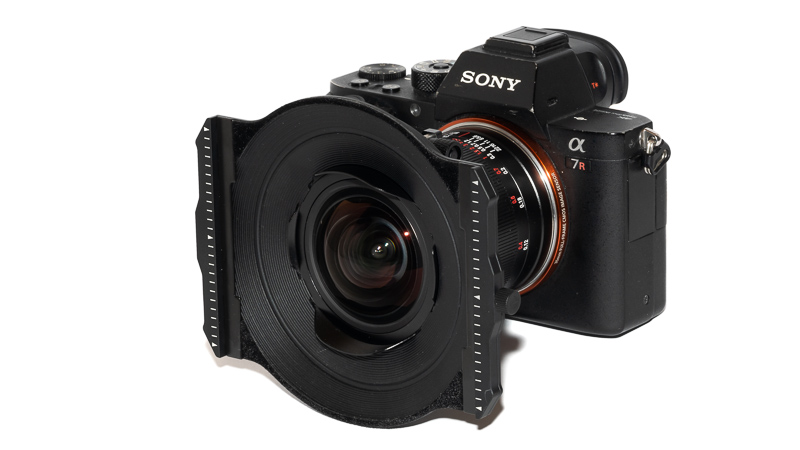 In collaboration with H&Y Laowa also offers a 100mm square filter holder for this 9mm lens, as was already the case with the Laowa 10-18mm 4.5-5.6. So we again have one of these magnetic filter holders. I will spare you some of the details about this system, you can find it discussed in greater detail in my Laowa 10-18mm review.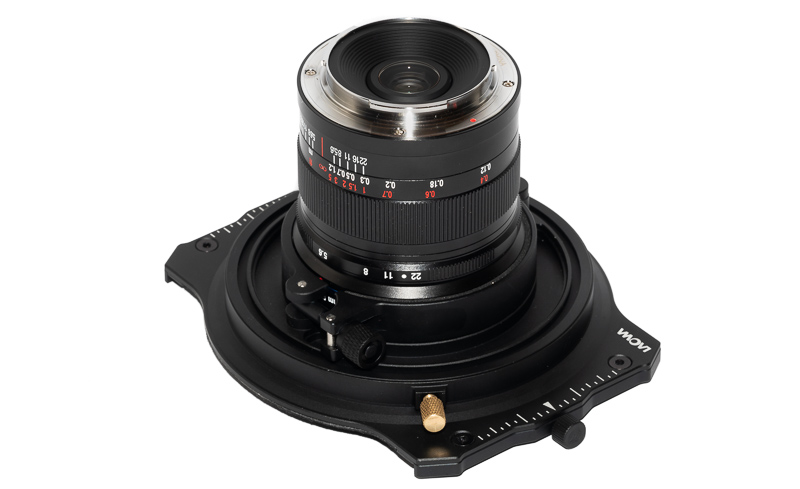 This time the holder is a single piece and you do not need to remove the lens from the camera to attach it. Furthermore it features a small screw to lock the square filters in place. These are really great improvements over the 10-18mm's filter holder, believe me.
To use your existing filters with this holder you need to buy a magnetic frame for it, they come in 150×100 mm (Grad) and 100×100 mm (Polarizer/ND). The holder does ship with a 150×100 mm frame, but as I am most interested in using a polarizer with this lens I bought a 100×100 mm frame from Amazon this time.
Is there any additional vignetting when using filters?
The good news first: at 0° and 90° rotation I see no additional vignetting. These are probably the most used angles for grads and also with a polarizer these translate to maximum and minimum polarization, which is clearly what I am using most.
At roughly 40° rotation you can see a tiny bit of vignetting in the corners.
And also if you use more than one filter (I do not have more than one 100mm wide filter to try) I would definitely expect more additional vignetting.
Vignetting
light falloff

Because of the non removable hood we cannot get decent values on light fall off with our usual method that yields those nice charts.
Nevertheless, I measured around 3.7 EV in the corners on my Sony A7rII at f/5.6 and slightly better values at f/8.0 (3.4 EV) and f/11 (3.3 EV). Like we have seen in the past with other small ultra wide lenses there isn't much improvement on stopping down; the price you have to pay for the small dimensions.
So vignetting is high, but in line with other small ultra wide angle lenses like e.g. the Voigtlander 10mm 5.6 or 12mm 5.6 or 15mm 4.5.
color cast
Like with other small ultra wide angle lenses there is a slight color cast in the corners. On the Sony A7rII the corners take on a greenish teint while on the Leica the color cast seems to be asymmetrical, something I have already seen with the Voigtlander VM 15mm 4.5 II to a much higher degree.
You can check out my article How to: Correcting Color Cast in Lightroom where I explain different methods to fix this.
Sharpness
infinity (42mp Sony A7rII, E-mount version)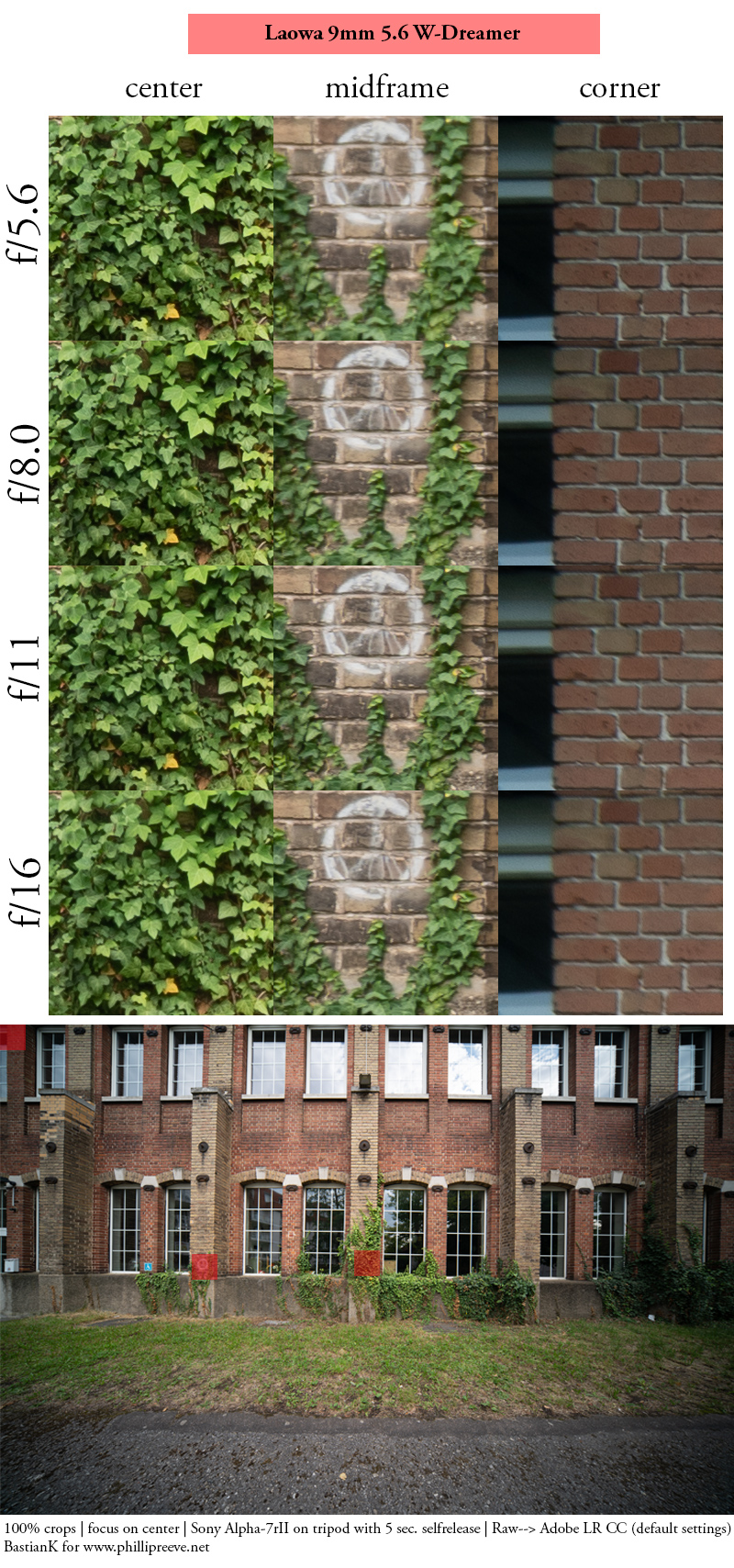 What did I expect here? The Laowa 9mm 5.6 is noticeably wider than the Voigtlander 10mm 5.6 E but pretty much the same size and weight, therefore I would have been happy if the 9mm would not be much worse than the 10mm. To my surprise the 9mm is actually quite noticeably better though.
The 10mm 5.6 really needs f/11 in the corners and even after stopping down and CA correction in post some aberrations remain.
The 9mm 5.6 on the other hand yields actually good corners at f/5.6, in fact better than the 10mm 5.6 ever gets. There is a slight midzone dip though, but it is mostly resolved at f/8.0 and will be hard to detect in actual pictures.
There are two things worth noting though: with lenses this wide mount tolerances can have a noticeable influence on the across frame performance (especially in the midframe), therefore lens A may perform great on camera B but slightly worse on camera C.
Furthermore the corners already look best at f/5.6. This is most likely due to diffraction, as the actual f-stop in the corners is slower than that in the center, therfore the corners are diffraction limited already at the maximum aperture (which is also true for comparable lenses).
But this should not take away from the fact, that I think the performance is astounding for such an extreme yet compact lens.
You can see the Voigtlander 10mm 5.6 E in a direct comparison here.
infinity (42mp Sony A7rII, M-mount version)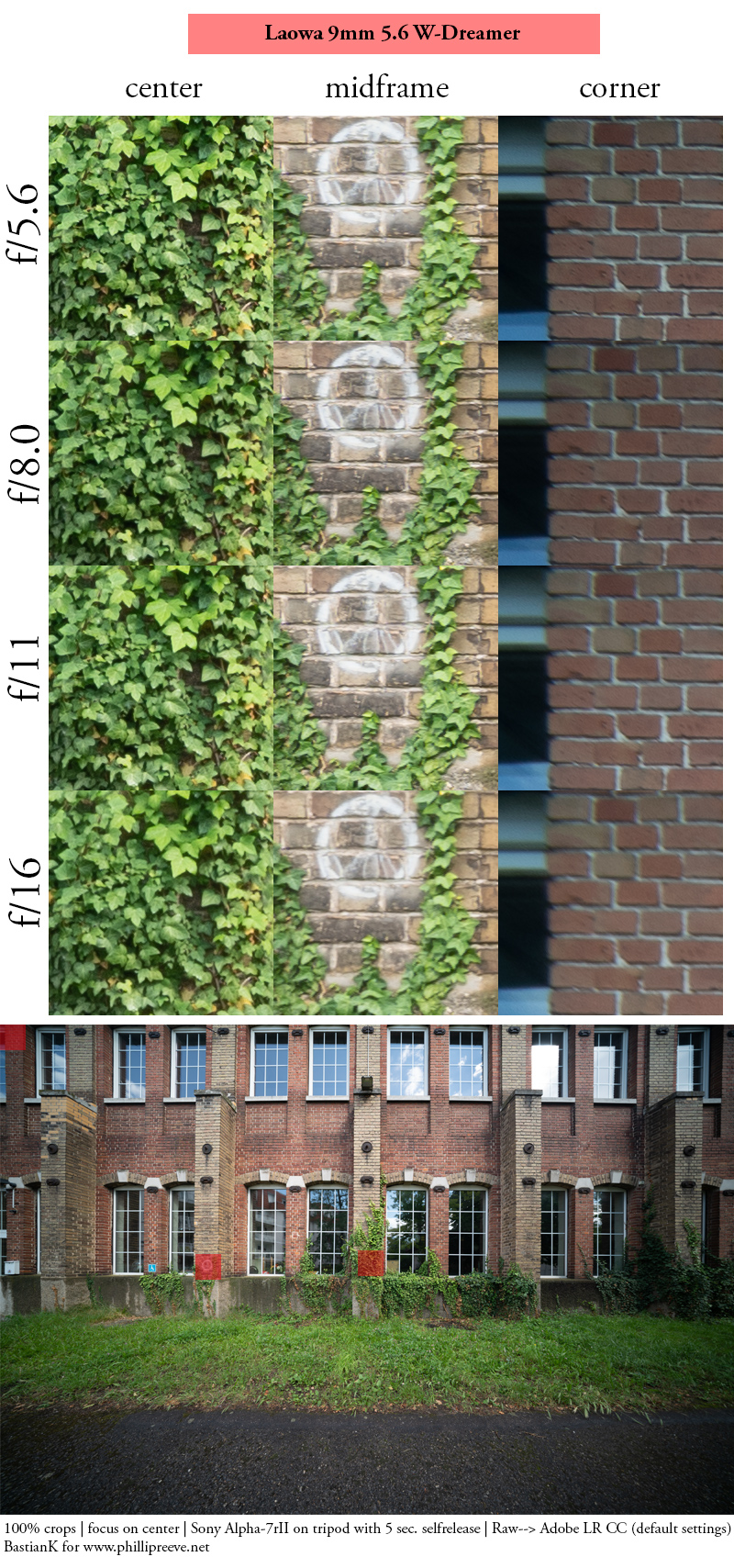 Some people are using different camera systems and many of those prefer M-mount lenses as they can be adapted to a plethora of other mounts, which is not true for E-mount lenses (they can be adapted to Nikon Z though).
So the question is always: what are you giving up when using the M-mount version with adapter instead of the E-mount version?
In the case of this 9mm 5.6: nothing, really. The M-mount version shows a performance on an E-mount camera that is indistinguishable from the E-mount version within the margin of sample variation.
infinity (24mp Leica M10)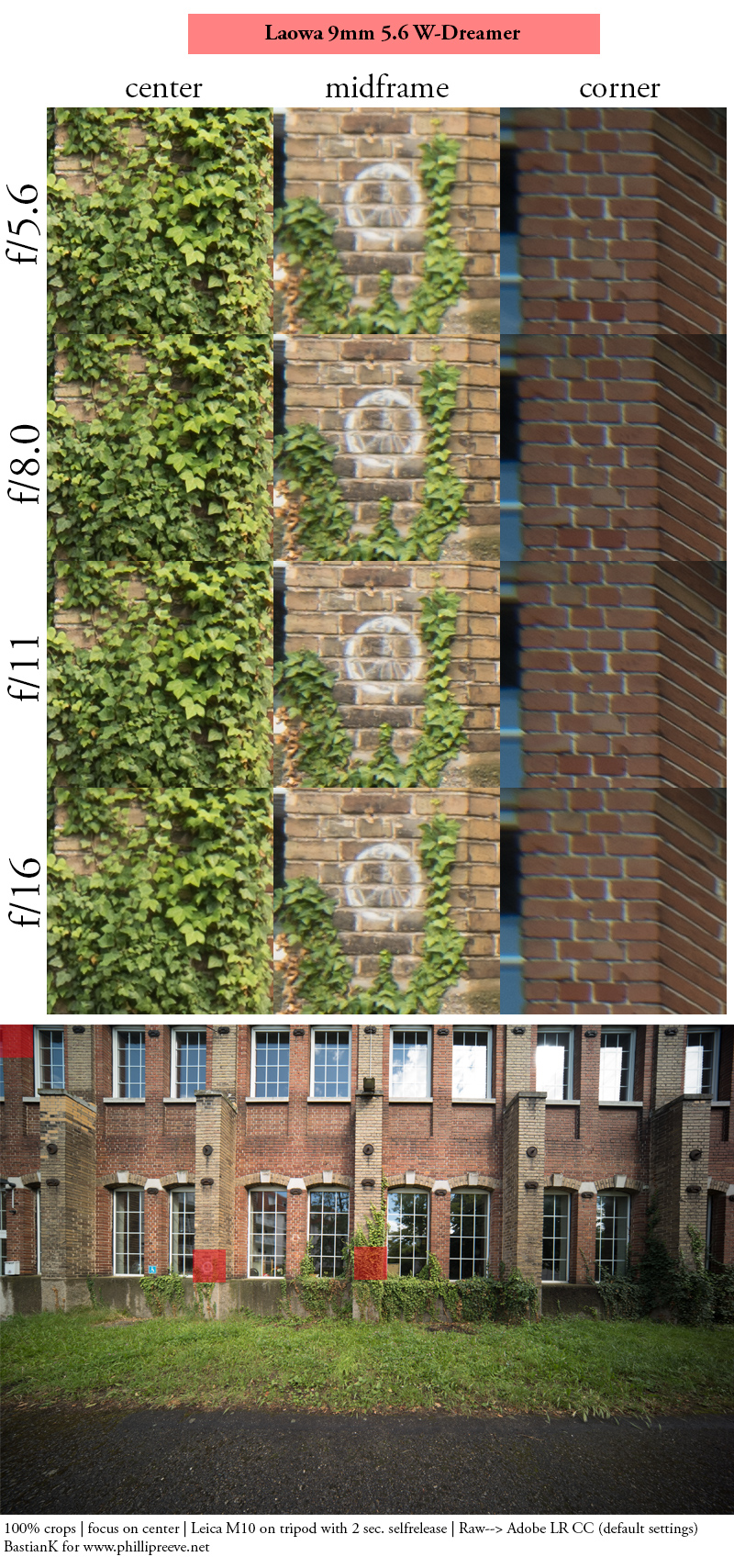 Performance on the Leica M10 is surprisingly similar including the slight midzone dip and also the corners show a very similar performance.
close (0.12m, 1:4.8)

100% crops from center, A7rII
A minimum focus distance of 0.12 m from sensor coupled with a maximum magnification of 1:4.8 is pretty amazing for a 9mm lens. The Laowa 15mm 2.0 offered a similar maximum magnification (1:4.1) but the performance was only good in the center, so I expected something similar here.
Interestingly the Laowa 9mm 5.6 offers really good performance across most of the frame even at these distances. The border regions show a performance almost as good as the center, only the midframe shows a dip in resolution (similar to the situation at infinity).
It fares significantly better here than the Voigtlander ultra wide angle lenses that also do not focus nearly as close.
Distortion
infinity
Sony A7III | Laowa 9mm 5.6 | f/8.0
The lens shows moderate yet slightly wavy distortion at infinity. Laowa created a profile for Lightroom to correct this which does a reasonably good job, you can download it here.
It also includes vignetting correction but it is too strong, I recommend a value between 20 and 40 here.
minimum focus distance
Sony A7III | Laowa 9mm 5.6 | f/22
Between 0.3 and 0.12 m focus distance the distortion pattern changes significantly. Close to the minimum focus distance distortion is much higher and you would need a separate profile here, but for all the applications for a 9mm lens with a 12cm minimum focus distance I could think of this should not be an issue.
This is clearly a design trade off that gave us the good across frame sharpness performance at these close distances.
Flare resistance
As always evaluating flare is a complex matter since you can get any lens to look bad if you push it hard enough and a slight change of scenario can affect results a lot.
The sample above is the worst I could create. With the sun in a certain part of the frame you can create a line of small red ghosts pointing towards the corner.
The Laowa 10-18mm 4.5-5.6 had severe issues with point light sources at night, luckily the 9mm 5.6 fares noticeably better here: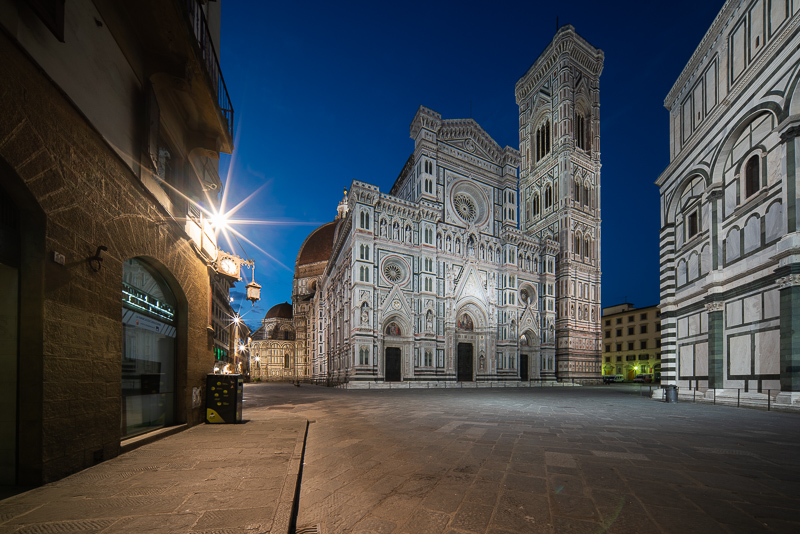 There are some situations where the Voigtlander 10mm 5.6 E would fare better, but this 9mm's performance is not bad at all.
Coma
100% crops from extreme corner
After the sharpness section this does not come as a surprise: the coma correction is really good.
Still, the parameters do not make the Laowa 9mm 5.6 an obvious choice for astro photography in the first place, there are better options available for this task.
Sunstars
100% crops from center, A7rII
No sunstars at f/5.6 but well defined 10-stroke sunstars between f/8.0 and f/22 as we have also seen on the other recent Laowa ultra wide angle lenses.
If you want to learn more about sunstars have a look at this article.
Chromatic Aberrations
lateral
100% crops from inner midframe, Sony A7rII
Usually ultra wide angle lenses show a high amount of lateral CA. This is surprisingly not the case with the Laowa 9mm 5.6 as the lens is almost free of lateral CA.
The corners are very clean, you really have to look at the midframe to find a small amount of CA, which is easily corrected in post.
longitudinal
As this is a very wide and rather slow lens longitudinal CA (loCA) are nothing to worry about.
Alternatives

You are looking at a review of the widest ultra wide angle lens and you got this far, therefore I doubt the comparably huge and long AF zooms are an alternative to you, but you can still have a look at our Guide to Ultra Wide Angle Lenses for the A7 Series to learn more about these options.
Voigtlander 10mm 5.6 E Hyper Wide Heliar:
My ultra (or hyper?) wide angle lens of choice for the past years.
It is slightly better in terms of flare resistance, but resolution (especially in the corners and at wider apertures), performance near minimum focus distance, lateral CA and coma it is noticeably worse.
Long story short: I sold my 10mm 5.6 and will buy a 9mm 5.6
buy from CameraQuest | ebay.de | amazon.de | ebay.com | amazon.com | B&H for 1099$ (affiliate links)
Laowa 10-18mm 4.5-5.6 C-Dreamer FE:
If you value flexibility and compact size over image quality and you don't know yet what focal length is the right one for you this may be worth a look.
buy from manfucaturer's homepage | amazon.com | B&H (affiliate links) for $849
Laowa 11mm 4.5 C-Dreamer:
9mm and 11mm are a huge difference in terms of field of view and one would expect the 11mm to perform better – all else equal.
I did compare the lenses side by side and this is not really the case.
The 11mm shows more coma, astigmatism and lateral CA in the corners, distortion is also different, in total less, but a bit wavier. The optical design does also not look as complex and it doesn't focus as close.
But there are also advantages: it has a 62mm filter thread (widest lens with a normal filter thread), better flare resistance, is ligther and cheaper.
buy from the manufacturer's homepage for $799 (M-mount) and $699 (E/Z/L-mount) (affiliate links)
Canon TS-E 17mm 4.0L:
To get the same angle of view as the TS-E 17mm (when taking a shift panorama) you need a 10.2mm lens, so this 9mm lens actually allows for perspectives not possible with the TS-E 17mm. The 9mm is also easier to use (less bulky, smaller 100mm square filters, panorama not needed to get to these viewing angles) and flare resistance is a bit better, but you will obviously also end up with less pixels for the same framing. With today's high resolution sensors this might be a trade off you are willing to take though.
buy from amazon.com | amazon.de | B&H | ebay.com | ebay.de for $2150 new or $1500 used (affiliate links)
Samyang 10mm 3.5 XP:
The Samyang is faster and it has less vignetting, especially stopped down, but even more issues with color cast in the corners. I would rather get this Laowa 9mm 5.6 (which I did).
buy from amazon.com | amazon.de | B&H | ebay.com | ebay.de for $899 (affiliate links)
Conclusion
good

sharpness and contrast from f/5.6 even in the extreme corners

minimum focus distance

CA correction

coma correction

distortion

sunstars

handling/build quality

size/weight

price

average
not good

no electronic contacts

vignetting

slight green color cast in the corners
As a Sony user:
The last time Laowa dipped its toes in the "ultra-ultra-wide" realm was with the 10-18mm 4.5-5.6 zoom. A lens, judging by its specs, that would be a perfect fit to my shooting style and almost any of my kits. Unfortunately in the end there was simply one disadvantage too much, be it the high distortion, subpar sharpness at the long end, flare resistance or the really annoying filter holder.
Therfore, I was a bit cautious with my expectations here.
But luckily this time I got pleasantly surprised. Not only is the Laowa 9mm 5.6 perceivably wider than the Voigtlander 10mm 5.6, in most areas (especially sharpness, minimum focus distance, coma correction, CA correction) it is also significantly better. Furthermore the Laowa 9mm 5.6 has pretty much the same size, it shares the same weight and the price is also lower.
When it comes to flare resistance the Voigtlander 10mm 5.6 still has a slight edge, but the 9mm is no slouch either.
It is really the absence of electronic contacts and Exif data that spoils the whole picture here, I would have really hoped Laowa could offer these by now. Nevertheless, you will easily be able to recognize the pictures taken with the 9mm lens when you load them to your computer due to its extreme viewing angle.
Lenses in the 9-11mm range, they are never the lenses I take most of my pictures with, but properly used they are often the lenses I take my most striking pictures with.
Therefore I decided to add one of these 9mm 5.6 lenses to my kit, replacing my former Voigtlander 10mm 5.6 as well as my bulky Canon TS-E 17mm 4.0L, something I did not expect.
As a Leica user: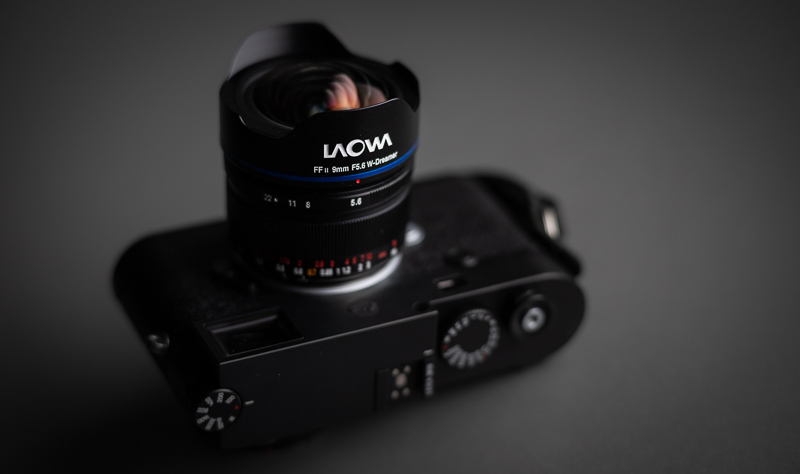 What I have written about the Sony version applies here as well, but I want to add that the M-mount version has some clever features rarely seen on third-party M-mount lenses, especially the click stop when you leave the rangefinder coupled distance range and the option to easily 6-bit code the lens.
I greatly enjoyed using this lens on the Leica M10, I am sure the sample pictures tell more than a thousand words.
Update December 2021:
I bought the Laowa 9mm 5.6 roughly one and a half years ago and it keeps being a sure pick when deciding which lenses to pack. The unique perspective allows for striking pictures, not only for architecture and landscape subjects, but every now and then also for environmental portraits, of which I added a few to the samples sections. It is still a specialty lens, but one that didn't get nearly enough credit as it deserves.
Update January 2023:
It seems the price dropped by $200, that makes it even easier for me to recommend this lens.
You can already order the lens directly from the manufacturer's homepage, B&H or ebay.com/ebay.de for $699 (M-mount) and $599 (E/Z/L-mount) (affiliate links)
Further Sample Images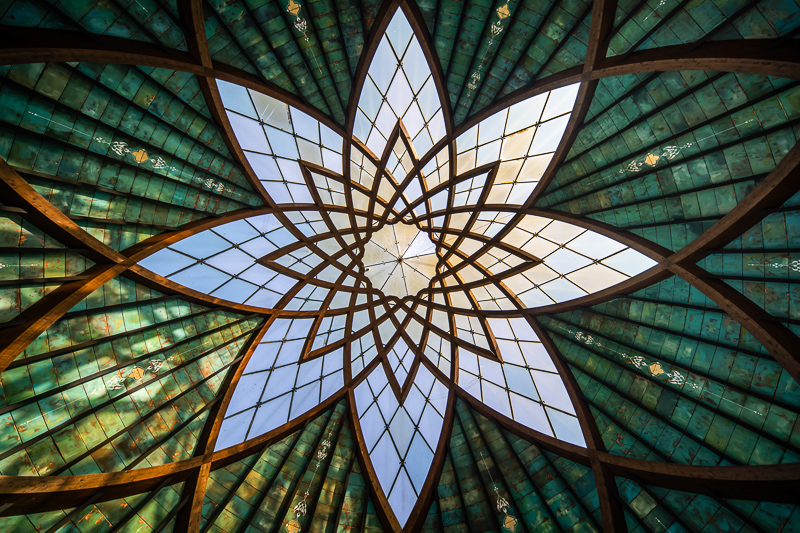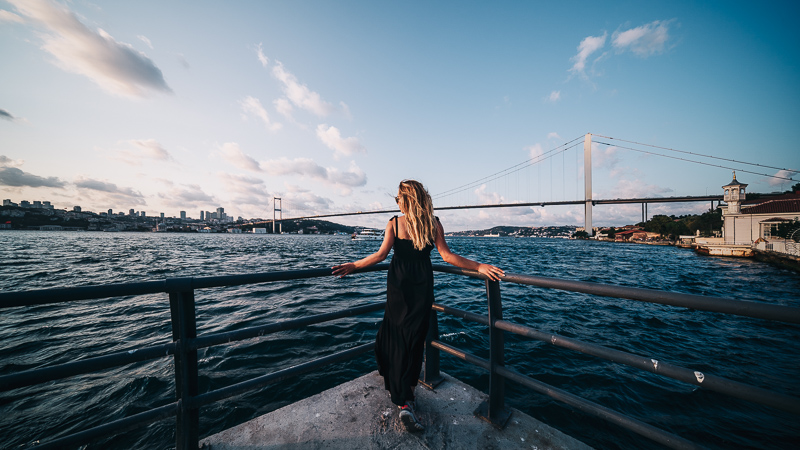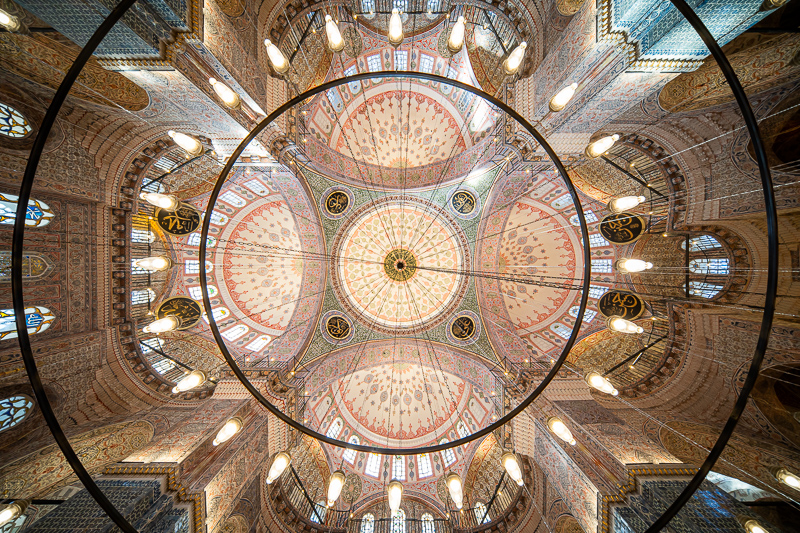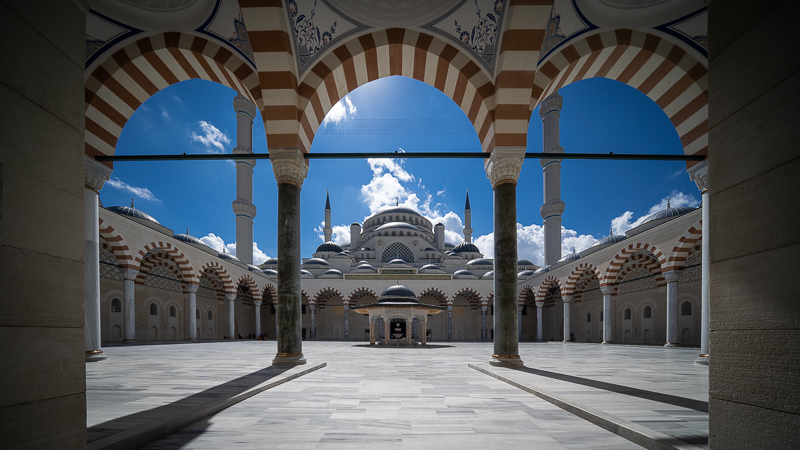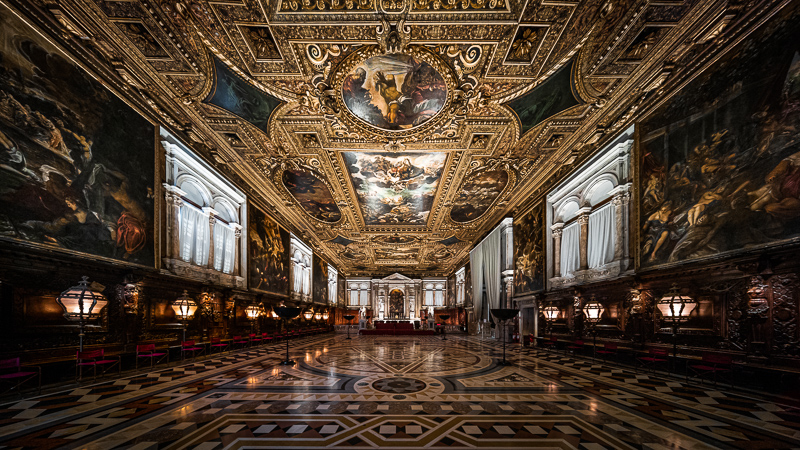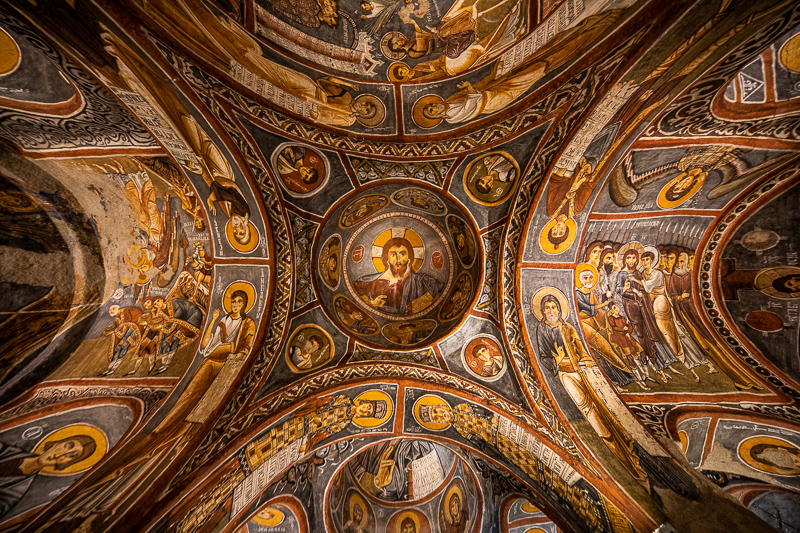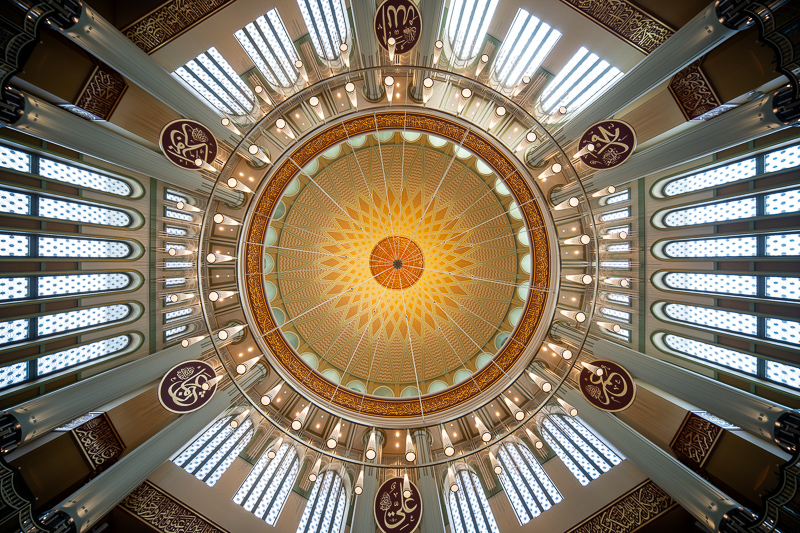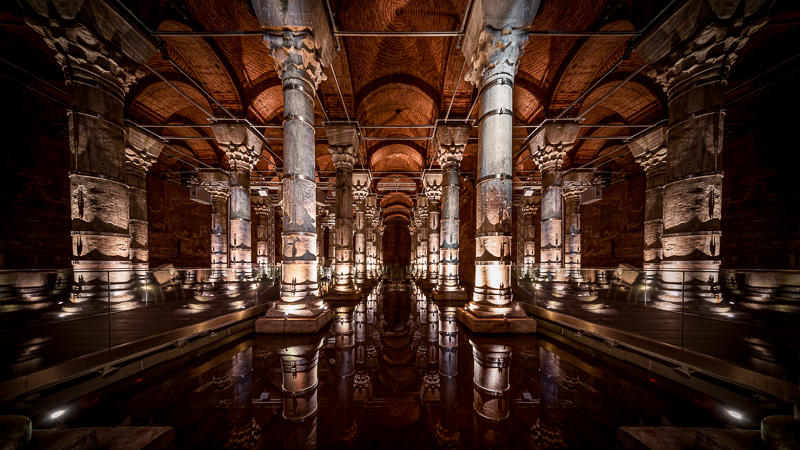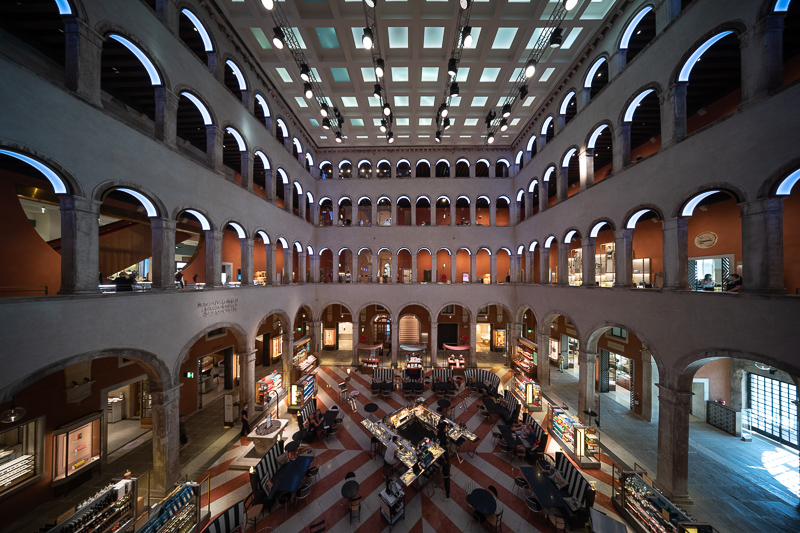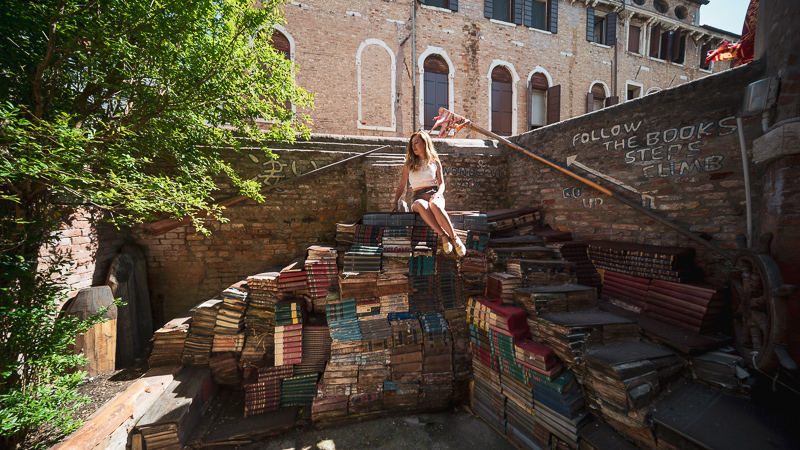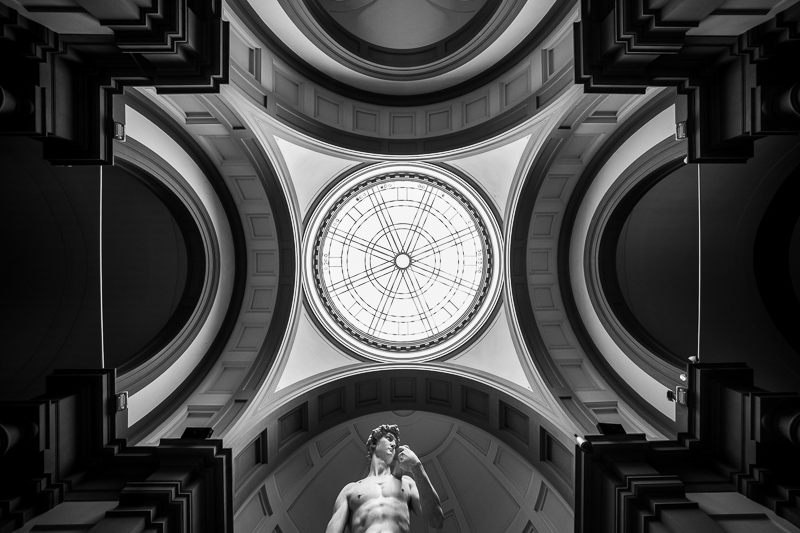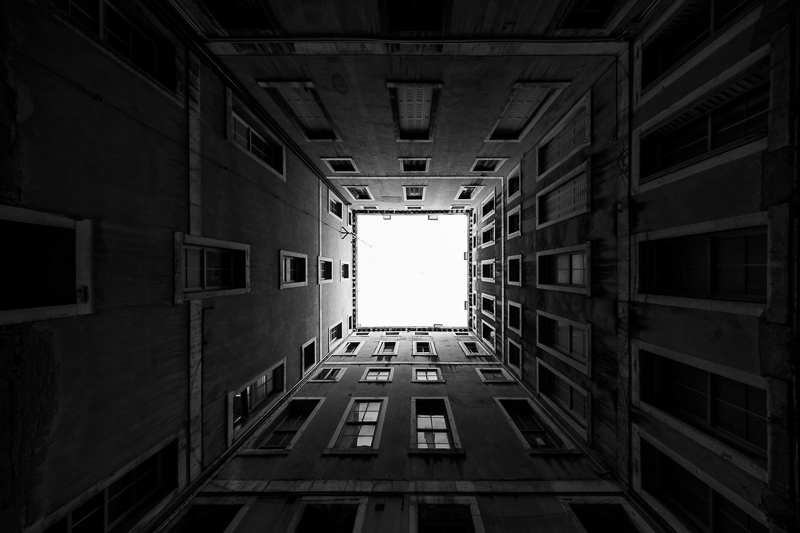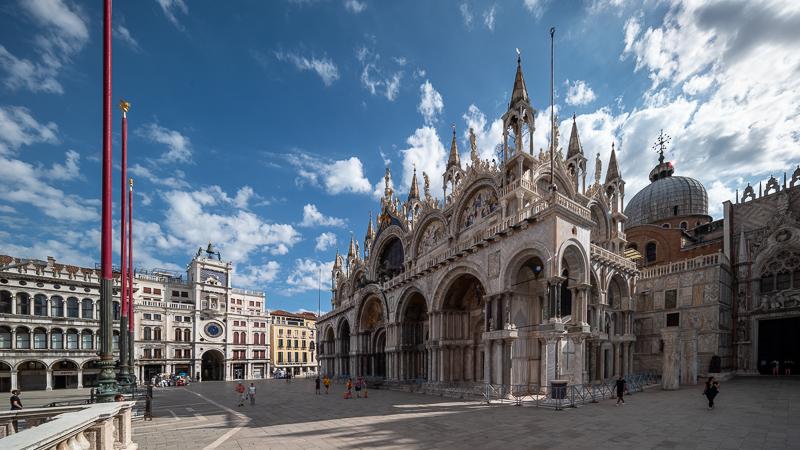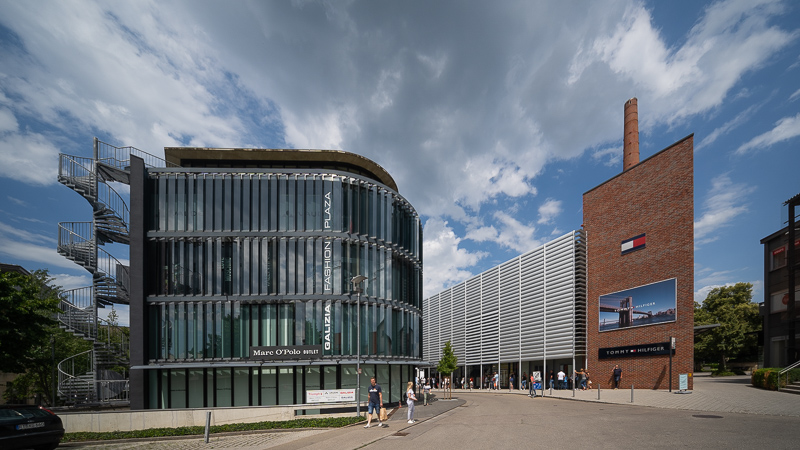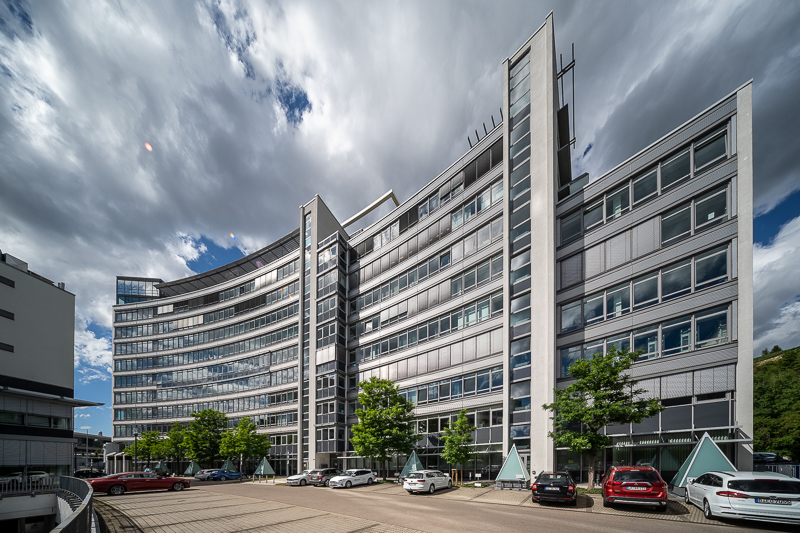 Many of the sample images in this review can be found in full resolution here.
Further Reading
Support Us
Did you find this article useful or just liked reading it? Treat us to a coffee!


via Paypal
The following two tabs change content below.
My name is Bastian and I am your expert here when it comes to ultra wide angle lenses, super fast portrait lenses (ranging from a 50mm f/0.95 to a 200mm f/1.8) and I also have reviewed way too many 35mm lenses. Don't ask me anything about macro or wildlife shooting though.