Introduction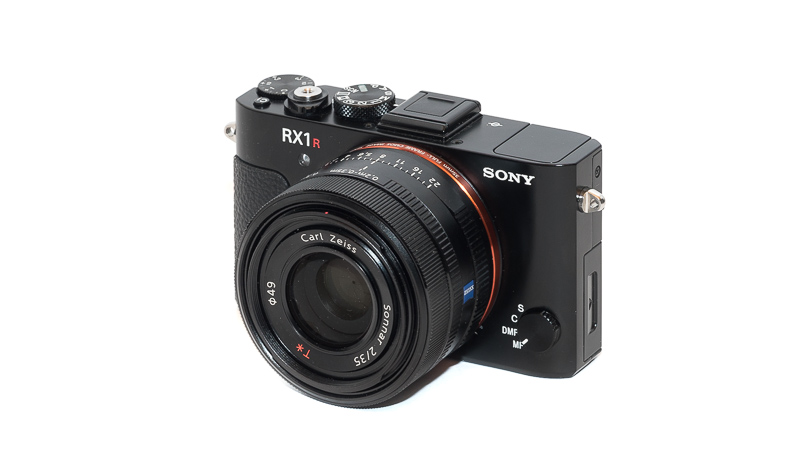 We still have no 35mm f/2.0 or f/1.8 with AF for the A7 series cameras, but the Sony RX1RII with the highly regarded Sonnar 35mm f/2.0 is finally coming down in price. So let us find out what this package has to offer.
Sample Images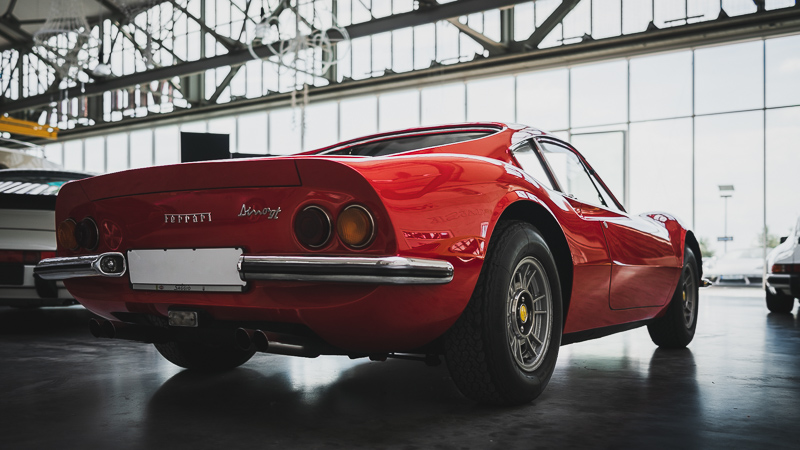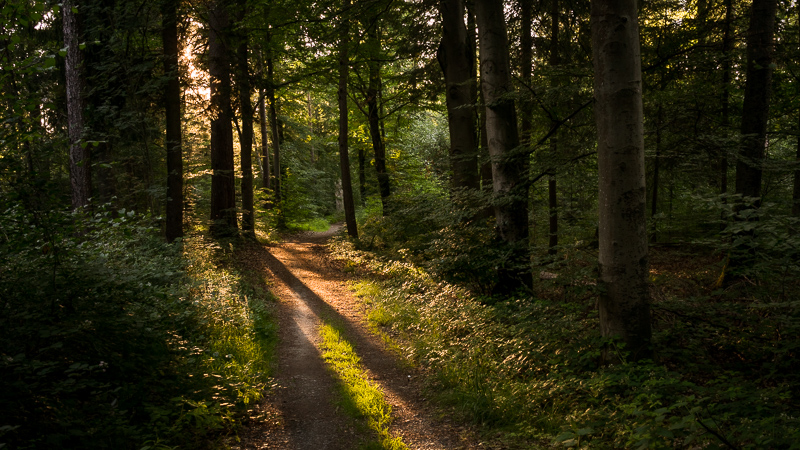 Most of the sample images in this review can be found in full resolution here.
Specifications
The Sony RX1RII has the following specifications:
Sensor: 42mp full frame (same as A7rII)
Lens: Sony/Zeiss Sonnar 35mm 2.0
Weight: 510g (without hood and caps including battery)
Filter Diameter: 49 mm
Number of Aperture Blades: 9 (rounded)
Elements/Groups: 8/7
Close Focusing Distance: 0.3 m / 0.2 m (macro mode)
Maximum Magnification: 1:6.7 / 1:3.8 (macro mode)
You may also have a look at Sony's official page.
New the RX1RII costs $3299 and you can get it e.g. from amazon.com or B&H. On ebay.com/ebay.de you may also find used ones starting at $2000/2200€ (affiliate links).
Disclosure
This is not a review sample from the manufacturer, I bought this camera with my own money. Actually I bought two and I am once again deeply disappointed by the Sony quality assurance, which is the reason I kept neither of these two cameras in the end. More on that in the bokeh and sunstars sections.
Handling / Build Quality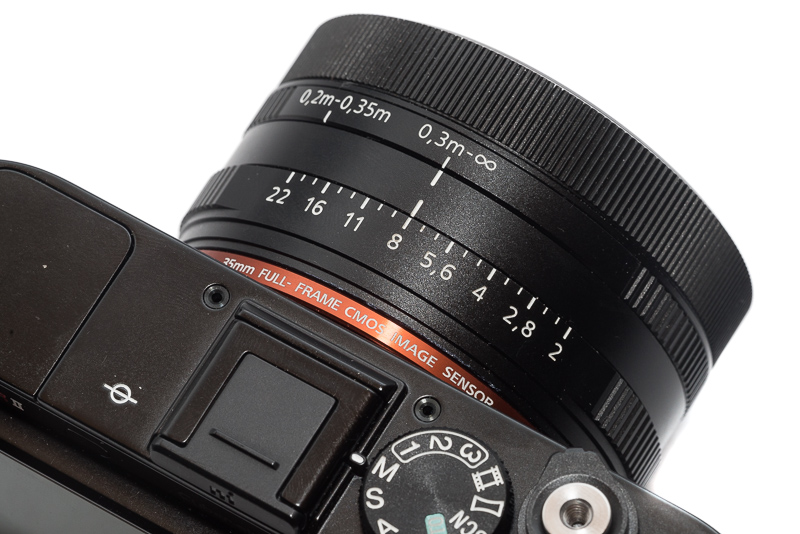 The camera is pretty much a scaled down A7rII: you get the same sensor, same viewfinder, you get on sensor phase detection AF including Eye AF in AF-C mode.
A few noteworthy differences: this camera uses an almost silent leaf shutter with a minimum shutter speed of only 1/2000s. So you may want to get a 3-stop or 4-stop ND filter if you want to use the lens wide open in broad daylight.
Battery life is not particularly great (one battery will give you 150-200 shots) so you will want to carry extra batteries.
You get neither IBIS nor OSS.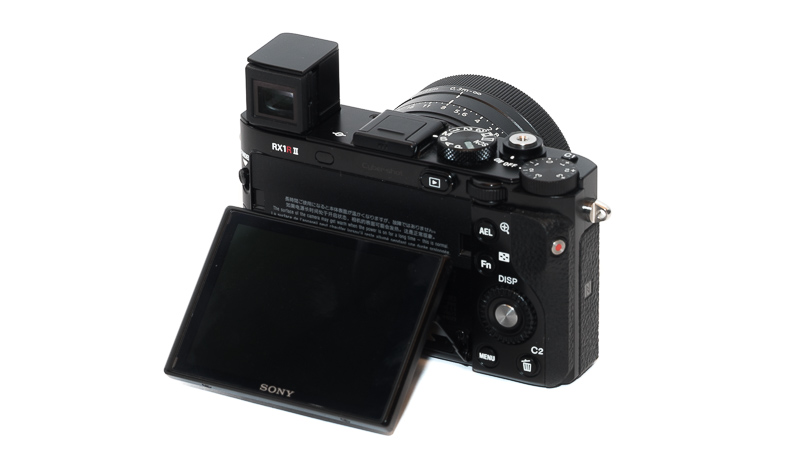 The lens is a Sony/Zeiss Sonnar 35mm 2.0. It closely resembles the higher grade ZA lenses, featuring an aperture ring on the lens (good) and the focus by wire implementation where the speed with that you rotate the ring matters (not good).
You also get a macro mode, to activate it you have to turn a ring on the lens. The macro mode will shift your focus range from the original 0.30 m to infinity to 0.20 m to 0.35 m. The latter gives a nice maximum magnification of 1:3.8, AF is still working in macro mode.
When you turn the camera off it will not remember the focus distance but will always go to the end of the scale when you turn it on. Unfortunately this setting is beyond infinity, so nothing will be in focus.
The button layout is pretty similar to the A7RII as well, but you don't get C2 and C3 buttons and no wheel on the front of the camera (you get the aperture ring for that).
The shutter button is not really nice, when fully pressed it is recessed a bit so I actually got myself one of these "soft focus" buttons which improved the handling noticeably.
The camera has no real handgrip so you may either want to use a strap, both hands or an arca plate with integrated hand grip.
I used it as a two hand camera most of the time.
There are several lens hoods for this camera available. My personal choice is this 3D-printed hood from Shapeways. I think it is a better fit to the camera than those vented hoods and gives better protection from stray light and rain.
Autofocus
The camera seems to be slightly slower in acquiring initial focus compared to the A7rII. For a compact camera this is still a pretty good performance. Eye AF with tracking works well, but personally I think on a 35mm lens it is not as amazing as it is on e.g. the Sony GM 85mm 1.4 FE as the eyes will usually be rather small.
So usually I stick to the normal face recognition. Still, if you are close to your model the Eye AF is sure nice to have.
Vignetting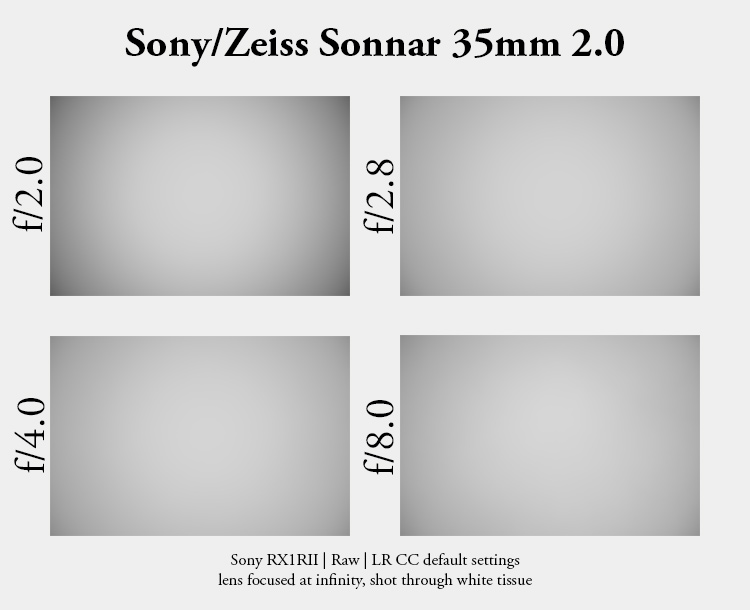 Wide open there is light falloff of roughly 2.0 EV, stopped down to f/2.8 this improves to 1.4 EV, stopped down to f/4.0 or further it is 1.2 EV. These values are slightly ahead of the competition in this class (see my 35mm comparison).
You can either correct the vignetting in Lightroom or directly in camera.
There could still be some embedded correction as we have seen on other Sony lenses in the past, but judging by the other fast and small 35mm lenses the values above look legit to me.
Sharpness
infinity

The lens has some spherical aberrations at f/2.0 when focused at infinity, similar to the FE 85mm 1.4 GM wide open. You can see it even better in these night scene shots. It leads to a very slight glow:
100% crops from center
Nevertheless, in the field this never bothered me and I found the lens to be perfectly usable wide open. Center looks best at f/4.0, across frame sharpness is best around f/5.6 to f/8.0.
A great combination of sensor and lens that always gave me contrasty shots with high resolution.
At infinity this lens is wider than any other 35mm lens I tried.
Sharpness closeup
close (0.30m, 1:6.7)

100% crops from center
Even in normal mode you can get really close to your subject. Unlike many other lenses the performance in these scenarios is also really good: already wide open you get good sharpness and contrast and the field is very flat, so you can place your subject close to the border without having to worry. Stopping down to f/2.8 further improves the already very good performance.
close (0.20m, 1:3.8) macro mode

100% crops from center
I was even more suprised to see the performance is still almost as good in macro mode at the minimum focus distance of 20 cm. Anything I have written above still applies here.
You can actually use this lens as a wide mild macro lens.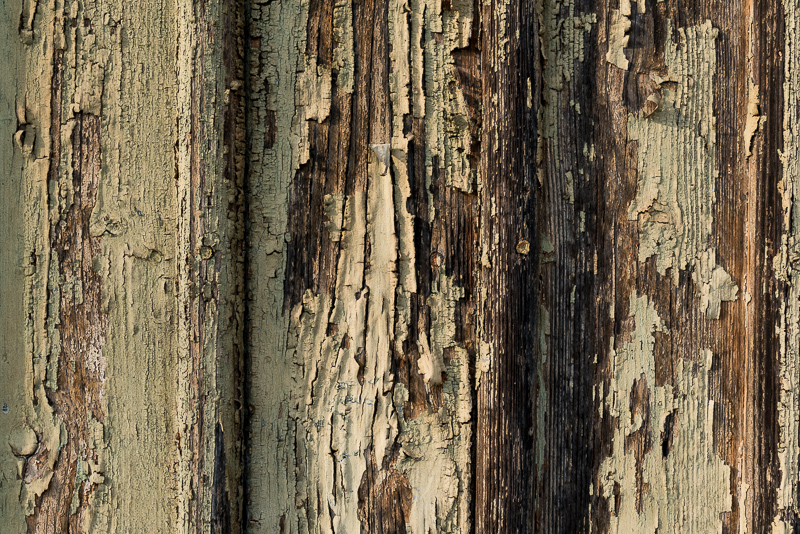 Flare resistance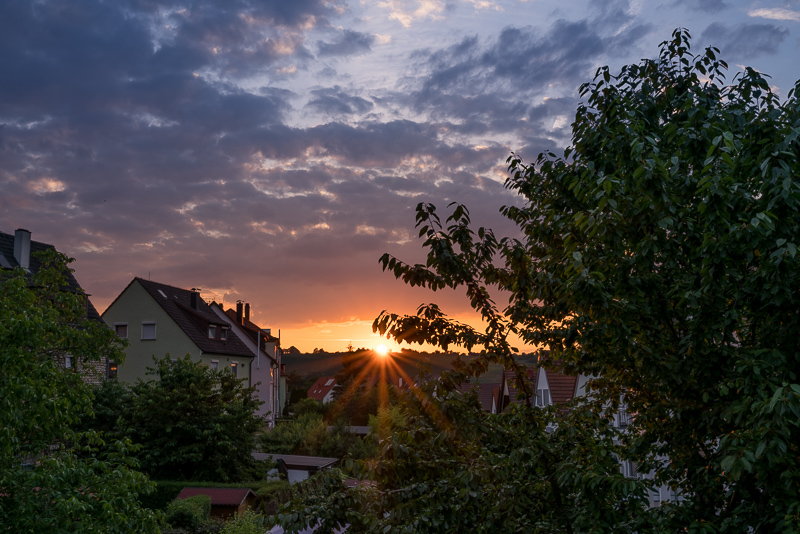 Flare resistance is actually pretty good, but not as good as the Voigtlander 35mm 1.7. While most of the time you can just shoot directly into the sun and you will neither have problems with a huge loss of contrast nor ghosting, more than once I found some rainbow crescent in my shots (also have a look at the first picture in the sunstars category):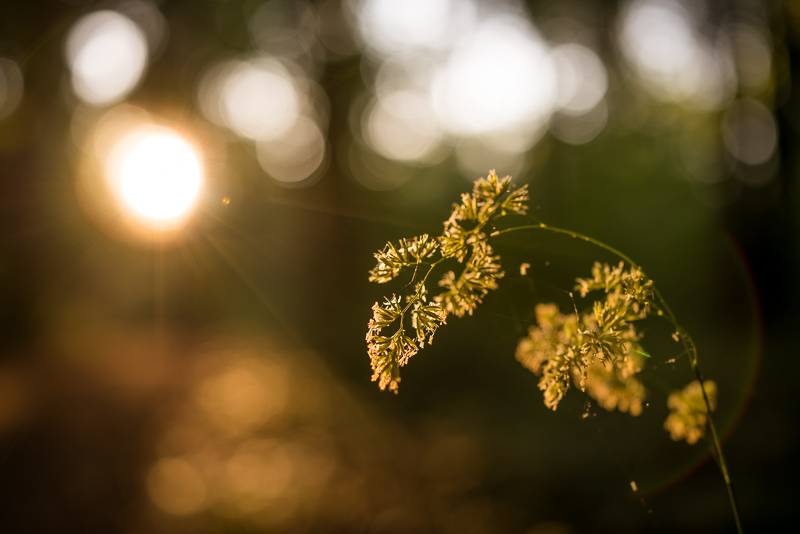 If you really push it you will still manage to get ghosts all over the frame, decide for yourself whether these situations are field relevant to you: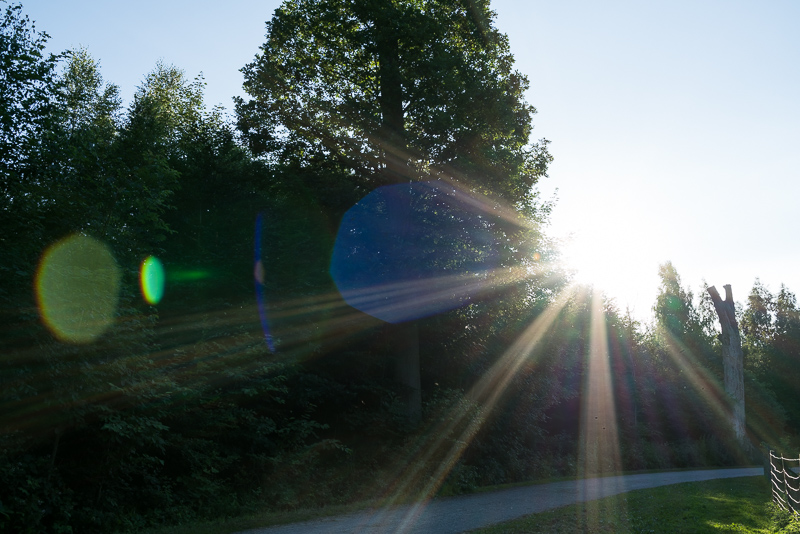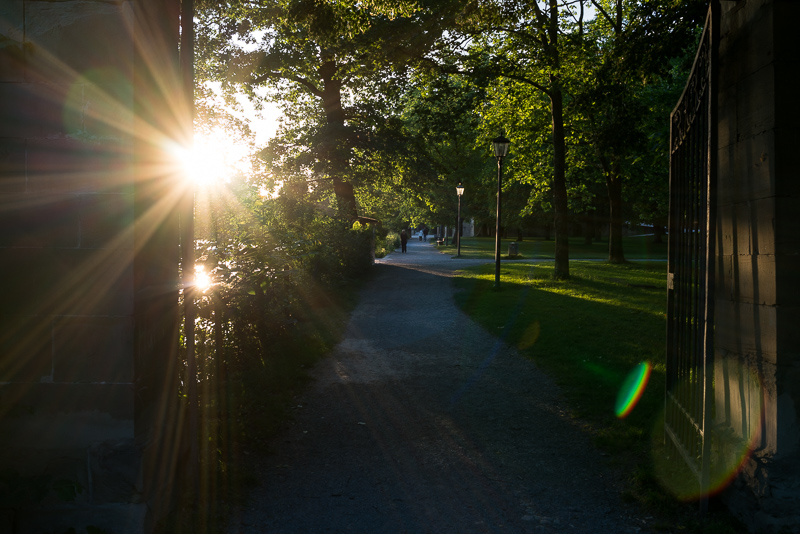 So in the end the performance is more good than bad in this category, but there are still a few 35mm lenses that perform better.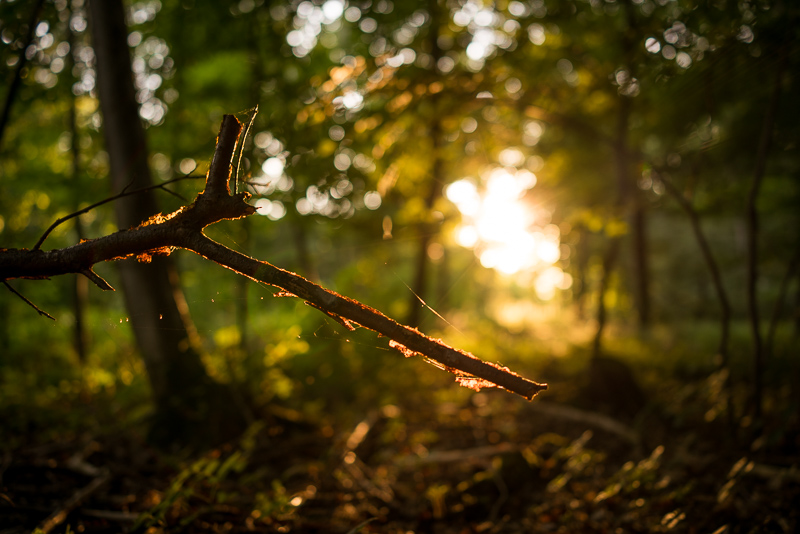 Coma
Wide open there is a bit of coma visible, but it is not overly obstrusive. If you stop down to f/2.8 most of it is gone.
This performance is quite good.
100% crops from extreme corner
Distortion
The lens shows noticeable barrel distortion which you will want to correct. This can easily be done already in camera if you shoot jpg or in post if you shoot raw.
Bokeh
I would like to talk to you about how nice the bokeh rendering is, especially the transition zone. But before I can do so there are some unfortunate manufacturing/sample variation issues regarding the aperture diaphragm I have to tell you about.
On my first sample I noticed strange irregularly shaped sunstars around point light sources at f/2.0: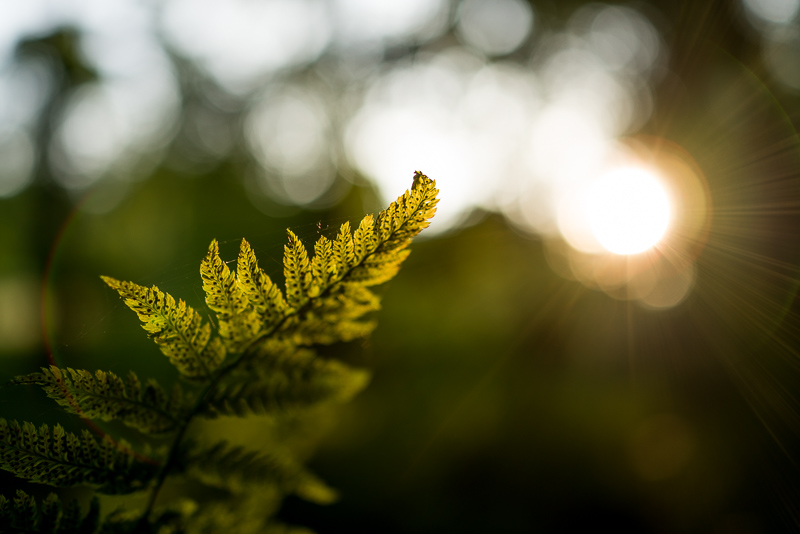 so I had a closer look at the diaphragm. I noticed the aperture does not fully open at f/2.0: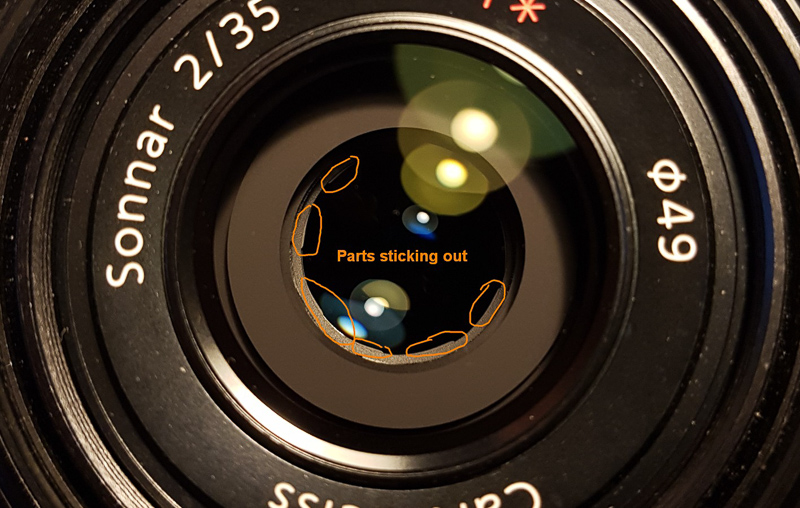 This is also true for some of the Zeiss Loxia lenses, but at least here the aperture has always been perfectly symmetrical, giving symmetrical sunstars and out of focus highlights (Zeiss Loxia 85mm 2.4, which one might also want to use for portraiture, has a perfectly round opening at f/2.4).
This is what out of focus point light sources were rendered on my first sample of this camera: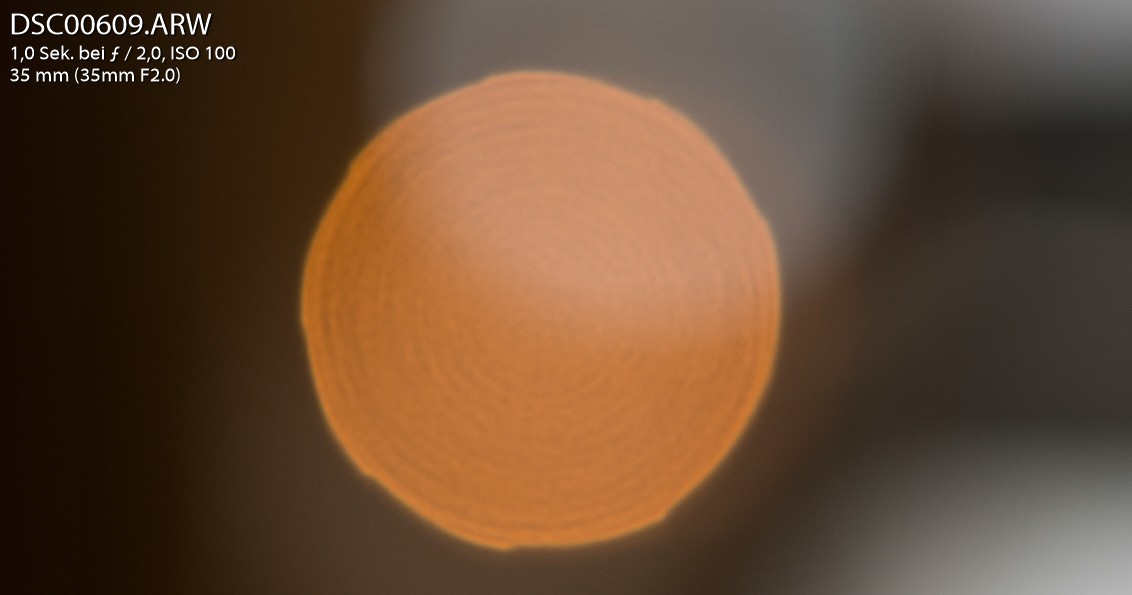 This is unacceptable to me. If I wasn't interested in the f/2 aperture and the allegedly great bokeh I could have just as well bought a Sony FE 35mm 2.8 ZA to use on my A7 cameras.
I talked to some other owners, who then claimed their RX1 cameras did not show such issues, so I returned this first camera and tried a second one.
Indeed the out of focus point light sources were rendered better at f/2.0 (not perfect, but still much better):

This second camera had another issue though, while better at f/2.0 it is worse than the first sample at every other aperture value. The aperture does not close symmetrically, so out of focus point light sources are not rendered as circles, but as irregular eggs:
I found out this is not an uncommon problem, there are many reports here and here.
If these things bother you or not only you can decided for yourself. To me this is unacceptable for a camera at that price point. Especially taking into account there are so many (even cheap) lenses that don't show issues like these.
With that out of the way we can now talk about the actual bokeh rendering.
There are many people who claim this lens gives the best bokeh of all 35mm lenses and the bokeh rendering is probably one of the main reasons to buy this camera. While it is indeed very good in most situations – especially the transition zone where many other 35mm lenses struggle – it is not perfect and there are some things to watch out for.
When this lens was first introduced in the original RX1 the extreme aspherical elements, used in e.g. the Sony GM 85mm 1.4 FE, weren't yet available, so the highlights can show some onion ring structures. If this will be visible in your final shots hugely depends on the background (obviously) and also how big these light circles are, so also on the focusing distance:
You can als have a look at the mechanical vignetting (cat's eyes towards the corners) in these images. It is not a big issue with this lens and already at f/2.8 the highlights are perfectly round (at least they could be, if it wasn't for the issues with the diaphragm…).
Now let us have a look at the good side: many 35mm lenses struggle in the transition zone and especially when the transition zone is the background (happens e.g. when taking full body environmental portraits).
This is where the Sonnar 35mm 2.0 really shines. I am not sure any of the (many) other 35mm lenses I tried would look this good in scenes like these. There are barely any issues with double edge structures, usually found on comparable lenses: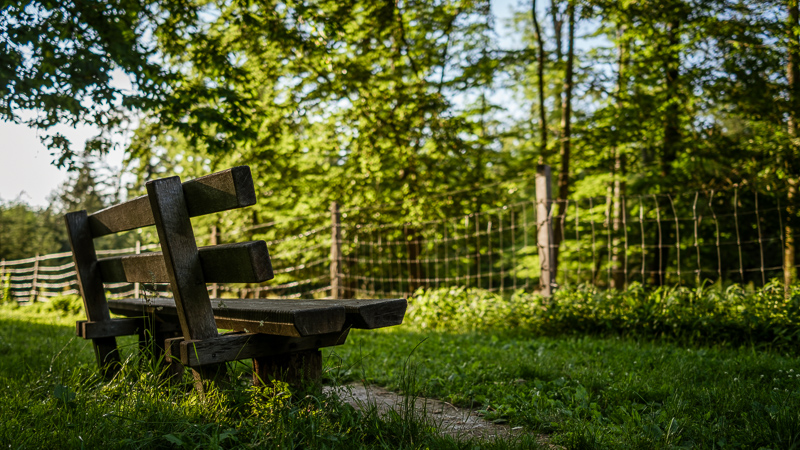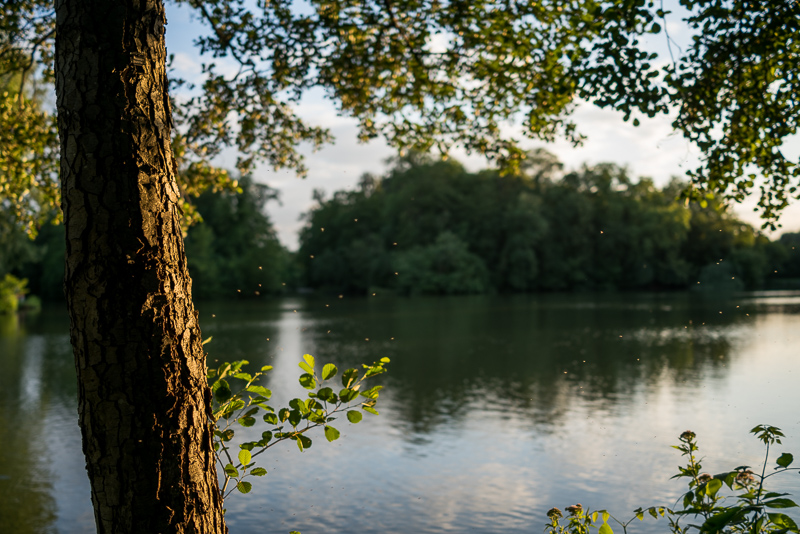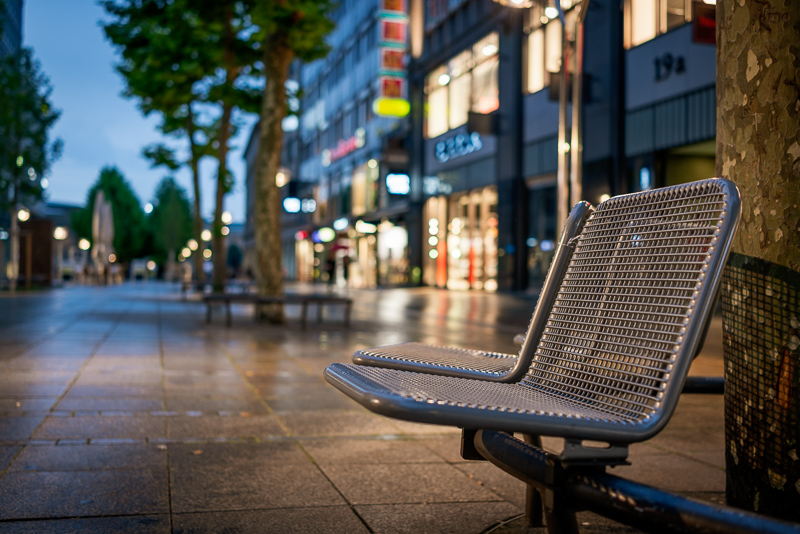 If you focus on something close you will get some more blur and it will look even better: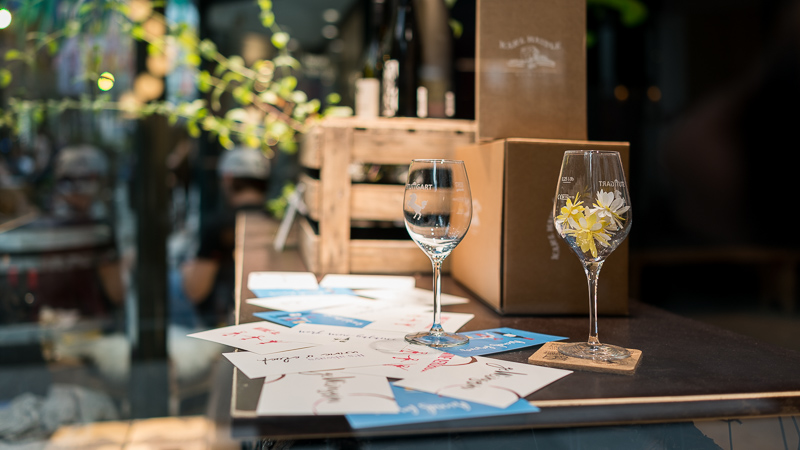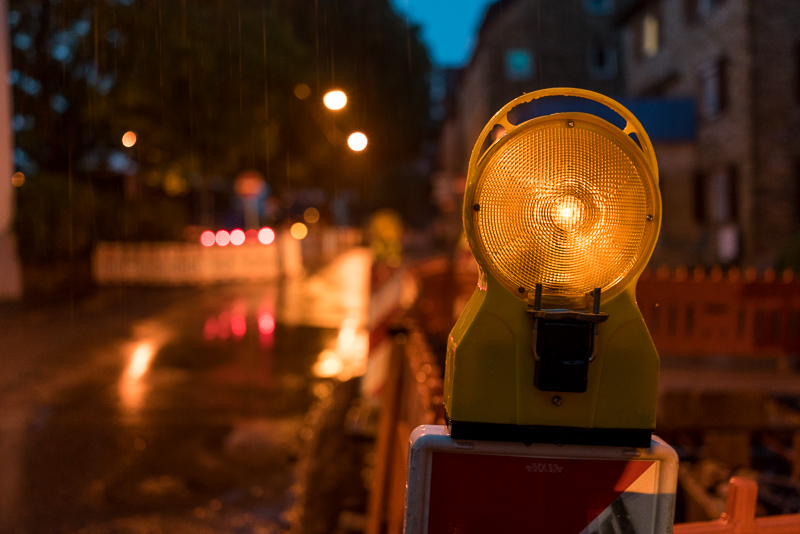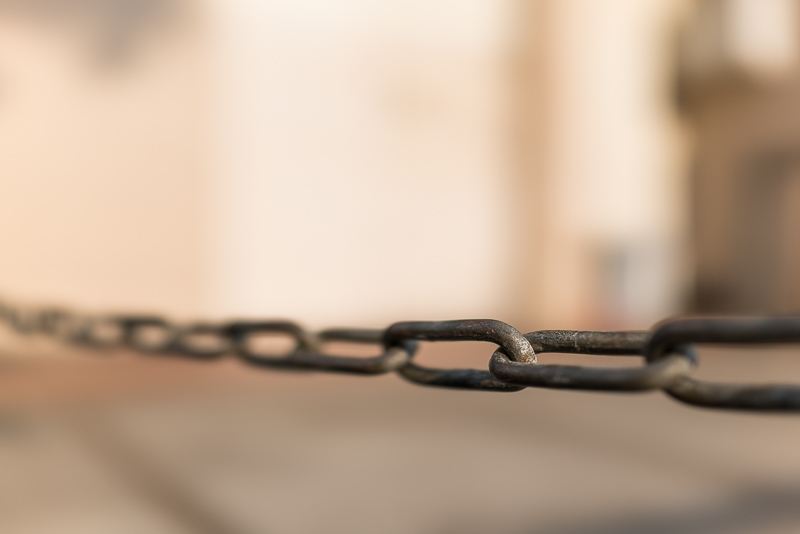 Sunstars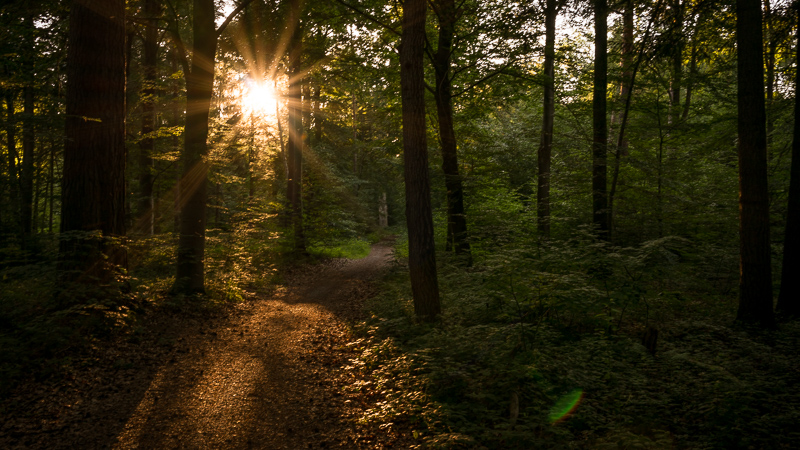 As I keep writing in my reviews what kind of sunstars you prefer (e.g. the 10 distinct rays of the Loxia lenses or the 18 rays of the Batis lenses) hugely depends on your personal taste.
Nevertheless I am sure most of us will agree that rays with the same spacing between each other and the same length are highly favorable.
To make this happen you need a well constructed diaphragm with tight manufacturing tolerances. As I have already shown you in the bokeh section this is not the case with the RX1RII lens, so you get irregular sunstars that rarely look nice:
I will end this chapter with a shot taken with the Zeiss Batis 18mm 2.8. It uses a 9 rounded blades aperture just like the 35mm 2.0 in the RX1RII, but look at this difference:
This is what it should look like: 18 rays, same spacing, same length, almost no fraying. Not two sets of 9 rays, one set very long and frayed, the other very short.
Chromatic aberration
lateral
There is an embedded profile which corrects for lateral CA which cannot be easily disabled. I was never able to see any in shots.
longitudinal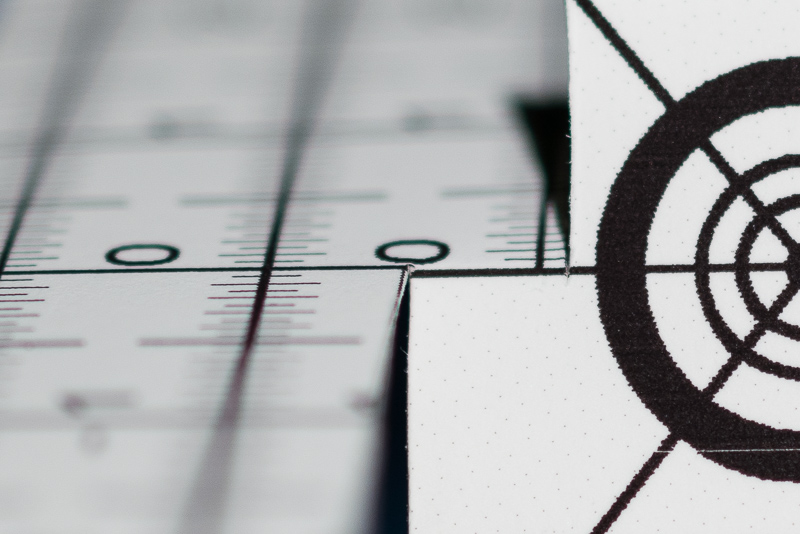 In these close up scenarios there are only very slight loCA visible. Nothing to worry about. In demanding scenes you can spot quite a bit more, even to a degree that it will be easily visible in small prints:
There are some 35mm lenses that fare better in this category, for example the Voigtlander 35mm 1.7 Ultron or the Sigma Art 35mm 1.4.
Alternatives
The (only) direct competitor is the Leica Q.
I have no personal experience with it, but if you don't mind a slightly bigger camera with a 28mm f/1.7 lens you might want to give it a look.
Talking about the E-mount environment there are not many alternatives if you are looking for a 35mm lens with AF, and that is pretty much the problem.
RX1/RX1R:
The predecessors. They share the lens and the outer appearance, but apart from that they are vastly different: only the RX1RII features the built in EVF, the on sensor phase detection AF, Eye AF, uncompressed Raw and the tiltable screen.
My personal opinion: the usability due to the built in EVF and the much better AF of the RX1RII explains why these two former generations are so much cheaper on the used market and didn't appeal at all to me.
Sony FE 35mm 2.8 ZA:
This lens is not only a stop slower but it looks slightly worse in terms of image quality and (to me personally) a lot worse in terms of bokeh.
You get the same fuzzy sunstars and apparently also huge sample variation issues.
Samyang 35mm 2.8 AF:
Haven't tried this one myself yet, definetly a stop slower.
Sony FE 35mm 1.4 ZA:
This lens alone weighs more than the whole RX1RII and it is pretty huge as well. I would like to present you a review of this lens but so far I haven't found one with good enough centering quality to write a review of it.
Samyang 35mm 1.4 AF:
Haven't tried this one myself yet. About as big as the aforementioned Sony, but from the pictures I have seen I like the bokeh less.
Sigma 35mm 1.4 Art:
The Art lenses are now available as "native" E-mount lenses. This 35mm 1.4 I was once using on my Nikon DSLRs and with the newly built in adapter it is about the same size as the two aforementioned lenses. It is a very sharp lens with very good correction of most optical errors, but many people don't like the bokeh rendering of the Art series lenses, so check out some samples before you buy one to check for yourself.
There are many manual 35mm lenses. You can have a look at our review page and browse through the reviews of these. My personal recommendation is the Voigtlander 35mm 1.7 Ultron + 5m PCX filter.
Conclusion
good

bokeh*

across frame sharpness and contrast


close focus performance

coma correction

correction of lateral CA

light falloff

size/weight

average

distortion
flare resistance
correction of longitudinal CA
price (used)

not good

sunstars*

minimum shutter speed (1/2000s)

battery life

price (new)
*on both RX1RIIs I tried there were issues due to asymmetrical aperture blades
On first sight the RX1RII is simply an amazing camera: it is pretty much an A7rII with a 35mm f/2.0 lens in a much more compact package. You also get an retractable EVF and a tilt screen, things rarely found (especially in combination) on compact cameras. The whole package weighs as little as a single lens, so I was thinking of adding it to my kit and simply using it instead of an A7 series camera with a 35mm lens.
Compared to an A7rII there is only little you are giving up: battery life is worse, the EVF opening is a bit smaller (you will probably run into some issues when wearing glasses) and while the leaf shutter is really silent it unfortunately can't go faster than 1/2000s. So if you want to make use of the bokeh at f/2.0 in bright daylight you will want to get an ND filter.
Apart from these things it pretty much handles like an A7rII.
There are many good things to say about the lens but I will make it short: the bokeh is really nice – especially the transition zone where most 35mm lenses struggle – and it is plenty of sharp and contrasty. Especially the close up performance was a pleasant surprise. These things almost made me forget about the onion ring bokeh.
We had a vivid discussion in the team about the sample variation issues I encountered with the aperture diaphragm. One argument was that not many of the people interested in a camera like this would care or even notice.
So far it has always been my position to point out whatever small or not small issues I find (e.g. the noticeable steps of the AF motor on the FE 55mm 1.8 ZA, the inaccuarcy of the Batis OLED displays or green corners on lenses like Voigtlander 5.6/10 and Laowa 2.8/12) so the readers can decide for themselves, whether that is something they care about or not.
Personally I wanted to use this camera alongside my A7rII + FE 85mm 1.4 GM as my 2 lens/camera setup for weddings, concerts, reportage. So I do care how out of focus areas look and irregular shapes are not acceptable to me.
This does not change the fact that this is a pretty unique and appealing camera without any real competition. Although part of the reason for that is the lack of a compact 1.8/35 or 2.0/35 with AF for full frame E-mount cameras.
New the RX1RII costs $3299 and you can get it e.g. from amazon.com or B&H. On ebay.com/ebay.de you may also find used ones starting at $2000/2200€ (affiliate links).
Sample Images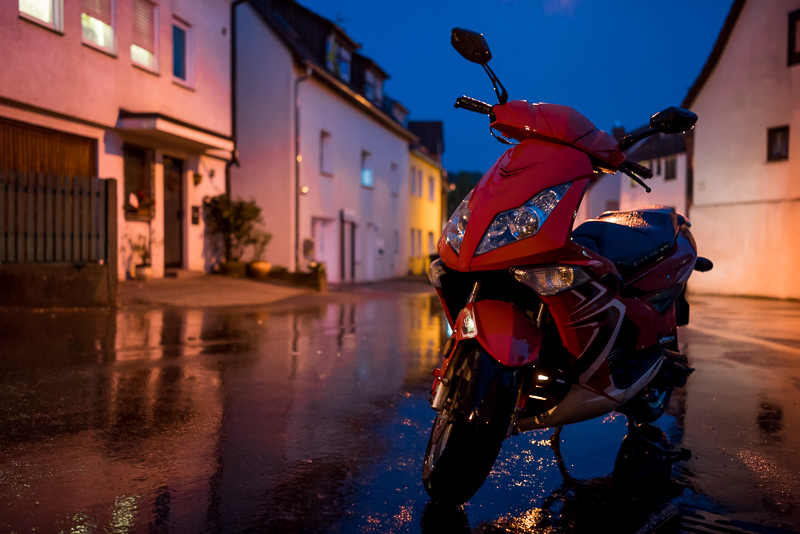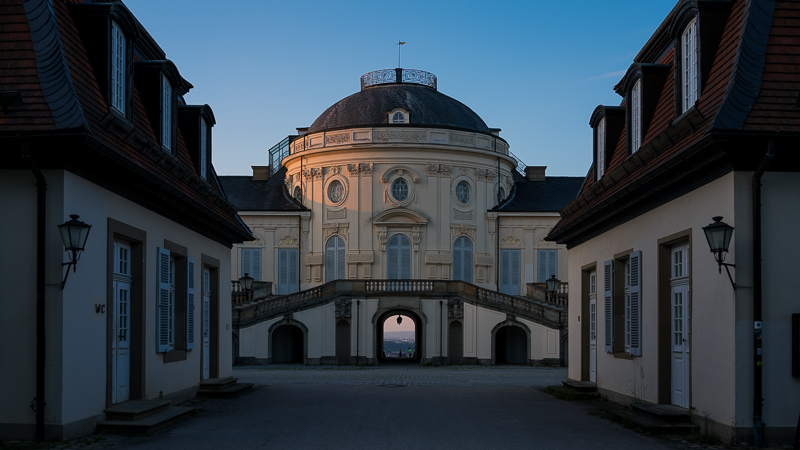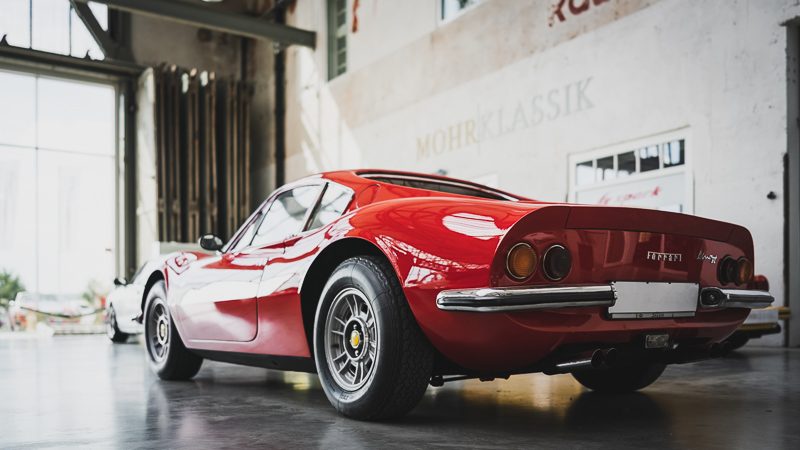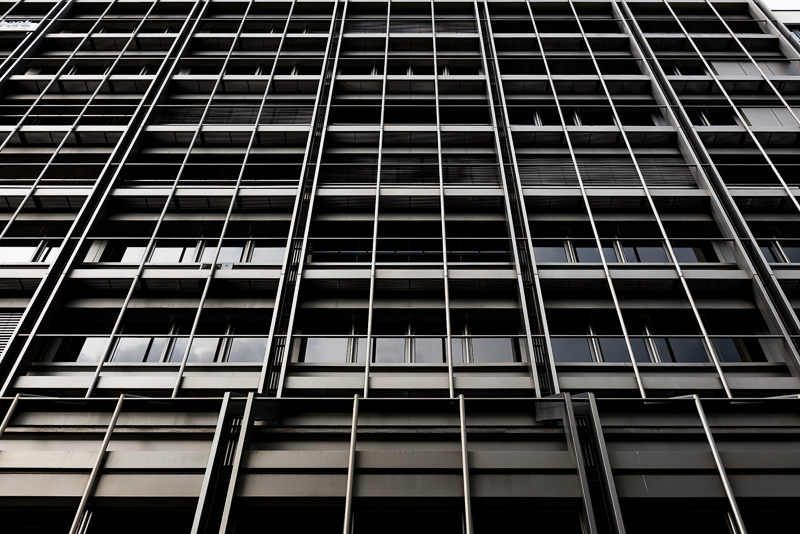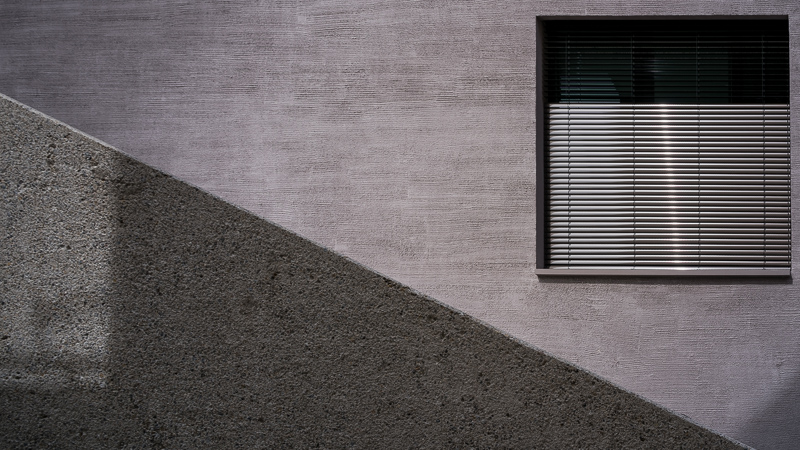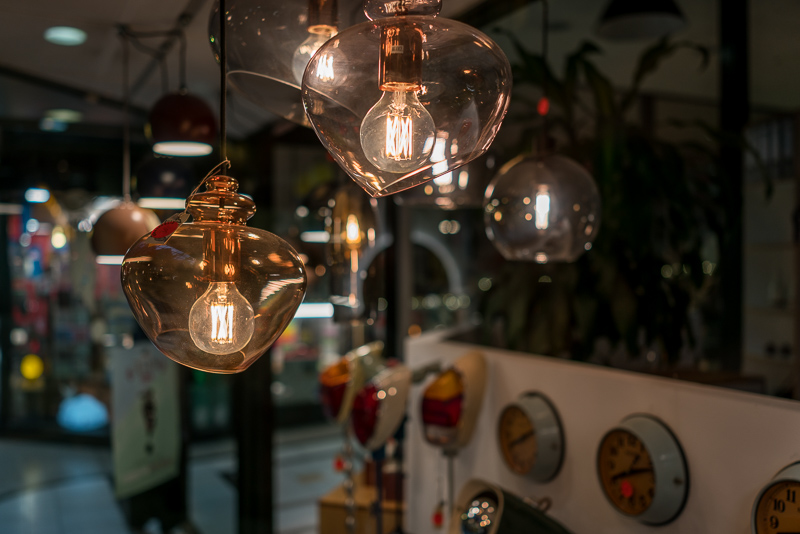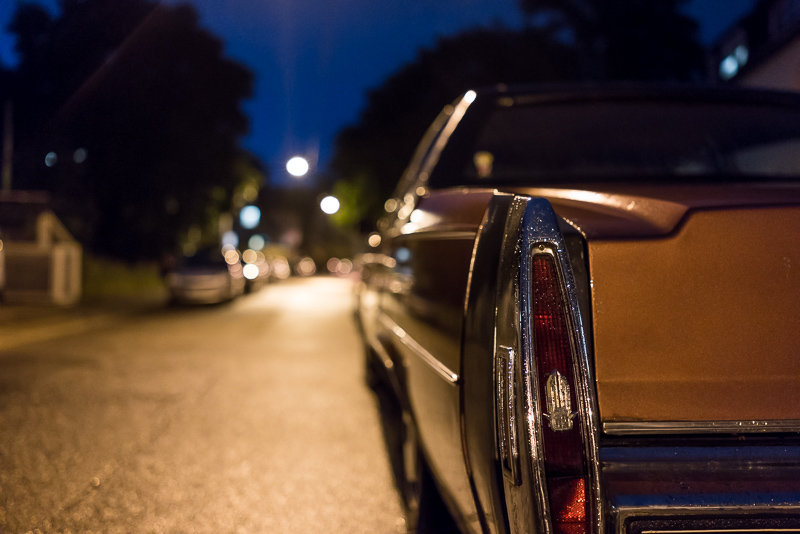 Most of the sample images in this review can be found in full resolution here.
Further Reading
Support Us
Did you find this article useful or just liked reading it? Treat us to a coffee!


via Paypal