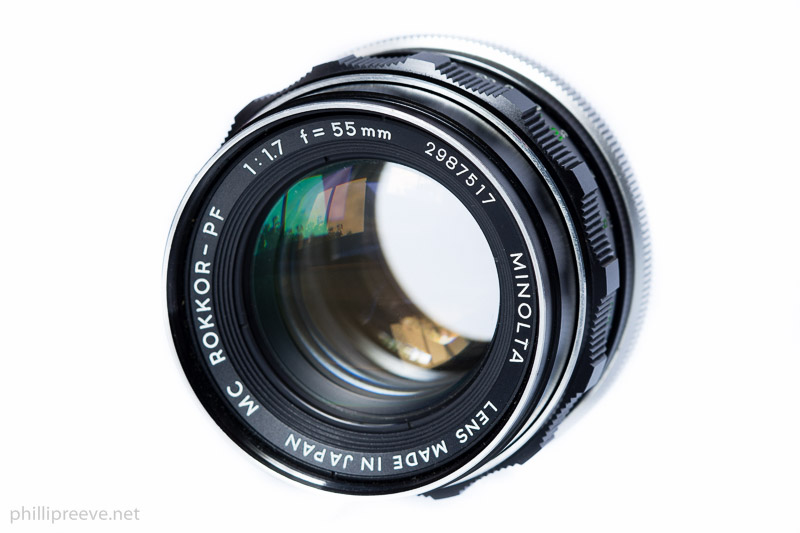 The Minolta MC 1:1.7 55mm is 50 years old but none the less it is one of my favorite normal lenses to use on the Sony a7. In this review I will tell you why.
Sample Images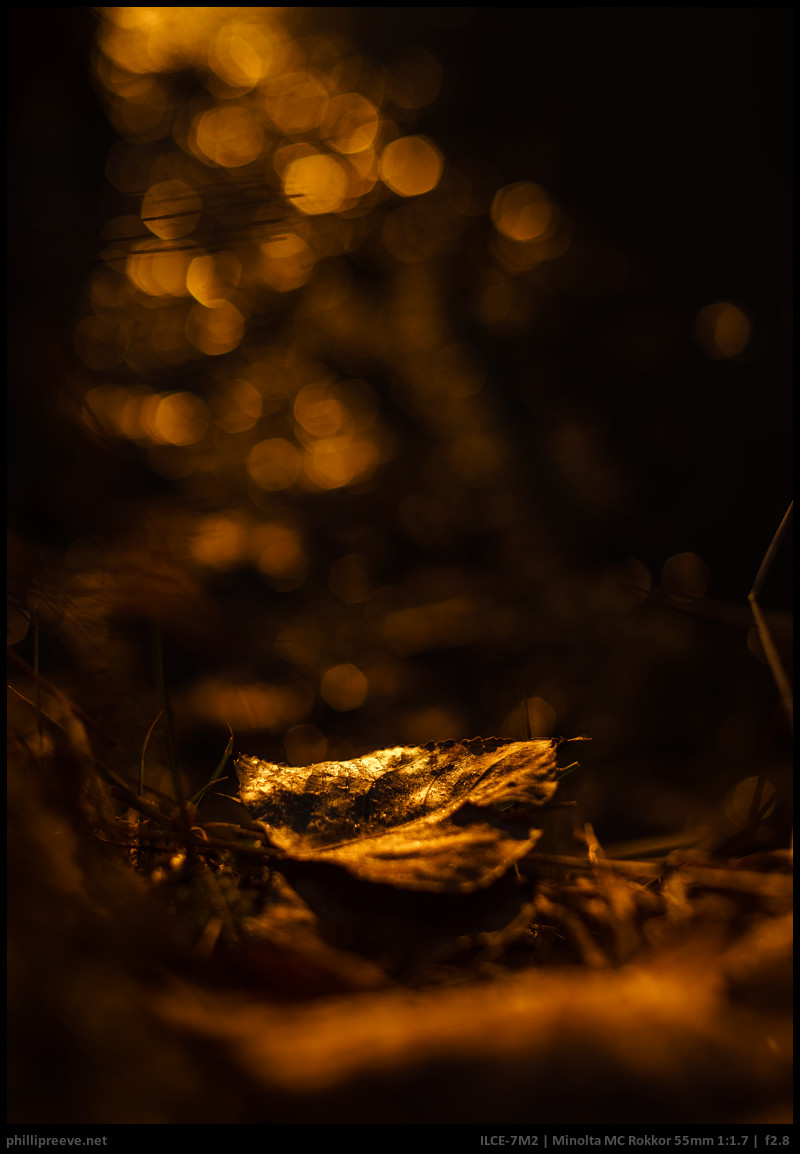 Specifications
| | |
| --- | --- |
| Diameter | 63 mm |
| Length | 37 mm |
| Filter Diameter | 52 mm |
| Weight | 230g |
| Max. Magnification | ~0.13 |
| Close Focusing Distance from the sensor | 55 cm |
| Number of aperture blades | 6 |
| Elements/ Groups | 6 / 5 |
The Minolta MC 1.7/55 usually sells for around $30-40 at ebay.de | ebay.com | ebay.co.uk (affiliate links)
Versions
Minolta made two very similar versions of the MC 1.7/55.
The first version was introduced in 1966 and it has a flat focusing ring.
 The second version was introduced in 1970, it has a focusing ring of the hill/valley type but otherwise it is very similar to the first version. My copy is of this type.
Both versions are available with and without stop down lever.
Minolta also made quite a few other 55mm lenses with f-stops of 1.8, 1.9 and 2 about which I can't really tell you anything.
Data according to the Minolta manual lenses list.
Compatibility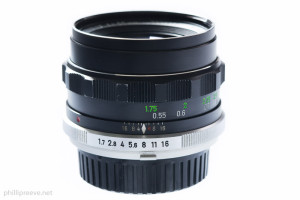 You can use the lens on a wide range of old Minolta SR film-cameras like the Minolta XD-7 or X-700.
Because of the flange-focal-distance of Minolta SR lenses all adapters for DSLR cameras either contain an optical element which will reduce image quality a lot or you lose infinity focus. I wouldn't bother to use one of those adapters.
Mirrorless cameras have a much shorter flange focal distance and  you can buy adapters for Fuji-X, Sony-E, Micro Four Thirds and Samsung NX which work very well.
I usually recommend Sony Alpha 7 cameras for the use with older manual lenses because they are the only ones with a fullframe sensor and in my experience most lenses work best on the larger sensor. But I got nice results with this lens on the Nex-5n as well.
Here are links to adapters for Minolta SR to Sony E mount cameras: Amazon.com | Amazon.de (affiliate links). Also check out my Minolta SR-mount adapter guide.
Built Quality
Typically for Minolta MC lenses the lens is made to the highest standards from nothing but glass and metal with very low tolerances. All the numbers are engraved and even tough I have used the lens quite a bit it shows very little signs of wear. It doesn't get any better than this, the $1000 FE 1.8/55 is not built as well.
Size, Weight and Handling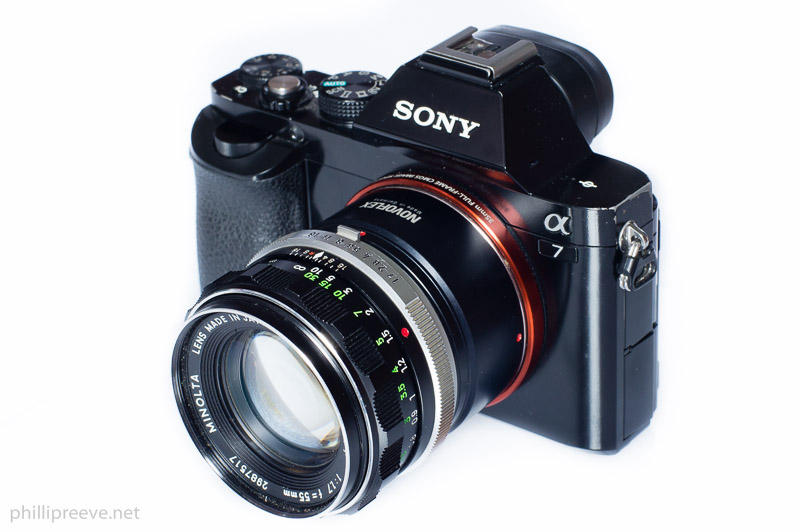 The lens is small and light and so it feels very well balanced on my rather light Alpha 7, as well as on my small Nex-5n.
The focusing ring travels about 80° from 55cm to 1m and a further 45° to infinity.
The focus throw is just right for portraits and also landscape images.
The short focusing distance of 55 cm is a bit high, most normal lenses have a short focusing distance of 45 cm but this is partially compensated by the longer focal length.
The metal made aperture  ring of the has a perfect resistance and distinctive stops.
There is no  stop between f/1.7 and f/2.8 which is a bit annoying because it is a bit hard to set an aperture between both stops.
From f/2.8 it stops down half steps to f/16. The filter thread does not rotate when the lens is focused which makes the usage of  polarizers easier but the diameter of 52mm is quite unusual for a Minolta lens, from about 1968 nearly all Minolta lenses had a standard 55m filter thread.
The lens extends by about 6mm when focused to 1.2 meters.
Lens Hood
I don't own the original lens hood, so I can't provide you with a picture. It's Minolta code name was D52ND and it is 26mm deep. Search for the original hood on ebay.com | ebay.de (affiliate links)
Optical Performance
Flare Resistance
Flare resistance is not a strength of this lens, veiling flare and ghosting will appear in more critical situations, the old coatings take their toll here. See my comparison of the MC 1.7/55 against the Sony FE 1.8/55 for a rather dramatic demonstration of this.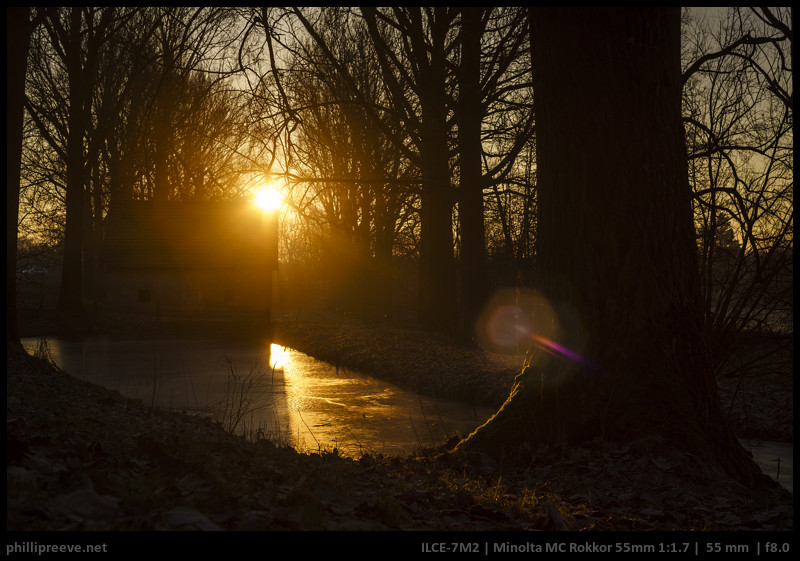 But this doesn't mean that  all back-lit scenes are problematic, here is an example of a backlit scene without significant contrast loss.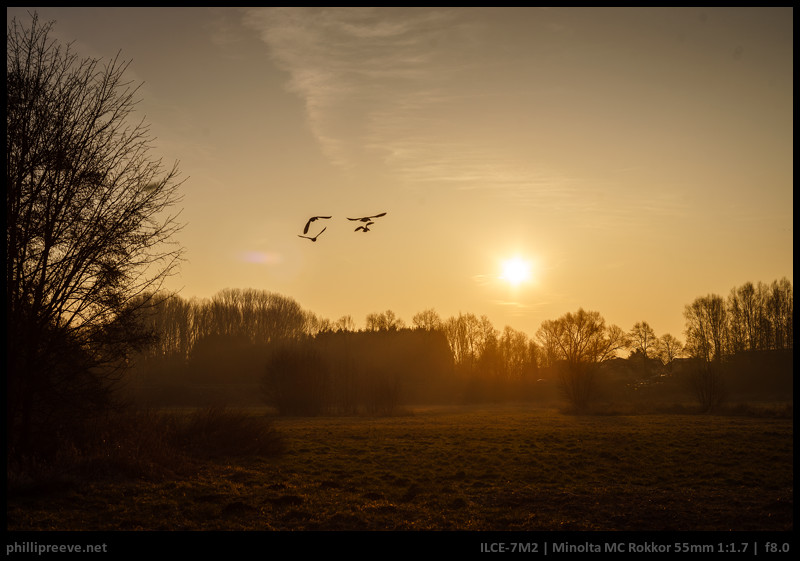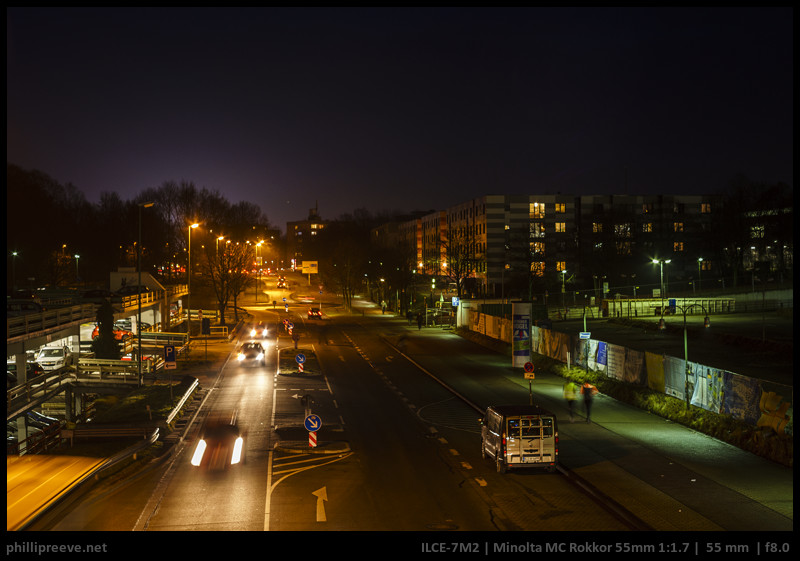 Sunstars
You should stop down to f/16 but then sunstars are quite nice.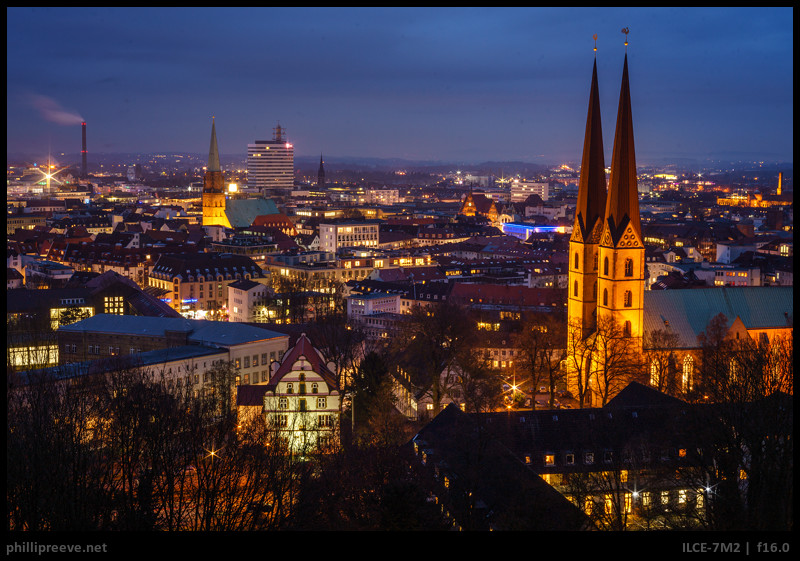 Distortion
A very very small amount of barrel distortion, not relevant for any application.
Vignetting
There is some vignetting at f/1.7 which is reduced a lot by f/2.8 and gone by f/4. This is much better than most f/1.4 or f/1.2 lenses which have a lot more vignetting at their fastest aperture.
Chromatic Aberations
Lateral CA are very very well corrected and barely visible.
LoCA  are visible in critical situation but not too obtrusive.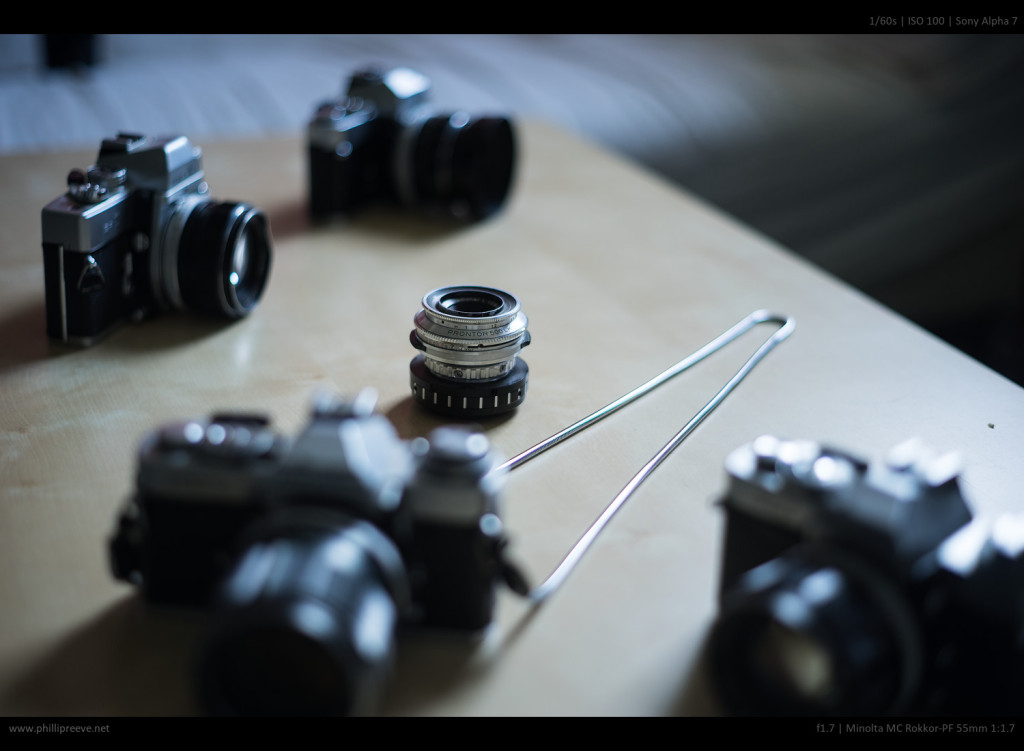 Bokeh
Bokeh is a subjective and complex so allow me a few images to discuss it.
There is a defined edge around oof highlight blur discs and a somewhat nervous transition zone: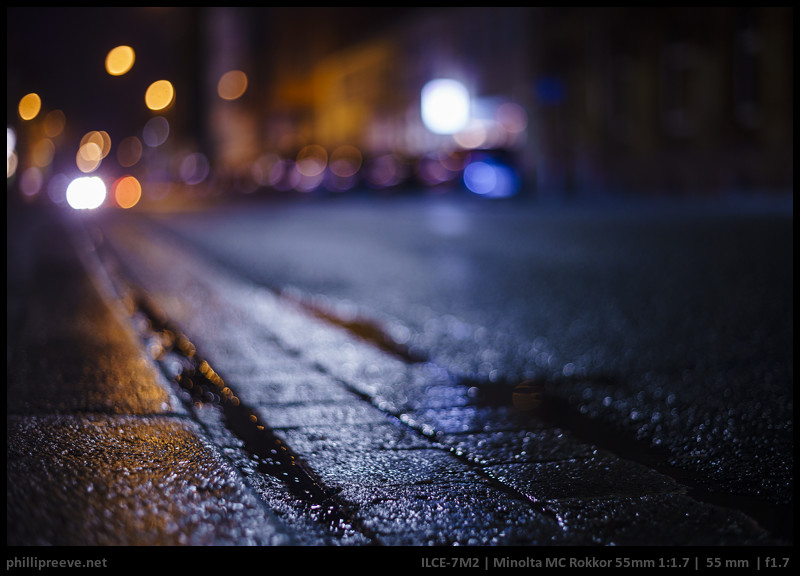 The foreground is very smooth:
When you background has less contrast bokeh can be very smooth:
Stopped down to f/2.8 the shape of the 6 aperture blades becomes a bit distracting but at least the blades are somewhat rounded.
But when you have a background with lower contrast the bokeh can be very smooth at f/2.8: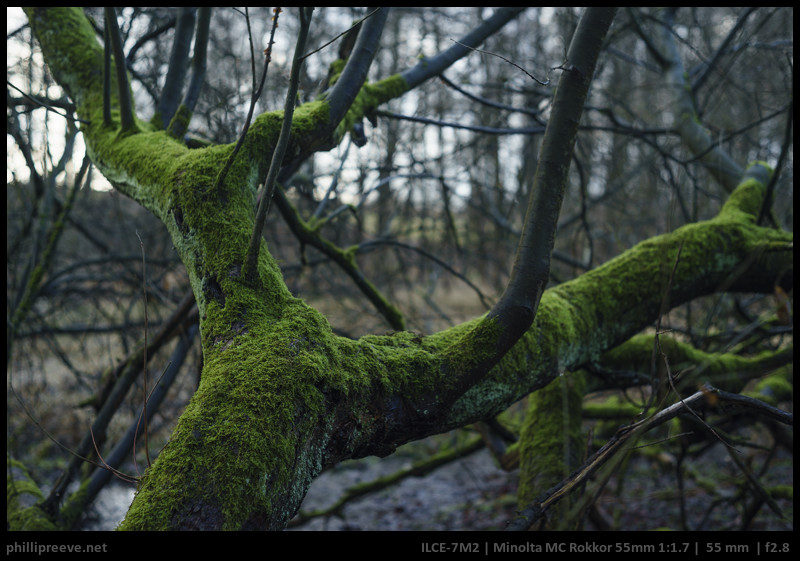 So bokeh depends a lot on the circumstances but that's the case for any classic normal lens I have used so far and I would rank the 1.7/55 among the better normal lenses in this regard. It isn't quite as smooth at the Minolta MC 1.2/58 but it comes rather close.
Sharpness
f/1.7: The center shows good sharpness and there is only a little falloff towards the mid frame are. The corners are soft with lots of coma. I don't hesitate to use this aperture for portraits.
f/2.8: The center improves quite a bit to very good levels as does the midframe area which improves to good levels, the corners remain soft.
f/4: The lens is very sharp across most of the frame.
f/5.6: Now even the corners are very good and only the far  corner is still soft.
f/8: Sharpness extends a little more, towards the far corners but there are still a few pixels which are a bit soft.
f/11: Very good across the whole frame with a small loss in the center.
A solid  performance, f/1.7 is good enough for portraits with less spherical aberration than Minoltas f/1.4 or f/1.2 lenses have at their fastest aperture but the f/1.7 has less resolution.
Stopped down to f/8 the last few pixels in the corners aren't very sharp, on most other normal lenses they are but this hardly matters as 99% of the image are very very sharp.
Compared to other lenses
Conclusion
good

built quality

size and weight

price

bokeh (compared to other normal lenses)

low CA and Distortion

average

vignetting
you need to stop down to f/8 for sharp corners
sharpness

not good
When I decided to use just one lens for a whole month I picked the Minolta MC 1.7/55 because it is the most enjoyable normal lens I own.
Optically there some limitations: While I never hesitate to use it wide open it is a little less sharp than than most other normal lenses at f/2 and f/2.8 and the flare resistance is below average as well. Stopped down to f/8 it is excellent and can compete with a FE 1.8/55 (at least on the a7).
The MC 1.7/55 is rather small and beautifully built so handling it is a joy. Bokeh depends a lot on the scenario but I usually like it. I think it is a steal for the $30-40 it usually sells for.
All in all the Minolta MC 1.7/55 is what I would call a very good compromise. It does not excel at anything but it also lacks the limitations of many other lenses and it is small and affordable.
————
You can buy the Minolta MC 1.7/55 at ebay.de | ebay.com | ebay.co.uk  (affiliate links). For tips on how to get a good copy read my article Lens defects and buying advice.
The right adapter to use this lens on a Alpha 7 series camera can be found on Amazon.com | Amazon.de (affiliate links).
Thanks for showing your support buy using one of the above links 🙂
————
Sample Images Minolta MC 1.7/55
All Images are processed in Lightroom from Raw. You can find images in full resolution in my Minolta MC Rokkor 55mm 1:1.7 flickr album.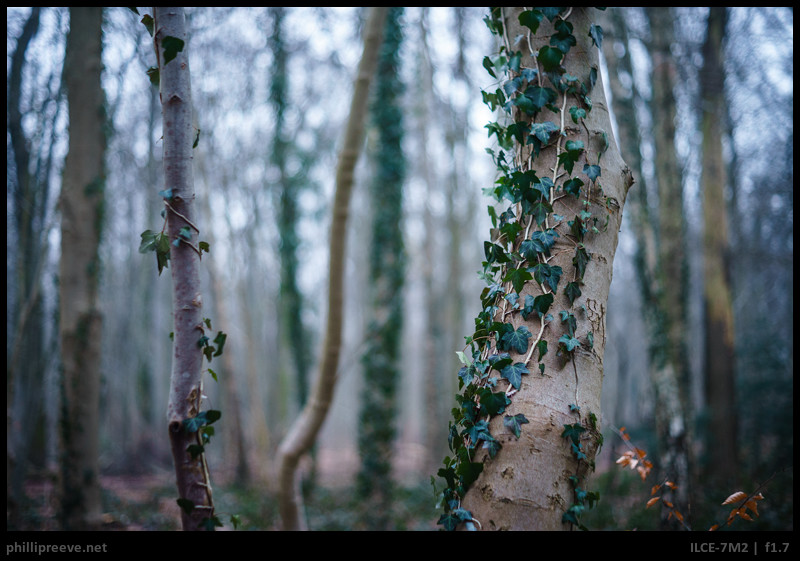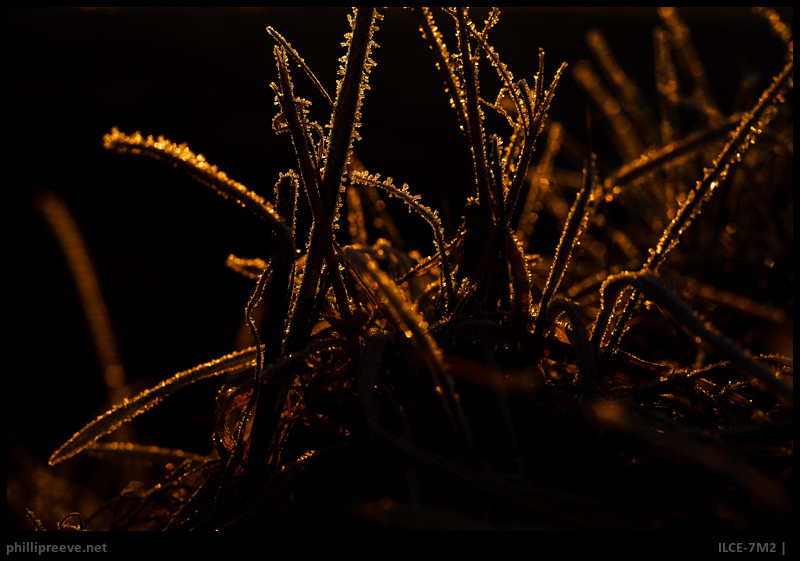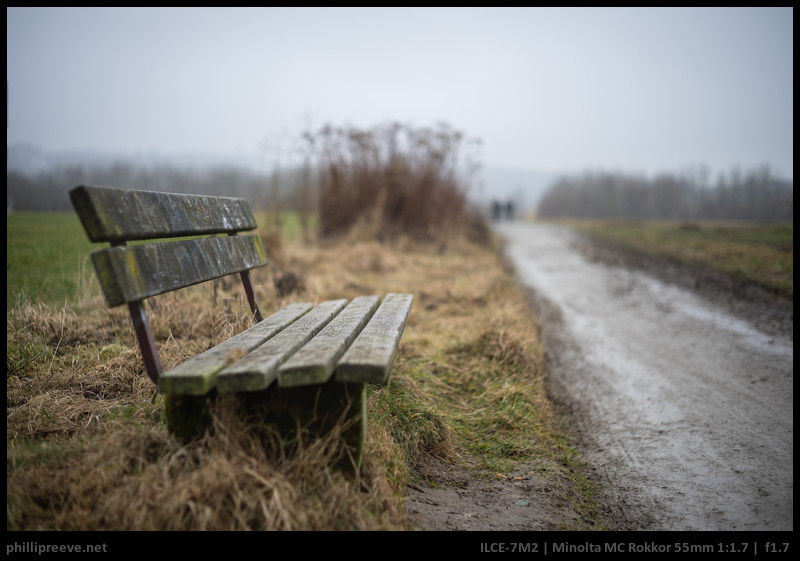 Other Articles
The following two tabs change content below.
I have two hobbies: Photography and photographic gear. Both are related only to a small degree.
Latest posts by Phillip Reeve (see all)