Despite it's age of more than 45 years the Minolta MC 2.5/100 is a very good lens with great built quality and bokeh for a very affordable price.
Sample Images
 Specifications
| | |
| --- | --- |
| Diameter | 68mm |
| Length | 65mm |
| Filter Diameter | 55 mm |
| Weight |  410g |
| Max. Magnification | ~0.2 |
| Close Focusing Distance from the sensor | 120cm |
| Number of aperture blades | 6 |
| Elements/ Groups | 6/5 |
The Minolta MC 2.5/100 at ebay.de | ebay.com (affiliate links)
Versions
Minolta made quite a few MC 2.5/100 lenses.
The first version was introduced in 1968 and it has a flat all metal focusing ring. It is the version I own and all the pictures in this review show it.
 The second version was introduced in 1970, it has a focusing ring of the hill/valley type but otherwise it is very similar to the first version.
The third version was introduced in 1973 and it has a rubberized focusing ring and weigths 20g more than it's two precedessors. The optical design and short focusing distance of 1.2m are the same. Minolta also dropped the "-PF" from the name during the production run for this version.
The fourth version introduced in 1976 has a different (but similar) optical design (5 lenses in 5 groups). It is also a bit shorter, thinner and lighter than it's precedessor. The easiest way to tell it apart from the others is the short focusing distance of just 1m.
Data according to the Minolta manual lenses list.
There are also two version called Minolta MD Rokkor 100mm 1:2.5 which are the same optically as the fourth MC version. For a short time I owned one, the performance was very similar to my first MC version but I preferred the focusing ring of the MC so I sold it.
Then there is the Minolta MD 100mm 1:2.5 which has a 49mm filter diameter and a little modified optical design. At 310g it is significantly lighter than all the other versions. Built quality will be similar to that of my MD 2/50.
Compatibility
You can use the lens on a wide range of old Minolta SR film-cameras like the Minolta XD-7 or X-700.
Because of the flange-focal-distance of Minolta SR lenses all adapters for DSLR cameras either contain an optical element which will reduce image quality a lot or you lose infinity focus. I wouldn't bother to use one of those adapters.
Mirrorless cameras have a much shorter flange focal distance and  you can buy adapters for Fuji-X, Sony-E, Micro Fourthirds and Samsung NX which work very well.
I usually recommend Sony Alpha 7 cameras for the use with older manual lenses because they are the only ones with a fullframe sensor and in my experience most lenses work best on the larger sensor. But I got nice results with this lens on the Nex-5n as well.
Here are links to adapters for Minolta SR to Sony E mount cameras: Amazon.com | Amazon.de (affiliate links).0
Also check out my Minolta SR-mount adapter guide.
Built Quality
This lens is one of the most beautifully made lenses I have ever owned. Everything is made from metal and even though my lens is more than 45 years old and I use it regularly it shows less signs of wear than my Sony FE 2/28 which I bought 6 months ago.
The focusing ring is super smooth with just the right amount of resistance.
Size, Weight and Handling
The lens feels well balanced on my rather light Alpha 7, on my small Nex-5n it is a bit front heavy.
The focusing ring travels about 90° from 1.2m to 2m and a further 110° to infinty. This focus throw is just right for porttraits and also landscape images. This is one reason why I prefer it for portraits over my Tokina 2.5/90 Macro.
The short focusing distance of 1.2m is a bit high in my opinion.
The Minolta Closeup Lens No. 0 works well with the MC 2.5/100 and reduces the short focusing distance to 67cm but you can't focus past 1.2m when it is attached. I would recommend to stop down to at least f/4 when using the closeup lens.
Sample Image normal short focusing distance | short focusing distance with Minolta Closeup Lens No 0 f/2.5(soft) | f/5.6 (quite sharp)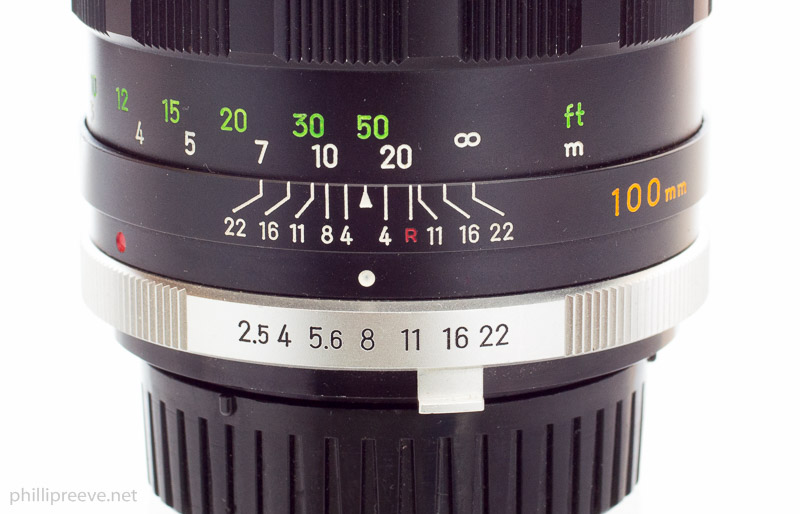 The metal made aperture  ring of the has a perfect resistance and distinctive stops. There is no  stop between f/2.5 and f/4, then it stops down half steps to f/22.
The filter thread does not rotate when the lens is focused which makes the usage of  polarizers easier. The lens extends by about 10mm when focused to 1.2 meters.
Lens Hood
I don't own the original lens hood. It is quite long and made from metal. I use  one for the MD 4.5/75-200 instead which is a bit smaller and works well enough.
Optical Performance
Flare Resistance
Not a strength of the MC 2.5/100. It easily loses contrast when a bright light shines on the front of the lens.
Distortion
A very small amount of pincushion distortion, only relevant for the most critical applications.
Vignetting
There is minor vignetting at f/2.5 which is gone by f/4.
Chromatic Aberations
LoCA and LaCA are both visible in critical situation but not too obtrusive.
Bokeh
The lens has beautifully smooth bokeh. I would go as far as to say that it has the most beautiful  bokeh of any Minolta lens I have ever used. But that is quite subjective, here are a few pictures to judge for yourself:
Sharpness
f/2.5: I see a lot of resolution but reduced contrast. Good to very good in the center, the corners are good. I think the lens performs a bit better at medium distances of 3-4m.
f/4:  The center improves noticeably to very good levels, the midframe area is good to very good and the corners improve only a little.
f/5.6, f/8: Very sharp across the frame.
f/11: 

A little softer due to diffraction.
The Minolta MC Tele-Rokkor PF 100mm 1:2.5 does not set any resolution record but it is sharp enough at f/2.5 with very good resolution and some spherical aberration.
By f/5.6 it leaves little to be desired.
Compared to other lenses
Conclusion
good

excellent built quality

great bokeh

sharpness stopped down to f/5.6

price/performance ratio

average

sharpness at f/2.5
size and weight
CA

not good

not very effective coatings

short focusing distance of 1.2m
The Minolta MC 2.5/100 is a very enjoyable lens.
The built quality is beter as that of modern $1000 Sony Zeiss lenses and the lens is small enough to be well balanced on my Alpha 7.
The age shows in not very effective coatings, the lens does not like bright light sources in the image and contrast  at f/2.5 is somewhat muted. But that's about the only weakness I can report: The lens is my favourite portrait lens, at f/2.5 the bokeh is superb and sharpness is good enough.
But it also works very well for landscapes, stopped down to f/5.6 sharpness is very good to excellent across the frame.
There is only one reason why I don't use it that often: My Tokina 2.5/90 Macro which is more versatile and a bit sharper.   
At the current price of around $100 on the used market I can only recommend this lens.
————
You can buy the Minolta MC 2.5/100 at ebay.de | ebay.com  (affiliate links). Lens defects and buying advice. The right adapter to use this lens on a Alpha 7 series camera can be found on
Amazon.com | Amazon.de (affiliate links).
Thanks for showing your support buy using one of the above links 🙂
————
Sample Images Minolta MC 2.5/100
All Images are processed in Lightroom from Raw. You can see the full resolution by clicking on the image and then selecting download.
You can find more full resolution images in this flickr set: Minolta MC 2.5/100 full resolution sample images
Other Articles
An introduction to manual lenses on the a7
The following two tabs change content below.
I have two hobbies: Photography and photographic gear. Both are related only to a small degree.
Latest posts by Phillip Reeve (see all)