The Minolta MD 100mm 1:2.5 is a small and affordable lens which delivers a surprisingly good performance on the Sony a7 series. Read my in-depth review to decide if it could be a good addition to your camera bag.
Specifications
| | |
| --- | --- |
| Diameter | 64 mm |
| Length | 65.5 mm |
| Filter Thread | 49 mm |
| Weight | 310 g |
| Max. Magnification | 0.12 |
| Close Focusing Distance from the sensor | 1 m |
| Number of aperture blades | 6 |
| Elements/ Groups | 5/5 |
The Minolta MD 2.5/100 usually sells for around $150 used at ebay.com (affiliate link). 
In Germany you can buy it used for around 140
€
 at ebay.de (affiliate link). 
Image Samples
You can find all images shown in this image in full resolution in this album.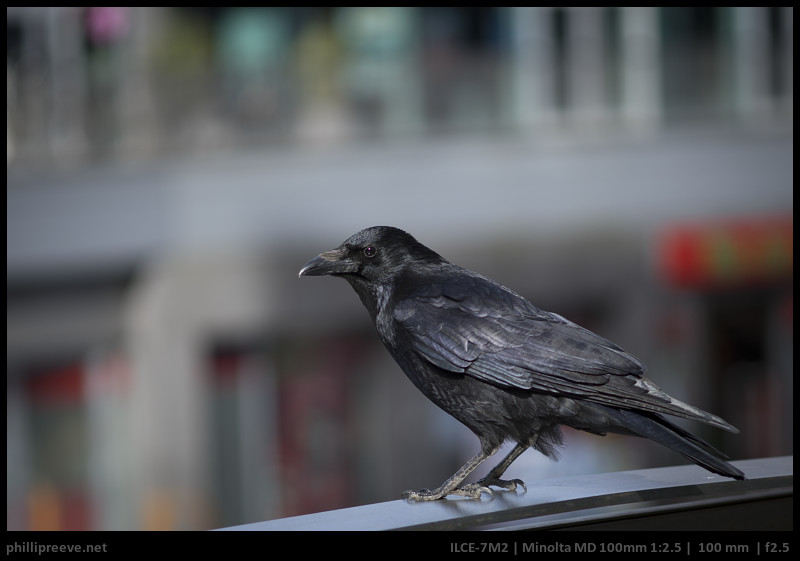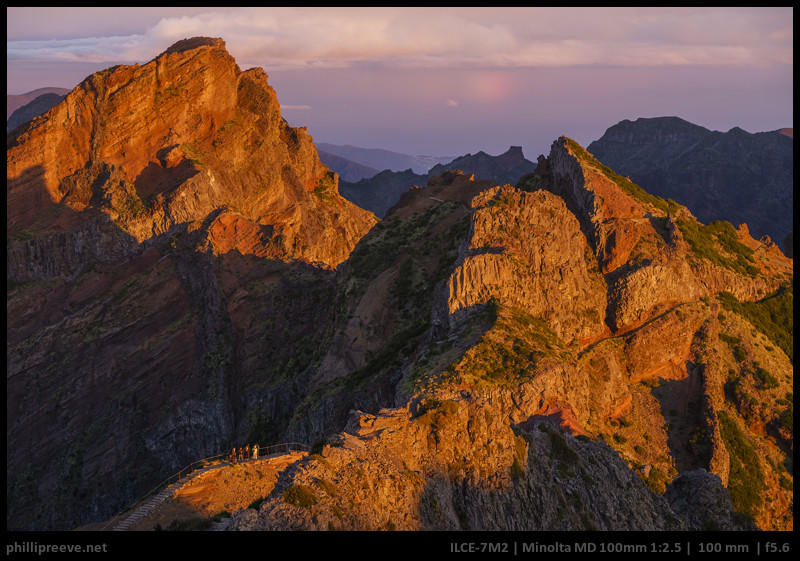 Versions
There are basically two different versions of the Minolta MD 100mm 1:2.5.
The Minolta MD Tele Rokkor 100 mm 1:2.5 was released in 1977. It has a 55 mm filter diameter and weighs 375 g.
The Minolta MD 100 mm 1:2.5 has an integrated lens hood, a filter diameter of just 49 mm and it weighs just 310 g. The build quality is a little inferior compared to the older Rokkor but optics are the same.
I have also reviewed the older Minolta MC Rokkor 100 mm 1:2.5 which again comes in different versions. The youngest MC shares the optics of the MD and the older one is still closely related but the coatings are inferior.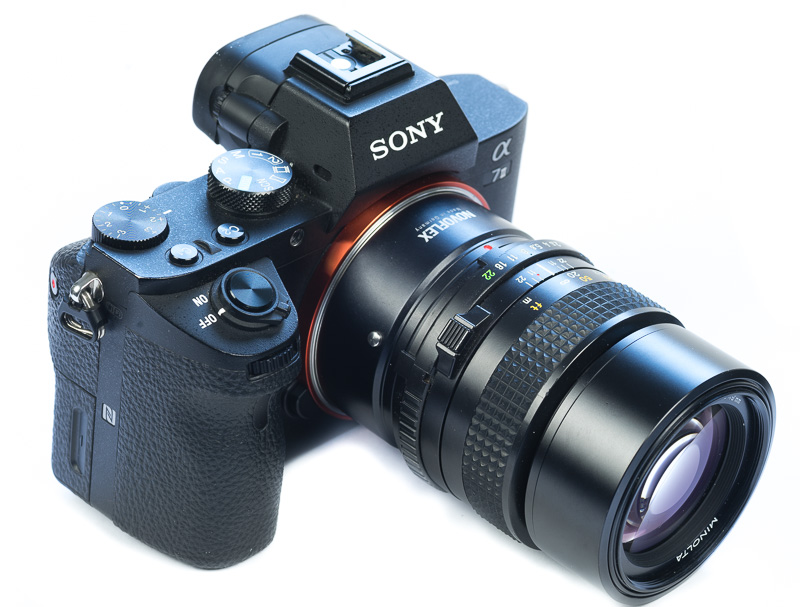 Build quality and handling
The Minolta MD 100 mm 1:2.5 offers good enough but not great build quality.
Focus Ring
The focus ring travels around 200 degrees from 1 m to infinity which is a good transmission both for focusing portraits and landscapes. The rubberized focus ring offers good grip and a pleasant diameter. The resistance is pleasant but a little on the higher side.
Aperture ring
The aperture ring is made from plastics and shows some sign of usage on my otherwise very little worn copy. It feels a bit cheap and while the click-stops are distinctive enough I have seen better implementations. It has no click-stop between f/2.5 to f/4 and f/16 to f/22 but half-stops in between.
Hood
The Minolta MD 100 mm 1:2.5 has a handy built-in hood. It does not offer perfect protection of the front element and some times it makes sense to additionally shield it with the the hand but unlike other built-in hoods it won't accidentally retract.
Size and Weight
At 310g and with a length of just 65 mm the Minolta has the perfect size for the Sony a7 series and handling is great.
Optical performance
These results are based on the use with a Sony Alpha 7/7II.
Flare Resistance
Compared to most other legacy lenses the Minolta MD 2.5/100 has good coatings but in extreme situations you will notice a small ghost.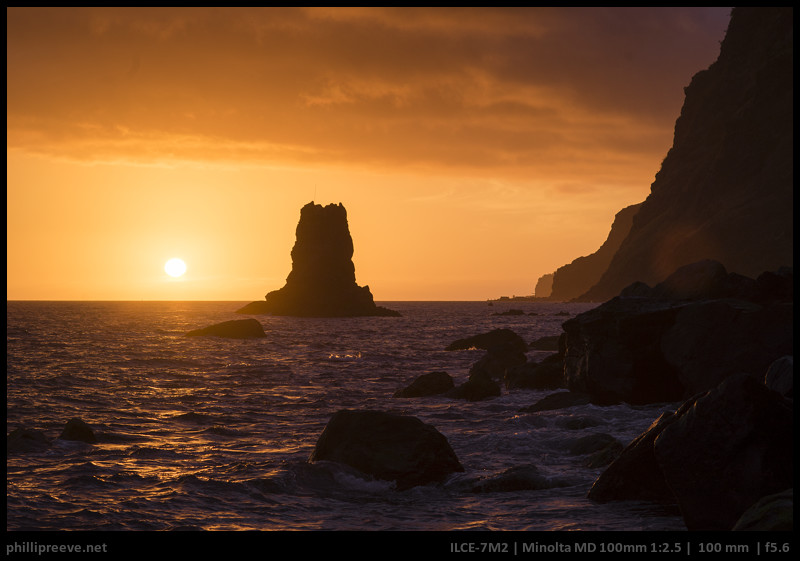 In general veiling flare is well under control but with a bright light source just outside of the frame you can run into serious issues as demonstrated by these two images:
before: lens shielded by my hand, after: just the lens hood.
Bokeh
Bokeh is always rather subjective but I would rate the Minolta MD 2.5/100's bokeh among the best I have ever seen.
Out of focus highlights in the background show very little outlining and the Minolta is quite smooth in the critical transition zone as well.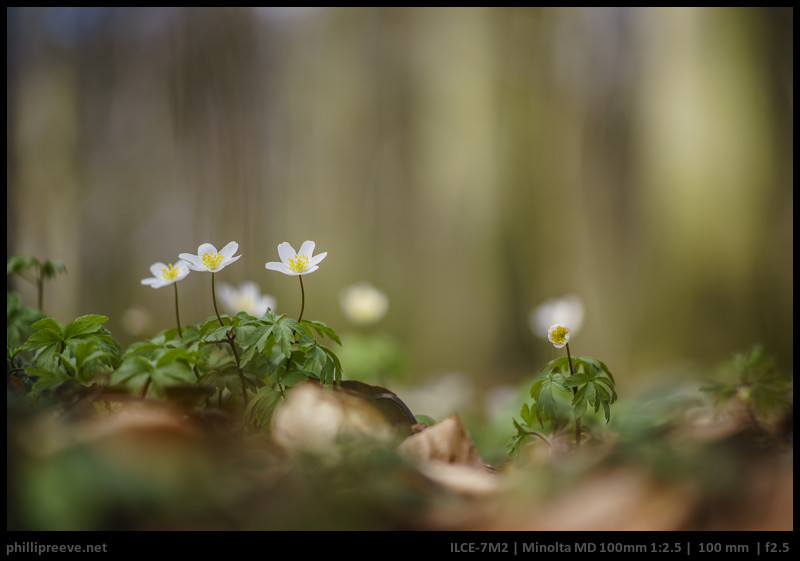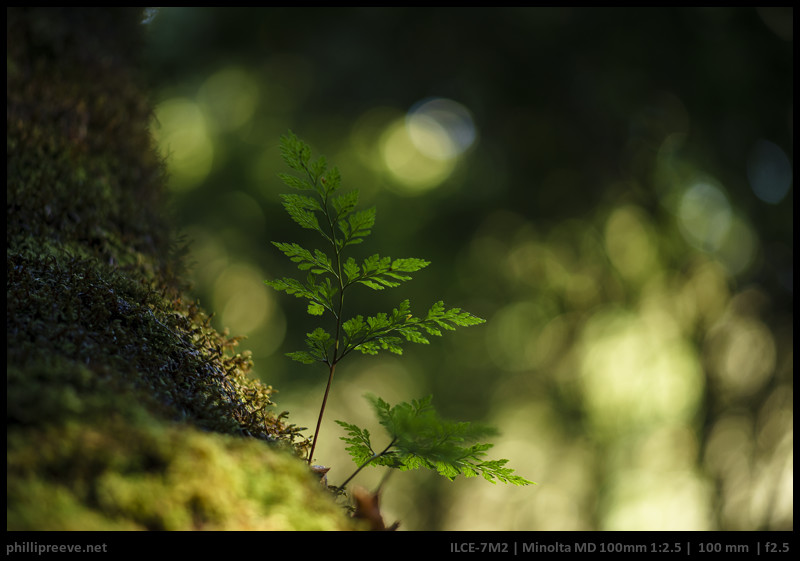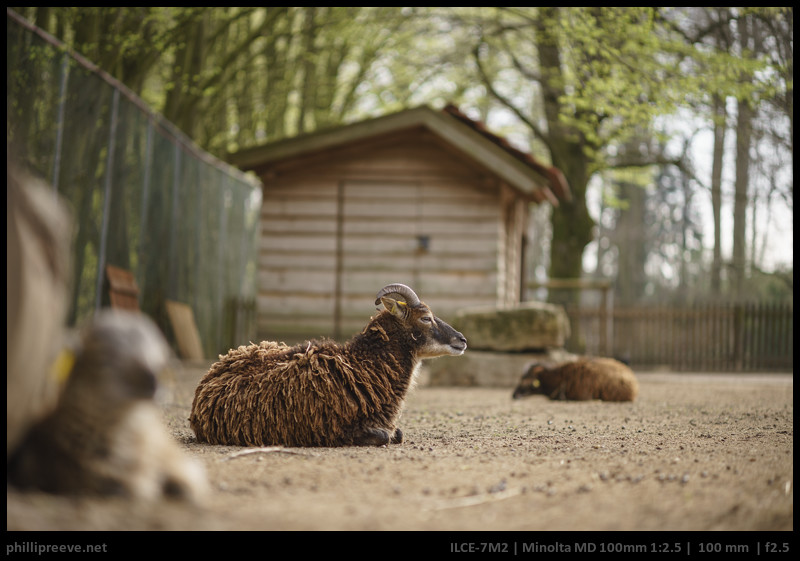 The Foreground bokeh is less smooth and there is some color fringing around oof highlights and the cat-eyes-effect is visible at f/2.5.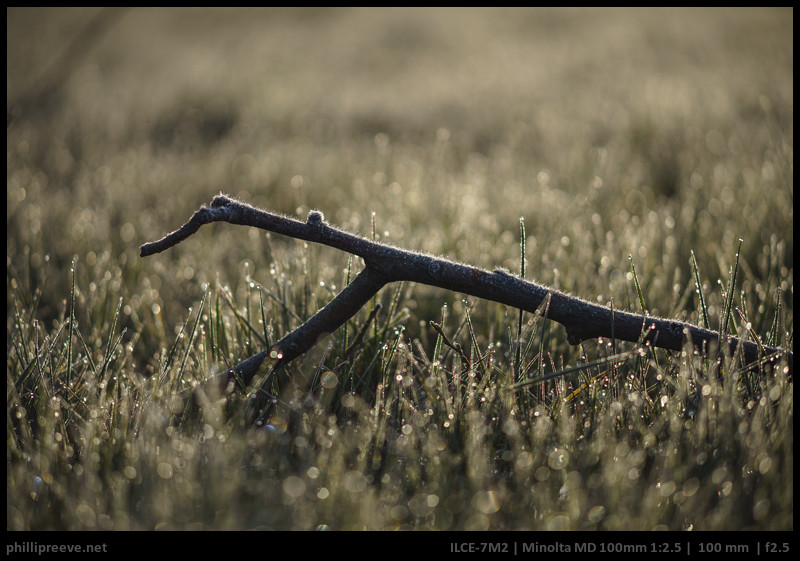 Stopped down to f/4 and further the hexagonal shape of the aperture blades becomes quite obvious and it can be distracting for some images.
Chromatic Aberrations
Like in almost any other short tele axial CA isn't too well corrected and it can be a bit distracting for some images.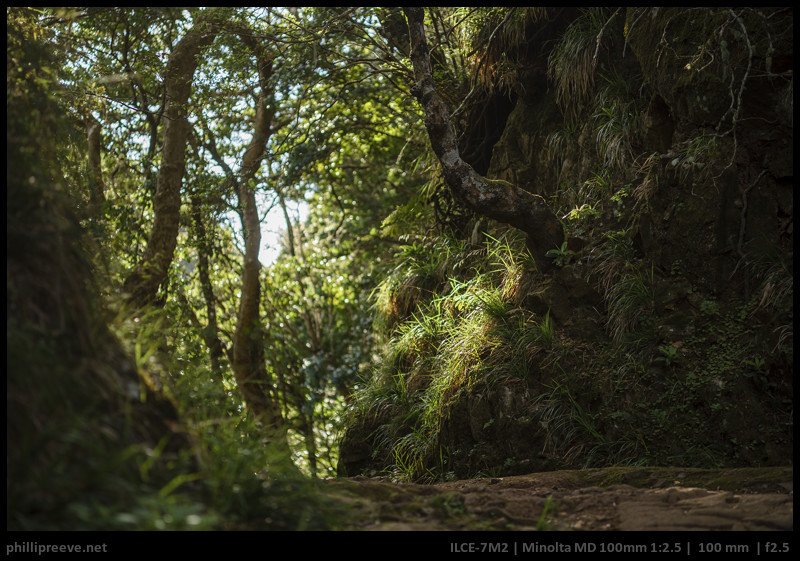 There are traces of lateral CA but the Minolta MD 100 mm 1:2.5 is well corrected in this regard.
Vignetting
Vignetting at f/2.5 is 1.3 stops which can be noticed in critical situations. From f/4 it is below 0.5 stops which is insignificant under any circumstance.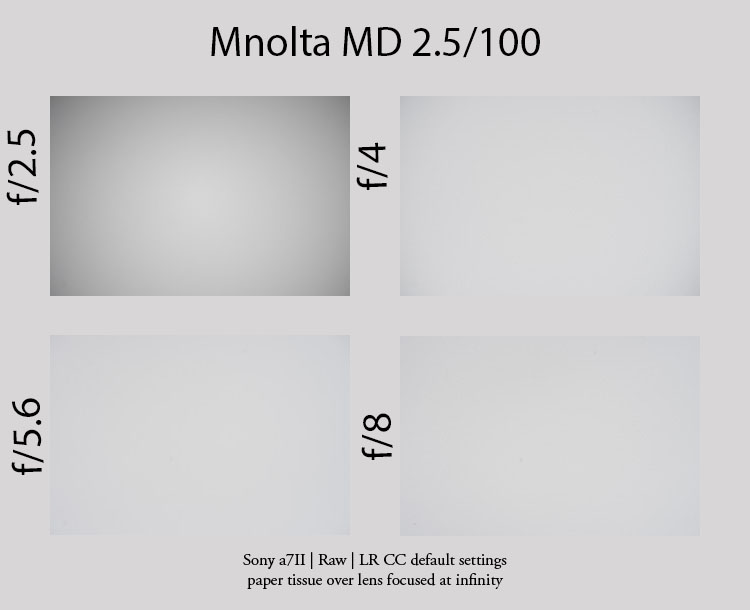 Distortion
The Minolta MD 100 mm 1:2.5 shows a very small amount of pincushion distortion.
Sharpness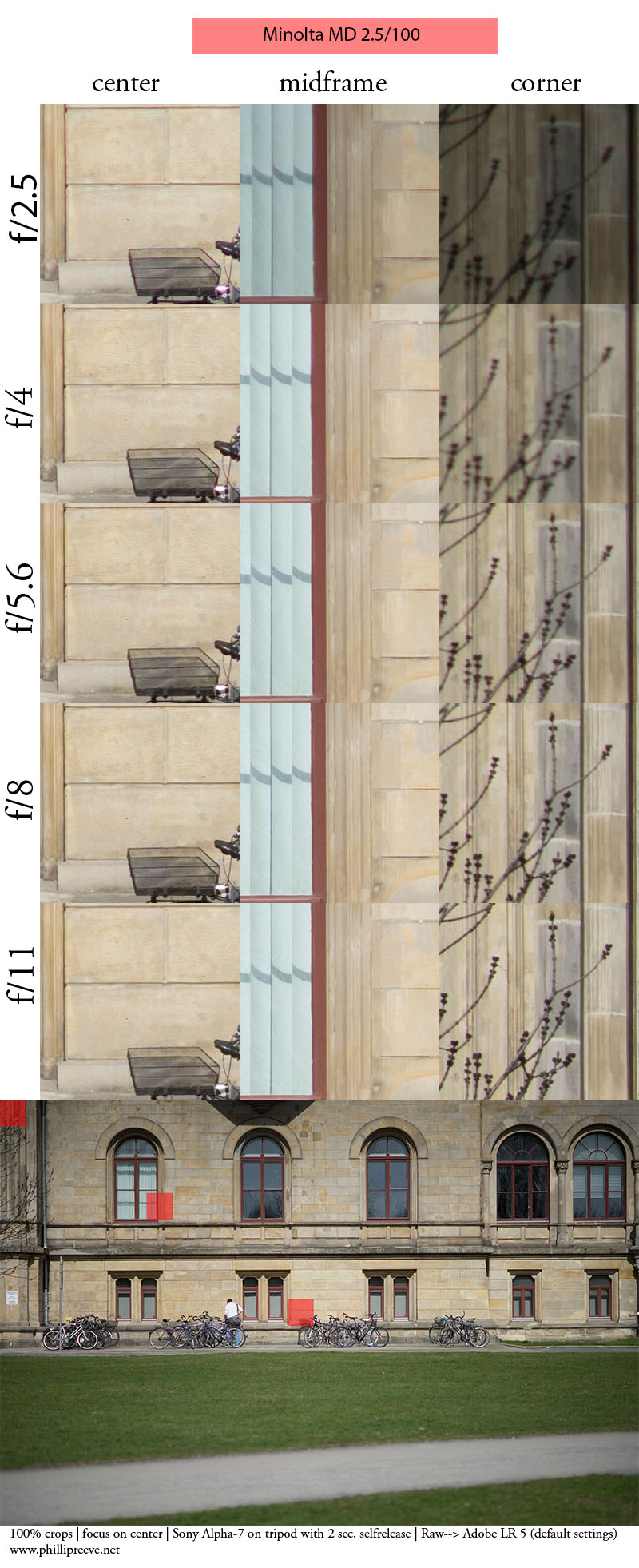 f/2.5: Very sharp in the center with very good off-center resolution but lower contrast.
f/4: Excellent in the center now and very good midframe. The corners don't really improve but vignetting is significantly reduced.
f/5.6: Very good across the frame.
f/8: The center is a tad softer, the corners are a tad better.
f/11: A little softer due to diffraction.
All in all a very good performance. I don't hesitate to use f/2.5 for about anything and by f/5.6 there is little left to be desired.
Alternatives
Minolta MC 2.5/100: On the plus side the MD's predecessor offers better build quality and a more pleasant focusing experience. But it is 100 g heavier, flares a lot easier, doesn't focus as close and it is also a little less sharp.
review | 410 g  | about $140 used | at ebay.com (affiliate link)
Minolta MC 1.7/85: It is a stop faster but more of a character lens wide open and stopped down the significantly lighter MD 2.5/100 performs a little better. So unless you really need the faster aperture the 100 is the much more attractive lens, especially at half the price. I didn't keep this 85.
review | 460 g | about $270 used | at ebay.com (affiliate link)
Minolta MD 2/85: It delivers very good across the frame sharpness a stop earlier at f/4 and it is also a little smaller and lighter as well as faster. The big but in my eyes is that the 2/85 has much less smooth bokeh. How much this matters depends a lot on what you shoot but one thing I appreciate about the 2.5/100 is that it is so versatile and I don't have to worry about bokeh.
sample images | 285 g | about $250 used 
Tokina 2.5/90 Macro: It is a bit sharper at f/2.5 and it is more flexible because of the much shorter minimal focusing distance. But the Tokina is 200g heavier than the Minolta, flares easier, has a rather short focusing throw at portrait distances and it is much more expensive nowadays. I still own the Tokina, but I carry the Minolta more often.
review | 530 g  | about $300 used | at ebay.com (affiliate link)
Olympus OM 2.8/100: The Olympus is a little slower and cheaper but also absolutely tiny. Performance is close but the Minolta has the edge with a little smoother bokeh and sharper corners stopped down.
review | 230 g  | about $90 used | at ebay.com (affiliate link)
Olympus OM 2/100: The  faster and much more expensive Olympus is one of my favorite manual lenses. It is at least as sharp from f/2 as the Minolta with great bokeh and it focuses down to 0.7m without any loss in performance. The Minolta has the edge though when it comes to across the frame sharpness stopped down.
review | 520 g  | about $750 used | at ebay.com (affiliate link)
Nikon AI-S 2.5/105: This is a legendary lens and I think it play is the same league but I would have to compare them directly for a more exact comparison.
mtf chart |  FM-forums | 435 g  | about $250 used | at ebay.com (affiliate link)
Zeiss Macro Planar 2/100: The Makro Planar is more than twice the weight and many times as expensive. It is also one of the sharpest lenses ever made but suffers from strong axial CA. I still own it  but I pick the Minolta more often because it is so much nicer to handle and close enough in image quality.
MTF-data | review | 660 g  | about $750 used | at ebay.com (affiliate link)
Zeiss Sonnar 3.5/100: The slightly lighter and slower Zeiss seems to have a bit better coatings and nicer build quality. Without a direct comparison is hard to say which lens sharper but they will be close. I think the Minolta is the more attractive allrounder because it is a stop faster.
MTF | review | 285 g  | about $350 used | at ebay.com (affiliate link)
Conclusion
pros

Bokeh

Sharpness

Size & Handling

Price

Distortion

average

Flare Resistance
Build Quality
Vignetting

cons

Axial CA

Only 6 aperture blades
The Minolta MD 100 mm 1:2.5 is one of the best manual lenses I have reviewed. It is very sharp with pleasant bokeh and since it is just 310g I don't hesitate to actually carry it with me unlike some other very nice lenses which I often leave at home because of their weight. Other lenses are often either very good as a landscape lens or a portrait lens but the Minolta performs very well in both categories.
I see no serious drawback of the Minolta but of course there are a few things it does less well. The axial CA is a weakness of nearly any short tele lens and not much of an issue for most applications like portrait or landscape. Then there is the issue of the 6 straight aperture blades which can be bothering if you shoot for example portraits at f/4. Since the Minolta is very good from f/2.5 and I am a sucker for shallow depth of field I rarely do that but YMMV.
At about $140 the Minolta MD 100 mm 1:2.5 offers great value if you ask me. Sure it isn't super fast but usually fast enough and it performs better than most faster lenses and it's handling is superior as well so I got many good images out of it and I bring it with me very often.
All in all the Minolta MD 100 mm 1:2.5 is a pretty great lens which's many strengths far outweigh it's weaknesses. At the moment it is one of my most used lenses and I will certainly keep it, especially because it is very affordable.  
The Minolta MD 2.5/100 usually sells for around $150 used at ebay.com (affiliate link). 
In Germany you can buy it used for around 140€ at ebay.de (affiliate link).
Also check out my Minolta SR-mount adapter guide.
If this review was helpful to you, please consider using one of my affiliate links. Thanks ?
More Image Samples
You can find more images in this flickr set: Minolta MD 2.5/100.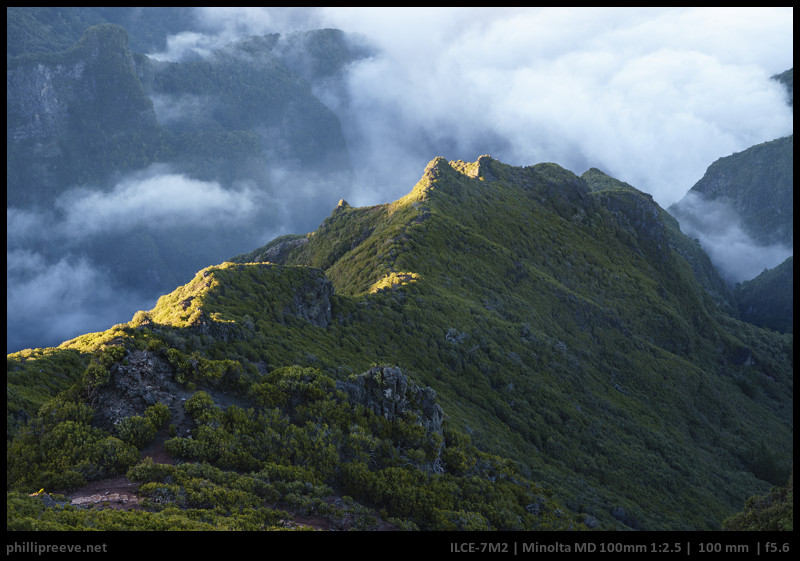 Other articles
The following two tabs change content below.
I have two hobbies: Photography and photographic gear. Both are related only to a small degree.
Latest posts by Phillip Reeve (see all)