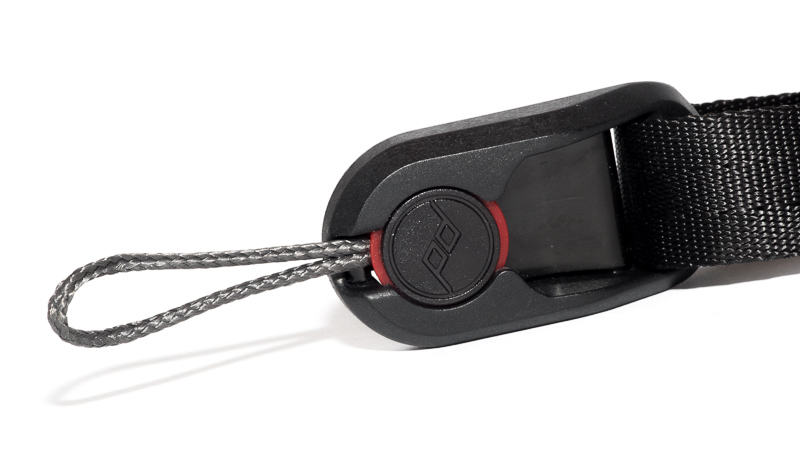 There is one big issue with neck- or wrist straps: Because it takes several minutes to change a strap most people have just one which doesn't work too well for many scenarios. The Peak Design Anchor Links fix this issue. In this quick review you learn why they have become an integral part of the team's kit.
Disclosure
We have no affiliation whatsoever with the manufacturers mentioned in this review and bought all the articles with our own money. Links marked with * are affiliate links.
How I used to use straps
In the past I chose to get a strap that would be comfortable walking around all day with the heaviest lens that I would be likely to carry around all day. This meant either a very wide webbing strap, or one of the fancy neoprene straps that absorb some of the weight.
But having such a strap attached means you are unlikely to swap it out against a smaller one when it isn't needed. So if you have a lighter lens, you are carting around an ugly big strap. And if you are trying to fit your camera into a small case, most of the space is taken up with the strap. When setting up the camera on the tripod it is often in the way as well.
The Peak Design Anchors
The Peak Designs anchors change all that. With them a strap can be changed in seconds by a clever locking mechanism. You have some little plastic discs on a string on your camera which slide into a mechanism where they are safely locked.
The Anchors are very solid and we trust in them. Bastian using them to carry his Canon EF 1.8/200 is testament to that: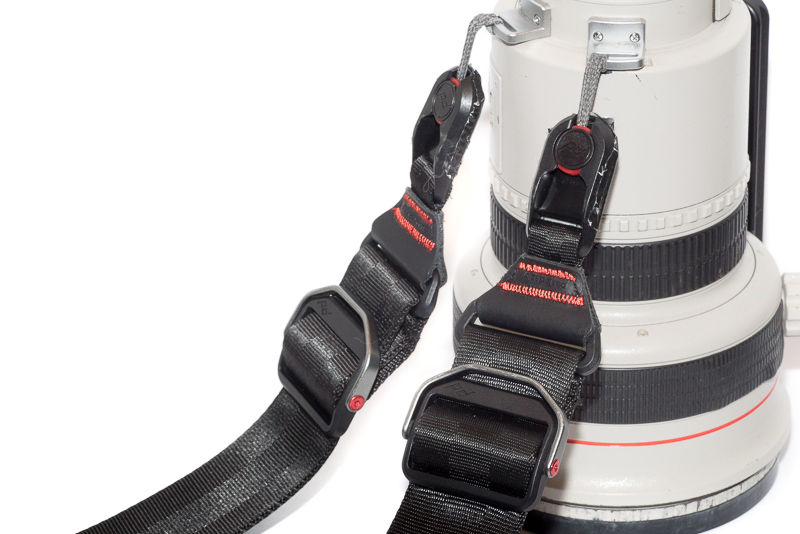 You can get multiple sets of clips so that you can have different shoulder straps, wrist straps, or even various attachments to backpacks.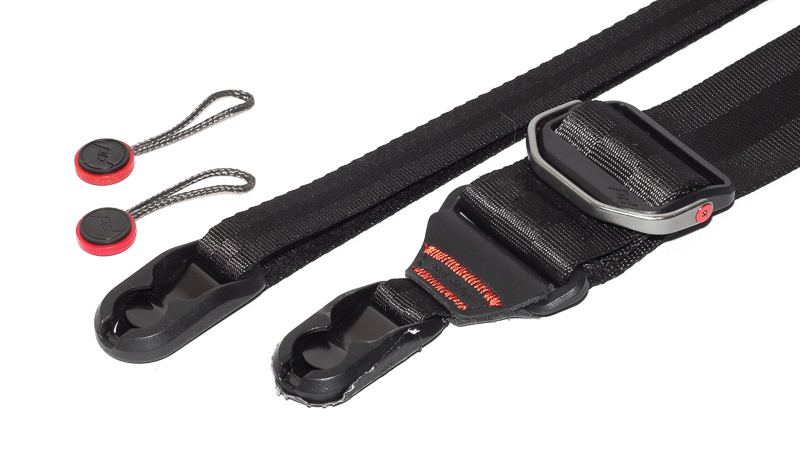 How I use straps now
I use four different straps now.
I have the widest of Peak Designs own straps (Slide) for when I'm carrying around a fairly heavy lens.
I've got an attractive but thin leather strap for use when I'm out in social situations and carrying only a camera.
I've got a thin disposable strap (well, actually the one that comes with an A7 camera!) which is handy because it is so thin that it fits into a waist based camera case easily without taking up too much room.
And I've got a leather wrist strap, also for more social occasions.
Any of these can be switched out very quickly. If I was out with the big strap the day before, if I'm getting on the bicycle to photograph dawn in the nearby National Park, I can switch it out for the thin one which fits in the bike backpack camera case (Rotation 180 series) in the pre-dawn blur in not time at all.
Another application is to create a tethering strap on your tripod so that if your camera slips out of the quick release, there will be no disaster.
Bastian's custom setup
Bastian has gone a step further and created his own custom setup to attach his camera to the shoulder straps of his backpack. Here is his report: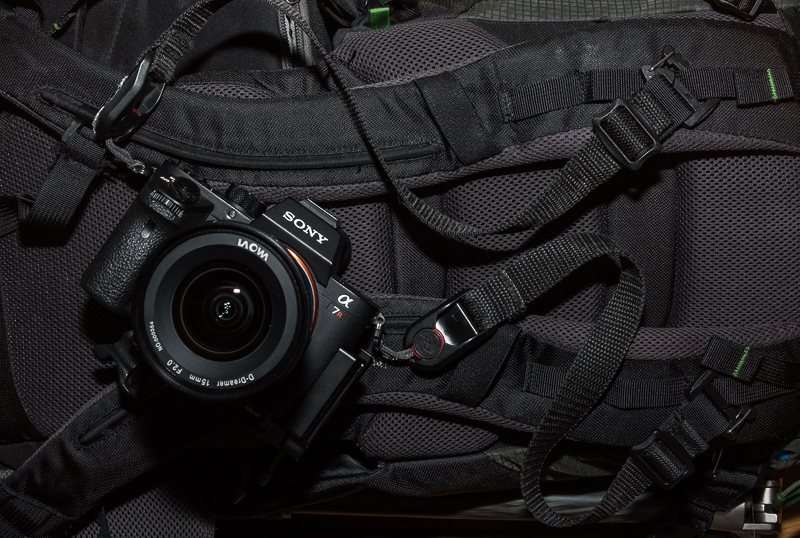 When out shooting I usually carry the camera in my Mindshiftgear 180 Panorama backpack, but from time to time I want to have a camera ready for shooting. At first I was just using an additional neckstrap, but my neck and I, we didn't really like that. So I searched for a better option.
The shoulder straps of the Mindshiftgear backpack feature some loops so I came up with my own little invention so I could use the backpack's larger shoulder straps to carry the weight. The idea is to have a side release buckle* which attaches to the backpack, a 15 cm long strap* and then the Peak Design Anchor Links* which are attached to the camera. With these I can use camera hold to my eye with the straps attached or detach the camera in seconds.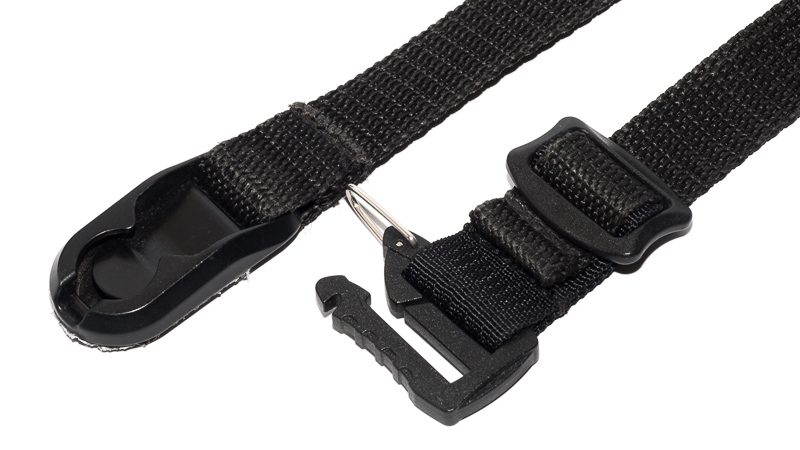 I can easily attach my camera to these straps and actually balance the weight of the backpack with the camera up front, instead of increasing the pressure on my neck with an additional strap.
Conclusion
We both have found them very useful indeed. I have been using them for over a year now and Bastian is an early kickstarter adopter. So it's not a matter of seeing a cool gadget and being enthused. They really are a core bit of our kits and get our full recommendation.
Peak Design Slide (for heavy stuff): amazon.com* | amazon.de* | B&H* | ebay.com* | ebay.de*
Peak Design Slide Lite (for less heavy stuff): amazon.com* |amazon.de* | B&H*| ebay.com* | ebay.de*
Peak Design Leash (for light setups): amazon.com* | amazon.de* | B&H* | ebay.com* | ebay.de*
Peak Design Anchor Links Upgrade Kit (best used with 20mm wide straps):  amazon.com* | amazon.de* | B&H* | ebay.com* | ebay.de*
Further Reading
The following two tabs change content below.
David Braddon-Mitchell
David Braddon-Mitchell is a keen landscape and environmental portrait photographer. In the last decade of film he was a darkroom practitioner and worked with Olympus OM SLRs and various medium format cameras. He switched to Canon DSLRs when digital imaging improved, and made a move to Sony bodies as soon as the A7 series was born. He enjoys using a mixture of legacy manual lenses, modern manual lenses, and E mount AF lenses.
Latest posts by David Braddon-Mitchell (see all)