Introduction
40mm. One of my favourite focal lengths. Long ago the Voigtländer 2/40mm Ultron was glued to my Canon. Even longer ago, the Zuiko 2/40 was a favourite on my Olmpus OM film gear. The 40mm equivalent 20mm Lumix was my favourite lens on the M43 gear I used to use for travel and hiking. So naturally a native 40mm full frame lens for E mount has me very excited.
That slightly wider than standard lens look (close to the theoretical 'normal' focal length of 43mm) gives a lovely, natural perspective that leaves the photographer, rather than the angle of view, in charge of the image. But of course the cost of the slightly wider angle of view is less potential for bokeh; the nice, isolating, out-of-focus blur that people prize in people photography. That's why the speed on this lens is potentially so great. Perhaps f1.2 sounds extreme, but the actual blur potential is about the same as f1.4 on a 50mm lens. So in order to keep up with a 50mm lens in terms of blur, you really do want a bit of extra speed on moderate wides. 40mm is a great length for portraits which place people in a context: but you don't want that context to dominate, so being able to see the context but have it nicely blurred is a fantastic combination. But what price do we pay for that? Is the IQ on this surprisingly small and fast lens good enough? Thanks to Mainline Photographics  who are the Cosina Voigtländer distributors in Australia, for the loan of a review copy.
A Few Samples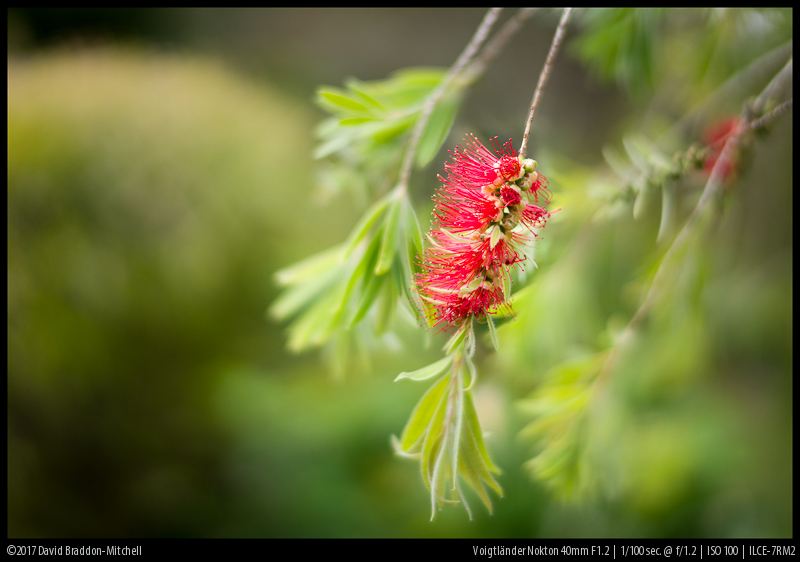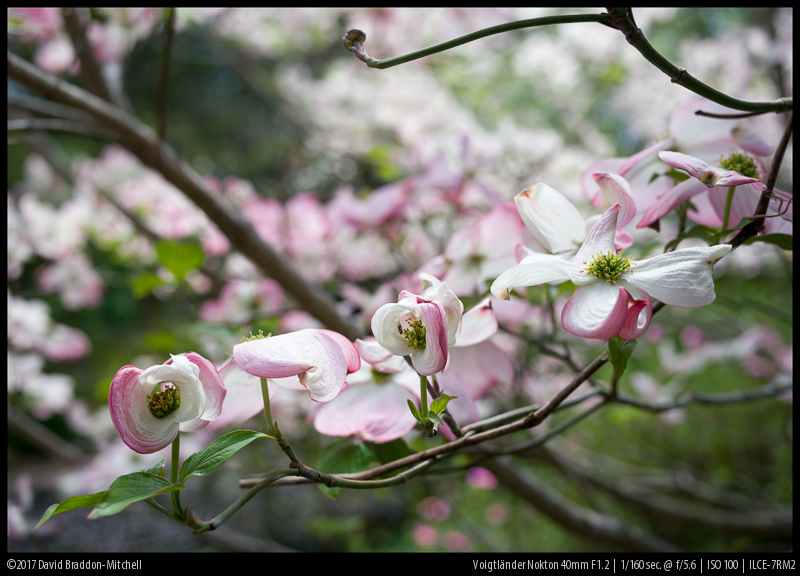 Most of the samples in this review are viewable in high resolution at my SmugMug site
Note on one sample: Note: much later a reader pointed out that the in focus area of the f1.2 image of the Bottlebrush (Callistemon/Melaluca species, the red flower) seems to be sharper you would expect. I agree, and wonder if something has gone wrong here.
Specifications
| | |
| --- | --- |
| Max. Diameter | 70.1 mm |
| Length | 59.3 mm |
| Filter Thread | 58 mm |
| Weight | Nominal 420 g  (weighed 416g without hood or caps) |
| Max. Magnification | 1:6.2 |
| Close Focusing Distance from the sensor | 0.35 m |
| Number of aperture blades | 10 |
| Elements/ Groups | 8/6, two double sided aspheres. |
The lens is available now in Japan and Australia (in Australia from Mainline Photographics).
Buy it from  from our affiliate link at CameraQuest, B&H Photo Video or our link to eBay.
Buying through our links costs you no more, and makes a small contribution to running this blog.
Handling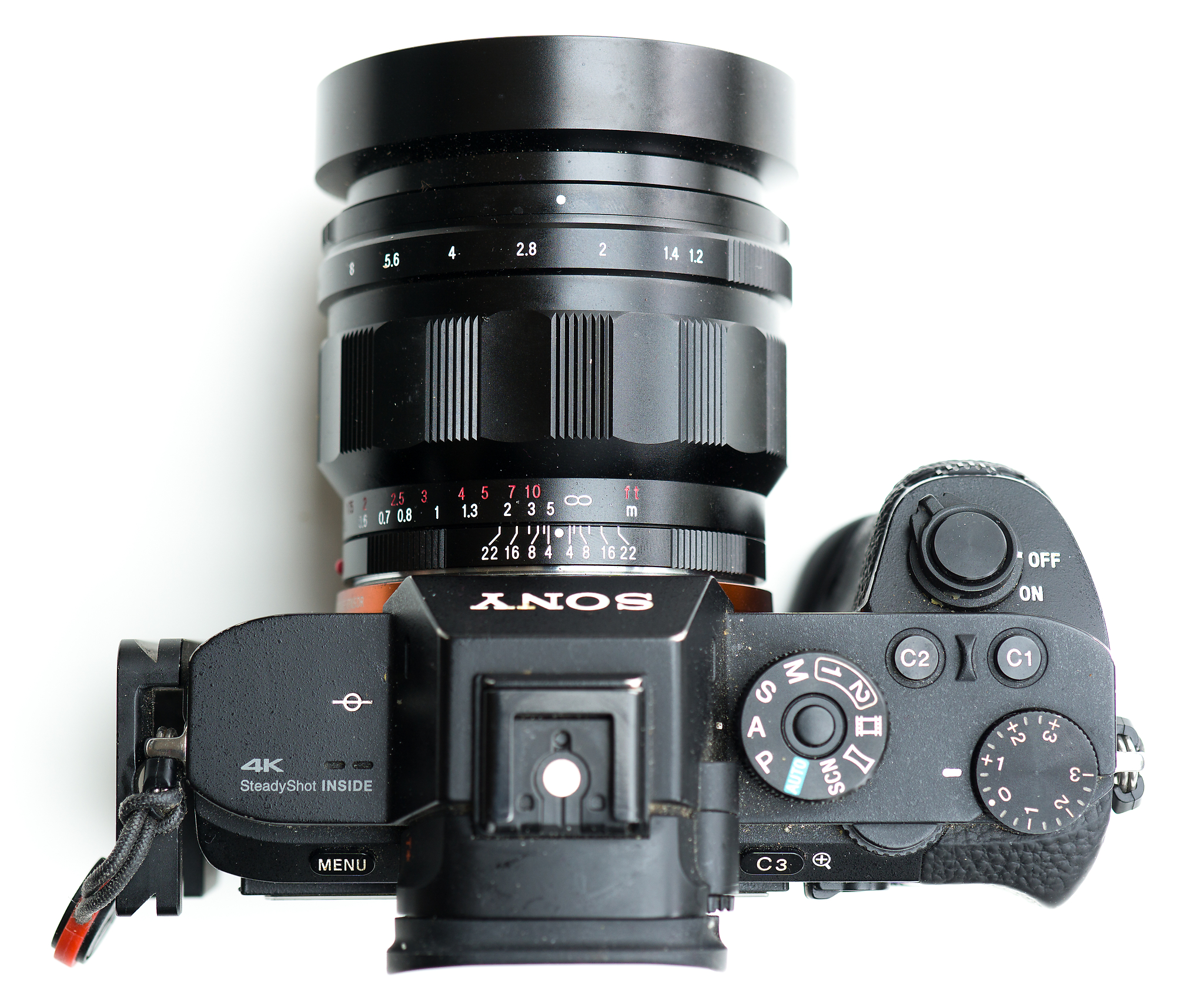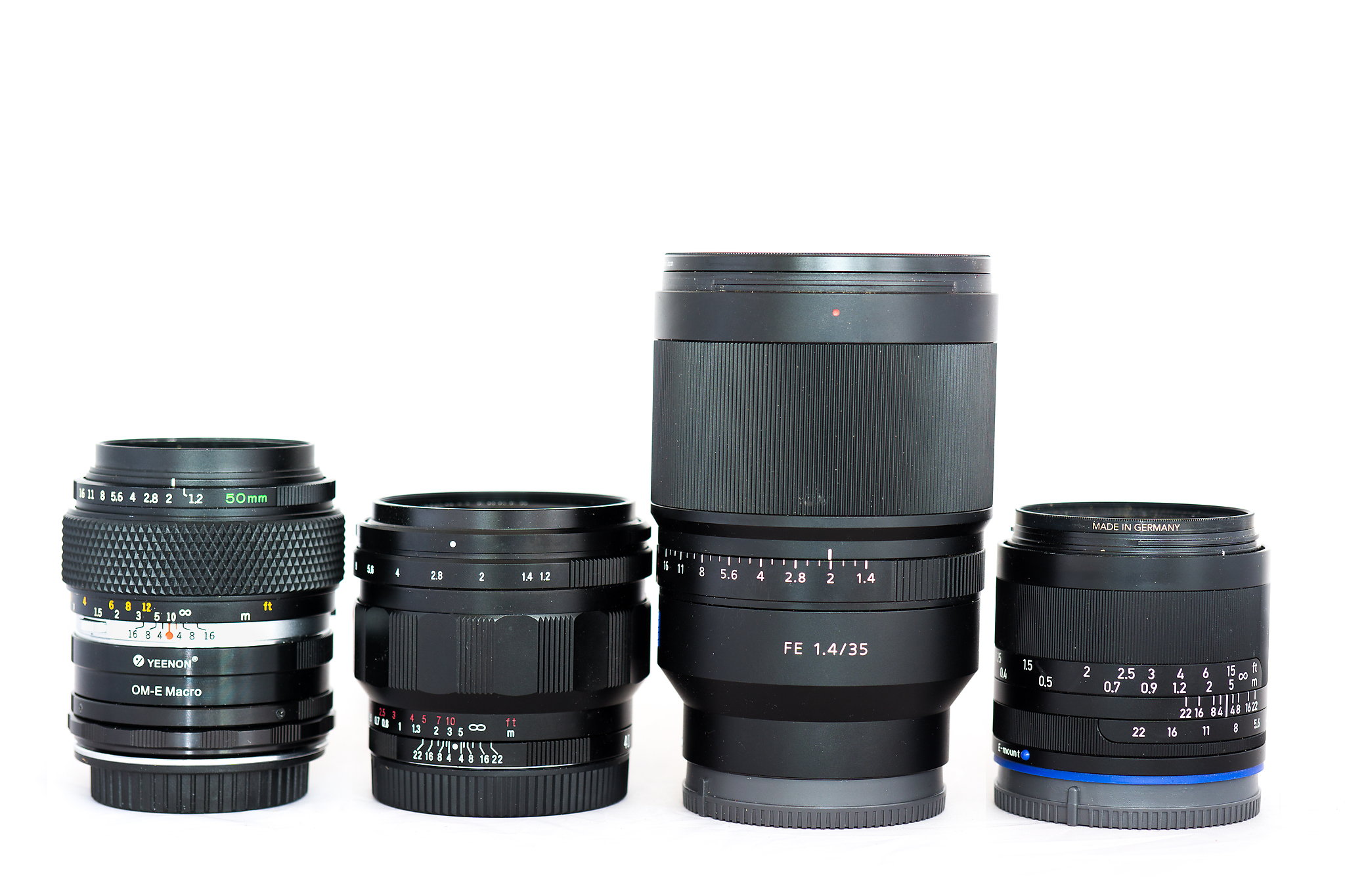 The overall size is extraordinary for such a fast lens. You can see from the on-cmaera image that it is a nice match for the body, and the comparison photo below shows it considerably shorter than the classic Zuiko 1.2/50 (itself by far the smallest classic f1.2 lens).  The slightly slower Sony Zeiss 1.4/35 towers over it, and the considerably slower Loxia 2/35 is a little less fat, but roughly the same length. This size factor is a very serious advantage for the lens: it means it's not a special purpose 'bokeh' lens to be brought out when you want especially thin DOF, but something you can use as a genuine standard lens, your go-to walk around lens.
The handling is gorgeous, if handling can be gorgeous. The focus ring is buttery smooth and responsive. It balances beautifully on the camera, being remarkably small and light for its size. There is a declicking ring should you wish to turn the aperture clicks off for video usage (like all the other E-mount Voigtländer lenses except the 65mm). The hood is small enough to leave on permanently, and if you do, the lens cap fits easily inside the hood.
Infinity Resolution and Infinity Field Curvature
I start with an aperture series of a scene at infinity, with the lens focussed at the centre of the frame. Here is a complete frame to give a sense of where the 1:1 crops are taken from.
The following set of crops show good but not outstanding results in the corners stopped down. The lens is however capable of excellent corner resolution, but it has some field curvature which needs to be accounted for, and yo have to take focus shift into consideration. I will show some crops illustrating this behaviour after the initial standard set of crops.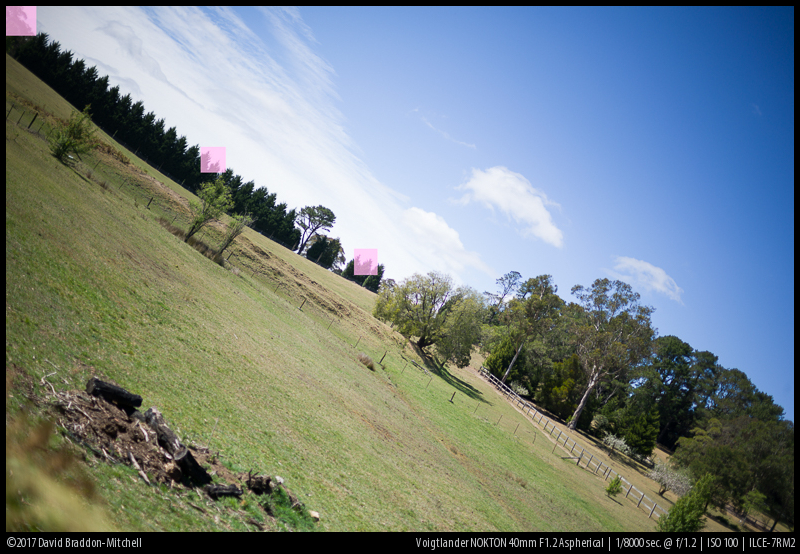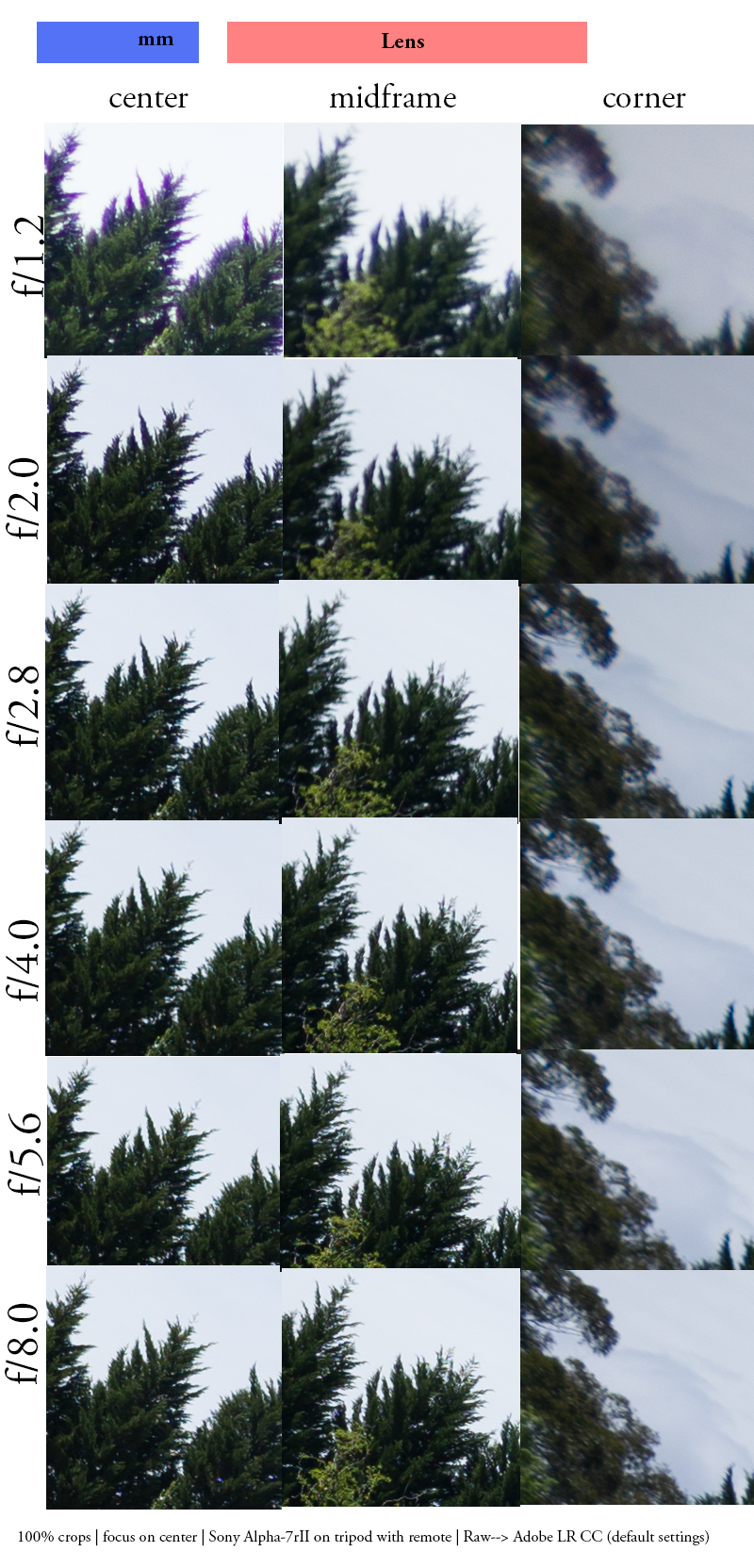 Focussed on Centre: At infinity, it is sharp centrally from wide open, though at f/1.2 there is a lot of violet fringing from axial colour. This has cleaned up by f/2, where the image is almost as sharp (very sharp) as it is going to get. When focussed on the centre, however mid frame, however, is a bit unsharp at infinity wide open, and still a little soft at f/2, cleaning up at f /2.8 and is excellent from f/4. The corners, as we might expect,  are very soft at f/1.2, pick up at f/2.8 and continue sharpening up until being usable for landscape at f/5.6 and fairly good by f/8. This is of course not quite the kind of performance we have seen from the Apo-Lanthar, but nor should we expect it from a lens of this speed and dimension.
Overall the central and mid frame is outstanding stopped down a little, and the extreme corners are still decent. However the next set set of corps shows that excellent corner resolution is possible.
Comparison of Corners, Focussed on Centre and Corners

As you can see, the difference is quite significant.
The corners are best somewhere very close to the infinity hard stop. The centre is best backed a little off the hard stop. The exact positions may vary from copy to copy with the calibration of the focus ring, but in general the corners are at best focus a little behind the centre.
Focussing for the corners produces actually quite good results across the frame except for the centre. Focussing one the mid field will give excellent results over the whole field.
Here are some centre crops, which show that focussing on the corners gives a strong blur wide open in the centre, but this is almost gone by f8 as DOF gets deeper.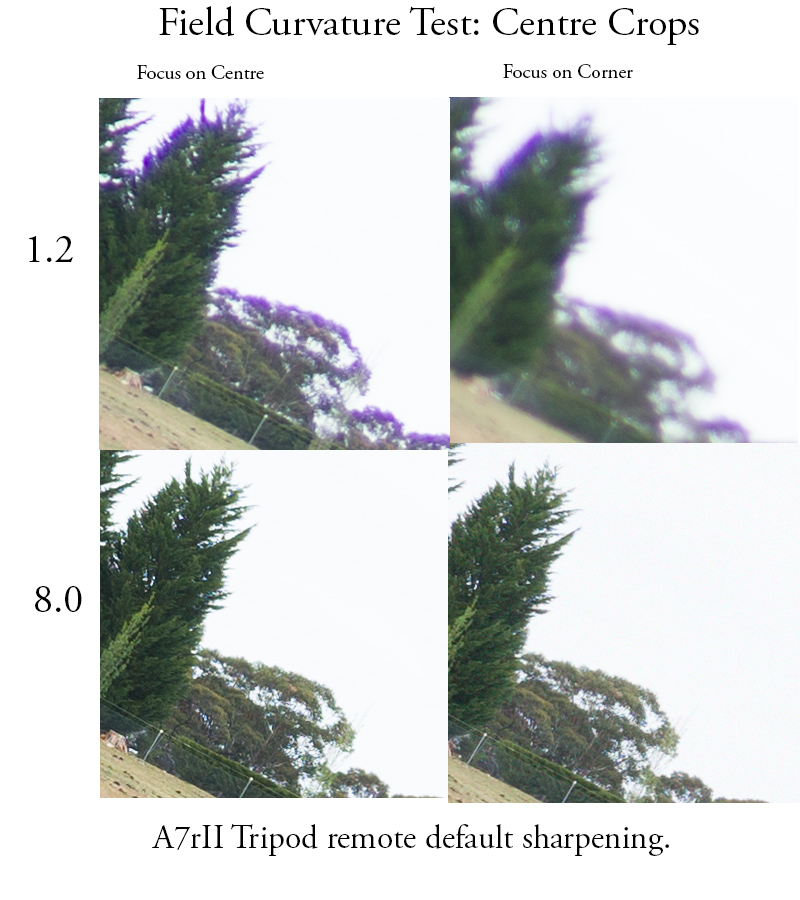 It is notable that the corner focus setting gives a better centre stopped down, than centre focus gives a good corner. So stopped down, corner focus gives a better overall result. However at wider apertures, it seems that centre focus is better overall.
A compromise focussing position will give you the best balance of sharpness across the frame. The next section will test whether there is such a compromise position.
Best overall focus position for f8 and infinity
Now for a final piece of field curvature information: some crops of the corner and centre at f8 (where the curvature is already somewhat suppressed by DOF) focussed on the corner, outer midfield and centre. It shows that the midfield is a good compromise position.
Not only is the midfield best when we focus on the outer midfield (obviously, which is why there is no crop) but while the corner is not quite as good as when focussed on the corner, it's very good indeed when we focus on the outer midfield. The centre as well is, while not quite as good as the centre, also very good when we focus on the outer midfield. So the lens, with careful focussing, can produce very sharp results across the frame. These effects are visible at 100%, but are much less visible at 50%. So there is no need to panic. Especially if you have a 24MP sensor, where you probably don't need to worry too much about where you focus at infinity.
On my copy you can focus for excellent overall results at infinity by going to the hard stop, where you will get best corner results, and backing off the smallest amount possible, which will make the centre excellent without affecting the corners too much.
Focus Shift
These crops were shot at taking aperture.
When processing the close focus samples later, I found that there is significant focus shift: stopped down images are noticeably sharper focussed at taking aperture than wide open
Fred Miranda, over at FM forums has found the same at infinity: it's well worth reading his finding and seeing his crops, and I don't see the need to repeat it here.
The take home message is that this is a lens which needs ideally to be focussed at taking aperture. That's a bit of a nuisance sometimes (as focussing wide open is easier, especially in low light). But it's not that surprising or upsetting for a lens of this speed. Focussing at around f2.8 will actually get you most of the advantage of focussing at taking aperture if you are stopped down, and in dimmer light may well be the best option.
Portrait Resolution (Or: Where Can I Put my Eye?)
A lens with these specification is surely in part an environmental portrait lens: otherwise the fastest apertures would be of little use, and certainly not worth the cost and weight.
So how good a portrait can you take? I decided to take a series of portrait shots at f/1.2 and f/2.0 – likely the key environmental portrait apertures for this lens. In each of them the eye is progressively further off axis. Starting with the centre, moving to off centre to the centre side of the rule of thirds corner, then to the midfield just beyond the rule of thirds corner, and finally the extreme corner. The extreme corner would of course only contain the eye of your subject in a very inventive composition!
First an image to show you the overall subject magnification (cropped a little horizontally, but showing the full vertical image field of view)

Centrally f/1.2 is fine, and off centre it's pretty good too. I can imagine using the outer midfield as well. At f/2 the eye is excellent all the way to the outer midfield. A bit of sharpening improves this considerably. For those interested, f/1.7 is pretty close to f/2 in quality, f/1.4 not much better than f/1.2.
Note: it looks as though the off centre f2 eye is a little less sharp than the outer midfield f2 eye. But this is a slight focussing error: looking more closely we can see that the iris has more detail in the off centre image at the expense of the lower eyelashes (which probably dominate the overall sense of sharpness) so it is focused a mm or so behind where the focus lies in the outer midfield image. So in reality it is a bit better than outer midfield, and really very good.
Bokeh
Assessing bokeh is one of the most difficult things in a review. Some people give you crops of bokeh balls and elements of the OOF structure, but this in my view does not always give you a good idea of what the overall image is like. You can give aperture series, as I will here. But of course the look will vary a lot depending on the structures in the background, and on the distance from sensor to subject, and subject to background.
The first series I offer has the subject—these rather large flowers—just under a metre away from the sensor, so it is the distance of a fairly close moderate-wide portrait. The rather messy kitchen behind is something of a torture test, and I'm very surprised how little structure and outlining there is, even at f1.2
Here's another series; this time a bit closer: around half a metre, getting close to MFD. The background is about 2.5 metres from the large structure to the left, and infinity at the top of the frame.
The character of bokeh balls are both important in their own right, as as a guide to how the overall bokeh may appear.
I have here two aperture series; one with balls to the edge of frame, another with the balls central.
Central Balls
Edge Balls
So what do we learn from these two series? Mainly good things. First, although there are traces of onion rings, on the whole the balls are relatively free of onion ring artefacts for a lens with four aspherical surfaces (two elements). Not as good as the fancy smooth asphericals in a GM lens, but far from the worst I've seen. The crops above are not the very worst case scenario, but in fact they are more extreme than anything I've encountered in real world shooting. Second, the cats eye effect is largely gone by f2, and is not too bad for a lens of this speed wide open. As you stop down you can see the decagonal shape of the aperture, even from f2, but that is the price you pay for the straight blades that give you nice sunstars. I don't find this very distracting.
Bokeh at 3m
The closer you are to your subject, with many lenses, the smoother the bokeh. A real torture test is at around 3 metres: far enough away to be problematic, close enough for bokeh to still be a relevant criterion. I devised an absolute torture test: the wooden frame around this outlook into a garden is at 3 metres. The plants in the garden are at varying distances, starting at just a few cm behind the frame, to many metres to infinity. There is a riot of stems, foliage and flowers. You couldn't hope for worse!
Overall I'm impressed. There are pronounced chromatic issues at wide apertures which you might want to correct. You can also see the reddy brown bush at bottom right some outlining and nervousness. This bush is just behind the focus plane and in he transition zone. It may also be subject to astigmatism (which I will test for separately). So unsurprisingly the worse case is subject at 2-4 metres, transition zone just behind subject. But many lenses produce *horrible* busyness in this kind of scene.
Here's another example of a similar scenario. Again the lens is focussed at 3 metres. The branches in the top left corner are 3-4 metres behind the plane of focus, in the area where astigmatism would affect them. The result is not too bad; relatively little nervousness. FC is not too bad here either: in the worse case because the corners come into focus fractionally behind the centre, the blur on the corners may be reduced if the corner detail is behind the central subject. Possibly this is slightly visible here, but it seems that the only danger case is when the background is just behind the subject plane.
Flare and Sunstars
Here's the first aperture series from f4 to f11 of sunstars, positioned to make flare as bad as it can be in these conditions:
The sun here is almost entirely in the open, in the middle of the day which is the worst case for veiling flare and artefacts with sunstars. I moved the sun around to get the worst possible result. The only really noticeable artefact is the magenta tint to the right  of the stars, and possible the "ghost" rays in the f11 image. There is a bit of light colour blobbing happening at wider apertures. You can also see some colour effects in ghost rays, and in the sample below, that I'm guessing are sensor reflections. They are not common on the A7rII but as on any digital camera they can happen. This is very impressive performance, better I think  than the Loxia 35 or Loxia 50.
At closer focussing ranges, veiling flare becomes more of an issue with the sun in the frame (there also seems to be some sensor reflection here)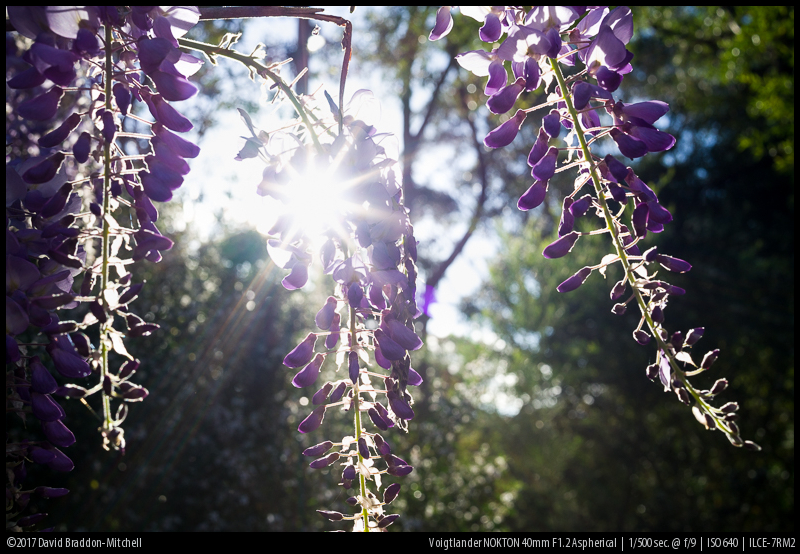 But sometimes, even stopped down, you get no artefacts and only very limited veiling just around the sun: (this image has a horizontal crop but is full vertical height: there were no artefacts in the cropped areas)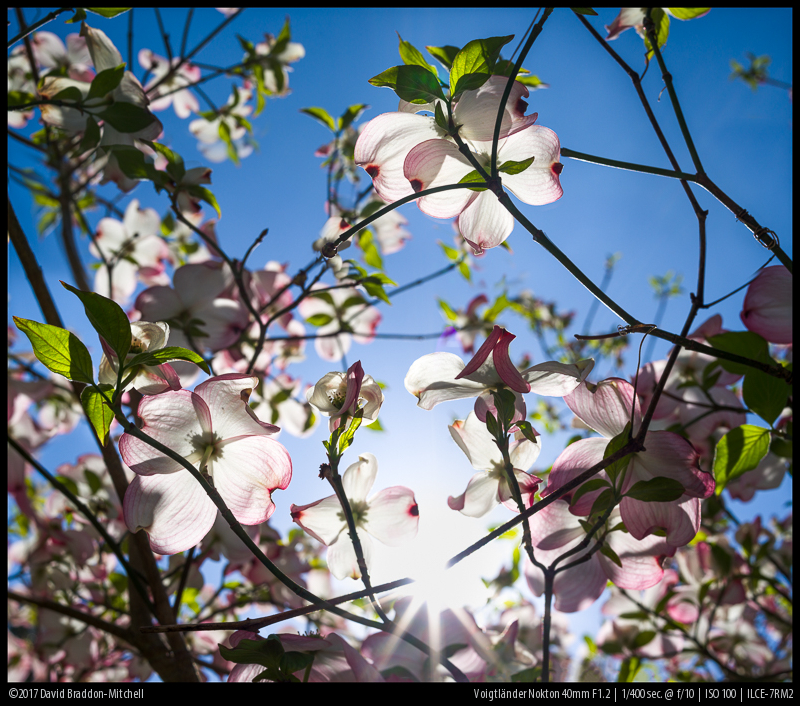 Chromatic Aberrations
Wide open the violet haze of axial chromatic aberration is very noticeable, but it cleans up one stop down (these are 1:1 crops)
Spherochromatism is another colour issue that the very best super-corrected lenses minimise. You see it two ways; a tendency for certain kinds of highlights to have a green outline, and to be filled in slightly magenta, or in areas of detail in the transitions zone to have a general green and magenta muddiness. The exceptional cleanness of the bokeh in for example the Apo-Lanthar 65 is down to perfectly white highlights lacking spherochromatism.
This lens, as you could have gathered from the specs alone, is not entirely lacking spherochromatism. Having said that I have used much slower highly regarded lenses which are worse in this regard than the Nokton. I'm actually fairly impressed, given the specs.
Here is an example: first the overall scene, in which we will concentrate  on the OOF door handle at top right: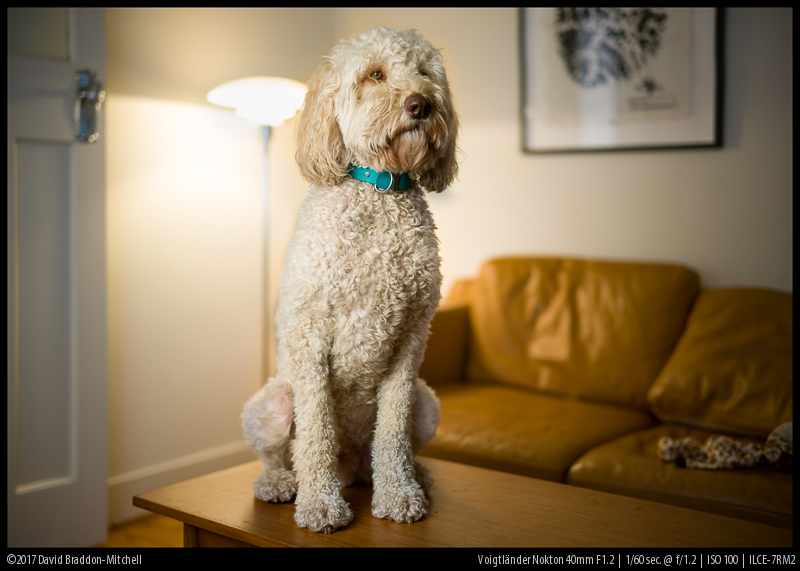 The context tells this is not a massive problem at the whole image level. And now the handle: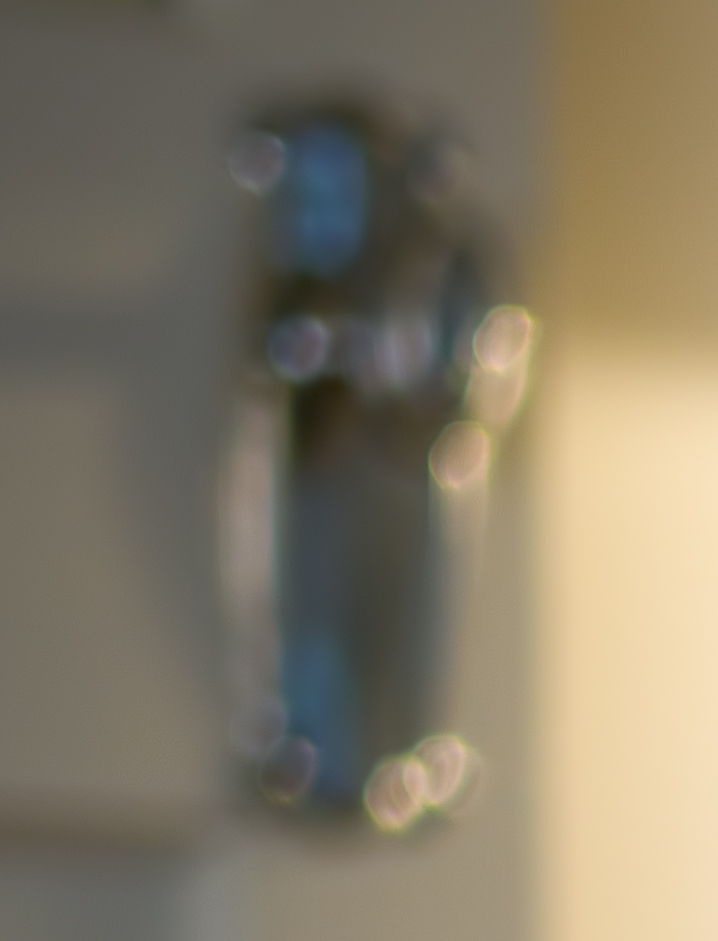 Finally here is a classic backlit water test (crop a bit closer than half life size: roughly equivalent to 1:1 on a 24MP sensor – this gives the most information in the pixel boundaries of the blog).
There is strong axial CA and spherochromatism at f1.2; not much improvement at f1.6, notable improvement by f2 and good but not perfect at f2.8.
Coma
I was about to test coma, when Fred Miranda did an excellent test over at his forums. It's well worth clicking on the link and checking out his findings: they are very clear and I don't think there is a need to replicate them here.
Spoiler: significant coma wide open, improving at f 1.7; and superb by f2.8.
Vignetting
Vignetting is fairly severe wide open as you might expect and requires the LR vignetting slider to removed all to the right to fix it (though aesthetically you would rarely want to completely remove it). It becomes practically fine by mid apertures.
Here's the vignetting in as close to whole stops from f1.2 as the aperture ring permits.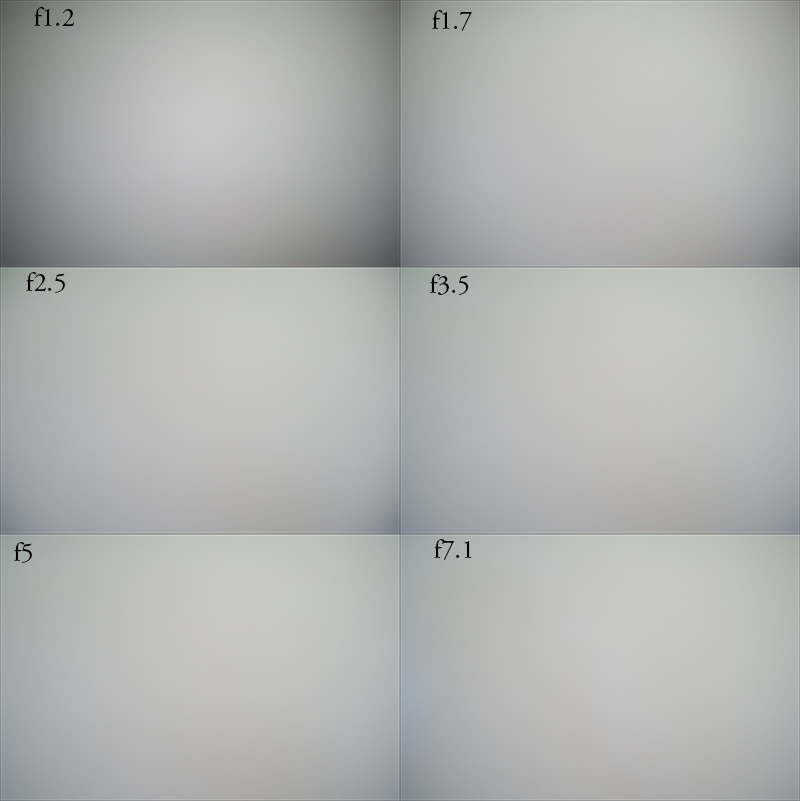 Close Focus performance
In the centre at MFD the Voigtlander is not great but usable wide open, and becomes good by f2.8 (and improves a little more afterwards). I attach crops below.
In the corners performance is much worse, partly due to field curvature. If you focus for the corners it becomes good (about like the f2 crop below) by f4. If you don't focus for the corners, it's never really crisp.
I almost hesitated to write the above: someone will take is a black mark against the lens in an irrational way. But you are not going to use this lens to take pictures of very small pieces of planar artwork! That's what scanners are for, or slightly longer lenses in galleries perhaps. What matters at MFD is likely central details surrounded by bokeh. And the lens performs reasonably well, albeit at low contrast, in this respect.
The three crops are f 1.2 (hazy but usably sharp – sharpening and contrast boost really help here). F2 (good) and f2.8 (very good).

Now I add two corner crops at MFD; both at f5.6. They show that there is enough FC at this distance to make a big difference if you refocus. Not that this matters often in the real world…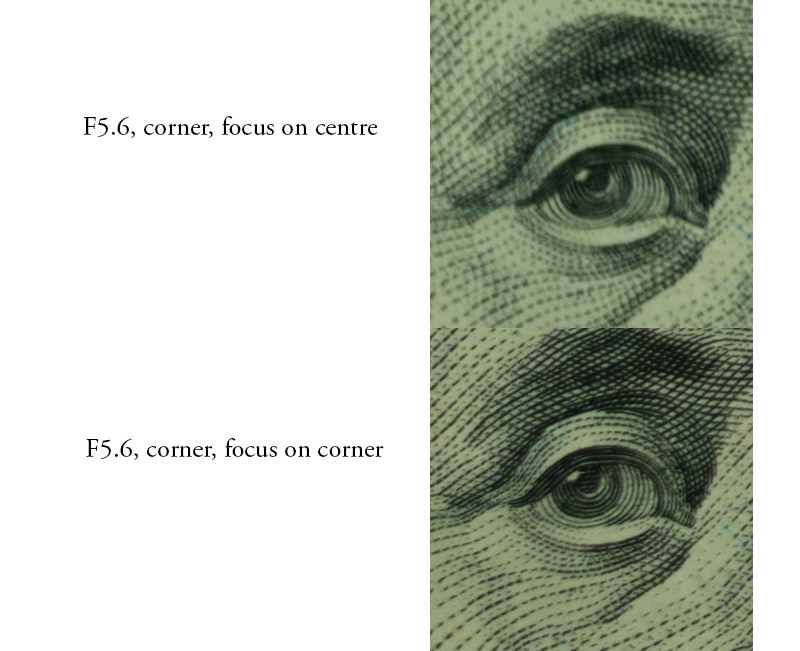 Alternatives
This is a slightly difficult section to write, as what counts as an alternative depends on what interests you about this lens in the first place. Are you looking for a 40mm? A fast 40mm? A fast normal, regardless of exact FL? A compact fast normal? I'll divide this discussion up in that way. As always, I will discuss only lenses that I or the team know well enough, or have really good information about. So readers are bound to have favourites that we don't mention just because we don't have reliable information (just an example – there are a bunch of Leica lenses in this category). I also won't mention lenses that I don't think are sensible alternatives.
Fast 40mm lenses.
There's only one other; the M mount CV 1.4/40. It's much worse on Sony in every way except size. If you want a fast 40 the Nokton 1.2/40 is it.
Slower 40mm lenses
There's an adapted AF option in the form of the Canon 2.8/40 STM. Its a very good little lens. Build is a bit plasticky. But optically it's probably in the same class at shared apertures from f4. But it's much much slower. If you want 40 but don't need speed (it's about 2.5 stops slower) and have a Canon adapter, you could do much worse. You can get this for very little money
There are no other AF options I know of. But there are a range of MF options, starting with Voigtländer's own 2/40 Ultron. That's a nice little lens. No sharper than the Canon, but lovely build and has f2 which is quite usable in the centre. You could buy this one for around $300 to $400 used via our affiliate link on eBay
Also there's the Olympus OM 2/40. Unfortunately it's collector priced these days. Sharp stopped down, a bit funky at f2. Also can be had for about $500 vial our affiliate link on eBay
Basically if money is not an issue, the current lens is the one to get against these alternatives. Otherwise the Canon and an adapter.
Fast Normals 35-50
This expends your search hugely. First AF lenses. The Zony 1.4/35, if you find a good copy, is great at the wider end. Sharper than the CV at wider apertures but of course much larger and 50% heavier. It's also slower both in terms of f-stop, and even more in terms of blur potential. The Zony 1.4/50 is also optically a better lens, but again much bigger and more expensive: and not 40mm.
Outside AF you can get adapt so many lenses that there's little point trying to do a survey. I guess all I need to say is that you can get much   better performance only at the price of size (Milvus 35, Milvus 50, Otus 50, Sigma Art 50 — though the bokeh of the last is not always to my taste).
Compact Fast Normals
Considering this category made me realise what a good job Cosina have done here. This is likely the best compact fast normal. I don't think the famous Leica 35 FLE is any better, and is hugely more expensive. You might consider there Voigtländer 1.5/50, but it has considerably more field curvature due to the optical stack thickness it's optimised for.
A very good overall compromise might be the CV 1.7/35 Ultron, used with a correction filter (see here). It's compact, sharp, and fairly fast though at f.17 might not really count as Officially Fast! The other obvious alternatives are principally classic fast fifties. They are cheaper (some of them not affected by collector price bloat) and can be great to use (Olympus 1.2/50, various Canons spring to mind). But they are not better; and the Voigtländer has much better contrast.
Conclusion
good

Superb overall balance of characteristics

great contrast

resolution stopped down

sunstars

degree of separation for its focal length

handling

size to speed ratio

build quality

central resolution wide open

overall bokeh

flare resistance

average

wide open bokeh in periphery
LoCA at wider apertures
field curvature and focus shift

not good

wide open performance near MFD

peripheral resolution wide open
For a long time now, I have been saying to anyone who would listen that the photo industry has become obsessed with small increments of resolution and correction, resulting in large and overpriced lenses. Instead, I have thought, we would be better off with some smaller slower lenses of high quality, and some balanced fast lenses: fast enough for some great bokeh, with some trade-offs to shrink their size and weight from Otus proportions.
Looking at the chart of good bad and average, you might think there are number of reservations about this lens. But these are the result of some very careful trade-offs. This lens is a delicious balancing act. We have a super fast 40mm which is capable of good (better than classic f1.2)  results in the centre wide open, and capable of critically sharp results stopped down. The trade-off is a bit of lateral colour, axial colour, field curvature and focus shift.
That's what we should expect for a 420g  f1.2 lens. And all those issues can be dealt with. LaCA is easily fixed with a checkbox in your RAW converter. The axial colour is largely gone by f2, which is impressive, and can be mitigated at wider apertures with the sliders in Lightroom (or C1). The field curvature can be dealt with by focussing at the outer midfield. The focus shift by focussing at taking aperture.
Of course some folk were hoping for a lens like the Apo Lanthar 2/65, only 1.5 stops faster and half the size and weight! That was never going to happen. What we have here is a lens that performs better than the super fast classic lenses by quite a margin. It's no Otus, nor even APO Lanthar, but it's faster and smaller then either of them.
And with a little care it can produce glorious results. The sensible compromises in this lens mean that you have to pay attention when focussing. But do this and you get sharp, contrasty images largely unaffected by backlight and with great sunstars at medium apertures, and bokeh which is good to glorious.
So do I recommend it? Absolutely. If what you are looking for is a compact all in one lens that gives a wide-normal field of view, is very fast and has generally nice bokeh, as well as giving excellent landscape results if used with care, it's not only entirely recommendable, it's also pretty much the only game in town. You have to pay attention when using it, but it's the kind of versatile, sensible lens that many of us have been hoping for for a long time. It may not be the best performer there is any one category, but if you want them all, it may be the best overall balance of compactness, speed, and IQ there is.
So it's very tempting for someone looking for thin DOF in a moderate wide-standard lens. In some ways it's like a classic compact super fast fast lens. But it's both a bit sharper, a bit less abberated, and has much more contrasty look than any of those classic lenses. And none of then is a 40mm.  I love it: it has one of the most interesting sets of trade-offs I've seen in a while.  I have to send my review copy back, but I'm counting the pennies to buy my own copy. Simply put it does things that no other lens I have does. If you want it, you can buy it from  from our affiliate link at CameraQuest, B&H Photo Video or our link to  eBay.
Further Reading
Some Final Samples