Introduction
The Jupiter-9 85mm 2.0 is actually a copy of the Zeiss Sonnar 85mm 2.0 and was produced in the UDSSR after WWII. This is my favourite among the Jupiter lenses tested so far, read on to find out why!
Sample Images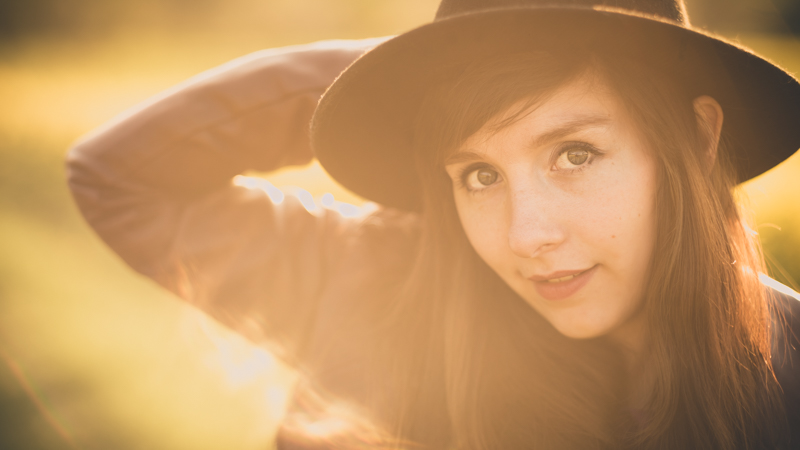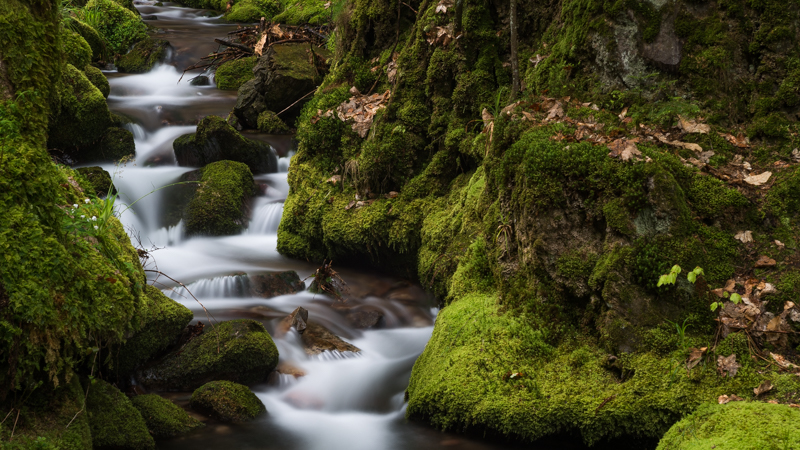 Specifications / Version History
The outer apperance of the lens has changed over time and regarding the optics early versions may actually use Zeiss glass produced in Germany and some later ones may have different coatings as well. So in case you are curious, take a look at the page sovietcams.com, for additional coverage.
I am reviewing a quite early lens from 1958 here (the first two digits of the serial number are the production year, 58 in this case) which has the following specifications:
Diameter: 58.0 mm
Field of view: 29° (diagonally)
Length:  76.0 mm
Weight: 318 g
Filter Diameter: 49  mm
Number of Aperture Blades: 15 (rounded)
Elements/Groups: 7/3
Close Focusing Distance: 1.1 m (with Helicoid ~0.7 m)
Maximum Magnification: 1:11.3 (with Helicoid 1:7.3)
Mount: M39 (aka LTM or Zorki)
A Jupiter-9 in good condition usually starts selling for $145 at ebay.com
(affiliate link). In Germany buying one in A-condition will set you back at least 115€. I got mine at ebay.de
(affiliate link).

Handling / Build Quality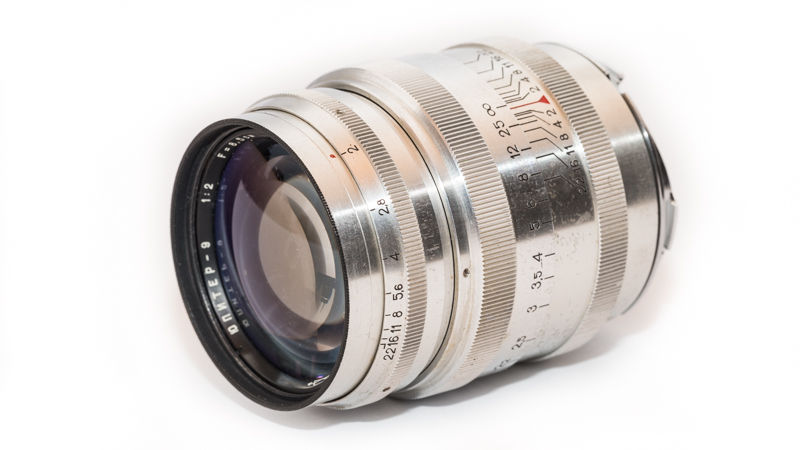 There is quite some sample variation with these lenses. This one had an easy to operate aperture ring but a very stiff focusing ring.  You can either try fixing this yourself with the help of some tutorials or videos on the internet or bring it to a repair shop instead.  The best idea is of course to buy your lens from a trusted seller. I can recommened this ebay shop
(affiliate link) as I have bought lenses there myself.
Turning the focusing ring from infinity to 1.0 m takes about 120°, turning the aperture ring from f/2.0 to f/22 takes about 80°. The aperture ring has no click stops. I prefer click stops but in case you consider filming with this lens you may prefer it the way it is. There is no official hood I know of. Using filters is not a problem as the filter ring doesn't rotate.
This lens is made from aluminium which contributes to the low weight but is also very good at attracting scratches. Newer versions are still made from aluminum but painted black and don't attract scratches as much to my experience.
Vignetting and colorcast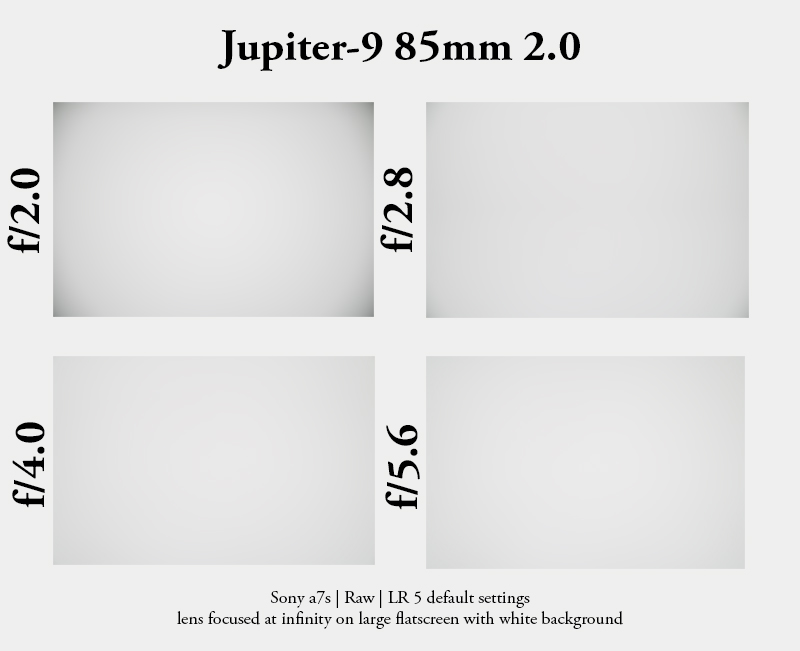 Taking the physical dimensions into account vignetting is suprisingly low at only 1.6 EV wide open and rarely noticeable further stopped down.
Sharpness
infinity


Wide open the lens is somewhat soft and not really contrasty in general. This can be favorable for portraits, for landscape and architecture, not so much. The center looks pretty good af f/2.8, the midframe at f/5.6 and the corners quite ok at f/11.
close focus


For these shots I was using the VM-E helicoid adapter at maximum extension (around 4 mm), so keep in mind you are looking at 100% crops of photos taken at the extended(!) minimum focus distance. The lens was never intended to be used at these distances and does not incorporate a floating elements design either, still the performance wide open isn't all that bad. Stop down to f/2.8 and things look very good here.
Flare resistance
The flare resistance is certainly nothing to write home about and the lens certainly shows it's age here. You get ghosts, other artifacts and much lower contrast.
Coma

Wide open the performance isn't great here, stopping down to f/4.0 helps a lot. So stop down to at least f/4.0 when shooting city scapes or similar subjects.
Distortion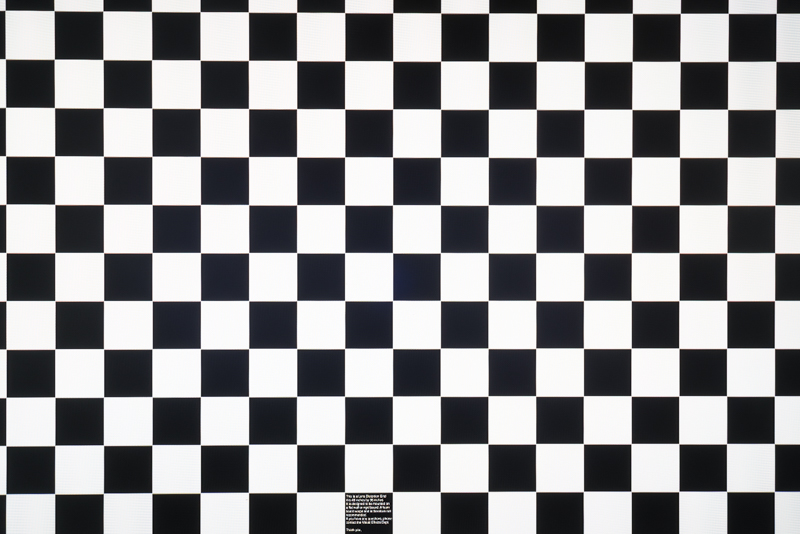 There is very minor pincushion Distortion which I don't consider an issue.
Bokeh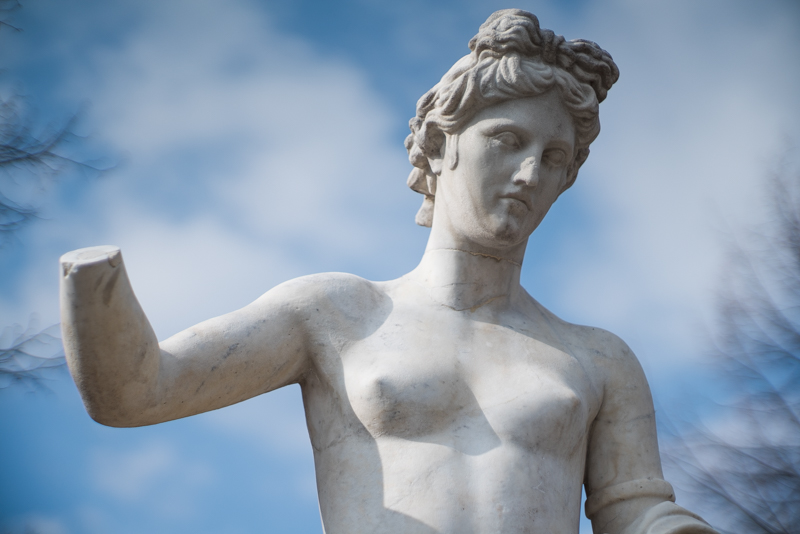 Certainly one of the strong points of the lens, in case you like Sonnar bokeh. The edges get blurred quite a lot as can be seen in the example above. There are no onion rings, hardly any outlining and because of the 15 rounded aperture blades highlights stay nearly perfectly round on stopping down.
Interestingly mechanical vignetting is not really an issue, because of the small dimensions of the lens this really suprised me.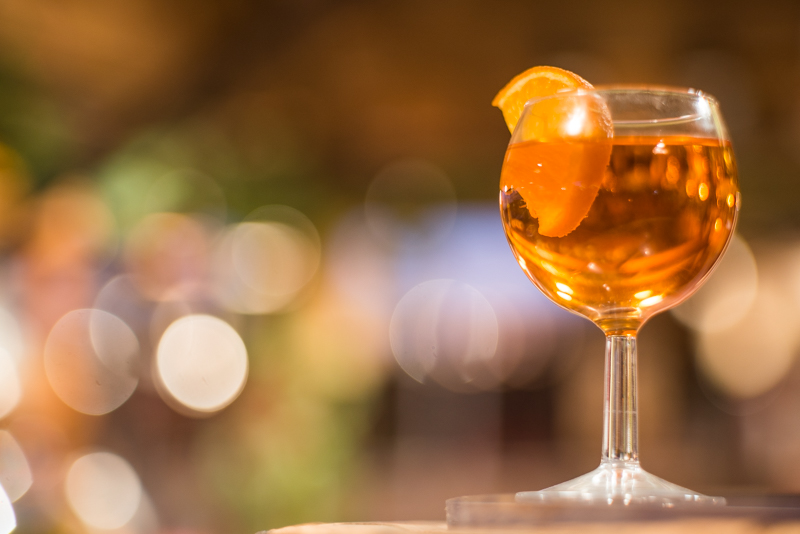 Bokeh, crop of upper right corner, f2.0 (before) / f4.0 (after)

Sunstars
If have written it before, you either have nice highlights on stopping down or nice sunstars and 15 rounded aperture blades lead to pretty bad sunstars:

Chromatic aberrations
longitudinal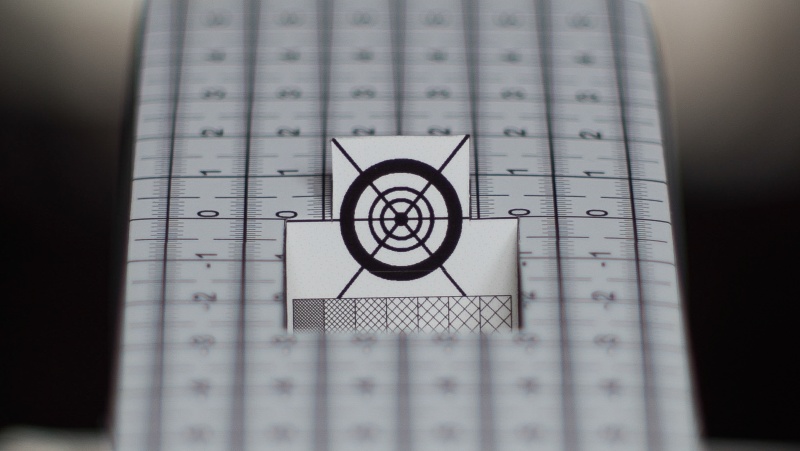 The loCA correction is pretty good for such a fast yet old lens. In real world shooting I did not even once notice loCA in a bothersome way in any of my pictures. Only with the use of the helicoid adapter (which works as a 4 mm extension tube here) at the extended minimum focus distance loCA start to appear.
lateral
In the corners you can spot some lateral CAs which can be easily corrected in post, as can be seen in the example below (100% crop). This is one of the few lenses where the outlinings are yellow and purple instead of magenta and cyan.

Sony A7s | Jupiter-9 85mm 2.0 | f/4.0 | CA 100% crop before/after extreme corner
Alternatives
Leica Summicron-M 90mm 2.0 pre-Asph:
This is still my preferred portrait lens when using A7 cameras. Better optics, way better build quality, about six times as expensive.
Zeiss Batis 85mm 1.8:
In case money isn't really an issue and you prefer a native lens with AF and IS this lens might be for you. I haven't used one myself but Jannik is currently using one and preparing a review.
Legacy SLR 85mm lenses:
85mm has always been a popular focal length so there are many legacy lenses to chose from. You can start having a look at this comparison.
Conclusion
good

bokeh



size / weight


price

correction of longitudinal CA

distortion

vignetting

average

correction of lateral CA
build quality
handling

not good

contrast/sharpness
wide open

flare resistance

sunstars

coma correction
(below f/4.0)
This lens has become quite the classic and I can definetly understand that. The lens is small, lightweight, affordable, offers great bokeh and stopped down sharpness isn't bad either. Still I see it more as a special purpose lens for portraiture than a general purpose tele. Sharpness and especially contrast aren't up to my taste for landscape and architecture, neither are the sunstars.
There are also lenses with better handling, as the aperture ring has no click stops you pretty much have to look at the lens when changing the aperture, which is something I don't like. There also seems to be quite a bit sample variation. I have had two of these lenses so far, one with wobbly aperture ring and stiff focusing ring, the other one quite ok, so only buy from trusted sellers or be sure to try before buy.
So, who is this lens for? Anyone, who looks for a small yet fast and affordable portrait lens and can live with the so so build quality and handling. One thing is for sure: this is the biggest bang for the buck when it comes to rangefinder portrait lenses.
A Jupiter-9 in good condition usually starts selling for $145 at ebay.com
(affiliate link). In Germany buying one in A-condition will set you back at least 115€. I got mine at ebay.de
(affiliate link).
Sample Images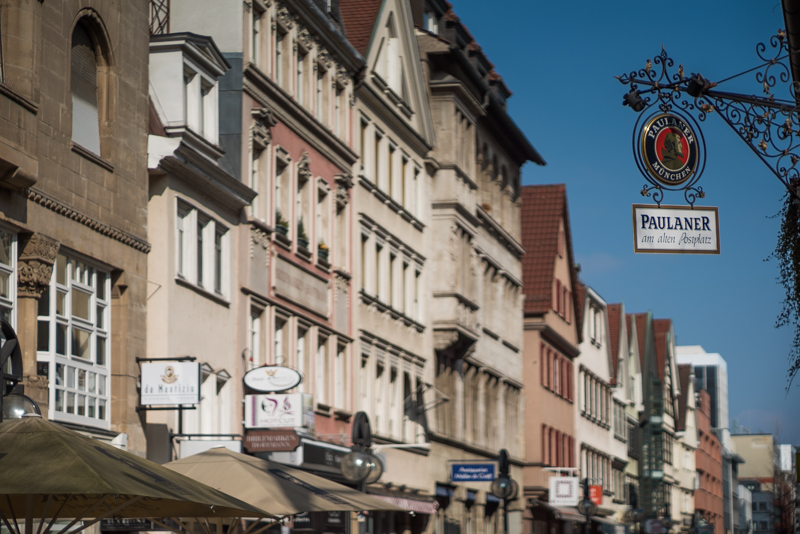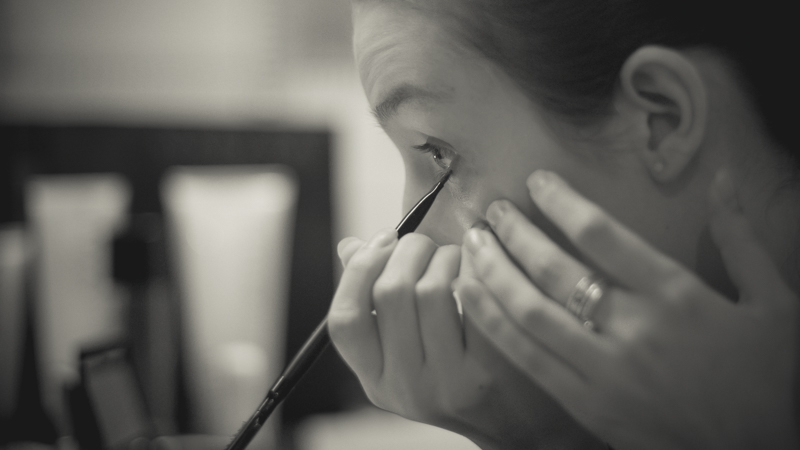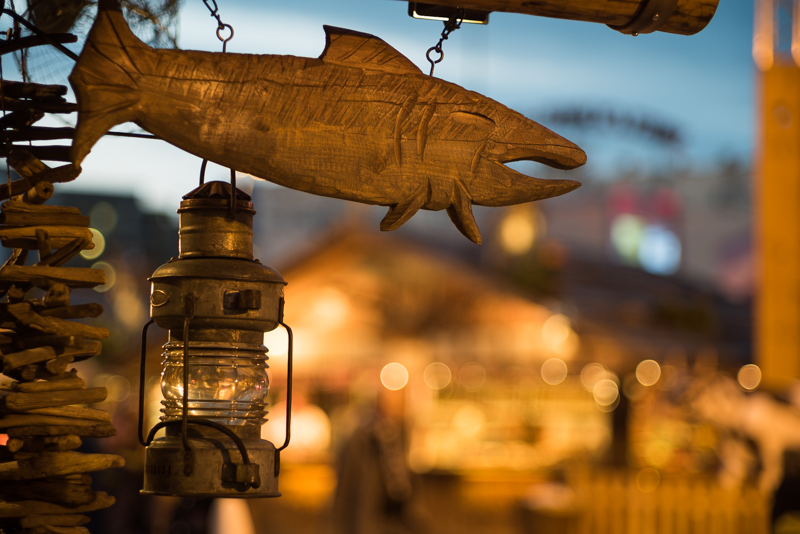 Further Reading
Support Us
Did you find this article useful or just liked reading it? Treat us to a coffee!


via Paypal
The following two tabs change content below.
My name is Bastian and I am your expert here when it comes to ultra wide angle lenses, super fast portrait lenses (ranging from a 50mm f/0.95 to a 200mm f/1.8) and I also have reviewed way too many 35mm lenses. Don't ask me anything about macro or wildlife shooting though.