Introduction
The Series E lenses were meant as a low cost alternative to the more expensive yet reknown Nikkor lenses. This didn't work out so well for Nikon, at that time many people were simply not interested in "cheap" lenses made mostly from plastic. Nevertheless, some of these lenses are quite good optically, therefore I take a look at the Nikon Series E 75-150mm 3.5 zoom lens.

Sample Images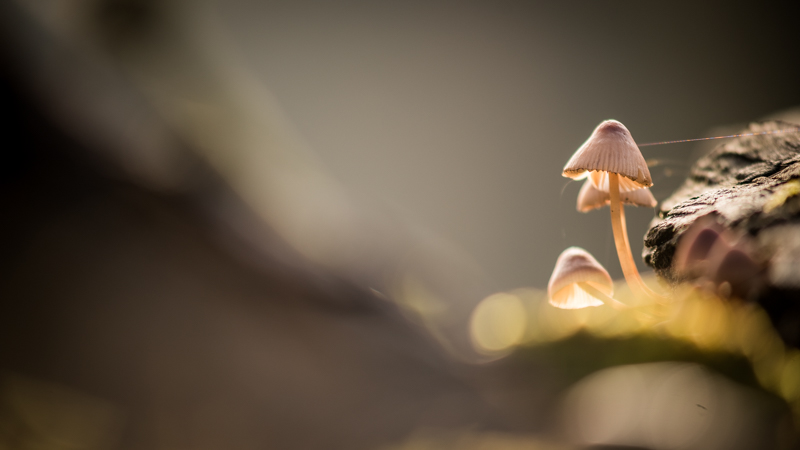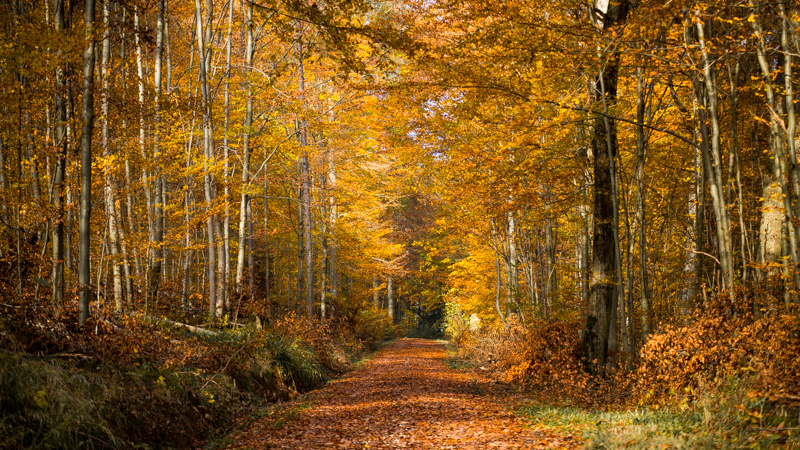 Specifications / Version History
This was the first 75-150mm 3.5 zoom by Nikon and there hasn't been another one since. It has the following specifications:
Diameter: 65 mm
Field of view: 32° to 16° (diagonally)
Length:  126 mm
Weight: 518g + adapter
Filter Diameter: 52 mm
Number of Aperture Blades: 7 (straight)
Elements/Groups: 12/9
Close Focusing Distance: ~1.0 m
Maximum Magnification: ~1:4.8
Mount: Nikon-F
These are very cheap, you can get one used for as little as 40$/70€ on ebay.com
/ebay.de
(affiliate links)

Handling / Build Quality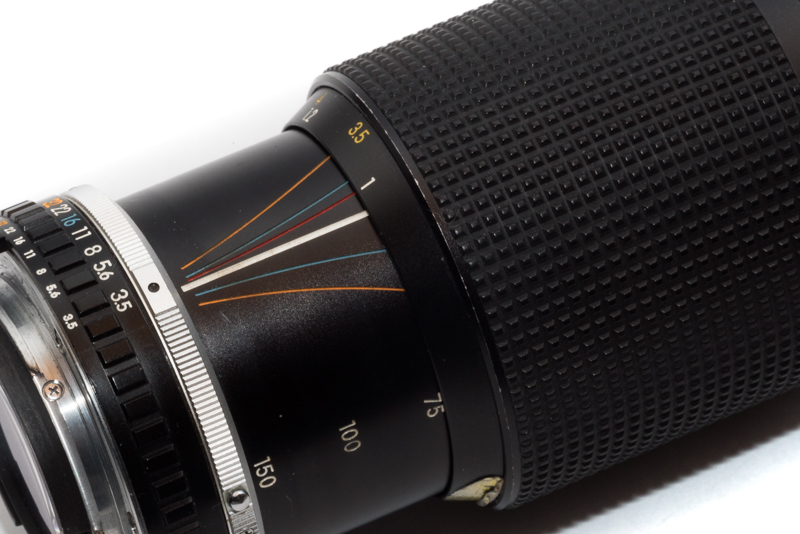 First I must say, I also own the Series E 50mm 1.8 and I expected a similar build quality, but this is unfortunately not the case. Am I the biggest fan of push-pull-zooms? No, but this not my main concern here, zoom creep is. This lens is quite famous for that and for a reason: the big ring which is used for zooming (push and pull) as well as focusing (rotate) is very very loose on my sample. Setting precise focus (or even focal length) is an almost impossible task with this lens and I really disliked using it at all because of this.
The front ring also rotates during focusing, so using a polarizer is not very straightforwarded either.
Vignetting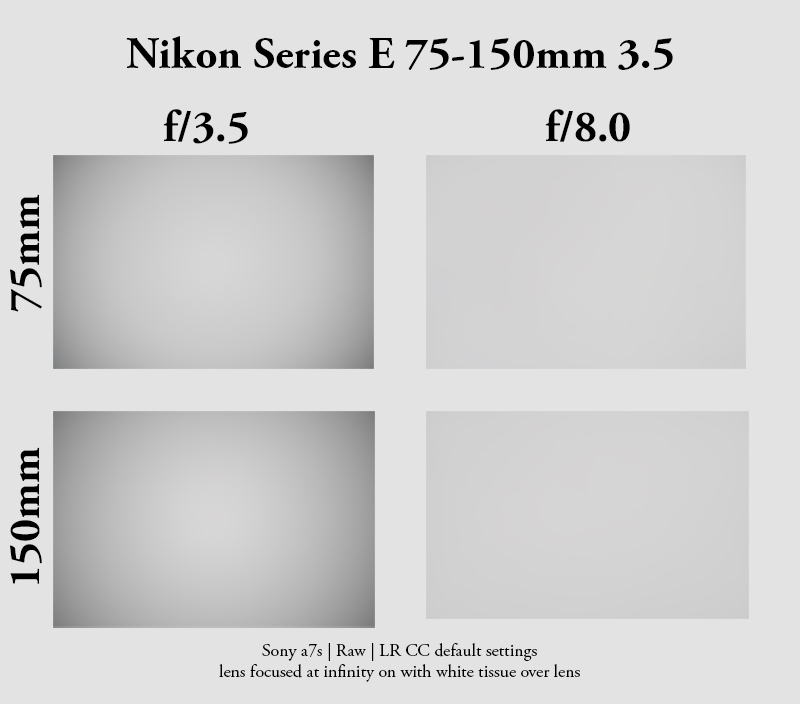 Wide open there is visible vignetting of roughly 1.8 EV at 75 and 150mm, stopped down to f/8.0 it is negligible (~0.2 EV).
Sharpness
infinity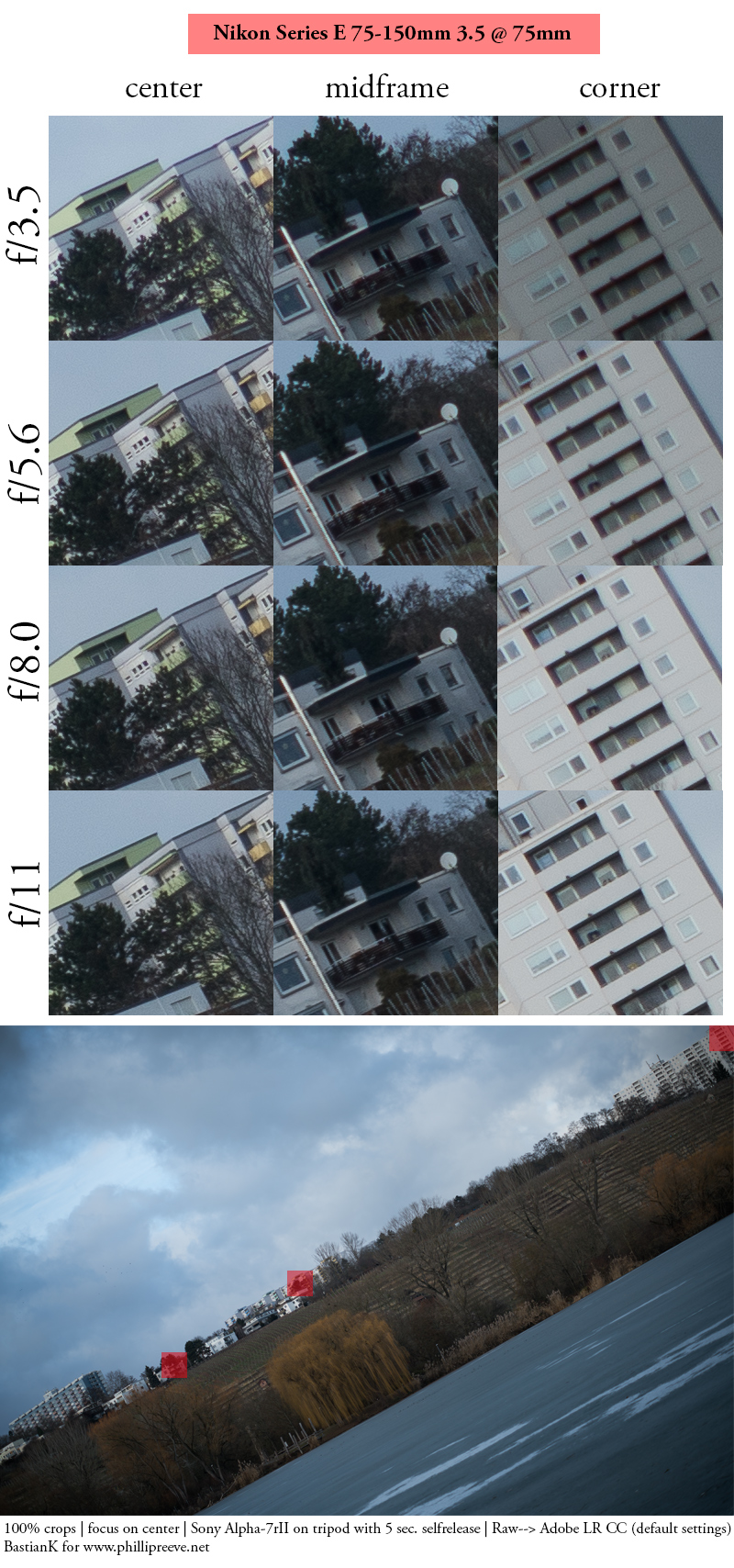 At the shortest focal length the lens holds up quite well, even on the 42mp sensor. Wide open it is already usable across frame, but stopping down to f/5.6 eliminates some purple fringing and the corners look best at f/11.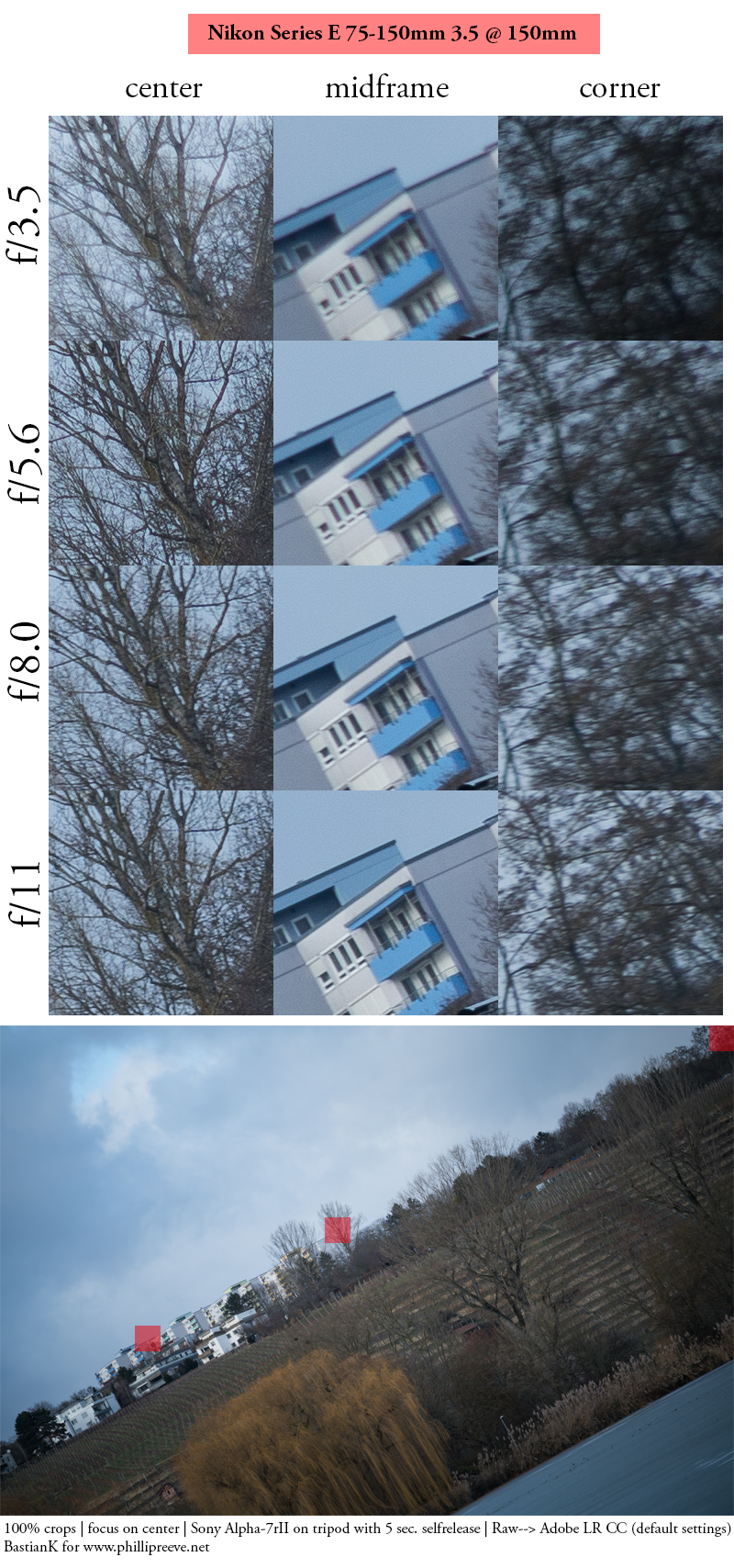 At 150mm things don't look as good anymore. The center ist rather soft wide open, even looks a little hazy. The midframe is far from great, the corners are nothing to write home about.  At f/5.6 the center looks much better, but the midframe and corners look best at f/11 where the corners still don't look particulary great.
The shots at f/8.0 might be slightly affected by camera shake or defocus. As I was using a Series 4 Gitzo tripod with Arca Swiss P0 head in combination with 5 sec self release and electronic first curtain shutter it might also be possible the loose focus ring was once more the problem here.
Flare resistance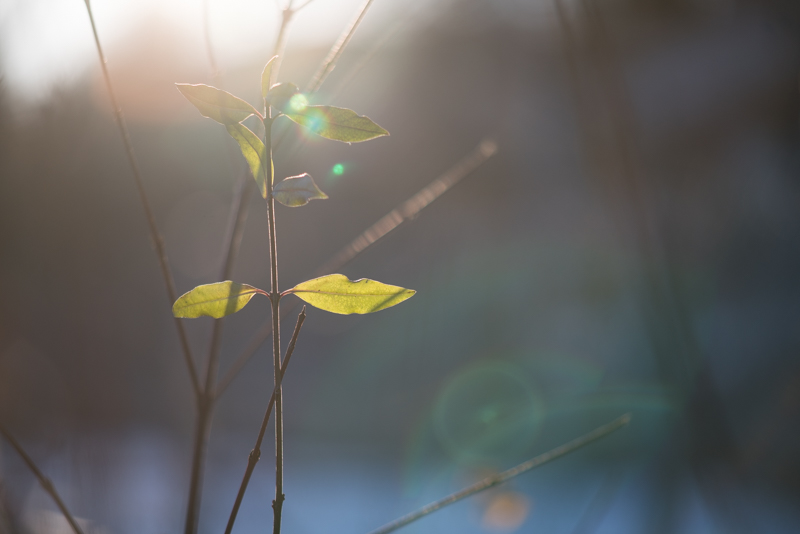 It seems to me coatings are one of these things they tried to save money with the Series E lenses. If you follow my reviews you already know this is an important aspect for me as ghosts and flare can really ruin your shots. And that happened quite often with this lens, regardless of focal length, distance to subject and position of the sun inside or even outside of the frame.

Distortion
At 75mm there is very mild barrel distortion, at 150mm quite pronounced (yet uniform) pincushion distortion, which I had to correct for some shots.
Nikon Series E 75-150mm 3.5 distortion characteristics | Before: 75mm | After: 150mm
Bokeh
With a maximum aperture of f/3.5 at 150mm you can get quite a good amount of background blur, especially when being close to your subject. It is also more of the smooth kind, even with rather demanding backgrounds like tree branches. I spotted hardly any outlining, but the cat's eye effect is certainly visible in some shots.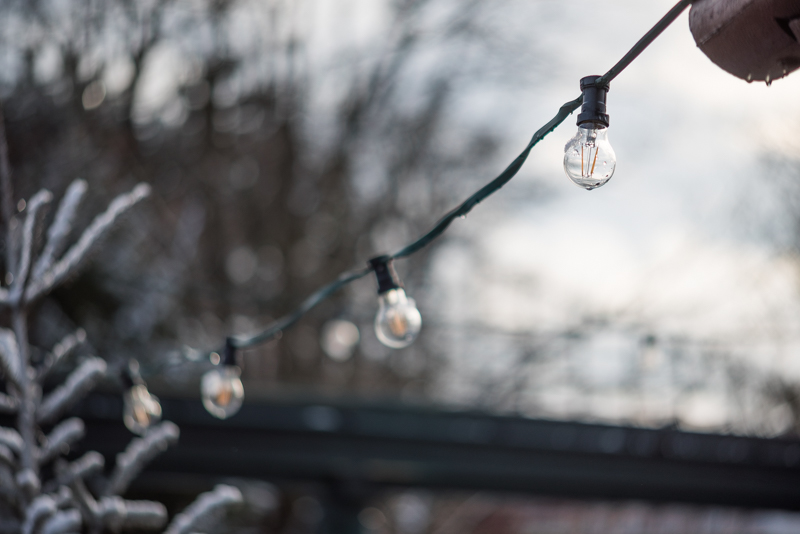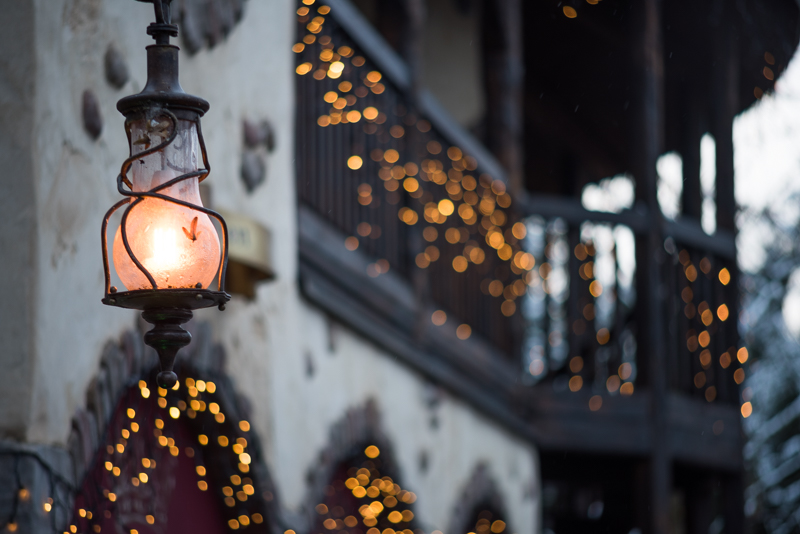 Sunstars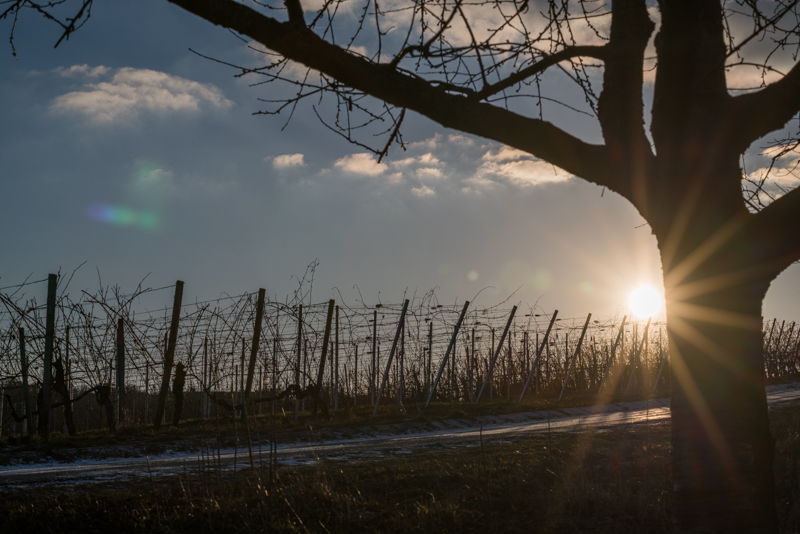 Because of the 7 straight aperture blades you get quite okay 14-stroke sunstars, but with this lens sunstars also come with ghosts and reduced contrast. Bummer.

Chromatic aberrations
Longitudinal CA (loCA) are present, at the minimum focus distance you can see green outlining behind and magenta outlining in front of the plane in focus. Also when shooting near infinity purple fringing is present. Take a look at these crops from one of the sample images:
100% crops | Sony A7rII | Nikon Series E 75-150mm 3.5@150mm 3.5 | Before: plane in focus | After: background
Alternatives
Minolta MD 75-150mm 4.0:
This is a third of a stop slower, has only 6 aperture blades but does not suffer from zoom creep as badly. Phillip owns one but did not yet write a review. Seems also to be a less common lens compared to the Nikon.
100 or 135mm prime:
Depending on your preferences and/or the other lenses in your kit a 100 or even 135mm prime might be the better choice. We listed some of the lenses we would recommend in this article.
70-200mm 4.0 zooms:
A bit more reach, third of a stop slower, mostly much bigger. The only one I have thorough experience with is the much more expensive Canon EF 70-200mm 4.0L.
Conclusion
good

sharpness at 75mm

price

size/weight

bokeh

average
not good

flare resistance

correction of longitudinal CA

build quality (loose focus/zoom ring)

sharpness at 150mm wide open

corner sharpness at 150mm in general

distortion at 150mm
No manufacturer produces small telezooms anymore, so I decided to try this rather famous Series E lens.
Unfortunately it didn't really meet my expectations. The problem isn't that it struggles with the 42mp sensor – this was to be expected. But the handling and flare issues really let me down.
Telling you the ring is loose on most samples doesn't nearly cut it, a fly landing on the lens is probably able to turn it. Of course the slightest tilt of the camera will also make the ring bang right to one of the end stops. One of the main reasons for me to use manual lenses is being able to set very precise focus for my landscape shots, with this lens this isn't an easy task.
But the mediocre (to say the least) flare resistance really spoiled the game for me: I like to include the sun in the frame, let alone during sunrise or sunset, and this is almost impossible using this lens.
Regarding sharpness this lens holds up suprisingly well at the 75mm end though, even on the 42mp sensor, but at the 150mm end: not so much.
Of course it is still possible to take nice shots with this lens, but for me there are just too many little caveats you have to work around. I also found myself mostly shooting at the long end, so for me an even smaller yet faster 135mm prime would probably be the better choice.
There is one aspect I didn't talk about yet and that is the price. This lens is ridiculously cheap. You know everything to be aware of now, so in case you find one in pristine condition without the loose zoom/focus ring and you rarely shoot with the sun inside (or near) the frame you might find yourself liking it much more than I did.
These are very cheap, you can get one used for as little as 40$/70€ on ebay.com
/ebay.de
(affiliate links)
Sample Images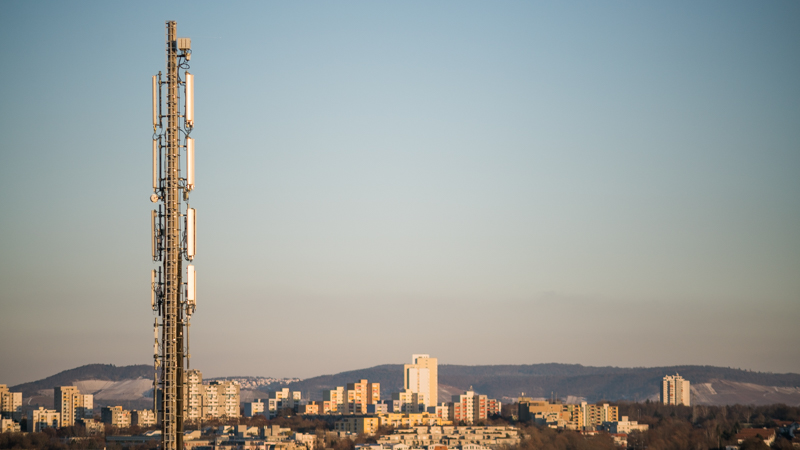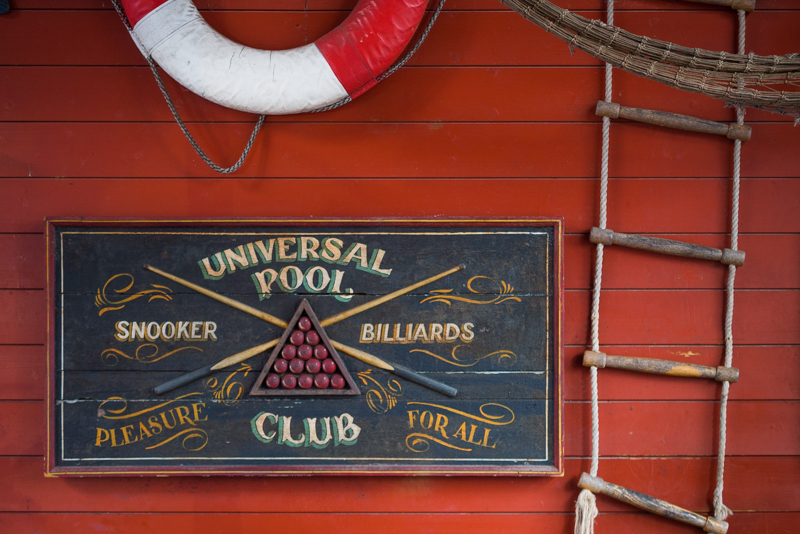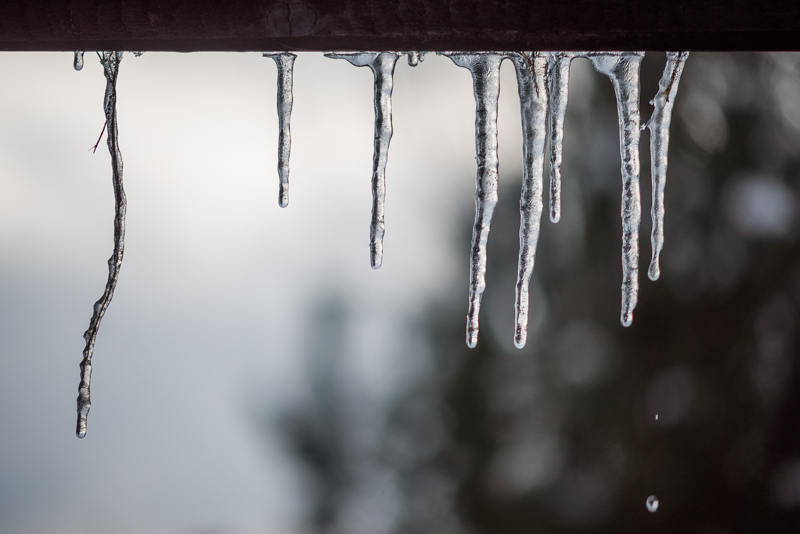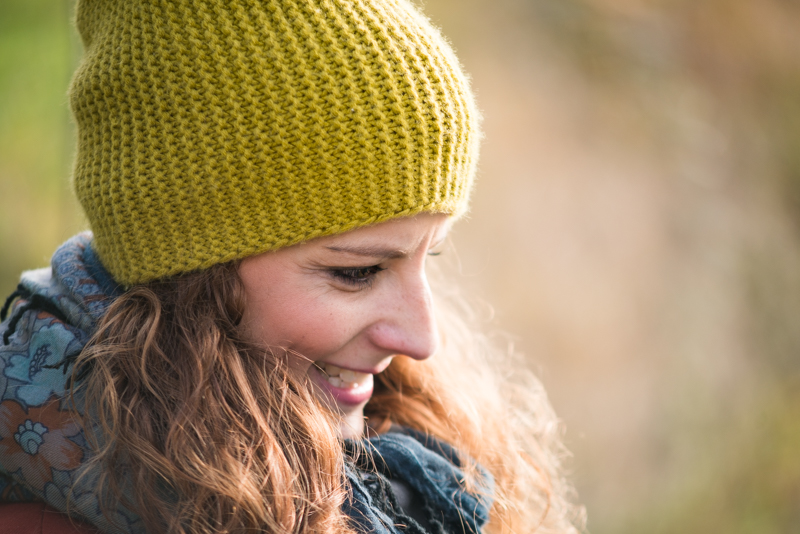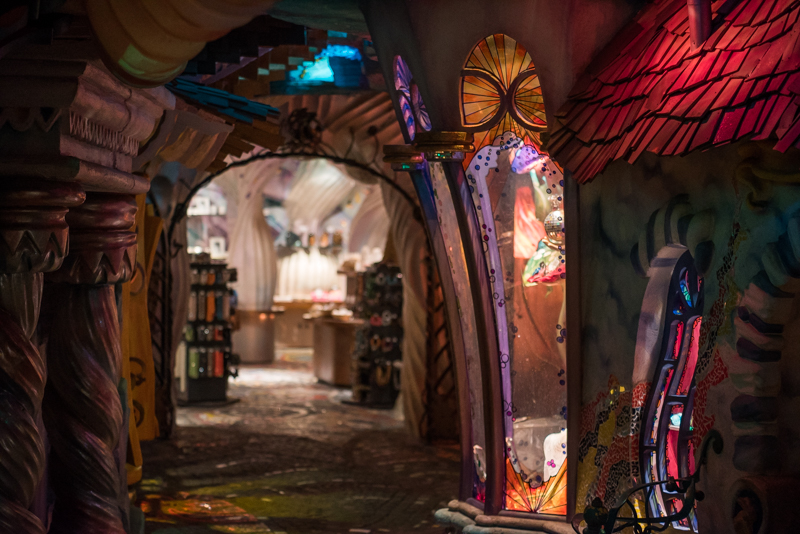 Further Reading
Support Us
Did you find this article useful or just liked reading it? Treat us to a coffee!


via Paypal
The following two tabs change content below.
My name is Bastian and I am your expert here when it comes to ultra wide angle lenses, super fast portrait lenses (ranging from a 50mm f/0.95 to a 200mm f/1.8) and I also have reviewed way too many 35mm lenses. Don't ask me anything about macro or wildlife shooting though.