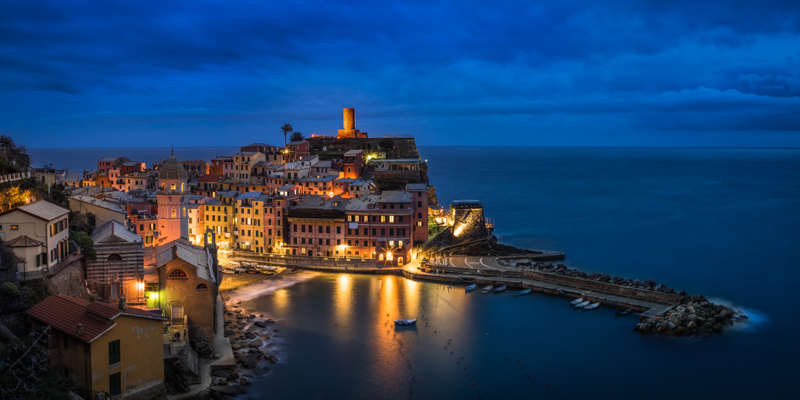 On the Easter weekend 2016 I was rather spontaneously visiting famous Cinque Terre in Italy. The weather forecast was quite alright, but as I was only on a two night stay, I had very limited time (and blue hours) so I had to make the best of it…
In the Bag
As usual when on a trip I was using my Mindshiftgear rotation 180 panorama* backpack. In the belt comparment I was carrying my A7s, Nikon AF-S 20mm 1.8G, review sample of the Zeiss Loxia 35mm 2.0, Voigtlander Nokton 50mm 1.5 and the Leica Summicron 90mm 2.0. In the upper compartmend I also carried a Nikon Ai-s 180mm 2.8 ED which I didn't use once on the trip (therefore sold now).  I also carried a small Gitzo traveler tripod, a mini tripod and a few filters. With the small lenses the backpack still has some space left for water and food. Now even more, as I won't carry a longer tele anymore…
A german version of this article can be found here.
Before the shot
Before the trip I checked the blue hour times online. As the early blue hour was very early (~6 am) I knew the late blue hour (~9 pm) was way better to shoot cityscapes as very early in the morning many lights are off (as restaurants and shops are still closed).
Also when going to places I haven't been before I try to get some inspiration by looking the name of the place up on flickr and Google image search. I found this picture and it was going in the right direction of what I was looking for, so I looked up how to get to that spot.
I went to check that spot out very early (way before the blue hour) just in case. Well, being there this is what I have seen:
With all the grass in the foreground this spot was an absolute no go for me. A shot with blurred grass (wind + long exposure) in the foreground won't be hanging on my wall and rather go straight into the digital bin.
I then rememberd on the way to that spot it presented myself this view: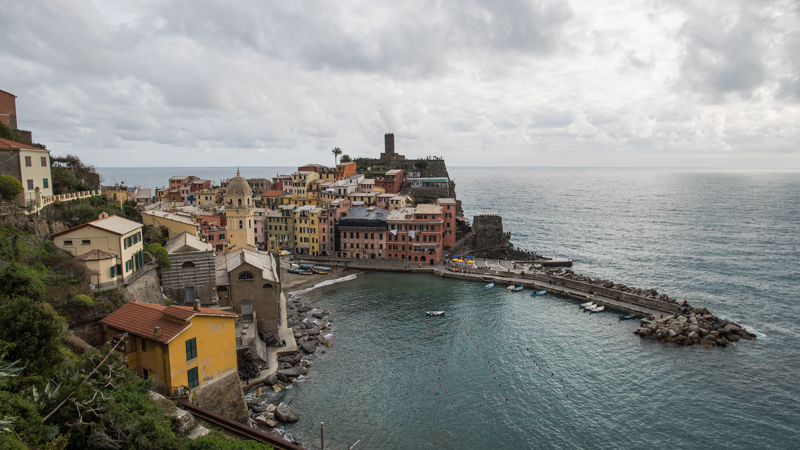 Not as many colorful buildings but also somewhat more natural and still interesting perspective. And: no grass in the foreground. So I decided to go for that spot.
I was also hoping for a nice sunset but it was really nothing to write home about that day: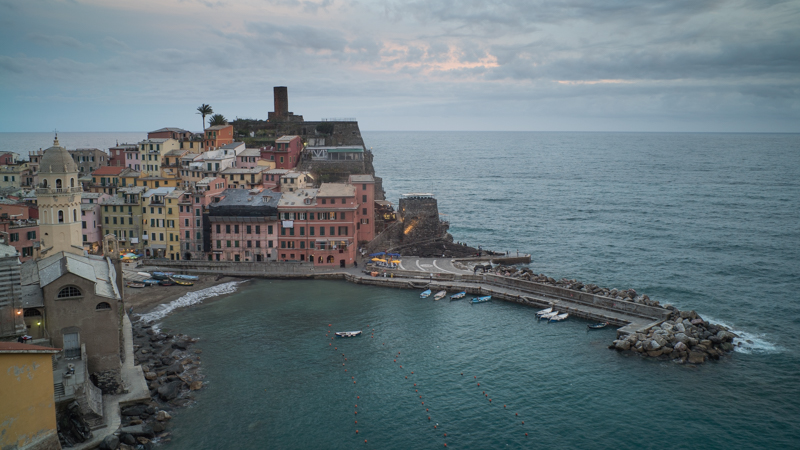 Taking the shot
When going out with only prime lenses from time to time you might not have the "ideal" focal length in the bag. For this shot a 24mm lens would have probably been the best choice, but I had only the Nikon 20mm 1.8G and the Zeiss Loxia 35mm 2.0 in the bag. Of course I could have cropped a 20mm shot, but the sunstars the Nikon 20mm produces are not nearly as nice as the Loxia's (this is why I am using the Loxia 21mm 2.8 instead of the Nikon 20mm 1.8G now) so I decided to take a panorama with the Loxia 35mm. Taking panoramas vastly improves the image quality, edge acuity improves considerably, noise is less likely visible in the final image and you get more pixels to work with.
I took 5 shots in portrait orientation, of course all with the same settings: f/11 for depth of field and nice sunstars, ISO100 for best image quality and 15s.
The dynamic range of scenes like these is huge, so I exposed for the highlights to not blow them out. If only a very small circle of a light is blown out on e.g. street lamps this is not a problem, but everything else should still show some tonal differences. For high dynamic range scenes this is my usual approach as on the modern sensors you can easily lift the shadows a few stops withoug running into problems.
These are the 5 single unedited shots in Lightroom:


After the shot
Nowadays it is possible to create panoramas directly in Lightroom, this offers a few benefits as you don't have to adjust white balance to match each of the shots before combining them and you won't loose any information which often happens when using external software. This is the still unedited panorama: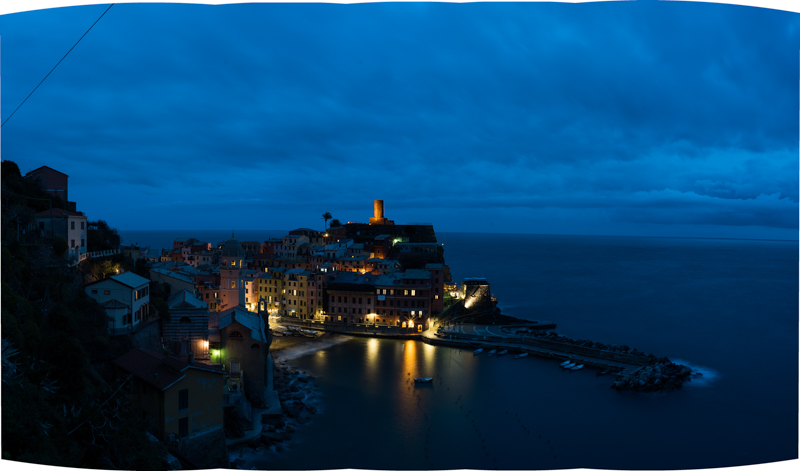 These are my global settings for this shot: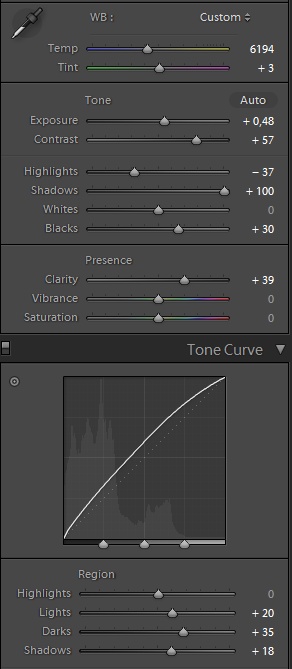 I also did some alterations to the colors, especially blue (I am rarely happy with blue "as shot"):

I liked the color of the water then, but still not the color of the sky, so I used a gradient for the sky: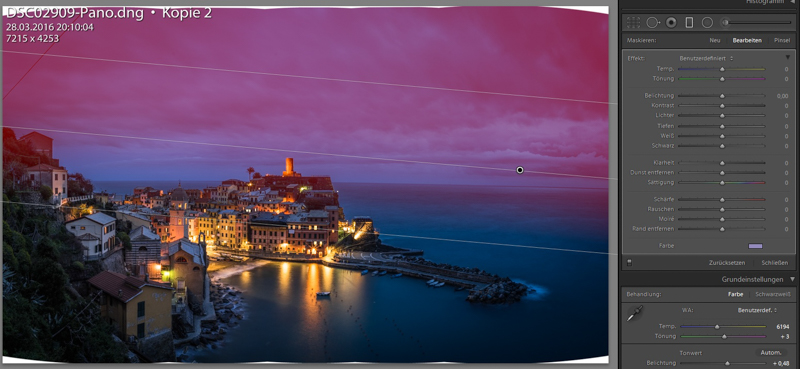 The illumination of the scene was not very even to say the least. This has also huge influence on the color temperatue: the houses appear very warm while the areas not directly lit appear very cold. So I used the local adjustment brush to increase the color temperature in these areas:

A few areas needed some additional "warming" and also a little more exposure: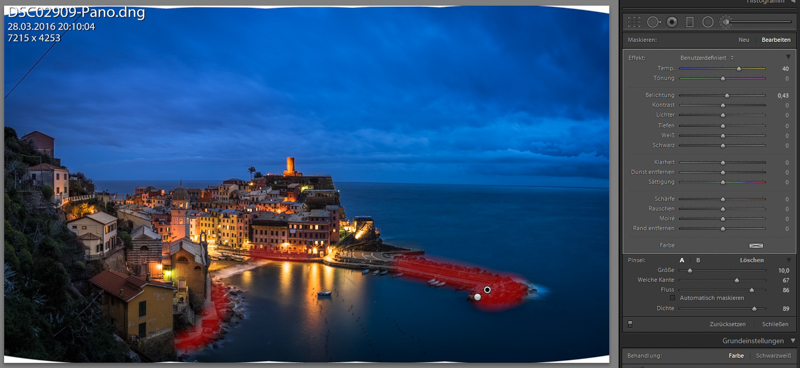 For the bend horizon I was using Photoshop's adaptive wide angle filter.
Final image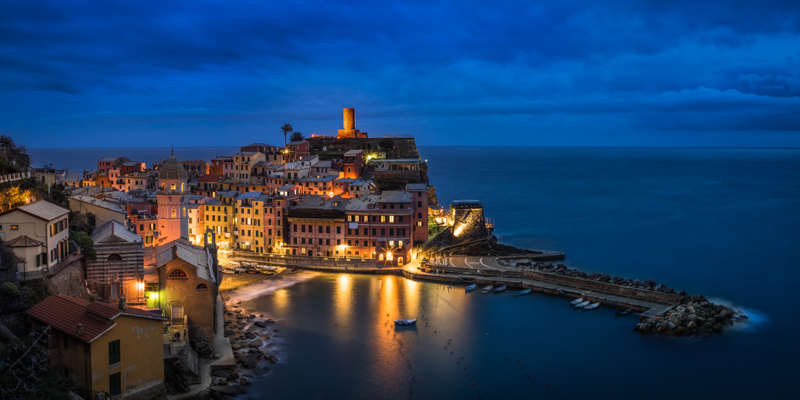 This is the final image I uploaded to flickr which also became on of my most liked photos there. I still really like the clarity, contrast and sunstars and it is one of the reasons I ended up buying the Loxia 35mm 2.0.
Other Articles
Support Us
Did you find this article useful or just liked reading it? Treat us to a coffee!


via Paypal
The following two tabs change content below.
My name is Bastian and I am your expert here when it comes to ultra wide angle lenses, super fast portrait lenses (ranging from a 50mm f/0.95 to a 200mm f/1.8) and I also have reviewed way too many 35mm lenses. Don't ask me anything about macro or wildlife shooting though.