Introduction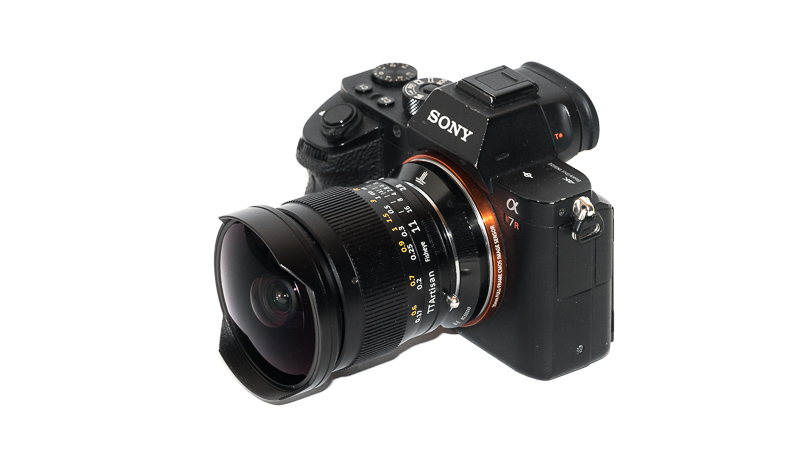 Fisheye lenses are not exactly hugely popular and the fact that we haven't seen a fullframe fisheye lens designed for mirrorless yet – in more than 60 years of the Leica-M system we haven't seen a single one – only supports this. So maybe this 11mm 2.8 from TTArtisan is a welcome surprise, being the first of its kind? Let us find out in this review!
Sample Images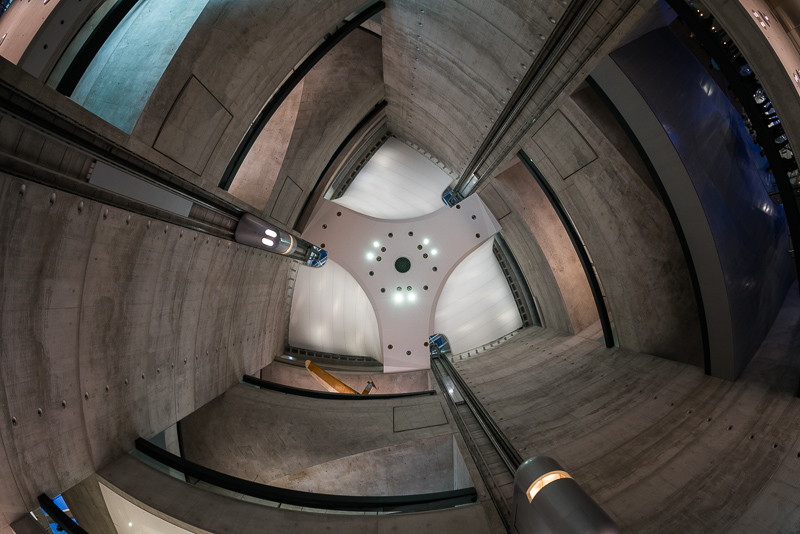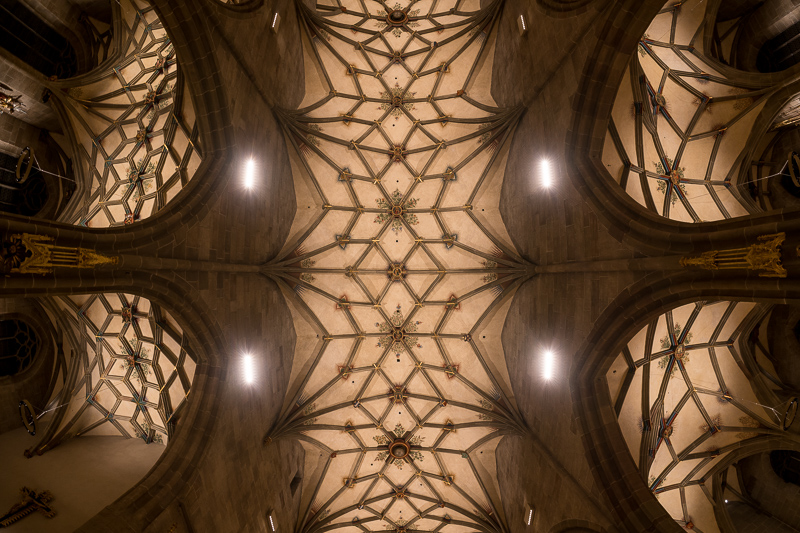 You can find most of the shots in this review in full resolution here.
Specifications / Version History
I am reviewing a final production model here which has the following specifications:
Diameter: 67mm
Field of view: 180° (diagonally)
Length: 72mm + adapter
Weight: 440g + adapter
Filter Diameter: –
Number of Aperture Blades: 7 (rounded)
Elements/Groups: 11/7
Close Focusing Distance: 0.17m
Mount: Leica-M
The lens is available from the manufacturer's shop, amazon.com/amazon.de, ebay.com/ebay.de (affiliate links) and the price is $215.
Disclosure
The TTArtisan 11mm 2.8 Fisheye was kindly provided free of charge by TTArtisan for reviewing purpose for a few weeks.
What is a fisheye lens?
As this is the first fisheye lens we reivew here it might make sense to have a short look what differentiates a fisheye lens from a normal ultra wide angle lens.
The TTArtisan 11mm 2.8 is a diagonal fisheye, meaning it covers a field of view of 180° diagonally. There are also circular fisheyes that cover only a round image with a field of view of 180° in all directions.
Compared to rectilinear ultra wide angle lenses fisheye lenses offer a different kind of projection which at first sight look like there is a lot of distortion:
But this is not the whole story, without going too much into detail of different fisheye projections (you can do that here or here) the shape of objects closer to the corners stays closer to what they actually are. You can see that in the comparison above, the reflection of the lamp is round in the fisheye image while it is streched in the image of the rectilinear lens. So, depending on what part of the image you look at, the distortion of a fisheye lens may actually be less, not more.
Nevertheless, I personally think the usefulness of fisheye lenses is a bit limited. They are mostly useful for creating 360° panoramas, funny animal pictures/portraits and sometimes astrophotography. You can still use them for landscape photography – as some of the sample images may show – but it is not that easy to find compositions that actually work, so I would not recommend a fisheye lenses to anyone who is just starting with photography.
Handling / Build Quality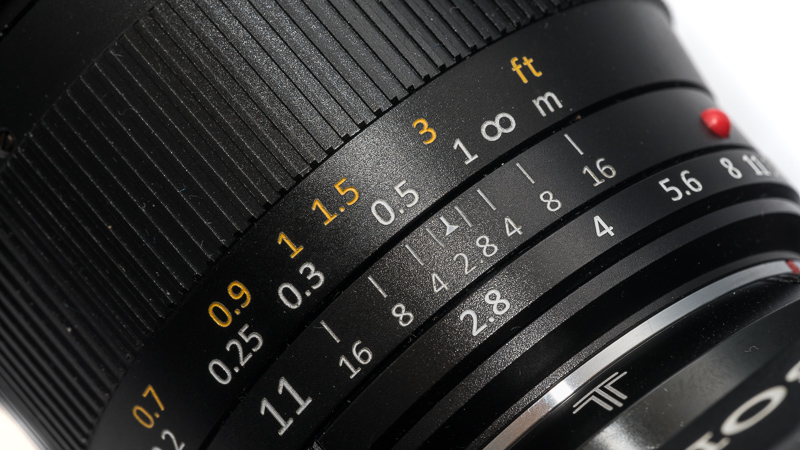 In terms of the color scheme this looks very much like a Leica M lens including the famous red dot. Markings are yellow/white (seem to be slightly engraved and filled with paint) and the focus ring has a very nice resistance and turns about 90° from the minimum focus distance of 0.17 m to infinity.
The aperture ring is a more basic design without click stops and with varying distance between the stops. It also features a small tab which is useful as it is very narrow and a bit on the stiff side.
The lens seems to be mostly made from metal and a metal slip on lens cap is included as well. My lens also shipped with an 11mm optical viewfinder, which will be useful for Leica M users, but I am not sure whether it is an optional accessory, so if you need it be sure to get it with the lens.
Vignetting and colorcast
With our usual approach we cannot get decent values on the vignetting of fish-eye lenses. What I can tell you is that the vignetting figures are significantly lower than those of rectilinear ultra wide angle lenses, especially compact ones.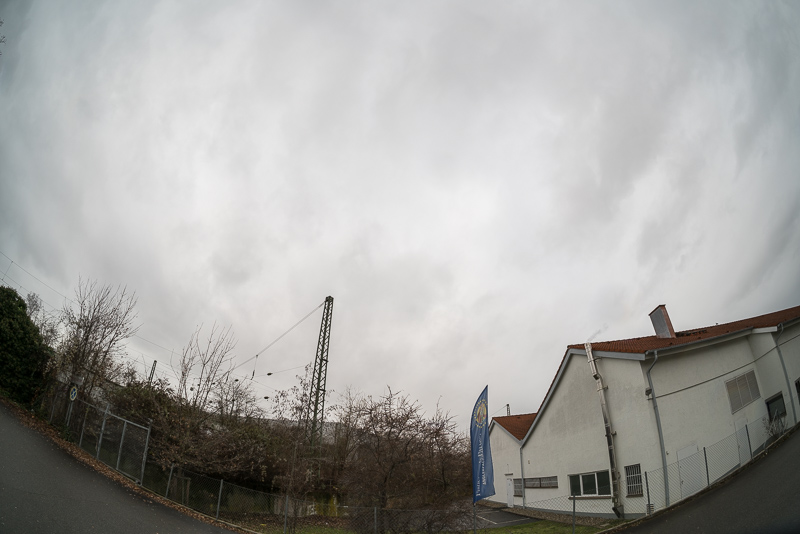 Also similar to the Voigtlander UWA primes and some of the wide Laowa primes (12mm 2.8 and 15mm 2.0) this lens shows some slight green color cast in the corners which can become visible with bright skies.
Sharpness
infinity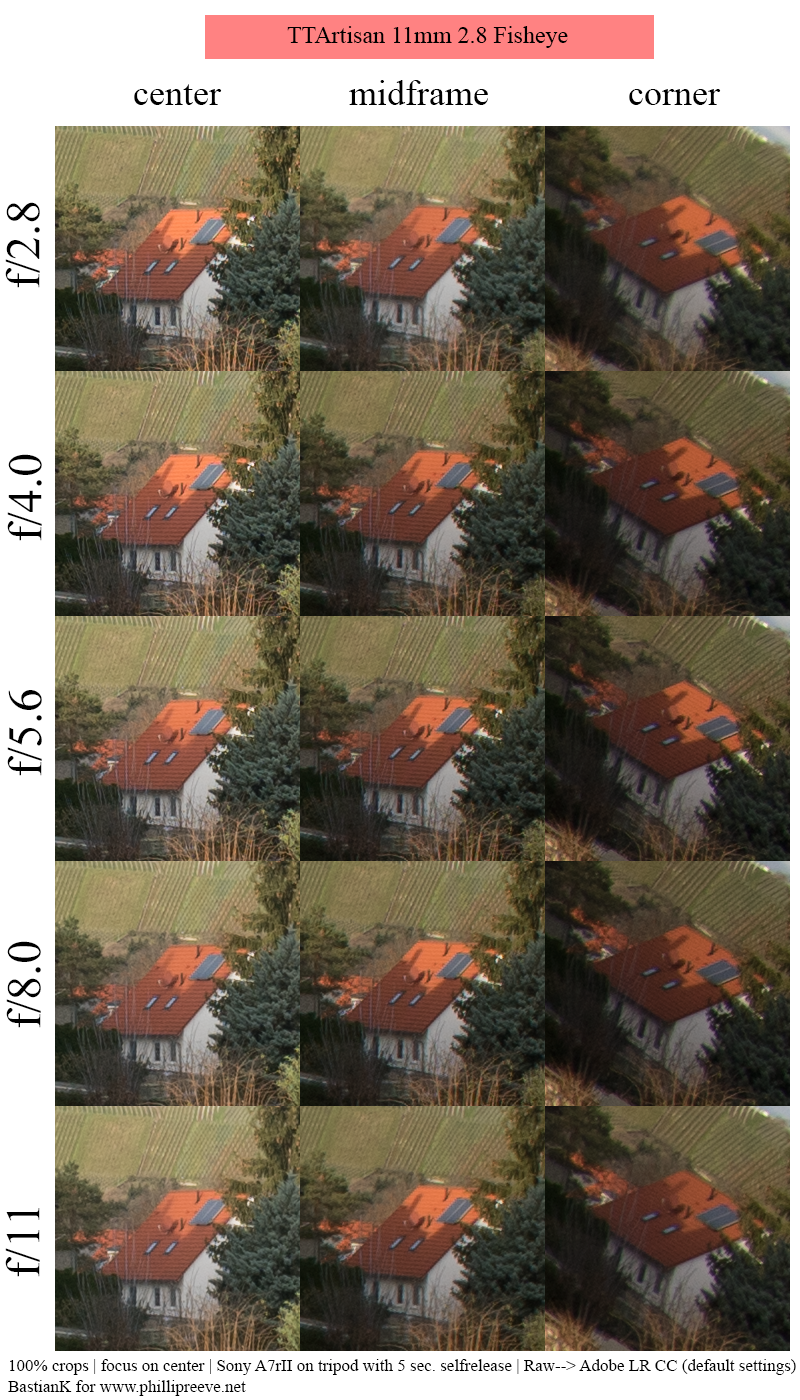 The center actually looks really good starting from wide open and even the midframe does not lack far behind. Only the corners benefit from stopping down a bit, but f/4.0 is enough to make the whole frame look good when focusing at the center.
There is still a bit of filter stack induced field curvature with this lens. Unlike most other wide angle lenses designed for Leica M mount the penalty when using this lens on a Sony instead of a Leica camera is not as big in terms of sharpness, but have a look at the coma section, where the difference is more obvious.
close focus (0.17 m)

100% crops from center, A7rII
With the minimum focus distance of just 0.17 m you can get really close to your subject and might even be shading it with your lens.
Already wide open the image quality is very good in the center and further increases on stopping down a bit.
There is quite some field curvature and also some other aberrations off center at this distance though, but this should hardly be an issue in the field with a fisheye lens.
Distortion
Well, this is a fish-eye lens, so you knew before what you signed up for. It is technically possible to "correct" the distortion of a fish-eye lens, but the loss in resolution is so big, this is hardly advisable.
We have a big selection of rectilinear ultra wide angle lenses for E-mount, so if you want one, get one, not a fisheye lens.
For those that care: I was using the lens profile for the Samyang 7.5mm f/3.5 Fisheye in Lightroom for correction here, which worked best of all those I tested.
Bokeh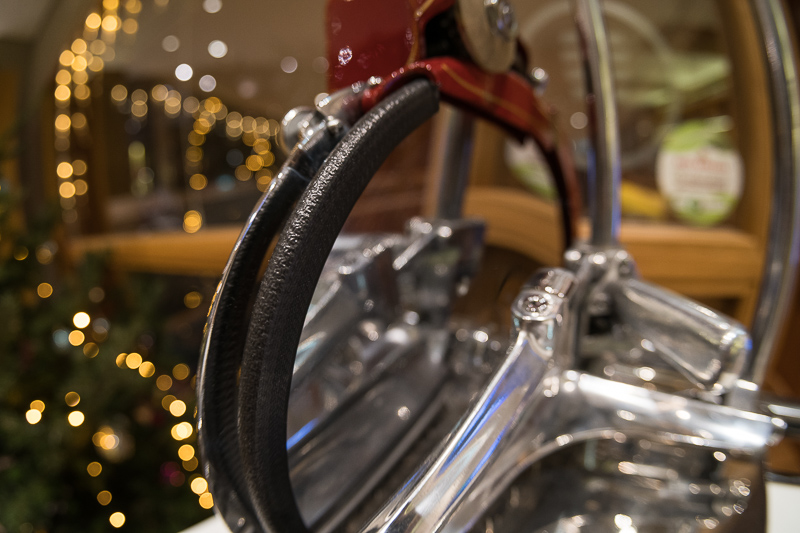 The comparably fast maximum aperture coupled with the minimum focus distance of only 17 cm allows to get quite a decent amount of bokeh in your shots, but being an ultra wide fisheye lens you need to be really close to your subject to do so.
If you do the bokeh is actually surprisingly good, with only minor outlining, nervousness and onion rings.
Sunstars
The TTArtisan 11mm 2.8 fisheye features 7 aperture blades. This is rarely good news for distinct sunstars as can be seen from the crops above. Between f/2.8 and f/5.6 the sunstars are frayed and not well defined, only at f/16 they become pointed.
This is a highly subjective topic so you might want to have a look at this article and decide for yourself, what you prefer.
Coma correction
100% crops from extreme corner, focused on corner, A7rII
The coma correction is okay at f/2.8 and good from f/4.0, but the field curvature becomes a problem here: if you focus on the center the corners will look worse (and vice versa). This is very unfortunate for astrophotography, where you want all of the sky at infinity in focus.
Flare resistance
Good news first: with the sun close to the center there are hardly any issues.
With the sun close to the corner or just out of the frame the situation is worse though – as is the case with most lenses by the way. Wide open we have some patterns that look like internal reflections that go away on stopping down (see comparison above).
We also have a bit of ghosting: red ghosts with the sun close to the border, green ones with the sun a bit closer to the midframe.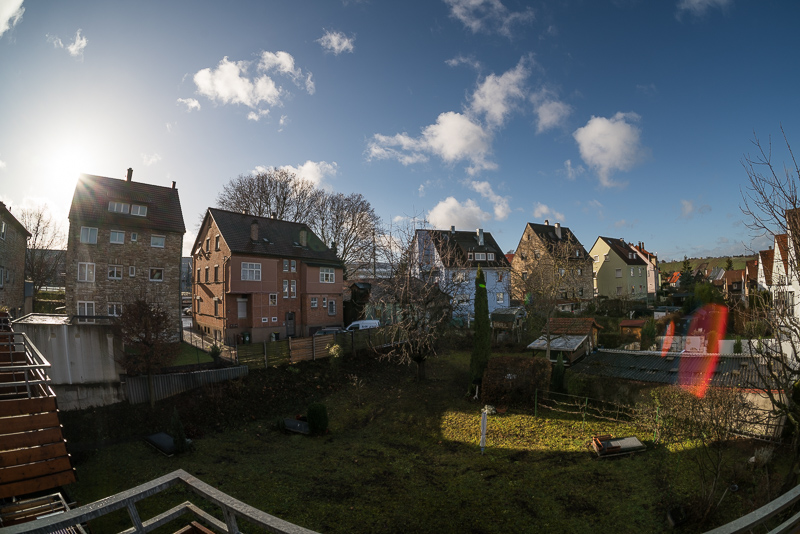 The contrast stays on a high level though and I hardly saw any issues with veiling flare.
I have not put any other fisheye lenses through my tests yet, so it is a bit harder for me to evaluate these results. From other trustworthy reviews I have seen, it seems the Samyang 12mm 2.8 and the Nikon 8-15mm 4.0 perform slightly better, at the same time the TTArtisan's results are not exactly bad, so I call this an average performance.
Chromatic aberrations
lateral
Sony A7rII | TTArtisan 11mm 2.8 Fisheye | f/2.8 | CA 100% crop extreme corner
All the fisheye lenses I tried so far (4 including this) had noticeable lateral CA and the TTArtisan 11mm 2.8 fisheye is no exception here. The correction in camera for Jpegs or in Lightroom still does a good job, so this is hardly something to worry about.
longitudinal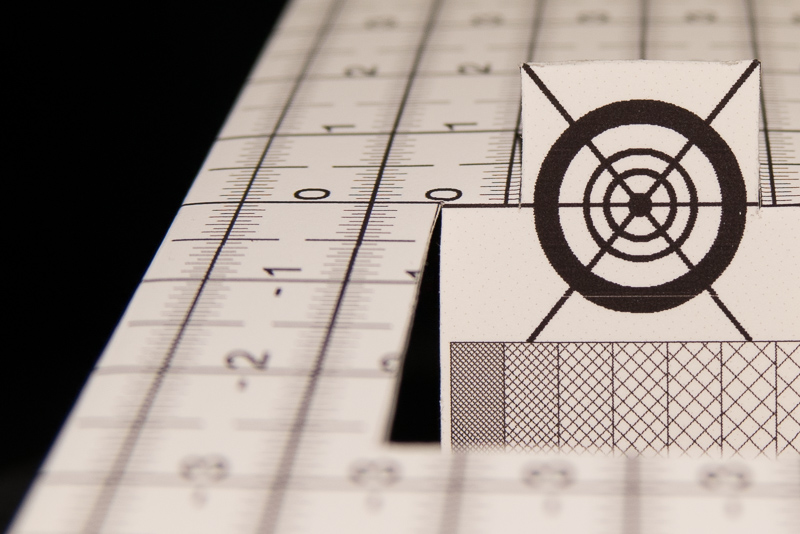 At close distance there are only minor longitudinal CA (loCA) visible.
Sony A7rII | TTArtisan 11mm 2.8 Fisheye | f/2.8
Even at longer distances loCA are hardly a problem, if you zoom in to 100% you can see a bit of color fringing but nothing that will ruin a shot.
Alternatives
There isn't really an alternative to this lens, as this is the only fish-eye lens for full frame mirrorless cameras. But you can of course adapt some of the bigger DSLR lenses, but even here the list of those I can recommend is rather short:
Samyang 12mm 2.8 Fish-eye:
I have shortly been using this lens on my Nikon DSLRs and via adapter on a 24mp Sony camera. It is similarly good optically (with less field curavture though) while being much bigger and also more expensive.
buy from amazon.com | B&H | ebay.com | amazon.de | ebay.de for $419 (affiliate links). 
Canon 8-15mm 4.0L Fisheye USM:
This is a rather odd/interesting Fisheye zoom lens. At 8mm you have a 180° circular fisheye while at 15mm you have a 180° diagonal fisheye. If you have use for both this lens can be a good option. Not long ago Nikon introduced a similar lens, but as it is harder to adapt to Sony I recommend the Canon lens.
buy from amazon.com | B&H | ebay.com | amazon.de | ebay.de for $1249 (affiliate links). 
Conclusion
good

most compact and only fullframe mirrorless fisheye lens

bokeh (minimum focus distance)

build quality

size/weight

price

average

correction of CA
flare resistance
sunstars
coma correction
vignetting

not good

filter stack induced field curvature

color cast in the corners
The TTArtisan 11mm 2.8 Fisheye is actually a well balanced lens: good sharpness, solid build quality, compact size, decently priced. The main problem here is, that it isn't optimized for the Sony filter stack, which leads to a bit of field curvature.
The situation is not as bad as it is with many other M-mount ultra wide angle lenses (see this article for further reference) though, so it can still be an option if you are looking for a most compact fisheye lens or you only intend to shoot stopped down or at closer distances.
In lack of a Leica camera I cannot tell you if all the field curvature is gone here, but I would guess so, and I think a version optimized for Sony cameras would be very welcome, as there isn't really any competition at the moment.
The lens is available from the manufacturer's shop, amazon.com/amazon.de, ebay.com/ebay.de (affiliate links) and the price is $215.
Sample images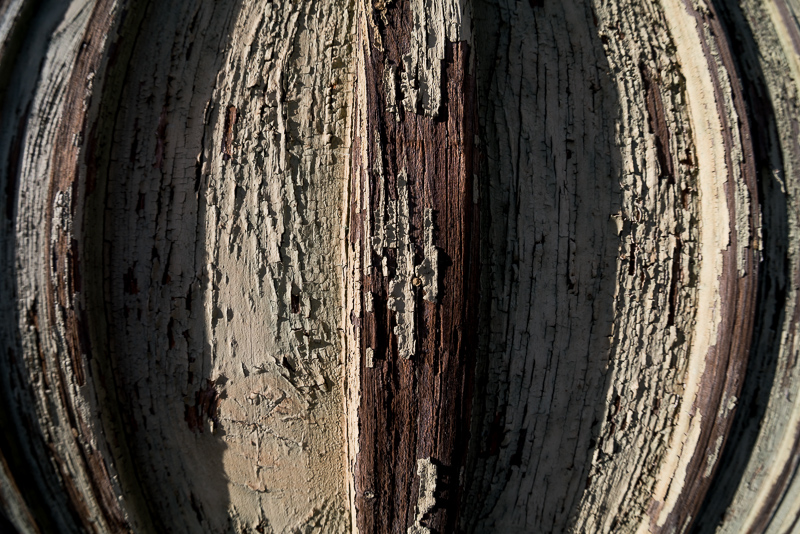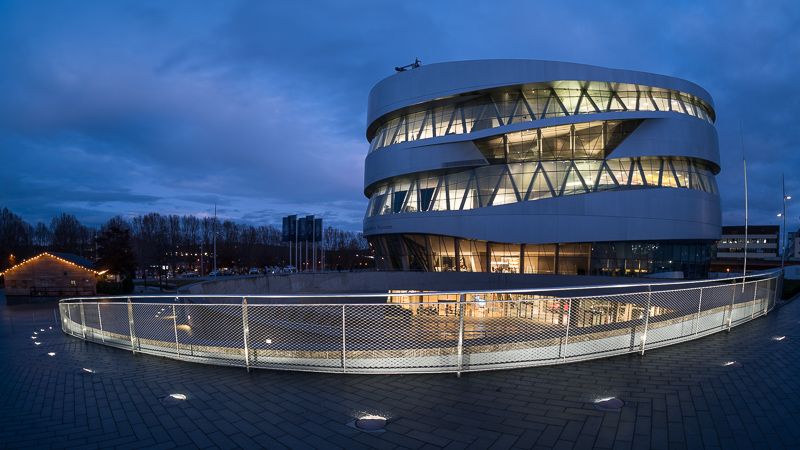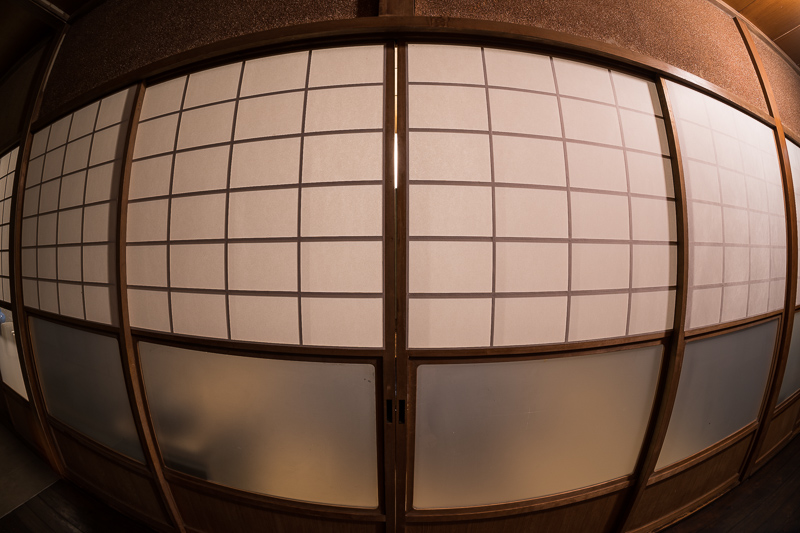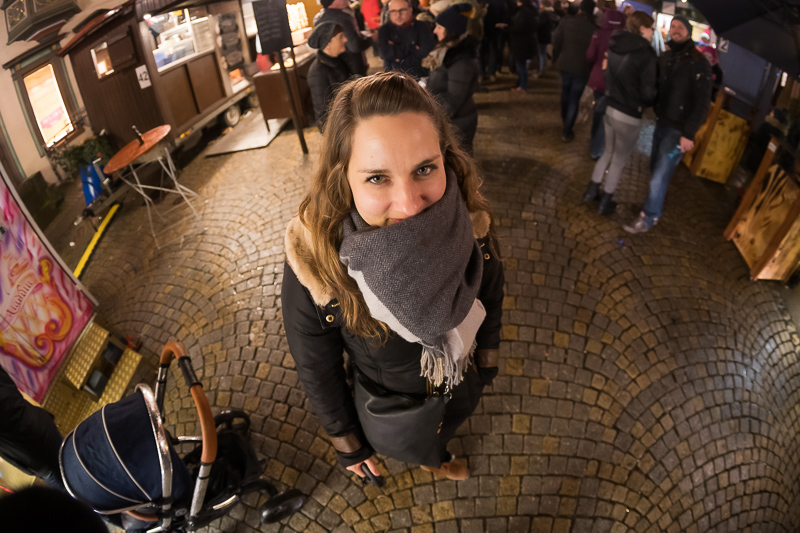 You can find most of the shots in this review in full resolution here.
Further Reading
The following two tabs change content below.
My name is Bastian and I am your expert here when it comes to ultra wide angle lenses, super fast portrait lenses (ranging from a 50mm f/0.95 to a 200mm f/1.8) and I also have reviewed way too many 35mm lenses. Don't ask me anything about macro or wildlife shooting though.