Introduction
It is a very interesting time for wide angle junkies like me: after the smallish Voigtlander 10mm 5.6 and 15mm 4.5 I now get the chance to review the fast Laowa 12mm 2.8 Zero-D. It is the fastest rectilinear lens wider than 14mm and the widest rectilinear lens as fast as f/2.8 and I am very curious to find out about the optical qualities!
Last Update: Review finalized, Longitudinal CA, Bokeh, Alternatives, preliminary conclusion added (08/09/16)


Sample Images
Specifications / Version History
I was given a prototype of the lens with Canon mount which has the following specifications:
Diameter: 78 mm
Field of view: 122° (diagonally)
Length: 89 mm
Weight: 640g
Filter Diameter: none (adapter for 100mm square filters optional)
Number of Aperture Blades: 7 (straight)
Elements/Groups: 16/10
Close Focusing Distance: 0.18 m
Maximum Magnification: ~1:5.7
Mount: Canon-EF
The lens can be ordered directly through the manufacturer's online shop or from ebay (affiliate links) for 949$.
Disclosure
The Laowa 12mm 2.8 Zero-D was kindly provided free of charge by Venus Optics / Laowa for reviewing purpose for a duration of a few weeks.
This review sample is a prototype. I asked the manufacturer about possible changes in the final version and while the core design will stay the same they are currently exploring the possibility of using different coatings for better flare resistance.
I intended to adapt via the Sigma MC-11 adapter. Unfortunately this adapter seems to not work properly with all manuael lenses so I tried a K&F adapter without electronic contacts which lead to awful image quality in the corners. So I am back to using the Sigma MC-11 with the adapter rotated a bit in the mount so there is no electronic connection and everything is working fine.
Keep in mind though: with ultra wide lenses the tolerances of the adapter are very important so the lens might not show it's full potential here.
Handling / Build Quality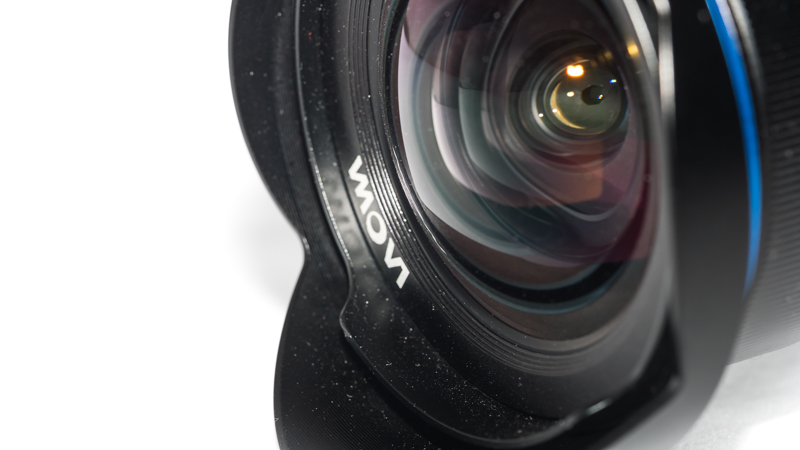 The tested sample is a prototype and according to the manufacturer a few changes are going to be made in this regard. Nevertheless: the build quality of the prototype is very nice as the lens is an all metal construction and feels very solid.
The focus ring has a good resistance, but the throw is a little bit too long for my taste (270° from 0.18m to infinity). The aperture ring has one-stop click-stops and it takes about 45° from f/2.8 to f/22.
What is very interesting is the implementation of two lens hoods (as can be seen in the photo above). The first is very short and non detachable. It is only a tad longer than the curver front lens so you can put the lens on a flat table without worrying 🙂 The second hood is much bigger but detachable.
I haven't seen this approach on any other lens and I think it is simply a great idea, as it allows the use of (smaller) square filters while still offering decent protection against stray light when necessary. I would love to see this approach on more lenses in the future.
Vignetting and colorcast
Unlike the smaller and slower Voigtlander ultra wide angle lenses recently reviewed by me this lens has a retrofocus design and therefore vignetting improves on stopping down. Wide open I measured about 2.3 EV, stopped down to f8.0 it still is 1.0 EV. For a lens this wide this isn't a bad performance, especially compared to the symmetric ultra wide angle lenses, as can be seen in this comparison:
Testing the vignetting of lenses this wide isn't all that easy and in real world shooting things don't look as bad as the graph may suggest. Just have a look at the sample images, I didn't correct them for vignetting.
The lens also showed some green color cast in the corners on the Sony A7rII.
You can check out my article How to: Correcting Color Cast in Lightroom where I explain different methods to fix this.
Sharpness
infinity
I have repeated this test a few times as I got inconsistent results with different adapters. The following results were archieved using the Sigma MC-11 adapter which proved to offer the best quality especially at the edges of the frame.

There is also some slight field curvature visible, as can be seen when focusing at the corner of the frame, as the corners and midframe look a bit better but the center a bit worse then. This is quite a common behaviour for (ultra) wideangle lenses but should be kept in mind when aiming for critical focus across frame.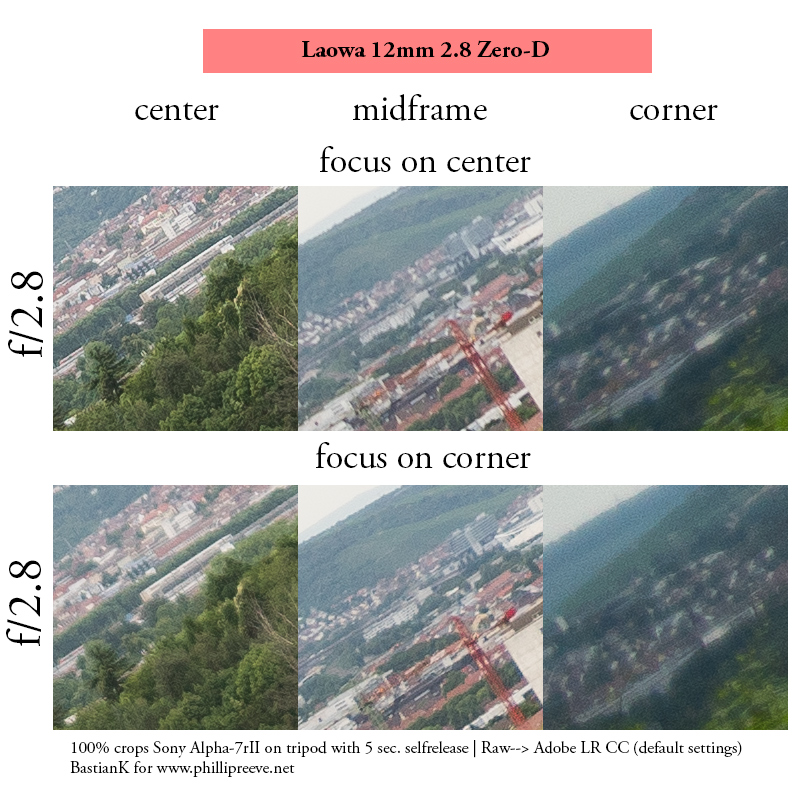 First let me remind you this is a prototype and there also comes an adapter with additional tolerances into play here. Wide open the results are spoiled by field curvature and the contrast is somewhat dampened in the corners, stopped down to f/8.0 this is probably the best lens this wide I have used so far (see following chapter for a comparison with the Voigtlander 12mm 5.6 SWH M39 and the Voigtlander 10mm 5.6 HWH E).
close focus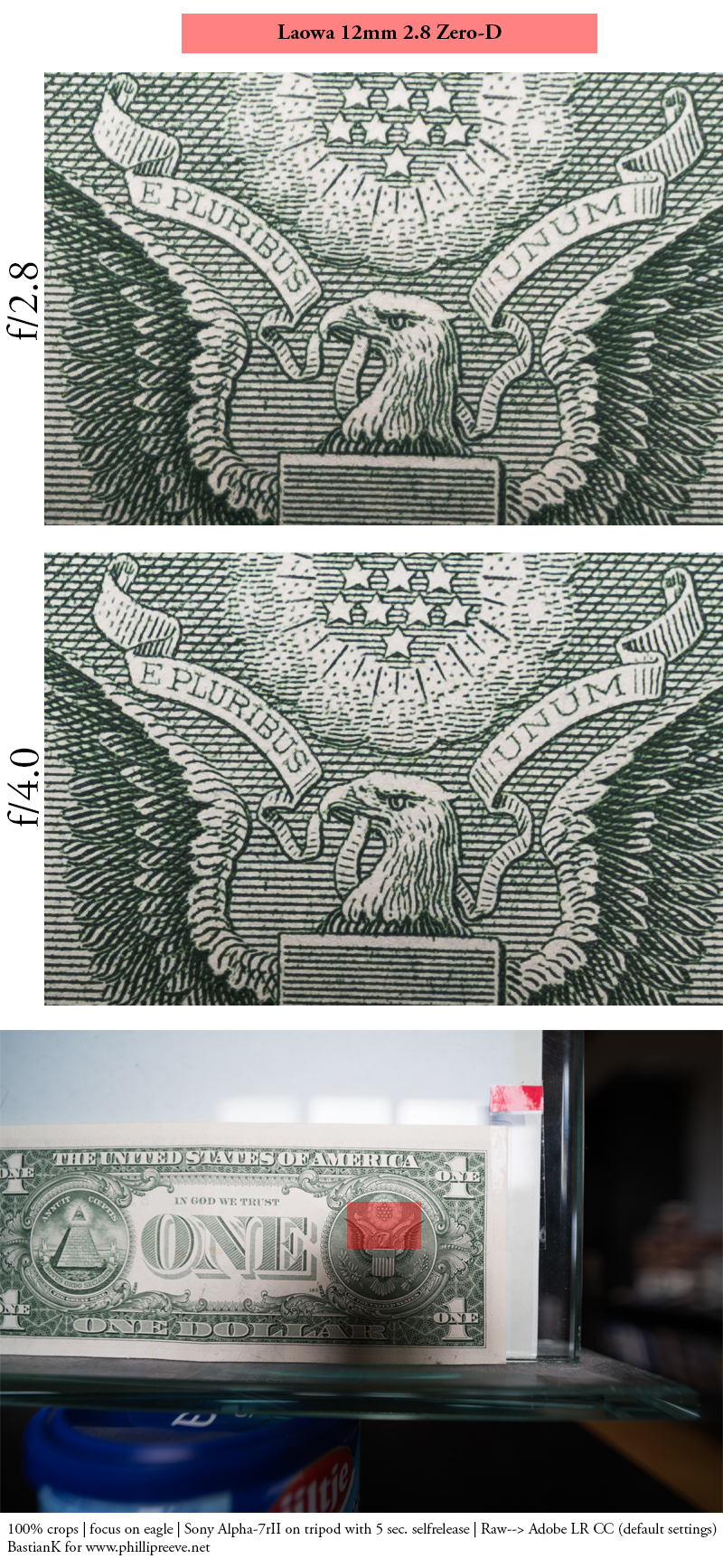 With the minimum focus distance of just 0.18 m you can get really close to your subject as can be seen above .This lens incorporates a floating elements design which leads to very good results at the minimum focus distance even wide open. Peak sharpness in the center is reached at f/4.0 here. This is a great performance.
Sharpness compared to Voigtlander 10mm 5.6 E and 12mm 5.6 M39
I haven't shot the Laowa and the two Voigtlander lenses on the same day side by side. As camera position and weather conditions have been quite similar I decided to show you this comparison nevertheless.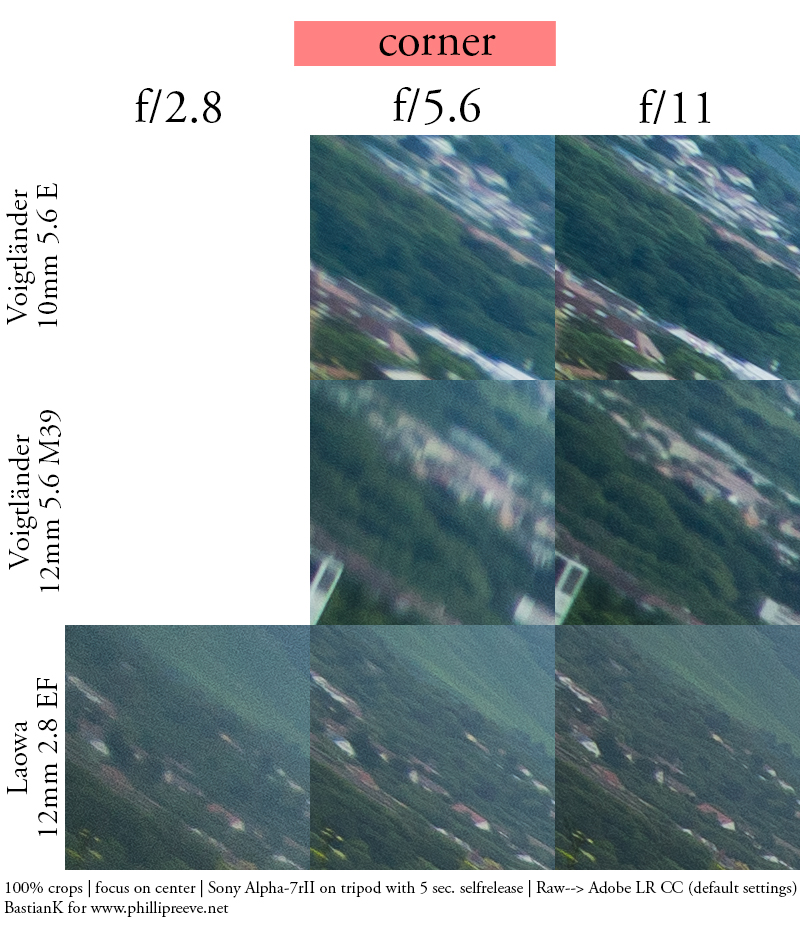 I don't want to read too much into this as I haven't shot the lenses side by side but I still think the corners of the Laowa look very good stopped down.
Flare resistance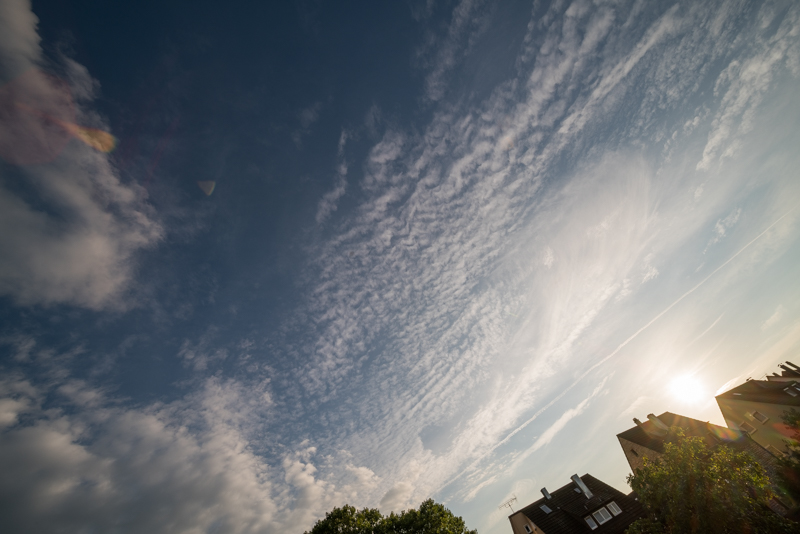 I really had to push this lens to produce some flares with the sun inside the frame. As with many other lenses I have reviewed the point light source placed near the corner leads to the worst results.  Compared to the other ultra wide angle lenses I have used extensively this one performs better than the Nikon AF-S 14-24mm 2.8G and the Samyang 14mm 2.8 and the Tokina 16-28mm 2.8 and may be just a tad worse in comparison to the Voigtlander 10 and 15mm lenses with their significantly smaller front elements.
Coma
The Laowa 12mm 2.8 Zero-D might not be the holy grail for landscape astrophotography we all hoped for when it comes to the coma correction. Wide open the performance isn't very good and even on stopping down to f/5.6 there are some traces of coma left. But one should also keep in mind: there is no better 12mm as fast as f/2.8 available, there might not even be any better 12mm available in this regard.
You can also download the f/2.8 shot in full resolution here.
The manufacturer told me they will be looking into this.
Use for Astrophotography
When shooting stars coma often is not as obvious as when shooting cityscapes. Luckily I caught one night with rather decent conditions and got to shoot the milky way with this lens. Let me first start with a comparison between the Laowa and the Samyang:
Before: Samyang 14mm 2.8 (Nikon) @f/2.8, After: Laowa 12mm 2.8 Zero-D @  f/2.8 | A7s

In direct comparison you can once more spot the wavy distortion of the Samyang while the Laowa keeps things pretty straight.
For the performance regarding point light sources let's take a look at the 100% crops:
Before: Samyang 14mm 2.8 (Nikon) @f/2.8, After: Laowa 12mm 2.8 Zero-D @  f/2.8 | A7s | 100% crop near center

In the center things look pretty much the same despite the wider field of view of the Laowa.
Before: Samyang 14mm 2.8 (Nikon) @f/2.8, After: Laowa 12mm 2.8 Zero-D @  f/2.8 | A7s | 100% crop extreme corner

The first thing the corner crops are showing you is 30 seconds is too long for stars to stay points when viewed at 100% even with 12mm and the 12mp of the A7s. For people doing some astrophotography from time to time this should not come as a suprise 🙂
Some of the brighter light sources are a little more deteoriated with the Laowa in comparison to the Samyang.
Personally I think this is hardly field relevant within normal viewing distances and I wouldn't hesitate using this lens for astrophotography, but your mileage may vary here so I decided to upload the two photos in full resolution here so you can decide for yourself.
Processing was exactly the same for both shots, including white balance.
Distortion
Despite the "Zero-D(istortion)" in the name of the lens there is some slight barrel distortion visible even at infinity. Nevertheless, it is still very low for a lens this wide with a retrofocus design and it does not seem to be wavy as well (and therefore easy to correct in post if necessary).
You can see the distortion of the Samyang 14mm 2.8 in comparison here (I did not apply any corrections to the Laowa file):
Before: Samyang 14mm 2.8 (Nikon) @f/8.0, After: Laowa 12mm 2.8 Zero-D @  f/8.0
Bokeh
Before: Laowa 12mm 2.8 Zero-D @  f/2.8 | After: Laowa 12mm 2.8 Zero-D @  f/8.0

Because of the great minimum focus distance and the fast aperture of f/2.8 you can even throw the background a bit out of focus. Towards the corners the light circles are quite visibly deteoriated which isn't unusual for wide angle lenses but rarely seen to such a high degree because of the unique specifications of this lens (combination of maximum aperture, focal length and minimum focus distance). Just remember: in the reviews of the Voigtlander 12mm 5.6 (M39) and the 10mm 5.6 there was not much to say about bokeh at all.
Sunstars
Many of you already know I prefer 10-bladed aperture diaphragms. With it's 7 aperture blades the Laowa produces sunstars which are not so well defined in my opinion, on the other hand they are rather unobstrusive, which is something other people than me might even like. This is a highly subjective topic so decide for yourself, what you prefer.
Chromatic aberrations
longitudinal
Longitudinal CA (loCA) are nothing to worry about with this lens.
lateral
Sony A7rII | Laowa 12mm 2.8 Zero-D |  f/8.0 | CA 100% crop before/after extreme corner
There are some lateral CA present which can easily be corrected in post.
Alternatives
Samyang 14mm 2.8 ED:
This is probably the first one you are all thinking about. Cheaper, worse build quality, better coma correction, worse flare resistance, hilarious distortion, a little worse vignetting wide open. Not as wide. There also seem to be quite some quality assurance issues with this lens, until now I had six mounted to my camera and four of them were badly decentered (3 of them new from store).
Nikon AF-S 14-24mm 2.8G:
Less vignetting, way heavier, more expensive, more (and wavy) distortion, coma might be a tad better (judging by the photos in my archives taken with this lens, haven't shot side by side). Not as wide.
Voigtlander 10mm 5.6 Hyper Wide Heliar (E):
One of only two lenses avaiblabe to date being wider than the Laowa. Significantly slower and smaller, way more vignetting (especially stopped down), similar performance regarding distortion and better flare resistance (not available for DSLRs, just in case some DSLR user ended up here and got curious 😉 )
Canon 11-24mm 4.0L and Zeiss 15mm 2.8 Distagon:
Haven't used these lenses yet but they will definetly burn a hole in your pocket 🙂
Preliminary Conclusion
good

excellent sharpness wide open at all distances in the center


good to very good sharpness stopped down even in the extreme corners

minimum focus distance

distortion

build quality

average

vignetting
sunstars
price
size/weight
flare resistance
coma correction

not good
First let me remind you of three important things:
The lens I reviewed here is a prototype and changes might be made to the final production model.
As stated above the adapter in use can have great influence on the image quality.
The specifications are unique, there is no other 12mm 2.8 to directly compare it to.
Nevertheless I treated this lens like any other I have reviewed on this very blog and might have even gotten a little more into detail from time to time, as I had (and still have) quite a bit of personal interest in this lens, as I intended to replace my 14-24mm 2.8G (already sold) and my Samyang 14mm 2.8 with it. Therefore I was very happy to get the chance to use this lens for two weeks.
Designing a lens always means to compromise and correcting one optical error may lead to another becoming worse. The choice of Venus Optics to design an ultra wide 12mm lens almost without distortion was quite a suprise to me, as most manufacturers are doing exactly the opposite today and totally rely on post processing here (just have a look at the Sony FE 28mm 2.0's uncorrected distortion).
I am doing quite some architecture photography and indeed ran into problems to fully correct distortions with the 14mm Samyang (I created my own correction profile for Lightroom, but none is perfect towards the corners, PTlens isn't either) and even with the 14-24mm Nikon and can indeed say it is less work keeping lines straight with the Laowa in comparison.
The Coma correction isn't as perfect as many of us have hoped but it pretty much boils down to if you prefer a little less coma in the corners or a lesser field of view with tremendous distortion (when compared to the Samyang).
Personally I have no reservations using a photo like this for prints: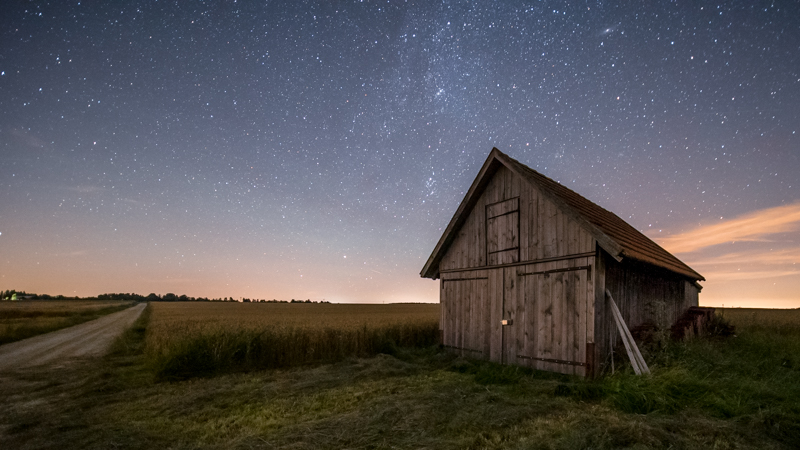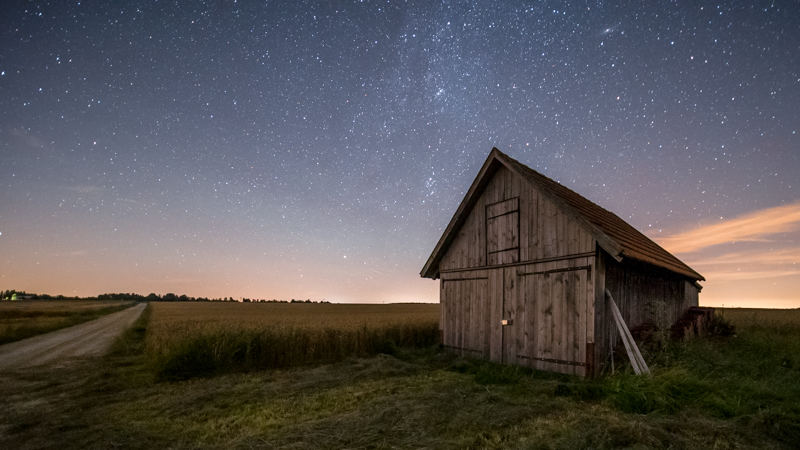 To round things up: this lens has hardly a negative aspect that stands out, which is something that rarely occurs. The Samyang 14mm 2.8 has the tremendous distortion and the somewhat questionable build quality, the Nikon 14-24mm 2.8 is very big and heavy, the Canon 11-24mm 4.0L is even heavier and bigger and also slower and more expensive and none of the aforementioned lenses can be used with decently sized 100mm filters. The small Voigtlander lenses are rather slow and suffer from severe vignetting even stopped down.
If this focal length is for you – and especially if you are into architecture photography – I hardly see a reason not to buy it if you are a DSLR user. Mirrorless users have to decide if they can make use of the maximum aperture and/or need the better corrected vignetting stopped down in comparison to the Voigtlander lenses.
It was a joy to use this lens and I look forward to the final production version!
The lens can be ordered directly through the manufacturer's online shop or from ebay (affiliate links) for 949$.
Sample images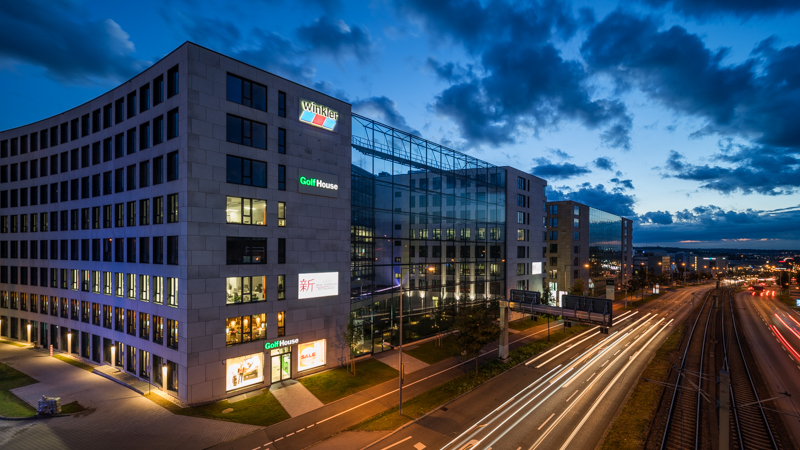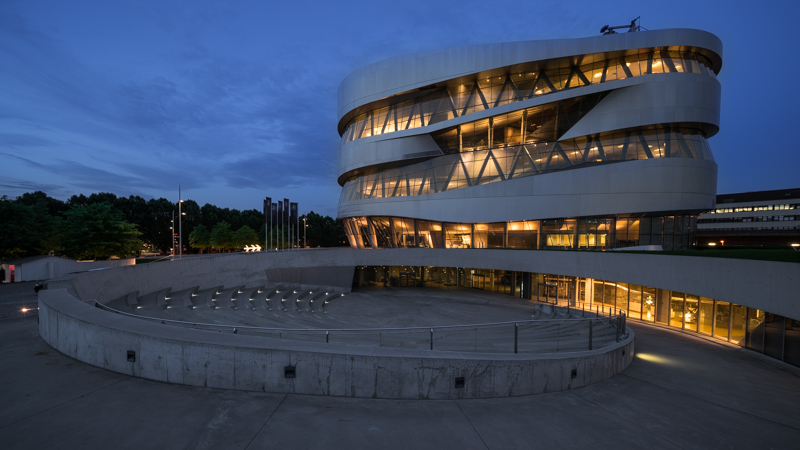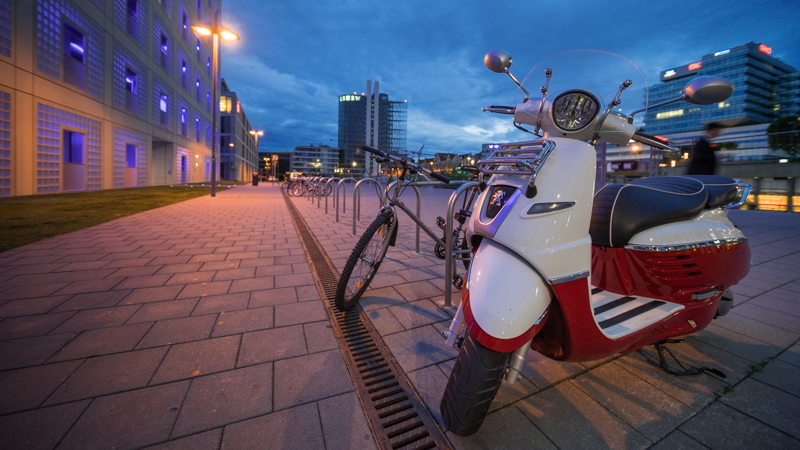 Further Reading
Support Us
Did you find this article useful or just liked reading it? Treat us to a coffee!


via Paypal
The following two tabs change content below.
My name is Bastian and I am your expert here when it comes to ultra wide angle lenses, super fast portrait lenses (ranging from a 50mm f/0.95 to a 200mm f/1.8) and I also have reviewed way too many 35mm lenses. Don't ask me anything about macro or wildlife shooting though.