Introduction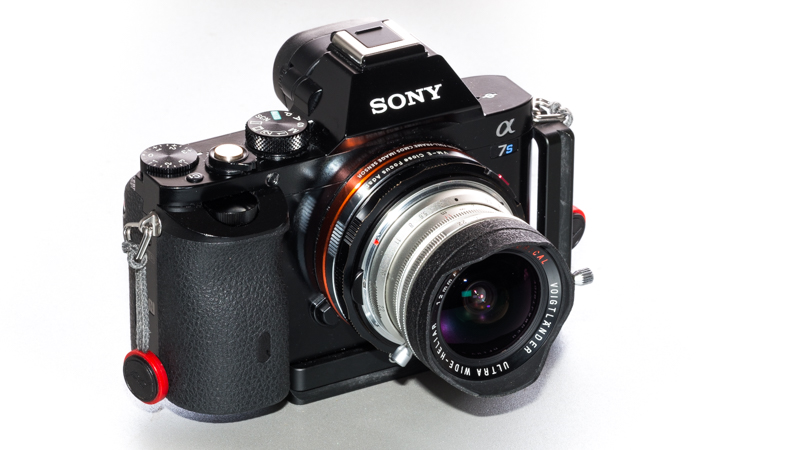 The Voigtländer 12mm 5.6 Ultra Wide Heliar is actually one of the lenses I bought a camera from the A7 series for in the first place. It is worth to mention though, I am reviewing the old M39 version here. The newer Leica M version is optically the same, although there are other differences – apart from the lens mount – which I will talk about at the end of this review.
Sample Images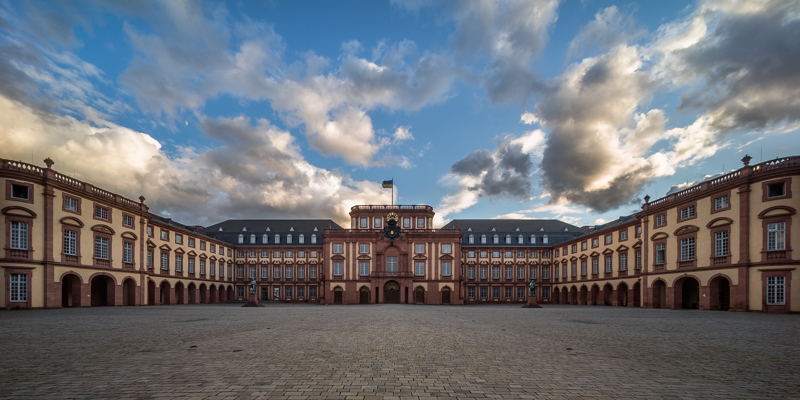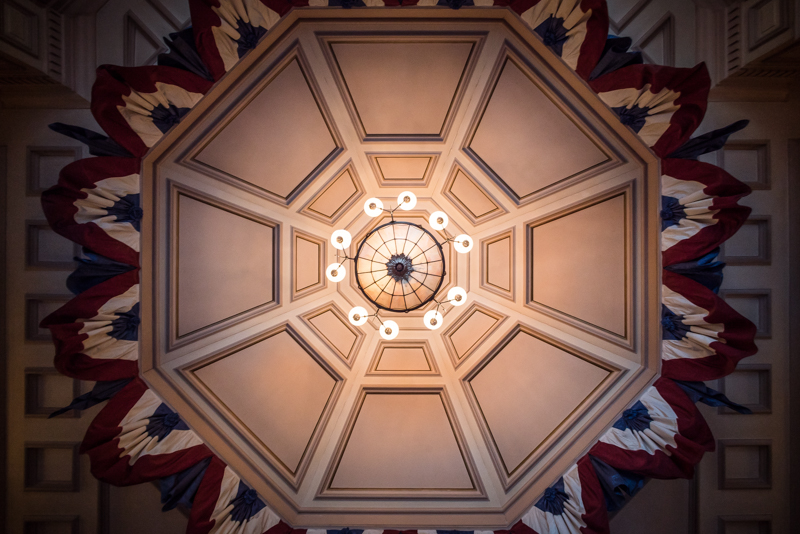 Specifications
M39 Version:
Diameter: 50.5 mm
Field of view: 121° (diagonally)
Length:  38.2 mm
Weight: 175g
Filter Diameter: see chapter "Use with filters"
Number of Aperture Blades: 9 (straight)
Elements/Groups: 10/8
Close Focusing Distance: 30 cm
Mount: M39
For the newer Leica M version take a look at the official data sheet.
The Voigtländer 12mm 5.6 Ultra Wide Heliar M39 usually sells for around $550 at ebay.com
(affiliate link).
In Germany you can buy it for 400-600€ at ebay.de
(affiliate link). 
Handling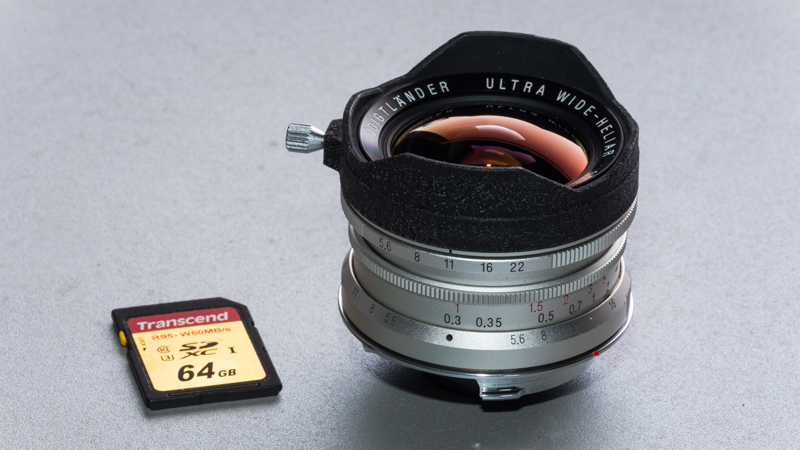 This is a tiny lens, just take a look at the picture. I even included an SD-card, so you may grasp how small it really is. Apart from that, handling is superb! You are probably used to half a stop click stops on the aperture ring but this lens has click stops on the focusing ring as well (@ 0.3m, 0.5m, 1.0m, infinity)! I haven't seen this on any other lens yet. But to be honest: my lens is always set at infinity and everything is in focus. I don't like this lens for close up photography because you have to put your subject right in the center of the frame, otherwise it will be distorted in quite an ugly way.
Vignetting and colorcast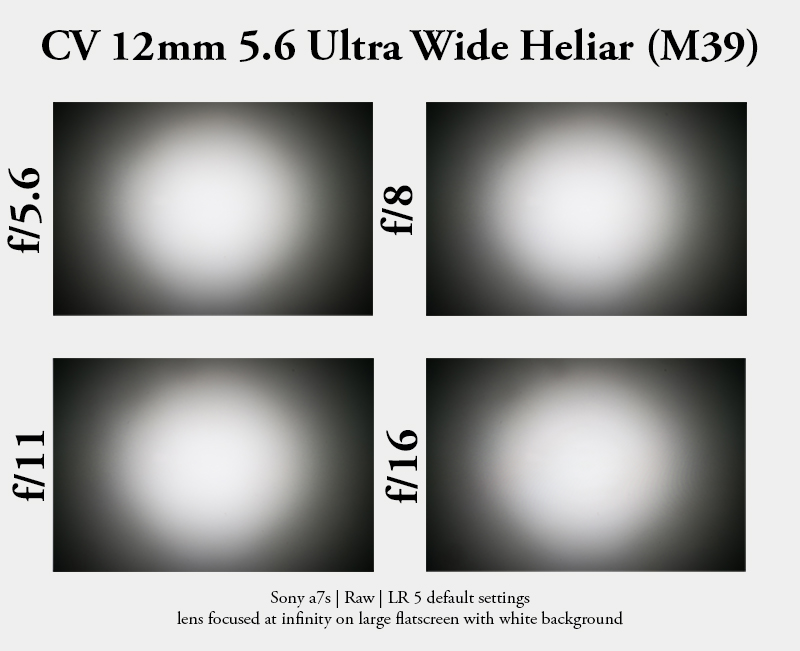 I recommend reading the "Leica M wideangle lenses and the A7 series" section in my Voigtländer Ultron 28mm 2.0 review on this very same blog first before going further. I have used this lens with the original A7 and the A7s. With the original A7 you get magenta cast in the corners while with the A7s you get a slight green cast. The vignetting is quite severe throughout the whole aperture range (actually, stopping down won't reduce the vignetting by a meaningful amount at all), which is no surprise because of the symmetrical design of the lens in conjunction with the extreme wide 12mm focal length. Still, it is possible that the sensor design has a negative influence here as well.
Both things can be corrected (e.g. with Adobe Lightroom) as I will show in the before/after example below. Remember though: correcting the light fall off completely may lead to visible noise in the corners.

Sony A7s | Voigtländer Ultra Wide Heliar 5.6/12 | f/8  | vignetting and color cast before/after correction
Sharpness
infinity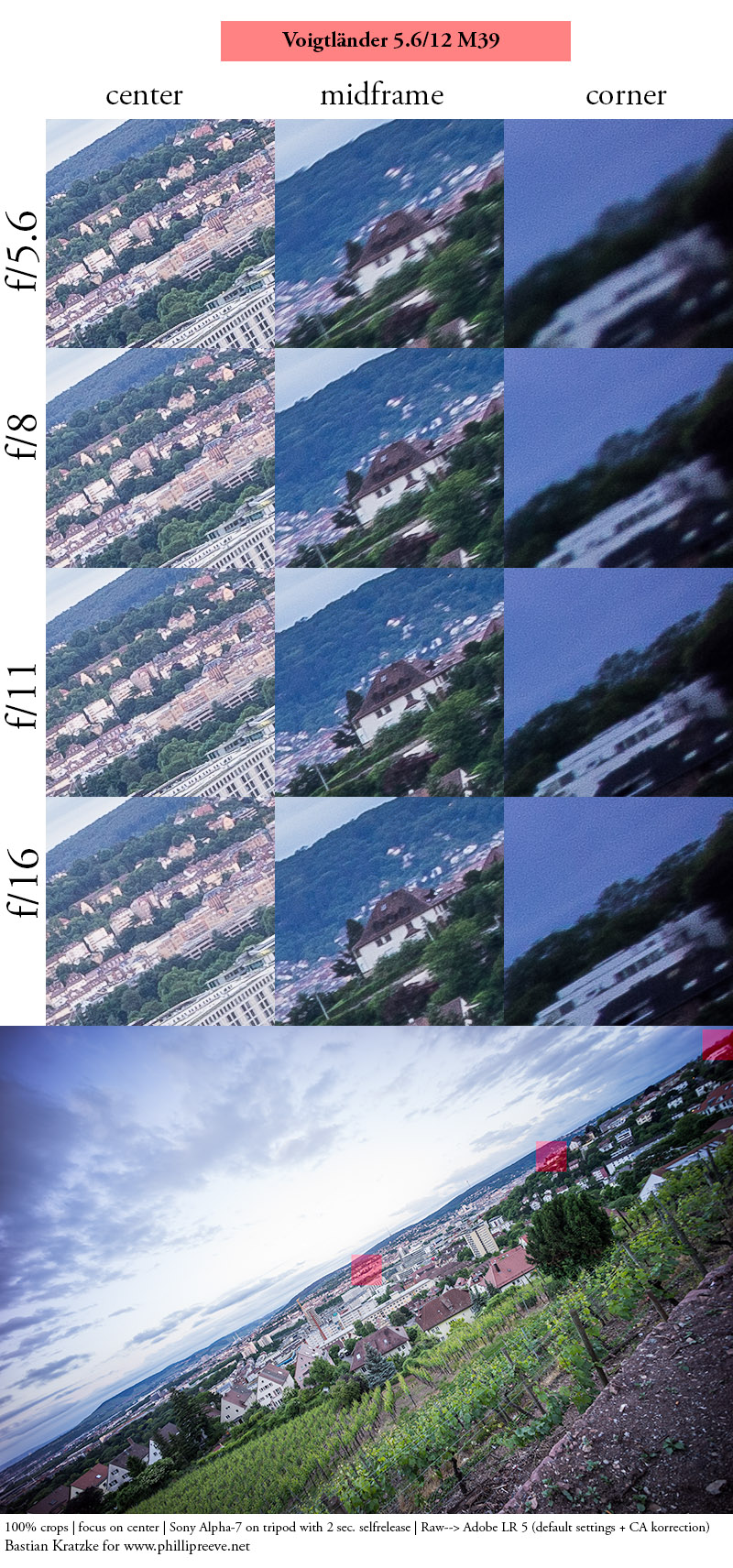 As most rangefinder wide angle lenses this lens exhibits quite a bit of field curvature due to the thick filter stack in front of the A7 cameras' sensors. For the shots above spot metering has been used on the corners. I recommend using this lens at f11 (exclusively) to get the best results across the frame, especially in the corners. But take a look at the provided samples, to decide for yourself.
Flare resistance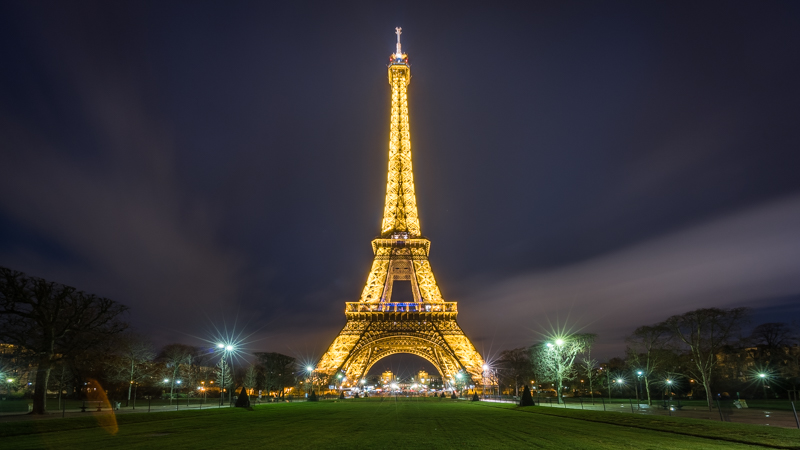 The flare resistance is quite good, especially for a 12mm lens. The example above shows the worst I could produce. Even with the sun in the frame the performance is very good:
Distortion
The distortion is quite low, which is one of the positive side effects of the symmetrical lens design. There is also a profile embedded in Lightroom, which can be used.
Sunstars
This Voigtländer will produce 18-pointed sunstars, which may – dependent on the light source – not be perfectly defined, as shown in the example. Especially the different lengths of the rays do bother me sometimes, but it is up to your taste, what rendering you prefer. In my opinion the 28mm 2.0 Ultron and the 50mm 1.5 Nokton fare way better in this regard.
Chromatic aberrations
For such an extreme wide angle lateral CAs are very well under control and easily corrected in post, as can be seen in the example below (100% crop from the image above). You won't notice any loCA with a lens with this parameters either. By the way, of all the photos I have taken with this lens, in this one the CAs were by far the worst. That is why I am showing this rather dull picture here.

Sony A7s | Voigtländer Ultra Wide Heliar 5.6/12 | f/11 | CA 100% crop before/after
Use with filters
A rather unique feature of this lens is that you can use "standard" filters with it. For the likes of Samyang 14mm 2.8, Sigma 12-24mm, Nikon 14-24mm 2.8 and of course the Canon 11-24mm 4.0 (and quite a few more) you need huge specialized filters. This is also where we need to talk about the differences between the M39 and the newer Leica M version of this lens. The newer version takes 67mm filters and incorporates a non removable hood. This is the reason I prefer the older M39 version where the hood is removable and allows the use of a special "filter adapter" with a 77mm thread. The big advantage here is that you can use filter systems like the Lee 100mm system. The downside is, that this adapter is quite rare, so I recommend getting one of ebay.com
(affiliate link). Because this lens was meant to be used with rangefinder cameras, the adapter has a hole to not block the viewfinder. If you intend to use strong ND filters you should cover this up as I did.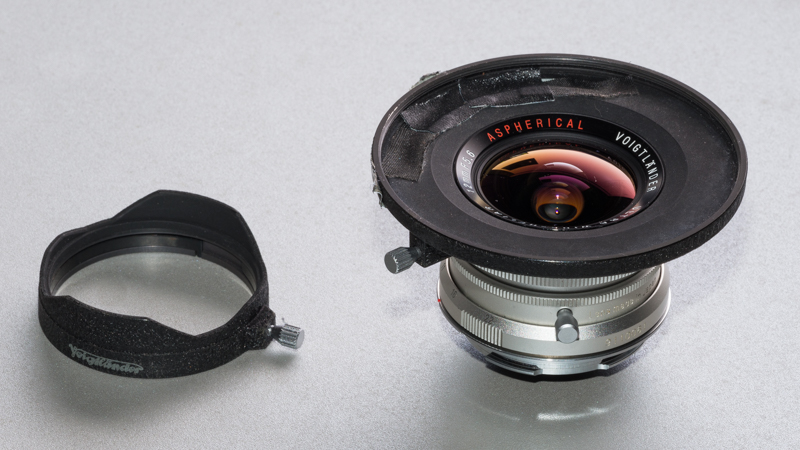 There is one more caveat here: there have been some situations with strong contra light where the markings on the lens were reflected by a filter and then recorded onto the sensor, as can be seen in the example below. This problem may not occur in every situation and/or with every filter, but keep in mind I used a Hoya Zeta polarizer here, which is known to be one of the best around.
Sample Images
I have set up a flickr album which contains many shots taken with the 12mm 5.6 Ultra Wide Heliar and I will add more pictures to that in the future.
Alternatives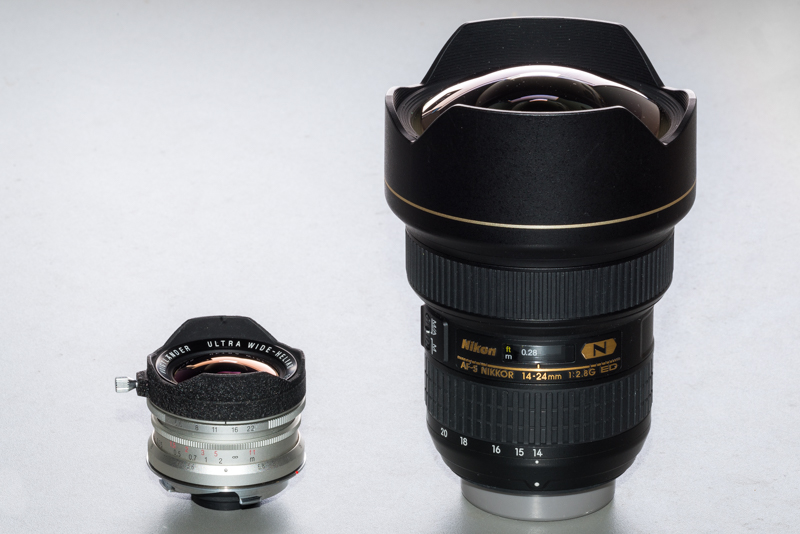 If you want something with the same field of view there are not many alternatives, actually just three: the two versions of the Sigma 12-24mm 4.5-5.6 and the new Canon 11-24mm 4.0. What you will immediately notice is that these lenses are huge and heavy in comparison and in case of the Canon also really expensive, but therefore you won't notice any color shading, the vignetting will be less severe and the corner resolution ought to be better as well. If you don't need to go that wide you might also consider the 15mm 4.5 Voigtländer or the Samyang 14mm 2.8 (which is still huge in comparison).
In case you are not in a hurry it may be worthwhile to wait for the newly announced E-Mount Voigtländer lenses.
The 10mm and 12mm are new designs and should therefore work better on digital sensors. But although it is true that the Leica M mount version III of the 15mm 4.5 does work better on digital sensors then the older versions (as was promised by the manufacturer), it is still not without flaws regarding corner sharpness and color cast. And because the new 10mm and 12mm designs were also announced with Leica M mount, it remains to be seen, whether there will be optical differences between the E-Mount and M-mount versions. I am very curious to check that out, as soon as they are available.
Conclusion
The one thing that really sets this lens apart from all the other ultra wide angle lenses is the small size and the small weight. I think twice before putting the huge, 35.3 oz/1,000g heavy Nikon 14-24mm 2.8G in the bag, but I always carry this 6.2 oz/175g Voigtländer 12mm 5.6 with me, when shooting with the A7s.
As a close second comes the ability to use decently sized filters. I don't see myself carrying these huge 165mm filters and the even bulkier filter holders for my 14-24mm. Actually I don't see anyone carrying these things.
Talking about the optics, you won't see any resolution records with this lens, although the center of the frame leaves nothing to be desired. I would rate the corners "ok to good", but because of the perspective distortion they can be quite hard to evaluate sometimes. I recommend taking a look at the full resolution samples I provided and check for yourself, if this is for you, or if you are more into one of the retrofocus lenses with higher bragging rights due to DXOmark's best list.
I am also heavily into astro-landscape photography, as you may notice when taking a look at my corresponding flickr album. I didn't talk about coma performance (which really isn't great) here because the lens is so slow in the first place and I would totally not recommend it for shooting the milky way.
So, who is this lens for? The ability to use filters makes this a great landscape lens but the huge field of view makes if very suitable for architectural work as well. Anyone who shoots architecture knows, sometimes you simply can't get wide enough in tight city spaces (the "dancing houses" by Frank Gehry in Prague at the top of this section are just one example). I also use this lens for some abstract photography, as you have probably already noticed by the provided examples 🙂
The M39 version reviewed here can mostly be found on the used market starting at around 450€/500$ while the M-Mount version will set you back roughly 700€/600$ (new).
The Voigtländer 12mm 5.6 Ultra Wide Heliar M39 usually sells for around $550 at ebay.com
(affiliate link).
In Germany you can buy it for 400-600€ at ebay.de
(affiliate link).
Support Us
Did you find this article useful or just liked reading it? Treat us to a coffee!


via Paypal
The following two tabs change content below.
My name is Bastian and I am your expert here when it comes to ultra wide angle lenses, super fast portrait lenses (ranging from a 50mm f/0.95 to a 200mm f/1.8) and I also have reviewed way too many 35mm lenses. Don't ask me anything about macro or wildlife shooting though.