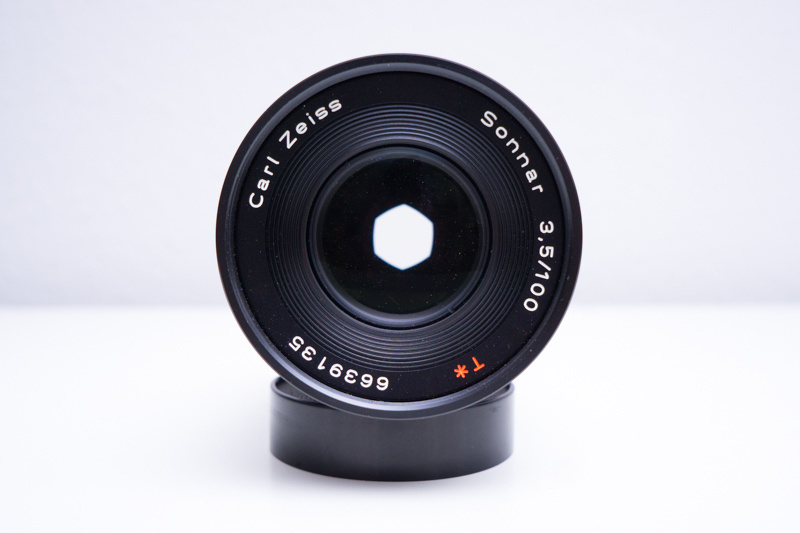 I am currently looking for a capable but small landscape tele lens to complement my travel  kit. Will the Carl Zeiss Sonnar T* 3.5/100 (C/Y) deliver for my purposes?
Sample Images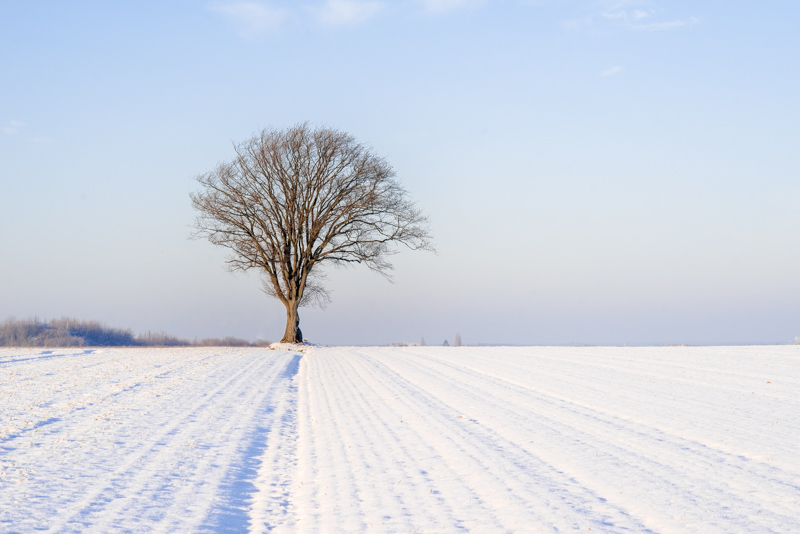 Sony a7R | Zeiss Sonnar 3,5/100 | f/8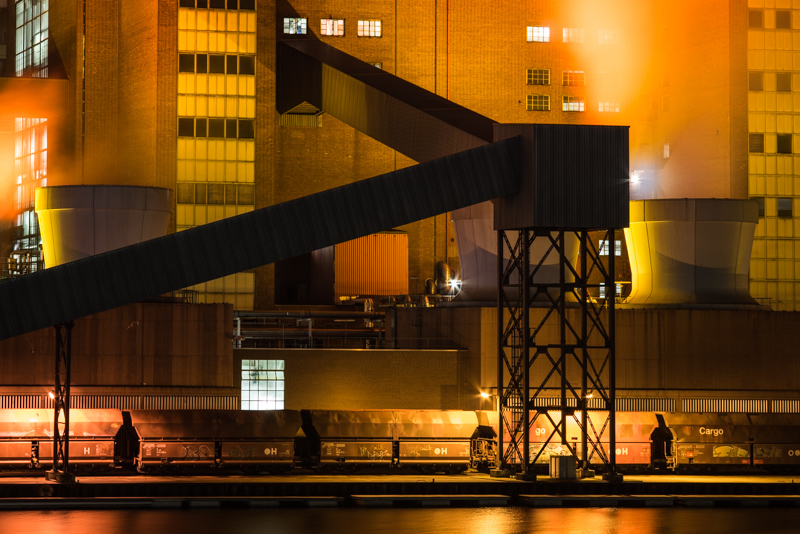 Sony a7R | Zeiss Sonnar 3,5/100 | f/8
Sony a7R | Zeiss Sonnar 3,5/100 | f/11
Specifications
Diameter: 62.5mm
Length:  61mm
Weight: 285g
Filter Diameter: 55mm
Number of Aperture Blades: 6
Elements/Groups: 5/4
Close Focusing Distance: 100cm
Mount: Zeiss C/Y
More information in Zeiss' official data sheet.

Sony a7R | Zeiss Sonnar 3,5/100 | f/8
Versions
Contax lenses like the Sonnar 3.5/100 usually come in two different versions. The lens was introduced as AEJ-version in 1983. There is also an MMJ-version which was introduced later, although the lens was discontinued before Contax discontinued their RTS-system in 2005.
Both versions were manufactured by Kyocera in Japan. The younger MM-version can be identified by the green color of the f/22 marking and allows program and shutter-priority with film cameras.
Optical differences between the lenses are not documented. The AE-version has Ninja-star shaped bokeh circles at f/4. If the  MM-version behaves e.g. like the MM-version of the 2.8/28, it could have solved that issue but that has to be proven.
Zeiss also produced a Planar 100mm f/3.5 for Hasselblad. This is a medium format lens and has a completely different design.
This review is based on the older AEJ version.
Build Quality
Build quality is superb and the lens feels very solid.
The barrel is made of metal with very low tolerances. Both focus and aperture ring are rubberized and easy to grip. All markings are engraved.
The paint and the rubber grip seem to be very robust and durable. Although my lens is probably more than 30 years old, it still looks almost unused.
Size, Weight and Handling

The Zeiss Sonnar 3.5/100 is only about as heavy as your average 1.4/50 although it is longer. It is very well balanced on the Sony a7R.
The size comparison shows, that it is slightly longer and thicker than the Olympus OM 2.8/100 MC. The difference in length between the lenses themselves is even slightly bigger but the Contax/Yashica-Adapter is 0,5mm shorter than the OM-Adapter.
The Zeiss Sonnar 3.5/100 is much smaller in every dimension than the popular Zeiss Makro Planar T* 2/100 which is more than one stop brighter and offers 1:2 magnification.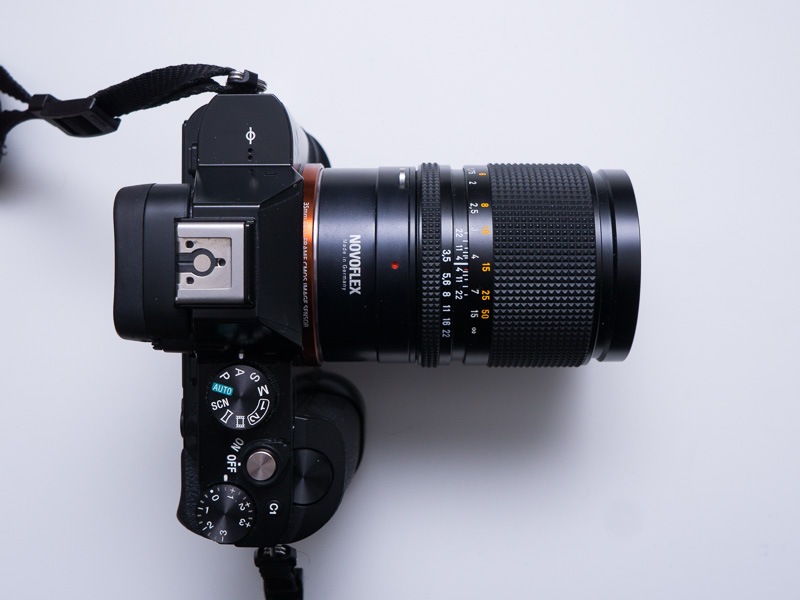 The focusing ring travels about 210 degrees from 1m to infinity. I think this is a very good transmission, focusing was easy at any distance. The focusing feel is very nice: Precise and smooth in operation.
The aperture ring has only full stops from f/4 to f/22. the only "half stop" is from f/3.5 to f/4. The handling of it is superb. The resistance is just right and every stop very distinctive.
To my taste, the Contax lenses have the best handling of all manual legacy lenses that I have held in my hands so far. It is a joy to use them.
Lens Hood
I don't own a proprietary hood for the Sonnar 3.5/100 but according to mir.com, the Contax Metal Lens Hood No.5 should be the right one. 
I use a cheap screw-in Metal Hood with 55mm thread like it can be found on Ebay.com or Ebay.de. It is around 3cm long, does not cause vignetting and looks pretty cool.
Filters
The 55mm filter thread is made from metal.
The front of the lens does not rotate so polarizers are easy to use.
Image Quality
Vignetting

Vignetting is moderate (1EV) at f/3.5, slightly reduced at f/4 and mostly gone at f/5.6.
Distortion
This Zeiss shows a minimal amount of pincushion distortion. In most of the real life situations, this will not be noticeable. To correct it, I suggest -2 distortion correction in Lightroom.
Flare
I couldn't find any ghosting or normal flare, the only issue I found so far is veiling flare against bright light, when the sun is just outside of the image.  This can be reduced by a lens hood.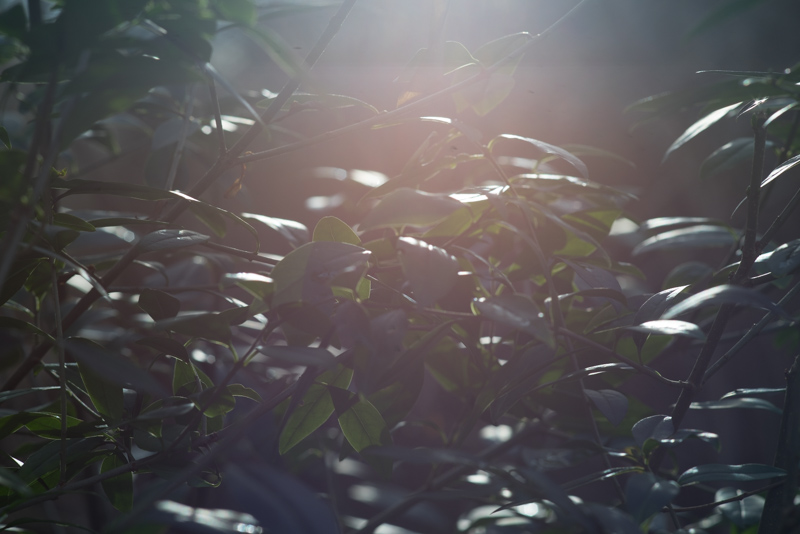 Sony a7R | Zeiss Sonnar 3,5/100 | f/8
Thanks to effective T*-coatings, overall contrast remains high in situations with the sun in the frame. Directly around the overexposed sun, there is some overcast which leads to a contrast reduction. This phenomenon is limited to a small area around the sun.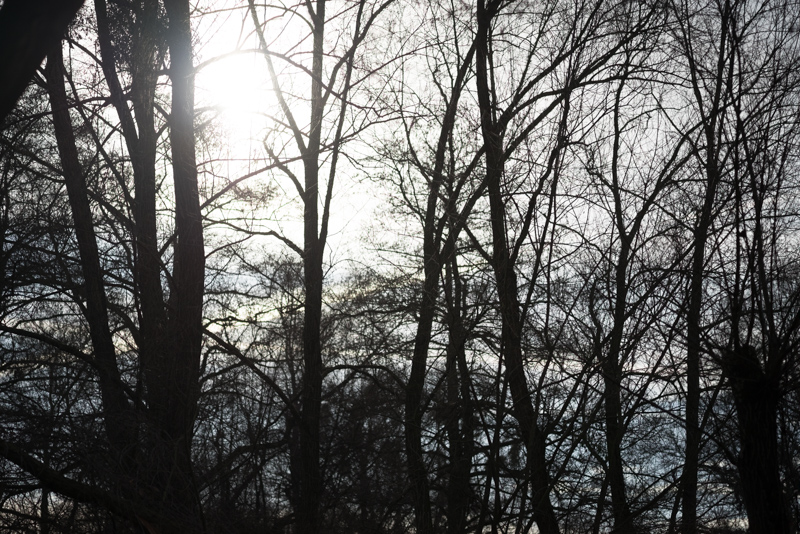 Sony a7R | Zeiss Sonnar 3,5/100 | f/8
Sharpness
This lens is sharp across the whole frame wide open, even on the 36 Megapixel sensor. I have the impression, that there is a slight boost in clarity at f/8 but not much to talk about.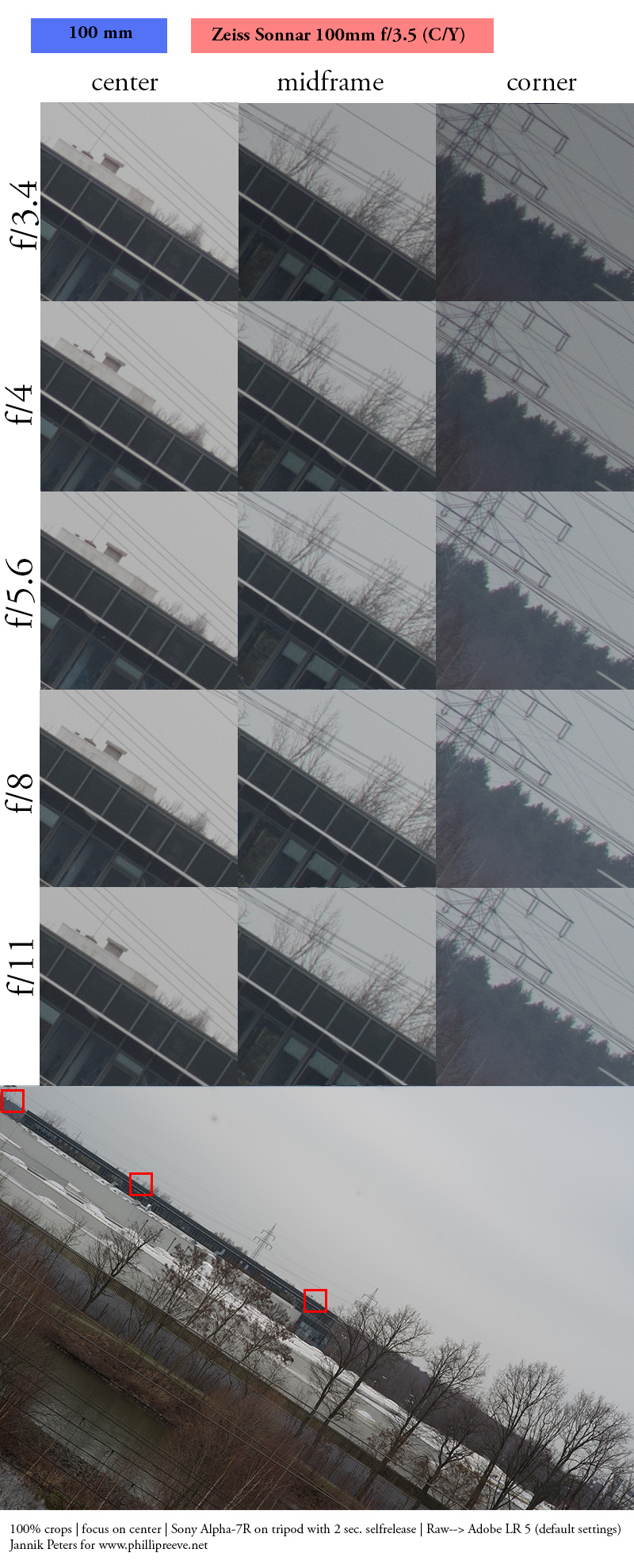 Close Up Sharpness
This lens doesn't feature floating elements, that's why I didn't expect much in that regard. The sample below was shot at minimum focus distance (1m) wide open at f/3.5. It is still possible to see the fine structure in the branch in the 100%-Crop. Close up performance is better than expected.
So let's take a closer look. The sample below shows the dust on my NAS in the central region of the image. It was taken with the A6000, the camera with the highest pixel pitch that I have. The difference is still surprisingly small although there is a noticeable boost in sharpness, especially when the image is viewed in 2:1 magnification. I would not hesitate to use it wide open near the close focusing distance.

Field Curvature
Not noticeable, very flat field even at f/3.5.
Chromatic Aberrations
Lateral CA
Most of the image is always free from lateral chromatic aberrations. The outer edges (last 15% of the image) show some lateral chromatic aberrations at all apertures. The lateral chromatic aberrations are easily correctable. The sample below shows the outer edge of the frame, which is the worst case: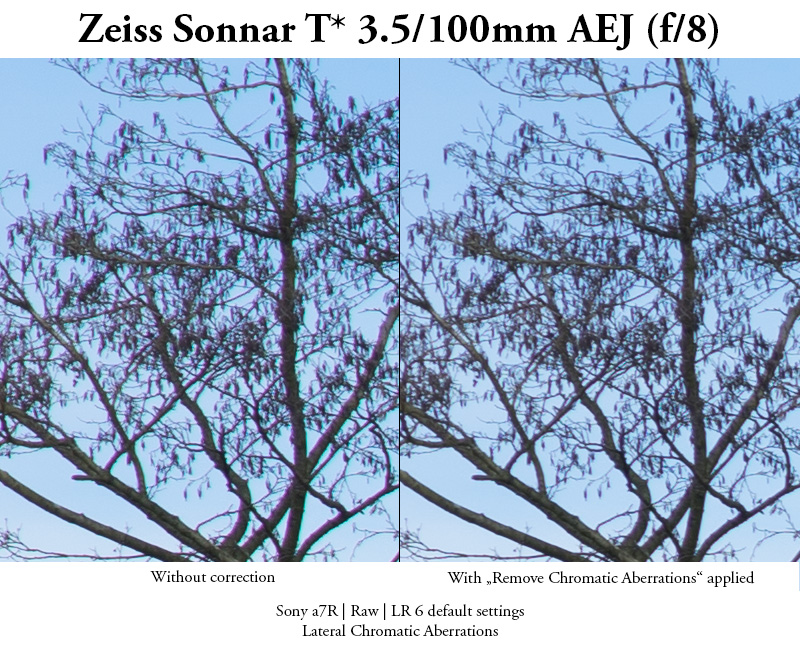 Longitudinal CA
Longitudinal is visible, especially in high contrast situations. It is nowhere as bad as with the Makro Planar T* 2/100 for example, but it is definitely no apochromatic lens.
Sony a7R | Zeiss Sonnar 3,5/100 | f/3.5
Bokeh
To be honest, I didn't examine that until I started this review. In my landscape and architecture use, the lens is nearly always stopped down.
Maybe I did the lens wrong with that. The shot above (LoCA-Sample) shows, that the lens can deliver very smooth backgrounds, especially in close-up situations. The maximum aperture is just right to for close up work like flowers.
As bokeh is always a subjective thing, I will write my own opinion down and let you judge by the samples.
The shot below shows very clean bokeh balls in the background. You can also see the mild cat's eye effect towards the corners.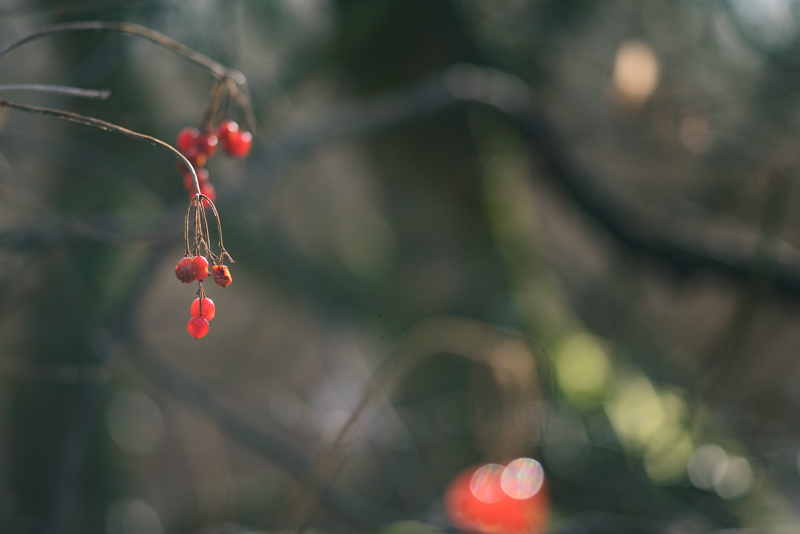 Sony a7R | Zeiss Sonnar 3,5/100 | f/3.5
Two more close-up bokeh samples. Very smooth background, looks excellent.

Sony a7R | Zeiss Sonnar 3,5/100 | f/3.5
Sony a7R | Zeiss Sonnar 3,5/100 | f/3.5
Even at medium distance and with lots of structure in the background, the bokeh looks pretty calm.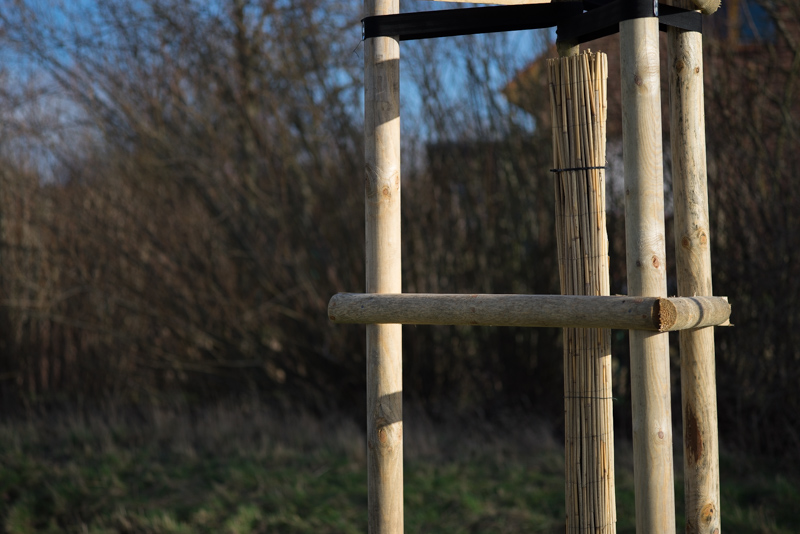 Sony a7R | Zeiss Sonnar 3,5/100 | f/3.5
There is one downside about the bokeh, that I could encounter so far: The 6 non-rounded aperture blades turn the bokeh balls to hexagons, when the lens is stopped down. Here at f/5.6:
Sony a7R | Zeiss Sonnar 3,5/100 | f/5.6
Sun Stars
Sun stars are a little odd with this lens, especially compared with sun star marvels like the Loxia lenses. Corresponding with the aperture blades, they have six rays which look blurry and not clearly defined.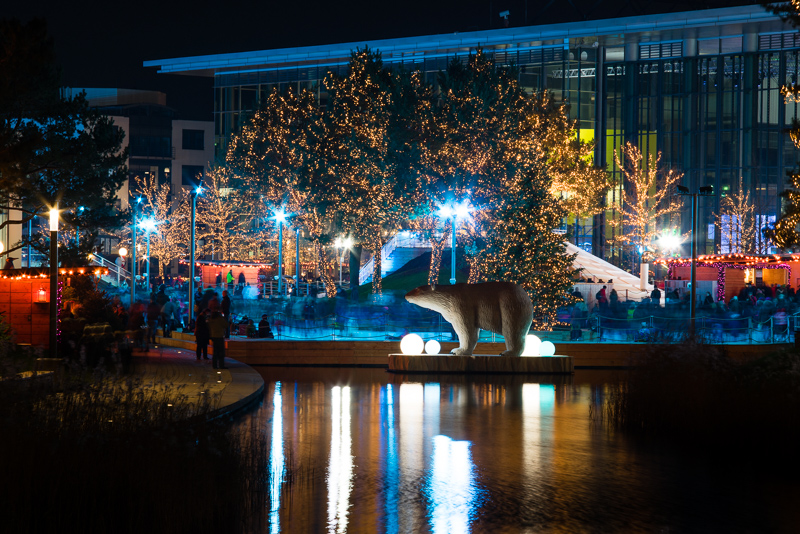 Sony a7R | Zeiss Sonnar 3,5/100 | f/8
Astro Use
Sorry, no astro use for me with that lens 😉 If you really want that to get tested, please let me know. I dont't plan to use it for night sky shots.
Conclusion
good

very good and very even sharpness across the frame


lovely bokeh

low distortion

flare behavior

weight

build quality

very flat field

average

chromatic aberrations
length
minimum focusing distance
close up performance

not good
Initially, I was hoping to find a capable but small landscape tele lens. With that goal in mind, I was excluding all the super bright spec monsters and tele zooms and finally bought a lens in a category, that many people probably overlook today.
Once fitted to my A7R, the size and weight of the lens just felt perfect to me. The build quality and operation is up to highest standards.
The maximum aperture of this lens is far away from being spectacular but the simpistic 5 lens design provides a very balanced performance. Resolution is very high at every aperture and every section of the image. Distortion, Flare, and Field Curvature are nothing to worry about. The lens surprised me with a lovely bokeh, although the amount of unsharpness is limited by the slow maximum aperture and the average minimum close focusing distance.

The age of the lens shows up in some categories like chromatic aberrations, close up performance, macro contrast and veiling flare where modern high quality lenses have significantly improved. If I could make a wish for a future tele Loxia lens, it would look pretty much like this lens. Just improve it with modern coatings and provide better CA control.
The price of this lens is 2-4 times as high as the average 2.8/100 from other legacy lens systems. This seems to be a bit steep, but the lens is worth it in my opinion.
If a beginner asks me what could be the first tele lens to buy in the future, I will wholeheartedly recommend the Sonnar 3.5/100 if it suits the budget. The lens has no real weaknesses but many strengths. It is very easy to produce high quality images (from a technical standpoint) with it and it forgives technical weaknesses with its flat field and high resolution at all apertures.
During the review, the lens truly surprised me. I have found a superb landscape and architecture tele lens and furthermore a decent occasional portrait and close up lens.

Sample Images
Sony a7R | Zeiss Sonnar 3,5/100 | f/5.6 |Full Size Sample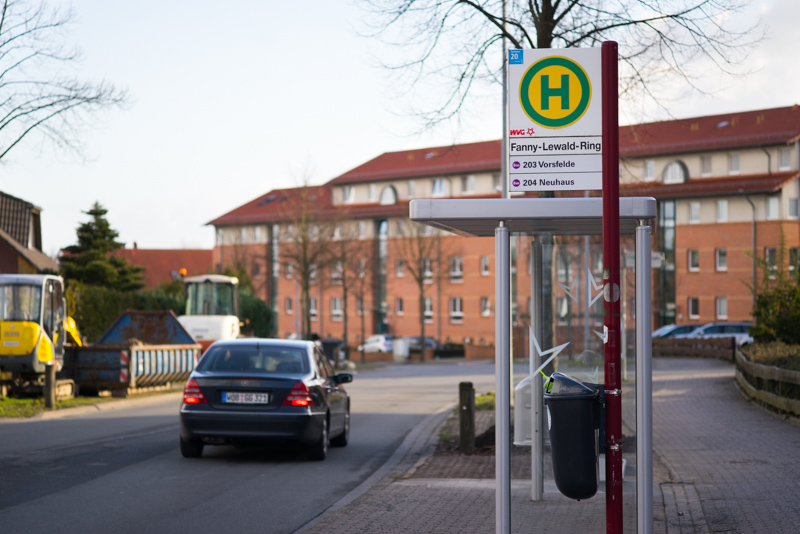 Sony a7R | Zeiss Sonnar 3,5/100 | f/3.5 | Full Size Sample
Sony a7R | Zeiss Sonnar 3,5/100 | f/8 | Full Size Sample
Sony a7R | Zeiss Sonnar 3,5/100 | f/11 |Full Size Sample
Sony a7R | Zeiss Sonnar 3,5/100 | f/3.5 | Full Size Sample
The following two tabs change content below.
Jannik Peters
I am a passionate photographer from northern Germany and I love landscape, architecture, travel, portrait and family photography. I use manual lenses but I also enjoy the comfort of autofocus lenses, therefore both can be found in my bag.
Latest posts by Jannik Peters (see all)