In this review we put the Loxia 2.4/25 to the test and see if it performs as well as we expect from a $1299 Zeiss lens.
Samples Images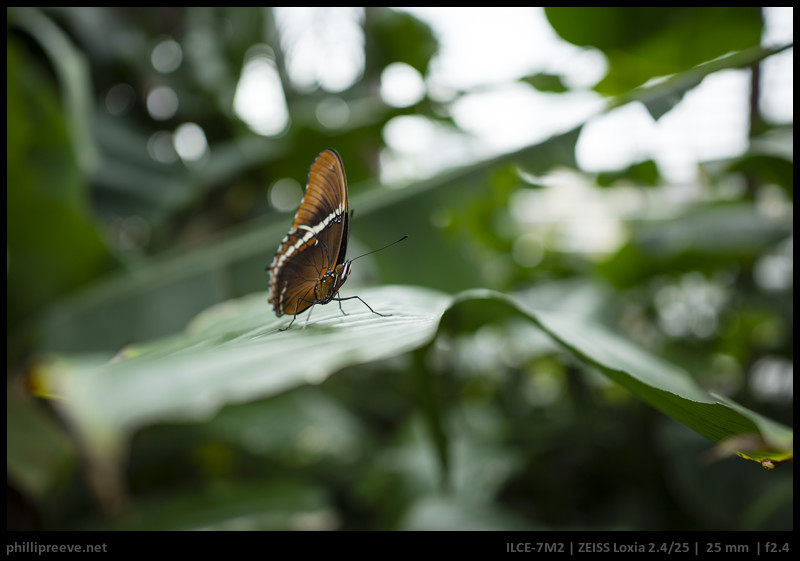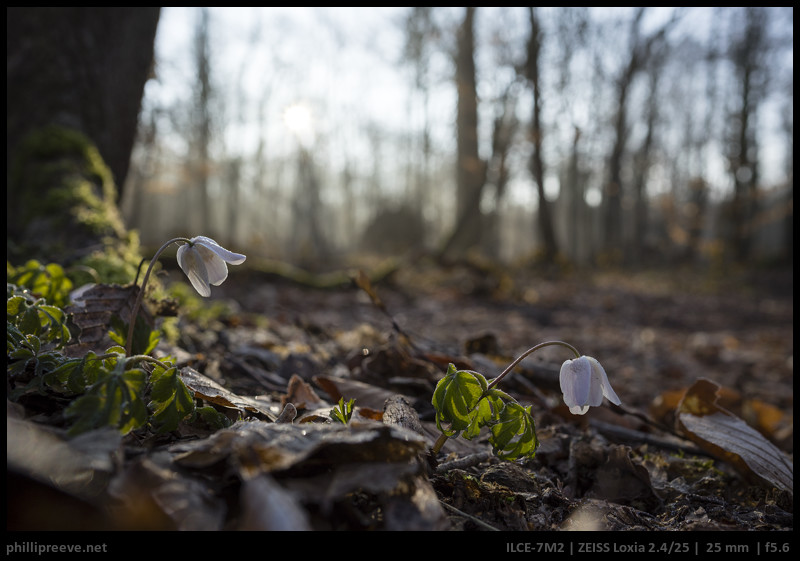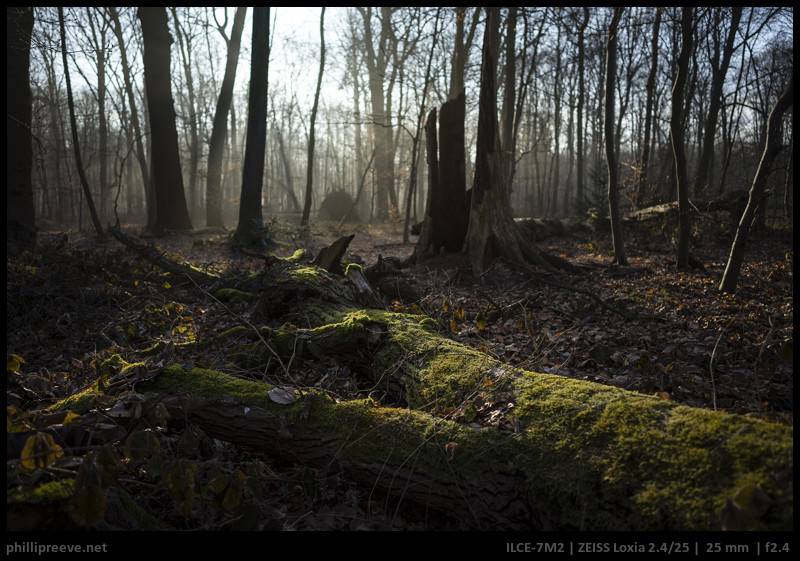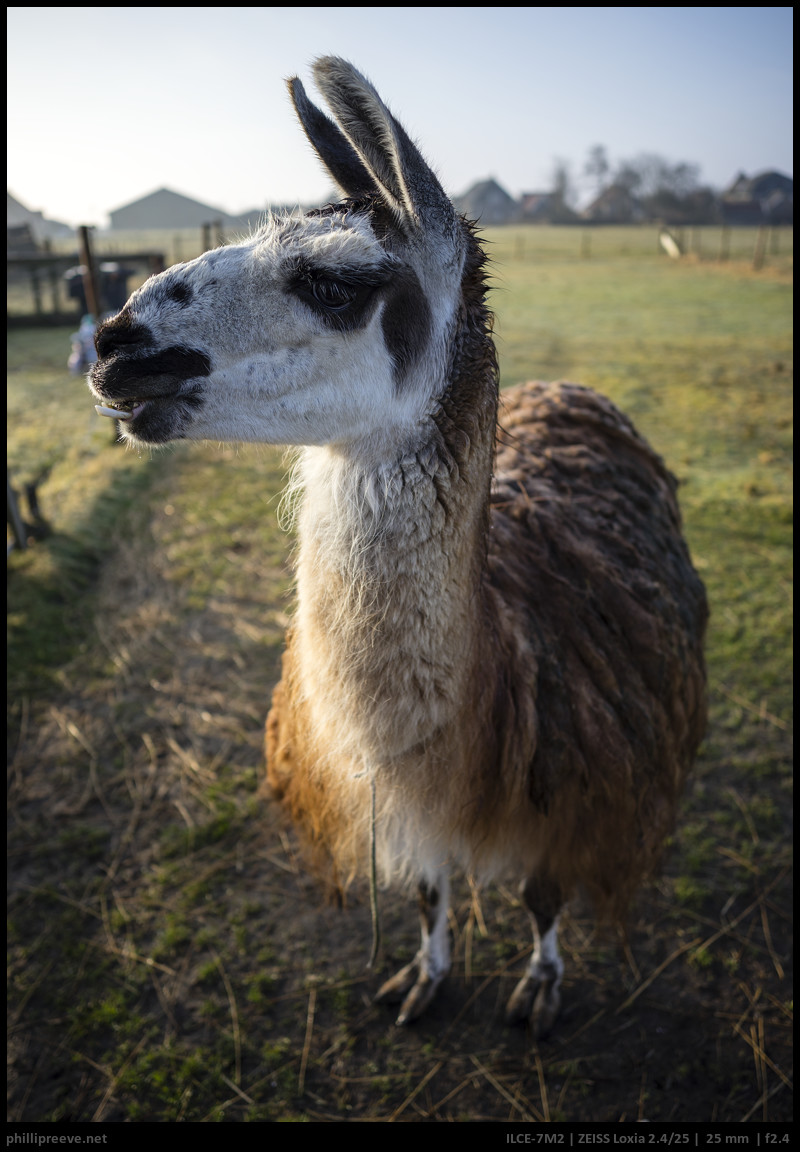 Many sample images in full resolution can be found in my Loxia 2.4/25 flickr album.
Changelog
Update 1 (27.03.): New sample images, Bokeh, Flare, Sunstars, CA
Update 2 (02.04.): New sample images, conclusion
Update 3 (19.04.): Distortion, field curvature, laCA
Specifications
| | |
| --- | --- |
| Diameter | 62 mm |
| Length | 74.5 mm |
| Filter Diameter | 52 mm |
| Weight | 393 g |
| Max. Magnification | 1:6.4 |
| Close Focusing Distance from the sensor | 25 cm |
| Number of aperture blades | 10 (straight) |
| Elements/ Groups | 10 / 8 |
More information in Zeiss' official pdf.
Price: 1299€ / $1299, you can get the lens via one of our affiliate links amazon.com | amazon.de | B&H | ebay.com | ebay.de 
Disclosure
This copy was loaned to us from Zeiss free of charge for a few weeks.
Build Quality
By now we know what to expect from Zeiss Loxia lenses which are very consistent as far as build quality is concerned: The Loxia 2.4/25 is build almost entirely from metal and glass and feels very solid.
It comes with a medium sized hood which is also made from metal and which locks firmly.
Most anything is made from metal and tightly assembled. This includes the inner barrel. So unlike Sony's FE lenses this lens is metal on the inside as well.
Unlike all Sony FE lenses the lens does have a rubber gasket around the mount. Zeiss doesn't claim any weather resistance but I would feel more confident about this lens than most Sony FE lens in bad weather conditions.
All markings are engraved and filled with paint.
Handling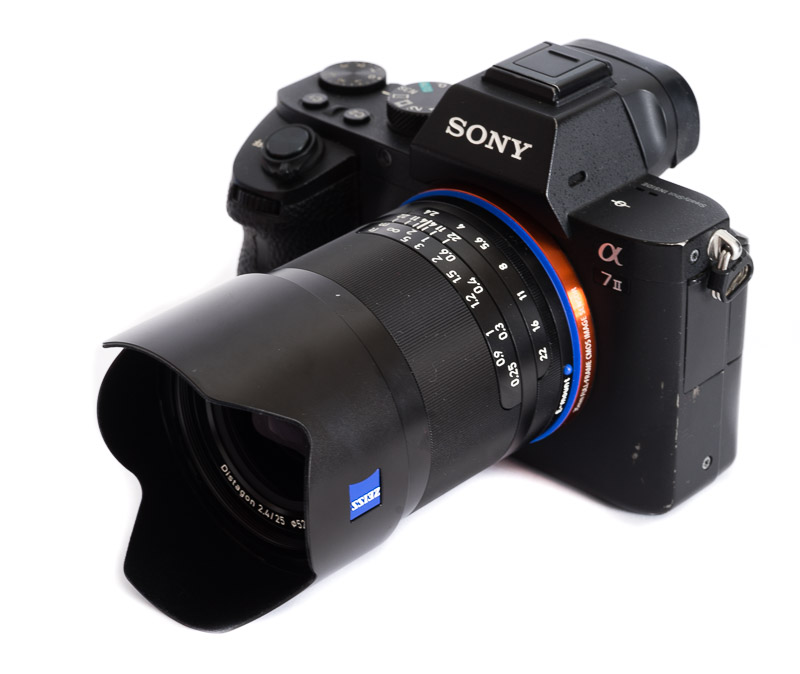 The Loxia is one of the smaller FE lenses.  It is a little larger than the FE 2/28 but significantly more dense.
Handling on the Sony a7II is superb, the lens has just the right size and weight.
The focusing ring turns about 70 degrees from 25 cm to 1,0 m and a further 20 degrees to infinity. The focusing ring feels very smooth and it is a bit textured. I wouldn't know how to improve it, using it is a joy. The lens has a hard infinity stop but as usual with modern lenses it focuses a little behind infinity.
The aperture ring is a bit close to the mount and not elevated, I had to get used to that because it is a bit tricky to tell were it begins and ends. It stops down in 1/3 stops from f/2.4 to f/22. Every click is well felt and the resistance is high enough so that you don't accidentally change the aperture.
There are almost no non moving parts to grab to mount or unmount the lens, if this is something that may bother you have a look at the Loxia Lens-Grip from PocketPano.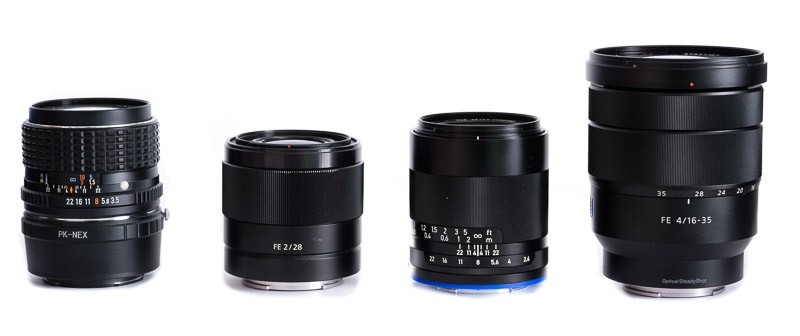 Features
You can de-click the aperture with a special tool which apparently is a feature important to videographers.
The lens will provide exif information to the camera. You have to use the aperture ring though and there is no way to get automatic aperture control.
The lens reports to the camera when you turn the focus ring. So you can use the automatic magnification feature of the a7 series which will magnify the image the moment the focus ring is turned. Some people found it very useful, I prefer to magnify manually.
Image Quality
Bokeh
Bokeh is probably not the most important aspect of a 25mm lens but thanks to a short focusing distance of 25 cm you can get a decent amount of blur. Wideangle lenses often struggle in this regard. Not so the Loxia 2.4/25 which delivers an excellent performance with very smooth blur discs and an attractive transition zone. Only slight oof color fringing which is visible wide open could be a small detractor to some.
Because of the straight aperture blades blur discs take on a decagonal shape from f/2.8 but that isn't too distracting.
Scenario 2: Close distance
Scenario 3: MFD with a lower contrast background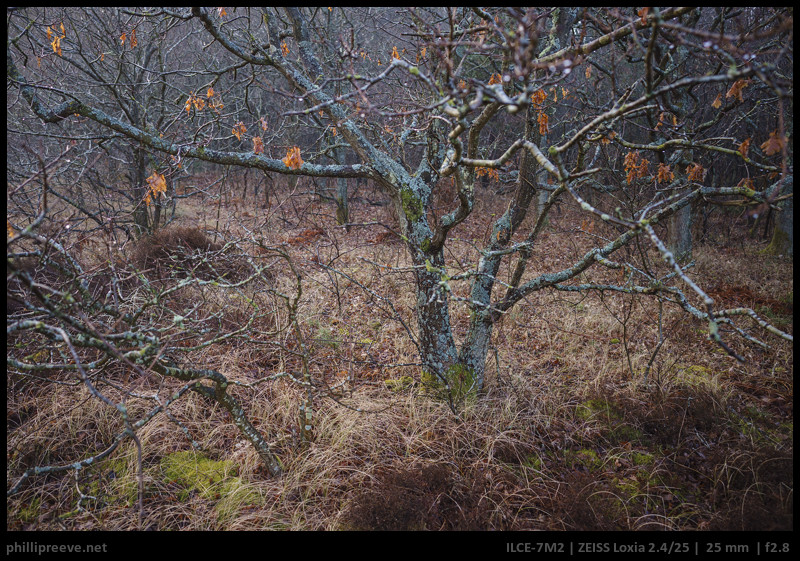 Flare and Sunstars
Zeiss has always been known for high contrast lenses and excellent flare suppression. The Loxia 2.4/25 is no exception in that regard.
So far this is the worst ghost I have seen in the real world: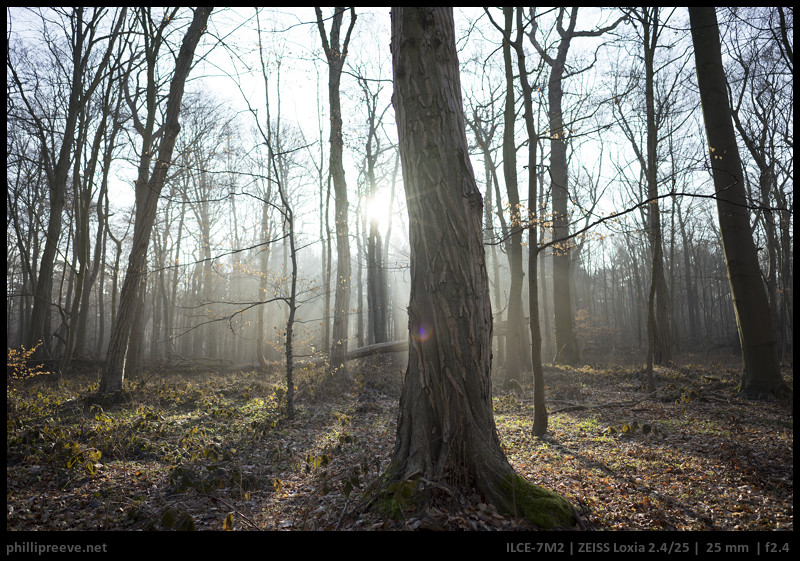 Veiling flare is corrected really well:
Even heavily lifted shadows show no signs of veiling flare:
processed/unprocessed
Chromatic Aberrations
At f/2.4 axial CA can be an issue in demanding scenarios (100% crops):
One thing I wouldn't have expected is that even at f/4 the Loxia 2.4/25 has rather strong axial CA off center: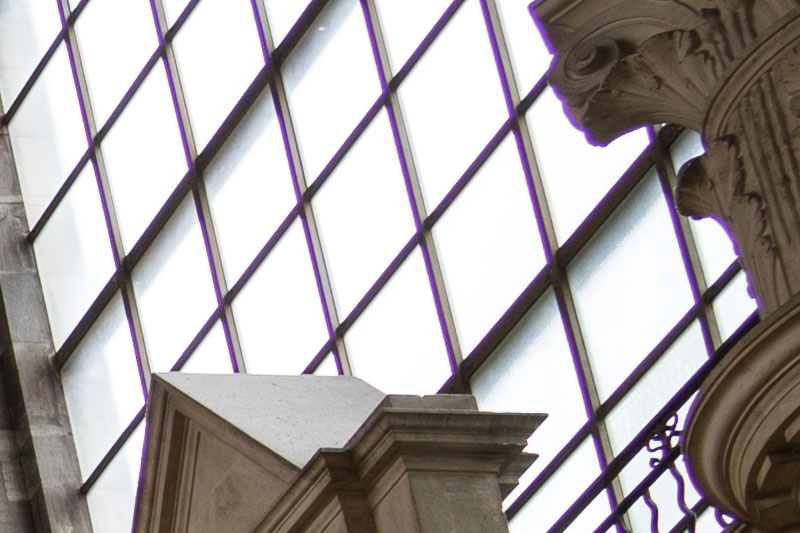 Lateral CA is corrected really well. There is usually a forced correction, but here you can find an uncorrected 100% crop from the extreme corner which still looks really good:
Sony A7rII | Zeiss Loxia 25 2.4 |  f/8.0 | uncorrected CA (before) / corrected CA (after)
Vignetting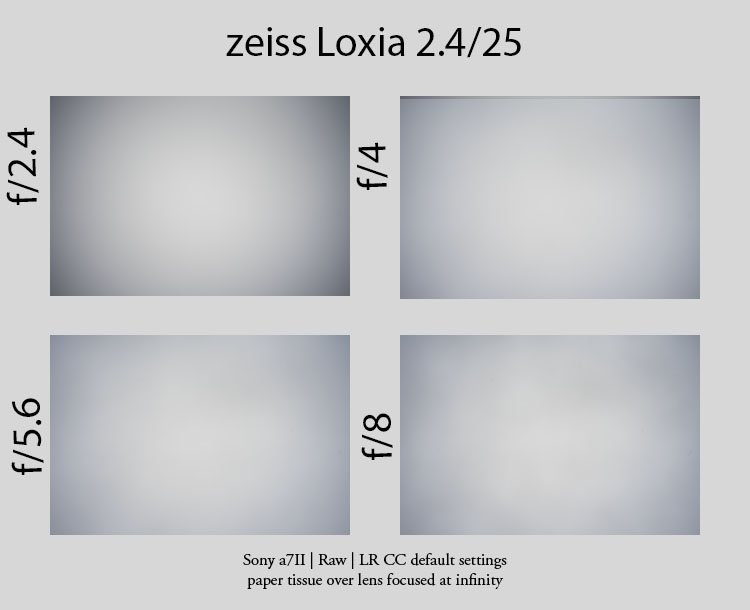 f/2.4: 2.3 stops
f/4: 1.7 stops
f/5.6: 1.5 stops
These are average values for such a compact wide angle but none the less they will affect (sometimes in a positive, other times in a negative way) how your images look. Here for example vignetting is visible but I felt it added to the image: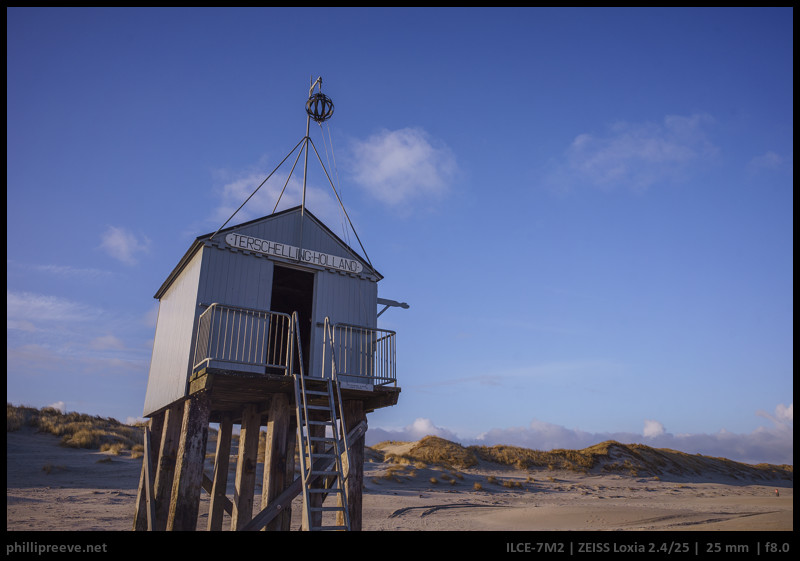 One interesting aspect: Zeiss specifies significantly lower values of 1.4 stops wide open and about 1 stop at f/5.6 in their official PDF. I guess they might be true for corrected JPGs and I think Zeiss should also publish the actual figure.
Distortion
Sony A7rII | Zeiss Loxia 25 2.4 |  f/8.0 | uncorrected distortion (before) / corrected distortion (after)
The Loxia 25mm 2.4 has a slightly wavy distortion but a little less than the Loxia 21mm 2.8. With the last update there has been a profile added to Lightroom to easily correct it.
Sharpness

Wide open results are very good but stopping down to f/2.8 improves midframe performance notably and the corners improve from very good to excellent when the Loxia is stopped down to f/4. An excellent performance.
Just like the 21mm 2.8 this Loxia also shows some field curvature:
100% crops, A7rII
Still, by stopping down to f/4.0 you can get very even across frame performance.
We will soon publish our comparison between Loxia 21mm 2.8 and Loxia 25mm 2.4 which will feature tests on 42mp.
Coma
100% crops from corner, A7rII
Stars are way less demanding than cityscapes:
Similar to the Loxia 21mm 2.8 the 25mm 2.4 shows a very good performance. Because of the combination of maxmium aperture and speed (and vignetting) it wouldn't be my first choice for shooting the stars but it is nevertheless possible and better than many other lenses especially legacy glass and slower zoom lenses.
Alternatives
Sony FE 4/16-35: The Sony is a very good but not a great performer so the Loxia beats it in almost every category: It offers sharper corners, better flare resistance, smoother bokeh, better defined sunstars, superior build quality and is 100g lighter. But of course it neither zooms nor does it offer AF which will be more important for many.
Phillip's review | 518g | $1348
Sony FE 2/28: It is actually a little wider than 28 mm so both lenses offer a rather similar field of view. The Sony weights half as much, is half a stop faster and costs a third of the Zeiss. So it is hardly surprising, that it is significantly softer off-center with lower contrast, needs to be corrected for distortion and also shows a lot more CA. I would recommend the Sony to most users who get started in the system since it is a good compromise but if you are really serious about image quality the Loxia is clearly the better choice.
Phillip's review | 200g | $448
Batis 2/25: More info to come
David's review | 335g | $1229
Loxia 2.8/21: We are currently preparing a big comparsion between these lenses, so check back soon!
Jannik's review | 394g | $1499
Conclusion
good

good to very good sharpness at f/2.4

excellent sharpness across frame at f/4.0

flare resistance

coma correction

high contrast and clarity

correction of lateral CA

bokeh

build quality and handling

rubber gasket

average

correction of longitudinal CA
vignetting
distortion
price

not good

slight field curvature (noticeable until f/4.0)

focusing can be a little tricky near infinity
Phillip's Conclusion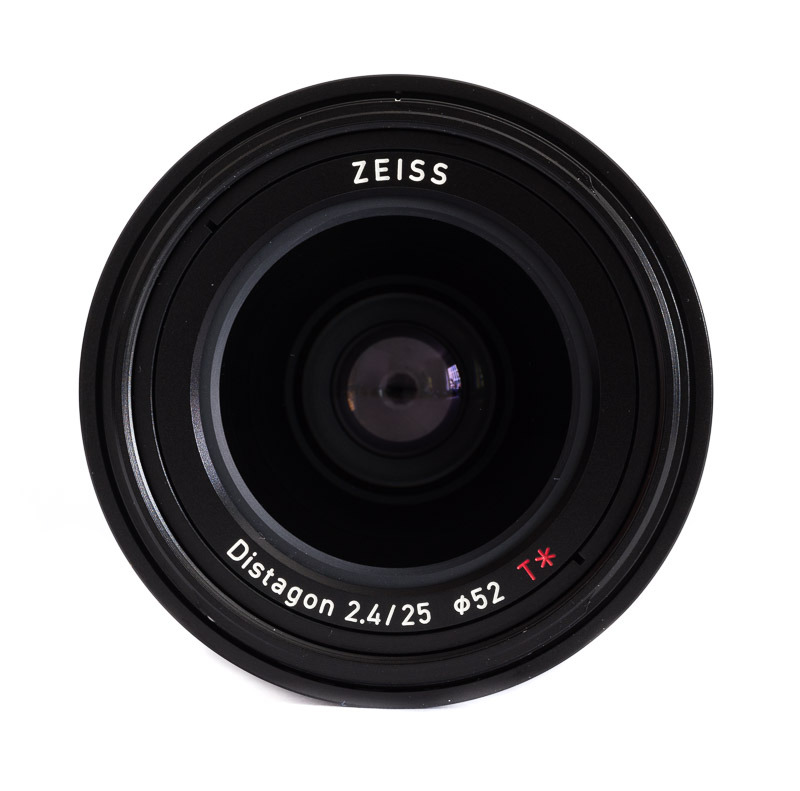 As far as handling is concerned, the Loxia 2.4/25 is an excellent lens. It is smallish and not very heavy with very good build and handling if you forget about the at times annoying aperture ring.
Optically the Zeiss Loxia 2.4/25 is one of the finest wideangle lenses you can buy in any mount. It is an excellent choice for landscape photography where not only the sharpness but also the contrast, flare resistance and sunstars put it ahead of many other excellent lenses. The only aberration which is less well corrected is axial CA which I had to manually correct in a few of my images at wider apertures.
Personally I enjoyed using it more than any other wideangle so far and am certain that I want a Loxia for my landscape photography. The big question for me  is: "Should I get the Loxia 2.8/21 or the 2.4/25?". Both handle nearly identically and perform on a very high level. The Loxia 2.8/21 is slightly cheaper if I buy a used copy and it is quite a better corrected for axial CA. I think it would work slightly better for my landscape photography, because it is wider. The Loxia 2.4/25 has about a one stop advantage over the 2.8/21 when it comes to isolating objects and I used that potential quite a bit more than I would have anticipated and the superior bokeh is one reason for that. At times I had to manually correct axial CA in such but right now I think such annoyance weight less heavy for me than the better bokeh. I think it works better for the more intimate l so often shoot and I also enjoyed using it as a reportage lens.
So right now I lean towards the Loxia 2.4/25 but I will wait for Bastian's conclusion before making a final decision. The next update will come from Bastian to whom I will send the lens tomorrow.
Bastian's Conclusion
Unlike Phillip I alreay own the Loxia 21mm 2.8 – which is also probably my most used lens – so I wasn't too curious about the 25mm 2.4 in the first place.
I also think for general landscape and architecture 21mm is preferable to 25mm, but this comes down to personal taste of course.
Nevertheless, I spent quite some time over the last two weeks shooting both Loxias side by side (comparison will be published soon).
By just having a look at Zeiss' MTFs I expected the 25mm to be an even better performer than the 21mm,but this is one of those examples where the MTFs are not telling the whole story:
The correction of longitudinal CA is definetly worse than I had expected and not just at f/2.4, but still stopped down.
This is also the aberration I dislike the most because it is quite hard to correct properly in post.
Wide open I also think the 21mm lens is the better performer, as I will show soon in a big comparison between these two lenses.
Phillip did enjoy the ability to throw the background slightly out of focus, which I can understand, as I have already been there with Nikon's AF-S 24mm 1.4G and the AF-S 20mm 1.8G as well.
But in the end f/2.4 does not really cut it for me when it comes to wide angle bokeh in a 24/25mm lens.
I would rather adapt a Nikon AF-S 24mm 1.8G – which has even smoother bokeh and at shared apertures
is not plagued by loCA as badly – or wait what the rumored GM 24mm 1.4 will be like (which is what I am actually doing).
So as an owner of the Loxia 21mm 2.8 I will pass. This does not mean we are dealing with a bad lens, it probably is one of the best for the system, just not as good as the 21mm in my eyes.
Price: 1299€ / $1299, you can get the lens via one of our affiliate links amazon.com | amazon.de | B&H | ebay.com | ebay.de 
More sample images
Many sample images in full resolution can be found in my Loxia 2.4/25 flickr album.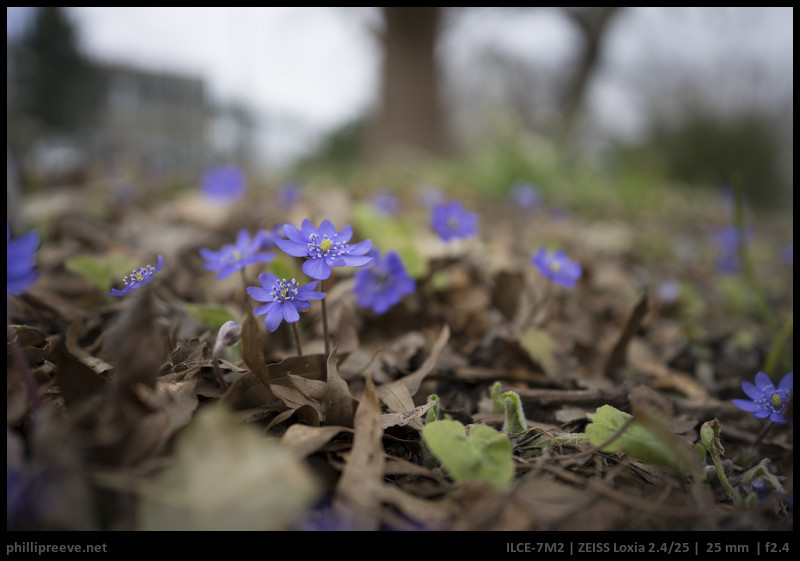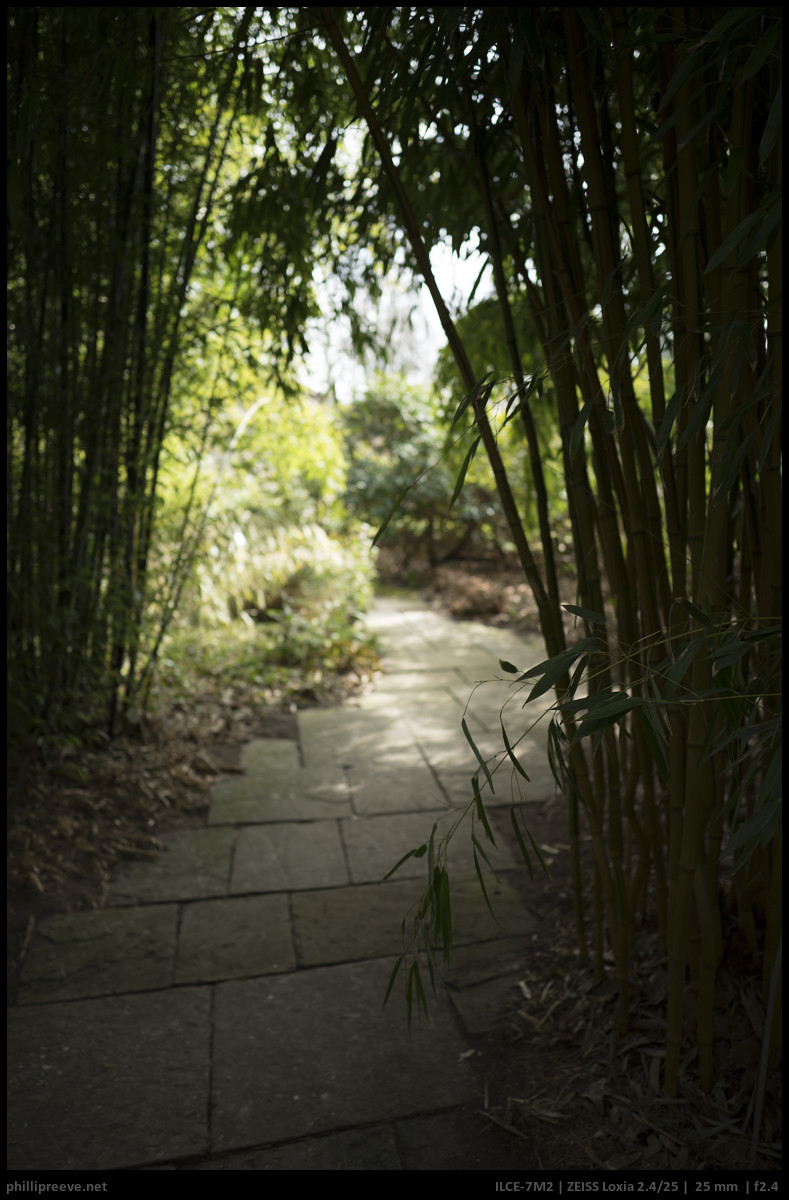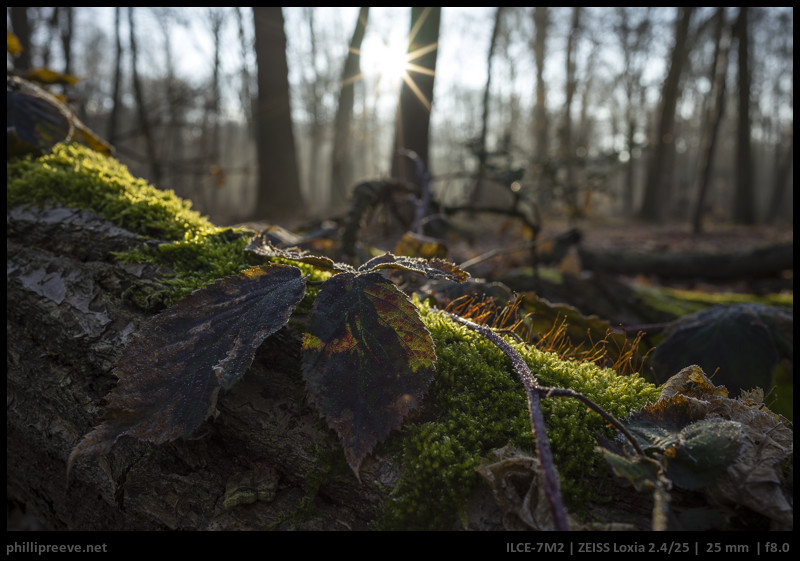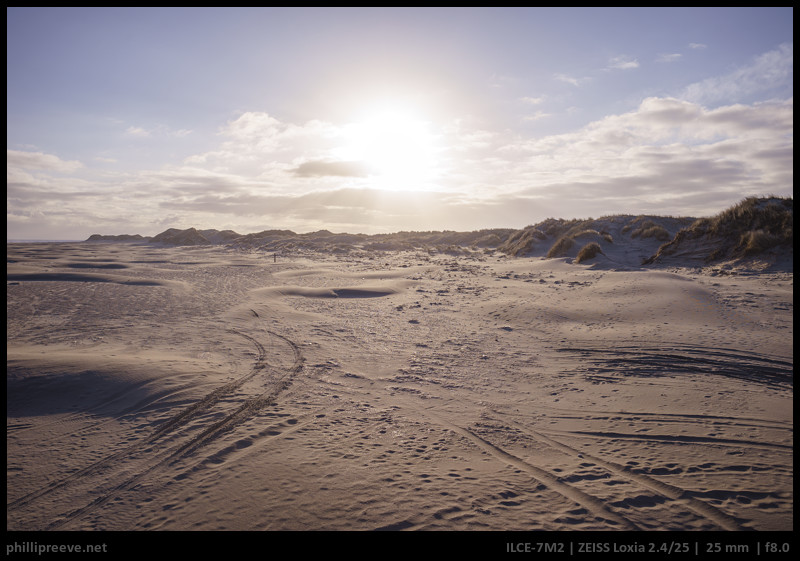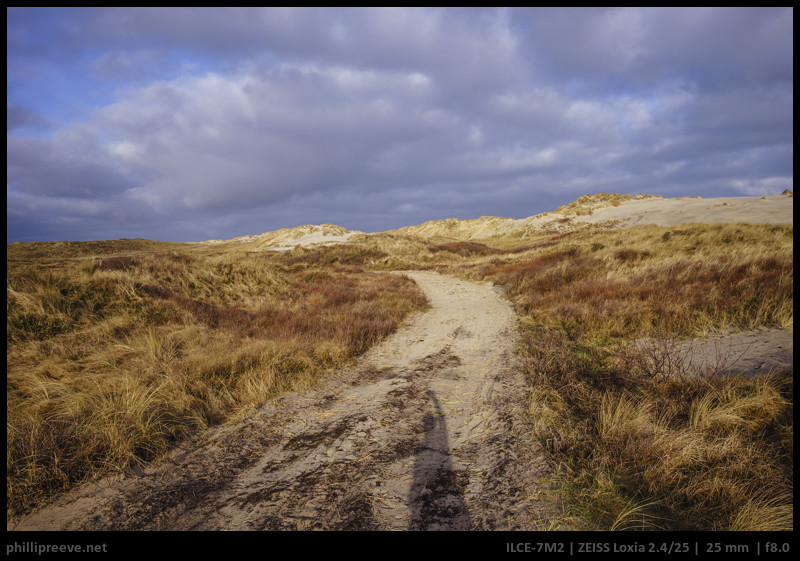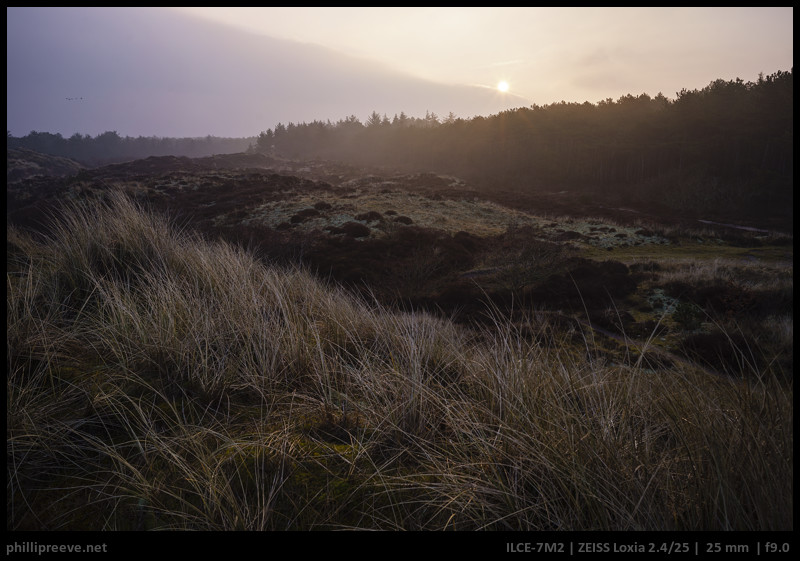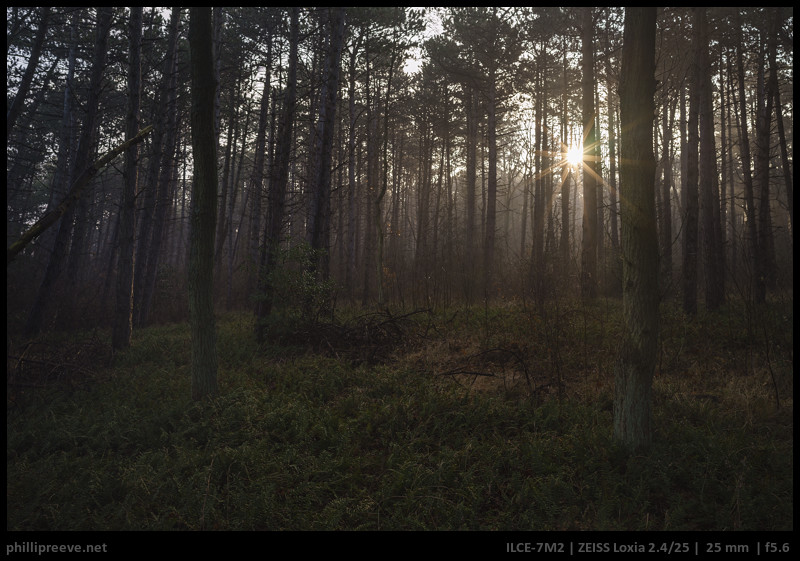 Other Articles