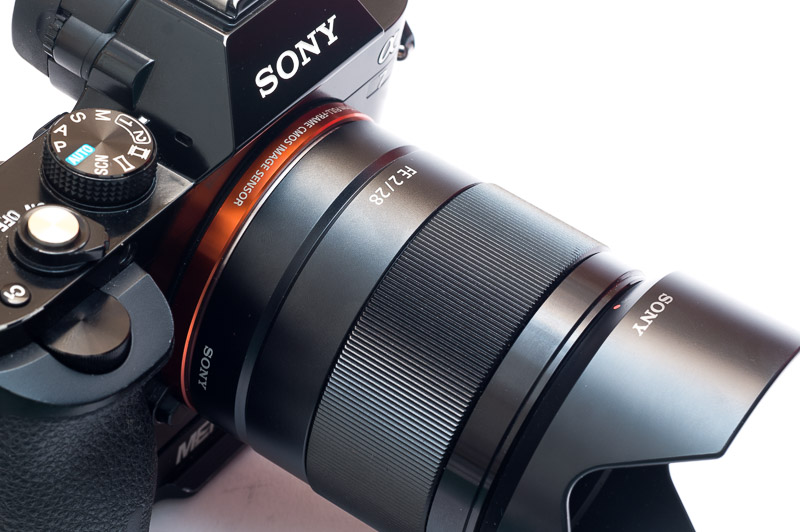 The Sony FE 2/28 is a small and affordable fast prime for the Sony Alpha 7 series. Can it convince in the field as well as on paper? I have owned it for more than three years now and share my experience in this long-term review.
Sample Images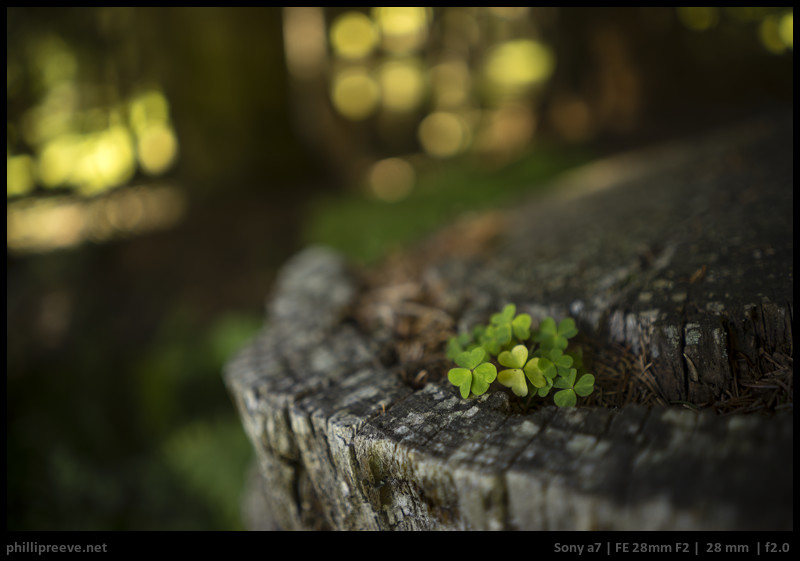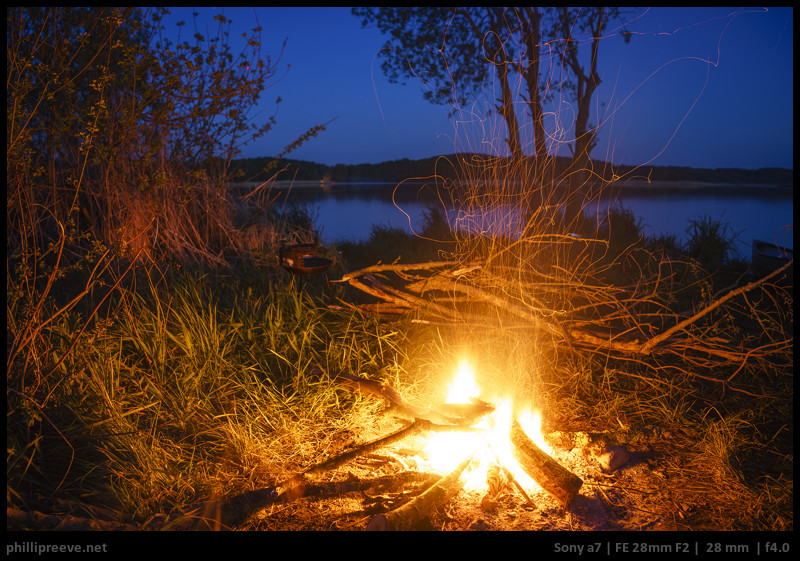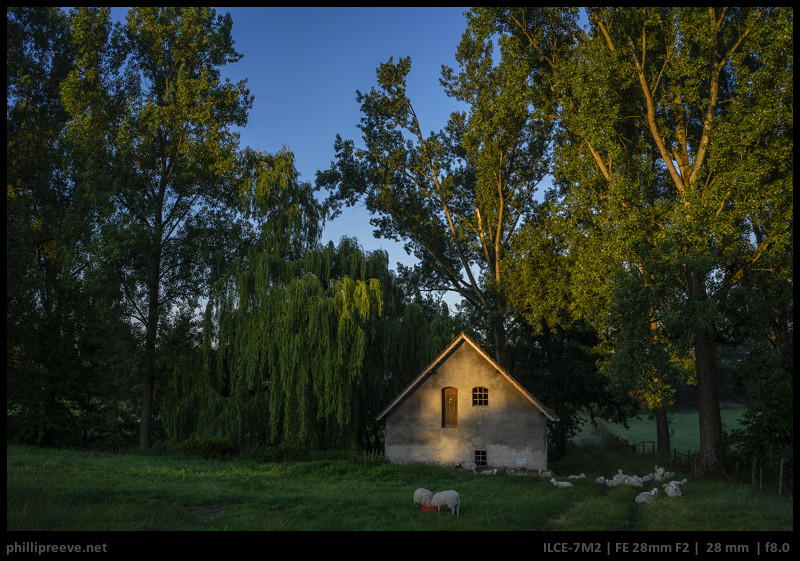 Specifications
| | |
| --- | --- |
| Diameter | 64 mm |
| Length | 60 mm |
| Filter Thread | 49 mm |
| Weight | 200 g |
| Max. Magnification | 1:6.6 |
| Close Focusing Distance from the sensor | 0.29 m |
| Number of aperture blades | 9 (rounded) |
| Elements/ Groups | 9/8 |
The Sony FE 2/28 sells for $448 at amazon.com or B&H photo (affiliate links). If you purchase the lens through one of these affiliate-links I get a small compensation with no additional cost to you. 
Build Quality
The Fe 2/28 has a metal mount. The focusing ring and the lower part of the lens hull are made from aluminium.The upper part of the lens (a bit more shiny in the picture), the filter thread and the intestines are made from plastics.
This design looks quite nice but the softer aluminium easily attracts scratches of which my copy now has quite a few.
The focusing ring feels very smooth but it offers enough resistance and it has zero play.
The lens hood is a bit flimsy, rather thin and cheap plastic, it is the same as the one for the old E 3.5-5.6/18-55 Kit lens. Sony's ZA lenses have much nicer hoods.
All in all I think the build quality is okay but nothing to get excited about.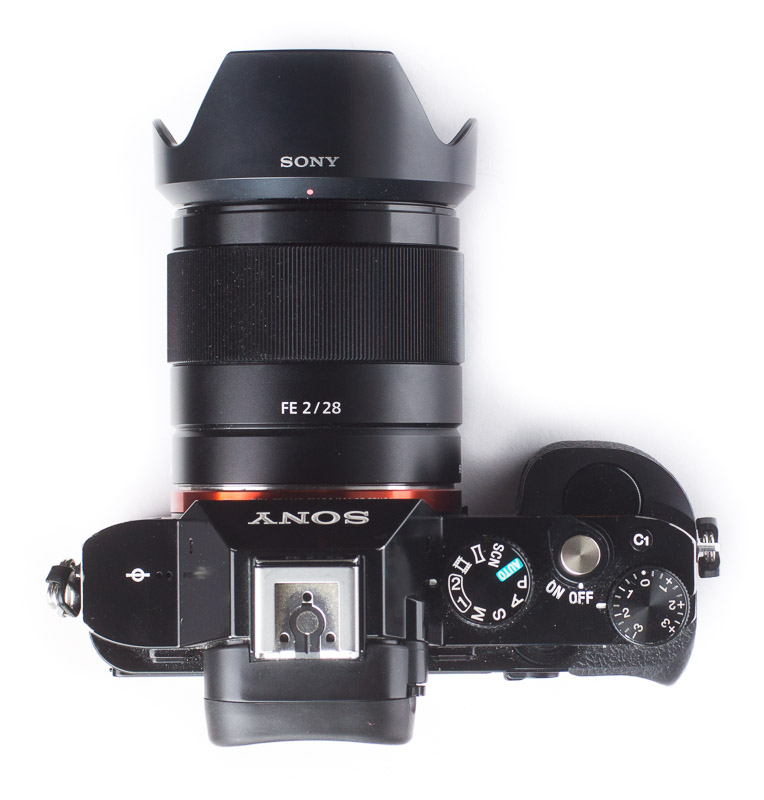 Size,Weight and Handling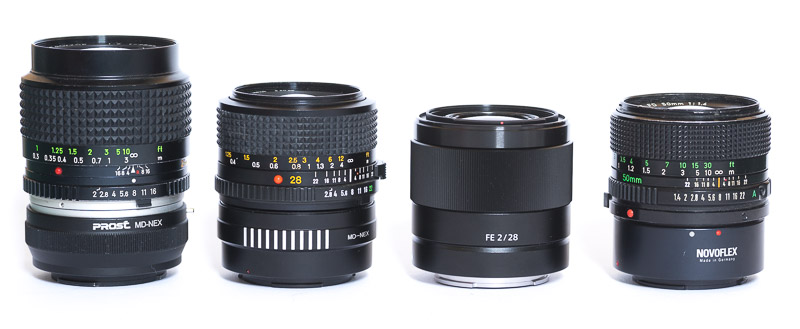 The lens is very small for a fast 28mm lens, above you see it besides a much bigger and heavier Minolta MC 2/28 and a still bigger Minolta 2.8/28. At 200g the lens is also the lightest 2/28mm lens I know of. The FE 2.8/35 is even shorter and lighter but also a stop slower.
Handling is quite good overall, the focusing ring is very wide and feels nice, the lens hood is just the right size: it protects the front lens effectively without adding too much bulk.
Manual Focus
As mentioned before the focusing ring feels nice, what I don't like too much is the focus by wire implementation.
The problem here is that it matters how fast you turn the focusing ring, so if I turn it by 20 degrees very fast the focus changes from 29 cm to infinity. If I turn it slowly it takes more than 360 degrees (one full turn) to change focus from the close focusing distance to infinity. It also feels like there is a small lag between the moment when you turn the focusing ring and when the lens reacts.
Manual lenses where the focusing ring is coupled directly to the focusing helicoid are nicer and faster to use but with a little patience you can focus the FE 2/28 very precisely. So manual focus works okay but it isn't very enjoyable (says a hardcore manual lens user).
Autofocus
AF worked well and precise, it is one of the faster FE lenses. So you will be limited mostly by your camera. On my a7II the small Sony is quite responsive when there is enough light but it slows down noticeably in lower light. On the a7III I would expect excellent performance.
Optical performance
Bokeh
The FE 2/28s bokeh is smooth for a wide-angle lens.
It is very smooth at short distances, still pretty good at portrait distances and more nervous at long distances.
Scenario 1: Close Focus, semi demanding background
Scenario 2: Medium Distance with demanding background
Scenario 3: long Distance with demanding Background
Further Analysis
Bokeh fringing is very noticeable at f/2 and f/2.8. Not a strength of this lens.
Under some circumstances one can see some onion ring like structures in highlights.
Thanks to 9 rounded aperture blades bokeh circles stay pretty round stopped down.
Cat eyes are pretty obvious at f/2 and at f/2.8 the shape of oof-highlights is still not very even.
Flare resistance
The Sony FE 2/28 shows good flare resistance in most scenarios but under more extreme scenarios some lenses perform better.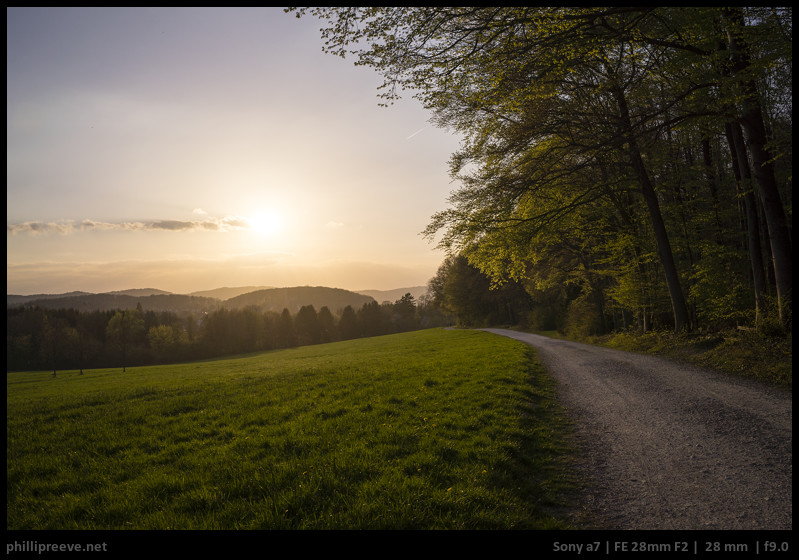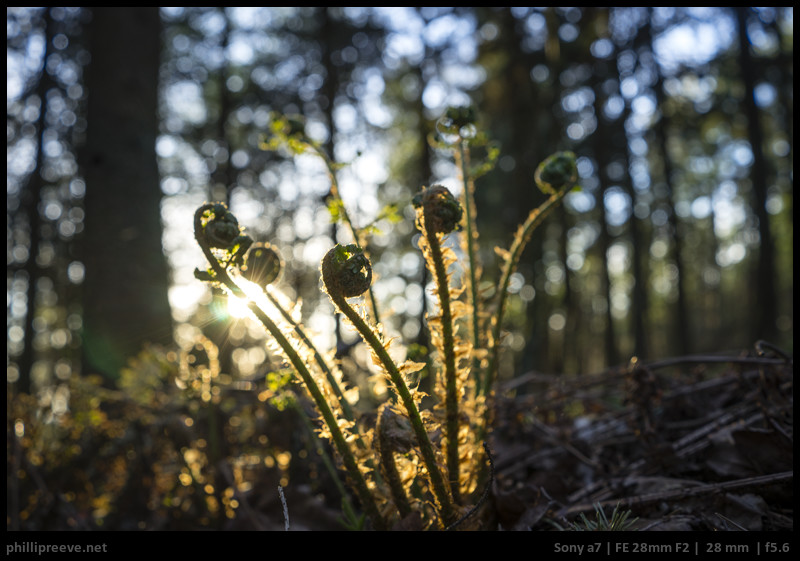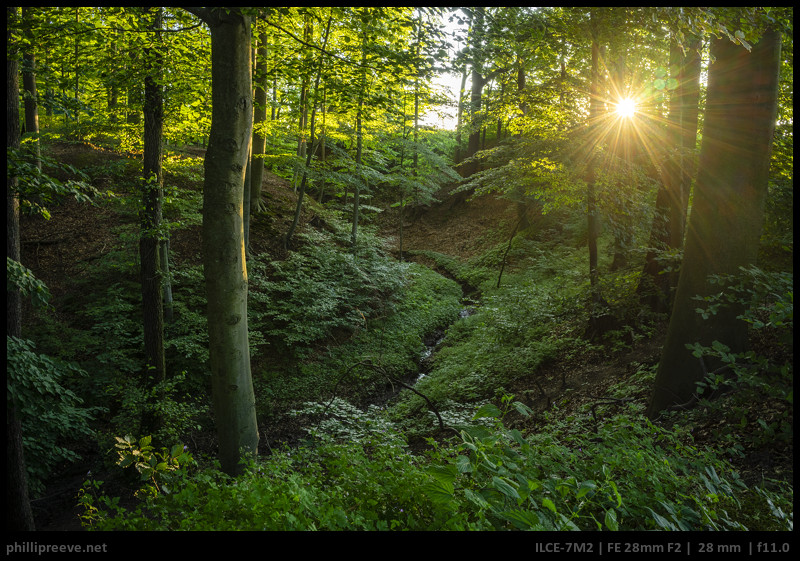 Vignetting
The Sony FE 2/28 shows strong vignetting which is no surprise for such a small lens. My figures are what I measure in LR without any profile applied by me but it includes a forced correction of about 0.5 EV so the true figure is above 3 EV. I also see a little blue-shift towards the corners which has never been an issue in the field.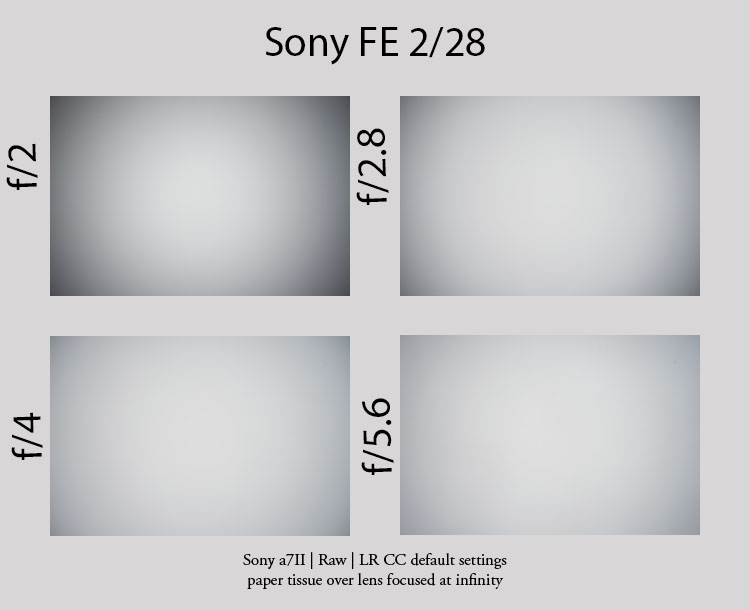 | | |
| --- | --- |
| Aperture | Vignetting |
| f/2 | 2.8 EV |
| f/2.8 | 2.0 EV |
| f/4 | 1.5 EV |
| f/5.6 | 1.3 EV |
| f/8 | 1.2 EV |
If you use the FE 2/28 wide open vignetting is easily noticeable.For most images it will actually have a positive effect on the image since it leads the attention away from the corners but there are applications like astro-photography where this becomes an issue. Vignetting also has a negative effect on bokeh.
Distortion
The Sony shows pretty severe barrel distortion and is clearly meant to be electronically corrected.
It is not so bad that I have noticed it in my landscape images, but if you shoot raw you will have to correct it for any image with a straight line in it and this will cost some resolution.
The lens is not a true 28mm lens, more like a 26mm lens so after distortion correction you have the field of view of a 28mm lens.
Sunstars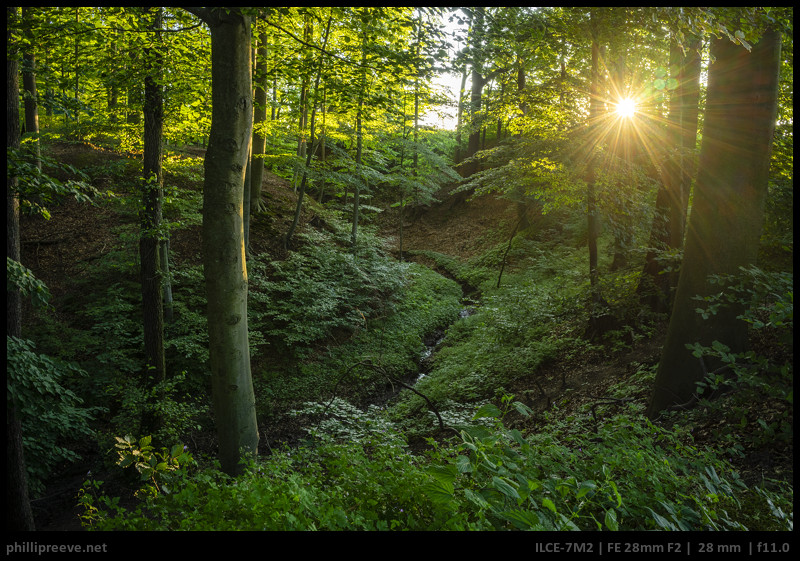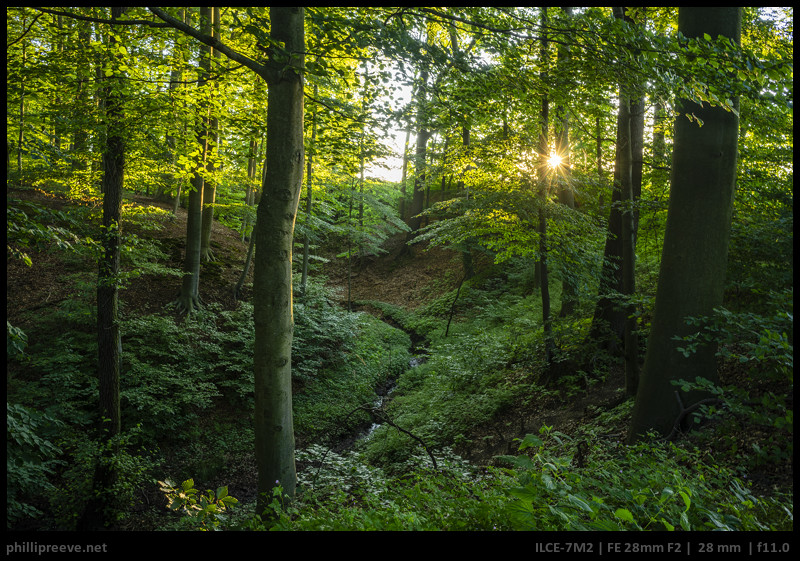 Coma
I was surprised by the pretty decent coma correction of the FE 2/28. It isn't quite as good as the very best astro-lenses but still good enough to take astro-images you can enlarge quite a bit.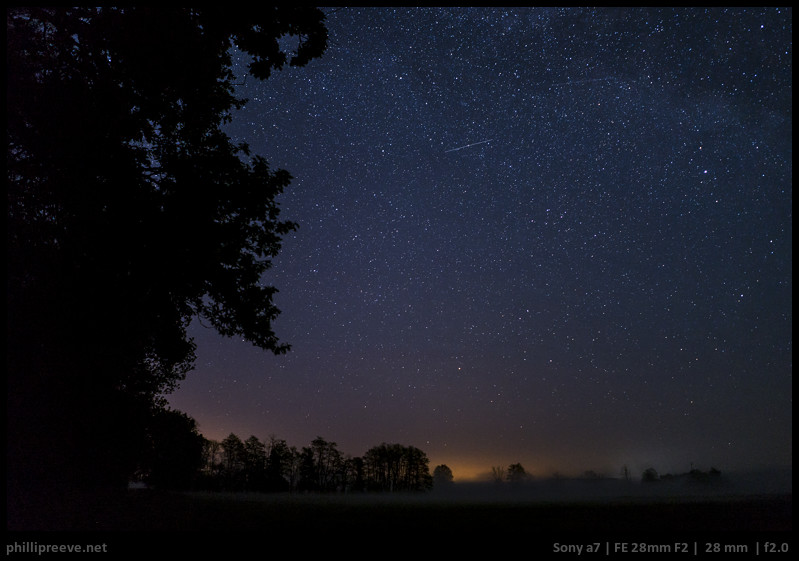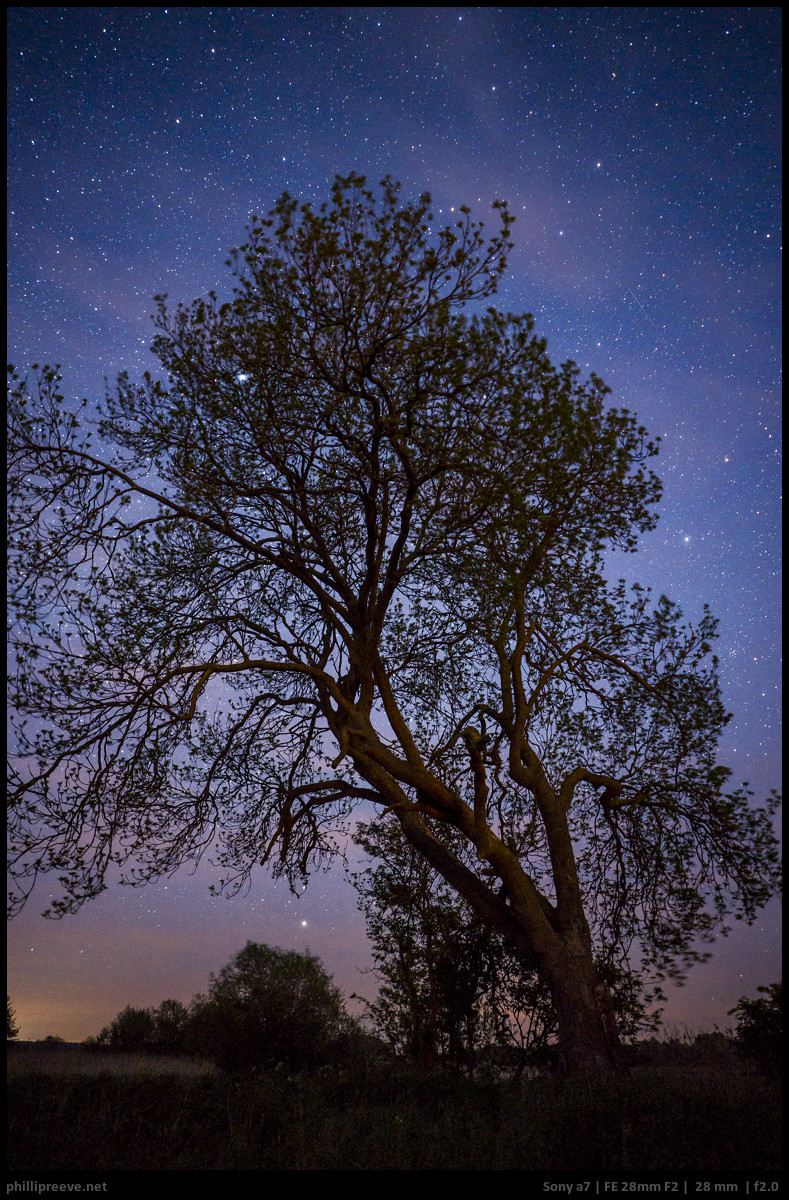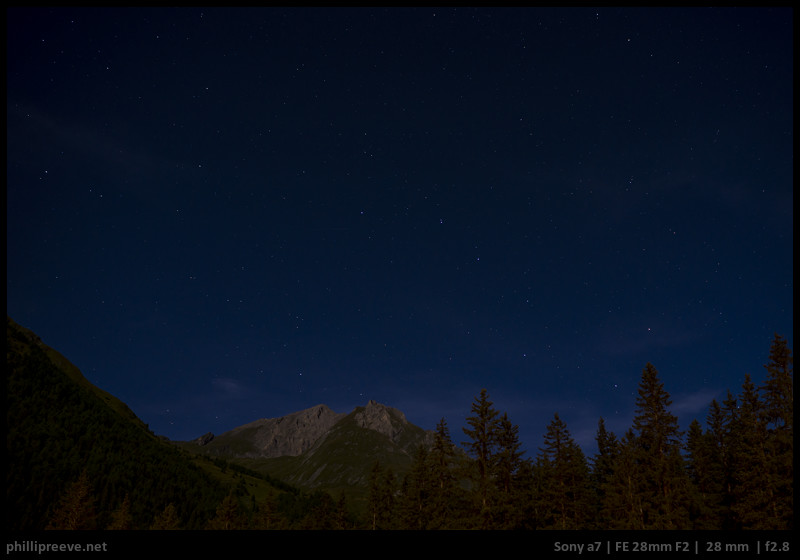 Sharpness
f/2: Contrast is high from f/2. Sharpness high as well if you only look at the center.
The midframe area is less sharp but still acceptable. The corners are softish but you won't notice this at typical web resolutions.
I think the lens performs a little worse at it's shortest focusing distance, than at infinity.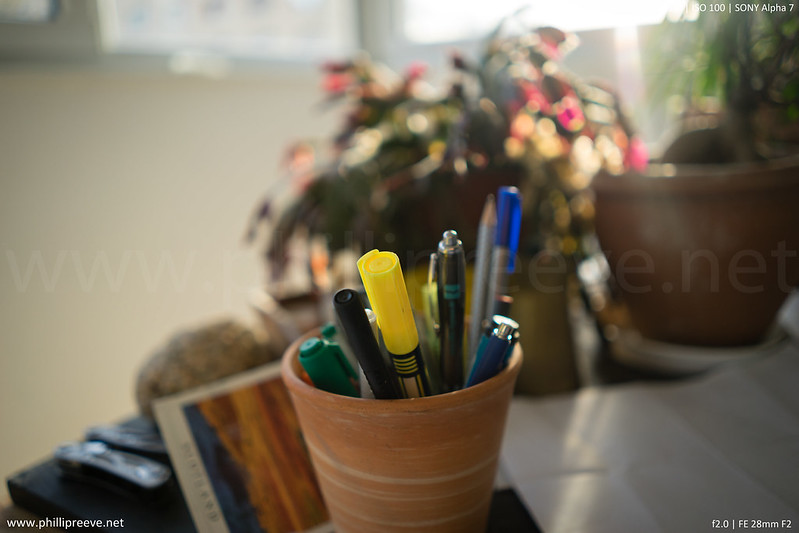 the 100% crop shows a very sharp center:
f/2.8: The center improves marginally to excellent levels, the midframe area improves a bit to good levels and the corners improve as well.
f/4: The corners are okay now.
f/5.6: The corners improve quite a bit to good to very good levels.
f/8: The corners improve a little bit and the lens shows excellent to very good across the frame sharpness.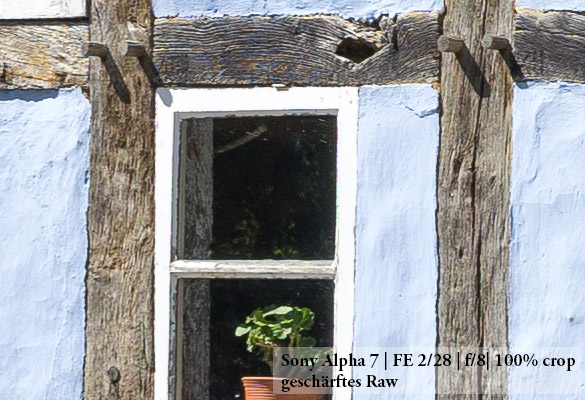 f/11: A little softer because of diffraction.
I think this is a very good overall performance, f/2 is fully usable as long as your subject isn't too far off-center and stopped down to f/8 it is also a capable landscape lens with very good across the frame sharpness.
Wideangle and Fisheye Conbverter
There are two converters for the SEL28f20, the $248 SEL075UWC (affiliate link) turns it into a 2.8/21 super wide-angle lens and the $299 SEL057FEC  (affiliate link) turns it into a 3.5/16 fisheye-lens.
I have not used either converter myself, but because I was asked, here is my take on them:
All the sample images I have seen from the 0.75 converter showed pretty soft corners so I am not really inclined to spend 250€ on it to examine it a bit more carefully.
The fisheye-converter weights more than 400g so together with the 2/28 it would be bigger and heavier than the Sony 4/16-35 ZA OSS and that is already a big lens. If I felt I needed a fisheye lens I would get a manual Minolta 2.8/16, it is a very good and solid lens and it will probably cost less than the converter alone.
Compared to other lenses
The Sony FE 4/16-35 ZA is a very versatile landscape lens. When I go landscaping without serious weight restriction I usually take the zoom because of its versatility. Sharpness is pretty close and which one comes out closer will depend mostly on copy-to-copy variation. One advantage of the FE 2/28 is the slightly better flare resistance.
Pentax K SMC 28mm 1:3.5: The Pentax is cheaper (if you find one), heavier and much slower. It is a tad sharper with similar flare resistance and superior sunstars so I prefer it for landscape photography.
Zeiss Loxia 2.4/25: Because of the distortion correction both lenses are actually pretty close in focal length. The half a stop slower, twice as heavy and three times as expensive Loxia is of course the technically better lens. It is sharper especially off center where it turns in a very good performance from f/2.4 while the FE 2/28 need to be stopped down to f/8 for similar corners. The FE never reaches as excellent off-center sharpness which is especially noticeable on 42MP bodies. In regards to CA, contrast, flare resistance and sunstars the Loxia is also superior. So if you take your landscape photography serious go for the Loxia. As a general purpose lens the Sony is more attractive.
Zeiss Batis 2/25: Again the Sony offers the better value than the bulkier Zeiss which isn't quite as sharp wide open in the center but significantly sharper off-center with a little higher contrast overall.
The FE 3.5-5.6/28-70 and FE 4/24-70 ZA will perform similar in the center but the FE 2/28 has much better corners, is faster and much smaller. Of course it doesn't zoom.
The FE 2.8/35 ZA  is even smaller an lighter but it is also slower and more expensive. The ZA is very sharp across the frame from f/2.8 and it has less distortion.  I think the FE 2/28 makes more sense in addition to the FE 1.8/55 ZA , the FE 2.8/35 is a more universal one lens solution.
Legacy 2/28 lenses like the Olympus OM 2/28 or Minolta MD 2/28 might be a little more affordable and more fun to handle but as far as optical performance is concerned they really struggle with much harsher bokeh and significantly worse sharpness at wider apertures as well as flare issues. The Zeiss 2.8/28 is actually a little sharper across most of the frame but has some corner issues.
For a comparison with some manual lenses like the Zeiss Distagon 2.8/28 and Minolta MC 2/28 check out my comparison. The Sony outperforms the other lenses in most aspects and is smaller than all of them!
Conclusion
pros

Small Size

Price

Bokeh

Sharpness

AF-Performance

average

Build Quality
Flare Resistance
Corner Sharpness

cons

Axial CA

Very Strong Distortion

Strong Vignetting
The Sony FE 2/28 is not a no compromise lens like the Loxia 2.4/25. It comes with some compromises like very strong distortion, softer corners at wide apertures, average build quality and rather strong CA. While sharpness is pretty good it isn't quite on the same level as that of the three times as expensive Zeiss. If all you care about is printing your 42MP files super large then the FE 2/28 is not for you.
For most photographers though the FE 2/28 should be a very attractive lens since it's strengths like smooth bokeh, sharpness and speed will weight much more heavily than the cleverly chosen compromises which will rarely have any practical consequences for you apart from the small size and relatively low price.
I found the Sony FE 2/28 to be a versatile lens. At 28mm it is a moderate wideangle lens which does not distort perspective too much and which it works very well in a small 28mm/55mm/85mm kit. Because it is fast at f/2 lens you can still isolate your subject quite well and keep shooting in low light.
The Sony lens offers a very good price to performance ratio. $449 is a fair price in my opinion and Sony only offers few other lenses with a similarly low price like the FE 1.8/85.
All in all the FE 2/28 is a very versatile lens which delivers very good results in most scenarios. It won't get those excited, who are after the very best, but the compromises it comes with seldom have any real effect on the results and are far outweighted by its many strengths. Highly recommended. 
The Sony FE 2/28 sells for $449 at amazon.com or B&H photo, 449€ at Amazon.de (affiliate links).
If this review was helpful to you, please consider using one of my affiliate links. Thanks ?
 Other popular articles
The following two tabs change content below.
I have two hobbies: Photography and photographic gear. Both are related only to a small degree.
Latest posts by Phillip Reeve (see all)