In-Depth Review of the Sony FE 16-35mm f4 ZA OSS T* which covers technical analysis as well as real world usage. Many full resolution images included.

Sample Images
28mm | f/8
18mm | f/11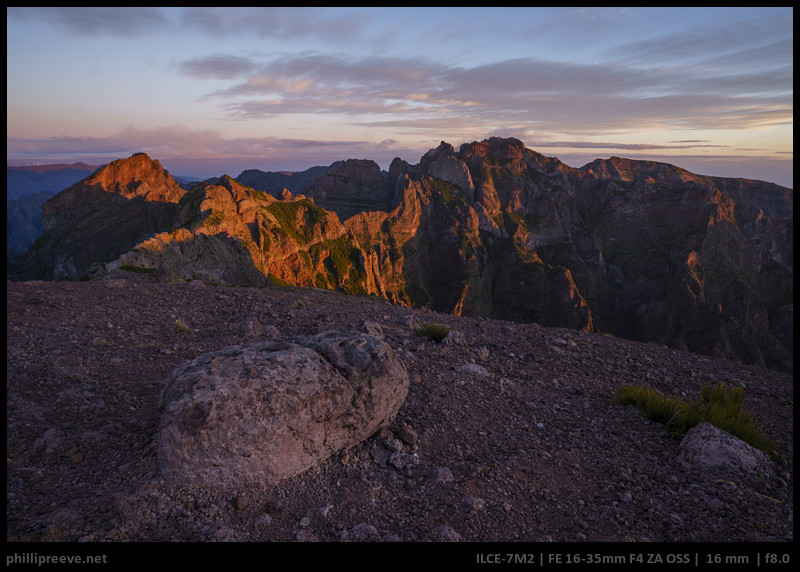 Specifications
| | |
| --- | --- |
| Diameter | 78 mm |
| Length | 98.5 mm |
| Filter Thread | 72 mm |
| Weight | 518 g |
| Max. Magnification | 0.19 |
| Close Focusing Distance from the sensor | 28 cm |
| Number of aperture blades | 7 (circular) |
| Elements/ Groups | 12/10 |
Price: : $1348 at
 amazon.com
or
B&H photo 
(affiliate links)
Disclosure
The copy for this review was loaned from Sony free of charge for three weeks. I have since bought another copy from my own money and still use it a lot.
Built Quality
This Sony FE 16-35mm f/4 ZA OSS T* is built well and feels quite solid.
The outer barrel is made from metal, as is is the filter thread.
The inner barrel is made from plastics and shows no play.
The zoom-ring allows for very precise zooming with a very even resistance and zero play.
The focusing-ring has a smooth feel to it and it has zero play as well.
Both rings are made from textured metal which easily gathers dirt, but it is easy to clean as well.
The lens hood is rather heavy and has a nice feel to it, it needs a healthy amount of force to remove it.
Unlike L-lenses from Canon the lens has no gasket around the lens mount, so weather resistance will be limited.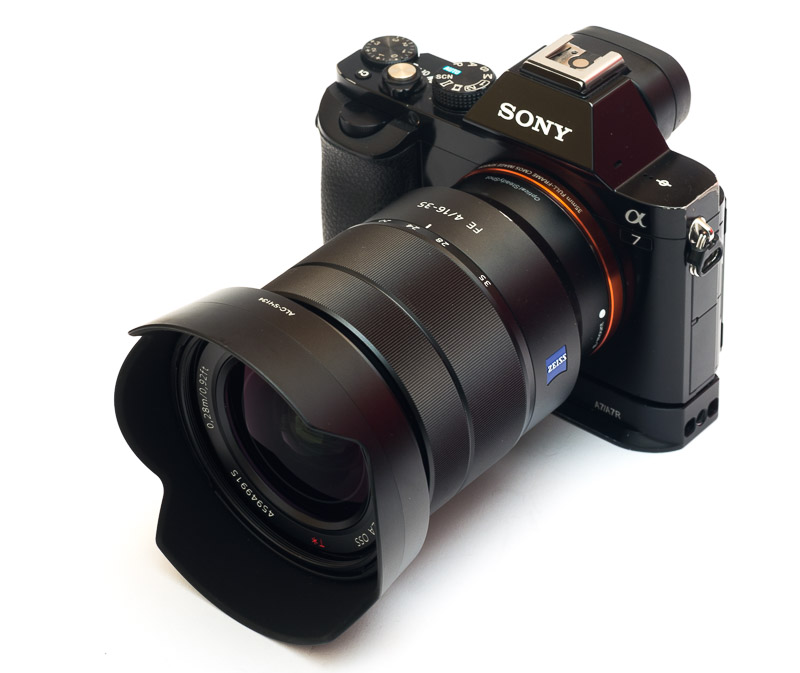 Autofocus
I use a Sony Alpha 7, results will differ with other E-mount cameras.
In a normal environment the SEL1635f4 focuses very quick and precise.
In a darker environment, like a normally lit room at night (f/4, 1/50 Sek., ISO 3200) the AF is slower but still usable for people photography.
If it gets even darker it takes more than one second until the lens is focused but it still locks focus.
So I wouldn't wan to use this setup for event photography but for my landscape, nature and people photography the AF works well.
Manual Focus
As mentioned before, the focusing ring feels nice nice, what I don't like too much is the focus by wire implementation.
One problem here is that it matters how fast you turn the focusing ring,  if I turn it by 20 degrees very fast the focus changes from 28cm to infinity. If I turn it slowly it takes more than 360 degrees (one full turn) to change focus from the close focusing distance to infinity.
In theory this sounds like a great idea because focusing should be either super precise or very quick, depending on what you need. But so far I have failed to get to a point were my I am able to use this subconciously, and I have used manual focus with this lens and the FE 2/28 a lot.
The other problem is that there is a small lag between the moment when you turn the focusing ring and when the lens reacts.
I am used to manual lenses where the focusing ring is coupled directly to the focusing helicoid and I am faster and as precise with them. So manual focus works okay but it isn't very enjoyable (says a hardcore manual lens user).
Size,Weight and Handling
Compared to CaNikon's 4/16-35 lenses the lens is quite a bit smaller and lighter. None the less at over 500 grams and with a length of nearly 10 centimeters it is still a substantial lens. It also has a very wide diameter of 78mm, I had to change the partitioning of my smaller camera bag to fit it in.
I find the lens to be not very well balanced on my Sony Alpha 7, it is a bit front heavy and I feel a constant need to support it with my other hand. I usually have an L-bracket  attached to my a7 and with that the lens is quite well balanced.
The FE 4/16-35 is shortest when zoomed to 35mm and it extends by about 15mm when zoomed to 16mm. It does not extend when focused, nor does the front of the lens rotate.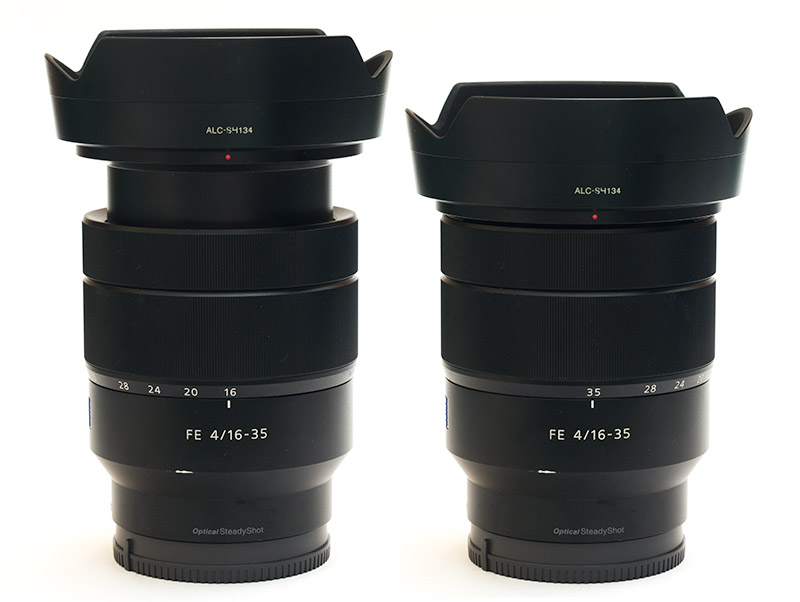 The Image Stabilizer
The leans features an image stabilizer. I tested the efficiency at 28mm and found  that it made a difference of about 3 stops.
I found the stabilizer very useful for my photography, it gave me more creative freedom in situations were I couldn't bring a tripod or I could leave the tripod at home.  Take this picture for example:
Even though I had no tripod with me the stabilizer allowed me to expose long enough for the water to blur quite nicely plus it would have been hard to set up a tripod in this place. I should mention, that this is the best from 5 images and it is not as sharp as it would have been had I used a tripod.
Here is another example with the same shutter speed of 0.4s but at 32mm.  I think it wouldn't have been significantly sharper if I had used a tripod.
Optical performance
Sharpness
From f/4 the SEL1635f4z shows an excellent performance in the center and midframe area while the corners are a bit hazy.
Stopped down to f/8 the corners are good to very good but some astigmatism remains.
Field curvature is quite pronounced: When the lens is focused at infinity, details in the corners will be sharpest at a distance of 3 or 4 meters.
20mm
Very similar to 16mm: Great in the center corners are good and benefit from stopping down to f/8.
28mm
Again: Very similar to 16mm: Great in the center corners are good and benefit from stopping down to f/8.
I think the corner sharpness at f/4 is a little lower than at other focal lengths but by f/8 they are very good. The center and midframe region is excellent from f/4.
All in all this is a very good performance with excellent sharpness in the center from f/4 at any focal lengths and very good across the frame sharpness at f/8.
Vignetting
At 16mm quite noticeable at f/4, better by f/5.6 and more or less gone by f/8.  The more you zoom in, the less pronounced it will be.
Distortion
The SEL1635z shows a noticeable amount of barrel distortion at 16mm, which is nearly gone by 20mm. It then changes to moderate (sample at 28mm) pincushion distortion which is most extreme at 35mm.
This needs to be corrected for architecture photography but for most subjects it is a no-issue.
Flare resistance and sun-stars
The flare resistance differs a lot with focal lenght and position of of the light source in the frame.
Sometimes it produces no flares with a bright light source in the image but I also lost a few images because of flare.
Contrast isn't really affected when a bright light source is in the image, the well reknown T* coatings do their job well.
The Sony FE 16-35mm f4 can have very nice and well defined 14- pointed sun stars, a characteristic I enjoyed a lot about the lens.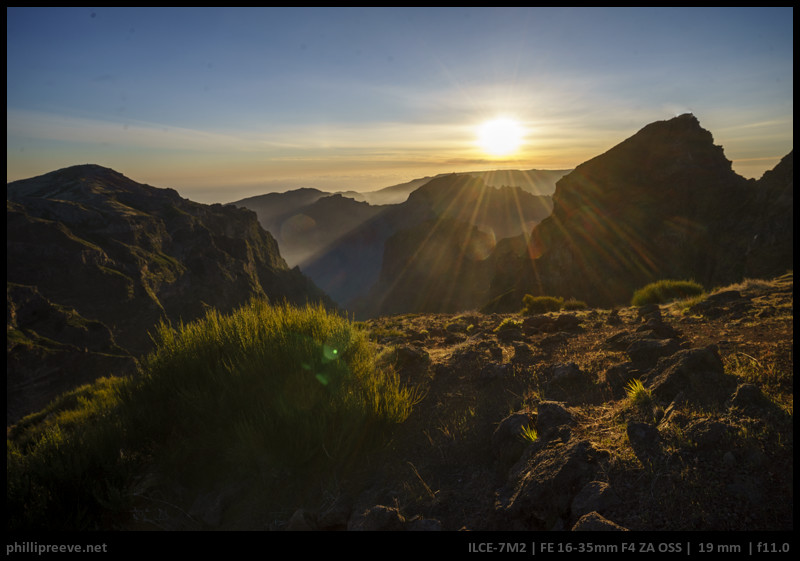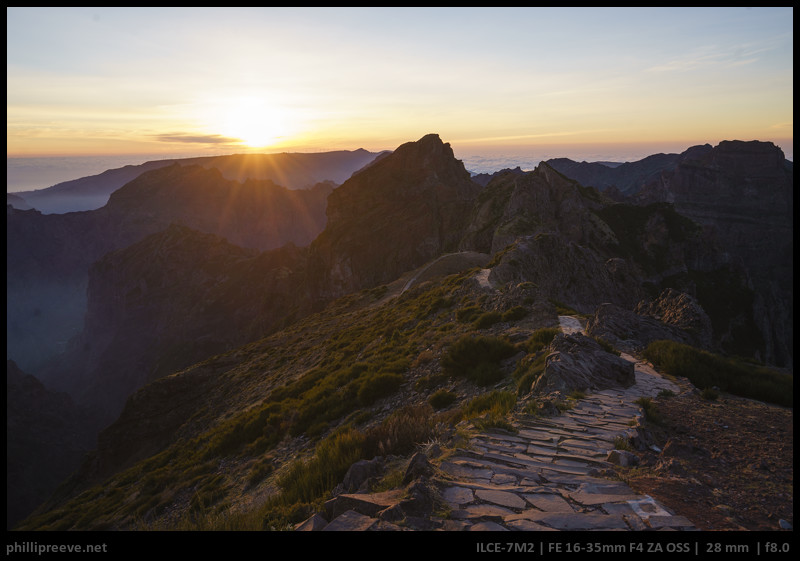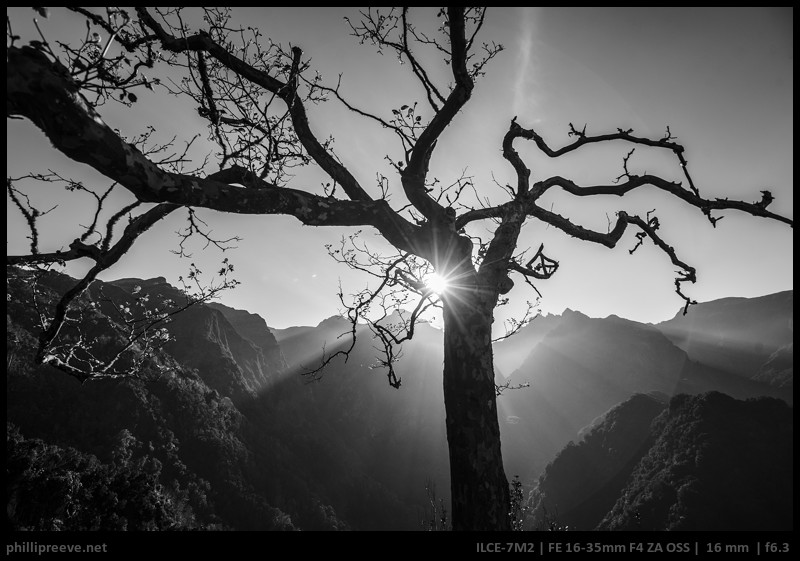 Bokeh
The amount of background blur you can get out of theFE 4/16-35 is  of course limited by it's moderate speed and short focal length. The bokeh is on the nervous side and I found it to be some times detrimental.
Compared to other lenses
The FE 3.5-5.6/28-70 and FE 4/24-70 ZA will perform similar in the center but the FE 4/16-35 has better corners.
The FE 2/28 has less field curvature so flat scenes will have  sharper corners but more three dimensional scenes will  have a little sharper corners with the SEL1635f4. It see a very small advantage for the 2/28 but both are very good at f/8 and I would base my decision more on size, price, versatility and the image stabilizer.
If money is less of and issue and your focus is on landscapes or architecture I would probably prefer the 16-35 because it is more versatile and the image stabilizer is quite handy.  Personally I will stick to the 2/28 because it is much smaller, faster and more affordable which is more important to me than the wide focal range.
The Canon 4/16-35 L IS (affiliate link) is bigger and heavier but also a little sharper in the corners. You have to use an adapter and you lose AF but it is also more affordable.
The Sony E 4/10-18 OSS barely covers the FF sensor at around 16mm but the corner performance at this setting is far from great so I wouldn't recommend to use it on the a7 series.
On the a6000 it is not as excellent in the center at f/4 but by f/5.6 they are pretty close. The corners are close but a little worse at both ends. But it is also a lot smaller, lighter and more affordable. The 4/16-35 wins for ultimate performance, the 4/10-18 is the more rational lens.
I also compared it to my Canon FD 2.8/20: The SEL1635z is a lot more contrasty at wider apertures and still leads at f/8 and f/11.  Stpped down to f/8 and especially f/11 sharpness is very similar, the FD even has a little advantage in the corners. Flare resistance is no contest: The Canon is pretty bad and the Sony quite good.
Sample Images in Full Resolution
These images are processed from raw in LR
More samples in this flickr set: Sony FE 4/16-35 ZA T* full resolution samples
Conclusion
Pros
excellent center from f/4
very good corners stopped down
effective image stabilizer
very good built quality
nice sun stars
versatile zoom range
Cons
not very well balanced on the a7, probably better on the a7II
not as well weather sealed as similar lenses from other manufacturers
expensive
 Unlike with the FE 4/24-70 Sony did most things right with this lens.
Performance is very good and I find little fault with the lens: For the entire zoom range you get excellent central sharpness from f/4 and very good across the frame sharpness  stopped down. The stabilizer works very well and it produces very nice sun stars. Optical problems like vignetting, distortion or flare are  well enough controlled that they are seldom a problem.
I think it can be a very useful addition to many photo bags. Especially landscape photographers will enjoy the very good image quality and the wide zoom range. They  probably won't be too thrilled about the size and weight but that's the price you have to pay for the versatility.
I think the price is a bit high but that's hardly a surprise for any ower of a Alpha 7 series camera.
Support my work
Doing reviews like this requires a lot of time and effort. You can support my work by using one of these affiliate links at no additional cost to you.
The FE 4/16-35 at Amazon.com, Amazon.de or at B&H photo (affiliate links).
Paypal donations are also very much appreciated:
Other popular articles
Manual lenses on the Sony a7 – A beginners guide
The following two tabs change content below.
I like to be outside with my camera and I am also a gear head with a love for manual lenses.
Latest posts by Phillip Reeve (see all)