What is a L-bracket?
A L-bracket is a peace of metal which serves about three functions:
It makes it possible to mount the camera in portrait orientation on a tripod
It is a more solid connection to the camera than quick release plates because it has a much bigger area of contact to the camera.
It increases the size of the grip and makes holding the camera easier.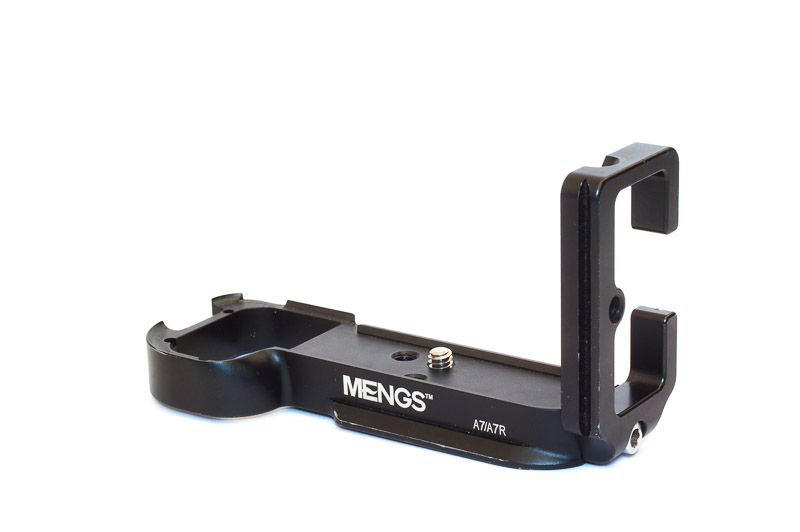 For me an L-brackets has improved the everyday experience of my Sony Alpha 7 and I think too few people know about L-brackets so I want to share my experience in this post.
How does it work?
Lets have a look at some images:
Here you see my a7 with attached L-bracket on a tripod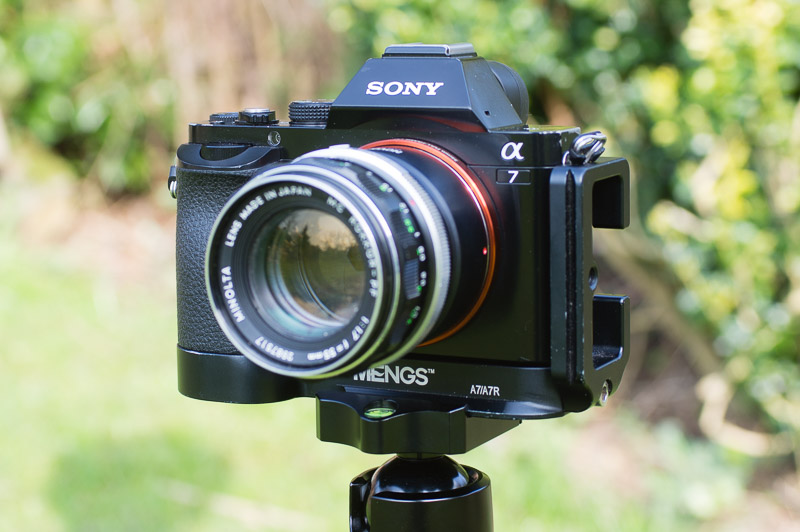 Most l-brackets are compatible to the Arca Swiss system which is used by about any better tripod head.
L-brackets have two rails so you can mount them either in landscape orientation as shown above or in portrait orientation as shown here: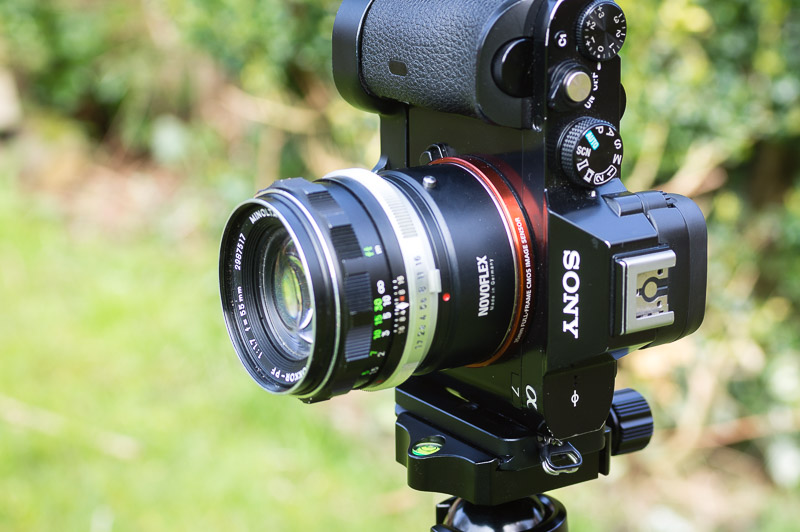 There are universal L-brackets which can be used on my cameras and L-brackets which are made for a specific camera model. The one I used is of the sencond kind.
In this image you see that it increases the grip area, my little finger rests much more comfortable on the camera when the L-bracket is attached.
Limitations
My L-bracket limits the downward movement of the LCD screen by a few degress, I would guess that you can move it downward by 45° without and 40° with the L-bracket attached.
It also makes the camera heavier and bigger. If you just spent $800 for a the Zeiss 2.8/35 to keep the camera small and light it doesn't make much sense to attach a 130g peace of metal which adds Xmm of height and Xmm of width to the camera.
For my landscape photography always use the L-bracket, I sometimes use a tripod and I always have a camera bag with me so the weight isn't a problem.
I detach the L-bracket when I wan't to bring the camera to a social event where I usually have my camera in one  pocket of my jacket and a smaller normal lens in annother pocket.
Cheap vs. Expensive Models
I use a cheap adapter from a company called Mengs which I have never heard of before and  it seems to be available only in Germany. I paid 50€ for it because I was a bit hasty, today it sells for 30€ at Amazon.de (affiliate link) I wouldn't be surprised if all the cheaper models in the $20-$50 bracket came from the same Chinese factory but that is speculation.
I am very happy with my copy, it fits very well, the machining is done well and I haven't really found a flaw in the year I have used it now.
I think the precision of the production and the engineering is much less critical with a L-bracket than with adapters, and based on my experience I see little reason how a more expensive product could improve my experience.
You can buy a much more expensive model from  Really Right Stuff which has a fancy mechanism which makes it possible to use a HMDI cable even when the camera is mounted in portrait orientation. But to be honest I can't imagine one application where that is needed and it makes it more heavy and expensive. If you can imagine such a scenario please tell me.
Conclusion
The 50€ I spent on my L-bracket were a very good investment and today you can get one for half that much.
The L-bracket has improved the handling of my Sony a7 quite a bit and makes especially the handling of larger and heavier lenses weighting more than 500g easier.
I also like that I don't have to worry about quick release plates any more.
For those benefits I paid only a few bucks and I have to deal with a bigger and heavier camera but in most scenarios this is not an issue and when I want just the a7 and a small lens I can detach it in 30 seconds.
Support my work
Writng article like this requires a lot of time and effort. You can support my work by using one of these affiliate links at no additional cost to you.
I think the Neewer L-bracket available in the US is very similar to the one I use. You can by it at Amazon.com.
In Germany I can recommend the Mengs L-bracket which I own
Paypal donations are also very much appreciated:
The following two tabs change content below.
I have two hobbies: Photography and photographic gear. Both are related only to a small degree.
Latest posts by Phillip Reeve (see all)