Introduction
We have gathered 180/200mm primes ranging from f/4.0 to f/2.0 with used prices between 40$ and 3000$ and put them up against each other on the 42mp A7rII. Read on to find out more about our findings!
Unlike my other reviews this is a pretty technical comparison without real world shots. Apart from that I have only used some of the lenses for a few days.
Specifications
Used prices:
Minolta MC 200mm 4.0: 40$/60€ @ ebay.com
/ebay.de
*
Leica-R 180mm 4.0: 350$/300€ @ ebay.com
/ebay.de
*
Nikon Ai-s 180mm 2.8 ED: 350$/350€ @ ebay.com
/ebay.de
*
Minolta AF 200mm 2.8 APO: 550$/750€ @ ebay.com
/ebay.de
*
Nikon AF-S 200mm 2.0G VRI: 3500$/3000€ @ ebay.com
/ebay.de
* (very rare)
Adapters I have used:
K&F Concept MD-NEX: 14$/21€ @ amazon.com
/amazon.de
*
Fotodiox L/R-Sony-E: 22$/37€ @ amazon.com
/amazon.de
*
Metabones Nikon-G to Sony-E: 135$/160€ @ amazon.com
/amazon.de
*
Sony LA-EA4: : 350$/225€ @ amazon.com
/amazon.de
*
*affiliate links
Handling / Build Quality
Minolta MC 200mm 4.0:
I don't like the very long focus throw as I can't get from infinity to the minimum focus distance in one turn. There is very little way between f/4.0 and f/8.0 and I found it somewhat hard to set the desired aperture without looking at the lens, but this may a problem of this very sample. Out of the 4 lenses with telescopic hoods in this comparison this is the one I like most as it is not wobbly and snaps into place (probably because of a magnet).
Leica-R 180mm 4.0:
I don't like the very long focus throw as I can't get from infinity to the minimum focus distance in one turn. The focusing ring is just a tad on the stiff side but otherwise feels very nice. The hood is not wobbly but does not snap into place as on the MC. What I really like about this lens is that it is the smallest of the bunch.
Nikon Ai-s 180mm 2.8 ED:
Focus throw and resistance of the focusing ring are excellent. The hood is a bit on the wobbly side but also snaps into place because of a magnet. The aperture ring is the best in this comparison, but this may also be due to the fact this lens hasn't been used much. Handheld I don't really like this lens on the A7 bodies as it is a very front heavy lens (this gets worse on focusing closer) and quite thick.
Minolta AF 200mm 2.8 APO:
This is actually unlike any other lens I have used before. The hood is extendable but you need to turn it a bit to tighten it. When using the LA-EA4 adapter the narrow focusing ring always rotates during focusing operations (the throw is also too short for a nice manual focus experience). What is very special: there is retractable cowling to cover the focusing ring and a ring for adjusting the focus limiter. The AF is very fast with the LA-EA4.
Nikon AF-S 200mm 2.0G VRI:
I have used this lens handheld for a few weddings with my D800 but this clearly isn't something anyone would do voluntarily for a longer period of time. The very big focusing ring makes setting the focus precise quite easy. There is also no slack in the focusing ring when changing the direction of rotation inherent in many other AF-S lenses. I am also really interested in testing this lens with the Commlite AF-adapter but didn't yet get the chance to do that. On Nikon DSLRs this is the fastest focusing (and battery draining) lens I have used so far.
Sharpness
infinity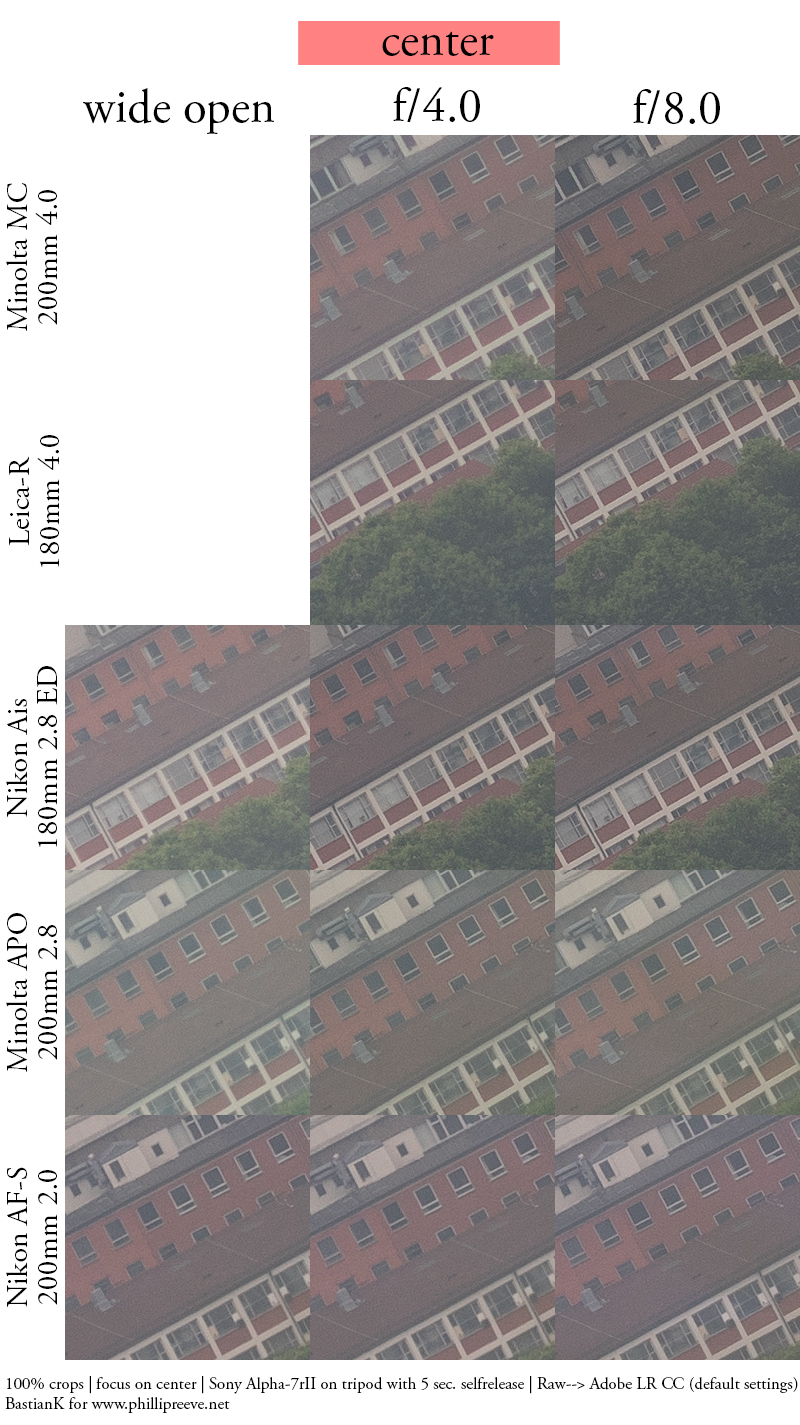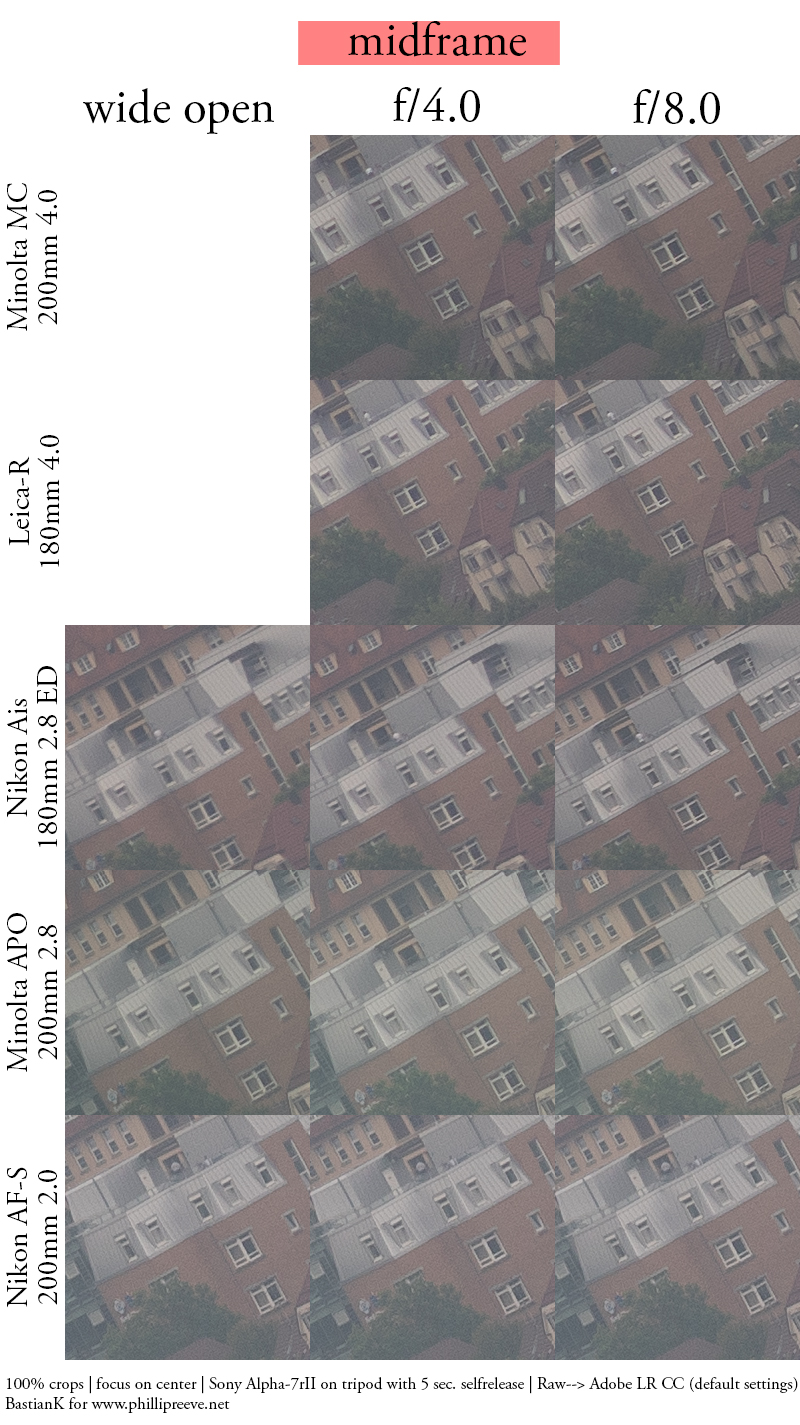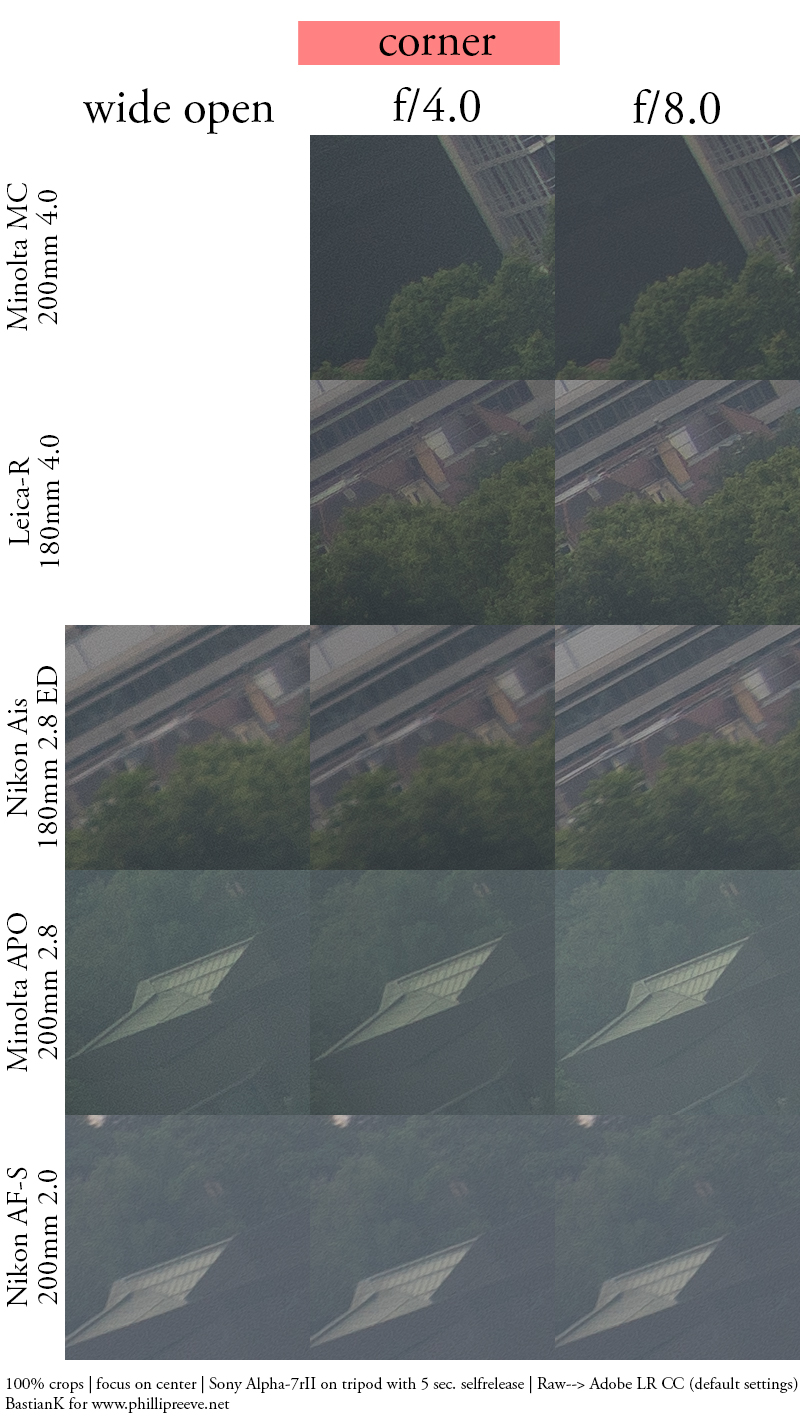 The exposure on some of the corner crops has been adjusted in post. Focus was done wide open for the center of the image so no correction for focus shift or field curvature was performed.
All lenses are pretty good in the center and the midframe, even wide open. In the center I see a slight edge for the 200mm 2.0.
In the corners the Nikon 180mm 2.8 really struggles, even stopped down, and the Minolta 200mm 2.8 APO looks best to me.
2.5 m

Wide open the 200mm 2.0 might have a small edge here and the 180mm Nikon and the 200mm 4.0 Minolta look worst to me. Stopped down they all look at least very good to me.
Bokeh
wide open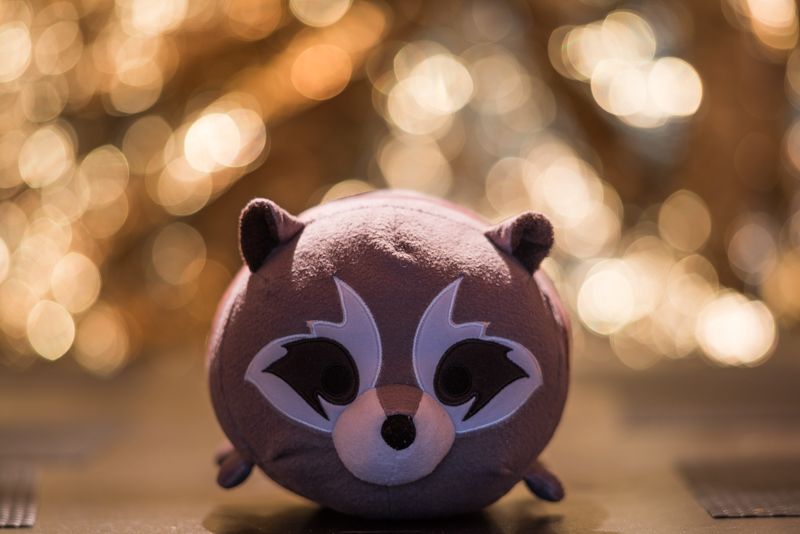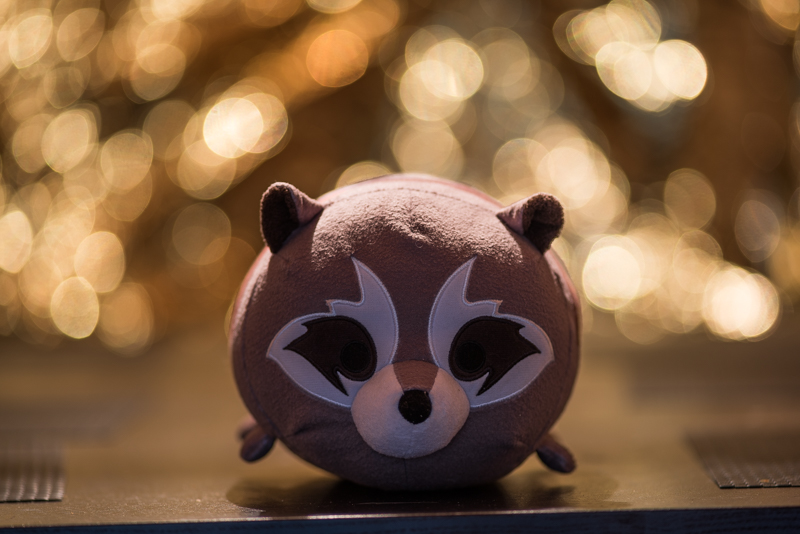 No suprise: wide open the 200mm 2.0 is in a league of it's own here and the differences are pretty imminent as the light circles are substantially and easily visible bigger compared to the competition.
I don't really like the f/4.0 lenses here, but not only because of smaller light circles but because of the green outlining you can see with both lenses. The Minolta MC is the worst here in my eyes as it also shows the worst mechanical vignetting I have seen so far. Here we are not talking cat's eyes anymore but merely salad bowls.
The Nikon 180mm 2.8 and the Minolta 200mm 2.8 APO both look quite similar and also very pleasing to me.
@2.8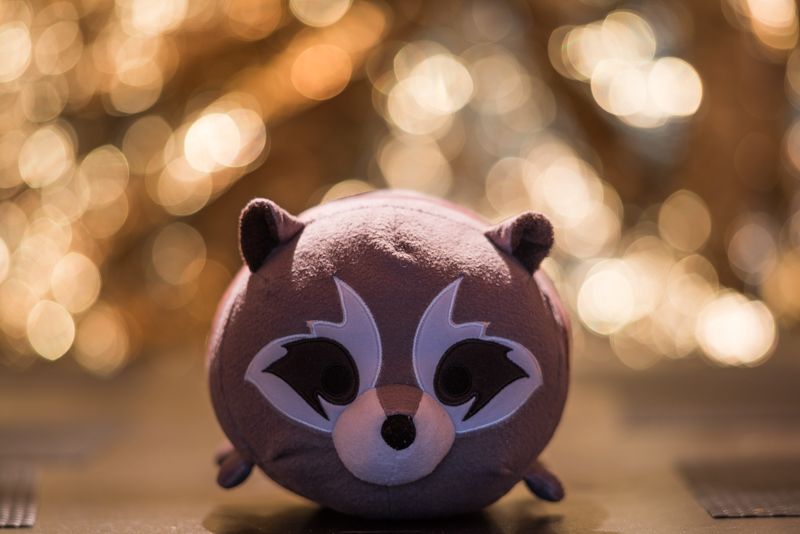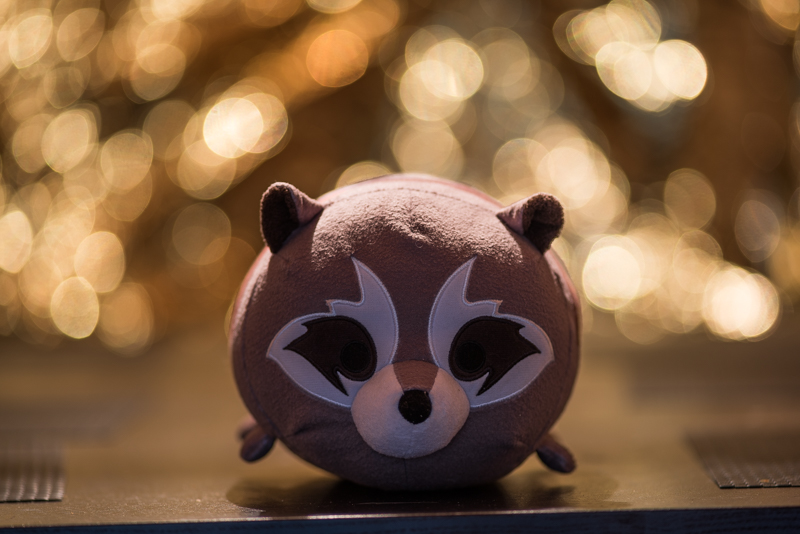 As it is already stopped down the 200mm 2.0 shows the least mechanical vignetting here and thanks to 9 rounded aperture blades the light circles pretty much stay circles.
@4.0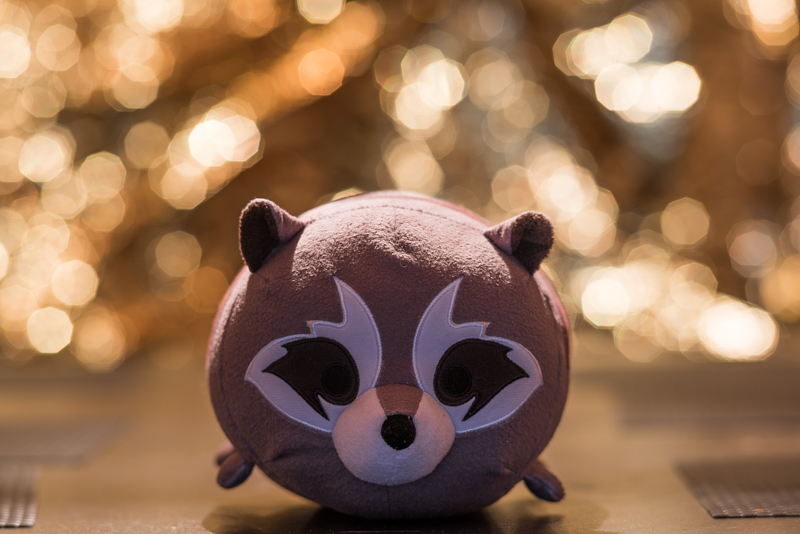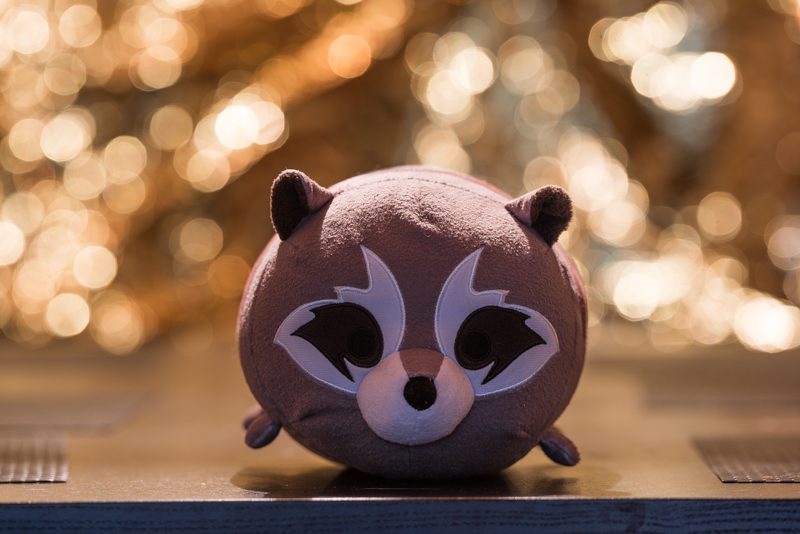 The Nikon 180mm 2.8 and the Minolta 200mm 2.8 both have 9 straight aperture blades so the highlights become 9 sided figures. The 200mm 2.0 with it's rounded blades still produces pretty much round highlights.
@8.0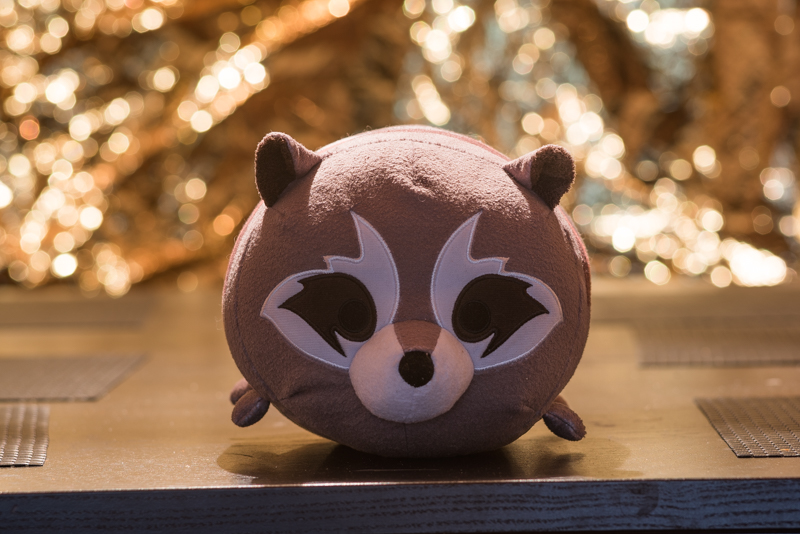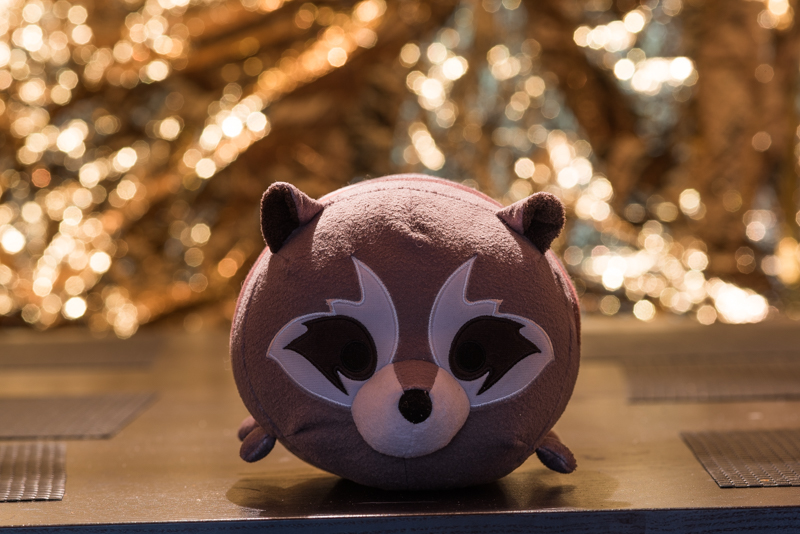 Here we have a nice comparison of how different diaphragm constructions influence the shape of out of focus highlights. The MC 200mm 4.0 produces hexagons, the Leica 180mm 4.0 octagons and the other three 9 sided figures.
Chromatic Aberrations
longitudinal
The f/4.0 lenses once more don't look really great here. The Minolta 200mm 2.8 (even carrying an APO tag) shows noticeable color fringing as well. Together with the Nikon 180mm 2.8 these 4 lenses look pretty similar here but the 200mm 2.0, despite being the fastest and therefore most difficult to correct, hardly shows even traces of color fringing and I am tempted to say this is one of the few truly apochromatic lenses.
Conclusion
It was very interesting have these four very different lenses side by side (not so much fun carrying all around at once 🙂 ).
The f/4.0 lenses are smaller and lighter than the rest and offer decent sharpness across frame even wide open, but I found the bokeh rather lacking and the minimum focus distance of the MC 200mm 4.0 is quite the show stopper for me, as is the diaphragm with only six blades. But for the used prices you can hardly go wrong as there are more expensive paperweights available.
I can't say the Leica-R is really worth the used prices in comparison as it only offers a little more for much more money.
The Nikon Ais 180mm 2.8 ED has very nice bokeh and central/midframe sharpness but the corner sharpness at infinity isn't really something to write home about. If you plan on using this lens for portraits I can recommend it. If you plan on using it stopped down for landscapes: not so much.
The Minolta AF 200mm 2.8 APO is a very interesting lens. The sharpness is excellent across frame even wide open. I have some problems with the APO tag though. In terms of longitudinal chromatic aberrations this is pretty much in the same league as the aforementioned lenses. The mechanics also feel a little bit dated, a focusing ring which rotates during AF operations is clearly not something I like (albeit the AF is pretty fast with the LA-EA4). The used prices are pretty high nowadays but it is hard finding a better 200mm 2.8 (haven't tested the EF 200mm 2.8 though, yet)).
The Nikon AF-S 200mm 2.0G VRI is clearly a special purpose lens designed for tasks like shooting indoor sports but is also known for it's astonishingly beautiful bokeh which led some people to use it for portraits as well. This is also pretty much an apochromatic lens and sharpness (center/midframe) as well as contrast are also excellent. The problems here are price and especially size and weight. I have hauled around this lens in Yosemite national park and also used it for some shots in Iceland but it simply is a pain carrying it around and airline companies are it's natural enemy.
These lenses are all very different instruments for different tasks. Know your task and it becomes clear which lens is the right choice for you.
Further Reading
Support Us
Did you find this article useful or just liked reading it? Treat us to a coffee!


via Paypal
The following two tabs change content below.
My name is Bastian and I am your expert here when it comes to ultra wide angle lenses, super fast portrait lenses (ranging from a 50mm f/0.95 to a 200mm f/1.8) and I also have reviewed way too many 35mm lenses. Don't ask me anything about macro or wildlife shooting though.