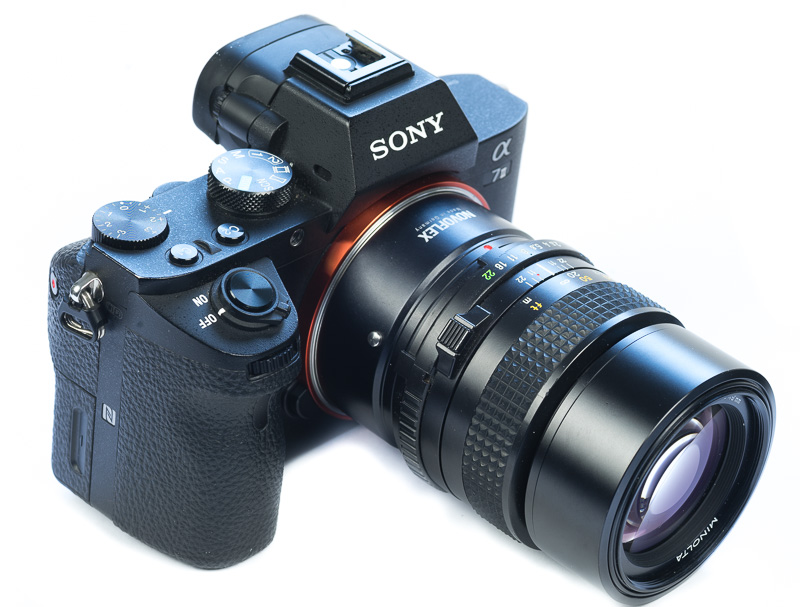 Many of Minolta's MC and MD lenses can be used with great results on digital cameras. All you need is the right adapter for your camera and this article will help you to find it.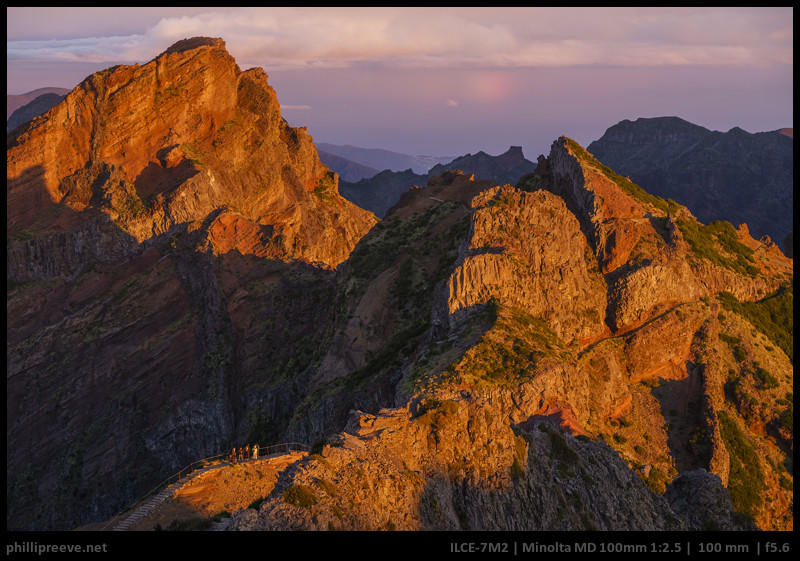 All links marked with * are affiliate links. If you use them I will earn a small commission on your purchase without any additional cost to you. Thanks for the support 🙂
The Minolta SR-mount
Minolta introduced the SR-mount in 1958 and in 1985 it was succeeded by the incompatible A-mount. For our purposes I would discern three different generations of SR-mount lenses.
SR-lenses. These are the oldest lenses released before 1966. They are labeled Rokkor or Auto-Rokkor but not MC or MD.
MC-lenses. Released between 1966 and 1977 these are labeled MC Rokkor.
MD-lenses. Released from 1977 the older MD lenses are labeled MD Rokkor but the younger ones from 1981 and younger dropped the Rokkor and are just labeled MD.
Because MC and MD lenses are a lot more common this articles is titled The Guide to Adapters for Minolta MC and MD lenses but the same adapter will work for all these lenses. When these lenses are used on a Minolta film SLR it matters from which generation they are since the older ones don't work in all camera modes.  On a adapter the aperture is controlled only by the user so there is no difference between these lenses work.
There are quite a few lenses from Minolta with a different mount which need different adapters.
Minolta A-mount lenses are easily identified by the

AF

-engraving.
Minolta also released three M-mount lenses in cooperation with Leica, the M-Rokkor 28mm 1:2.8, 40mm 1:2 and 90mm 1:4.
Then there are a few M39 mount enlarging lenses labeled E.Rokkor, C.E. Rokkor or just C.E. 
A quick introduction to Adapters
You can only create an adapter for lenses with a longer flange focal distance than the camera you want to use it on. Since Minolta used a relatively short flange focal distance of 43.5 mm you can't adapt Minolta SR-mount lenses to DSLRs. That's because DSLRs from Canon (44 mm), Nikon (46.5 mm), Pentax (45.46 mm) and Sony (44.5 mm) all have a longer flange focal distance. Mirrorless cameras in contrast have a much shorter flange focal distance so you can easily make adapters for Minolta SR lenses and they are the cameras of choice for using Minolta SR lenses.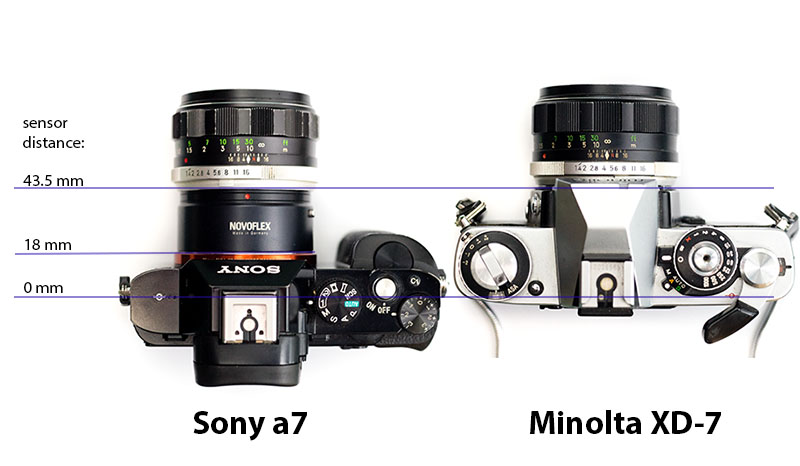 Adapters range in price from about $10 to more than $100. My advice based on costly experimentation is to:
Stay away from no-name $10 adapters. You can get lucky but it is more likely that your adapter will fit with quite a bit of play and break after a year.
Adapters from some affordable brands like K&F cost about $20 and in my experience they are good enough for many applications. They aren't perfect and there can be issues which I discuss in-depth in this article but most users will have a good experience with them.
If you own a nice collection of Minolta MC or MD lenses and plan to use them more often I would recommend you to invest a little more in a Novoflex or Rayqual adapter and get an adapter without any headaches in return but you pay more than $100 for it.
I recommend K&F because I have had a pretty good experience with them so far. So when I need another budget adapter I buy one from them. Reading the reviews on Amazon it seems that other companies like Neewer or Fotodiox make adapters of similar quality but I have no personal experience with them so K&F is what I recommend.
The right adapter for your camera
Nearly every manufacturer has a different mount so you need to make sure that your adapter fits both the camera and the lens.
Sony E-Mount
Typical Models: Sony a6500, a6000, a7, a7rIII or a9
Budget adapter: Amazon.com* | Amazon.de*
(It says in the product description that it will only work with APS-C camera. That's wrong. I and many others have used these adapters without issues on the a7-series)
Premium adapter: Amazon.com* | Amazon.de*
Fuji X-Mount
Canon EF-M
Micro-Fourthirds
FAQ
Which camera system do you recommend to use Minolta MC or MD lenses?
Since these lenses were designed for a fullframe camera they work best on a fullframe camera and I would recommend the Sony a7 series. Man lenses work well on a APS-C camera as well but I don't think the performance on MFT is convincing.
Can my camera record any exif information on the lens?
No, it can't. If you want exif information you have to add that manually with a tool like lenstagger.
Does my lens perform well on a digital camera?
That depends on your lens and what you want to use it for. In general I have often been surprised how well my Minoltas work on digital. For more information on many lenses check out this article.
Do I have to expose manually?
No, you don't. On most cameras the A-Mode will work the same way it works with native lenses, you just have to change the aperture by hand which quickly becomes very intuitive. In M-mode you can use auto-ISO to get a correct exposure.
Related Posts
The following two tabs change content below.
I have two hobbies: Photography and photographic gear. Both are related only to a small degree.
Latest posts by Phillip Reeve (see all)