There are many manual lenses above 28mm which work quite well on modern cameras like the Alpha 7 but not that many wide angle lenses perform good enough on modern cameras.
The Canon nFD 2.8/24 is one of the sharpest, affordable wide angle lenses and I think it can be a good solution for budget-oriented Sony Alpha 7 users.
A German version of this review can be found on phillipreeve.de.
Sample Images
Specifications
Diameter: 62mm
Length:  45mm
Filter Diameter: 52mm
Weight: 240g
Number of Aperture Blades: 6 (slightly curved)
Elements/Groups: 10/9
Mount: Canon FD
The Canon new FD usually sells for around $85 at ebay.com (affiliate link). 
In Germany you can buy it for around 60€ at ebay.de (affiliate link).
Versions
Canon made three different 2.8/24 FD lenses.
The Canon FD 24mm 1:2.8 chrome nose was introduced in 1971 and is heavy at 410g. It has the less effective S.C. coating.
The Canon FD 24mm 1:2.8 S.S.C. was introduced in 1973, it is very well build and a bit hefty at 330g.
 The Canon (new) FD 24mm 1:2.8 introduced in 1979 has the new mounting system and it isn't built as solid but at 240g it is notably lighter. This review is about this version.
The FD S.S.C. and new FD  feature a floating focusing design but the nFD version has one more element.
Canon also made a very big and very expensive FD 1.4/24 L as well as an FD 2/24 which is quite expensive too.
Compatibility
You can use the lens on a wide range of old Canon FD-mount film-cameras like the Canon A1 or AE-1.
Because of the flange focal distance of Canon FD lenses, all adapters for DSLR cameras either contain an optical element which will reduce image quality a lot or cause you to lose infinity focus. I wouldn't bother to use one of those adapters.
Mirrorless cameras have a much shorter flange focal distance and  you can buy adapters for Fuji-X, Sony-E, Micro Four Thirds and Samsung NX which won't degrade image quality or lose infinity focus.
I usually recommend Sony Alpha 7-series cameras for  use with older manual lenses because they are the only ones with a full frame sensor and in my experience most lenses work best on the larger sensor. In my eyes there is little reason to use this lens on an APS-C camera; 18-55 Kit lenses will give better results.
Here are links to adapters to mount the Canon FD 2.8/24 to Sony E-mount cameras: Amazon.com | Amazon.de (affiliate links).
I use an expensive Novoflex adapter (link to my review) but the cheaper ones usually work well enough.
Build Quality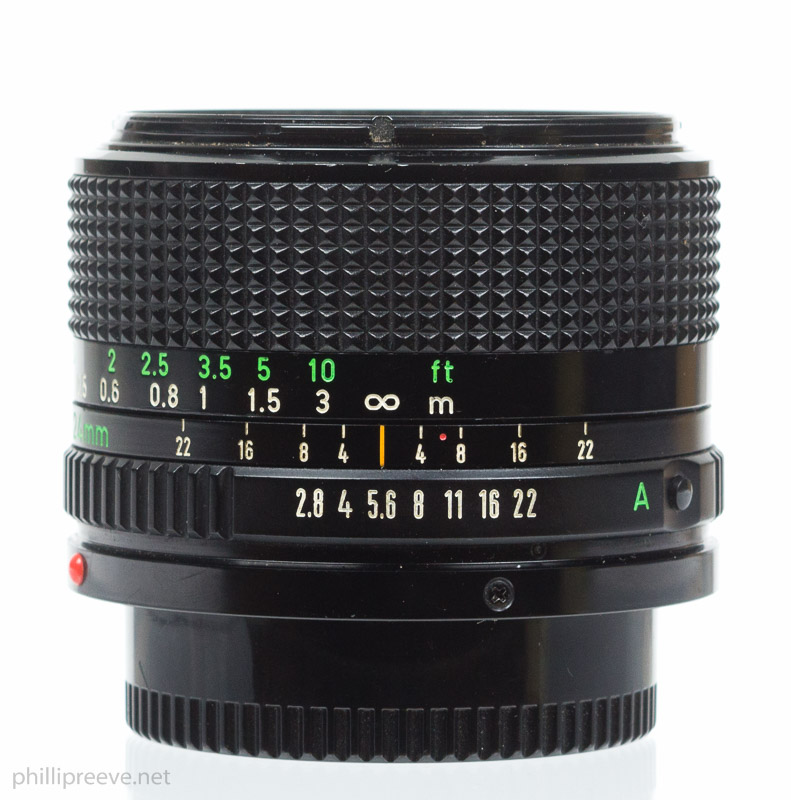 Build quality is good by today's standards but if you compare it to other manual lenses the lens feels a bit cheap.
The lens is mostly metal but some parts like the aperture ring at the front plate are made from plastics. All the markings are engraved.
Size, Weight and Handling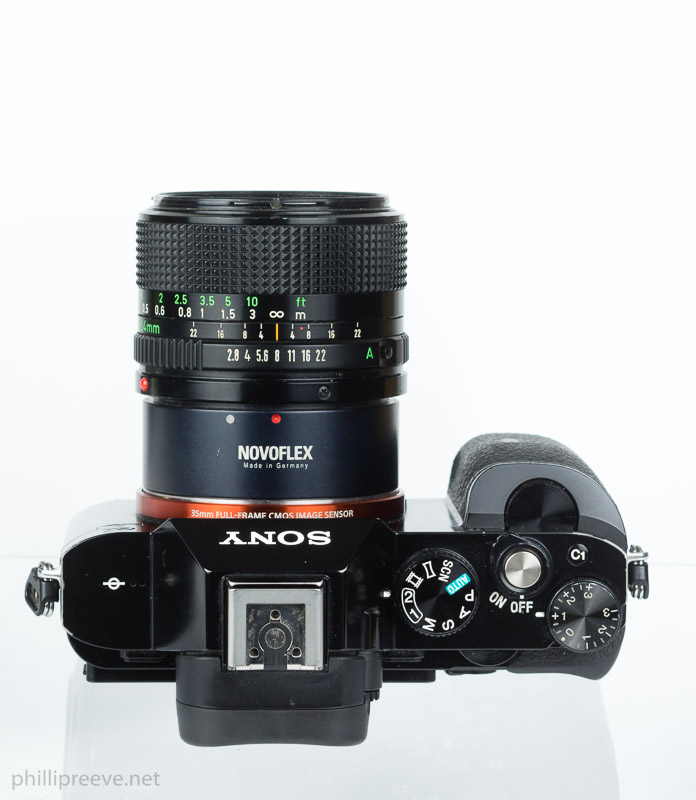 The Canon FD 2.8/24 is a small lens and is very well balanced on my Sony Alpha 7.
The focusing ring travels 90 degrees from 0.3m to 1m and a further 20 or so degrees to infinity. I think that's a very reasonable focus throw. I would have wished for a little more resistance though; it is a bit too smooth.
The aperture ring has half-stops from f/2.8 to f/22 but it requires too much force to move it and the clicks aren't distinctive enough so it can be a bit hard to select the right aperture stop just by feel.
All in all operation works well enough but other lenses handle a bit more pleasant.
Lens Hood
I don't own the original lens hood, its name is "BW-52C".
Close Focusing Distance
0.3m isn't very close for a 24mm lens. Thanks to floating elements sharpness doesn't suffer as you focus closer.
Image Quality
Vignetting
Notable at f/2.8, greatly reduced by f/4 and invisible in practical applications from f/5.6.
Flare Resistance
The flare resistance is actually quite good for a lens of its age. There is a little bit of contrast loss and some ghosting can be provoked but I have seen much worse from other lenses.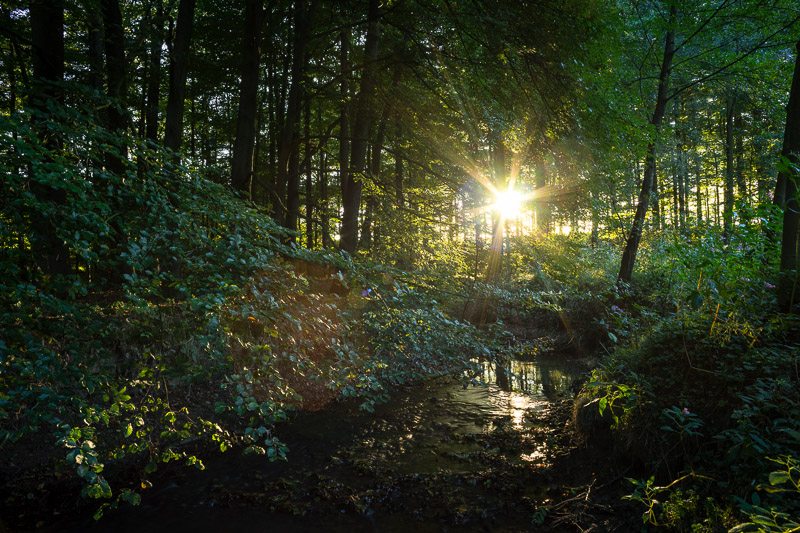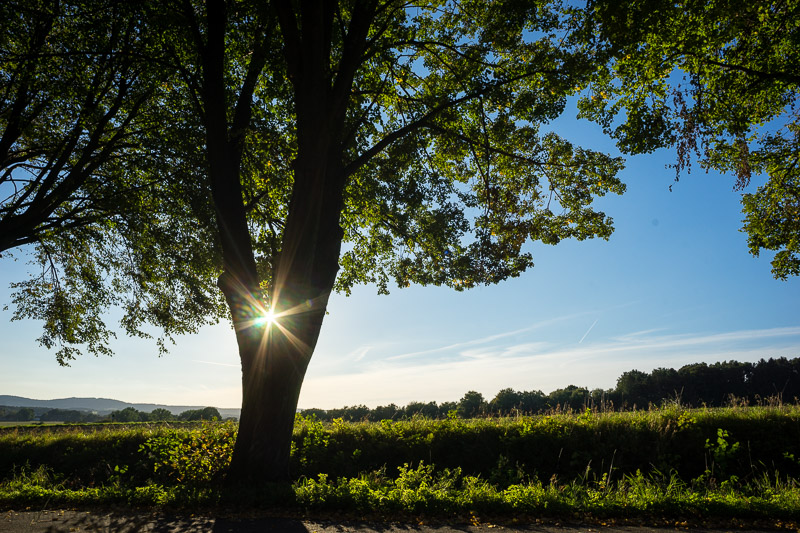 Distortion
There isn't too much distortion but since it is a mix of barrel- and pincushion-distortion I wasn't able to fully correct it in LR.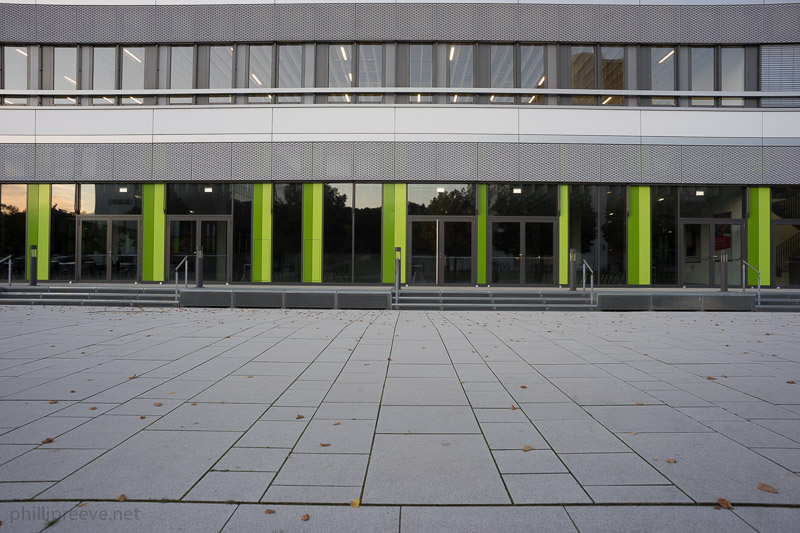 Chromatic Aberations
There is a moderate amount of lateral CA which should be corrected.
I didn't test for longitudinal CA because it doesn't really matter in a wide angle lens.
Bokeh
Unsurprisingly bokeh is not a strength of this lens. This is typical for a wide angle lens.  Since you won't use this lens to isolate your subject very often this shouldn't matter too much.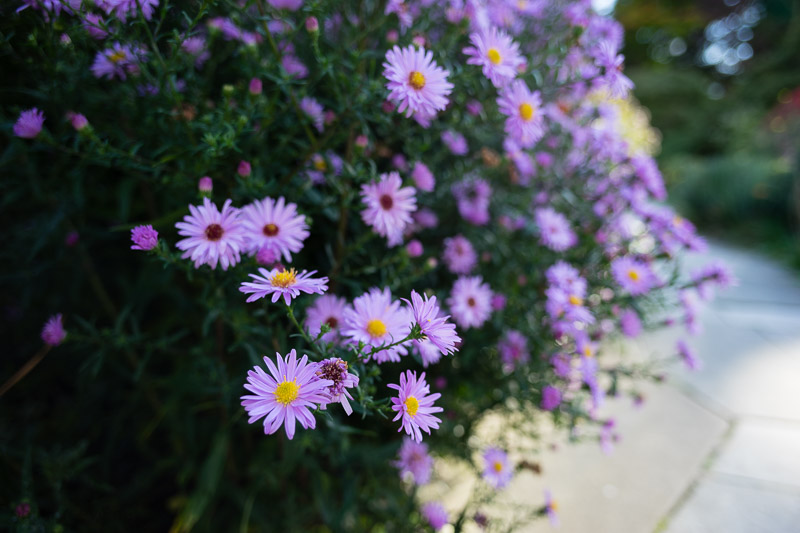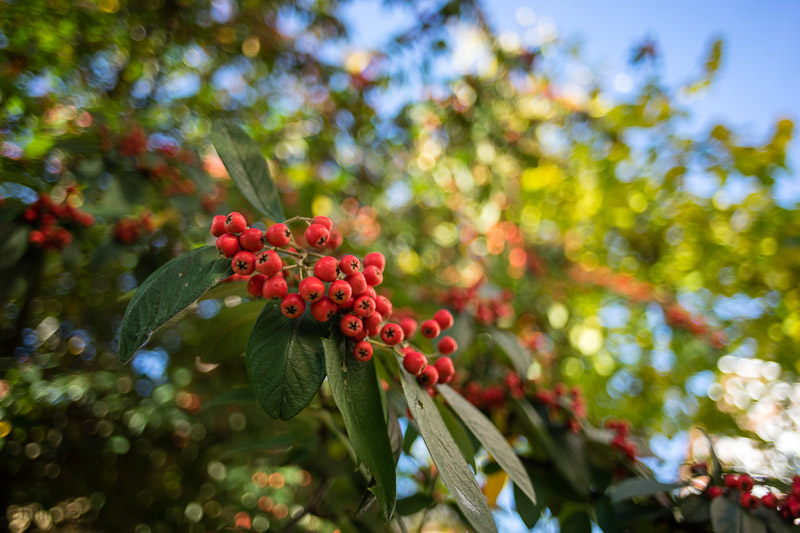 Sun Stars
Not good, not bad. I wish this lens had more aperture blades than just 6.
Sharpness
The Canon nFD 2.8/24 is very sharp in the center from f/2.8. Stopping down to f/4 makes the center excellent.
The midframe region is good from f/2.8 but benefits from stopping down to f/4 as well.
The corners show decent resolution at f/2.8 but very low contrast. For very good results it makes sense to stop down to f/8 and they are best at f/11.
Conclusion
Pros
Very sharp across the frame from f/8

Size and weight

Price
Average
Cons
Bokeh

Build quality

Corner sharpness at wider apertures
The Canon FD 2.8/24 represents what I have come to expect from Canons non-L nFD lenses. Image quality is class-leading  (the competition beeing 70s and 80s, 24mm lenses) with very good across-the-frame sharpness from f/8, only the distortion could be a problem for some applications.
Mechanics are okay – the focusing experience is still better than with Sony's FE lenses but other manual lenses are more pleasant to use.
I think the Canon FD 2.8/24 is a good solution if you are looking for a small and affordable lens for landscape photography. Stopped down to f/8 it is very sharp across the frame. Flare resistance is decent and the small size and low weight are a big bonus for longer hikes.
I wouldn't recommend this lens for architecture photography because of the distortion. I also wouldn't recommend it to people who put a lot of value on great build quality and a pleasant focusing ring.
All in all the Canon nFD 2.8/24 is a good solution for photographers on a budget who are focused on the output of their lenses. If your focus is less on the output and more on the experience of using your lens then there are better solutions.
The Canon new FD usually sells for around $85 at ebay.com (affiliate link). 
In Germany you can buy it for around 60€ at ebay.de (affiliate link).
If this review was helpful to you, please consider using one of my affiliate links. I will earn a small commission on your purchase and it won't cost you anything. Thanks!
For the right adapter check out our Adapter Guide.
Full ResolutionSample Images: Canon FD new 2.8/24 on Sony a7
All images are processed in Lightroom from Raw. Many more samples in my Canon nFD 2.8/24 flickr album.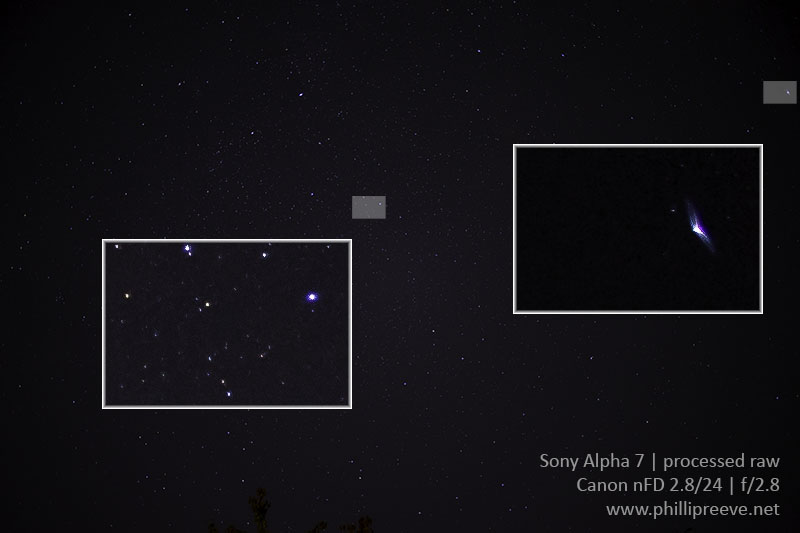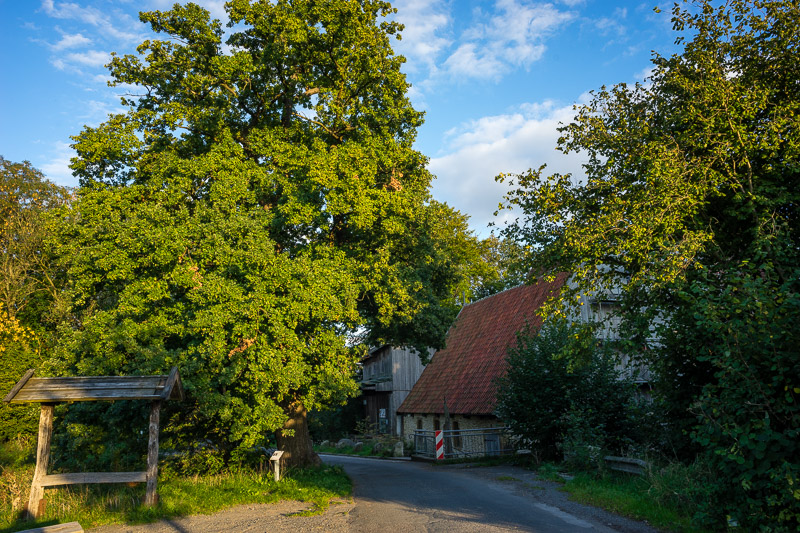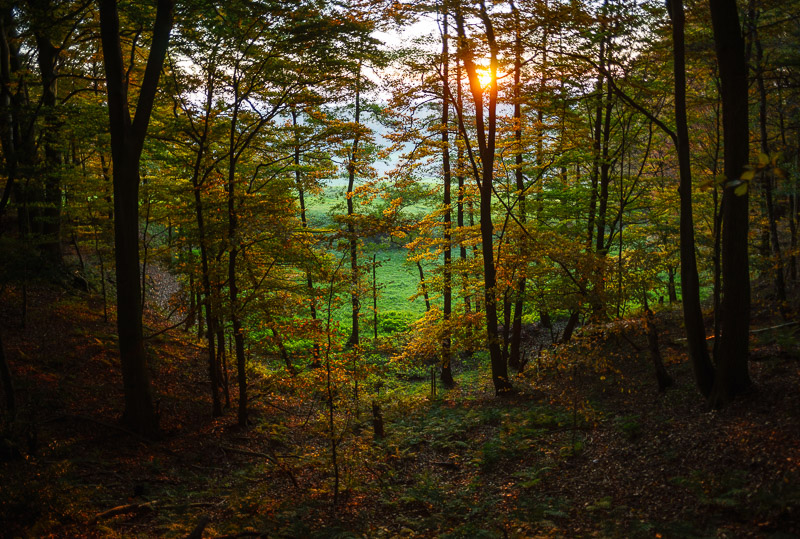 Other Articles
The following two tabs change content below.
I have two hobbies: Photography and photographic gear. Both are related only to a small degree.
Latest posts by Phillip Reeve (see all)