The Meyer Trioplan 2.8/100 is one of the most hyped lenses of the moment and prices have exploded to absolutely crazy levels. But do you get anything special but that soap bubble bokeh for your money? Read on if you want to know.
Specifications
| | |
| --- | --- |
| Diameter | 64 mm |
| Length | 36 mm |
| Filter Thread | 49 mm |
| Weight | 150 g |
| Max. Magnification | 0.15 |
| Close Focusing Distance from the sensor | 1.2 m |
| Number of aperture blades | 15 |
| Elements/ Groups | 3 / 3 |
Price
(September 2016): $500 in good condition.
Check current prices at 
ebay.de
 or
ebay.com
 (affiliate links).
Image Samples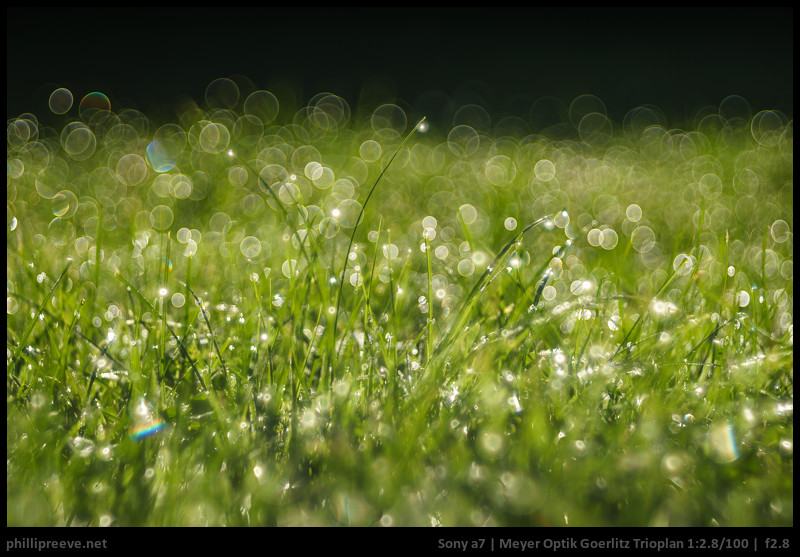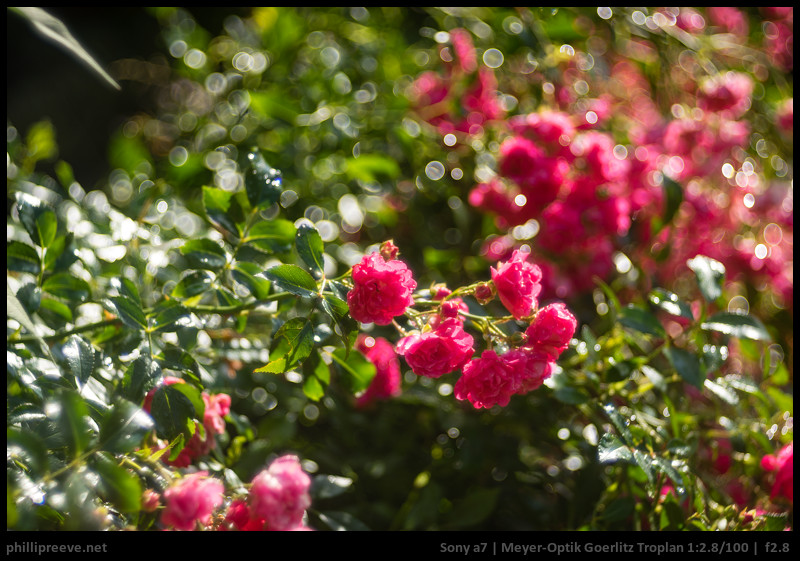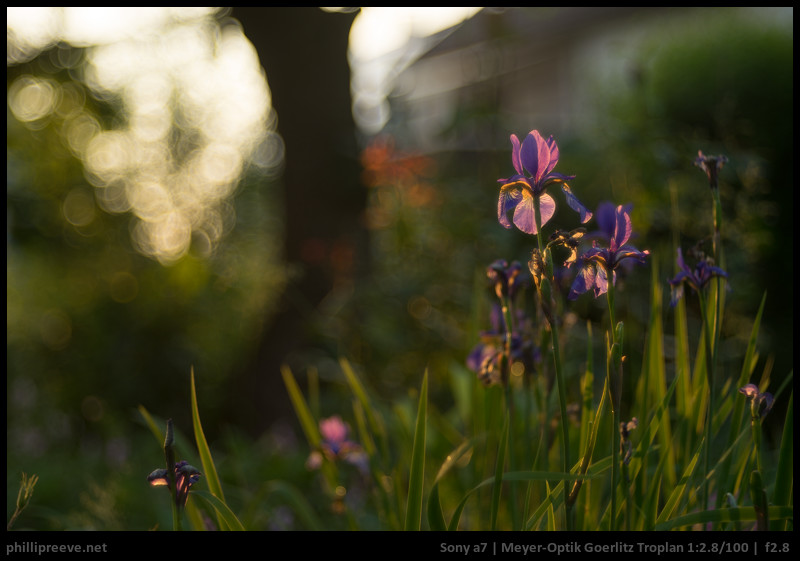 Versions
There are quite a  few versions of this lens and it came in several different mounts. There even is a modern version of this lens which you can buy for the very affordable price of just 1.499€.
I didn't spend too much time on research and found no good resource about the history and different versions. So all I can tell you is that my copy comes in M42 mount but there are also many version with Exakta mount.
If you really like this soap bubble effect be smart and have a look at the TTArtisan 100mm 2.8 which does exactly the same thing but at a fair price of $155 and with better build quality.
Build quality and handling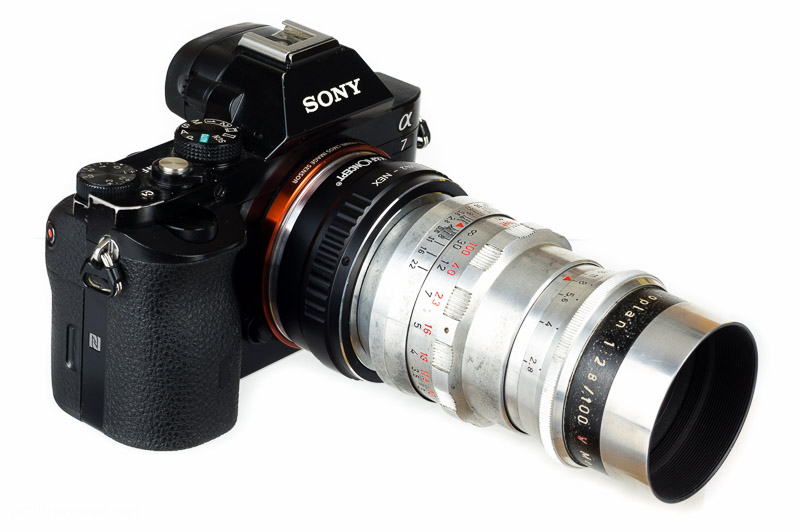 The lens is made from aluminium and it feels a bit delicate if you ask me, the fact that it is quite thin might play a role here but I felt that I had to be more careful with it than with my SLR lenses from the 70's.
Focusing Ring
The focusing ring travels around 330 degrees from 1,2 m  to infinity. It feels very smooth and is a pleasure to use.
Aperture
The aperture ring has no stops but a long way of travel and you can select any value form f/2.8 to f/22 very precisely.
The lens has 15 straight aperture blades so specular highlights stay round even stopped down.
Hood
The hood is just an about 15mm long silver ring which offers some protection against damage but it doesn't shield the front of the lens effectively.
Size and Weight
The Trioplan is a small lens, especially the diameter is unusually small but it is also somewhat detrimental to the handling if you ask me.
Optical performance
These results are based on the use with a Sony Alpha 7.
Flare Resistance
In short: Lousy.
Ghosting isn't the issue but you often have to carefully shield the front of the lens with your hand to fight the veiling flare. Especially when you want to provoke the one effect this lens is known for, see bokeh.
Bokeh
The Meyer Trioplan 2.8/100 is known and loved (by some at least) for it's rather distinctive rendering of specular highlights at f/2.8 wich is a nice way of saying that it there is very strong outlining going on in the background.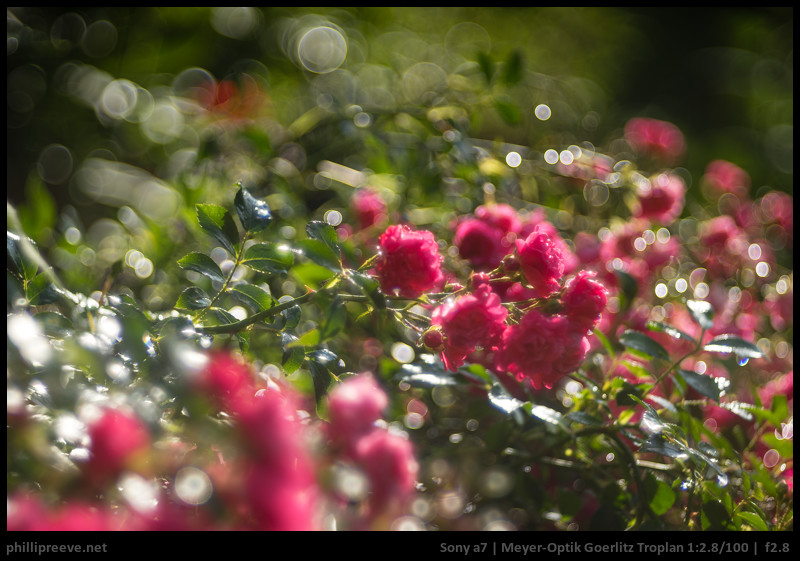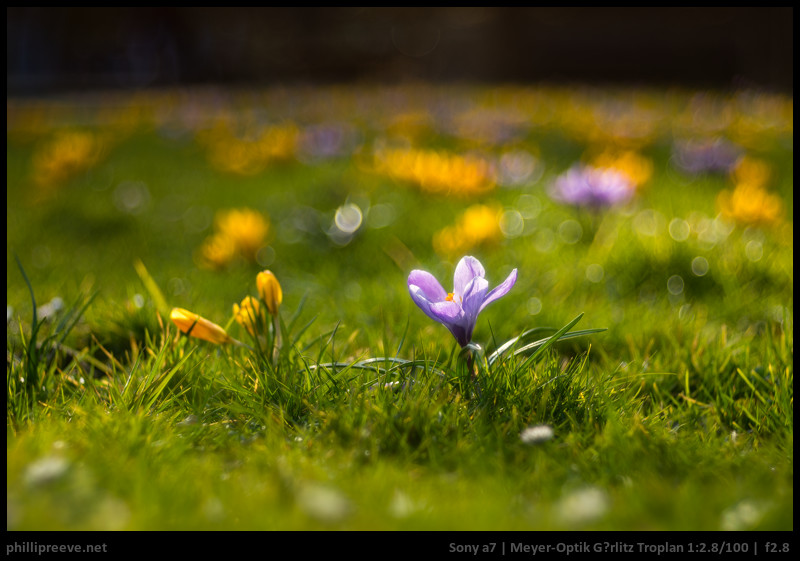 I have used the lens on a couple of trips but I haven't warmed to the effect. I still think that it usually distracts a lot from my subject and only very rarely adds to the image. Here is a  comparison with the Minolta MC 2.5/100 (which costs a lot less than the Trioplan).
In my opinion the Bokeh of the Trioplan catches the viewers attention and leads it away from the subject to the background while the very soft background of the Minolta doesn't call for any attention and lets the viewer focus on the subject.
The Meyer Trioplan 2.8/100's bokeh characteristic changes dramatically from f/2.8 to f/4:
So at f/4 bokeh is actually very smooth.
Chromatic Aberrations
Lateral CA are corrected perfectly which is unusual for a 100mm lens.
Sharpness
f/2.8: Decent resolution in the center but very low contrast. The midframe area is barely sharp and shows even lower contrast, the corners are soft.
f/4: Good contrast and sharpness in the center, corners are soft.
f/5.6: The Trioplan is less sharp in the center than at f/4 and contrast is lower as well. Never before have I used a lens on my a7 which showed this behavior so I repeated the test with the same result.
f/8: Contrast is even lower but now the midframe region is very sharp as well.
f/11: A significant improvement of the corners, they are sharp now. Contrast overall is pretty low though.
So all in all a rather pitiful performance here, more "modern" lenses from the 60's and 70's perform significantly better.
 Alternatives
Minolta MC 2.5/100: Cheaper, sturdier build, sharper, much smoother bokeh at f/2.5. Of course it lacks the Trioplan's "feature" of the soap-bubble-bokeh.
Zeiss Sonnar 3.5/100: Even sharper and contrastier than the Minolta. Bokeh is quite smooth as well.
Olympus OM 2.8/100: A tiny lens which performs much better in any aspect and costs less.
Conclusion
Pros

"character" at f/2.8 (if you are into it)

Bokeh from f/4

Zero lateral CA (not that the corners are ever really


sharp and it matters)

Average
Cons

Price

Bokeh at f/2.8 

Soft at f/2.8

Corners need f/11 to be somewhat sharp

Flare resistance

Low contrast

Contrast decreases from f/5.6
In a technical sense there is little positive I could say about this lens: It is soft with very low contrast and very distracting bokeh at f/2.8. From f/4 it is a decent perfomer with good bokeh and decent sharpness. Curiously the contrast drops at f/5.6, I have no explanation for this behavior. The corners only become somewhat sharp at f/11 and the Trioplan flares very easily.
I think I haven't reviewed a lens with such a low performance before. I guess that's what makes the lens attractive for quite a few people who call these deficits character. If you are of the opinion that optical defects adds to your images then it might actually be a good lens for you. The current price of $450 and more is absolutely bonkers if you ask me, but again, people will disagree with me here as well.
So, all in all the Meyer Trioplan 2.8/100 is a one-trick pony with a hefty price tag.  I don't get the trick but it seems that many other people enjoy it quite a lot.
If this is the case for you better have a look at the TTArtisan 100mm 2.8 which does exactly the same thing but at a fair price of $155 and with better build quality.
Price
(September 2016): $500 in good condition.
Check current prices at 
ebay.de
 or
ebay.com
 (affiliate links).
If this review was helpful to you, please consider using one of my affiliate links. Thanks.
Images Samples in full resolution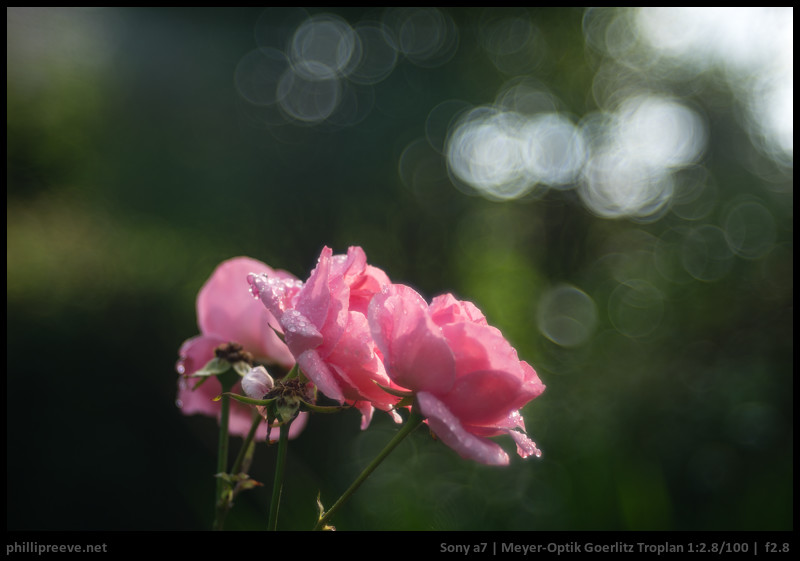 Further Reading
The following two tabs change content below.
I have two hobbies: Photography and photographic gear. Both are related only to a small degree.
Latest posts by Phillip Reeve (see all)