Introduction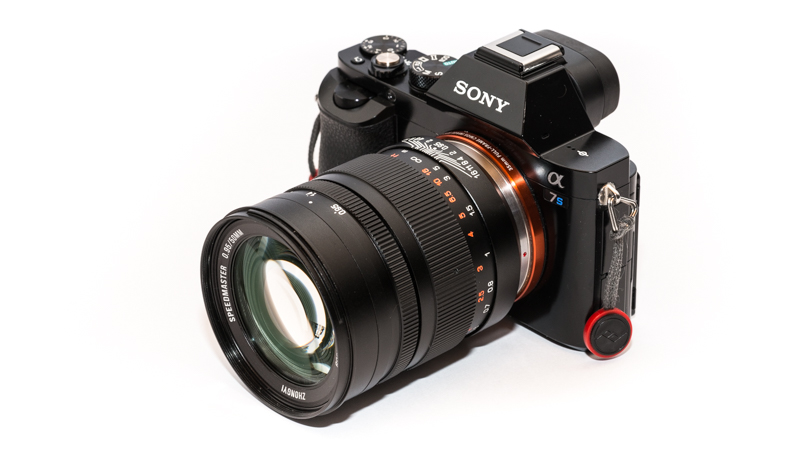 The Zhong Yi Mitakon 50mm 0.95 Speedmaster "Dark Knight" is a very fast 50mm lens with the staggering maximum aperture of 0.95. Compared to the Leica Noctilux this lens is very cheap, on absolute terms it isn't, so find out whether this lens is worth the asking price!
Sample Images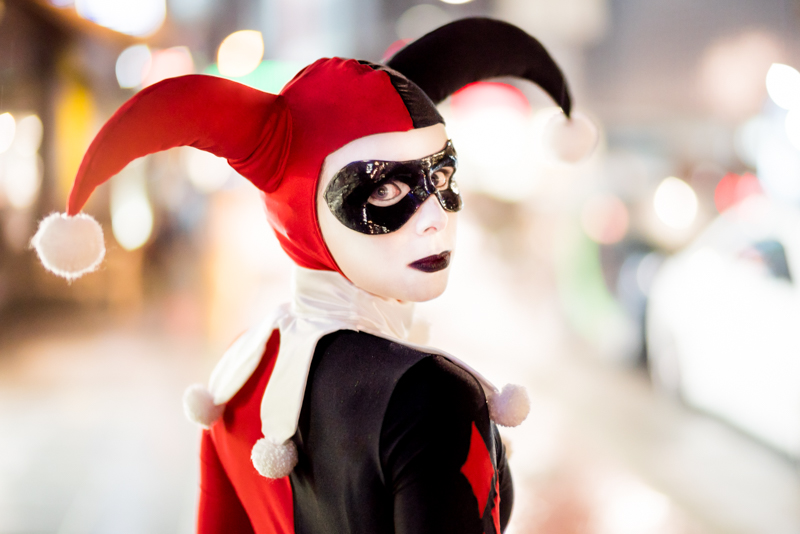 0.95
The very fast maximum aperture is what sets this lens apart from most of the other 50mm lenses. I don't want to anticipate the conclusion right at the beginning, but in case you don't want to use this lens at f/0.95 there are definetly smarter options available. I will therefore heavily concentrate on how this lens performs wide open, especially as a portrait lens.
Specifications / Version History
There have actually been two versions of this lens, the older one has a 58mm filter thread and was only produced for a very short time, it also lacked the "Dark Knight" nickname. The newer one incorporates a 67mm filter thread and is said to have been improved optically.
I am reviewing the newer 67mm "Dark Knight" version here which has the following specifications:
Diameter: 72.0 mm
Field of view: 45° (diagonally)
Length:  87.0 mm
Weight: 780g
Filter Diameter: 67 mm
Number of Aperture Blades: 9 (rounded)
Elements/Groups: 10/7
Close Focusing Distance: 0.5 m
Mount: Sony E
You may also have a look at the official page.
You can get this lens on amazon.com | amazon.de | B&H | ebay.com | ebay.de (affiliate links) for $799/850€ (new)
Handling / Build Quality
The lens is full of glass and the outer barrel is an all metal construction, therefore the lens feels very solid but also has quite some heft to it. The focus ring has a nice resistance and it takes about 160° from Infinity to 0.5 m. The aperture ring is quite narrow and is (unfortunately) clickless. I managed a few times to accidentally change the aperture because of that. There is also a very plasticky cheap hood included but all in all the  build quality is quite nice.
Vignetting

There is noticeable vignetting wide open (~3.0 EV) which drastically improves on stopping down to f/1.4 (~2.3 EV), already at f/2.0 it is quite unobstrusive (~1.4 EV) and from f/2.8  onwards rarely noticeable (~1.0 EV). Taking the parameters of the lens into account this is not a bad performance.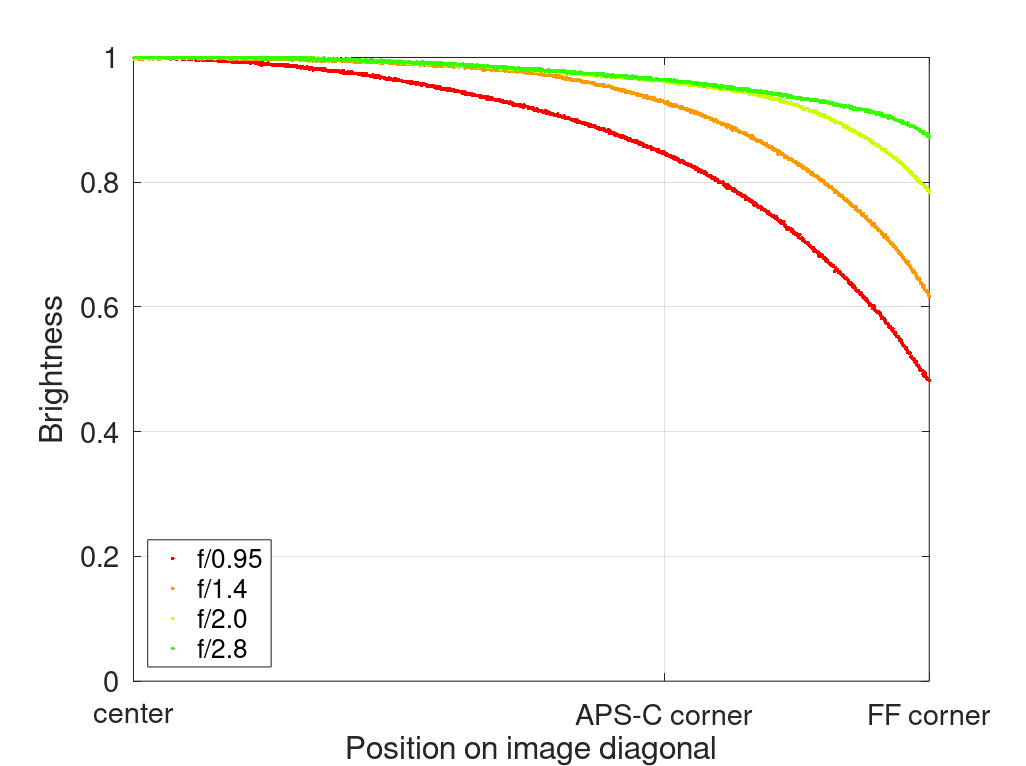 It is recommended to have a look at this article first to get an idea how this brightness graph works.
Sharpness
infinity


Wide open sharpness in the center is pretty decent with some loCA (which are already gone by f/1.4) and a tad lower contrast. Midframe and corners aren't so hot and need stopping down to f/5.6 to f/8.0 for very good performance.
close focus



This lens clearly wasn't designed for great performance at the minimum focus distance wide open as it is very soft at f/0.95 and still soft at f/1.4. Fortunately on stopping down to f/2.8 the lens sharpens up considerably.
Flare resistance
This is definetly a weak spot of this lens. With the sun inside or near the frame (no matter whether you are using the hood or not) you will catch artifacts, ghosts and also dampened contrast to such a degree that it can certainly ruin your shots.
My purely personal opinion here is: from time to time I actually like to use such effects for portrait shots, like in the following example:
Coma

Wide open the coma correction is not great, but it is also not worse at f/0.95 than the Nikon Series-E 50mm 1.8 @ f/1.8. Stopping down to f/2.8 improves the situation a lot but I would recommend stopping down to f/5.6 for nightly cityscapes.

Distortion
Distortion without (before) and with correction (after)
There is some (uniform) barrel distortion which can easily be corrected by the use of the lens specific profile in Lightroom.
Bokeh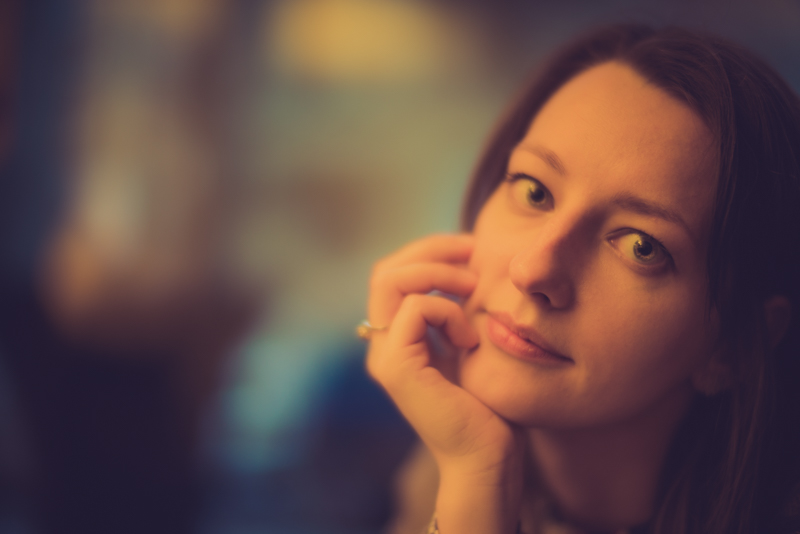 Bokeh is the reason you are buying this lens, simple as that. Many older fast lenses have a quite busy bokeh wide open with visible outlining. The Trioplan is the worst in this regard, but you can also see this effect with the Jupiter-3 50mm 1.5 or the Nikon Ai-s 50mm 1.2 to only name a few. Bokeh is also a very subjective aspect which is why you sometimes can find vastly different opinions on this for the same exact lens. I absolutely don't like these outlinings and prefer evenly lit light circles, so keep that in mind if your opinion is different as we might draw completely different conclusions. To my surprise I found the Bokeh of the 50mm 0.95 Mitakon to be damn good wide open. Very smooth, rarely visible outlining, even at distances of ~1-3 m and with difficult backgrounds, where many other lenses struggle. The backgrounds just melt away and the transition zone has a soft glow to it (see photo above) I haven't yet seen in any other lens.  Due to 9 rounded aperture blades light circles stay pretty much round even on stopping down. There is a quite pronounced cat's eye effect though, which is to be expected from a lens with these parameters. Otherwise I have nothing to complain.
Bokeh, 50% crop of upper right corner, f0.95 (before) / f2.8 (after)

Sunstars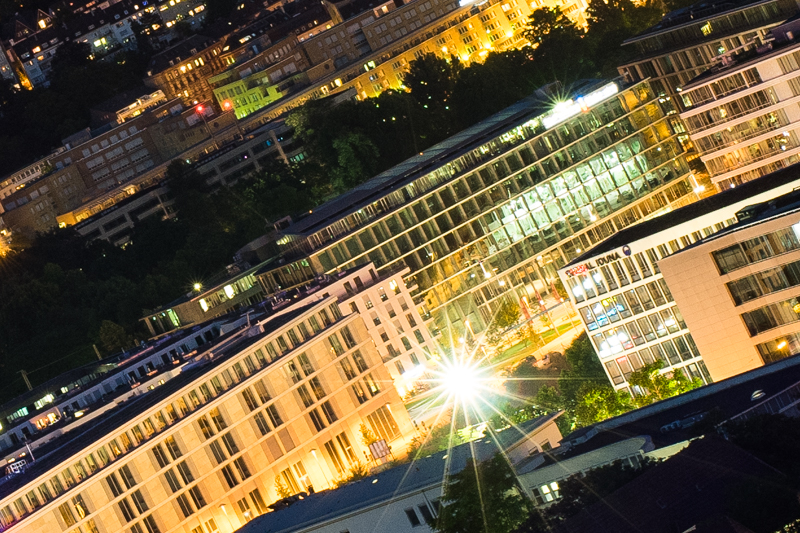 Despite the 9 rounded aperture blades sunstars can look quite good stopped down.

Chromatic aberrations
longitudinal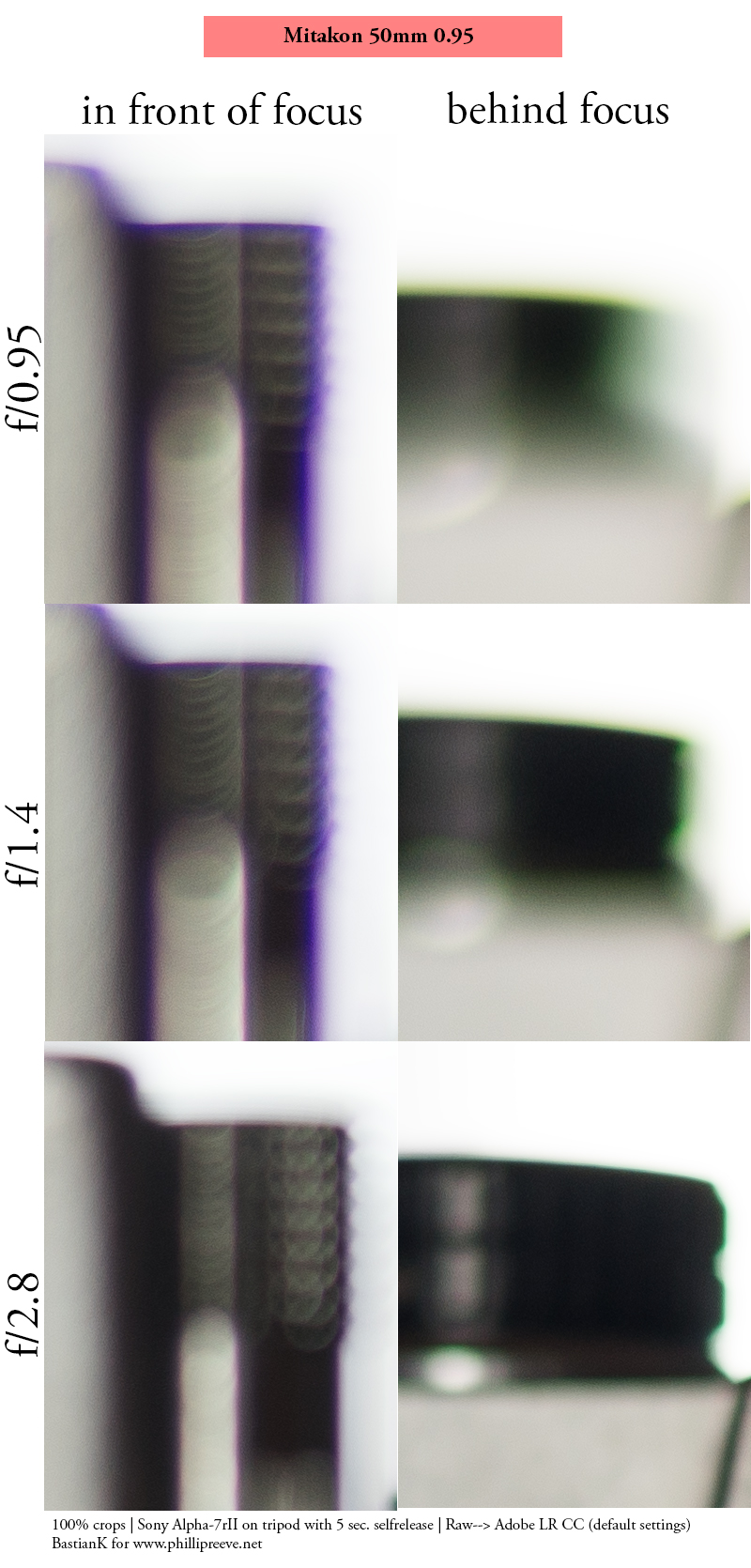 This is a very fast lens and therefore purple fringing wide open was to be expected. Stop down to f/2.8 and most of it goes away. For me this is still an acceptable performance, there are many other lenses which are not as fast with worse results.
lateral
Near the corners you can spot some slight lateral CAs which can be easily corrected in post, as can be seen in the example below (100% crop of extreme corner).

Sony A7rII | Zhong Yi Mitakon 50mm 0.95 | f/11 | CA 100% crop before/after corner
Alternatives
When it comes to 50mm lenses there are so many to choose from, so the following list is far from being comprehensive in any way.
Voigländer Nokton 50mm 1.5 Asph VM
This is also a very modern design with an aspherical element as well as high contrast throughout the whole aperture range. As many rangefinder lenses this one also struggles with the thick filter stack (see this article) but all in all this is a nice combination of fastness, compactness, pleasant bokeh, sunstars, sharpness and price.
Jupiter-3 50mm 1.5;
The Jupiter-3 is the "lowcost" option when it comes to fast yet very small 50mm lenses. The optical Sonnar design dates back more than 70 years now and in many categories the lens is not exactly up to today's standards. But in case you are looking for a vintage lens with vintage rendering this may be worth a look, especially considering the low used prices.
Leica 50mm lenses:
If you want a fast small 50mm lens you can also take a look at one of the many versions of the Summilux 50mm 1.4, I haven't used any and they are all very expensive. If you can get by with a maximum aperture of f/2.0 you may also take a look at one of the different Summicron-M 50mm 2.0 lenses but most of them will also be more expensive and I am certainly no expert on these lenses either.
Other ultra fast 50mm lenses I didn't yet get the chance to test:
Voigtlander Nokton 50mm 1.1: I prefer to have the even faster Mitakon and the small and lightweight Nokton 50mm 1.5 to choose from, but this might be a nice one-lens compromise.
MS-Optical Sonnetar 50mm 1.1: Very rare and expensive but also very small, rendering more "classic" (means: I don't like the bokeh).
SLR Magic Hyperprime 50mm T0.95: From what I have seen so far not really a better lens than the Mitakon but way more expensive.
Leica Noctilux 50mm 0.95: bloody expensive.
DSLR 50mm lenses:
One can find very cheap lenses here with good optical qualities, but most of them won't be smaller and not as fast and the really good ones ain't as cheap anymore as well. You can of course take a look at some of the other 50mm reviews on this blog.
Conclusion
good

f/0.95

bokeh

good center sharpness already wide open (not at minimum focus distance)


correction of lateral CA

sunstars

average

size
price
correction of longitudinal CA
distortion
vignetting

build quality and handling

not good

flare resistance


coma correction

weight

sharpness at minimum focus distance (below f/2.8)
To me this lens was somehow a system seller, as it was one of the two lenses that made me really interested in the A7 cameras. I had used the Nikon Ai-s 50mm 1.2 before on my D800 but this lens was a total let down for me. Not only was achieving critical focus with such a fast lens on a DSLR a pain (even with a better focusing screen installed), but the optical performance was not something for me to write home about either. Therefore my hopes for a new 50mm 0.95 from a manufacturer you never heard about before for a decent price weren't all that high. But to my suprise this lens ticked the right boxes for me: bokeh is mostly wonderful and sharpness is – to say the least – absolutely sufficient for portraiture. This is not so say this is a lens without flaws: it is more on the heavy side and the flare resistance is very bad. Due to the mediocre coma correction this also isn't a lens you would want to use wide open for some astrophotography. Nevertheless it earned itself a place in my bag when I am out shooting portraits (alongside the Canon 135mm 2.0L), especially under available light.
So, who is this lens for? Anyone, who looks for a super fast yet affordable 50mm lens, and can overcome the lens flare issues and the rather high weight.
This is not a lens scoring high at DXOMark, this is a lens that will give you wonderful results in the real world.
You can get this lens on amazon.com | amazon.de | B&H | ebay.com | ebay.de (affiliate links) for $799/850€ (new)
Sample Images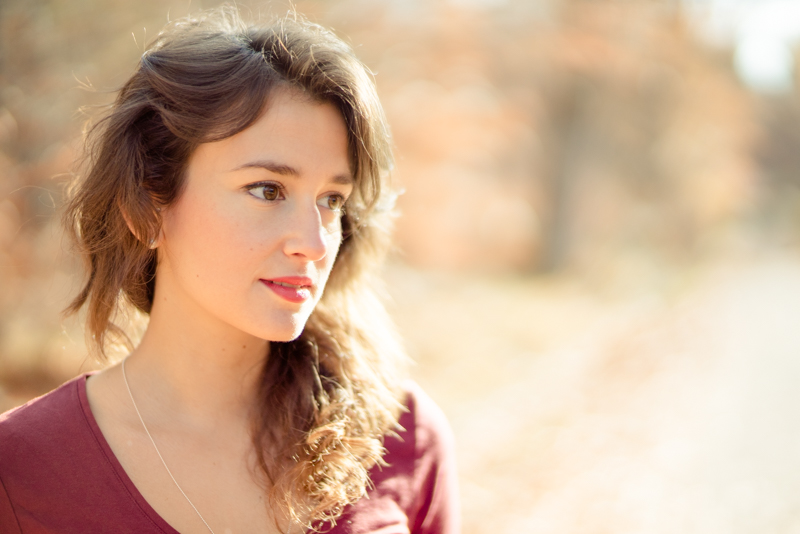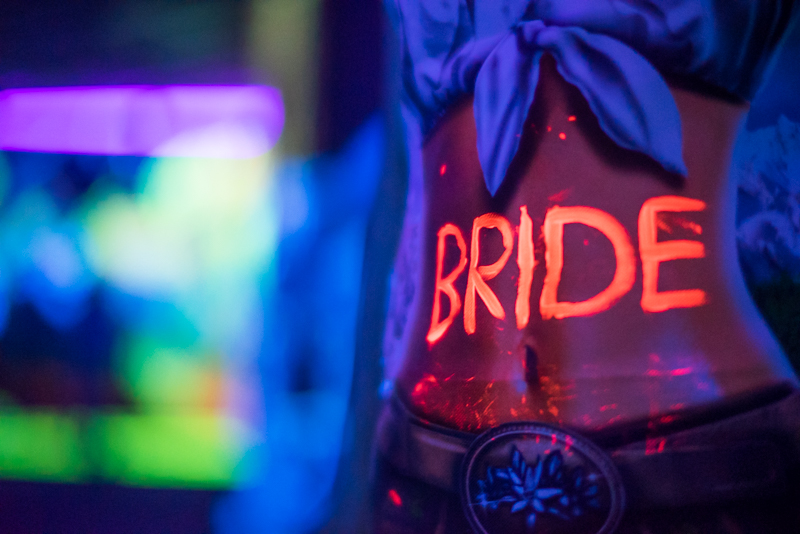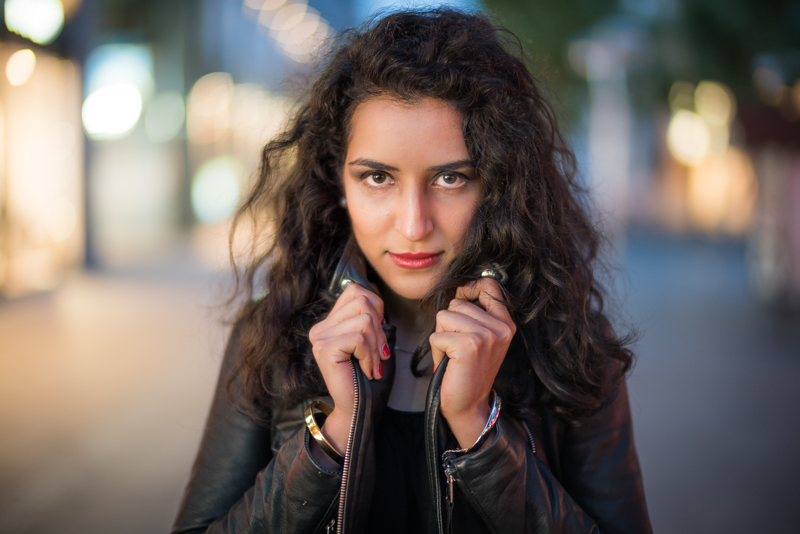 You can find some additional photos I took with this lens here on flickr.
Further Reading
Support Us
Did you find this article useful or just liked reading it? Treat us to a coffee!


via Paypal
The following two tabs change content below.
My name is Bastian and I am your expert here when it comes to ultra wide angle lenses, super fast portrait lenses (ranging from a 50mm f/0.95 to a 200mm f/1.8) and I also have reviewed way too many 35mm lenses. Don't ask me anything about macro or wildlife shooting though.