Introduction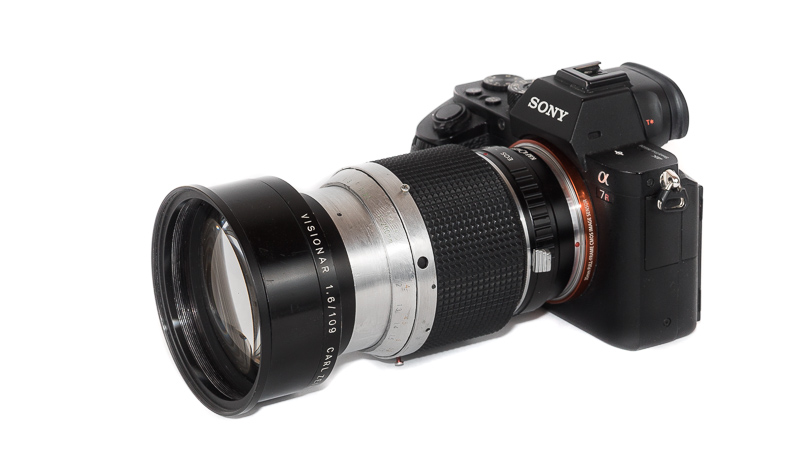 The Visionar 109mm 1.6 is a cinema projector lens from Carl Zeiss Jena which was made in the GDR. These projector lenses are often very fast and cheap, but they also come with a few downsides. This is the first projector lens we will review at this blog, so find out if there is still a place for these today.
Sample Images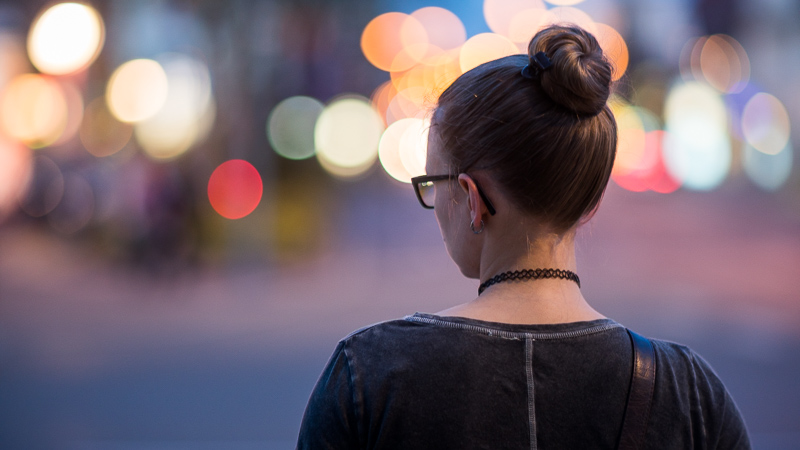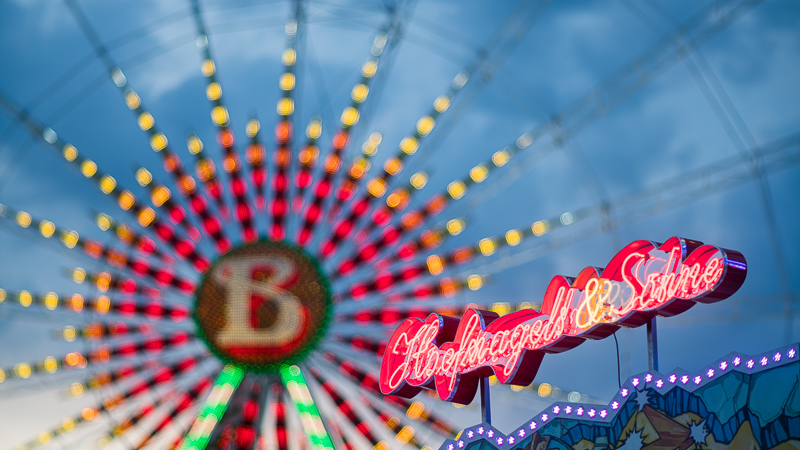 Most of the sample images in this review can be found in full resolution here.
Visionar History
The Visionar lenses were used for cinema projectors and came in different aperture/focal length combinations like 1.6/55mm, 1.6/92mm, 1.6/100mm, 1.6/109mm, 1.9/141mm, 1.9/168, 1.9/183 and even 1.9/200mm (probably not a complete list).
Usually these lenses are pretty well corrected, especially considering their age, but they come with two significant flaws: they usually don't feature a helicoid and cannot easily be focused and they also don't feature an aperture diaphragm so they cannot be stopped down.
The same lenses were also produced by Rathenower Optische Werke (short: ROW). Optically they are the same but can sometimes be found cheaper because of the missing "Zeiss" tag.
Specifications
This lens has been modded to feature a focusing helicoid as well as a Canon EF bayonet and now has the following specifications:
Diameter: 84 mm
Field of view: 22.5° (diagonally)
Length: 119 mm (at infinity without adapter)
Weight: 910g
Filter Diameter: 76 mm modded to 82 mm
Number of Aperture Blades: –
Elements/Groups: 6/6
Close Focusing Distance: 0.4 m
Maximum Magnification: 1:5.0
Mount: Ø62.5 modded to Canon EF
This lens itself can be bought used and prices starting at $150/150€ on ebay.com/ebay.de (affiliate links) but you still need to come up with a solution to be able to focus.

Handling / Build Quality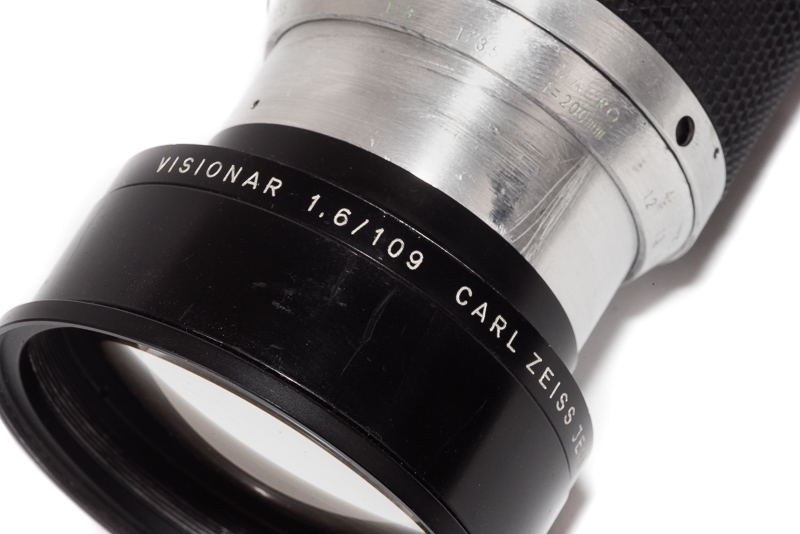 There is not so much to say about this lens in terms of handling and build quality, this depends more on how you manage to mount it to your camera.
The lens itself is a solid piece of metal with 6 big glass elements. No focus ring, no aperture diaphragm.
The previous owner modified the lens to feature a helicoid by grinding down a bit of the lens barrel itself, adding a thread and putting it in the housing of another lens, as can be seen in this picture: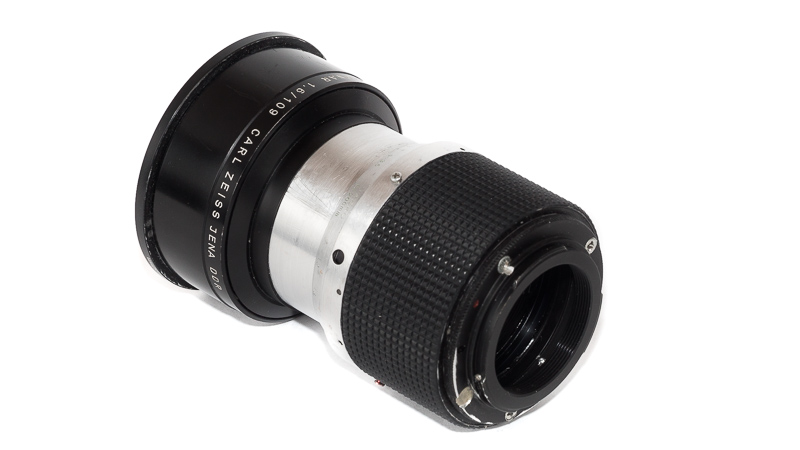 If you are not familiar to perform such kind of modification the most straight forwarded method to add a helicoid seems to be this Ø62,5mm to M65 adapter in combination with an M65 helicoid and an M65 to E-mount adapter (affiliate links). I haven't yet tested this method myself but I am awaiting the parts and as soon as they arrive I will go more into detail.
Vignetting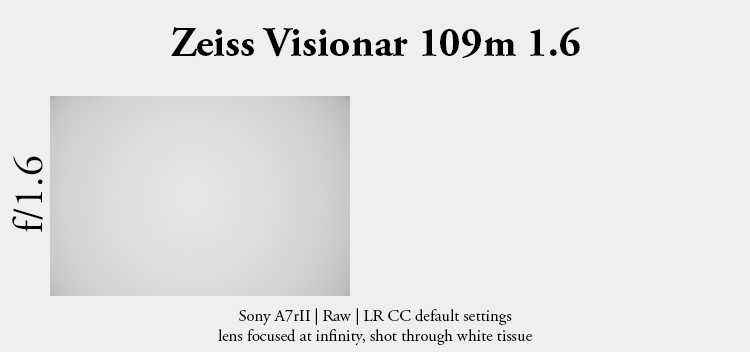 This lens covers even more than the full frame area and this is positive influence on the vignetting figures. Vignetting amounts to 1.5 stops, which is in line with comparable lenses.
What is really interesting though is that mechanical vignetting (which leads to the truncation of light circles in the background) is rather well behaved, more on that in the bokeh section.
Sharpness
infinity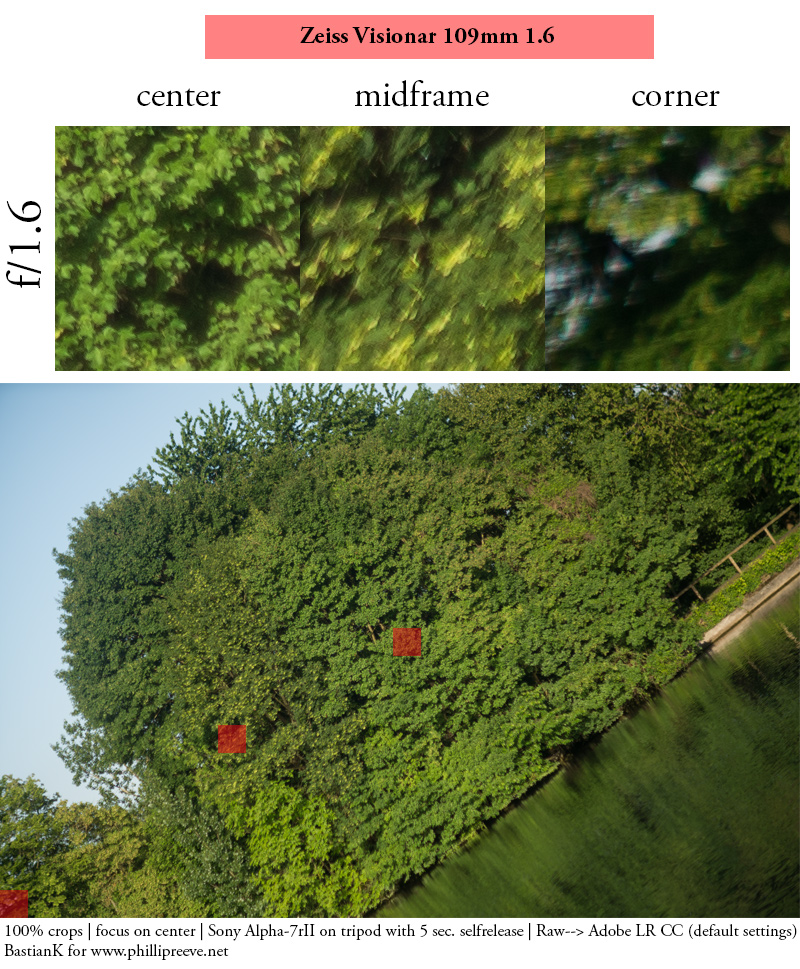 This lens is obviously not made for infinity landscape or architecture shooting as you can't stop it down. Contrast isn't bad as long as there is no stray light hitting the lens, but there is quite a bit of field curvature. If you want a lens for these kind of applications best have a look for something slower and lighter.
close (0.40m), center

100% crops from center, A7rII
The performance at the minimum focus distance in the center is not that bad but this is one of the lenses where the focal plane with least color fringing is not the one with best sharpness. I found it quite usable for most close up scenarios, but have a look at my sample images to decide for yourself.
Flare resistance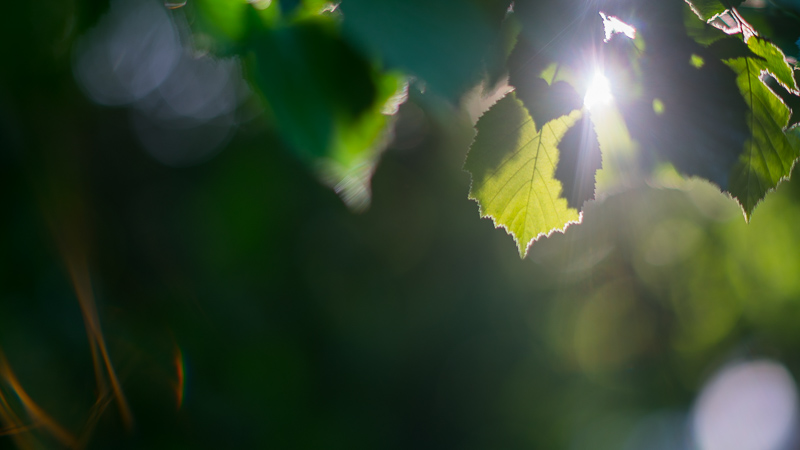 Apart from the lack of helicoid and aperture diaphragm the flare resistance is the biggest drawback to this projector lens. Without strong light sources in the frame – or close to it – contrast isn't bad at all, but if there is stray light hitting the lens contrast is significantly reduced. You can also catch all kinds of colourful ghosts, as you can see in the shot above.
In the following comparison the sun was close to the frame in the first shot, which led to a significant loss in contrast. For the second shot I moved a bit to the side which gave significantly better results. Processing is exactly the same for both shots.

At least sometimes you can use the flare for artistic purposes: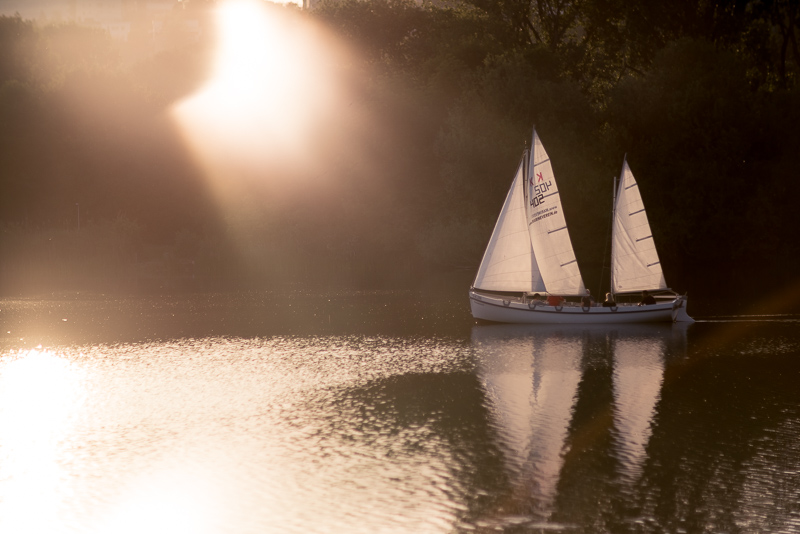 Coma
As I already told you in the sharpness section this lens shows some field curvature at certain distances. For infinity shooting the corners are sharper in a focal plane behind the center where you cannot focus with this modified lens.
Still, Coma is not overly obvious and should not be a big issue for portraiture or other kinds of shallow depth of field photography.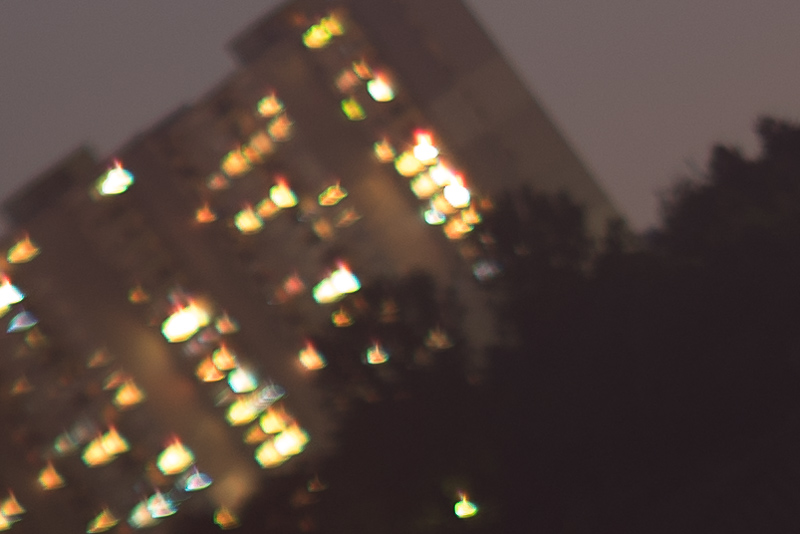 Distortion
Distortion is pretty much non existent.
Bokeh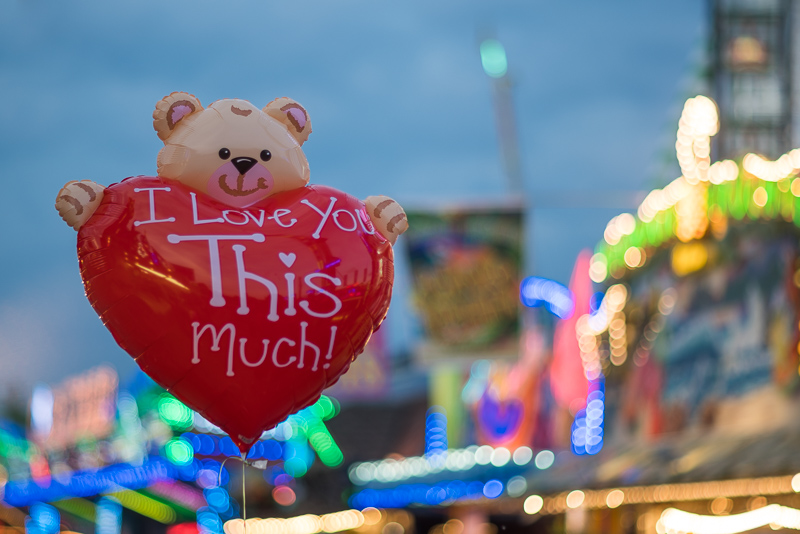 This lens is all about the bokeh and you get a lot of it for your money. The quality hugely depends on your focus distance. At close to mid distances it is good to really good, if you focus at something farther away outlining starts to appear towards the corners.
At most distances the transition zone is quite nice:
The lens has also rather well behaved mechanical vignetting (cat's eyes) so it is not a bad choice for brenizer/bokehpanorama work: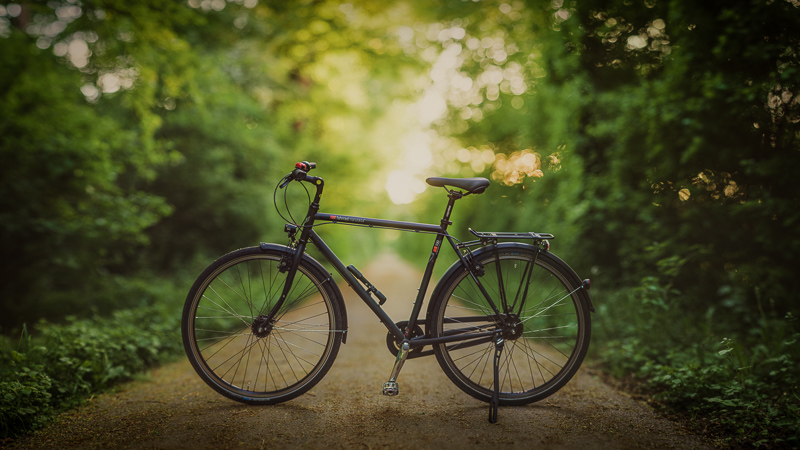 There are certain situations though where bokeh can show a bit more outlining than I like: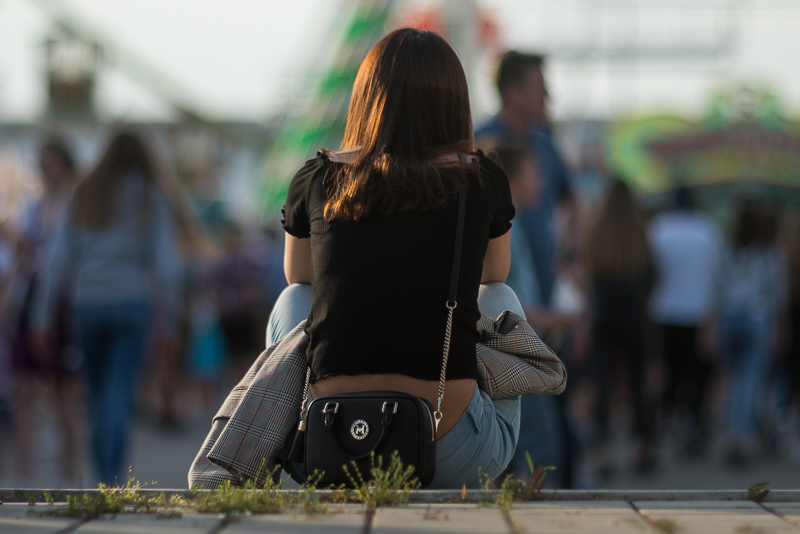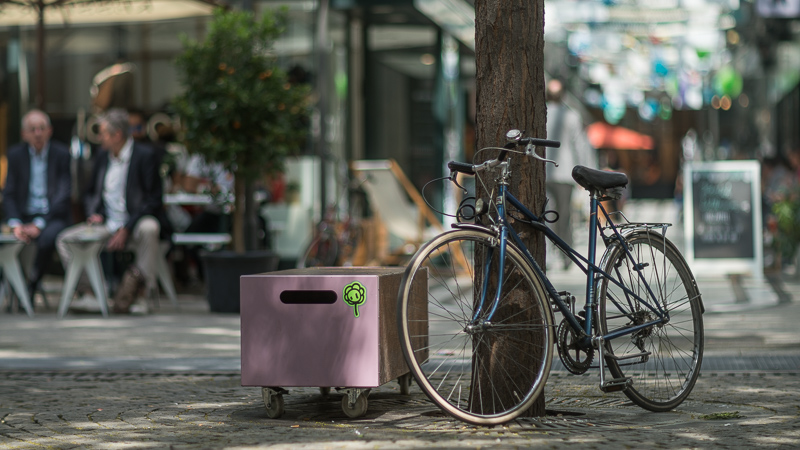 But in the end you really get nice subject separation for not that much money, especially when you compare it to more modern and way more expensive lenses like the famous Canon 135mm 2.0 L USM:
Chromatic aberration
lateral
With this lens you almost always have a combination of lateral and longitudinal CA so even with correction there will still be color fringes left. As said: this lens is not for infinity landscape shooting.
longitudinal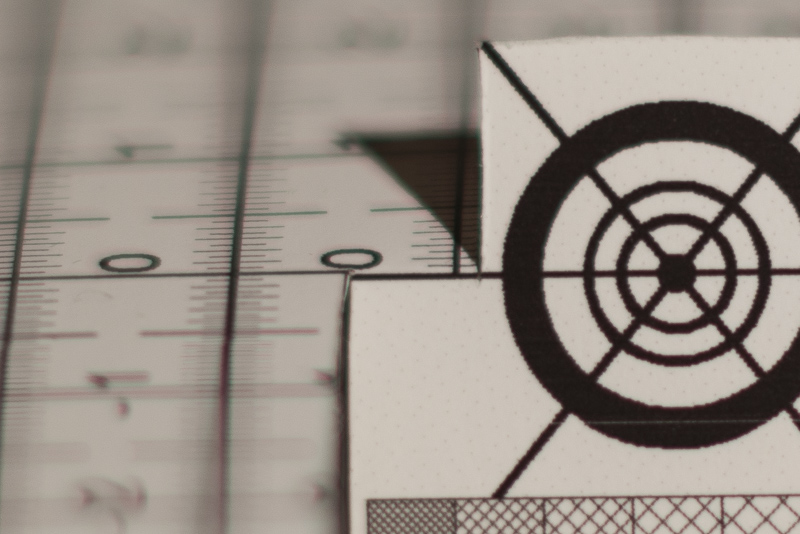 In close up scenarios the longitudinal CA are not overly pronounced, but if you focus at something further away in more demanding scenes you can definetly spot some purple fringing, comparable to most legacy 85mm 1.4 lenses: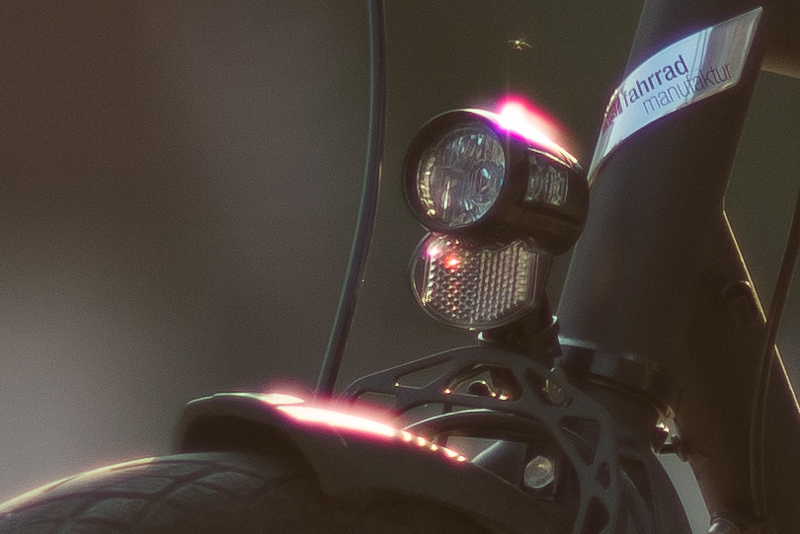 Alternatives
Nikon Ai-s 105mm 1.8:
I haven't tried this one myself yet. It is a bit slower and less heavy and obviously more convenient to use because of focus and aperture ring. I also expect flare resistance to be much better. Bokeh I am not so sure about judging by the pictures I have seen from this lens. This lens also usually sells for 500$+.
Nikon AF-S 105mm 1.4E:
This lens is even a bit faster and slightly lighter. If you want to change the aperture you need the Commlite AF adapter. This lens seems to have severe problems with cat's eyes/mechanical vignetting but in any other way it should be better. Still, with the adapter this will be around 2000$.
Sigma 105mm 1.4 Art:
Did not yet hit the market, twice as heavy.
Canon EF 135mm 2.0L:
For most people that can afford it this is probably the most convenient option for a faster longer than 85mm portrait lens.

MS-Optics Aporis 135mm 2.4:
If you value compact size over a bit of speed this is still my recommendation for a fast slightly longer portrait lens.
Conclusion
good

bokeh (at most distances)

low mechanical vignetting/cat's eyes

contrast (if there is no stray light!)

distortion

price

sharpness (not at infinity)

average

correction of CA
build quality
size/weight

not good

does not come with focus or aperture ring

flare resistance

field curvature
As said this is the first projector lens we reviewed and it certainly has its flaws: The lack of an aperture diaphragm means this lens will only be suited for portraiture and shallow depth of field photography and not really for landscape and architecture. Furthermore flare resistance is really quite bad.
But if you can work around these flaws the lens can give great results. Considering the combination of focal length and maximum aperture this is so much better than I would expect from a 60 years old lens and when looking at the results I was often pleasantly surprised about the comparably high contrast.
You get a whole lot of glass for your money here and as mechanical vignetting (which leads to cat's eyes) is very low I think the results look often more pleasing than those of comparable modern lenses like the Nikon AF-S 105mm 1.4E (which suffers badly from cat's eyes) which are ten times as expensive.
This is not your everyday lens, but it can be a really nice addition to your kit which does not break the bank and at times may yield very special results.
This lens itself can be bought used and prices starting at $150/150€ on ebay.com/ebay.de (affiliate links) but you still need to come up with a solution to be able to focus.
Sample Images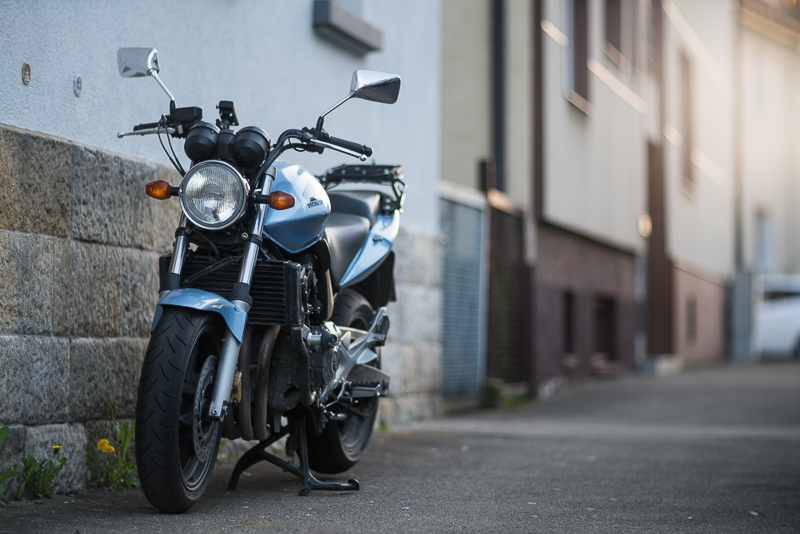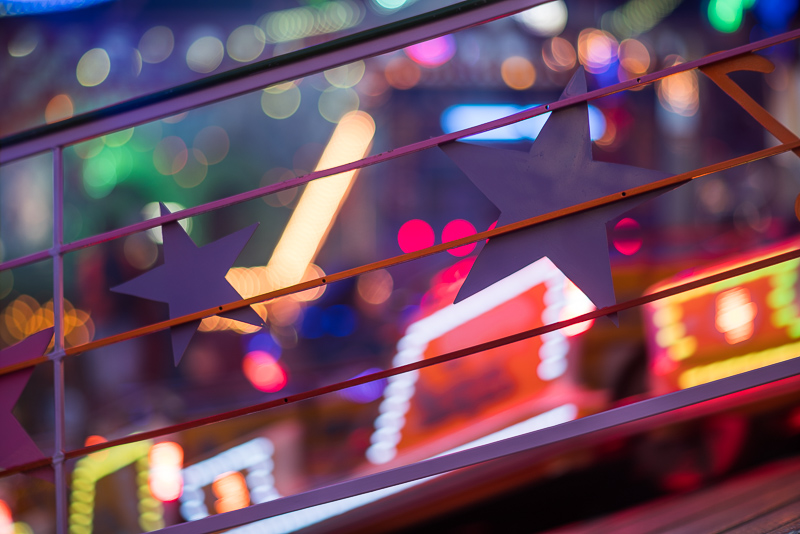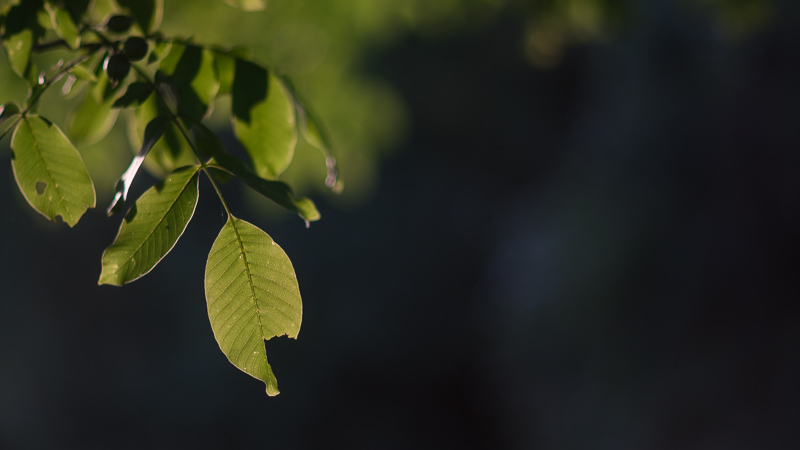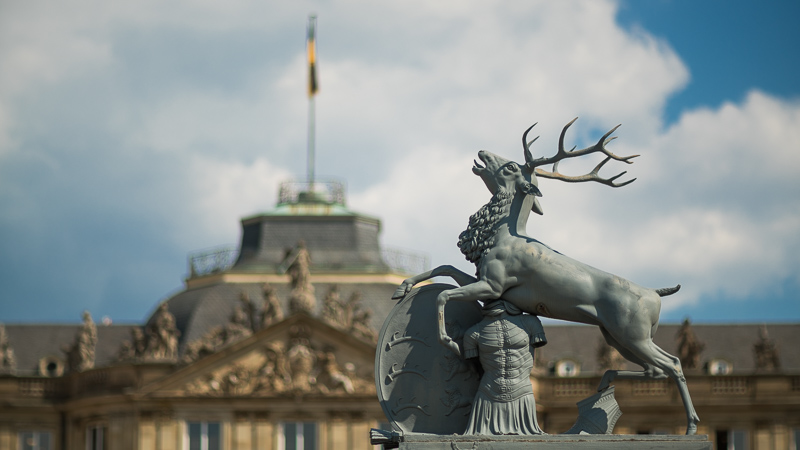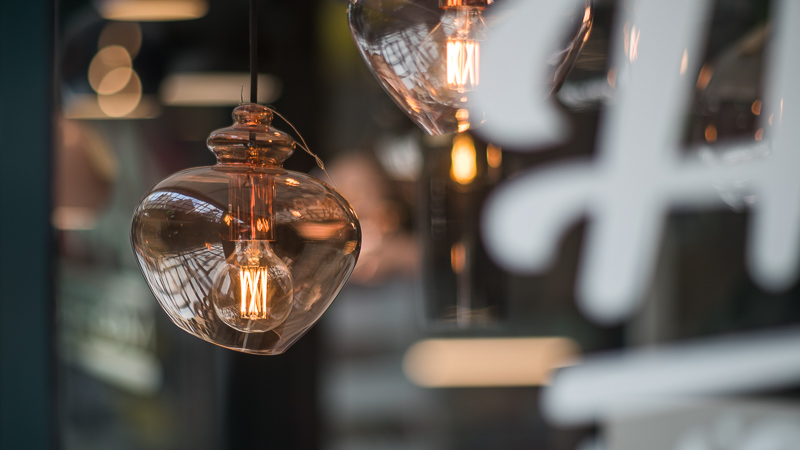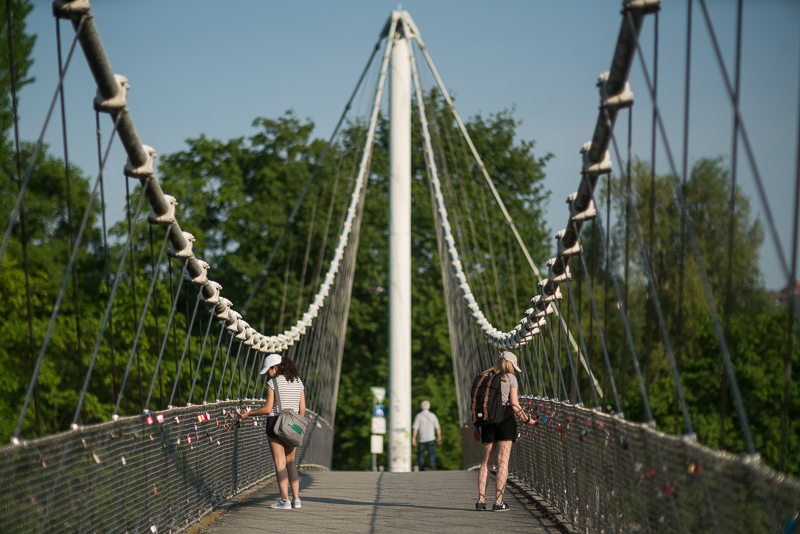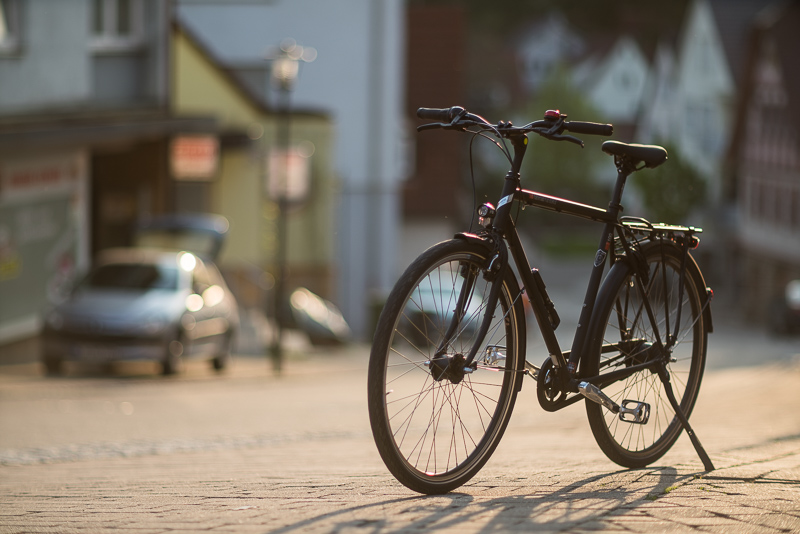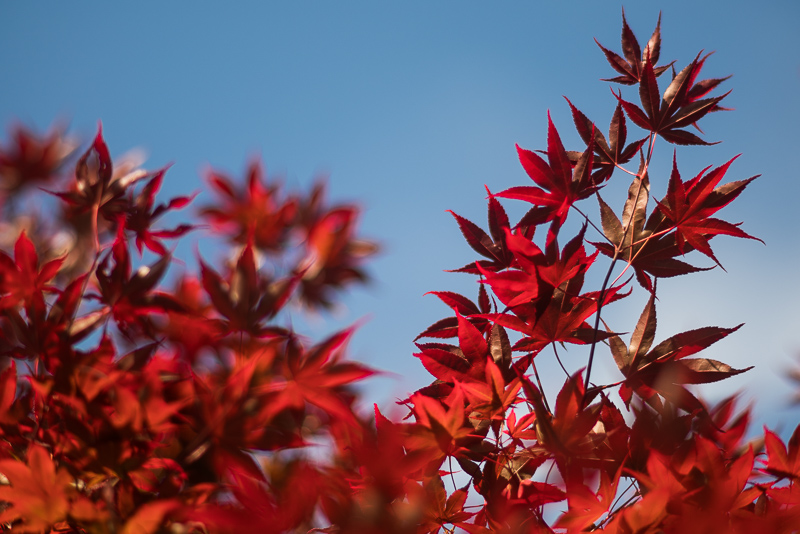 Most of the sample images in this review can be found in full resolution here.
Further Reading
Support Us
Did you find this article useful or just liked reading it? Treat us to a coffee!


via Paypal