The Canon 1.2/85 is a legend of a lens and in this review I put it's earliest incarnation to the test on my Sony a7II.
Specifications
| | |
| --- | --- |
| Diameter | 81 mm |
| Length | 72 mm |
| Filter Thread | 72 mm |
| Weight | 756 g |
| Max. Magnification | 0.1 |
| Close Focusing Distance from the sensor | 1 m |
| Number of aperture blades | 9 |
| Elements/ Groups | 8/6, floating elements |
The Canon FD 1.2/85 Aspherical usually sells for around $600 used at ebay.com (affiliate link). 
In Germany you can buy it used for around 650
€
 at ebay.de (affiliate link). 
Image Samples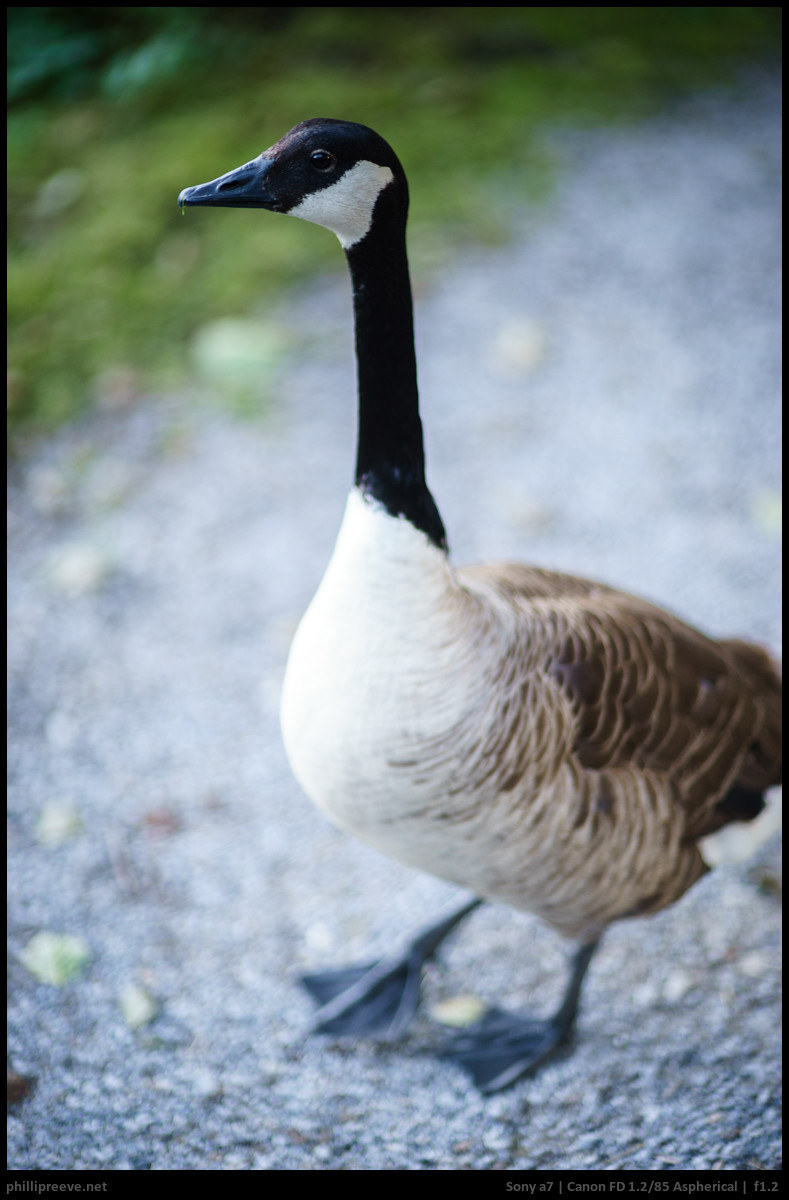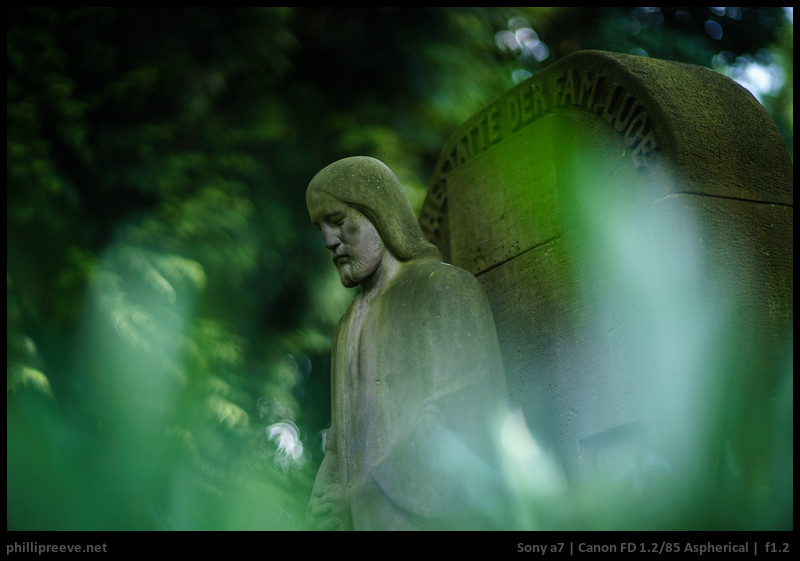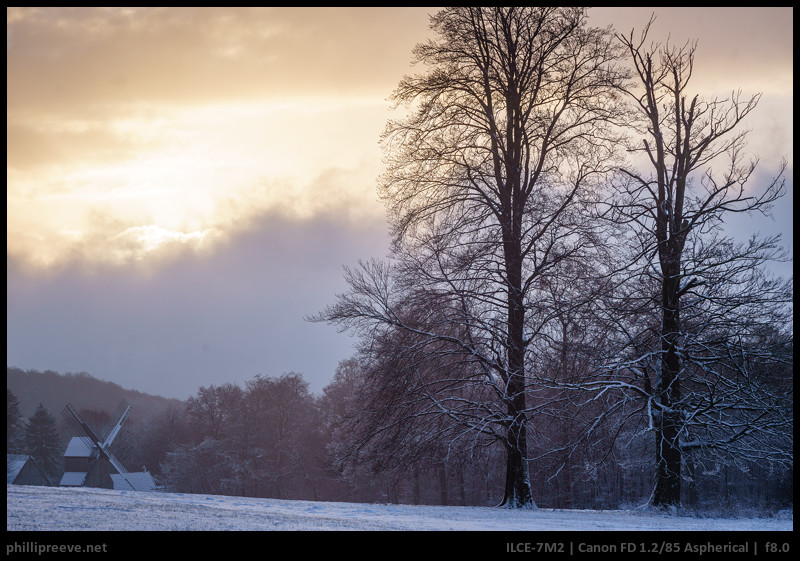 Versions
The Canon FD 85mm 1:1.2 S.S.C. ASPHERICAL was released in 1976 and features 9 aperture blades.
It's successor was the Canon FD 85mm 1:1.2 L which has only 8 aperture blades but as far as I know the optical design remained the same.
The Canon EF 85mm 1:1.2 USM L  is a new optical design not significantly sharper than the 40 years old design but I can't say how bokeh and other characteristics compare. The EF version is a lot heavier at 1kg. It comes in two versions, the main difference seems to be that the II version focuses significantly faster.
Build quality and handling
The Canon's build quality is on a very high level as you would expect from a top-of-the-line lens introduced 40 years ago. The lens is made from metal, glass and some rubber (which has aged very well). Everything moves smoothly without play and all the markings are engraved.
Focusing Ring
When I bought this copy it had a rather stiff focusing ring so I sent it to OM-lab CLA it and now the focusing ring offers just the right amount of resistance for my taste.
The focusing ring travels around 180 degrees from 1m to infinity which is a great transmission, the focusing is precise at any distance without being too indirect.
The focusing ring has a large diameter which makes it less pleasant to grip it with my average sized hands but all in all focusing is still a pleasant experience.
Aperture
The aperture ring has half stops from f/1.2 to f/16 and those have a very distinctive click. I still occasionally mistake the mounting ring for the aperture ring and wish it was a bit smaller in diameter and more different from mounting ring.
The Canon FD  1.2/85 ASPH has nine slightly rounded aperture blades.
Hood
I don't own the original hood, instead I use a Nikon HN-20 which protects the front of the lens well enough from damage and stray light.
Size and Weight
At 765g and with a rather high diameter the Canon isn't as pleasant to handle on the Sony a7II as other lenses which are better balanced and easier to grip. If I want to fit it into my smaller camera bag I can can only fit one other lens into it where I usually pack three lenses. This made me often hesitate to pick the Canon and I much more  often chose the Olympus OM 2/100 over it.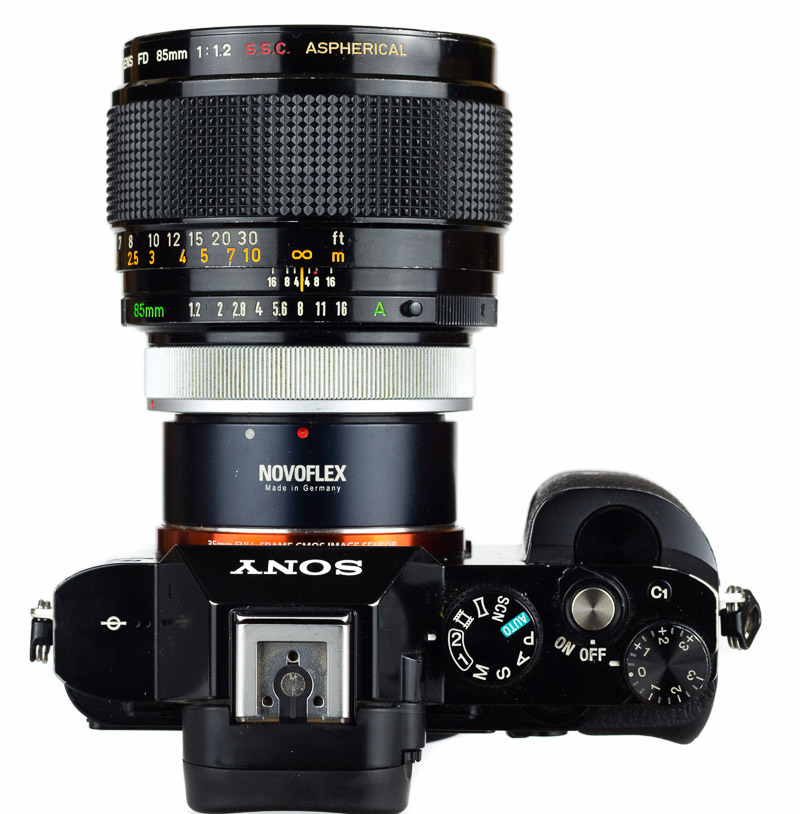 Optical performance
These results are based on the use with a Sony Alpha 7/7II.
Flare Resistance
As is to be expected from a 40-years-old lens the with such an enormous front-lens the Canon is quite susceptible to flare.
When you keep the sun outside of the image veiling flare is better controlled than I would have expected and in my practical use I had little issues with it.
Bokeh
Bokeh is of course a very important aspect of this lens so I will devote some space to it.
At f/1.2 and in very demanding situations bokeh can be a bit harsh, especially in the transition zone as you see in the image below.
Usually though most of your image will be so out of focus that the background is quite smooth.
Stopped down to f/1.6 Bokeh becomes a little smoother.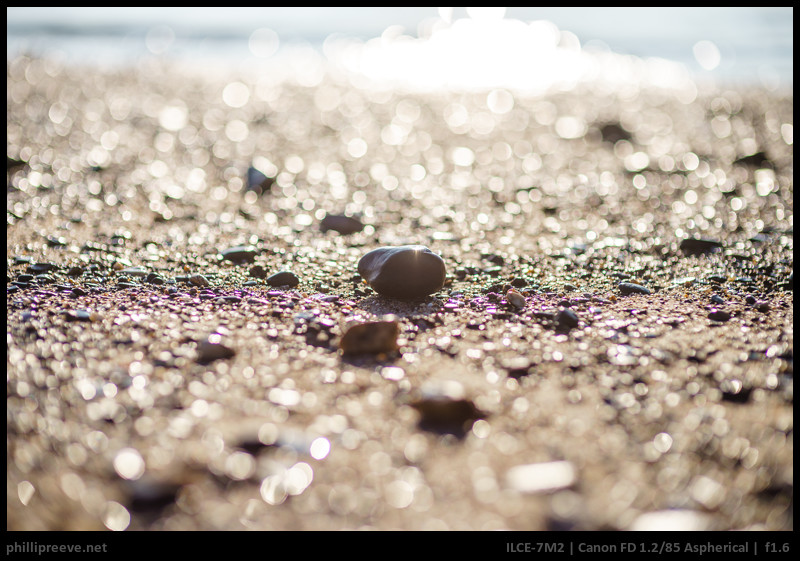 Usually though you have a very blurred background because of the fast aperture which is more important for a smooth background than the bokeh itself which is decent but not great.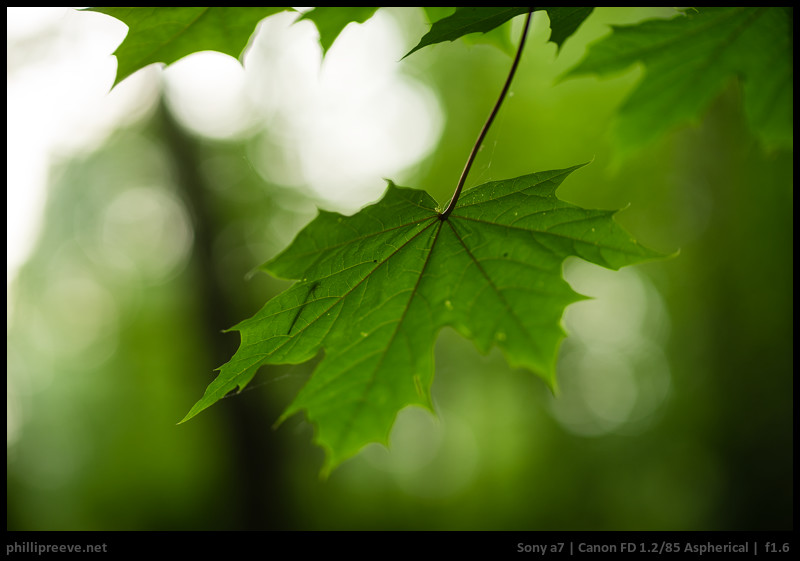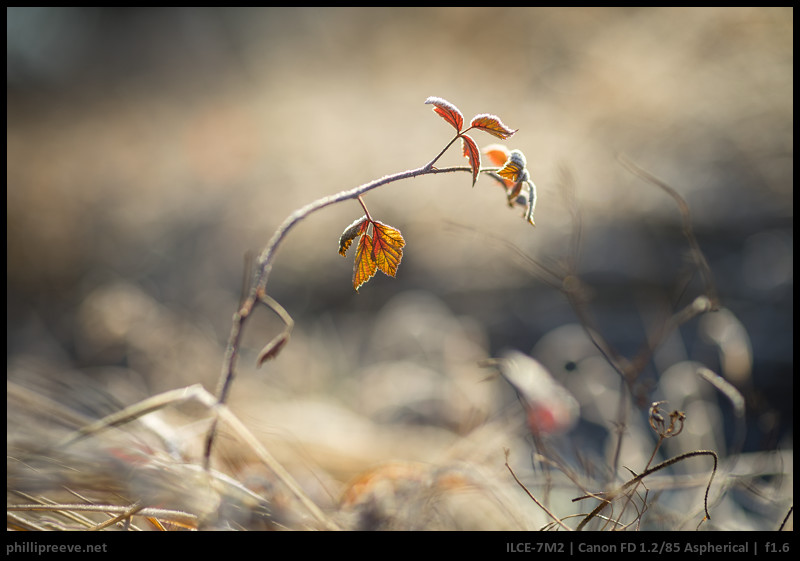 Not unexpectedly bokeh at longer distances isn't as smooth as at shorter ones but still pleasant enough.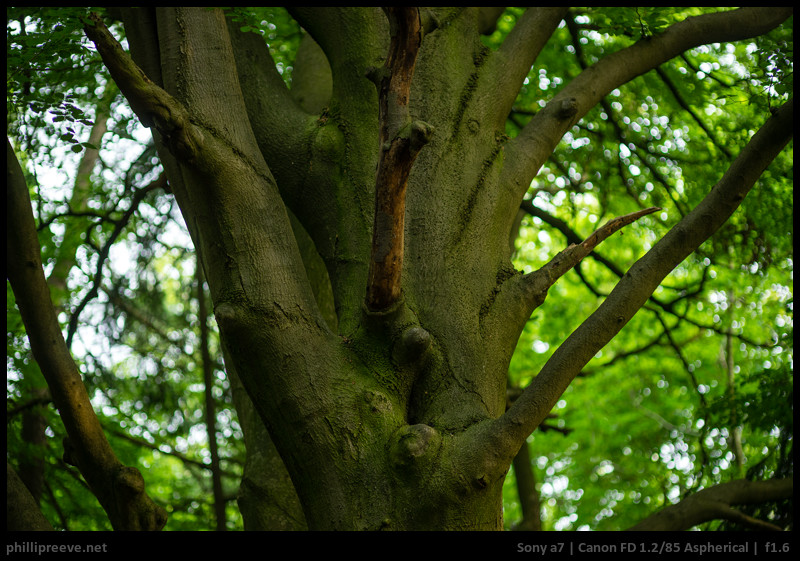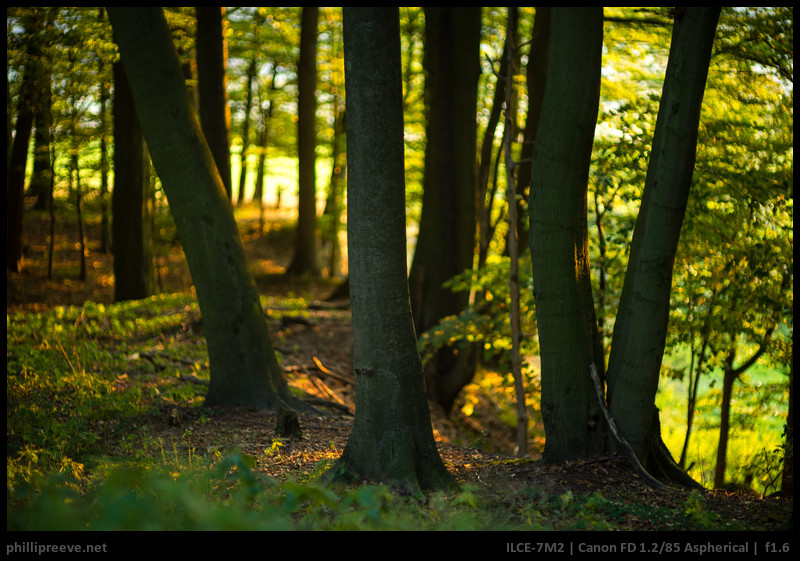 The Canon 85mm 1:1.2 Aspherical can show onion-like structures in oof highlights because of the aspherical element.
Thanks to the 9 aperture blades out-of-focus highlights stay more or less round even if you stop down.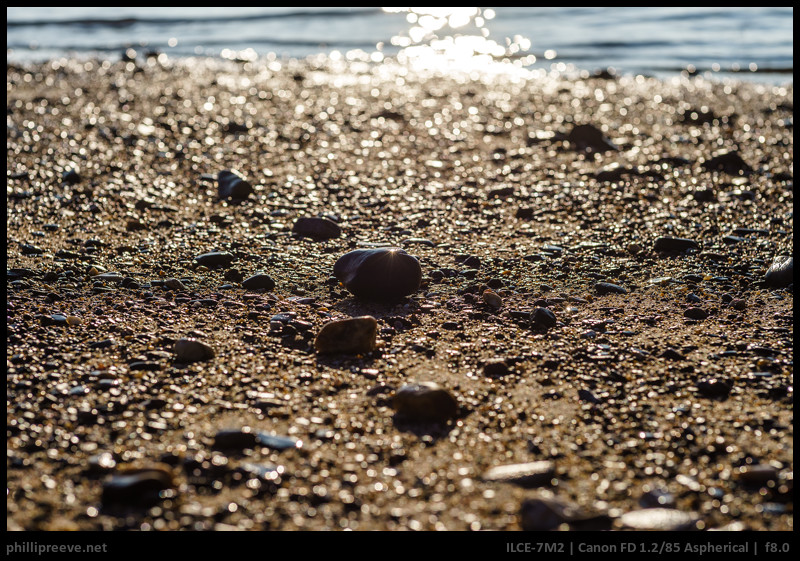 Chromatic Aberrations
So far I have only tested one portrait lens which didn't suffer from axial CA and the Canon is no exception in this aspect.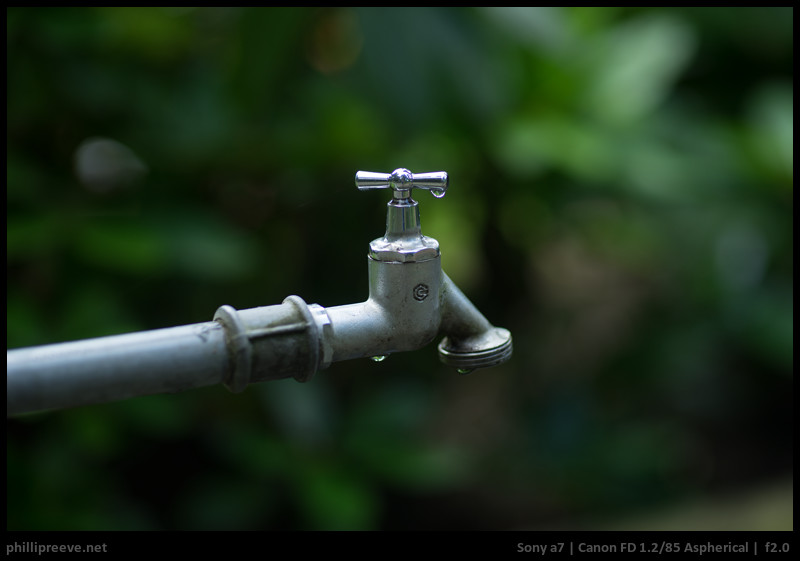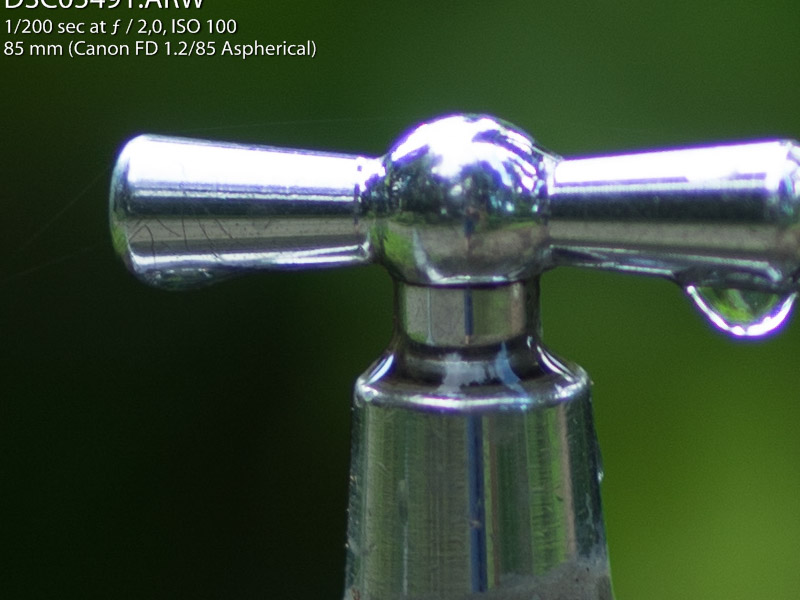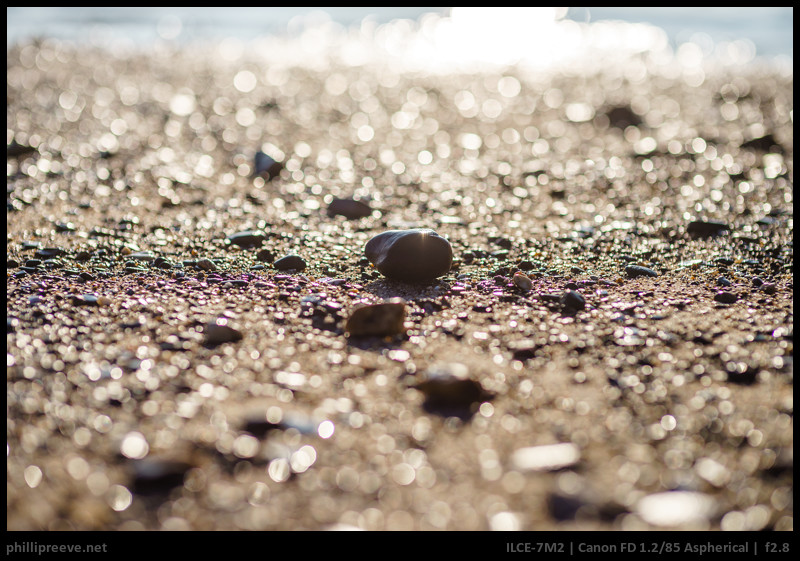 Vignetting
Vignetting at f/1.2 is quite noticeable but not as bad as that I ever felt the need to correct it. At f/2 vignetting is already very low and from f/2.8 an absolute no-issue.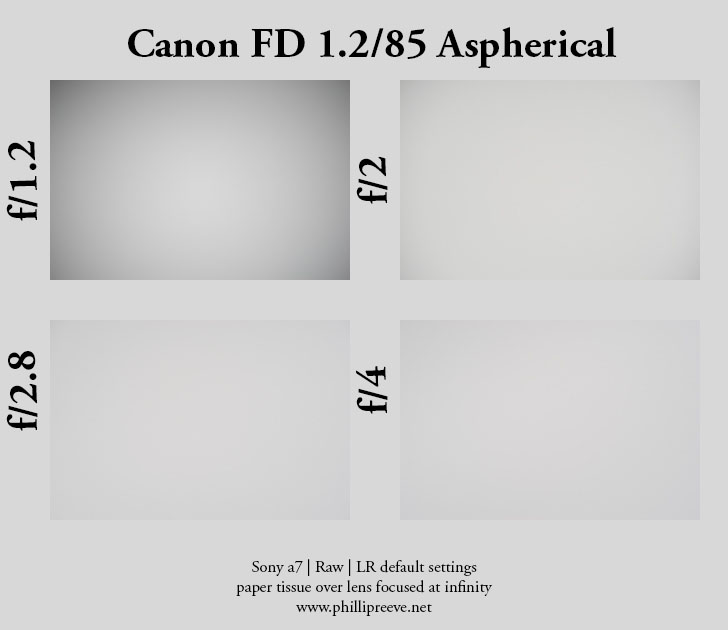 Distortion
A small amount of pincushion distortion.
Sharpness

f/1.2: Decent resolution but lower contrast in the center, outside of the center the image is soft.
f/2: The center is improved a lot but off-center sharpness still isn't that good.
f/2.8: The center is excellent now with and the Canon is sharp off center as well. Corners are usable.
f/4-5.6: Some improvement off-center and in the corners
f/8: Excellent to very good across the frame.
f/11: Diffraction reduces image quality to very good levels, the corners gain a little though.
If you take into regard the Canon's age its performance is absolutely stunning. At f/1.2 it is far from perfect but still better than any classic 1.4/50 at f/1.4. For portraits in softer light I don't hesitate to use this aperture and I got some really nice portraits out of it. If you need a sharp image with high contrast just stop down one click to f/1.6 and performance improves a lot to high levels. You shouldn't move your subject too far off center though. For best across the frame sharpness stop down to f/8 where the Canon will give you very good results.
Applications
The Canon FD 1.2/85 works very well as a portrait lens.
For tighter framed images at f/1.2 you get that special super thin DOF look which works very well for some subjects.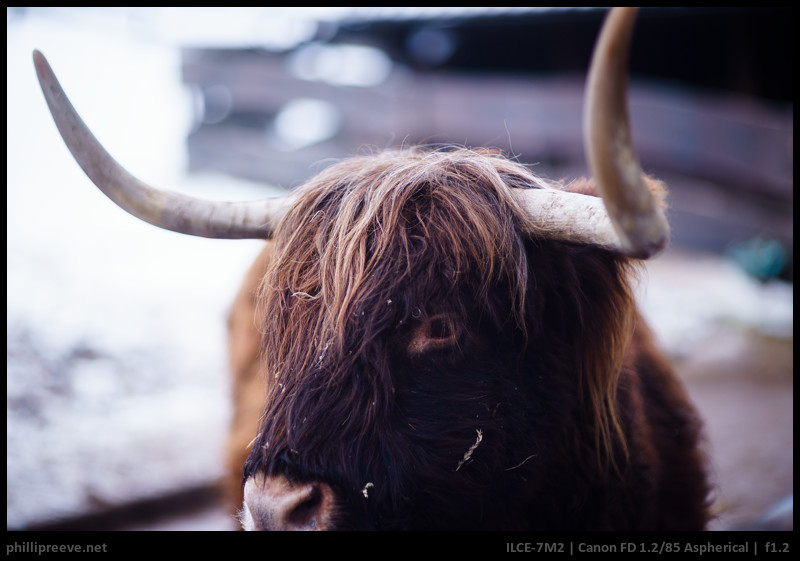 The Canon 1.2/85 also works great for isolating a subject from it's surroundings at medium distances but you should choose a rather unstructured, evenly lit background or you can get quite nervous bokeh at these longer distances and nasty CA. You should also makes sure to place your subject not too far off center because the Canon is significantly less sharp off-center.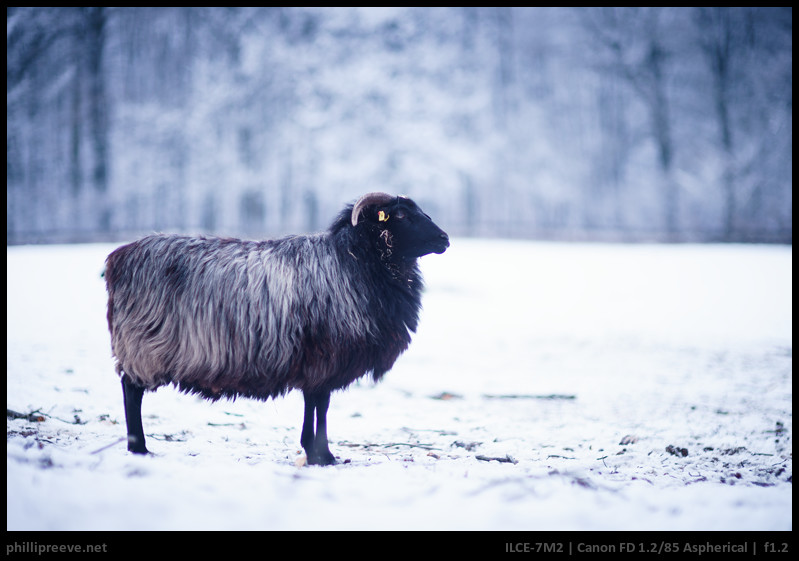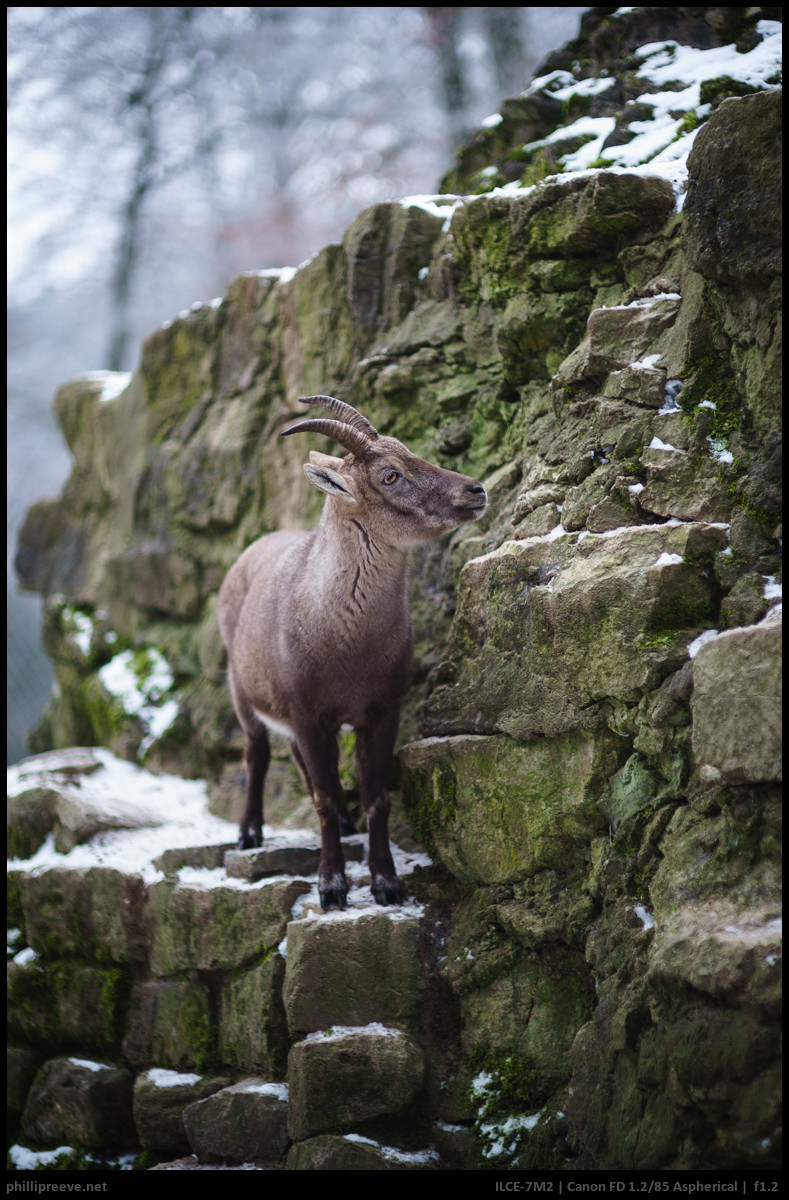 Because of the size alone I wouldn't take the Canon on a hiking trip even though the Canon works well enough as a landscape lens with very satisfying across the frame sharpness at f/8. Not as well as say a Zeiss Loxia 2.4/85 though which is lighter, smaller with more contrast, more effective coatings and excellent across the frame sharpness from f/2.4. A lighter and cheaper alternative would be the Zeiss C/Y 2.8/85.
For nature details the Canon works well because of it's ability to isolate them from the chaos of nature but the rather long short focusing distance of 1m is a bit limiting as is the average bokeh in the transition zone.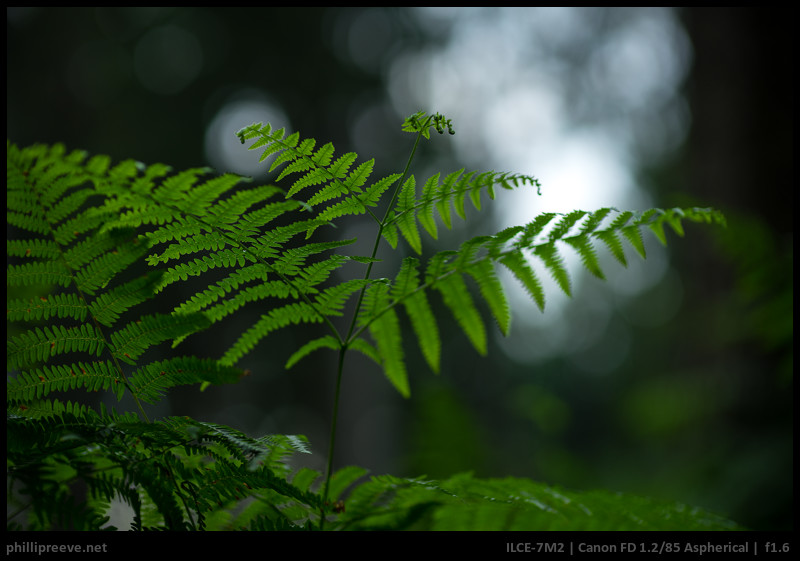 Alternatives
pros

usable f/1.2 

very sharp in the center from f/1.6

very sharp across the frame by f/8

build quality

average

bokeh
price
close focusing distance

cons

size and weight

flare resistance
The Canon has enjoyed a legendary status for a long time now and I totally understand why: In it's time it was the only super fast 1.2/85 when the competition merely had f/1.4 lenses to offer and its performance is remarkable for a 40 years old f/1.2 lens.
And how does it perform by today's standards? Not that great but still quite good I would say. At f/1.2 you should expect some aberrations which create a vintage look some like and others don't, but don't expect the technical perfection of a GM 1.4/85 at f/1.4.
Stop the Canon down to just f/1.6 and it changes its character quite a bit: contrast and sharpness improve to good levels and for portraits bokeh will usually be very smooth but but you should be aware of the somewhat busy bokeh at longer distances, the not that great off-center sharpness and it's proneness to flare and CA. Stopped down to f/2.8 general performance is excellent and by f/8 it gives very sharp results for landscape photography.
Build quality is great but the handling suffers from the large diameter and it's heft. At the current price of a little over $600 it offers a decent value. Other 1.4/85 lenses aren't much cheaper nor better but half a stop slower.
I don't think there is a better classic 85mm lens than the Canon FD 85mm 1:1.2 S.S.C. Aspherical and I was generally quite pleased with the images I got out of it. None the less I found myself often hesitate to take it with me because of its size and weight. If you like to take images with very shallow depth of field though I wouldn't hesitate recommending the lens.

The Canon FD 1.2/85 Aspherical (or the very similar L version) usually sells for around $600 used at ebay.com (affiliate link). 
In Germany you can buy it used for around 650€ at ebay.de (affiliate link). 
If this review was helpful to you, please consider using one of my affiliate links. Thanks ?
Images Samples in full resolution
You can find more images in this flickr set: Canon FD 1.2/85 Aspherical SSC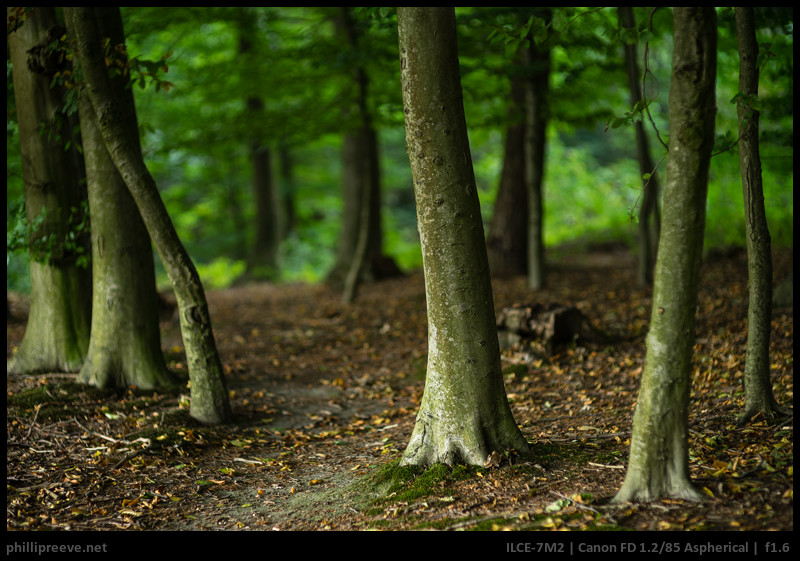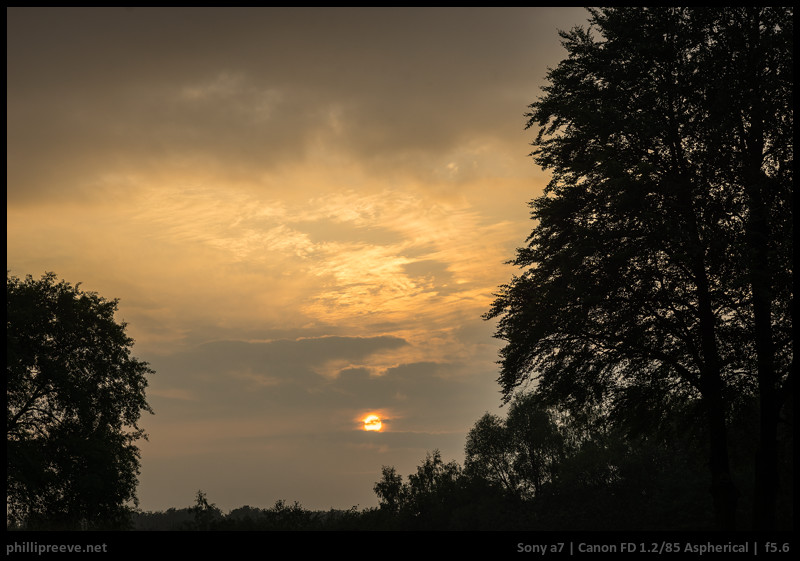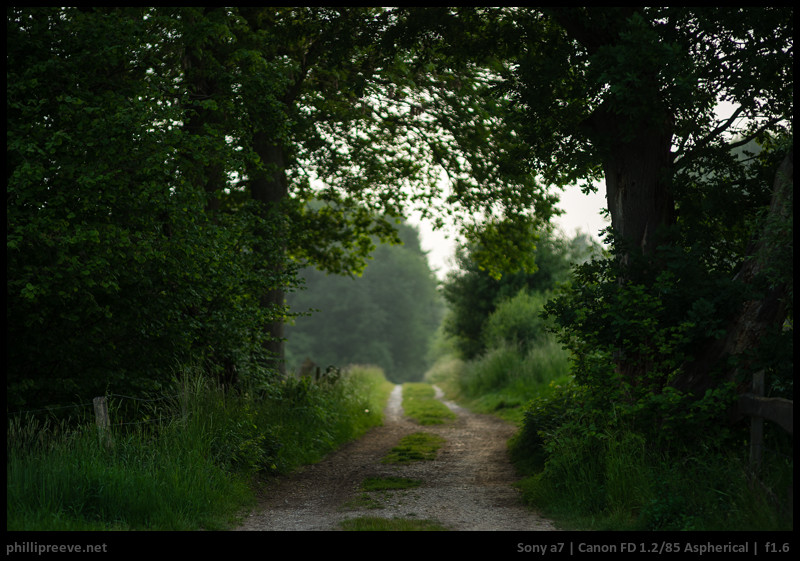 Other articles
The following two tabs change content below.
I have two hobbies: Photography and photographic gear. Both are related only to a small degree.
Latest posts by Phillip Reeve (see all)